High Paying Side Hustles for Women
Check out the best side hustles for women to make extra income in your spare time!
For a quick and easy way to make extra money, get paid to take surveys with Survey Junkie!
Whether you're a busy working woman, stay at home mom or a college student, making extra money can help you feel more financially secure. 
And let's face it, when it comes to earning a paycheck, women still get the short end of the stick a lot of the time. Even in 2021, the gender pay gap has women earning 82 cents on the dollar compared to men.
Taking on a side job or two or even starting a business can be an effective way to close that income gap. But what are the best side hustles for women?
If you're looking for side jobs you can do while working a 9 to 5, raising kids or working toward your degree, here are some of the best money making ideas to try now!
Best Flexible Side Hustles for Women to Make Money
A little note as you dig into this list of side hustle ideas for women.
Some of these ideas can make a part-time income while others can make full-time money. Some of these side jobs you can do online, others you can do offline.
When choosing which side hustles you want to try, think about how much money you hope to earn and how much time you can afford to put in.
And of course, look for ways you can use the skills you already have to make money. You might just have some money-making skills that could help you earn six figures or more!
1. Get paid to grocery shop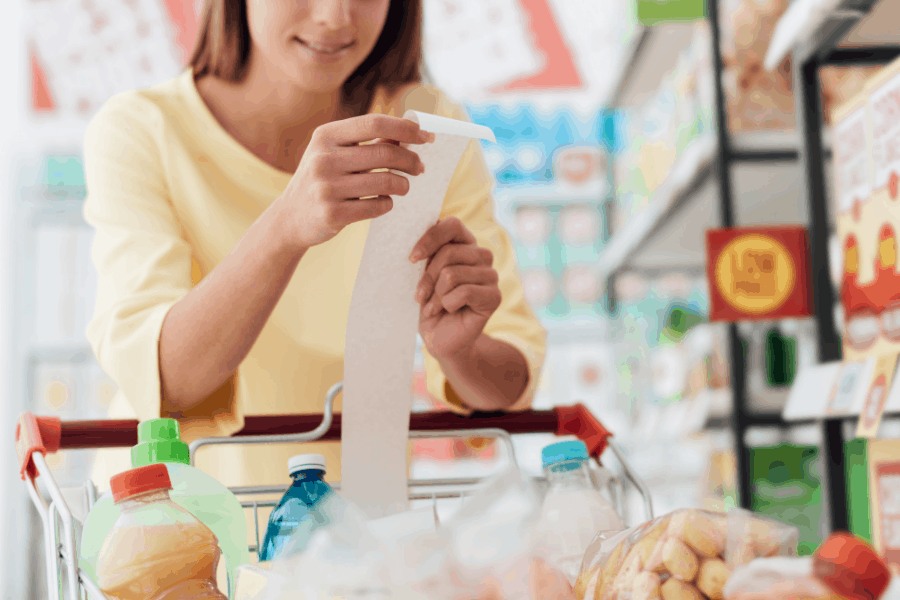 Grocery shopping isn't my favorite chore and it might not be yours either. But it's one of the easiest side hustles for women to make extra money.
There are a couple of ways you can make money grocery shopping. The first is getting paid to shop for other people.
Instacart and Postmates pay you to shop for groceries and other items and deliver them to peoples' doorsteps. You get paid an hourly rate and you can also pick up tips for your shopping efforts.
The faster you are and the more shops you complete, the more money you can make.
⇒Sign up to become an Instacart shopper and start making money!
⇒Join the Postmates fleet to start your delivery side hustle!
The other way to make money grocery shopping is using a cashback app when you buy your groceries.
With Ibotta, for example, you can earn cashback when you shop for groceries at partner stores.
There are a few ways to make money with Ibotta:
Shopping online with the Ibotta browser extension
Shopping partner stores with the Ibotta mobile app
Linking your store loyalty cards to the app to earn cashback automatically
Scanning your receipts after a purchase to earn cash rewards
Referring friends and family to Ibotta
I love this app because it saves money on groceries and puts cashback in your wallet. As far as side hustles for women go, this one is low-stress with the potential to earn some decent cash depending on how often you shop.
⇒Download the Ibotta app now to get up to $20 in cash bonuses!
2. Get paid to teach kids
Teaching doesn't look the same as it used to, thanks to remote learning and online classes.
And you don't necessarily need a teaching degree to help kids learn these days.
Teaching kids online is one of my favorite side hustles for women because there are so many ways to do it.
For example, you can make extra money:
Teaching live classes on just about any topic with Outschool
Helping kids in other countries learn English
Tutoring online in just about any subject
Teaching online is great because it's flexible and you can make money working around your schedule. And you can use the skills and experience that you already have to share your knowledge with kids.
Take a look at these in-depth guides on teaching side hustles for women and how to get started!
Outschool Review: How to Become an Online Teacher and Make $500 a Month
Pretzel Kids Review: How to Make $50 an Hour Teaching Kids Yoga Online
3. Offer child care or adult care services
Statistically, women are more likely than men to act as caregivers in their families.
That can mean taking care of young children, a relative with special needs or even an aging parent.
If you have experience with caregiving, you could use those skills to make extra money by offering child or adult care services. 
For example, you could offer babysitting services in your home or watch someone's child in their home. Or you could get paid to sit with an aging adult or take care of running their errands for them if they're not able to get out.
An easy way to get started with caregiving is to create a profile on a site like Sittercity.
Sittercity is an online marketplace where people who need child care, senior care or even pet care can connect with care providers.
You can create a profile, specify what types of care you want to offer and start earning money from your caregiving skills in no time.
⇒Create your Sittercity profile now!
4. Start a blog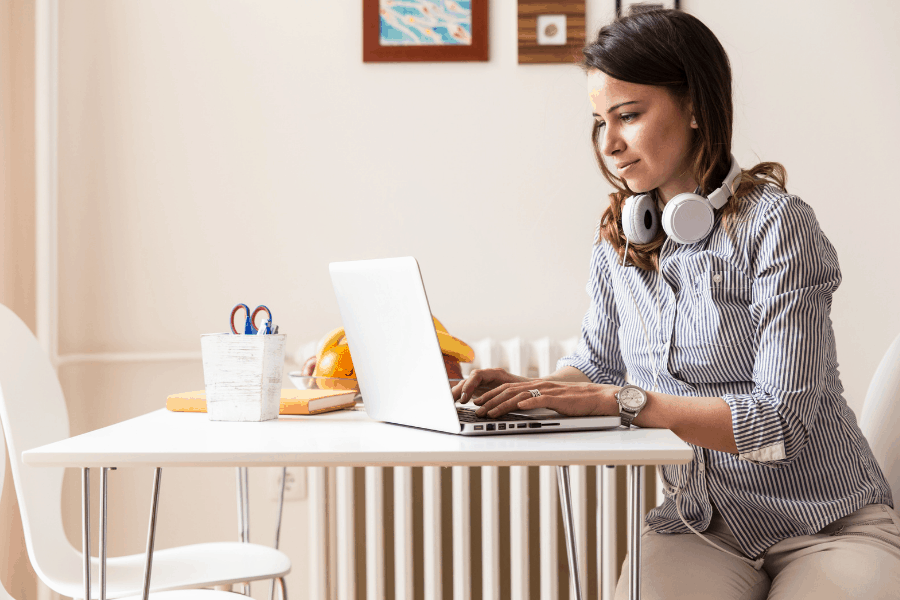 Blogging is one of the best side hustles for women who want to make a passive income online.
There are different ways to make money with a blog. For example, you could earn extra cash with:
Sponsored posts
Affiliate market
Ads
Digital or physical products
Offering a service
Some of the top women bloggers out there are making six figures every month! Michelle Schroeder-Gardner of Making Sense of Cents and Sarah Titus are just two examples.
If you're interested in starting a blog, think about what kind of blog you'd like to start.
For example, if you want to start a blog for other women, you might write about:
Faith
Recipes and food
Time management
Pregnancy and babyhood
Parenting
Fitness and health
Beauty/fashion
Those are just some of the topics you might consider. It's important to pick a topic that has money-making potential but there are a lot of other steps that go into building a successful blog. 
If you want to learn more about how to get started making money as a blogger, bookmark this ultimate start a blog guide to reading when you're done with this post.
Or if you're ready to jump in with both feet, head over to Siteground now to get your blog up and running!
5. Start a virtual assistant business
Becoming a virtual assistant is an awesome side hustle for women who want to earn a full-time income working part-time hours. According to ZipRecruiter, the average salary for virtual assistants is just over $67,000 a year.
So what is a virtual assistant and what do they do?
In a nutshell, a virtual assistant is someone who helps business owners run their businesses.
I worked as a virtual assistant for about a year before I became a freelance writer. And it involved doing a wide range of tasks for clients ranging from a church to a commercial real estate firm.
Being a virtual assistant is a great way to make extra money if you're detail-oriented and great at time management. And becoming a VA isn't as difficult as you might think.
If you're looking for some direction on how to get started, I highly recommend Gina Horkey at Horkey Handbook.
Gina launched her VA business around the same time I launched my freelancing business and she's become an absolute authority on making money as a VA.
Here are some of the resources she offers to get you started with earning extra income with VA services:
Make Money as a Virtual Assistant ebook
This super helpful guide covers everything you need to know about what it means to be a VA and how to get started. A great read if you're still trying to decide if VA work is right for you.
Jumpstart Your VA Business Mini-course
This hour-long mini-course walks you through the basics of starting a VA business. At 80% off the regular price, it's a great investment if you're ready to start getting your first VA clients.
Fully Booked VA is Gina's monthly subscription program for people who want to take their virtual assistant business to the next level. I'd recommend this if you're interested in getting on the fast track to making a full-time income as a VA.
Check out this list of 50+ services you can offer as a VA to make money!
6. Get paid to lose weight
Losing weight is a goal many women share. In fact, women are more likely to say they want to lose weight than men.
If you want to lose weight and get healthy while making extra money, there are different ways you can do it.
For example, you can sign up for apps that pay you to walk.
Sweatcoin rewards you for every step you take. Every 20 Sweatcoins you earn for walking is worth $1 that you can turn into cash.
If you're already trying to get in 10,000 steps a day, this is a simple way to make extra money!
You could also get paid to lose weight using an app like HealthyWage.
With HealthyWage, you set up a weight loss wager. If you reach your weight loss goal, you get paid!
Some HealthyWage winners have made up to $10,000 this way so it's a great incentive to focus on your physical health.
Here's a detailed guide to how to get paid to lose weight with HealthyWage.
And if you're ready to start your first wager, head here to sign up!
7. Make money freelancing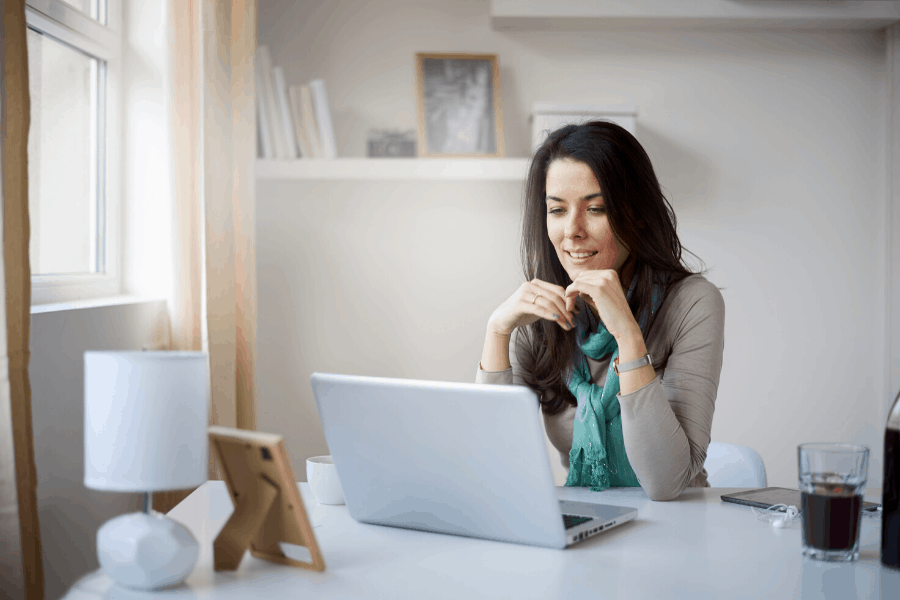 Freelancing and the gig economy are still booming, especially with more people working from home. There are around 1.1 billion freelancers making money online around the world.
Freelancing is hands-down one of my favorite side hustles for women because it's flexible and it has great money-making potential.
For example, I make well over six figures every year just from writing. And I only work around 25 hours a week, which is great since I'm a single parent homeschooling two kids.
Freelancing is the perfect side hustle because you can use the skills you already have to make extra money.
For example, you can make money with:
Freelance writing
Offering graphic design services
Managing social media accounts
Blog management
Web design
Photography
I have a list of 20+ in-demand freelance services you can offer to make money if you're looking for more ideas.
And when you're ready to start making money as a freelancer, there are a few ways to do it.
You could create a profile on a site like Fiverr.com to start. Fiverr connects freelancers with businesses that need specialized services.
You can also try looking for freelance gigs through online job boards. FlexJobs and Virtual Vocations are great choices if you're looking for remote work.
And finally, you can start a blog or set up a freelancer website to advertise your services.
This option is great because you can create additional income streams with ads, affiliate products or sponsored posts, on top of offering freelance services.
⇒Head to Siteground now to compare hosting plans and get your freelance blog or website started!
8. Get paid to proofread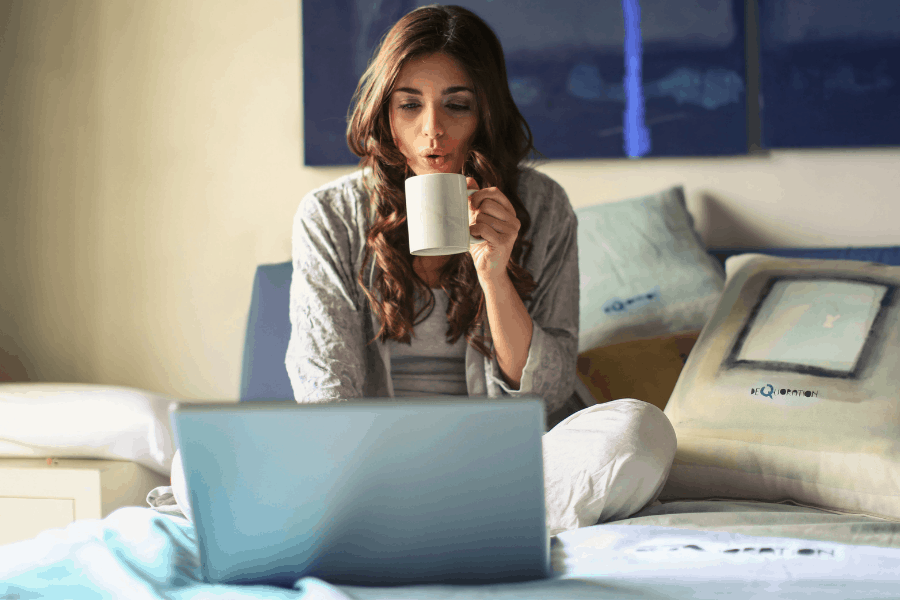 Proofreading is one of the best-paying side hustles for women if you have a great eye for detail.
Online proofreaders can easily make $50,000 a year or more working from home. That's great if you're looking for a flexible stay at home mom job.
So what is proofreading and what do proofreaders do anyway?
In a nutshell, proofreaders review written documents for spelling errors, grammar errors and typos.
I've been told more than once on this blog that I could use a proofreader so I know there's a demand for this kind of service. Proofreaders can work for businesses, bloggers and websites and get paid big bucks to correct errors!
If you're interested in making money as a proofreader, here's a guide on how to get started with proofreading.
And I've also got a post that offers 30+ online proofreading jobs to make extra money!
If you want to learn more about making money as a proofreader from an expert, I've got one more thing for you.
It's a FREE mini-course on how to make money proofreading and it's from Caitlin Pyle at Proofread Anywhere.
She's learned all the ins and outs of making money as a proofreader and her free course can help you decide if it's the right side hustle for you!
⇒Sign up for the FREE mini-course to make money as a proofreader!
9. Start a cleaning or laundry service
Cleaning and laundry are (unfortunately) considered women's work much of the time. And the numbers bear it out: 50% of women vs. 22% of men spend time doing housework on an average day.
The silver lining is that you could use all that time you've spent dusting, scrubbing and folding to make extra money offering cleaning or laundry services.
Where I live, for example, mobile laundry service is a popular side hustle for women and moms. We live in a small beach town that gets a lot of tourists who prefer to use the local laundry services versus doing laundry themselves.
The vacationers get to enjoy their time at the beach and the laundry services make money. And you can do laundry in your home so it's a great way to make extra money while being home with your kids!
If your kids are older, you could try offering cleaning services instead. You'll need to invest in a basic cleaning kit but otherwise, it's a low-cost side hustle to start.
10. Become a Pinterest manager
Did you know that 7 out 10 Pinterest users are women?
It makes sense though, considering that a lot of the content on Pinterest centers on topics that women are interested in. Think recipes, weight loss, self-care and parenting.
If you're spending time on Pinterest every day, why not make money doing it?
Becoming a Pinterest manager is one of the best side hustles for women who want a flexible way to make money online.
As a Pinterest manager you can handle things like:
Pin creation and design
Scheduling pins
Reviewing Pinterest analytics to fine-tune your clients' pinning strategy
Managing group boards
Pinterest ad management
This is a great way to make extra money with low startup costs. If you want to offer pin creation and design services, for example, the most money you might need to spend is a few bucks on a Canva Pro subscription.
You can also make money from your Pinterest skills by selling pin templates. Carly at Mommy on Purpose does this and pulls in a nice amount of cash from it.
And again, all you need is a good design program like PicMonkey or Canva Pro.
If you plan to sell templates, you may also want to set up a basic website or blog with Siteground that can double as your storefront.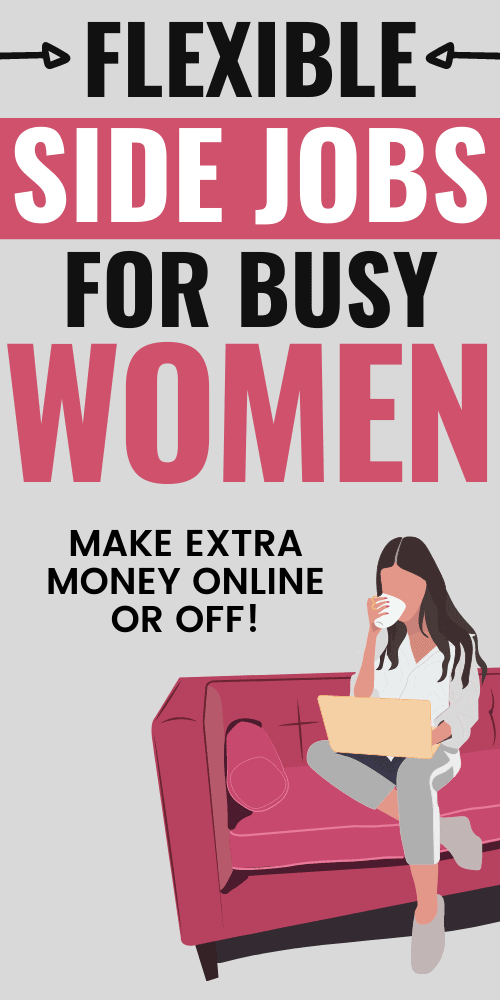 Wrapping Up the Best Side Hustles for Women
So there ya go!
I've given you 10 solid money-making ideas for women that you can do online or offline, depending on your preferences.
With so many ways to make money these days, there's no reason not to have at least one side hustle, even if you're a super busy mom!
Do you have some favorite side hustles for women to recommend? Head to the comments and tell me about it!
And don't forget to pin and share this post!
More ways to make extra money:
30 Proven Ways to Make an Extra $1000 a Month (or More)
40+ Things to Sell to Make Money (Sell Stuff for Cash Fast!)
40 High-Paying Side Hustles for Moms Who Want to Make Extra Money