Last Updated on February 25, 2023 by Rebecca Lake
Wondering how to make money fast as a woman?
Whether you're a stay-at-home mom, working mom, single mom or pregnant mom-to-be, there are a lot of ways to make good money. Some of the best ideas for how to make money quickly as a female include taking online surveys, becoming a freelance writer or virtual assistant or starting your own online business.
Finding ways to make extra money as a woman might be necessary if you're living on a tight budget. Or you may simply want to turn your extra time into extra cash.
Today, we're sharing some of the best ways to make real money fast as a woman. If you're ready to create extra income on your own schedule (and potentially do it without much effort) this post is a must-read.
How to Make Money Fast as a Woman (40 Legitimate Ways)
Making money fast as a woman is all about figuring out what skills you have and different ways that you can use them to earn an income. How much money you can make quickly as a woman can depend on how much spare time you have.
With that being said, here are some of the best ways to make quick money as a woman, including side hustle ideas, ideas for small businesses and creative ways to get free money.
1. Virtual assistant
Virtual assistants help business owners run their businesses and they're in high demand. The average hourly rate for virtual assistants ranges from $20 to $50, so this is a great side hustle for women who want to earn part-time (or full-time) pay from home.
You don't need a college degree to become a virtual assistant but you do need to be organized and good with time management. Some of the ways you could help online or local businesses as a virtual assistant include:
Managing social media accounts
Writing or editing blog posts (if your clients are bloggers)
Email management
Business and personal scheduling
You'll need a laptop and a reliable internet connection to get started as a virtual assistant. You can set up a website or social media accounts to attract potential clients, or search for your first gigs through online platforms like Virtual Vocations or FlexJobs.
As you become more experienced, you can set your own rates to reflect the level of expertise you're providing and the scope of work that you're doing.
2. Online proofreader
Online proofreaders are paid to review written content and check it for spelling mistakes, grammatical errors and typos. Becoming an online proofreader could be a great way to make money as a woman in your free time from the comfort of your own home.
Proofreaders can make $50,000 to $60,000 a year and the more experience you gain, the more your earning potential might grow.
If you're not sure how to get started with proofreading, taking on an online course can help. An online course can provide a good introduction to how online proofreading works and how to find clients so that you have enough work to meet your financial goals.
There's a free proofreading webinar you can sign up for if you're not ready to drop money on a course yet. It's offered by Caitlin Pyle of Proofread Anywhere and she's a verified expert on how to start a successful online proofreading business.
---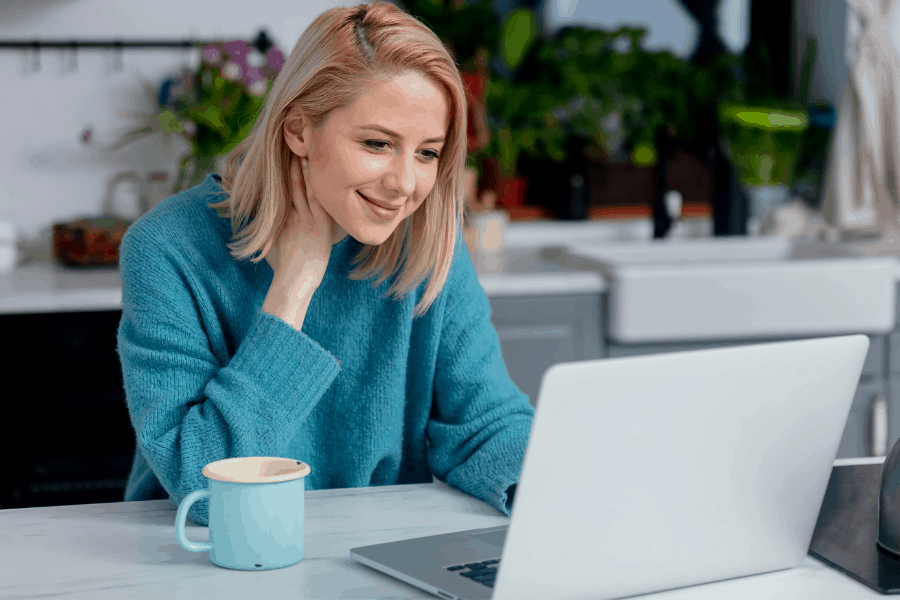 Want to get paid to proofread?
Sign up for a FREE webinar to learn how to make money proofreading online!
---
3. Freelance writing
Freelance writing is one of the most popular side hustles for women and it's a great option for moms, students or retirees who enjoy writing.
In terms of how much money you can make as a freelance writer, it depends on how much time you put in and your level of experience.
When I first started writing as a side hustle in 2011, I made about $15 per article. Today, I make $500 to $1,000 per article so there's definitely room to make good money.
Offering your freelance writing services on a site like Fiverr or Upwork can be an easy way to get your first writing gigs. From there, you can work on building up a portfolio so you can pitch higher-paying clients.
Here are a few other places you can look for freelance writing jobs:
Pro tip: If you need to make some quick cash in your bank account fast, you can get paid $100 per article to write lists for Listverse.
4. Other freelance services
There are approximately 70 million freelancers in the U.S. but not all of them are writers. There are plenty of other freelance services you might consider if you're interested in how to make money fast as a woman.
Depending on your skill set, you could offer freelance services as a:
Graphic designer
Website designer
Web developer
Blog editor or blog manager
App developer
Translator
The best part about offering freelance services is that you can decide which gigs to accept and how much to charge for your time. You can advertise your services through an online marketplace like Fiverr or build your own website to attract clients.
Looking for a remote gig or work-from-home job? Virtual Vocations features remote jobs and at-home jobs in over 50 categories so you can find a role that fits your skills. Create a Virtual Vocations account and start browsing listings to find your next remote job!
5. Online focus groups
Joining focus groups is a good way to make easy money fast without a lot of hard work. When businesses want to launch a new product or service, they may create a focus group to conduct market research.
Members of the focus group get paid to share their thoughts and opinions on the product or service. It's a quick way to make money as a woman and it can be a profitable side gig, depending on which focus groups you're joining.
Two of my favorite options for paid focus groups online are Respondent.io and User Interviews. It's possible to make anywhere from $150 to $250 per hour from home and both sites are free to join.
?Join online focus groups with Respondent.io
?Get paid to share opinions with User Interviews
6. Online surveys
Completing surveys online is another way women can make money fast just for answering questions. Depending on which survey sites you're using, you might earn cash that can be deposited into a bank account or PayPal account or free gift cards to top retail brands.
There are lots of survey sites to choose from but one of my favorites is Survey Junkie.
With Survey Junkie, you can get paid up to $50 per survey and you can make money with your phone from anywhere, as long as you have an internet connection. Compared to other survey companies, Survey Junkie is one of the best options for making extra cash with little effort.
---
Make Quick Cash With Survey Junkie
Take surveys. Earn rewards. Get paid.
Making extra money is that easy when you create an account with Survey Junkie. It's free to sign up and you can earn real cash in your PayPal account or free gift cards, just for answering questions and sharing your opinions.
---
7. Blogging
Blogging is one of the most popular ways to make money online and there are around 600 million active blogs in cyberspace. Some of the top mom bloggers pull in six figure incomes (and sometimes, seven figures) from their blogs annually.
Starting a blog could be a great idea for how to make money fast as a woman if you're strategic about it. It's possible to make money with a brand-new blog in just a few months if you're creating great content and marketing it to your target audience.
And the great thing about starting a blog as a side hustle is that you don't need a lot of money to get started.
You'll need to spend a few bucks getting hosting through a company like Siteground but it's possible to get the other basic things you need, like a theme and plugins, for free. As you start to make money from your blog, you can reinvest it into your business to scale and grow.
If you need help getting going, here's a simple guide to starting a blog.
Ready to start your own blog or website? It's easy to get started with your own domain and hosting through Siteground. Plans are affordable, which is perfect for beginners!
8. Transcription
Transcriptionists make money by turning audio recordings into a written format. You might consider becoming an online transcriptionist if you'd like to get paid to type.
The income range for transcriptionists is fairly broad. At the low end, a part-time transcriber might make around $20,000 a year. At the high end, there are online transcription jobs that pay $100,000+ annually.
Wondering how to get started as a transcriptionist?
This free webinar from Transcribe Anywhere offers a great introduction to what transcriptionists do and how you can make money transcribing documents.
There's no cost to sign up so it's worth a look if you're interested in whether transcribing might be right for you. And once you're done you can start looking for gigs online at GoTranscript.
---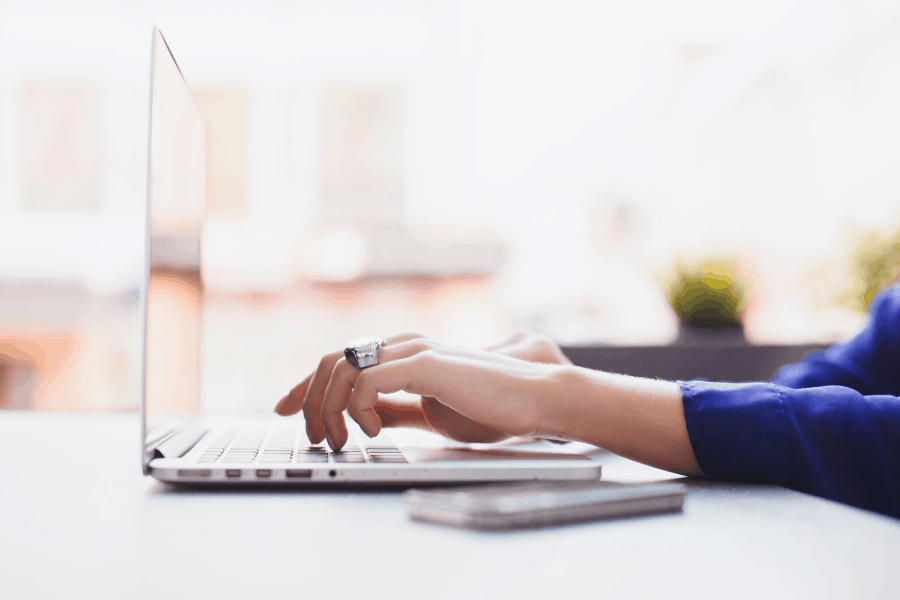 Want to get paid to type?
Learn how to become an online transcriptionist in this free mini-course!
---
8. Outschool teacher
If you're not familiar with Outschool, it's an online teaching platform for kids in grades K-12. Many Outschool teachers are professional educators but there are plenty of stay-at-home moms, working moms and college students offering courses on the platform.
Some of the top Outschool teachers make $10,000 a month or more with their online classes. And the best part is that you don't need a professional teaching degree to make money.
Interested in making money as an online teacher? Outschool is a great way for stay-at-home moms, single moms, working moms, and retirees to make extra money, no teaching degree is required! Apply to become an Outschool teacher and make $50+ an hour!
9. Online course creator
Creating and selling online courses can be a great way to earn passive income while sharing your knowledge about subjects you love.
You can create an evergreen course and upload it to a platform like Teachable, then make passive income every time a new student signs up. If you can create an in-demand course then it's easy money!
Other top websites for selling online courses include Udemy, Skillshare and Thinkific.
10. YouTube
Starting a YouTube channel is one of the most popular ways to try and make money online. Some of my favorite YouTubers are women who create content around topics like organization, planning and creativity.
You don't need much to start a YouTube channel, other than a good camera and of course, a computer with reliable internet.
The most important thing is to pick a good niche that you'll enjoy creating content around and that other people will be interested in. And of course, it's important to be consistent with how often you post which can help you build an audience.
11. Pinterest manager
More than 75% of Pinterest users are women and if you're here reading this, you might be one of them. If you spend a lot of time on Pinterest, there may be no better way to make money fast as a woman than becoming a Pinterest manager or Pinterest virtual assistant.
Pinterest managers and Pinterest VAs get paid to manage Pinterest accounts on behalf of their clients.
Some of the things you might do as a Pinterest expert include:
Creating pin images using Canva or another graphic design tool
Scheduling pins through a service like Tailwind
Reviewing Pinterest analytics to create a more effective pinning strategy
Creating video pins
Setting up new Pinterest accounts or shops for existing Pinterest accounts
This is a great side hustle (and a fun one) if you love to play on Pinterest and you want to get paid for it.
Want to know more? Take a look at this super helpful course on how to become a Pinterest VA.
12. Pet sitter or dog walker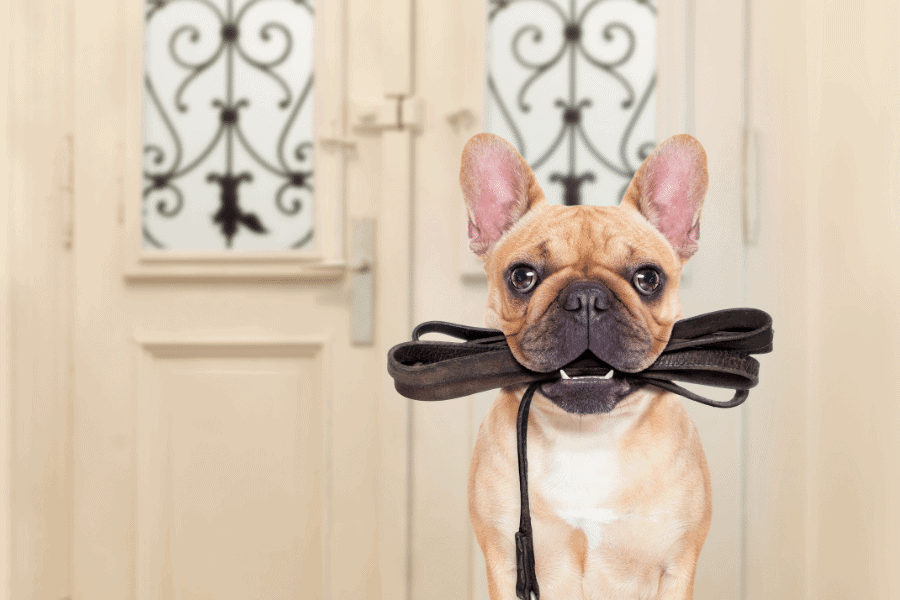 Love cats, dogs or other animals? There are plenty of pet owners out there who may be willing to pay you to care for their furry (or not-so-furry) friends.
Dog walkers can make $20 to $30 per animal, per walk. Pet sitters, meanwhile, can charge similar rates to care for pets while their owners are away.
If you're not sure how to start marketing your pet-sitting or dog-walking services, check out Rover.
Rover is an online marketplace that helps pet owners connect with dog walkers and pet sitters. It's free to create your profile and the average Rover pet caregiver makes $1,000 a month.
13. Childcare
Babysitting could be an obvious choice if you're looking for ideas on how to make money fast as a woman. If you're a mom with kids at home already, caring for other peoples' children might be a natural fit.
You might be able to make $15 to $20 per hour for babysitting a single child, depending on where you live and how high demand for child care is.
Keep in mind that if you're planning to care for multiple kids in your home at the same time, there may be limits to the number of children allowed before you have to register as a daycare business.
Ready to find babysitting gigs? You can create a free profile on Sittercity to advertise your childcare services locally.
14. Mystery shopper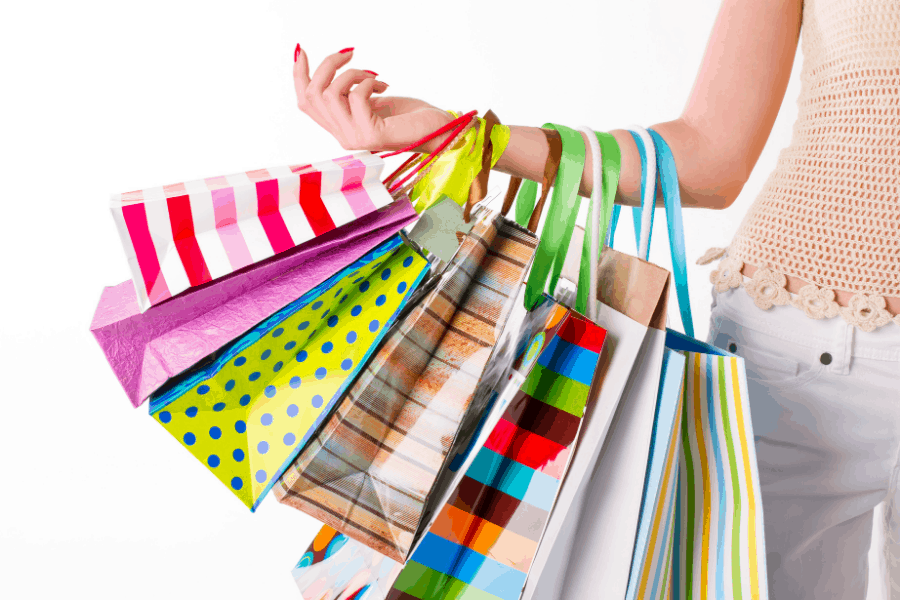 Mystery shoppers earn an income by visiting retail stores, restaurants and other merchants, then sharing their experiences.
For example, you might be asked to visit a local restaurant and order specific items off the menu. You'd then report back to the mystery shopping company on how good or bad the experience was.
Mystery shoppers usually get paid an hourly rate and some shops might offer reimbursement for any money they spend. So if you're visiting a restaurant for a mystery shopping gig, you might earn $25 per hour for your time and get a free meal in the bargain.
Intellishop and Secret Shopper are two of the most popular websites for finding mystery shopping gigs.
15. Personal shopper
Being a personal shopper is a little different than being a mystery shopper. As a personal shopper, you can get paid to offer fashion or styling advice, or simply hit the grocery store for another mom who's too busy.
Offering personal shopper services locally is an excellent option for how to make money fast as a woman. You can get paid the same day for doing simple shops like buying groceries or picking up dry cleaning.
If you're not sure how to find shopping clients, signing up for Instacart is a simple way to get started.
You can create a free Instacart shopper account, then decide which gigs to accept as they come in.
16. Earn cash back
If online shopping is a regular part of your routine, earning cashback is a simple way to make money fast as a woman.
Cashback apps pay you back a percentage of what you spend when you shop at partner stores.
You can earn cash or gift cards when you use your debit card or credit card to pay. And the cash back you earn is on top of any rewards you might be earning with your credit card.
What's the best free app for earning cashback? Here are a few of my favorites:
Rakuten. Rakuten (formerly Ebates) is a top cash-back website. You can shop and earn up to 40% cash back instantly when you install the Rakuten browser extension. And you can earn even more money by qualifying for a $10 welcome bonus and referring friends and family to Rakuten.
Swagbucks. Swagbucks lets you earn points for doing everyday tasks online, including taking surveys, playing games and shopping. You can convert those points to cash or free gift cards, plus you can get $5 in bonus rewards when you sign up.
Drop. Drop is a cash-back shopping app that lets you earn cash at 500+ brands. It's free to download the Drop app in the Google Play Store or the App Store and start earning cashback right away at partner merchants.
PayPal Honey. When you install the Honey browser extension, you can earn cash back instantly at top stores. You can also take advantage of special promo codes and deals to save money on the things you buy.
---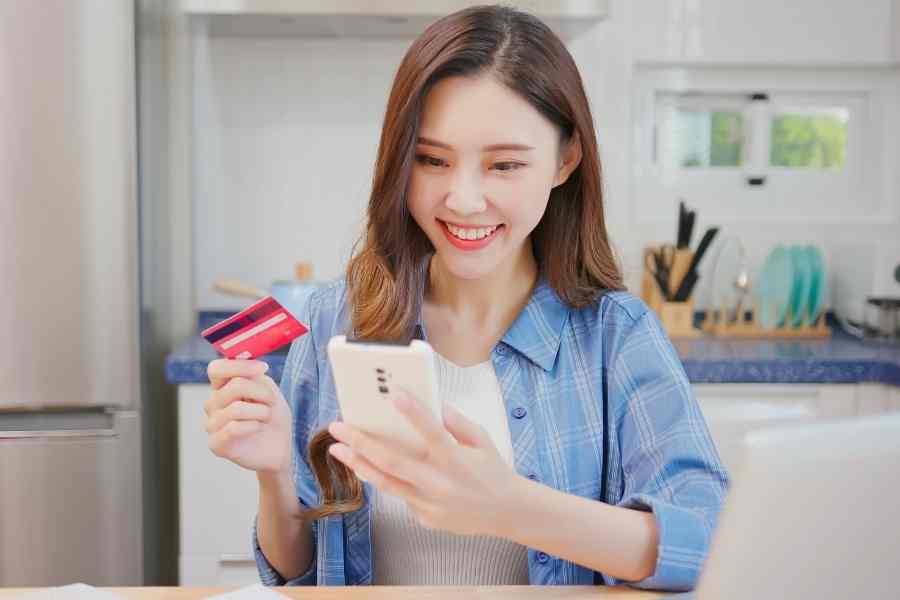 Want to Get Cash Back When You Shop?
Making extra money is easy with Rakuten!
Rakuten is a free app and browser extension that helps you find coupons and discounts when you shop online or in stores. You can earn up to 40% cashback when you shop at hundreds of partner retailers, plus get a $10 sign-up bonus and up to $30 in bonus cash for each person you refer!
---
17. Affiliate marketing
Affiliate marketing is an excellent way to make passive income and it's a great option for how to make money fast as a woman with little effort.
Here's how it works:
You choose products or services that you want to promote and join their affiliate programs.
Once in the program, you share your affiliate links on social media or through your blog if you've started your own website.
When someone clicks one of your affiliate links and makes a purchase, you earn a small commission.
If you're looking for affiliate programs to join, Shareasale is a great place to start. Shareasale is an affiliate network where you can search for and join affiliate programs for products you want to promote.
18. Etsy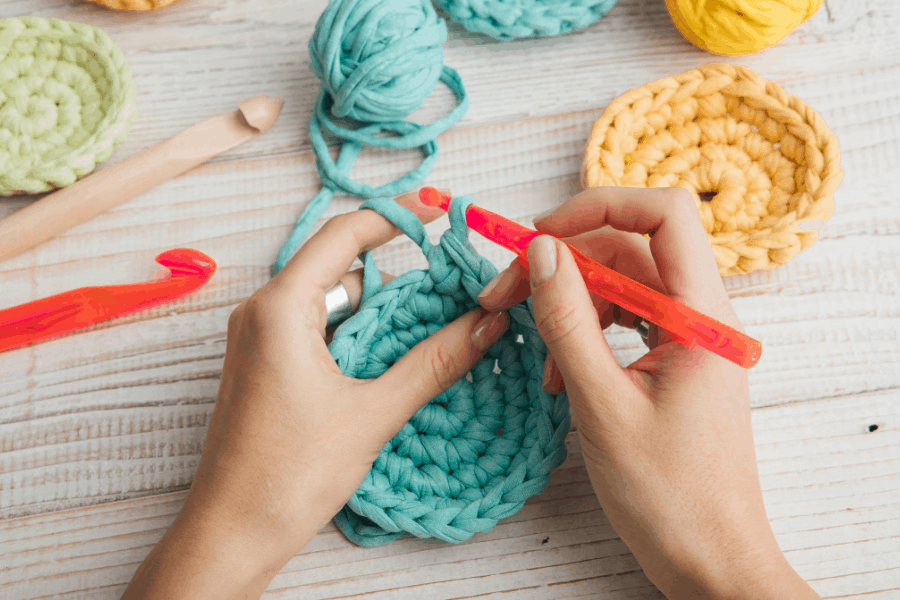 Interested in having your own online store? Starting an Etsy shop could be a great fit.
There are lots of small business owners who use Etsy to promote and sell their vintage and handmade items. Some of the things that sell best on Etsy include:
Jewelry
Party favors
Cake decorations
Custom dog bowls
Original art prints
Some of the keys to running a successful Etsy shop include choosing a niche that's not too competitive and knowing how to use Etsy SEO to make sure your products show up in search results.
Are you a mom of a child who's interested in starting an online store? Check out my guide on how to start an Etsy shop as a teenager, which includes a case study of the kpop shop I helped my 15-year-old daughter launch last year.
19. Data entry
Data entry specialists get paid to enter or update information in a database or computer system. It's not a glamorous-sounding job for women but it is one way to make money fast.
One of the best things about data entry is that more companies are hiring remote workers for these jobs. So you could make a part-time or full-time income from home, which is great if you're a busy mom or you're caring for an aging parent.
If you're interested in finding high-paying data entry jobs online, joining FlexJobs can give you access to premium job listings.
20. Social media manager
Social media management is a niche service that many bloggers and businesses are willing to pay good money for.
As a social media manager, you might be responsible for:
Setting up new social media accounts for your clients
Making sure branding is consistent across different social media platforms
Creating and posting content
Replying to comments
It's helpful to have an understanding of how social media marketing works if you'd like to offer online services in this niche.
The more you're willing to learn, the more of an expert you can become which can make it easier to charge higher rates.
21. Social media influencer
Influencers are people who've built up huge followings on different social media platforms. They can shape the trends and if they're able to build a loyal enough following, they could turn that into a steady stream of income.
Becoming a social media influencer isn't one of the easiest ways to make money fast as a woman, since it can take time. But if you're able to be consistent and create content that's designed to go viral, you might be surprised at how many new followers or subs you might attract,
In terms of how social media influencers make money, the options can include:
Sponsored content
Brand ambassadorships
Adds
Digital products
Physical products
Affiliate marketing
If you're interested in this idea of how to make money fast as a woman, studying some of the top social media influencers in the niche that you're attracted to can be a good way to figure out what works and what doesn't for attracting followers.
22. Tutoring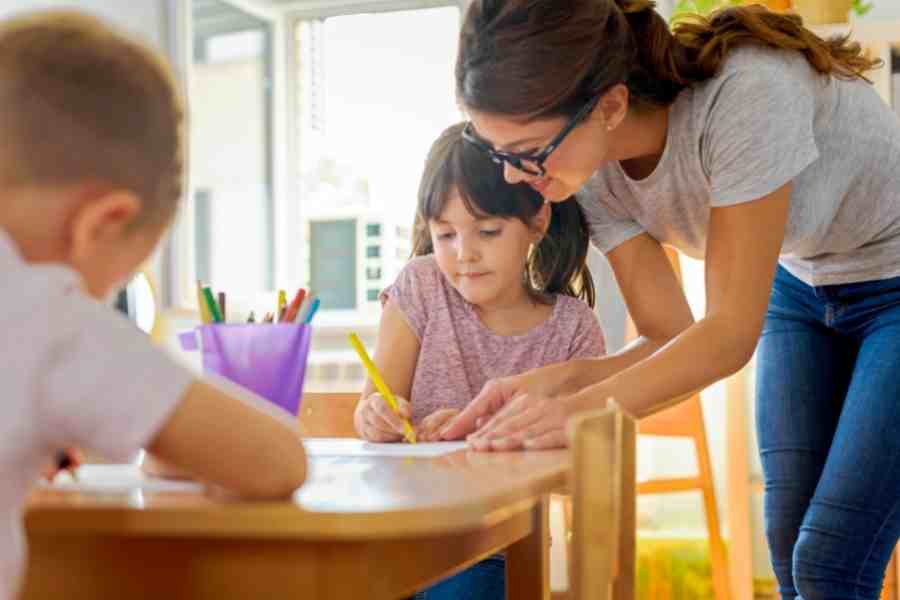 Tutoring is something you might be interested in if you want to use your skills and knowledge to make money fast as a woman.
You can tutor online or in person and charge anywhere from $25 to $50 an hour for your services. You might be able to charge even more if you specialize in something like SAT tutoring, which can pay up to $85,000 a year.
If you want to tutor locally, you might try advertising your services on Facebook or Craigslist. Reaching to local homeschool groups or asking any homeschooling moms you know for referrals is also an option.
If you'd rather tutor online, here are a few top sites you might apply to join:
23. Rent out a spare room
Renting out part of your home can be an easy way to make money fast as a woman, assuming that you're comfortable having new people in your space.
You could offer short-term rentals through Airbnb or take in a regular renter. For example, you might rent out a spare room to international students who need an affordable place to stay while they're in school.
If you're going to be renting out extra space while you and your family live in the home it's a good idea to do a criminal background check on any would-be renters. Or you might consider only renting to people you know and trust.
24. Rent out your car
If you have more than one vehicle or you don't drive that often you could rent out your car for cash.
Sites like Turo let you share your car with people who need temporary transportation. It's kind of like Airbnb with cars instead of rooms.
The average Turo host can make anywhere from $500 to $1,000 a month for basically zero effort. So it's worth considering, especially if you live in an area where public transportation or rental cars might be in short supply.
25. Digital printables
Selling printables and digital downloads has become one of the hottest ways for how to make money fast as a woman.
Here's what's so great about selling printables: Once you create them and set up a shop to sell them, you can earn virtually unlimited passive income.
You can sell digital printables on Etsy or set up a Shopify store and link it to your blog if you have one. You can also use low-cost platforms like Payhip to create a virtual storefront.
Don't think selling printables has great earning potential? Sarah Titus is a blogger who makes millions selling printables through her Shopify store.
If you're ready to start making printables to sell, Canva is an easy-to-use design platform that's perfect even for beginners.
26. Flip items
When you hear the term "flipping" you might assume that you're talking about real estate. While real estate flipping can be very lucrative, it's not really a fast way to make money.
Selling things around the house that you don't need or treasures you find at yard sales or thrift stores, on the other hand, could put some quick cash in your pocket in no time.
Some of the best places to flip items include:
Facebook Marketplace
Facebook bargain groups
Craigslist
If you're interested in learning more about how to become a professional flipper, you can sign up for a free workshop from Flipper University. It covers the highlights of how to make real money as a flea market flipper.
27. Sell feet pics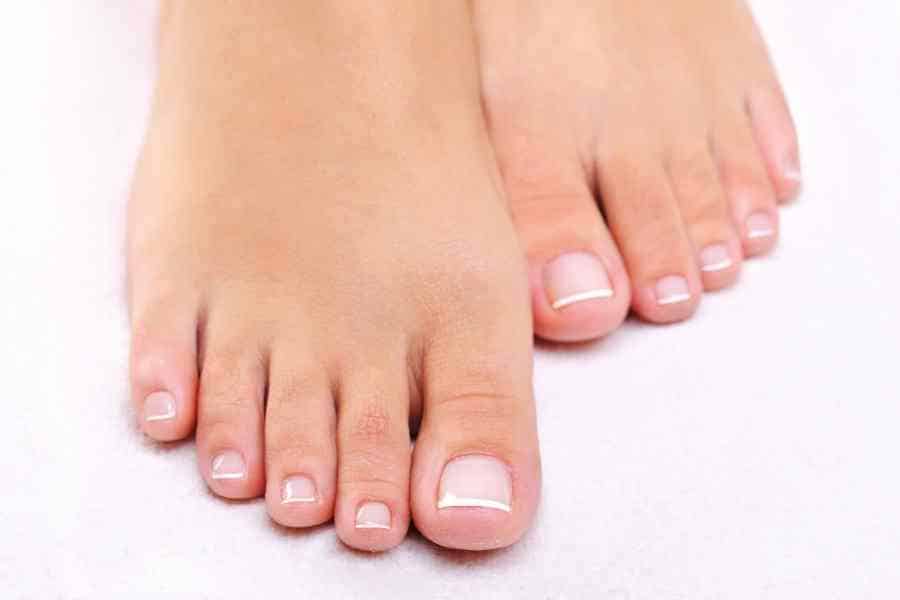 Selling feet pics is a legitimate way to make money online. And honestly, it's one of the best options for how to make money fast as a woman since there's high demand for feet photos.
If you're interested in selling pictures of feet for money, it helps to first start by making sure your feet are in great shape. Breaking out your pedicure supplies might be in order if your footsies could use a little polishing.
From there, you can work on perfecting your foot photos and deciding where to sell them. Some of the best sites for selling feet pics online include:
Footfinder
Instafeet
Feetify
Fun Feet
OnlyFans
The great thing about selling feet pics is that you don't have to show your face so you can maintain anonymity while making great money.
28. Deliver food
Food delivery is another way women can make money fast and you just need a reliable vehicle and a driver's license to get started.
You could look for food delivery jobs at local restaurants or sign up to become a dasher with DoorDash.
Dashers earn a base rate that depends on the details of the delivery and tips from customers. Delivering food is a great side hustle for moms who want to work a flexible schedule while making extra cash.
29. Resell furniture
Love taking something old and making it feel new and unique? Refinishing furniture and reselling it can be an excellent way to make a lot of money in your spare time.
You can find old furniture at thrift stores, consignment shops, yard sales or estate sales. Craigslist and Facebook are also great for finding free furniture if you're quick about responding to curb alerts.
Depending on the piece, you might just need some new paint and a little elbow grease to transform it from trash into a to-die-for piece. You could resell your upcycled finds to antique stores, consignment shops or boutique furniture stores locally or online through Facebook Marketplace and Craigslist.
30. Print on demand
Print-on-demand (POD) is an easy way to make money by selling your creative designs.
You can use a graphic design program like Canva to create your images, then upload them to Redbubble.
Shoppers can have your images printed on mugs, t-shirts, bags and other items. Redbubble handles the printing and shipping and you earn a percentage of the sale.
Creating a print-on-demand shop could be one of the best ways for women to make money fast if they're creative and love coming up with fund design ideas.
31. Low content books
Low content books are books that don't have a lot of content inside them. Examples of low content books include composition notebooks, blank sketchbooks and lined journals.
While they might sound simple, low content books sell surprisingly well, especially on Amazon. They're also easy to make.
You can create a simple composition notebook or journal template, then come up with different cover designs. Upload them to Amazon KDP, add a few well-chosen keywords and once your book is approved, it'll be ready to sell on Amazon.
If you're looking for ideas on how to get started with low content publishing (or some free templates you can use) Passive Income Templates on YouTube is a great resource.
32. Start investing
Investing in the stock market is a tried-and-true way to build wealth and it's possible to make money quite quickly if you know what you're doing.
The best part about investing is that it doesn't require a lot of money to get started. For example, you could open an account with M1 Finance with as little as $100 and start trading stocks right away.
If you'd prefer to invest and make free money at a slower pace, you might join Acorns instead.
The Acorns app links to your bank account and rounds up your spare change, then invests it in low-cost exchange-traded funds (ETFs).
You can get a $5 welcome bonus just for joining Acorns and make passive income from your investments while you sleep.
33. Clean houses
Cleaning is not my favorite mom chore and it might not be yours either, but it is a quick way to make money as a woman.
If you can get a few regular clients on your list, you could easily make a few hundred dollars a week cleaning houses while the kids are in school or on the weekends.
You'll need a basic cleaning kit to get started but otherwise, this is a low-investment side hustle option. You can advertise your cleaning services on Facebook or ask friends and family to spread the word that you're looking for clients.
34. Do laundry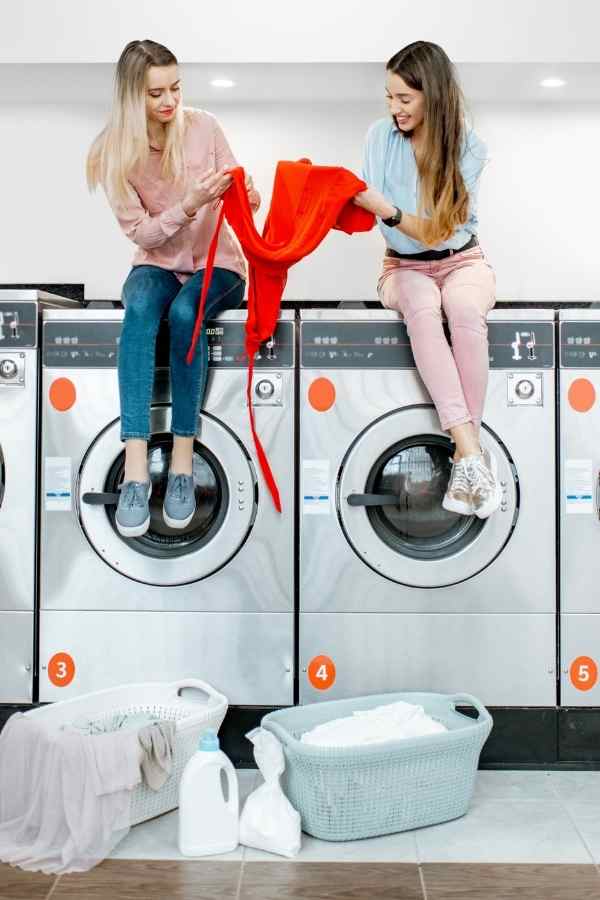 Laundry is something moms do a lot of and even if you're a single woman or retiree, you've got to wash clothes sometimes. So why not turn your laundry skills into easy money?
Offering laundry services locally is a genius way to make money from home in your spare time, doing something that doesn't require much effort or hard work. You can have clients drop off their laundry to you or offer to pick it up, wash and fold, then drop it back off.
It's a win-win for you and for anyone who might be looking for a cheap laundromat option so they don't have to do their own laundry.
35. Sell baked goods
Love baking? You could turn your hobby into a home business if you're able to sell your baked goods locally or online.
This is one of my favorite ideas for how to make money fast as a woman since you might already have everything you need to get started at home.
You could sell your baked goods through Facebook, at your local farmer's market or through word of mouth if friends and family love what you make and tell others about it.
36. Offer meal prep services
Meal prep and planning can be a time-saver and a money-saver. You don't have to guess about what to make for dinner or worry about spending too much money on groceries. 
If you've mastered meal prep and planning you could offer your services to other moms and families who might need help saving time and money in the kitchen.
You can develop meal plans or help with preparing and packing up foods. If you need some inspiration for different types of meal plans to offer you can get some inspiration by signing up for a free trial with $5 Meal Plan. 
37. Sell old clothes
Selling clothes, shoes or handbags is another option for making money fast as a woman.
For example, you might be interested in selling kids' clothes they've outgrown. Or maybe you want to trim down your collection of designer bags.
There are plenty of places you can sell clothes online for money, including:
Poshmark
ThredUp
Depop
Etsy (for vintage clothing)
Therealreal.com
You could also sell clothes locally at consignment shops. If you specifically want to sell kids clothes or teen clothes, you might try your local Once Upon a Child or Plato's Closet.
38. Sell books or collectibles
While audiobooks have gotten popular (you can get two free audiobooks with Audible), plenty of people still like to read physical books, myself included.
You could easily make money fast a woman by selling books you no longer want to keep in your collection.
Some of the places to sell books locally include:
Books a Million's book buyback program (in selected stores)
Local bookstores
Consignment shops
Comic book shops
Comic book shops are also a great place to sell collectibles like Funko Pops, action figures or playsets and classic toys.
If you're hoping to sell books or collectibles online, it's usually easy to find buyers through eBay or Etsy if you're selling vintage items.
39. Test websites
User testers get paid to test new apps or websites and share their feedback on what they liked or didn't like.
This is one of the simplest ways for how to make money fast as a woman and you don't need any special tech skills to apply, other than knowing how to use a phone or a laptop.
If you're looking for website testing jobs online, UserTesting.com is one of the most popular websites to try.
40. Become an online juror
Serving on jury duty might not be ideal if you're a busy mom, student or working woman. But you could still make money as an online mock juror.
Online jurors get paid for their time to review cases and offer a verdict. You can work from home and make $50 to $60 an hour just for participating in mock cases.
If you're interested in becoming an e-juror, ejury.com and onlineverdict.com are two sites that offer paid juror gigs.
Other Ideas for How to Make Money Fast as a Woman
Don't have time to start a side hustle or a business to make extra money? Here are a few other ways to make or save money quickly as a woman.
Negotiate a raise at your current job
If you work a 9 to 5 job, one of the fastest ways to boost your income is by asking for a raise. Once your raise is approved, you might see the difference in pay as fast as your next paycheck.
Here are some tips for negotiating a raise successfully:
Know your value and what you bring to the table, in terms of producing positive results for your company.
Research what other people at your company in similar positions are making.
Compare salaries for the same role across your industry to see what competitors are paying.
Choose the right time to make your request.
Be prepared to haggle a little to find terms you and your employer are happy with.
If your efforts to snag a pay raise are hitting a wall, you could wait a little while and try again later. Or you might consider job-hopping and going to a different company that's willing to meet your price.
Get a part-time job
A part-time job can bring in extra income if you have room in your schedule.
You could get a part-time job during school hours, at nights or on weekends. Or you might pick up a seasonal job during the holidays or summer months.
Part-time jobs are great because you can make money without working a lot of hours. And if you don't like the job, it may be easier to walk away from it compared to trying to quit a full-time position.
Refinance your student loans
If you have student loan debt that you're trying to pay down, refinancing your loans could be an easy way to put some money back in your pocket.
When you refinance student loans, you take out a new loan to pay off the debt. You then make payments to the refinance loan going forward.
Refinancing student loans could make sense if you're able to get a lower interest rate. You can check your rates for free through Upstart to see how much you might be able to save.
Refinance your mortgage
Refinancing your mortgage works the same way as refinancing student loans: you get a new loan to pay off the old one.
Refinancing usually only makes sense if you can get better loan terms, like a lower interest rate or monthly payment. But if you need quick cash, you might consider a cash-out refinance loan.
Cash-out refinancing lets you withdraw home equity in cash at closing. You might be able to get approved for a cash-out refi in as little as two weeks.
If you're interested in refinancing a home loan, compare current refinance rates at SuperMoney.
Pay off credit card debt
Getting rid of credit card debts can free up money in your budget that you can use to fund other financial goals.
If you're struggling to pay down credit card debt, a tool like Tally could help.
Tally is designed to help you pay less in interest so that you can pay your credit card debt off faster.
You could also try transferring balances to a new card with a 0% introductory APR. You can compare balance transfer card offers and check your credit scores for free with Credit Karma.
Reduce your bills
Cutting out unnecessary spending is one way to make instant money back each month; lowering your bills is another.
For example, you might be able to save money by switching to prepaid cell phone service or reducing the number of streaming subscriptions you use. Even small amounts saved can really add up.
If you're not sure which bills to cut, the Trim Financial Manager can help. Trim is a personal finance tool that looks for areas in your budget where you can cut back, then helps you to reduce those expenses.
Frequently Asked Questions (FAQs)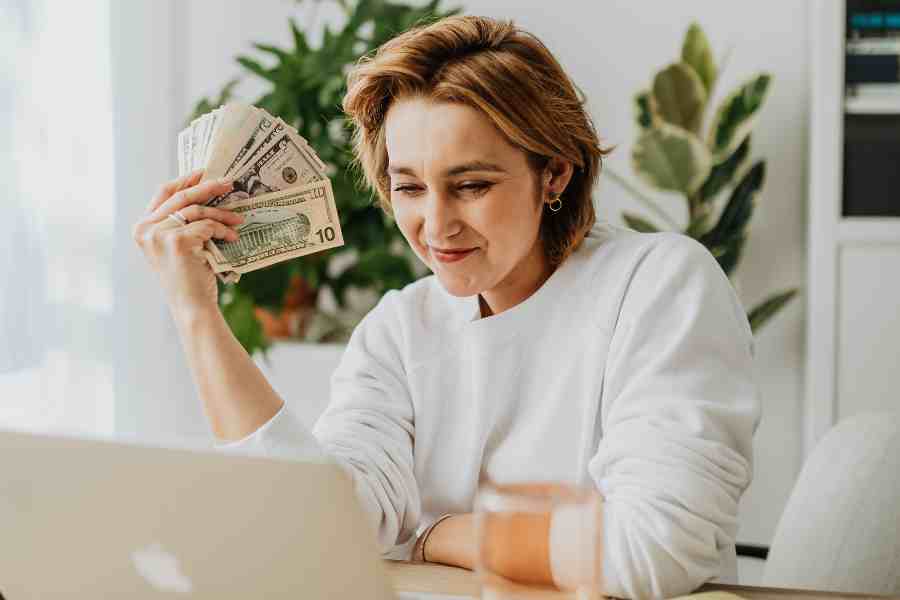 What can a lady do to make money?
Some of the best ways to make money as a woman include freelancing, working as a virtual assistant, joining focus groups and getting paid to take surveys. Women can also make good money from mystery shopping, personal shopping with Instacard or earning cash back with Rakuten or Swagbucks,
How can a woman make money online fast?
Selling things for cash is one of the easiest ways for a woman to make money online fast. You can find items around the house that you no longer need and sell them for quick cash on Craigslist or Facebook Marketplace.
How to hustle as a girl?
If you're looking for some girl boss side hustle ideas, some of the best ways to make money include freelancing, online proofreading jobs, starting a coaching or consulting business, blogging and selling stock photos for cash. Girls who are 18 or older could also make money with an Etsy shop or by selling feet pics online.
Final thoughts on how to make money fast as a woman
If you're a woman who's interested in making money quickly, the good news is that you have lots of options for doing so. Finding the best ways to make money as a woman can depend on how much time you have and what skills you might be able to turn into a steady income. Starting off with some of the easiest ways to make money, like taking surveys or earning cash back, can provide you with a little extra cash while you explore other ideas for side hustles or online businesses.
Need more money tips? Read these posts next:
Which idea for making money fast as a woman will you try?