Last Updated on October 2, 2022 by Rebecca Lake
Need a quick and easy way to make extra money?
Believe it or not, taking surveys online can be a great side hustle for moms, students or anyone who wants to earn extra cash!
The trick is finding the best survey sites to work with.
Because who has time to waste on sites that pay you peanuts, right?
I'm all about finding ways to grow your income, especially when you can do it from home. It's how I went from side hustling to running a business full-time!
What's great about getting paid to take surveys is that you don't need experience or special skills to do it.
You're earning real money to offer your opinion, which is pretty sweet.
There are lots of survey sites out there and some are better than others. And some pay you cash, while others let you earn points that you can use to get free gift cards.
But either way, that's money you didn't have before. Which is huge if you're hoping to create some wiggle room in a tight budget.
To help you get started in your survey-taking, money-making efforts I've done the hard part for you. I've rounded up the best survey apps to download now to make extra money!
15 Best Survey Sites for Making Extra Money
1. Survey Junkie
Survey Junkie is hands-dow THE best survey site for making easy cash.
I personally have made over $2,000 with Survey Junkie and I love how easy it is to use. The average pay per survey ranges from $1 to $3 and you can cash out once you hit a $10 threshold.
Survey Junkie pays you via PayPal or e-gift cards and it's free to sign up.
⇒Start earning money with Survey Junkie now!
2. MyPoints
MyPoints is what I call a dark horse in the survey world. I'm always surprised by how many people have never heard of it.
But MyPoints is one of the best sites around for earning points that you can redeem for free gift cards. You can also earn points for watching videos, shopping online or taking polls.
It's a super-duper easy way to pick up gift cards to your favorite retailers.
Plus, you can get a $10 Amazon gift card right away when you make your first purchase.
⇒Get started with MyPoints here!
3. Tada
Tada is perfect for earning cold hard cash just for taking surveys and shopping online.
Here's how it works.
You search for surveys and click on the ones that interest you. If you qualify, you take the survey and earn cashback instantly!
You have the option of redeeming your cashback for a paper check. Or you can redeem for gift cards to Amazon, Target and other top retailers.
⇒Start earning money with Tada!
4. Swagbucks
Swagbucks is one of the better-known survey sites but if you haven't signed up for it yet, now's the time to try it.
With Swagbucks, you can take surveys to earn gift cards to your favorite stores. And just like MyPoints, you can also earn points when you shop online, watch videos or surf the web.
If you'd rather snag cash instead of gift cards, that's also an option. You can easily redeem points for cash and deposit it straight to your PayPal account.
⇒Get started with Swagbucks here and earn a $5 bonus!
5. InboxDollars
InboxDollars rewards you for taking surveys, watching TV and shopping online.
It's free to sign up and join and you're earning cash, not points. Most surveys pay up to $5, though you'll find some that pay even $10 or $20 each.
InboxDollars has paid out over $59 million to online survey takers, so it's a legit site for making extra money.
⇒Sign up to get paid from InboxDollars now!
6. RewardSurvey
RewardSurvey is a little different from the other best survey sites.
You still earn rewards for taking surveys but instead of redeeming them for gift cards or cash, you can redeem for magazine subscriptions.
Some of the magazines you can subscribe to include Good Housekeeping, Parents and Woman's Day.
This survey site could be great if you love reading magazines but you don't like shelling out money on them.
⇒Get started with RewardSurvey here and get a $30 reward!
7. Pinecone Research
Pinecone Research is one of the best survey sites to try if you want flexibility in how you can use rewards.
When you sign up and take surveys, you can earn points. You can then redeem points for cash or prizes.
Pinecone's survey-takers are known as influencers so this survey site is a little harder to get into. But if you qualify, you could easily rack up major points toward cash or gifts.
⇒Sign up for Pinecone Research here!
8. Opinion Outpost
Opinion Outpost makes it easy to take surveys and get paid. Surveys are delivered right to your inbox daily.
You can make decent money with this survey site but I will tell you as a member, you can end up getting a lot of emails each day.
⇒But if you're okay with that, get started with Opinion Outpost here!
9. RewardFish
RewardFish is another one of the best survey sites for earning points that you can redeem for gift cards.
It's free to create an account and start taking surveys. You can also earn points for completing quizzes and other activities.
This is one of the smaller survey sites out there but it's still worthwhile if you're looking for a way to score gift cards.
Get started with RewardFish here!
10. PanelPlace
PanelPlace is a little different from some of the other sites on the list.
You sign up and create an account, then browse digital offers. You decide which offers you want to interact with and share your feedback.
Depending on which offers you're taking advantage of you could earn gift cards, cash or both. Aside from taking surveys, you'll also find offers for free trials to digital products and discounts for products and services from partner merchants.
⇒Get started with PanelPlace here!
11. Shopper's Voice
Shopper's Voice is a money-saving survey site that rewards you when you share opinions about the products you shop for.
When you sign up for a free account, you tell Shopper's Voice which brands you love the most. You then become eligible for instant savings and rewards, including coupons, samples and freebies.
There's also a separate survey you can take that has a cash prize. If you win, you can nab a cool $500 just for answering a few questions.
⇒Sign up and start making money with Shopper's Voice!
12. Opinion Inn
Opinion Inn is an easy way to make money taking surveys. Like Opinion Outpost, surveys are delivered to your inbox.
You tell Opinion Inn what your interests are to get tailored survey offers. Complete a survey and earn money–it's that simple!
Once you hit $25 in survey earnings, you can cash out through PayPal. Plus, you're eligible to be part of the $500 monthly drawing.
⇒Get started with Opinion Inn here and get up to a $10 bonus!
13. LifePoints
With LifePoints, you can make money by taking surveys, completing polls, testing products and doing other activities online.
Members earn reward points that you can redeem for gift cards and merchandise from retail partners. Or you can convert your points to cash.
It's one of the easiest survey sites to use and start earning reward points right off the bat.
⇒Get started with LifePoints here!
14. Vindale Research
Vindale Research pays you cash to share your opinions on just about everything.
It's free to sign up with Vindale and you can get a $1 bonus just for creating your account.
You can earn up to $50 per survey and you can also complete product reviews through Vindale. Any products you review, you get to keep which is a nice bonus.
⇒Sign up with Vindale Research and snag your bonus!
15. Survey Voices
Last but not least in this roundup of best survey sites is Survey Voices.
This site is great because you can make up to $350 per week just for sharing your opinion!
That's insane, plus you can also make money by participating in clinical trials or doing part-time work through the app.
⇒Sign up for Survey Voices to make $300+/week taking surveys!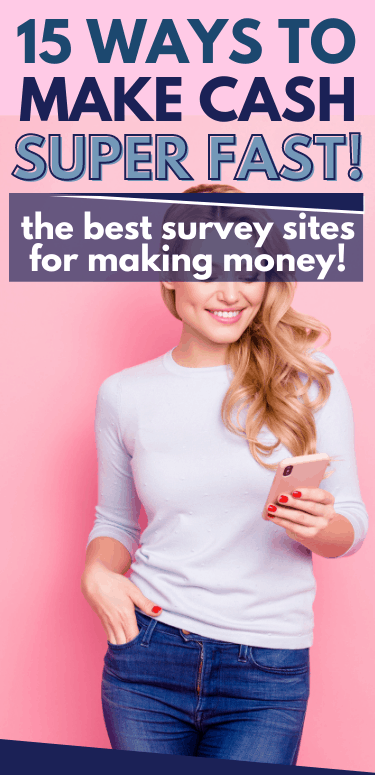 More Painless Ways to Make Money Fast
Checking out some of the best survey sites could put extra money in your pocket. But that's not the only way to make money in your spare time!
Here are some other awesome (and easy) ways to rack up cash fast!
Shop with Rakuten
Rakuten rewards you with cash back when you shop online.
You create a Rakuten account, then shop partner merchants online or in-store. Rakuten pays you cash back when you take advantage of partner offers.
You can get cash back as a paper check but I always go for the PayPal deposit. If you download the Rakuten browser extension for Chrome, you can also cash in on special coupons for more savings.
⇒Get started with Rakuten here!
Sign up for Ibotta
Ibotta is another easy way to earn cash back and get free money when you shop.
You download the app and create an account, then shop as you normally would. Then, link your favorite retail loyalty cards to the app and earn cash back instantly when you shop at those stores.
Or, upload your receipts to the app and earn cash back that way. It's a win-win either way and a painless way to earn cash back at Target, Walmart and other top retailers.
⇒Get started with Ibotta here and get up to $20 in welcome bonuses!
Earn cashback with Dosh
Do you spend money on dining out, shopping or travel?
If so, then downloading the Dosh app is a no-brainer.
This app lets you earn cashback on dining, shopping and travel automatically. You just link up your debit and credit cards and Dosh does the rest!
⇒Download the Dosh app now to start earning cashback!
Get paid to lose weight
I don't know about you but I could always stand to lose a few pounds. So why not get paid to lose weight!
HealthyWage lets you earn money by wagering on your health and weight loss goals.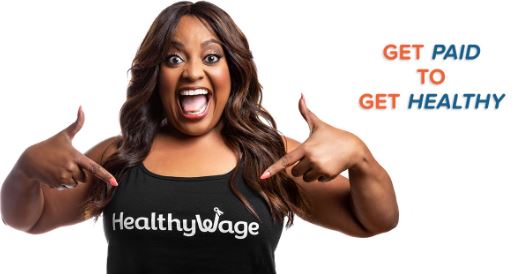 You set a weight loss goal and HealthyWage calculates a cash prize you could win by reaching that goal. If you hit your target, you win the money.
It's that easy and you could win up to $10,000 just for losing weight!
Sell your extra stuff
Got extra stuff lying around the house you no longer need? Turn it into cash by selling it!
There are lots of ways to sell unwanted items, including Facebook Marketplace, local Facebook bargain groups, Craiglist and yard sales.
If you're looking for an easy way to make cash from your clutter, check out these apps while you're visiting the best survey sites:
Decluttr (Sell DVDs, CDs, Legos, games and more!)
Second Sale (Sell your books!)
thredUP (Sell your clothes!)
Gazelle (Sell electronics!)
Use Billshark to cut your bills
Billshark is a super-easy way to save money and live within your means.
Billshark reviews your spending and finds things to cut so you save money.
It's a painless way to pay yourself back some of the cash you've been letting slip through your fingers.
⇒Get started with Billshark here!
What do you think are the best survey sites for making extra money? Do you have another easy way to make money in your spare time?
Tell me about it in the comments!
And don't forget to pin and share this post!
Need more money tips? Read these posts next: