Last Updated on November 12, 2022 by Rebecca Lake
Would you like an easy way to earn rewards or cash for doing simple tasks online?
MyPoints is an online platform that rewards its users with cash and gift cards for taking surveys, watching videos, playing games and reading emails. You can earn MyPoints Rewards from those activities that can be redeemed for gift cards, travel miles or cash deposits to a PayPal account.
But is MyPoints legit? And how much can you really earn in MyPoints Rewards?
Our detailed MyPoints review can help you decide if this online platform is worth your time.
Related post: Gift Card Exchange Kiosk Near Me: Turn Unwanted Gift Cards Into Instant Cash!
What Is MyPoints?
MyPoints is a rewards website that lets members earn points for doing certain tasks online.
This El Segundo, California-based company was founded in 1996 and since then, the site has had more than 20 million active users. MyPoints is part of a partner network that includes two other rewards sites you might have heard of: Swagbucks and Tada (formerly ShopAtHome).
All three sites have a similar concept. You can earn free gift cards and cash for doing simple tasks from your mobile device or laptop.
It's free to create a MyPoints login and start earning MyPoints Rewards. You can redeem MyPoints rewards for cash through PayPal, gift cards to top retail brands or even travel miles in the United MileagePlus frequent flyer program.
If you're wondering, is MyPoints legit or a scam? the answer is that it's a 100% legitimate website for earning rewards and free money. But it's important to remember that while you can use this online platform to make some extra money at home, MyPoints isn't a get-rich-quick scheme.
Related post: 25 Legitimate Ways to Get Free Gift Cards (With Almost Zero Effort)
Start making money with MyPoints! Want an easy way to earn extra cash? Earn MyPoints Rewards that you can redeem for cash or gift cards just for doing simple tasks. Sign up for MyPoints and get a $10 Amazon gift card!
How to Earn MyPoints Rewards
Getting started with MyPoints is pretty simple. The first step is creating your MyPoints account.
You can sign up with MyPoints for free if you're at least 18 and you live in the U.S. and Canada. You'll need to enter your name, email address and a unique password you want to use to access your account.
(And for a limited time, you can get a free $10 Amazon gift card when you make your first purchase!)

You'll need to confirm your email address but once you've done that, you can start earning MyPoints Rewards.
There are multiple ways to rack up MyPoints Rewards for gift cards or cash.
1. Shop online
The first option for earning MyPoints Rewards is through online shopping. You can earn points on purchases when you shop with over 1,900 partner merchants. Some of the most popular retailers include:
Walmart
Target
Home Depot
Kohl's
The number of points you can earn depends on where you're shopping. Some partners give you points on the dollar. Others give you a lump sum of points for each purchase.
Here are a few examples of the types of online shopping offers you'll find at MyPoints:
Get 500 points when you invest your spare change with Acorns
Earn up to 20 points per dollar when you shop on Amazon
Earn 750 points when you order from Instacart
Earn up to 12,000 points for shopping NomNomNow
Get up to 300 points when you sign up for Paribus
Earn up to 8 points per dollar at Restaurant.com
There's a lot of variety, which is great if you shop online pretty often.
2. Install MyPoints Score!
MyPoints Score! is a browser extension you can download and install for free. This might be the easiest way to earn MyPoints Rewards since you can get 100 points right off the bat for activating it.
Once you have the extension installed, all you have to do is shop online like you normally would. MyPoints Score! checks for points offers and coupons for you automatically and applies them to your account when you make a purchase.
3. Check out local deals
If you're a Groupon or Living Social fan, this is another easy way to earn MyPoints Rewards.
You can earn points on the dollar when you buy coupons or vouchers through either of those local deal sites.
For example, when I search for Groupon through my MyPoints dashboard, I see an offer to earn 15 points per $1 spent. Living Social deals, meanwhile, offer four points per dollar.
Note: The value of deals offered in your MyPoints dashboard may vary.
4. Earn points for reading emails
BonusMail offers are another easy way to rack up points since MyPoints delivers them right to your inbox.
When you get a MyPoints BonusMail, all you have to do to earn points is to scan the message and click any links that look interesting to you. You can earn up to 5 points per click and you don't have to buy anything unless you want to.
Pro tip: You may get multiple BonusMail offers daily so be sure to read each one to maximize points earnings.
5. Take surveys to earn points
MyPoints also rewards you with points for sharing your opinion. You have to answer a few demographic questions to get started taking surveys with MyPoints but that doesn't take long.
Once you've got access to MyPoints surveys, you can pick and choose which ones you want to take. You can filter based on the number of points you can earn and the estimated time to take the survey.
On the MyPoints site, it mentions that you can earn up to 400 points per survey but I took one recently that paid 850 points. At the other end of the scale, some surveys pay just 2 or 3 points.
You'll get $5 after taking your first 5 surveys. So that's a quick and easy way to make some extra money with MyPoints.
Related post: 15 Best Survey Sites for Making Quick and Easy Money
6. Watch videos
If you're a video junkie, you can earn up to 500 points a day with MyPoints just for watching video playlists. The shortest ones I've seen last about 20 minutes while the longest can run over 2 hours.
MyPoints allows you to choose the types of videos you want to watch from different categories. For example, you can watch videos in the health, entertainment or news niches.
It's important to compare the videos to find the ones that pay the highest amount of points for your time. Otherwise, watching endless videos all day might not be worth it.
7. Discover content with nCrave
nCrave lets you earn points to get free gift cards by watching videos and slideshows and reading articles online.
It's easy to pick up a few extra points this way. My only gripe is that the videos and slideshows open in a new window and they can take a little while to load.
Also, keep in mind that you'll need to enable pop-ups on your website to use the nCrave feature.
8. Find deals
MyPoints routinely puts featured deals in the spotlight.
You can get up to 50,000 points by browsing, activating and shopping these deals. It's a no-brainer way to earn points if you were planning to spend anyway.
Example deals include:
These are just some of the deals you can discover with MyPoints.
9. Search the web
If you feel lucky, you can search the web through MyPoints and randomly win up to 170 points. Just bookmark the Search and Earn page, then plug in what you're looking for to see if any rewards come your way.
10. Print coupons
I love coupons as much as the next frugal-minded mom. They were a big reason why I was able to save money and pay down debt as a brand-new single mom.
MyPoints gives you two ways to use coupons and earn points. You can choose between online coupons to get discounts or free shipping deals. Or you can print coupons to use at your favorite grocery store, earning 25 points per coupon you redeem.
That's huge since these are manufacturer coupons. And if you're a money-saving mom, know that you can also pair up manufacturer coupons with Ibotta to max out grocery savings.
11. Play games
If you like video games, you can snag some easy MyPoints Rewards by playing them through the app.
For example, you can earn up to 4 points per dollar playing games like Angry Birds Champions and Bejeweled 2. You will need to set up a separate games account to get started.
12. Complete the daily poll
The Daily Poll is a single question that you can answer for points. The question is different each day and participating in the poll is optional.
Here's an example of a Daily Poll question that popped up when I logged into my MyPoints account.
13. Refer friends and family
What would a rewards website be without a referral program?
With MyPoints, you can send an invitation to join to your family members and friends and earn 25 points each time someone accepts.
Then you earn points when they spend their $20 through the site. And you get another 10% bonus on all the points they earn, which is a great incentive to refer people to MyPoints.
14. Complete the Daily 5
The Daily 5 is one more way to earn points that you can use for gift cards. Here's how it works: complete any 5 tasks from a list to earn 5 bonus points.
Here are the tasks you can choose from to earn daily MyPoints Rewards:
Vote in the Daily Poll
Activate or log into Score! browser extension
Complete an nCrave
Upload a Magic Receipt
Meet your Daily Goal
Watch a video playlist
Complete a survey
Take advantage of a deal
Click on a link in a BonusMail email
Visit a recommended site
This is an easy way to add to your MyPoints Rewards total.
15. Participate in a sweepstakes
MyPoints regularly offers sweepstakes and giveaways where you can enter for a chance to win points or merchandise. Recent giveaways have included a chance to earn 50,000 points or win a Cricut machine.
16. Play bingo to earn bonus points
If you like bingo, you've got another fun way to earn rewards with MyPoints.
You'll need to complete different tasks to complete your bingo board. Once you've made a bingo, you can submit your board for a chance to snag some bonus points.
There are different board configurations to choose from. The number of bonus points you can earn ranges from 5 points to 750 points, depending on which bingo board you complete.
17. Collect point perks
Point Perks are additional points you can earn with MyPoints when you redeem special codes you find online. You can find codes on MyPoints and MyPoints social media accounts.
To make sure you don't miss out on any points perks, follow MyPoints on Facebook, Twitter and Instagram.
18. Set a daily goal
Daily goals are a simple way to earn bonus MyPoints Rewards. You can contribute to your Daily Goal (and points earnings) by taking surveys, watching videos or any of the other things you'd usually do to earn MyPoints.
The more tasks you complete, the more points you can earn.
Start making money with MyPoints! Want an easy way to earn extra cash? Earn MyPoints Rewards that you can redeem for cash or gift cards just for doing simple tasks. Sign up for MyPoints and get a $10 Amazon gift card!
Redeeming MyPoints Rewards for Gift Cards
Once you accumulate some MyPoints Rewards, you can redeem for cash to a PayPal account, travel miles in the United MileagePlus program or free gift cards. If you're interested in redeeming MyPoints Rewards for gift cards, here's how that works:
Choose which retailer's gift card you want
Pick a dollar amount for the gift card, ranging from $3 to $500
Decide whether you want an e-card or a physical gift card
Check your account balance to make sure you have enough points to redeem
Click the "Get Rewarded" button to get your gift card
Keep in mind that if you choose physical gift cards, you'll need to allow for shipping time. And it can take up to 10 business days for egift cards to land in your inbox. So opting for PayPal cash might be better if speed matters.
MyPoints maintains a lengthy list of retailers where you can redeem points, including:
Amazon
Applebees
Barnes and Noble
Best Buy
Chili's
CVS
Delta
Domino's
DoorDash
eBay
Google Play
Home Depot
Kohl's
Lowe's
Macy's
Old Navy
Panera Bread
PayPal
Red Lobster
Safeway
Sam's Club
Starbucks
Target
Uber
Visa
Walmart
The only thing you need to keep in mind when redeeming points for gift cards is the minimum you need.
For example, Amazon gift card redemptions start with 480 points. But if you want to redeem MyPoints Rewards for a gift card to American Airlines you'll need at least 15,880 points.
If you're not sure which gift cards are in your budget, MyPoints has a nifty little filter feature that you can click to see which cards you're eligible for.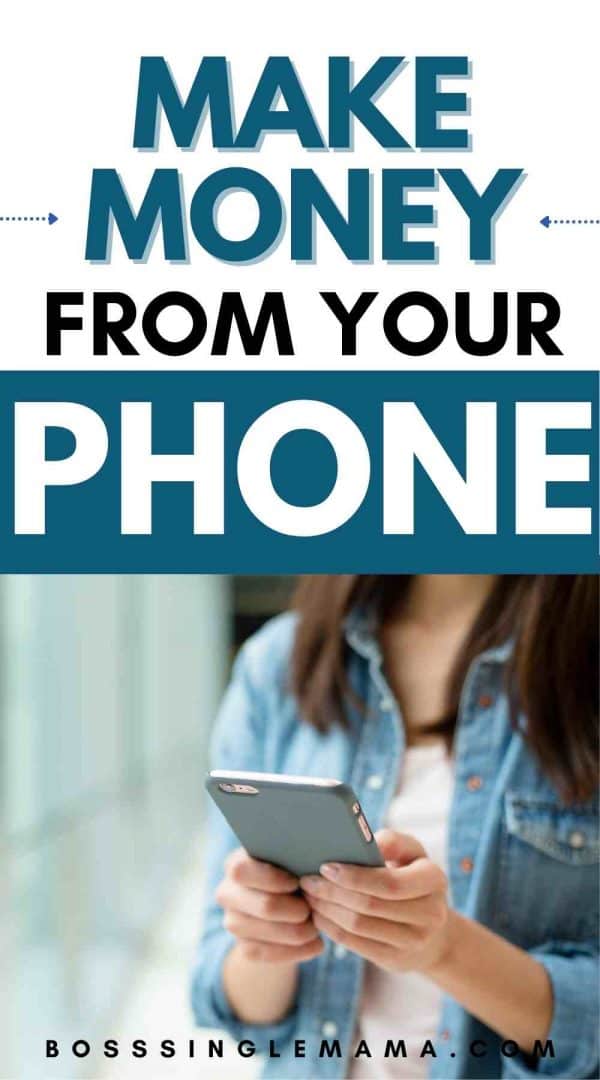 Redeeming MyPoints Rewards for Cash and Travel
When you go to the redemption menu in your account, gift cards are automatically the first option that comes up.
But you can also redeem points for miles in the United MileagePlus program or cash. Cash redemptions aren't cash; instead, you're redeeming points for a deposit into your PayPal account or a prepaid Visa debit card.
If you're redeeming for a PayPal deposit, you'll need at least 1,590 points. That's good for a $10 deposit. To get $100 deposited to your account, you'd need 15,880 points.
Visa prepaid card and United MileagePlus minimums are different.
For the Visa debit card, 1,500 points will get you $10. And 15,000 points get you $100.
With United, you need 3,200 points to redeem for 1,000 travel miles. It's worth noting that if you redeem MyPoints rewards for miles, those miles won't count toward elite status in the airline's frequent flyer program.
MyPoints Review: Pros and Cons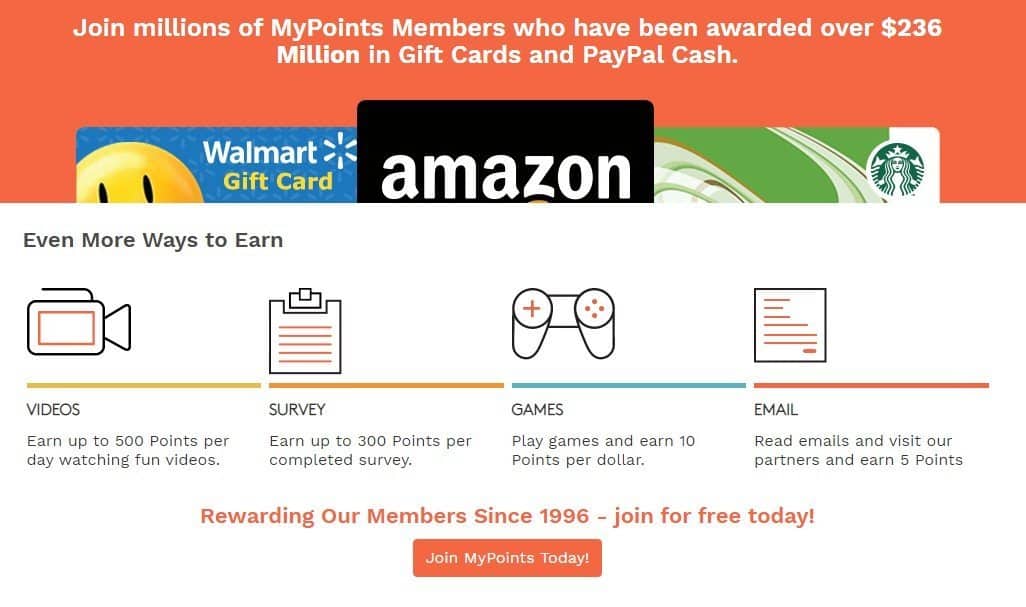 MyPoints has a few advantages that make it one of the better rewards sites for earning points. Here are the main highlights and benefits:
MyPoints is user-friendly. Getting started with MyPoints is quick and easy; you just need to enter your email and some basic information to create an account. And MyPoints is free to use to earn rewards toward cash or gift cards.
Variety. MyPoints offers a sizable partner network of retailers for earning points from online shopping and for redeeming points. You're practically guaranteed to find at least one store or business you can earn or redeem points with.
Multiple ways to earn points. There are plenty of ways to earn MyPoints Rewards, based on how much time you have to spend on the app or website each day. More opportunities to earn rewards means it's easier to rack up points for free gift cards or cash.
Multiple redemption options. Some rewards sites limit you when it comes to redeeming rewards. With MyPoints, you can use points to get free gift cards or swap them for cash. Or you can turn them into travel miles if you'd prefer.
If you're already online anyway, MyPoints can be a good way to save money without having to leave the house. That makes it hugely convenient if you're a stay-at-home mom who's short on time.
The more time you spend completing tasks, the more points you earn. The more points you earn, the faster you can get free gift cards.
Now, what are the downsides of MyPoints?
It depends on how you look at it. If you're not a gift card fan, then this site might not be that useful to you.
And as far as watching videos to earn points goes, I personally don't have an hour a day I can spend just on that. So that option doesn't work for me, although it might for you.
When taking surveys, you don't know what the survey content is going in. So you might start a survey only to realize that the topic isn't relevant or interesting to you.
The last thing to keep in mind is what MyPoints are worth in terms of dollar amounts.
For example, say you're redeeming 15,000 points for a prepaid Visa. If you break that down to dollars and cents, those points are worth $0.006 each.
That's not a lot, obviously. But then again, if you're just taking surveys or watching videos and spending only your time, then it's pretty easy money.
Who Is MyPoints Good For?
MyPoints may be better for some people than others. Some of the people who might benefit from using MyPoints include:
People who regularly shop online and want to earn points or cashback on those purchases.
Anyone who spends a lot of time online doing simple things like watching videos or reading emails.
People who want to get rewarded for sharing their opinions and have spare time to complete surveys online.
Anyone who wants to make a little extra cash and isn't necessarily looking to get rich online.
Shoppers who regularly clip coupons or look for discount codes to save money on purchases.
Who Should Think Twice About MyPoints?
In terms of who MyPoints isn't right for, you might skip this rewards site if you:
Don't spend a lot of time online or don't normally do things like taking surveys or watching videos.
Are trying to resist the temptation to shop online and spend money, even with the prospect of earning cashback on those purchases.
Want to find a way to get rich fast–MyPoints simply isn't designed to do that for you.
Related post: How to Make an Extra 1000 a Month (50 Ways That Really Work!)
Other Ways to Earn Free Gift Cards and Cash Back
I wouldn't wrap up this MyPoints review without giving you a few other options for earning gift cards or cash back. Here are some sites and apps I just love for making a few extra bucks:
Rakuten. Activate cash-back offers online and in-store, earning up to 40% cash back at selected merchants. (Plus, get $10 when you make your first purchase if you sign up with this link!)
Opinion Outpost. Earn rewards that you can turn into cash or gift cards, just for taking surveys in your spare time.
MyPoints review final thoughts: Is it worth it?
Here's the official verdict: MyPoints is a legitimate way to earn points you can redeem for free gift cards, PayPal cash or travel miles.
Now, will you make a million bucks through the site? Probably not.
But could you earn enough points to get cash or gift cards for the holidays, birthdays or just as a treat for yourself? Absolutely.
Whether you're a busy mom who's looking for a money-saving side hustle, a college student who wants to make money on the site or a retiree looking for ways to fill your spare time, then MyPoints fits the bill. So if you haven't signed up yet, it's worth a look.
Start making money with MyPoints! Want an easy way to earn extra cash? Earn MyPoints Rewards that you can redeem for cash or gift cards just for doing simple tasks. Sign up for MyPoints and get a $10 Amazon gift card!
Are you using MyPoints to earn free gift cards? Head to the comments and tell me what you love (or hate) about it.
Need more money making ideas? Read these posts next:
MyPoints Review