Looking for some easy online side hustles that don't require talking?
As an introvert, I love working from home.
It's so much easier for me to focus and feel comfortable when I'm typing away on my laptop, versus being around people face to face.
And online side hustles have huge money-making potential. My freelance writing business lets earn multiple six figures right from my couch!
Don't get me wrong. Being an introvert or on the shy side doesn't mean we don't like to be social.
It's just that we prefer to do it alone. In the privacy of our own homes. With no other humans around.
Just kidding. (Sort of. 🙂 )
In my opinion, the best side hustles for introverts are the ones you can do online.
Think about it.
You can make money to pay the bills or get out of debt without leaving the house. That's pretty freaking sweet if you ask me!
Online side hustles that don't require talking are especially great if you tend to get tongue-tied in conversations. And not having to talk to people face to face is a plus if you're completely weirded out by making eye contact like me.
Bottom line? Low-stress side hustles for introverts are great when you get easily worn down by social interaction.
The key is finding the right side jobs that pay well, fit your skills and appeal to your introverted nature.
And that's exactly what I've got for you with this article–plenty of ways to earn extra income on the side, no talking required!
For a quick and easy way to make money, get paid to take surveys with Swagbucks and Survey Junkie!
Best Online Side Hustles for Introverts to Make Money
These side hustle ideas are my absolute favorites for introverts and shy people.
Not only do they have serious profit potential but they're all things you can do from the comfort of home!
1. Freelance writing
Freelance writing is always at the top of the list when we're talking side hustles or making money online.
I've been freelance writing online since 2014 and it's the best-paying, most flexible career I could ever imagine.
There are plenty of ways to get paid to write that can earn you big bucks, including:
Copywriting
Content writing
Technical writing
White paper writing
Ghostwriting
Ebook writing
I'm a content writer/paid blogger for financial brands but you might find your sweet spot as a copywriter or ghostwriter.
Freelance editing is an extension of freelance writing that's also good for introverts. Instead of doing the writing, you're reviewing another person's work for tone, style, grammar errors and spelling.
Read this post to learn how to start making money as a freelance writer:
How to Start Freelance Writing and Make Your First $100
2. Graphic design
Graphic design is something some people just seem to have a natural knack for.
Kristin at Applecart Lane is a great example. Everything she makes is just so pretty!
If you have stellar design skills, there are several online side hustles you could try that involve graphic design. For example, you could make money designing and selling:
Pinterest templates
Website and blog logos
Infographics
Ebook covers
Printables
Hand-lettered fonts
And there are plenty of ways to sell your graphic design skills online without having to talk to a soul.
For example, you could start a blog or set up a website to showcase your portfolio. Or you could sell your designs through a platform like Creative Market. Then there are sites like Fiverr and Upwork.
If you're interested in graphic design as a side hustle, consider:
What kind of design services you want to offer
How you'll price them
What software you'll need to create your designs
Canva, for example, is free and it's what I use to create the graphics on my site.
Just make sure you read Canva's licensing rules if your plan to sell any designs or templates you make with the software to avoid any copyrighting issues.
3. Proofreading
Being a proofreader is another awesome side hustle for introverts who want to make money online.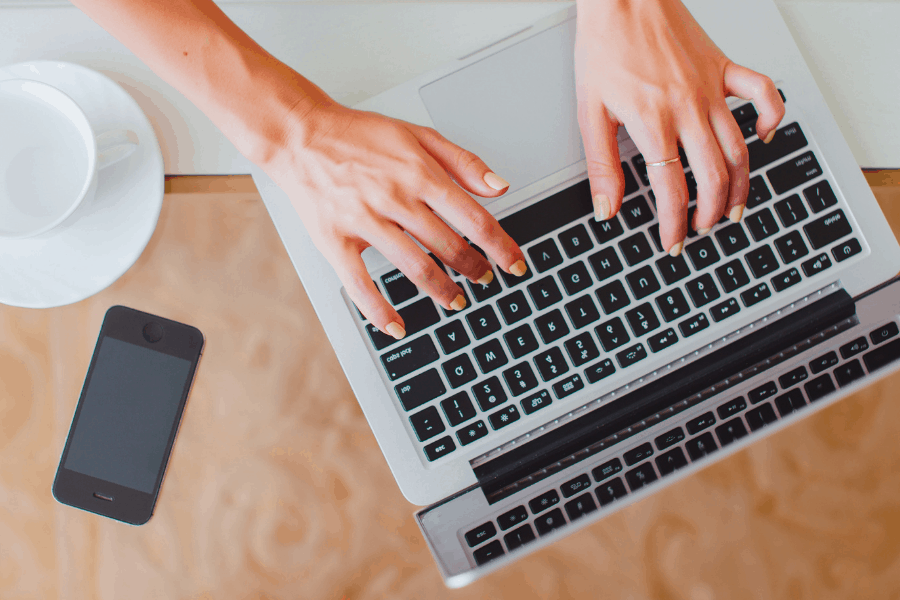 Proofreading means reviewing written copy for grammar, punctuation and spelling errors.
You can offer general proofreading services or niche down and focus on working with one specific type of client. For example, you might specialize in legal proofreading or proofing technical documents.
Being a general proofreader might appeal to shy and introverted people who want some variety. But specializing could help you level up your income.
There are a ton of online tools, resources and classes you can use to learn about proofreading and how to make money as a freelance proofreader.
If you're looking for THE authority on proofreading, then Caitlin Pyle of Proofread Anywhere is your girl. She has a free intro webinar to proofreading that can help you decide if it's a good side hustle fit.
⇒Sign up for the free webinar to learn how to start a proofreading side hustle!
4. Be a virtual assistant
Starting a virtual assistant business is a hugely popular online side hustle idea.
Virtual assistants or VAs help business owners, bloggers and companies run their business. The kinds of services you can offer as a VA include:
Blog management
Social media management
Pinterest management
Customer service
Email management
Scheduling and project management
Copywriting
Database and spreadsheet management
Data entry
The great thing about being a VA is you're an introvert is that you can do all of these things online. And you can cater your services to what you're most interested in and knowledgeable about.
For example, you might really love hanging out on Pinterest. And you may have a great eye for repinning the most useful content.
That could translate to a side hustle as a Pinterest VA manager. A Pinterest VA manager could handle everything from pin design and creation to branding to pinning strategy for bloggers or online businesses.
Another awesome thing about being a VA is that you can get started with basically $0 out of pocket. That's a sweet bonus for us introverts who are watching the budget.
Want to learn more about starting a VA business?
⇒Check out this amazing course that covers everything you need to know to become a successful virtual assistant!
5. Sell stock photos
I love stock photography. I could look at it all day and never get bored.
One day, I'd like to learn how to wield a camera and create amazing stock photos of my own for my blog. But if you already know how to take great shots, you could totally start a side hustle selling stock photos online.
The most common way that I've seen to make money selling stock photos is setting up a membership site.
These sites offer a set number of free stock photos each month as an incentive to get people to subscribe. Then they offer a separate monthly or annual subscription to their entire stock photo collection.
The kinds of photos you sell are up to you but I can tell you there's a HUGE market for feminine and girly stock photos. So if you're into making pretty and eye-popping photos, that could be your thing.
If you want to set up a website to sell your photos, you can get started with hosting from Siteground. Their plans are super affordable and their customer service is amazing!
6. Become an online transcriptionist
Becoming an online transcriptionist is one of the best side hustles for introverts who have mad typing skills.
So what's online transcribing all about?
It's simple. Transcriptionists turn audio files into written documents.
For example, you might get paid to transcribe podcasts, YouTube videos or recordings of legal proceedings.
Online transcriptionist jobs can pay well and you don't need a ton of experience to get started. It does help to have some basic training as a transcriptionist, however.
If you're not sure where to start, then first read this complete guide to becoming an online transcriptionist.
Then, sign up for this free mini-course to learn the basics of getting paid to transcribe!
7. Start a scoping side hustle
Scoping is similar to transcription and it's another online side hustle that's great for introverted people.
As a scopist, you get paid to edit transcripts of official court proceedings.
So, a court reporter takes down notes of a proceeding in their special shorthand. Then a scopist translates that shorthand into a written document.
Scoping is a more specialized form of transcription and the top scopists earn close to $60,000 a year on average.
If you're interested in scoping, I've got a resource that can help.
⇒Sign up for this free mini-course from Internet Scoping School to learn more about how to get paid to scope!
8. Get paid to read books
Reading is one of my favorite hobbies. And getting paid to read sounds like an absolute dream to my introverted self!
There are lots of ways you can get paid to read. For example, you could make money:
Writing book reviews
Becoming a freelance copyeditor
Narrating audiobooks
Translating books into different languages
Formatting ebooks for publication
If I had more free time, I'd be all over this online side hustle.
If you want to get paid to read books in your spare time, here are a few sites that will pay you for your reviews. (Plus, some even give you free books!)
Another way to get paid to read is by starting your own book review blog.
You could earn money writing sponsored posts, running ads on your site or offering your services as a freelance book reviewer. Again, if you want to start a blog you absolutely can't go wrong with Siteground for web hosting!
9. Get paid to read emails
Someday, my dream is to achieve zero inbox. I get bombarded with a ton of emails each day and I hate sifting through them!
But if you don't mind reading emails, you could get paid for it and make some extra cash.
There are a ton of sites that will pay you to read emails. It's a dream side hustle for introverts who shy away from talking.
Check out these sites to get paid to read emails:
⇒Swagbucks (get a $5 bonus now!)
If you're looking for another idea on how to get paid to read emails, you could also start an email decluttering service.
Basically, it means being a VA that specializes in reading emails and inbox management.
If you want to learn more, here's an awesome course that breaks down how to start an email decluttering service as a VA!
10. Become a virtual bookkeeper
Virtual bookkeeping is one of the best side hustles for introverts who love numbers!
As a virtual bookkeeper, you can make money online managing the books for your clients.
Again, this is another awesome side hustle idea that doesn't require a college degree. But you do need to know the basics of online bookkeeping programs and bookkeeping practices.
Want to learn more?
Read this guide on how to start a virtual bookkeeping business and make $3,000+ every month!
Then sign up for this free seminar to learn how to launch a successful virtual bookkeeping biz!
11. Make extra money taking surveys
Taking surveys is an easy way to make extra money in your spare time.
Will you get rich from taking surveys?
Probably not.
But can you make some extra cash without having to talk to people or get a real job?
Absolutely!
There are a ton of survey sites out there to choose from. But to make it easy for you, I've rounded up some of my favorite survey sites to try:
⇒Survey Junkie (I've made over $2,000 with this one!)
Read this post next for more ideas on how to make money taking surveys:
13 Best Survey Sites for Making Quick and Easy Money
12. Write and sell an ebook
Love to write but don't want to write for freelance clients?
You could still make money with your writing skills by publishing ebooks.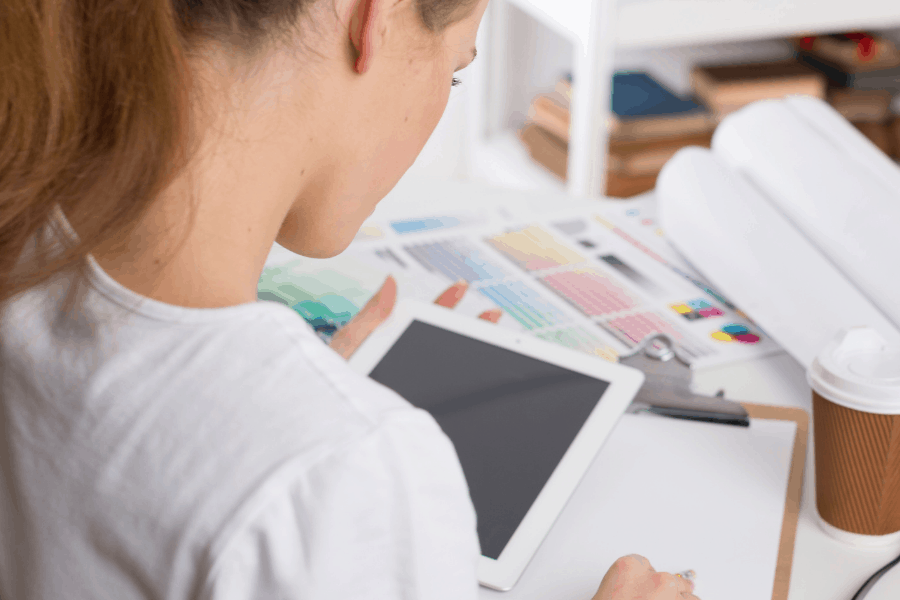 This is one of the best side hustles for introverts who want to make money without talking! You can write an ebook, list it for sale on a site like Payhip or Amazon Kindle Direct Publish and make money passively.
It's a perfect way to earn an income in your sleep!
If you don't know the first thing about writing an ebook, here's a great explainer from Smartblogger.
13. Create an evergreen course
Teaching online is a booming side hustle option these days.
With more people staying home, there's money to be made from online tutoring and teaching.
But if you don't feel comfortable leading a live class, you can always create an evergreen course.
This is another awesome passive income idea since you can create the course and earn money on autopilot as people sign up for it.
You might need to update the course every once in awhile, but otherwise, it's a simple side hustle for introverts to start and maintain.
If you're not sure where to create and sell your online course, I highly recommend Thinkific and Teachable.
Their platforms are user-friendly so you can get your course up and running in no time!
14. Get paid to play games
My son is an extroverted introvert (if that makes sense) and he would probably spend all day playing video games if I let him.
To keep him from draining my bank account, I let him create a Mistplay account.
With Mistplay, you can earn points for playing video games. Rack up enough points and you can turn them into gift cards.
This is a great side hustle for introverts who are into gaming and want to earn gift cards to their favorite brands. Or you can exchange points for a Visa gift card, which is just as good as cash!
15. Start a blog
So, a lot of times if you search for "online side hustles" or "side hustle ideas", blogging is one that always makes the list.
Because there are lots of ways to make money blogging. Affiliate marketing, ads, sponsored posts, selling your own products — those are the most popular.
And you could totally start a blogging side gig if you're the introverted type. Because it's a lot easier to interact with other people from behind a computer screen.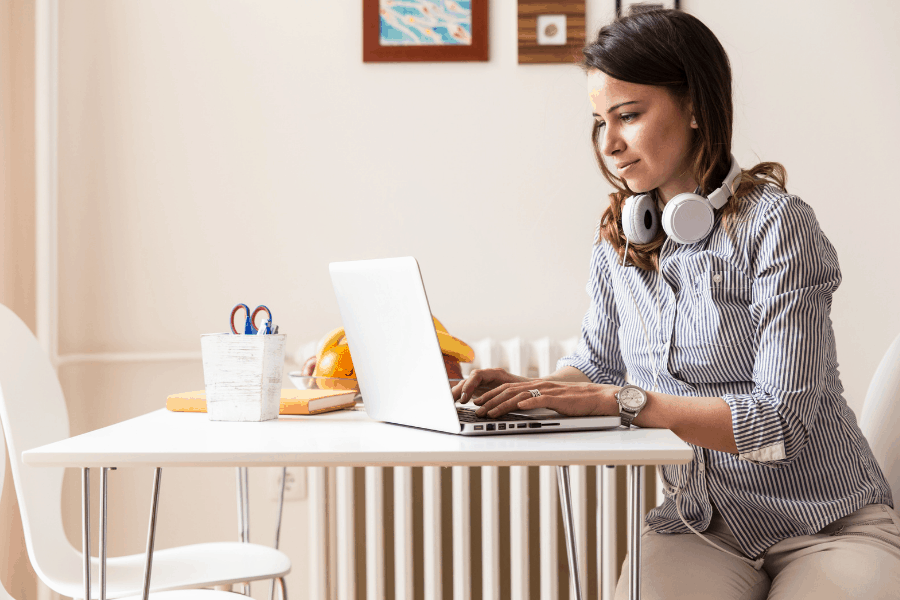 I've been blogging for a while now and while it's a lot of headaches, it's also a lot of fun.
You get to meet new people (online, of course) and flex your creative muscles. I've made some money blogging too!
If you're planning to give starting a blog a try, here are a few pointers.
Choose a good hosting platform for your blog
If you plan to use your blog to make money, definitely go with a self-hosted blog through WordPress.org, NOT WordPress.com.
To set up a WordPress.org blog, you'll need to get a domain name and a hosting plan. I bought my domain and hosting through Siteground to keep things simple.
There are other blog hosting services you can use but IMO, none of them beat Siteground for cost, customer service an overall experience!
Learn the basics of setting up your blog
Omg, I couldn't tell you how many hot, salty tears I cried trying to get my blog set up after I bought my domain and hosting.
Seriously, it was so frustratingly bad I almost gave up then and there. But you don't want to do that, right?
So here's what you do instead: you brush up on the basics of getting your blog up and running.
There are lots of tutorials for how to start a blog online — you can read my guide to setting up your Siteground blog here.
Once you have the framework for your blog established, you can start adding on the extras. Think plugins for security, commenting, image optimization and of course, you'll need a great theme.
Check out this list of my favorite blogging tools to help you make money from day one!
Find some blogging mentors to follow
Since this is just a brief intro to blogging as a side hustle, I'll offer one last tip: find some established bloggers to follow that you can learn the ins and outs of blogging from.
Elna Cain of Twins Mommy is an excellent choice, as is Arfa at She Means Blogging. I also totally love Sasha Lassey. And Cate Rosales really knows her stuff too.
And each of those bloggers I just mentioned also runs an amazing Facebook group for bloggers and mompreneurs.
Joining one (or all of them) can be a good way to ease into blogging and start making connections with other bloggers if you're feeling a little shy.
15 High Paying Side Hustles for Introverts
These online side hustles can be perfect for making extra money, without having to be social or talk to people!
Side hustles for introverts do exist and chances are, there's at least one way you can m ake money without having to talk or even leave home. The more side hustle ideas you explore, the more chances you have of growing a sustainable side income.
Need some inspiration for how to start a side hustle?
Grab your free Side Hustle Starter Kit now!
Read these posts next for more side hustle ideas:
40 High-Paying Side Hustles for Moms Who Want to Make Extra Money
How to Make $2000 a Month From Home With Flexible Side Hustles
117 Legitimate Side Hustle Ideas to Make Extra Money
37 Creative Side Hustles That Can Help You Make $100 a Day (or More!)
25 Legitimate Ways to Make an Extra $1000 a Month Online (and Offline)