Last Updated on October 2, 2022 by Rebecca Lake
Best Free Money Hacks
Looking for legitimate free money hacks to get extra money?
A free money hack is any hack that allows you to get cash without much effort. There are different reasons why you might be interested in hacking free money.
For example, you might need money now to pay an unexpected expense. Or maybe you're looking for extra income to fund your financial goals.
Starting a side hustle is one option for making more money. For example, I make most of my income as a freelance writer.
But side hustles can take a little time for the cash to start rolling in.
Taking advantage of some quick money hacks instead can be a shorter (and easier) path to making extra money.
Think there's no such thing as free money? Good news!
Today I'm sharing some of the easiest ways to get a lot of money with minimal effort!
Related post: 27 Easy Ways to Make Instant Money Online Absolutely Free
Best Money Hacks That Don't Require Much Effort
There are lots of ways to get free money these days.
And the great thing about free money hacks is that they can put free cash in your bank account without having to get a real job or start a side hustle.
I love free money hacks because they're so easy to do. The best part is that even small amounts of extra cash can add up to lots of money over time.
Ready to start getting free money in your spare time? Here are the best quick money hacks to try now!
Related post: Coinstar Near Me: How to Turn Your Coins Into Cash Fast
Get paid to watch videos online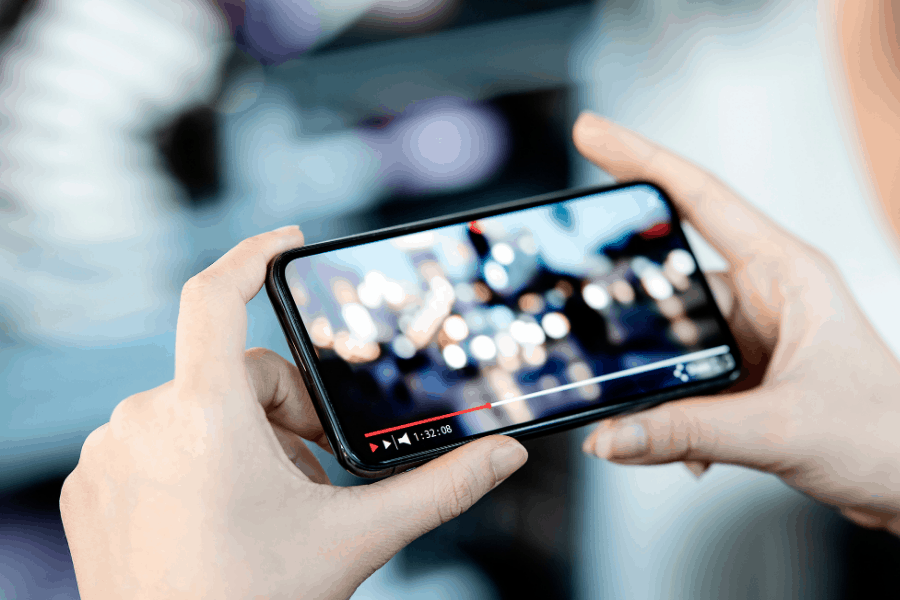 Getting paid to watch videos is one of the easiest free money hacks to try.
This is a great free money hack if you have an internet connection and some free time. Here are some good places to get free PayPal money just for watching videos.
1. Swagbucks
Swagbucks is one of the easiest ways to hack free money online.
When you sign up for Swagbucks, you can use this free app to make money:
Watching videos
Taking online surveys
Searching the web
Completing daily checklists
2. InboxDollars
Inbox Dollars is another easy way to make money in your spare time and hack free cash.
With this free app, you can get paid to:
Watch videos
Play a video game
Read emails
Sharing referral links on social media
Complete short surveys
Inbox Dollars has paid out $80 million dollars and counting in free cash to its users and a lot of people use it.
It's one of the best-paying sites for getting free money with minimal effort.
3. Vindale Research
Vindale Research is one of the best-known online survey sites for getting paid to share your opinions.
But you can also make extra money in minutes a day watching videos with Vindale Research.
It's free to sign up and earn free PayPal money. You just enter some basic information and follow the next step guide to start earning.
4. MyPoints
Like getting free gift cards?
Free Amazon gift cards, free PayPal gift cards or free Best Buy gift cards can come in handy when you need to shop for the holidays or any other time.
When you sign up for MyPoints, you can get free gift cards for watching videos and doing other simple tasks.
All you have to do is create your account, enter some simple information and you can start getting free money!
5. Pinecone Research
Pinecone Research lets you earn rewards that can be redeemed for items or cash deposits to a bank account every single month just for sharing your opinions.
You'll need an email address to register and human verification to confirm your account.
But after that, you can easily hack free money by sharing your opinions.
6. PrizeRebel
PrizeRebel is one of the most popular sites for hacking free money when you don't have a lot of time.
You can get free cash for completing online surveys. You'll have the option to cash it in for free PayPal money or get free gift cards.
Related post: 30+ Legit Ways to Make an Extra $1,000 a Month
Hack free money when you shop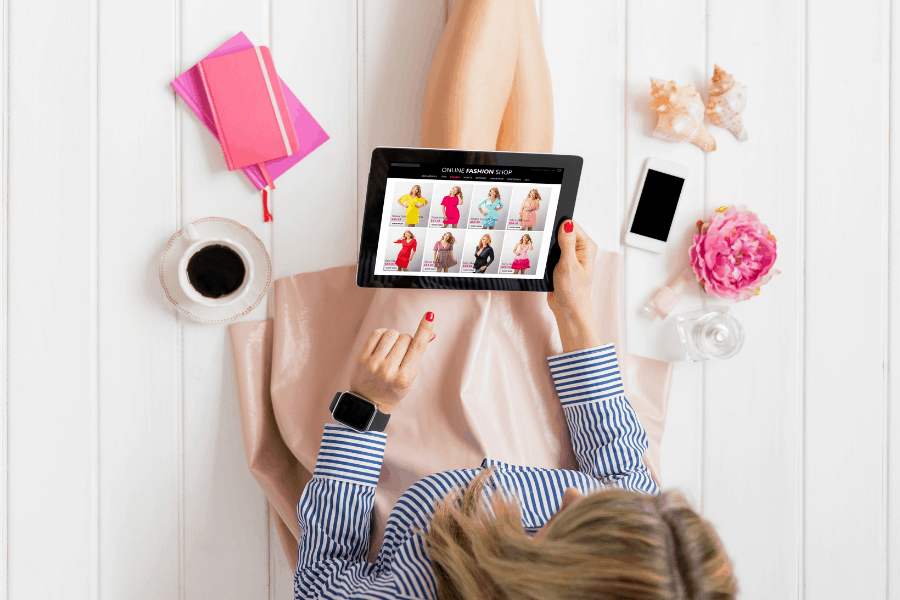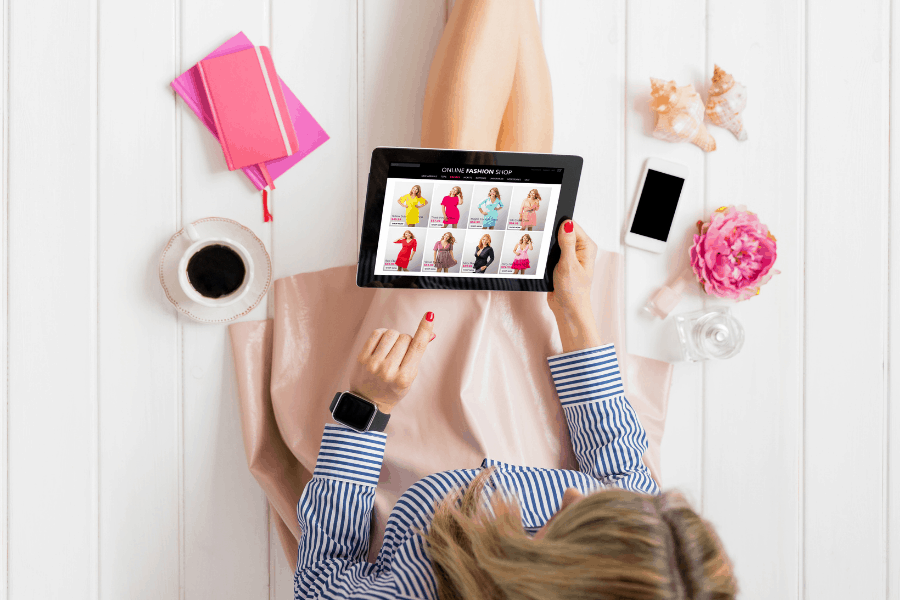 If you're shopping online or in-store you can easily get free money with popular cashback apps.
Cashback apps are one of the best free money hacks. You can download cashback apps to make free cash in your spare time.
Here are some of my favorite cash app options for extra income.
7. Rakuten (formerly Ebates)
Rakuten is a great free money hack option for earning cashback on purchases.
Depending on where you shop, you can earn up to 40% in cashback on what you spend. That's just too good to pass up.
Plus, you can even get free money back on top of your cashback earnings when you sign up and refer a friend or family member.
8. Ibotta
The Ibotta app pays you free cash when you shop at partner grocery stores and retail stores.
You just link your debit card or credit card and store loyalty cards, shop and earn quick cash.
It's a huge money-saver for frugal families!
9. Dosh
Dosh is a free app that pays you free cash when you shop, dine or book travel.
You can earn cashback instantly with the Dosh app at the grocery store, retail stores and travel sites by linking your debit card or credit card and making purchases.
Any time you make a purchase at a partner merchant, Dosh pays you free money automatically!
10. Drop
Drop is a newer cashback rewards app that's worth a try if you're looking for free money hacks.
Here's how it works:
You shop at the brands you love, whether it's restaurants, shopping or travel
Drop pays you rewards on eligible purchases
You redeem those rewards for gift cards to top brands like Amazon, Netflix and Starbucks
I love Drop because it's so easy to use and getting free gift cards is a sweet way to save money!
11. ShopAtHome
ShopAtHome is a sister site to Swagbucks and MyPoints.
This site gives you cash back when you shop online at partner stores. And you can score discounts and coupon codes for even more savings.
Plus, you can also earn rewards for taking online surveys, so you've got multiple free money hacks to choose from!
12. Honey
Honey is a Chrome browser extension that helps you find the best deals whenever you shop online at popular brands.
You download the extension and Honey will automatically scan your purchases at checkout to apply coupon codes or discounts.
And it's especially great for shopping on Amazon. When you add items to your Amazon cart, Honey will scan the site to see if another seller is offering the same item for less.
13. TopCashback
TopCashback lets you earn cashback when you shop just like Rakuten, Dosh or any of the other apps I've mentioned here.
You create your account online, shop offers and earn cash back!
It's that easy to get free money when shopping for things you already planned to buy.
Get free money by completing online surveys
Taking online surveys may not make you rich but it can put free money in your pocket.
The great thing about making money taking short surveys is that it doesn't take up a lot of your time. And you can sign up with more than one survey site to get paid.
An easy and genius free money hack! Here are the best survey sites for getting free money.
14. Survey Junkie
Survey Junkie is my favorite way to make free money by completing online surveys. I've made over $2,000 this year alone with Survey Junkie!
What I like best about it is that they don't spam your inbox constantly with emails the way some survey sites do.
15. Swagbucks
I already mentioned Swagbucks as one of the best ways to make money by watching videos.
But you can also use this app to get paid to take surveys. And if you sign up now, you can get a $5 bonus!
16. Shopper's Voice
If you like free stuff and saving money, then you'll love Shopper's Voice!
With this survey site, you get free money and stuff for sharing your opinions. Plus, you can enter their monthly giveaway to get $500 in free cash!
17. OpinionInn
OpinionInn offers real cash payments for taking surveys online.
Each survey you take lets you earn money. Once you reach $25 in earnings you can cash out to PayPal.
18. Opinion Outpost
Opinion Outpost is an online market research panel that pays people for their opinions.
You can take online surveys, test products and watch ads to earn free money.
Opinion Outpost pays you cash through PayPal or you can get your rewards as an Amazon gift card.
19. Reward Survey
Reward Survey rewards you with points for completing online surveys.
You can then redeem those points for magazine subscriptions.
If there's a favorite magazine you love but don't want to spend money on Reward Survey can help you get it for free!
20. Toluna
As a Toluna Influencer, you can hack free money by sharing your opinions.
Toluna pays you money in your spare time for answering questions.
It's one of the easiest free money hacks to try for earning extra income.
Get free money by buying and selling gift cards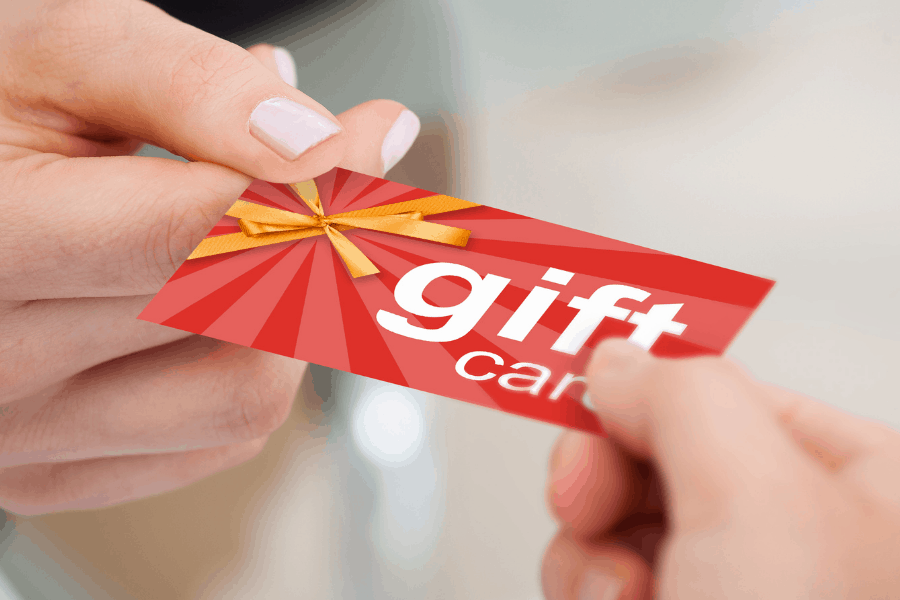 There are plenty of free money hacks that offer free gift cards.
And if you have a pile of gift cards you don't plan to use, why not sell them for quick cash?
Here are some of the best options for earning gift cards, selling them or buying them at a discount.
21. Gift Card Granny
Gift Card Granny is probably one of the best-known sites for buying and selling discounted gift cards.
If you have gift cards you're not using, you can unload them for quick and easy cash. And if you need to buy gift cards, you can find plenty of deals on them here.
It's a win-win for getting free money either way!
22. Raise
Raise offers discounted gift cards, up to 30% off. Plus, you can get a cashback bonus on your first purchase.
And if you have gift cards to sell, you can do that here too. It's another easy way to make money or save money with little effort.
23. GiftDeals
GiftDeals is another popular site for buying and selling gift cards at a discount.
When you buy gift cards through the site, you can get them at up to 35% off.
You can also sell gift cards for easy money. You tell GiftDeals what kind of gift card you have, they give you a quote and you can decide whether to list your card or not.
It's a painless way to get free money without much effort!
24. Card Cash
Want to get rid of unused gift cards and exchange them for stuff you really want?
That's what you can do with Card Cash.
You can sell unwanted gift cards for up to 92% cash back or trade them for other gift cards. When you trade for other gift cards, you get up to 9% more value!
And you can also buy discounted gift cards through the site to save money.
25. ClipKard
ClipKard pays you cash for gift cards you want to sell or lets you buy them at a discount.
Compared to other gift card sites, ClipKard offers some of the best deals. And they'll even pay for you to ship the physical gift cards that you want to sell.
Get free money with refund apps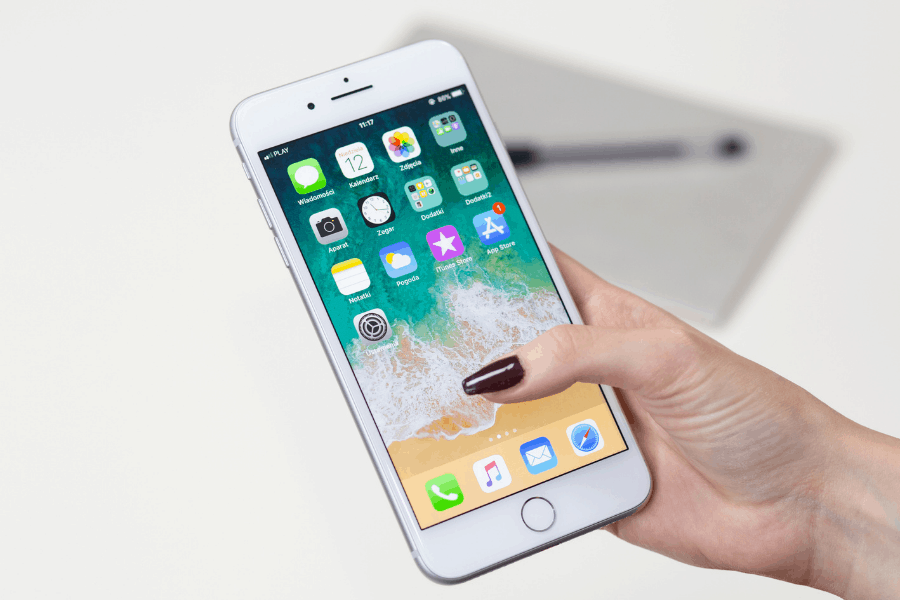 Refund and price matching apps save you money on purchases.
If you can find something you bought at a higher price for less elsewhere, the app negotiates a refund or price match for you.
This is probably one of the best free money hacks because it's so simple!
Here are my top picks for the best free money apps with refunds and price-matching.
26. Paribus
Paribus is a price-matching free app.
You sign up for Paribus using the email that you have your online receipts delivered to. The app scans your receipts and looks for lower prices on the things you bought.
If it finds potential savings, Paribus negotiates a price match refund for you from the higher price.
Besides that, the app will also negotiate with Amazon if your deliveries are late. And it keeps track of refund windows so you never miss a chance to get money back!
27. Earny
Earny is a price protection app that you can use to get free money back on purchases.
The app offers 24/7 price monitoring and if something you bought goes on sale, you can get a refund of the difference in price.
Earny also pays you cashback for sharing links with friends that shop online. So it's a win-win free money hack!
28. Sift Wallet
If you use a credit card to shop and want some free money hacks to save on purchases, you'll love Sift Wallet.
You link your credit card to the app and Sift calculates which of your rewards cards will offer the most points or cashback on purchases.
Plus, you can get automatic refunds when prices drop. If your credit card has done away with price protection as a member benefit, Sift Wallet can pick up the slack.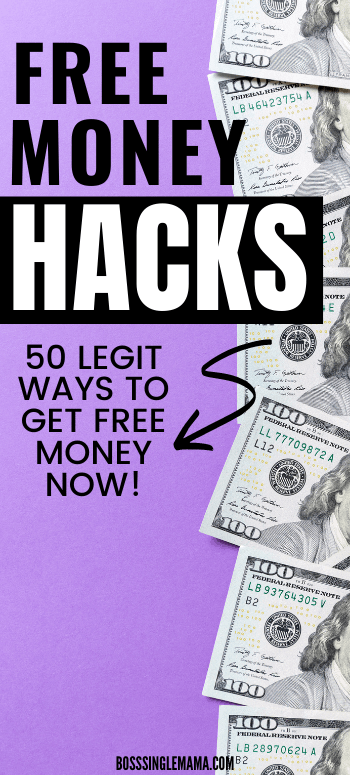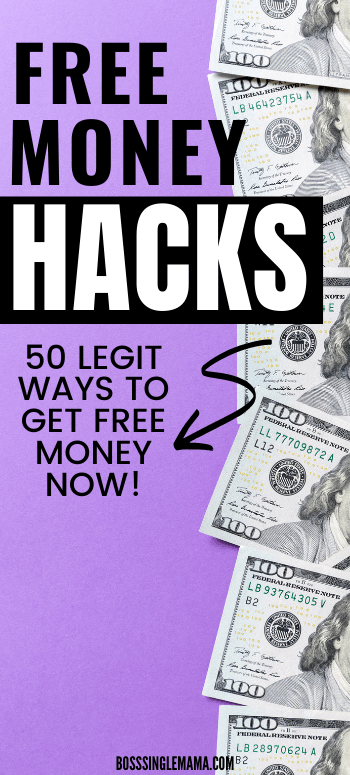 Hack free money by lowering your bills
Another of my favorite free money hacks involves using bill negotiation apps. This is a good way to save money on almost everything.
These apps review your expenses, negotiate better deals with your billers and help you pinpoint expenses you can cut out of your budget to save.
Here are some of the best bill negotiation apps for saving major cash!
29. Billshark
Billshark can help you save money on monthly bills. In fact, it's a legitimate way to save as much as 25% each month!
Sounds good, right? Billshark's experts work on your behalf to negotiate bills and cancel unused subscriptions.
It's a painless free money hack that's worth a try if you're tired of struggling with the bills.
Read my full review of Billshark and how to get the most out of this money-saving service.
30. Trim
Trim is a financial manager that reviews your spending and looks for things you can cut out like old subscriptions.
The app can also help you find other ways to save, like cutting out pricey bank fees or getting a discount on your cell phone plan.
31. Truebill
Truebill can help you save money on bills but it's also helpful for tracking your spending.
That's a plus if you struggle with managing your budget every month.
This app is great if you want to find savings each month and get a clear snapshot of your financial life. I highly recommend this one if you're just starting out with learning the personal finance basics of how to budget.
32. Tello
Spending hundreds of dollars on cell phone bills is such a waste of money.
If you're looking for an easy free money hack to put cash back in your budget, consider switching to a prepaid cell phone plan with Tello.
Tello plans start as low as $5 a month and you can buy one of their phones for super cheap or use your own Sprint-compatible phone for even more savings!
33. Tally
Saving money on credit card interest is a great money hack that can also help you get out of debt.
Tally is a money app that helps to lower your credit card APRs so you save money.
If you've been struggling with debt, then Tally could be what you need to hack your money.
Sell items you don't need to get free money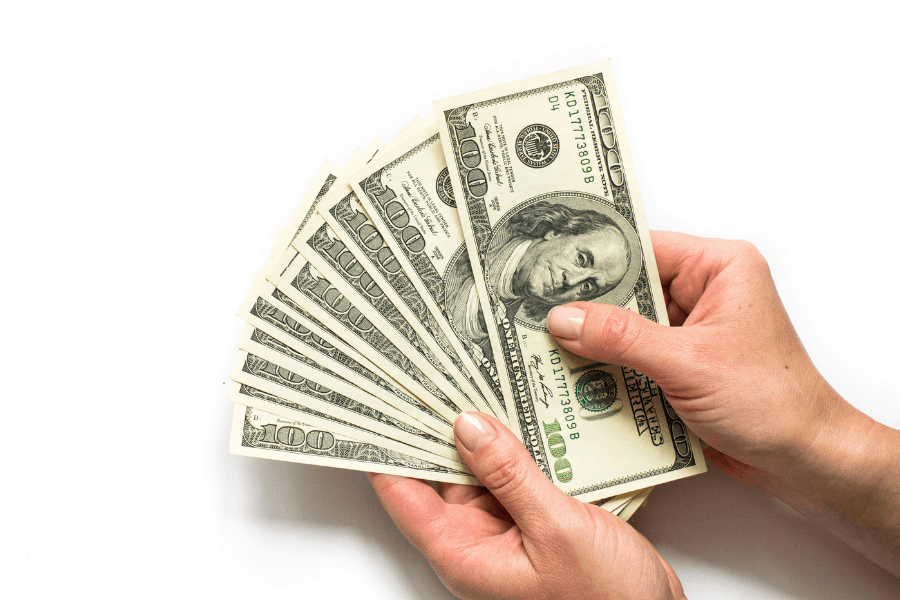 Got stuff lying around the house you don't need or aren't using?
Turn it into free money by selling items!
There are plenty of options for selling your unused or unwanted stuff and even little things can fetch a few bucks.
You can sell things at a pawn shop or try one of these best money apps for reselling. Here are some of the best ways to make money selling things you no longer need.
34. Decluttr
Decluttr is a go-to pick for selling CDs, DVDs, games and books.
You tell Decluttr what you have to sell and they give you an instant quote. If you like their offer, you ship in your items and get paid!
It's that simple and best of all, Decluttr covers the shipping costs for you.
35. Gazelle
Gazelle is a great option for making money selling items if you have old electronics you want to get rid of.
With Gazelle, you can sell used cellphones (or buy them), along with other electronic devices.
It works sort of like Decluttr: you tell Gazell what you have to sell, they give you a quote and if you're happy with the amount, you ship your stuff in and get paid.
36. SecondSale
SecondSale is a site for buying and selling used books.
So if you have a library that's bursting at the seams, you can try selling your books here for free money.
37. thredUP
thredUP is the world's largest online consignment store.
This could be a great place to sell your old clothes or clothes your kids have outgrown for real cash.
Plus, you can also shop thredUP to find bargains on gently used clothes and save your family money!
38. Poshmark
If you have some high-end clothing or accessories, you could sell them to get free money on Poshmark instead.
Poshmark caters to shoppers who want to look fashionable for less. So if you have some designer gear that you no longer want or need, you could easily sell it here for free money.
39. Facebook Marketplace
Facebook Marketplace is a great option for selling items locally.
Some of the things I see sold on our local Marketplace include furniture, baby items and pet accessories.
And another easy way to get free money through Facebook is to sell your stuff in local bargain groups. I see people selling just about anything and everything in our local group for quick and easy cash.
40. eBay
eBay is another great choice for selling items and making easy money.
There are fees for selling on eBay but you could easily make them back if you're pricing your items correctly and the things you have to sell are in-demand.
---
More posts on making money fast:
10 Ways to Declutter Your House and Make Extra Money
100+ Legit Side Hustle Ideas to Help You Make Money in Your Spare Time
25 Profitable Online Side Hustles for Introverts
---
Open a new bank account for free money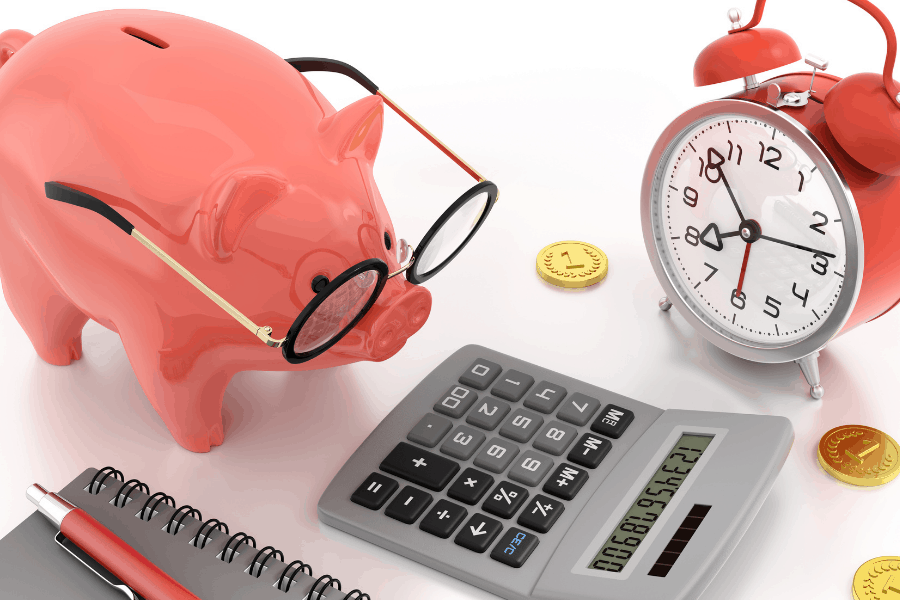 There are some great free money hacks that can help you get cash from your bank. There are a few different ways to do it, including:
Opening a new bank account to collect sign-up bonuses
Changing banks to save money on fees
Opening a new savings account to get a higher interest rate
If you're in the market for a new bank, try these options for getting free money.
41. CIT Bank
CIT Bank is one of the best online banks for getting a great rate on savings.
CIT Bank offers high yield savings accounts, money market accounts and CD accounts. Their interest rates are easily some of the best around and way better than what you could find at a traditional bank.
42. Axos Bank
Axos Bank is another great online banking option for making great money in interest while saving money on fees.
Their high yield savings accounts offer a stellar APY and there's no minimum balance required to open an account.
If you're want to open a new bank account to save money on fees, you can also open checking accounts and loans with Axos Bank.
43. Chase Bank
If you want to stick with a brick-and-mortar bank you could check out the bank account bonus offers on tap with Chase.
Chase routinely offers bonuses worth several hundred dollars to new customers who open checking or savings accounts.
This is one of the best free money hacks that doesn't take much effort.
44. HSBC
HSBC is another solid option to consider if you're interested in bank account sign-up bonuses.
They've offered bonuses as high as $450 in cash to customers who open new accounts.
That's an insane amount of money you can get for free just for switching banks! So if you're looking for a new bank, HSBC is worth a look.
Even more easy free money hacks!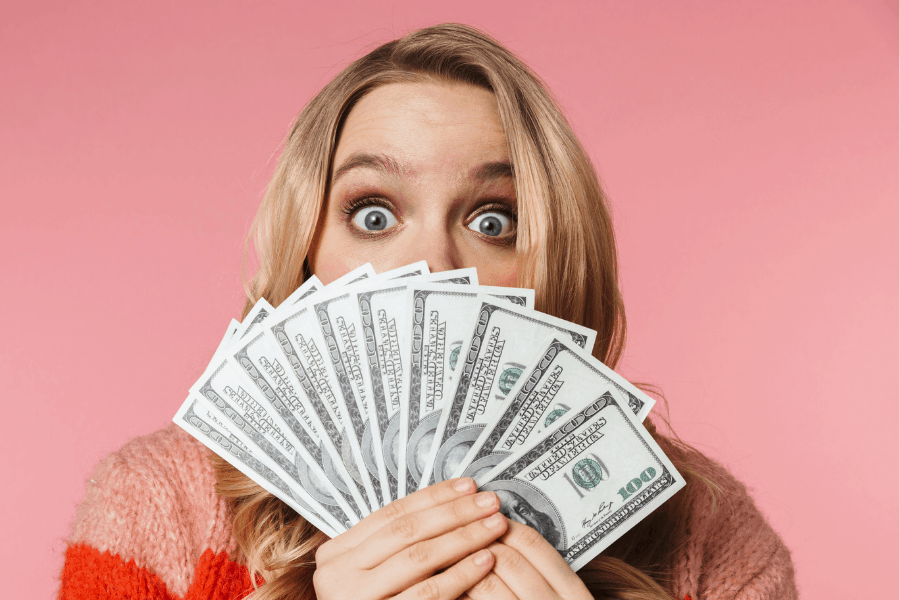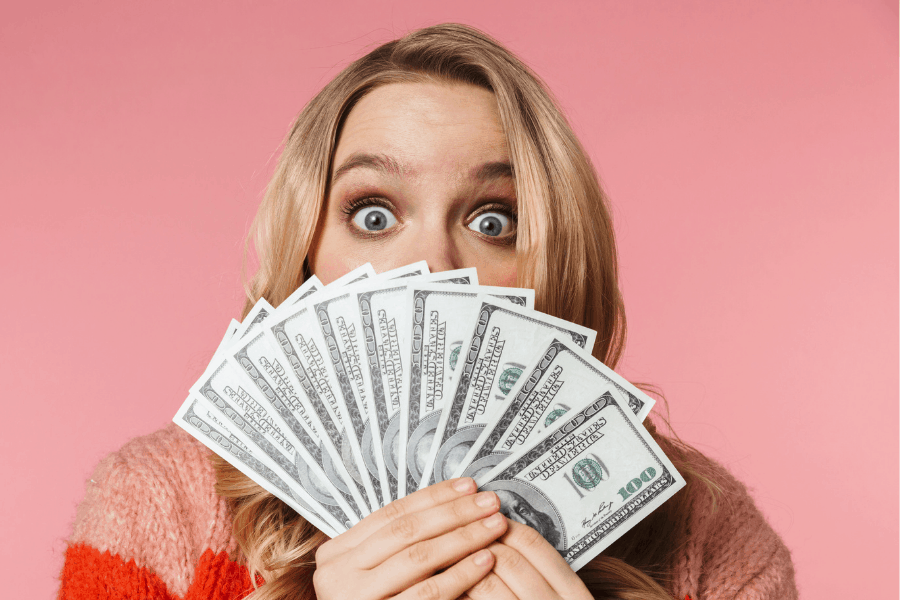 There are some hacks for getting free money that don't really fit into any one category. So I rounded them up here for you instead!
Try these money-making ideas to make easy cash when you need it!
45. Rent out your car
Got a car you're not driving all that often?
You could make money renting out your car on sites like Turo or GetAround.
Both let you list your car for rent and help you connect with people who need a temporary set of wheels.
It's a much easier way to make money with your car versus driving Lyft or Uber or trying a delivery side hustle.
(But if you're interested in delivery side hustles, you can easily make quick cash with Instacart or DoorDash!)
46. Wrap your car
If you don't want to rent your car out you can still try this free money hack to get paid: wrapping your car.
Companies like Wrapify will pay you free cash to drive around town with ads on your car.
If you don't mind advertising while you're cruising around, then it's another easy way to get money free!
47. Get paid to lose weight
Did you know you could get paid to lose weight?
Yes, really!
With HealthyWage, you can place a bet for real cash on how much weight you want to lose. If you reach your goal, you earn cold hard cash!
48. Look for unclaimed money
Did you know free money could be waiting for you out there that you don't even know about?
There are literally billions of dollars in unclaimed money just waiting for their rightful owners to show up.
If you want to find out whether you have any free money waiting on you, here are some sites to help with your search:
49. Be a mock juror at home
Do you like crime shows?
You could make some quick and easy free money by becoming a mock juror online.
All you have to do is review the facts of the case and offer your verdict. Try OnlineVerdict.com to find mock juror jobs.
50. Get paid to listen to music
Like listening to music? With Slice the Pie, you can get free money to do it!
Slice the Pie pays you money to listen to up-and-coming artists and rate what you hear.
This free money hack doesn't get any easier, plus it's a fun way to pick up extra cash!
51. Hack free cheat codes
Like playing your favorite video game online but hate paying for in app purchases?
Cheat codes can save you serious money so you're not throwing away cash the entire game.
Try a site like CheatCC for legitimate cheat codes and free money cheats.
52. Get free money for testing websites
When a website or app goes live, companies can pay money to everyday people to test them out.
Sites like UserTesting.com let you test websites and earn free money. It's a simple extra income idea!
53. Join a focus group
Companies can also use focus groups when developing products or services.
As a part of a focus group, you can get paid to participate in research or test out products.
Respondent.io is a good way to make money with focus groups. Some projects pay $150+ per hour!
54. Contribute to your employer's 401(k) plan
If you're working and you have access to a 401(k), you could be leaving free money on the table!
How, you ask?
It's simple. By not taking advantage of your employer matching contribution.
If you haven't checked your contribution rates lately, give it a look.
At a minimum, you should be contributing enough to your plan each payday to get the full employer match.
If you're already putting money into your plan, bumping up your contributions to get the match tops the list of no-brainer free money hacks!
55. Refinance your student loans or consolidate debt
If you have student loans or credit cards, then you know the pain of interest charges costing you money each month.
A simple solution is to refinance your loans or consolidate debts with a new loan at a lower interest rate.
Even if you only lower your rate a little that could translate to hundreds or even thousands of dollars in savings over time.
56. Start meal planning
Meal planning is a great money hack for saving on grocery shopping.
When you meal plan, it's easier to stick to your food budget. You can also cut down on food waste while saving money.
Don't have time to plan meals? Check out the options from $5 Meal Plan!
57. Change insurance companies
If you haven't updated your insurance policy lately, it's possible you're paying more for coverage than you need to.
Shopping around for car insurance, health insurance, homeowner's insurance or life insurance can help you find an insurance policy that fits your needs and your budget.
The end of the year of is a good time to do this if you're hoping to save money.
Try an online marketplace to easily compare quotes from different insurance companies in one place.
58. Get paid for your junk mail
Hate getting junk mail?
You can turn it into free money by sending it to the Small Business Knowledge Center.
The SBKC pays real money for junk mail. And they'll even pay for your postage to boot.
59. Become a flea market flipper
I mentioned selling items for money. But if you have nothing to sell you could make money off other people's junk.
Flea market flip or reselling lets you make free money by selling things other people no longer need or want.
Curious about how to make money flipping? Check out this FREE flea market flip workshop!
60. Invest and save to earn passive income
Last but not least on this list of free money hacks is investing to earn money passively.
Passive income is money you earn without having to do anything.
You invest your money in real estate, stocks, a mutual fund or ETF. If your investment goes up in value, you make money!
I know investing seems like a complicated thing but it isn't. If you need a simple way to start investing for passive income, give Acorns a try.
Acorns links to your bank account, rounds up your transactions and invests your spare change.
It's a simple way to get free money and grow wealth at the same time.
Related post: Cash App Money Flip Scam 2022: What Is It and How to Avoid It
How can I get free money now?
If you want to get free money, then the simplest way to do it is to start putting some of these free money hacks to work. My favorite (and possibly the fastest) way to get free money is to sell things around the house you don't need.
This is a great way to get cash the same day if you're selling things through a local bargain group on Facebook or Craigslist.
After that, I love cashback apps for getting free money.
The Rakuten site, for example, gives you $20+ in bonuses each time you refer a new shopper to the app. You can make money with Rakuten just by telling friends and family members how great the cash app is.
How can I make $100 fast?
If you need a quick $100 because you don't have much money, selling something is a fast way to get it. Or you could hire yourself out for a work today, get paid today gig.
For example, you could make an easy $100:
Doing yardwork
Helping someone move
Running errands for someone
If you need to make $100 fast, think about what items you can sell first. Then think about ways you could sell your time or skills to make the cash you need quickly.
How can I earn $100 a day?
Making $100 a day consistently is possible if you're interested in starting a side hustle. For example, blogging can be an easy way to make $100 every single day in passive income.
If you're interested in writing blog posts to make $100 a day, I've got a step-by-step guide to starting a money-making blog you'll want to read.
Or you could head over to Siteground now to purchase hosting and get your new blog up and running in minutes!
Final thoughts on the easiest free money hacks
Hopefully, I've given you plenty of ideas on how to get money free. Because let's be real, who doesn't like free money?
Do you have a great free cash hack to share?
Head to the comments and tell me about it.
Be sure to check out my favorite Smart Money Tools for making and saving money. And for more money hacks, take a peek at this book by Lisa Rowan. It's packed with 275+ ideas for unlimited money savings!
Best Free Money Hacks (Get Free Cash With Minimal Effort)