Last Updated on February 4, 2023 by Rebecca Lake
If you're looking for an easy way to make extra money, getting free gift cards for surveys is one of the best ways to do it.
Taking surveys for gift cards doesn't require a lot of time or special skills to do. You can sign up and make money instantly just by sharing your opinions.
The best survey platforms are legitimate sites that allow you to earn cash or points that you can redeem for gift cards to your favorite stores. You can choose from a wide range of different gift cards, including physical gift cards and digital cards for popular brands.
It's possible to make $100 or more per month just by completing market research with survey sites and apps. You can sign up with multiple sites to complete surveys for gift cards in your spare time.
Not sure where to get started? Today, we're sharing some of the best ways to get gift cards for surveys online.
Best Sites to Get Gift Cards for Surveys
1. Survey Junkie
Survey Junkie is a great site for earning passive income by taking surveys online. There are always plenty of available surveys to choose from and most surveys don't take a lot of time to complete.
Payouts can vary but some of the best online surveys pay up to $50 each and new opportunities are added to the site all the time.
Survey Junkie can be an excellent way to earn gift cards for surveys. Other payment methods include PayPal deposit and bank transfer if you'd rather exchange reward points for cash.
?Sign up for Survey Junkie and start earning free cash and gift cards!
2. Swagbucks
Swagbucks is one of the most popular survey sites and it's an easy way to make a little extra money from your mobile device.
You can sign up and earn points for each survey you complete. Points can be redeemed for gift cards to major retailers like Amazon, Walmart and Target or for PayPal cash.
As an added bonus, Swagbucks offers discount gift cards so your points can go further. And new members can earn a $10 sign-up bonus for creating a new Swagbucks account.
3. InboxDollars
Inbox Dollars is another popular site for earning extra money by completing small tasks.
You can get gift cards for surveys but you can also earn rewards for doing other things, like reading emails, scanning receipts, completing daily polls or shopping online.
You'll be able to see how much surveys are worth before you take them and how much time is involved. That's an easy way to weed out low-paying surveys that aren't worth your time.
As you complete more tasks, you can move up a level in the Inbox Dollars ranking system. That gives you more chances to win cash with the Scratch & Win feature.
Like Swagbucks, InboxDollars offers a $5 bonus when you create a new account.
4. MyPoints
MyPoints is a sister site to Swagbucks and while it's primarily an online shopping rewards program, you can also get gift cards for surveys here.
When you create a free MyPoints account, you can review different surveys that cover various topics. Market research companies work with MyPoints to offer surveys in order to create focus groups for new products or services.
The amount of money you can earn with MyPoints depends on the number of paid surveys you complete. Some of the payouts go as high as $50 but keep in mind that the higher the payout, the more time the survey may take.
Once you're ready to redeem your MyPoints you can turn them into gift cards for your favorite brands, including Apple, free Visa gift cards, Home Depot gift cards, Walmart gift cards, Target gift cards and Amazon cards.
Start making money with MyPoints! Want an easy way to earn extra cash? Earn MyPoints Rewards that you can redeem for cash or gift cards just for doing simple tasks. Sign up for MyPoints and get a $10 Amazon gift card!
5. Tada
Tada is another sister site to Swagbucks (and MyPoints). You can use this online shopping portal to earn cash or gift cards for surveys that you can use to make purchases at your favorite brands.
Here's how it works. You search for surveys and click on the ones that interest you. If you qualify, you can take the survey and earn instant cash.
That cash is redeemable for a paper check but you can also turn it into gift cards for Amazon, Target and other top retailers.
Tada offers an impressive $20 introductory sign-up bonus for eligible new members.
6. Opinion Outpost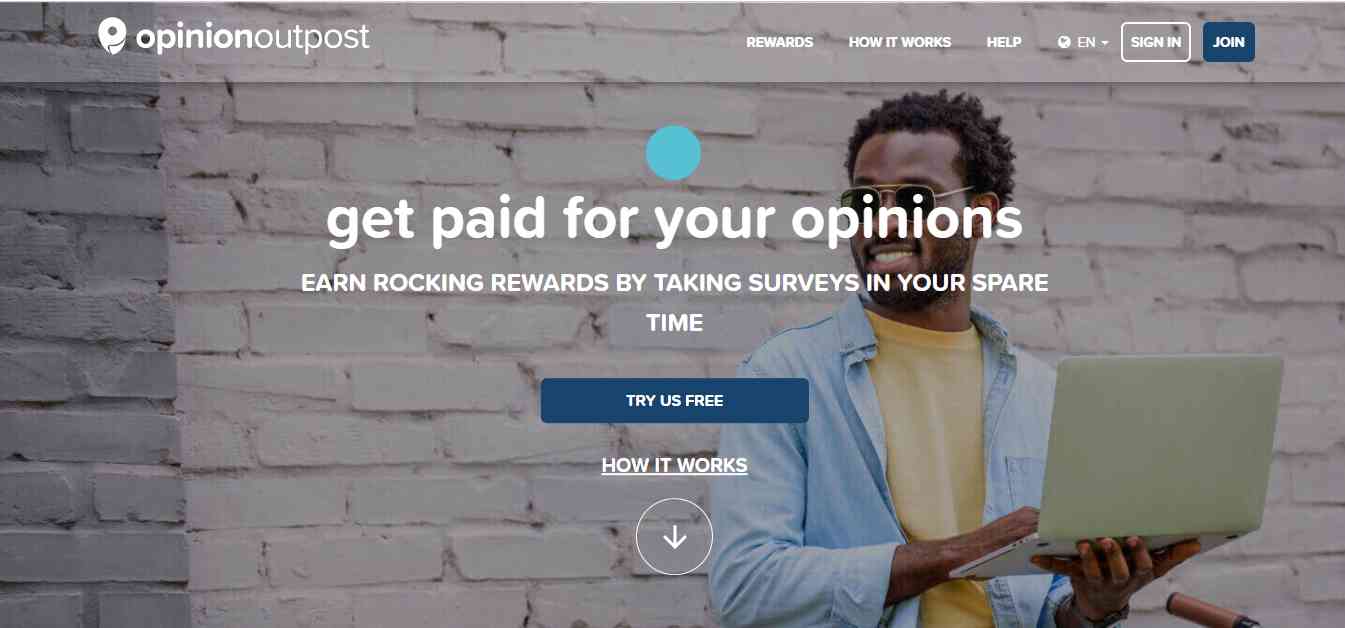 Opinion Outpost is a popular paid survey site that pays quickly and in cash. You can also earn points that you can redeem for gift cards to name brands, including:
Amazon
Apple
Target
Home Depot
Nike
Macy's Game
GameStop
CVS
PayPal
According to the Opinion Outpost website, they pay out $390,000 a month in rewards to their community. So there should be plenty of opportunities to earn gift cards by taking surveys here.
Note: If you want to sign up with Vindale Research to get gift cards for surveys, you'll be redirected to the Opinion Outpost website.
7. Opinion Inn
Opinion Inn is free to join and you can get a $10 sign-up bonus when you create a new account.
Once you sign up, you'll get surveys that match the information you provided in your profile. You can take surveys, complete them and then redeem rewards through PayPal.
The payout threshold is $25 and surveys can pay as high as $100 each. You can also earn entries into the $500 monthly draw by attempting at least five surveys for the month.
Get your $10 bonus plus earn gift cards for surveys with Opinion Inn.
8. Branded Surveys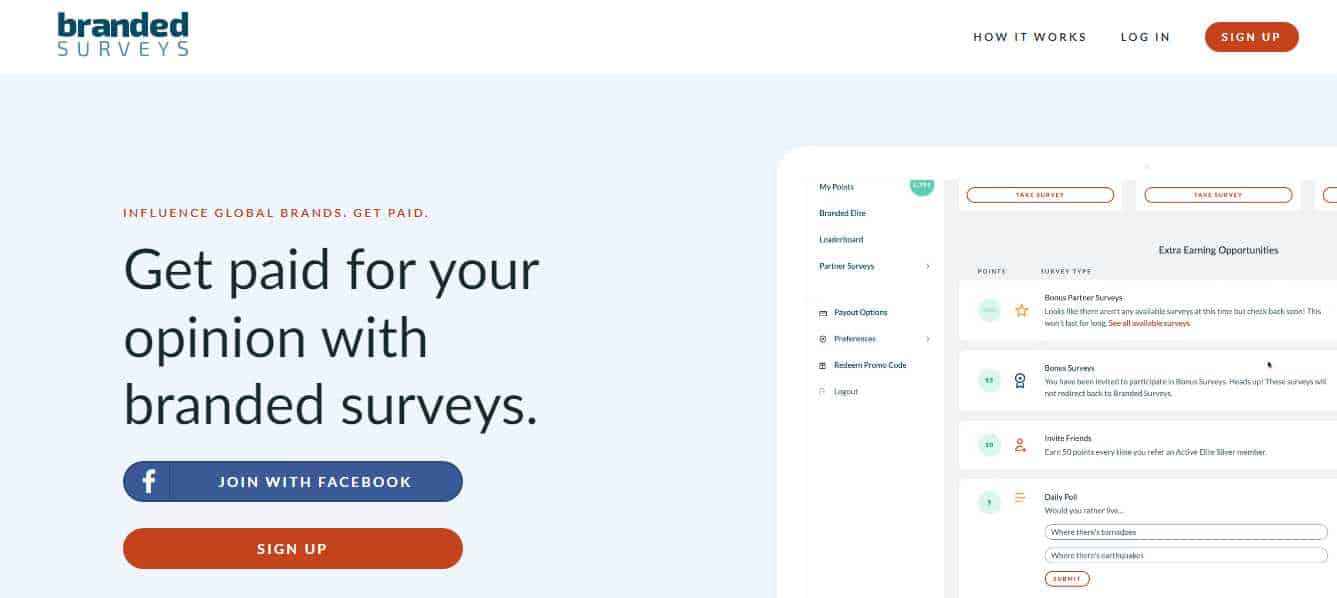 Branded Surveys is ideal for taking surveys on different topics and they're fairly short, compared to other survey sites.
You can get points for logging in and completing daily polls or joining the company's loyalty program. Branded Surveys has paid out over $15 million to its members, so it's a 100% legitimate company.
And in case you're wondering, you can earn gift cards for Amazon, Apple and other popular brands or donate them to charity.
9. Prize Rebel
PrizeRebel makes it easy to sign up, take surveys and earn rewards toward free gift cards or PayPal cash.
It's free to create an account and most surveys are on the shorter site, so earning rewards is hassle-free. You can use the rewards you earn to get gift cards from Amazon.com, Walmart and hundreds of other retailers.
There are thousands of available surveys listed and you get paid instantly each time you complete one. PrizeRebel also works to keep your data safe when using their platform.
10. RewardSurvey
RewardSurvey is a little different from the other survey sites.
You still earn rewards for taking surveys but instead of redeeming them for gift cards or cash, you can redeem for magazine subscriptions.
Some of the magazines you can subscribe to include Good Housekeeping, Parents and Woman's Day.
This survey site could be great if you love reading magazines but you don't like shelling out money on them. And when you sign up now, you can get a $30 introductory bonus as a reward.
11. Pinecone Research
Pinecone Research is one of the best survey sites to try if you want flexibility in how you can use rewards.
When you sign up and take surveys, you can earn points. You can then redeem points for cash or prizes.
Pinecone's survey-takers are known as influencers so this survey site is a little harder to get into. But if you qualify, you could easily rack up major points toward cash or gifts.
12. RewardFish
RewardFish is a free survey site that allows you to take surveys for gift cards and earn points for completing quizzes and other activities.
When you sign up, you can automatically be entered into a $500 sweepstakes. You can also earn free bonus points weekly.
13. PanelPlace
PanelPlace is a market research site that rewards you for sharing your experiences with top brands.
You can create an account and browse digital offers. You decide which offers you want to interact with and share your feedback. Depending on which offers you're taking advantage of you could earn gift cards, cash or both.
Aside from taking surveys, you'll also find offers for free trials of digital products and discounts for products and services from partner merchants.
14. Shopper's Voice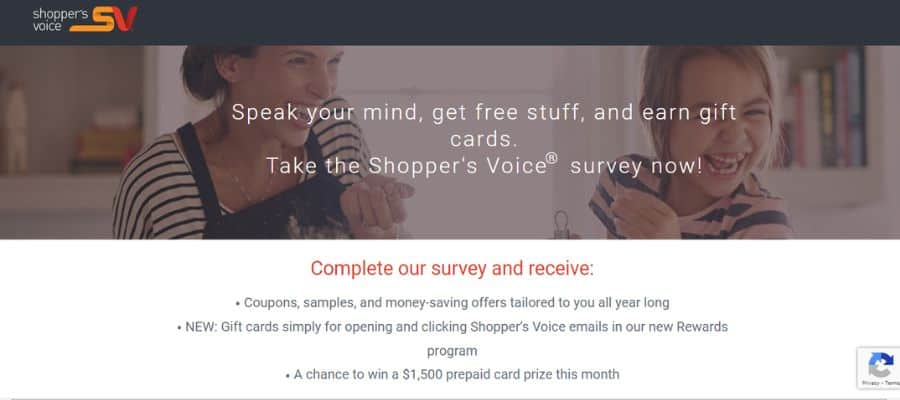 Shopper's Voice is a money-saving survey site that rewards you when you share opinions about the products you shop for.
When you sign up for a free account, you tell Shopper's Voice which brands you love the most. You then become eligible for instant savings and rewards, including coupons, samples and freebies.
There's also a separate survey you can take that has a cash prize. If you win, you can nab a cool $1,500 just for answering a few questions.
15. LifePoints
With LifePoints, you can make money by taking surveys, completing polls, testing products and doing other activities online.
Members earn reward points that you can redeem for gift cards and merchandise from retail partners. Or you can convert your points to cash.
It's one of the easiest survey sites to use and start earning reward points right off the bat.
16. Survey Voices
Survey Voices is a great survey site because you can make up to $350 per week just for sharing your opinion!
That's insane since it's a much higher payout than what you might find at other survey sites.
You can also make money by participating in clinical trials or doing part-time work through the app. Participation in those offers is always 100% optional.
18. American Consumer Opinion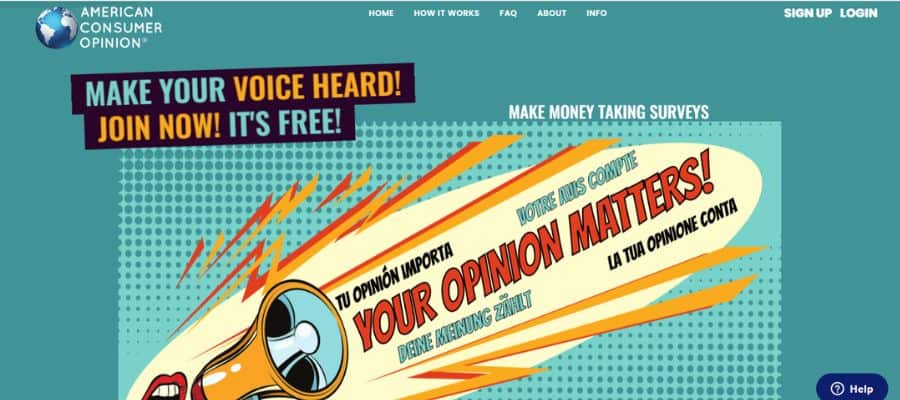 American Consumer Opinion is a survey panel made up of millions of consumers who get paid to share their opinions.
It costs nothing to sign up and the site has paid out more than $35 million to its members to date.
You can earn 1,000 to 5,000 points per survey. One point is worth 1 cent so a 5,000-point survey pays $50, which is on par with what you could earn at other survey sites.
19. Univox Community
When you join the Univox Community, you can get a $2 sign up bonus. You'll also have a chance to take surveys and earn gift cards as rewards.
Gift card options include Amazon, PayPal, Mastercard and Tango Card. You have fewer gift cards to choose from overall, but it's still worth a look if you want to make a little extra money for answering questions.
20. InboxPays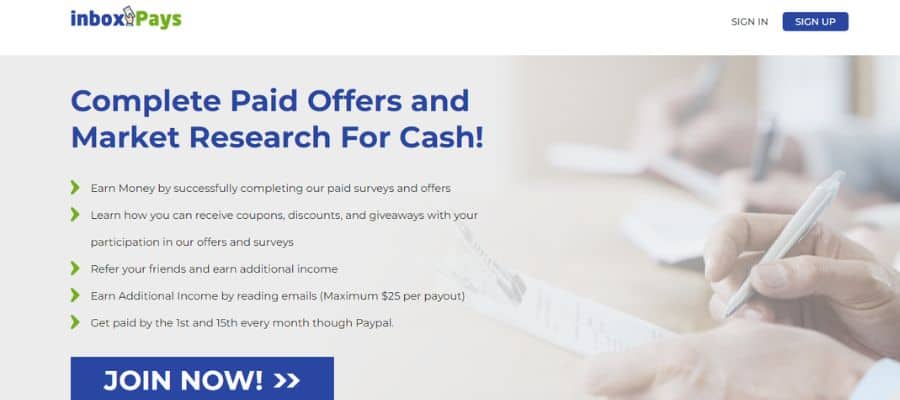 InboxPays pays you money for taking surveys and you have opportunities to make cash by referring friends or reading incomes.
One of the great things about InboxPays is that you can get paid twice a month.
21. Fetch Rewards
Fetch rewards you when you scan receipts from shopping. You can use the rewards you're earning to get free gift cards from top brands.
You don't need to take any surveys to earn gift cards with Fetch, but it's still worth mentioning since it's such an easy way to get rewards for something you might already be doing.
Where to Find the Best Gift Cards for Surveys Sites
There are lots of different survey sites that pay cash or rewards for gift cards, but some are better than others. It's a good idea to do a little research first to find the best survey panel options that can help you earn the most money.
1. Look for a signup bonus
Many survey sites offer a sign-up bonus or welcome bonus just for creating a new account. Some of the best bonuses include:
Getting some bonus points or a free e-gift card can be a great incentive to sign up. You can also check to see if a survey site offers a referral program.
Referral programs can pay you even more in free gift cards or cash when friends or family members sign up for a survey site you recommend.
---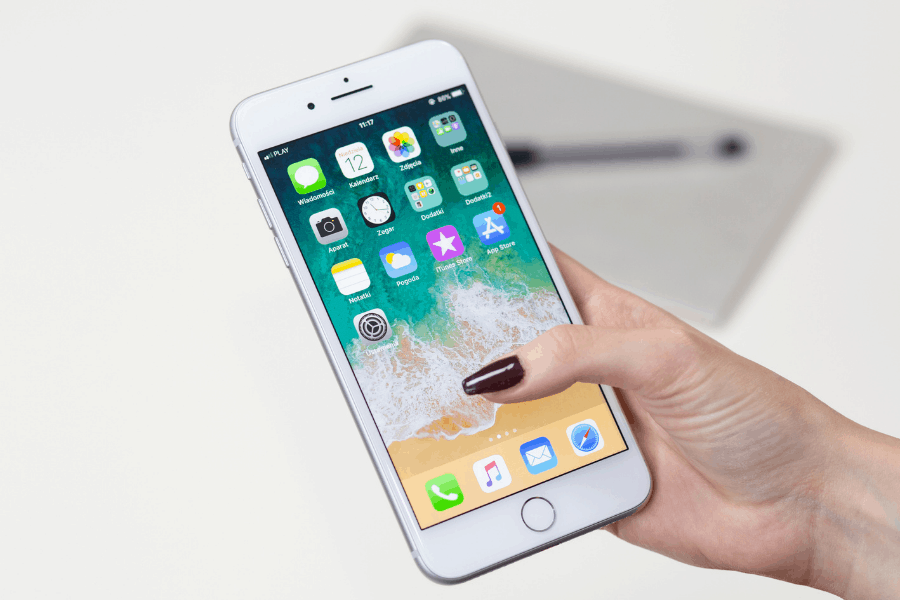 Get $5 Free Cash With CashApp
#1 rated in the App Store!
CashApp makes it easy to send money, get paid, save, and invest all in one convenient mobile app. Sign up and start doing more with your money!

Use code VZXRXZN to sign up for Cash App and earn your $5 bonus.
---
2. Different ways to earn rewards
The best survey sites offer multiple ways to earn rewards that you can redeem for free gift cards or cash.
That can include different online activities, such as:
Taking surveys
Watching videos
Playing video games
Surfing the webs
Applying coupon codes or promo codes when shopping online
You could also get paid to test out various products or services or participate in focus groups or clinical trials.
3. Payout threshold
The payout threshold determines when you get paid and it's important to know that, especially if you're hoping to pick up some instant cash or gift card codes.
At some sites, like Survey Junkie, the minimum payout threshold is low but it may be higher at others.
If you're hoping to redeem points for a large gift card, also check to see whether the site offers any discounts. Again, Swagbucks puts their gift cards on sale so you can get them for fewer points.
4. Rewards redemption
Aside from the minimum payout threshold, you should also know what options you have for redeeming rewards points or cash.
It's a good idea to look for survey sites that offer a variety of redemptions so you can choose the best option for you. That might include:
Bank account transfer
Debit card transfer
PayPal deposit
Paper check
Also, look at the timing. If you're redeeming rewards for a deposit to a bank account, for example, it might take a few business days for the money to show up. Gift card codes, on the other hand, are usually delivered within a few hours if not instantly.
5. Gift card options
Most survey sites give you lots of choices for gift cards. But it's still important to run through the list to see which gift cards are offered.
Some of the most popular gift card brands include:
Amazon
Walmart
Target
Home Depot and Lowe's
Best Buy
Dunkin Donuts
Chili's
Red Lobster
Starbucks
Whole Foods
PayPal
Visa
Google Play
Apple Store
Steam
Roblox
Xbox Live
PlayStation
Knowing what's offered can help you earn the perfect gift card for yourself (or someone else, if you plan to give it away).
6. Sign-up process
The first step in earning gift cards for surveys is creating accounts with different survey sites. And ideally, it's easy to sign up online or through a mobile app.
Keep in mind that you might need to enter certain personal information to create accounts with survey sites, including your:
Name
Date of birth
Phone number
Email address
Mailing address
You might also be asked for your bank account information or PayPal account information if you choose to get paid in cash.
Also, check the site's privacy terms and conditions. Some sites will sell your personal information to third parties, while others don't.
7. Customer service
Hopefully, you never run into any issues with earning gift cards or redeeming points. But if you do, it's good to know that you'll be able to get in touch with customer service if you need to.
Check out the customer survey options for different survey sites to see how you can contact them. You might also look at customer reviews online to see what other users are saying about the site.
How to Exchange Gift Cards for Cash
If you're earning free gift cards for surveys, you might decide to spend them or give them away. But it's possible you might want to turn them into cash.
Once upon a time, you could turn gift cards into cash at a Coinstar kiosk near you. Coinstar has since discontinued that program, but there are other ways to get cash for gift cards at a gift card exchange kiosk.
Here are some of the best sites for exchanging gift cards for cash:
CardCash. CardCash sells discounted gift cards from 1,200+ brands. You can sell unwanted gift cards and get paid via PayPal, ACH or check. It takes less than five minutes to list unused gift cards for sale or trade.
EJ Gift Cards. EJ Gift Cards is an online marketplace for unwanted gift cards. You can use this buy/sell site to turn gift cards into cash deposits in your PayPal account. You can also check your gift card balance before getting an offer to get an idea of how much money you might earn.
Raise. Raise is also a marketplace for buying and selling gift cards. You can create an account, list your card for sale and get cash for it when someone buys it. One thing to note is that Raise charges a fairly steep fee to sell gift cards on the platform.
CardSell. CardSell is a mobile app that lets you turn unwanted gift cards into instant cash. You download the app, enter your gift card details and exchange your gift cards for cash deposits to your PayPal account.
Gift Card Outlets. Gift Card Outlets lets you name your own price when selling unwanted gift cards. You add all of the gift cards you want to sell and set an offer price. Gift Card Outlets then reviews your offer and if it's accepted, you get paid.
How to Maximize Survey Earnings
Taking surveys doesn't require a lot of time for the most part but you want to make sure every minute you spend answering questions or product testing counts. So here are a few tips to get the most money possible when taking surveys for gift cards or cash.
Spend time on multiple sites
Creating accounts on different survey sites gives you a larger pool of available surveys to choose from.
You can sign up, test out each site for a week or two, then trim down your list to the top 5 sites that pay the most money with the lowest payout threshold.
If you're signing up for any sites that offer a welcome bonus, be sure to complete whatever activities are necessary to get the bonus first if you decide to deactivate the account later.
Answer questions completely and accurately
Companies that create surveys for market research want to get accurate answers about their products and services. That's the only way the surveys have any value.
So when answering questions, be honest and truthful and provide the information that's being requested. That can help you qualify for new opportunities to take additional surveys and make even more money.
Make the most of your time
You don't need to block off a whole afternoon to take surveys for money, though you could do that if you have the time.
If you're busy and always on the go, you can squeeze in time for surveys in the quiet moments of your day. For example, you might knock out a few surveys while waiting at the doctor's office or sitting in the pickup line to get your kids from school.
The great thing about surveys is you can make a little bit of money (and sometimes, a lot) in small increments of time.
Organize your inbox
Here's one truth about taking surveys for gift cards: You'll get a lot of emails from survey sites that let you know when a new survey is available.
If you don't want those survey emails cluttering up your inbox, creating a separate email address to receive them is a simple solution.
Just remember to sync that email account to your phone or check it regularly on your laptop so you don't miss out on any high-paying surveys that might come your way.
Don't let gift cards go to waste
Most gift cards these days don't have expiration dates, but some do. As you begin collecting free gift cards, make a note of the amount, the brand and the expiration date, if there is one.
You might keep your list on your calendar if you plan to give gift cards away. For example, if you see your sister's birthday is coming up and you happen to have a $25 Starbucks gift card you're not using, you could gift it to her instead.
And if you have no one to give your gift cards to, remember that you can always sell gift cards instantly online for cash.
Survey for Gift Cards FAQs
What survey sites pay the most?
Some of the best-paying survey sites include Pinecone Research and niche sites that require you to have specialized knowledge. However, you can still make good money taking surveys with sites like Survey Junkie, InboxDollars and Swagbucks. Remember to compare the time involved to complete surveys with the payout you can expect to make sure it's worth it to you.
Are free gift card surveys legit?
Legitimate surveys will pay you gift cards or cash just for sharing your opinions. There are lots of scams out there but doing your research beforehand can help you avoid fraudulent survey sites. Some red flags include sign-up fees, requests for your credit card information or any guarantees that seem too good to be true.
Who pays people to take surveys?
Paid online surveys exist because companies, brands and other organizations need market research to develop and test their products. They're willing to ask consumers to share their opinions for gift cards or cash so they can learn what works or what doesn't before taking a product to service to the market.
Can I really make money taking surveys?
Yes, it's absolutely possible to make extra money taking surveys online. You might not become a millionaire from taking surveys but it's still a great way to create some side hustle income. The amount of extra cash you can earn will depend on which survey sites you sign up with and how many surveys you take per month.
Are there any paid survey sites to avoid?
Any survey site that has a bad reputation is definitely one to steer clear of. Checking consumer reviews can tell you whether a site is legit or whether it's left an unhappy trail of users in its wake. A few survey sites with less-than-stellar reputations include Survey Rewardz, Panelbase, iPoll and Opinion Bar.
How do paid survey sites work?
Paid survey sites work by allowing you to answer questions on various topics or complete simple tasks, then earn rewards for each survey you complete. You can use those rewards to get free gift cards from thousands of retailers. Or you could cash your rewards out for Visa gift cards, PayPal gift cards or PayPal account deposits.
How can I get gift cards for free?
Signing up for survey sites is one of the best ways to get free gift cards. You can also get free gift cards by participating in referral programs or taking advantage of promotional offers from retailers. For example, during the holiday season, you might get a $10 gift card for free when you buy $50 in gift cards from your favorite store or restaurant.
How can I get money from gift cards?
You can get cash from gift cards by selling or trading them through a gift card exchange online. You could also sell gift cards for cash locally through Facebook Marketplace, Craigslist and local reselling groups.
Final thoughts on taking gift cards for surveys
Whether you prefer taking short surveys or longer surveys, it can be a great way to make a little bit of free money. Researching different companies can help you figure out which survey apps or sites to sign up with so you can make the most extra cash for your time.
Need more money tips? Read these posts next:
Where will you earn gift cards for surveys?