Last Updated on September 12, 2021 by Rebecca
Groceries on a Budget
Learn the best money-saving hacks for buying groceries on a budget!
And start saving money on groceries instantly now by downloading the Ibotta app!
Are you tired of spending what seems like endless amounts of money on groceries?
When you have growing kids, your food budget can easily eat up a big chunk of your household budget.
According to the Bureau of Labor Statistics, the typical household spent $4,643 on food at home in 2019. And honestly, that seems like a low number to me.
I know that since we've been staying home more, our food budget has made a big leap. And I've watched prices on some things get really crazy this past year.
So I've spent a lot of time researching different ways to save money on groceries. And if you're living on a tight budget, then you could probably use some tips to save money grocery shopping, too.
Which is exactly what I've got for you today.
I've rounded up some of the best ways to buy groceries on a budget when money is tight!
Read this post next for more money-saving tips:
220+ Realistic Ways to Save Money on a Tight Budget (on Almost Everything!)
35 Realistic Ways to Afford Groceries on a Budget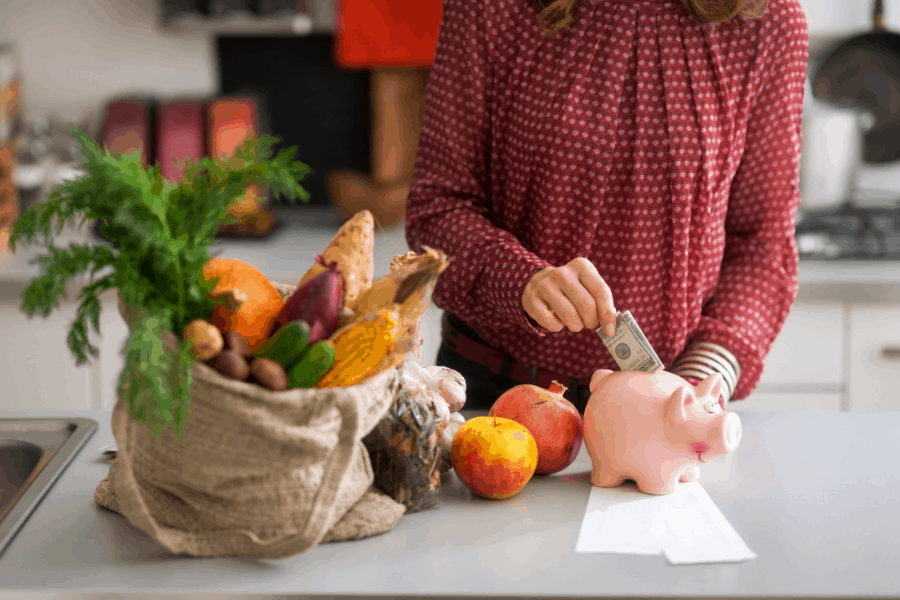 1. Change your meal mindset
If there's one good thing about this crazy year it's that my daughter has taken an interest in cooking. And as a result, it's changed the way we approach dinner.
So instead of having a traditional dinner with a meat and two to three sides, we've experimented with:
Meatless meals
Appetizers as dinner
Stupid-simple three-ingredient recipes
Recycling leftovers into new meals
Having breakfast for dinner
Those are simple things that can have a big impact on how much money you spend on groceries each week or each month.
So as you're looking for ways to afford groceries on a budget, start by redefining what your idea of "dinner" means.
2. Start meal planning
If you're not meal planning regularly, then you're probably wasting money on groceries instead of saving it.
Meal planning is such a huge help when you need to purchase groceries on a budget because it keeps you from buying things you don't need.
At our house, we have a dozen or so staple meals that we rotate through every couple of weeks. And once a week I try to make something new that we haven't had before to see if we want to add it to the rotation.
If you don't know where to start, you'll want to read this beginner's guide to meal planning.
You can also check out the $5 Meal Plan if you need some inspiration or ideas for meals.
It's an inexpensive way to have meals planned out for you each week and it comes with a shopping list so you know exactly what to buy!
3. Try freezer meals and make-ahead meals
Freezer meals and make-ahead meals can save you lots of time and lots of money grocery shopping, too.
The beauty of freezer meals is that you can batch cook them, pop them in the freezer, then pull them out when you're ready to eat them.
And if you're planning make-ahead meals around a core group of staple ingredients (like pasta, rice, beans, etc.) then you can make multiple dinners for pennies per serving!
Read this post for cheap and easy meal ideas:
53 Dirt Cheap Meals for Frugal Families on a Tight Food Budget
4. Shop your pantry first
Want to know one of the easiest ways to save money when buying groceries on a budget?
Shop what you already have!
Seriously. I can't tell you how many times I've bought something, only to realize I already had it home.
If I'd simply taken the time to check my pantry, cabinets and fridge first, I could have saved myself money on groceries.
One way to avoid that problem and save money grocery shopping is to keep a running pantry list.
You can break your list down into categories, like:
Canned goods
Spices
Pasta
Dry goods, like cereal and oatmeal
Root vegetables
You keep a running tally of what you have on hand each week. Then when you're ready to grocery shop, you can just check your pantry to list to see what you have and what you need to replace.
5. Separate needs from wants
Some grocery items are pretty much must-haves for us.
That includes things like eggs, bread and milk. Then there are the extras that we buy if there's room in the budget. So stuff like ice cream or chips.
Separating your food needs and wants is so important when you're buying groceries on a budget.
If you start tossing all the extras in your cart first, you'll run out of money before you can get the things you need most.
So before you start making your grocery list, figure out what takes priority first. And if you have money left over, you can splurge a little on the not so important stuff.
6. Always shop with a list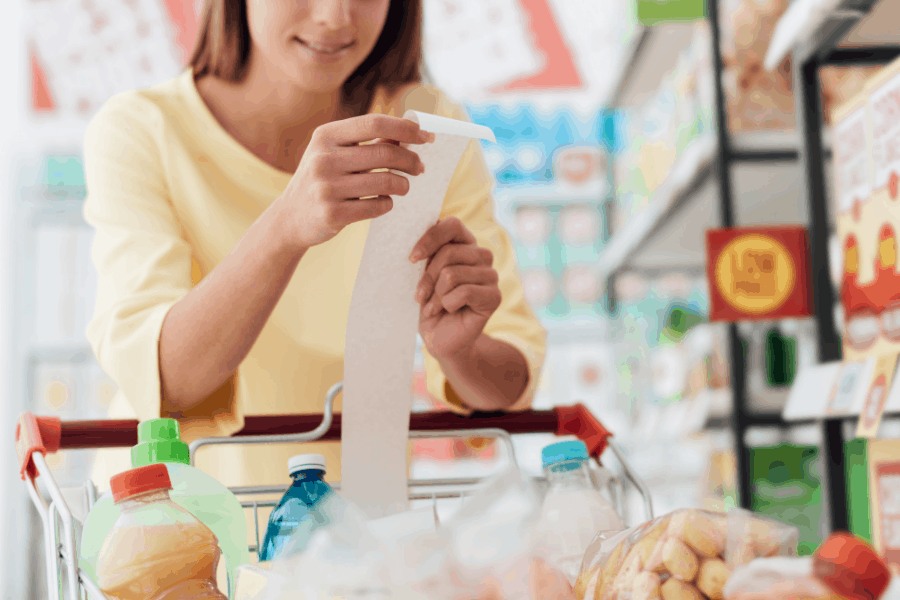 This is another super simple concept that can save you so much money on groceries!
Having a list for grocery shopping (and sticking to it) is one of the easiest ways to keep your food budget in check.
Don't believe me?
Then try it for yourself. For your next two grocery shopping trips, use a list for one and go without a list for the other.
Hang on to your receipts then compare them to see how much more money you saved by sticking with your grocery list.
7. Avoid grocery shopping when you're hungry
I'm totally guilty of hitting the grocery store at 4 p.m.
And that is such a bad thing to do.
By that time of day, I'm starving. And grocery shopping while you're hungry almost guarantees that you're going to end up spending more money than you planned to.
So the next time you're about to head out to the grocery store, grab a snack first.
It's a lot easier to focus on your grocery list when your stomach isn't growling. And you'll be less tempted to buy things you don't need.
8. Learn grocery sales cycles
For the longest time, I had no clue that grocery stores used a cycle system to put different foods on sale.
But eventually, I caught on to the fact that things like soup and cereal always seemed to be on sale at the same time.
Getting to know your grocery store's sales cycles is a smart move for buying groceries on a budget.
Depending on your store, items might cycle through on sale every six, eight or 12 weeks.
And your store might only run sales on specific days of the week, like Wednesday through Sunday.
A good way to learn your store's system is to keep track of price changes for the items you buy regularly in a notebook or the notepad app on your phone.
And when in doubt, you could always ask the store manager how their sales cycle runs. This can help you get ahead of the game when planning grocery shopping trips.
9. Compare grocery prices online
Comparison shopping is another must if you're buying groceries on a budget.
This can add some time to your grocery shopping process but it's worth it if it helps you save money on food.
There are different ways you can do this.
For example, you can visit each store's website to check their online flyer. Or you can scan the flyers that come with your newspaper.
I use the Instacart app to check grocery prices. When I log into the app I can compare prices at all the stores in my area that use Instacart.
You can just toggle back and forth between stores to see who's got the better deals. I'll then compare that to the prices in the Walmart Grocery app since I also shop for groceries there sometimes.
10. Sign up for your grocery store's loyalty program
Grocery store loyalty programs can be instant-money savers when buying groceries on a budget.
We shop at Food Lion, for example, and when I scan my card at the kiosk it automatically loads coupons and money-saving offers onto it.
I shop, scan my card again at checkout and those savings are instantly applied.
This is way easier than clipping paper coupons each week. And some grocery store loyalty programs (like Kroger and Lowe's Foods) also let you use your loyalty card to save money on gas, too.
So if you're not enrolled in your store's loyalty program yet, you've got nothing to lose (and potentially a lot of savings to gain) by signing up.
11. Get to know the cheapest foods to buy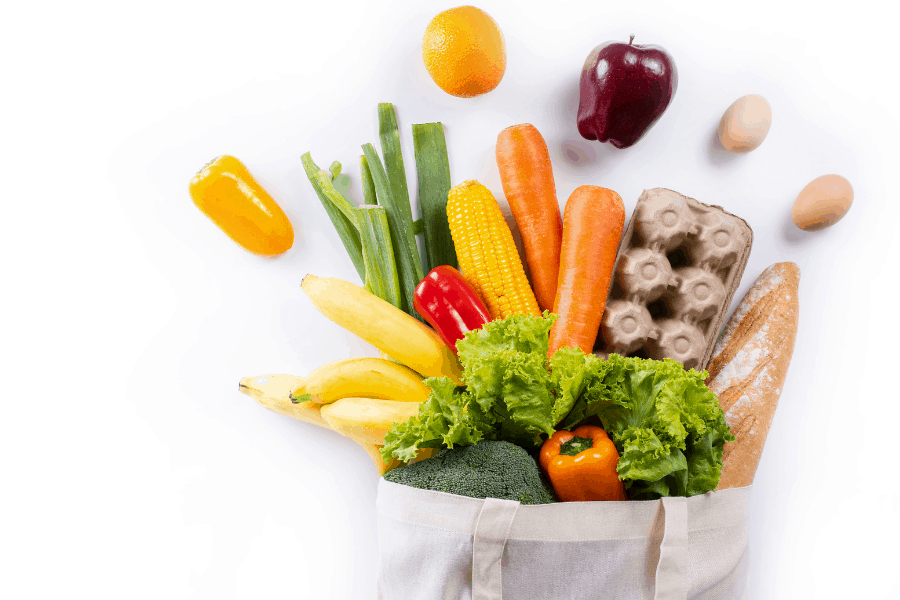 Saving money buying groceries on a budget and eating healthy don't have to be mutually exclusive.
You can still feed your family nutritious food without breaking the bank.
The secret is knowing the cheapest foods to buy and when to buy them.
If you're not sure which foods lead to the biggest grocery savings, here are 35 cheap items to add to your grocery list now!
12. Decide whether you want to shop in-store or online
If you've never shopped for groceries online before, you're missing out!
Grocery shopping online can save you time and money if you know a few tricks for doing both.
And the good news is, you have lots of options for buying groceries online, including:
Walmart Grocery
Walmart Grocery was my first introduction to online grocery shopping.
Here's how it works:
You download the Walmart Grocery app (it's free!)
You create an account using your email and set your preferred store location
You choose a time you want to pick up your groceries
You shop and add items to your cart
When you're done shopping, you check out and pay
Once you send in your order, you just wait for your shoppers to fill it. When your order is ready, you'll get a notification letting you know you can come to pick it up.
You check in with the app to let Walmart know you're on the way. Then you drive to the store, pull into one of the assigned spots for grocery pickup and wait for someone to bring your groceries out.
It's easy to save time and save money grocery shopping!
Target Grocery
Target also lets you shop for groceries online and pick them up at your local store. Or, you can order certain items and get them delivered the same day with Shipt. (An extra fee applies if you're not a Shipt member.)
Shipt grocery delivery isn't available in all of Target's markets. But if you live in a covered area, it's an easy way to do your grocery shopping online so you don't have to leave the house.
And of course, you always save 5% and get free shipping for items you buy online from Target all the time when you use your REDCard. That's a nice extra perk to help you save money when buying groceries on a budget!
AmazonFresh and Prime Pantry
AmazonFresh and Prime Pantry are two different options for ordering groceries online with Amazon.
AmazonFresh is a delivery service that's available in selected markets across the U.S. Prime Pantry is a delivery service for grocery and household staples.
Either one could help you save money on groceries, depending on what you buy.
You'll need to be an Amazon Prime member to use AmazonFresh. And being a Prime member also means you can save money on shipping for Prime Pantry orders.
Try Amazon Prime free for 30 days!
Instacart
Instacart is my best friend for life or longer.
Seriously, I love it because it saves me time and money on grocery shopping.
Here's how it works:
You download the Instacart app and create an account (also free!)
You choose which store (or stores) you want to shop at
You add items to your cart and when you're done shopping, check out and pay
Your Instacart shopper goes to the store, shops for your items, checks them out and delivers them to you
Instacart is great if you want a truly contactless grocery shopping experience.
You pay through the app and you can ask your shopper to leave your items on your front porch.
Depending on how busy your local store is and the time of day, you can get groceries delivered with Instacart in under an hour.
13. Choose pick-up if you're grocery shopping online
If you're shopping online for groceries, you have two options for getting your items: pick-up or delivery.
Getting groceries delivered will definitely save you time. But it'll cost you, too.
That's because you have to pay a delivery fee and Instacart also charges a heavy item fee for things like bottled water and pet food.
Not to mention, it's kind of rude not to tip your Instacart shopper.
So if you want to buy groceries on a budget online, stick with the pick-up option.
It's free and it can still save you time, too since you didn't have to shop for your groceries in the store.
14. Save on your first order for online grocery shopping
Another easy way to save money grocery shopping online is to find a promo code for money off your first order.
With Walmart Grocery, for example, you can get $10 off your first time shopping.
Instacart offers the same deal. You can activate your $10 off coupon when you sign up for an account.
If you're shopping with a chain other than Walmart and you're not using Instacart, check the store's website to see if a coupon or promo code is available for your first order.
You can also scout out coupon sites like RetailMeNot for first-time shopper promo codes.
15. Start by shopping your staples
Staples are the things you might buy week to week and always keep stocked in your pantry. Flour, sugar, cooking oil, eggs, milk — that kind of thing.
Shopping for staples first when buying groceries on a budget is smart because it keeps you from getting distracted and filling up your cart with unnecessary items.
Plus, those items typically don't see huge swings in pricing from one week to the next.
16. Shop sale items next
Once you've got the staples out of the way, then check out what's on sale.
Remember, though, you're only looking for sale items that you can work into your meal plan.
Buying things just because they're on sale can end up being a waste of money if you don't use them.
Also, if you're shopping through Instacart or your grocery store's app, check to see if there are any digital coupons you can apply for added savings.
17. Stick to the outer aisles of the grocery store
Did you know where you shop in the grocery store is just as important as what you buy?
Turns out, shopping the outer aisles of the store can save you money because it's where the fresh items are.
The middle aisles are where you'll find all the pricey, processed foods.
And those aren't just bad for your budget; they're not all that great for your health either.
So if you need to buy groceries on a budget, cruise the perimeter of the store first and steer clear of the inner aisles as much as possible.
18. Maintain a favorites list
Creating a favorites list in your store's grocery shopping app can save you time and money when buying groceries on a budget.
But how does that work?
Your favorites list includes the things you buy regularly.
When you log into Instacart or to your store's app, you can go to your favorites list and add anything you bought from the previous week that you want to buy again.
Walmart's grocery app will even let you create your entire cart from one week to the next. How helpful is that?!?
It's a great time-saving and money-saving hack if you're buying the same things most weeks.
And if you bought something last week isn't on sale this week, you can just remove it from your cart with the tap of a button.
19. Use Ibotta to earn cashback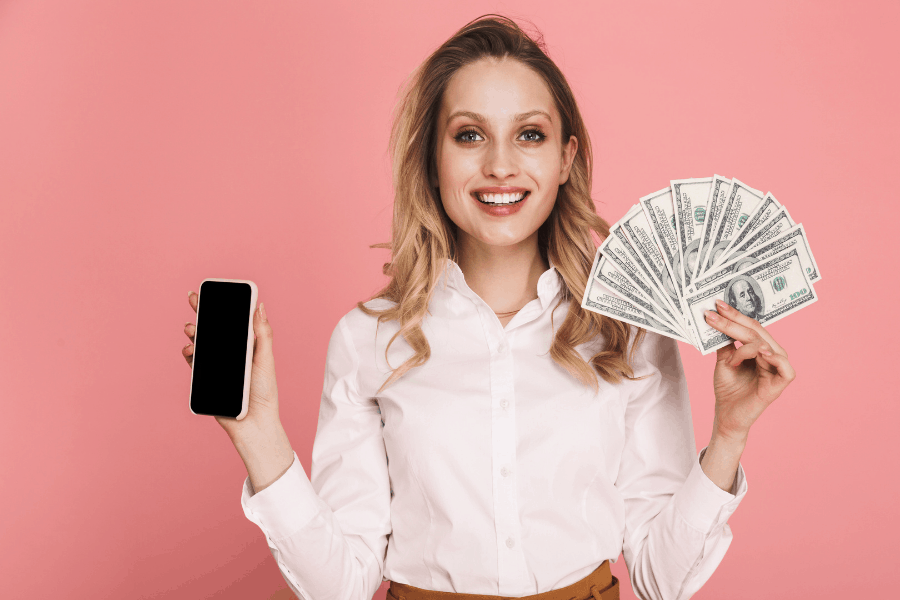 Ibotta is an insanely easy way to save money grocery shopping online or in-store.
You can use the Ibotta app to shop at most major grocery stores, including Walmart and Target. All you do is activate cashback offers and shop like you normally would.
You can also save when you shop in-store by linking your loyalty card or uploading receipts after you shop. And you can shop Instacart with the Ibotta app to save money grocery shopping online.
Easy peasy, right?
Best of all, when you sign up right now, you can get $20 in welcome bonuses to help you save right off the bat!
20. Consider buying in bulk
Buying in bulk can help you save money on groceries — if you're going to use all of what you buy.
Amazon Prime Pantry is great for this if they have the items you want to buy in bulk in stock.
You can also buy in bulk from Walmart but just keep in mind certain items may have limits on how much you can buy.
When deciding whether to buy in bulk, ask yourself how likely you are to use what you're buying.
Getting 50 cans of diced tomatoes for $0.25 each is a great deal. But unless you're planning to can or jar your own spaghetti sauce, it might take you forever to eat your way through them.
21. Shop in season
Shopping in season is a no-brainer way to save money on food.
Why?
Because when you buy foods in season, they're cheaper.
Shopping your local farmer's market is a simple way to pick up fruits and vegetables seasonally. If you don't have a farmer's market nearby, check out this guide to buying seasonal foods.
22. Avoid the eye-level zone
You might not know it but grocery stores play lots of mind tricks on us to get us to spend more money.
One of them is placing the highest-priced items at eye level.
I mean think about it, that's actually pretty smart. You put the most expensive items where shoppers can easily see them so they're more likely to buy them.
But you don't have to fall into that trap.
So the next time you're grocery shopping, don't get stuck with tunnel vision.
Look up and below the eye-level shelves for better deals on the items you need to buy.
23. Grow what you can at home
I do not have a green thumb at all but I'd love to have a big backyard garden.
That's a project we plan to work on in the spring but in the meantime, we're growing herbs indoors the easy way.
If you've got the time and some extra space, you could easily save money on groceries by growing what you can at home.
This is also a fun way to get your kids off the screens and outdoors.
24. Skip pre-packaged foods
Pre-packaged foods can be a grocery budget killer.
That's because part of the price you pay for them goes toward covering the cost of the packaging.
And a lot of processed foods just aren't that great for you anyway.
Even when the pre-packaged foods are healthy ones, a lot of its wasteful. For example, seeing a single bell pepper wrapped in plastic at the grocery store sends me into a rage.
So skip the pre-packaged, processed foods as much as possible. Choosing fresh (or frozen with minimal packaging) can save money and minimize waste.
25. Save money on groceries with generic brands
Generic brands get a bad reputation that I think is totally undeserved.
Sure, generic brands don't exactly mimic the taste of the name brand. But some come pretty close.
And buying generic can help your food budget because they cost less than the name brands.
So if you've avoided generic brands in the past, give them a try.
Start by replacing one or two name-brand items with generic to see how it goes. You might be pleasantly surprised at how much you don't miss the name-brand and how much money you can save on food.
26. Don't be afraid of the markdown bin
Grocery stores want to sell the foods they stock. So when things get close to their sell-by date, they'll mark them down.
This is instant savings for you, cha-ching!
But you might be wondering whether marked down foods are still "good".
The answer is to check the dates, specifically the:
"Best if Used By/Before" ⇒ This means when a product will be of best flavor or quality.
"Sell-By" ⇒ This tells the store how long to display the product for sale for inventory management.
"Use-By" ⇒ This is the last date recommended for the use of the product while at peak quality.
"Freeze-By" ⇒ This means when a product should be frozen to maintain peak quality.
The USDA has tons of info on food safety and how to tell if foods are still good.
Besides checking the date, you can also do a smell and sight test.
If those marked down pork chops have a green tinge, for example, that's an obvious tell that you probably shouldn't buy them. Here's more on how to tell if expired food is safe to eat.
27. Choose frozen vegetables to minimize waste
I love buying fresh vegetables. But sometimes they get forgotten about.
This is why proper meal planning is so important — so you don't have any food waste going in the trash. In the U.S. we literally waste billions of dollars in food each year.
If you tend to let fresh veggies or fruits go bad, then try buying them frozen instead.
They'll last longer and if you're buying generic brands, they can be cheaper than buying fresh.
28. Get creative with food scraps
Did you know that food scraps don't have to go in the trash?
It's true. You can turn stale bread into croutons, use cheese rinds to add flavor to soups and make stir fry from broccoli stems.
This is a creative way to use up food and minimize waste while saving money. Read this post for more ideas on how to upcycle food scraps.
29. Keep track of grocery spending in the store
Next time you head to the grocery store, pull up the calculator app on your phone.
As you add items to your cart, punch in the amount so you can keep track of what you're spending.
This is a simple way to tell if you're sticking to your grocery budget.
30. Set a grocery budget and round up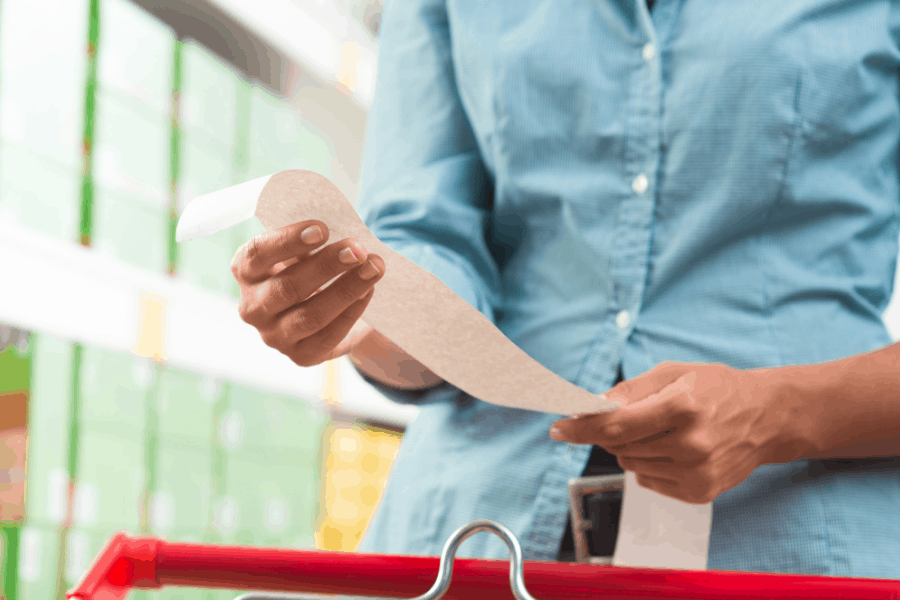 Speaking of grocery budgets, you should have a set amount for what you want to spend on food each week or each month.
Coming up with a realistic grocery budget starts with fine-tuning your household budget. And if you don't have one, here's a guide to making a budget you can live with.
Another sneaky hack for saving money on groceries is rounding up your amounts while you shop.
So if you buy a loaf of bread that's marked $2.49, you'd enter it into your calculator as $3.
This way, you build in a buffer so you can come in under your grocery budget. It's a simple way to trick yourself into saving money on groceries.
31. Understand how unit pricing works
Unit pricing can save you money on groceries or cost you money if you don't know how it works.
Figure out the unit price means figuring out what you're paying for an item by its weight.
The goal should be to get the highest amount of any particular item at the lowest price per unit. This is especially useful if you're thinking of buying in bulk.
Comparing unit prices can tell you at a glance which size of something to buy, based on which one is the better deal.
I don't know about you but if I'm buying groceries on a budget, I like to get my money's worth.
Pro tip: You can do the math on your own but if you're using Instacart to shop, it breaks unit prices down for you!
32. Leave the kids at home
This should go without saying but if you're buying groceries on a budget, don't shop with your kids.
They can and will add all kinds of things to your cart that you hadn't planned on buying. Not to mention, they can add time to your trip if you're having to keep a watchful eye on littles while checking off the items on your list.
So grocery shop solo as often as possible. And if that's not doable, do your grocery shopping online and opt for pick-up at the store instead.
33. Double-check your cart before you check out
If you've filled up your grocery cart you may be all ready to pay but hold on a second.
Go through your cart one more time and ask yourself: do I need this? for every single item.
If the answer is no, remove it. And if the answer is yes, check again to make sure you've found the best price on that item.
Putting this little check in place can really be helpful when buying groceries on a budget. It can help you get clarity on what your needs vs. wants really are.
34. Double-check your receipt after you pay
Grocery stores aren't perfect and they can make mistakes like any other business.
So it pays to check your receipt before you leave the store to make sure all your items rang up properly.
For example, when my kids were little I once bought some diapers that were marked as being on sale. But when I checked out, I was charged the full price.
I showed it to the manager and they refunded me the entire amount. Just scanning my receipt helped me score some free diapers!
I'm not saying you can always get free stuff at the grocery store this way; it really depends on the store's policy.
But at the very least, you could get the difference refunded to you if the advertised price and the price you paid end up being different.
And when you're trying to afford groceries on a budget, every penny counts!
35. Scan your receipt for more grocery savings
Ibotta lets you link your store's loyalty card so you can enjoy cashback savings while you shop.
But you can also scan your receipt after you check out to rack up cash back savings if your store doesn't have a loyalty program.
That's a painless way to afford groceries on a budget and get money back in your pocket.
Another useful grocery savings app is Fetch Rewards.
With this app, you scan your receipts after you shop and earn points. Those points can be redeemed for gift cards and other rewards to Amazon and other top retailers.
Fetch Rewards is a great way to get free gift cards and save money.
⇒Download Fetch Rewards and start saving!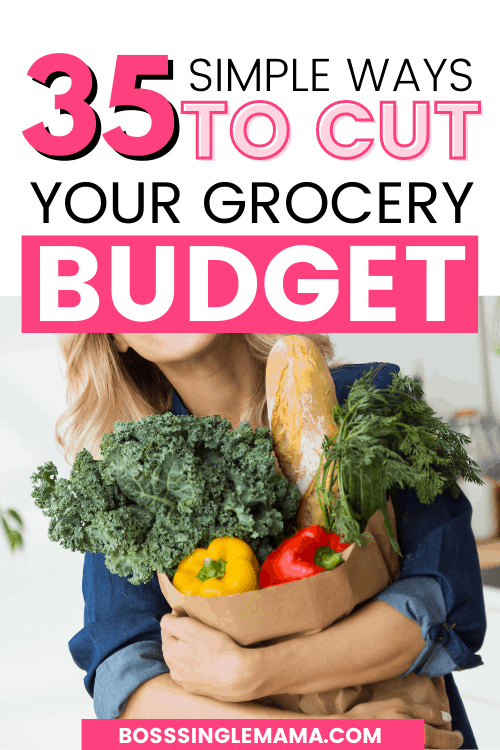 What are your best money-saving hacks for buying groceries on a budget?
Saving money on food is totally doable and you don't need to spend hours clipping coupons either.
I haven't used coupons to grocery shop in years and I've still managed to rack up a ton of savings!
Do you have an awesome tip for buying groceries on a budget? Head to the comments and tell me about it.
And don't forget to pin and share this post!
Read these posts next for more money-saving tips:
How to Live Frugally: 10 Simple Money-Saving Habits to Start Now
100+ Best Frugal Living Tips for Families to Save Money