Last Updated on June 24, 2023 by Rebecca Lake
Are your grocery bills out of control? Implementing some frugal food hacks can help you spend less on grocery shopping and cut down on food waste.
Throwing away food can be a secret budget killer. In fact, Americans toss out approximately $408 billion worth of food items each year.
That's a lot of extra cash that you could be putting to work in other ways. If you're ready to slash your grocery budget, these simple frugal food tips can help.
Table of Contents
Frugal Food Hacks to Save You Money
If you've never tried any frugal living tips before, you might be surprised at just how many clever ways there are to save money. This list includes some of the best ways to save money on food and cut down on waste, including some Depression era hacks that your grandparents or great-grandparents might have used.
​Adopting frugal food hacks might be one of the hardest things you've ever tried but it can be well worth it to cut out the extra cost from your food budget.
Here are my top tips for getting frugal with food.
Meal prep and planning hacks
It's tempting to run to the grocery store any time you need something but that's an easy way to waste money. These frugal food hacks are designed to help you get creative about using what you already have on hand.
Meal planning is a great way to save money on groceries and minimize food waste by utilizing ingredients efficiently. (Try $5 Meal Plan if you need a little help getting started!)
Learn how to batch cook to save time and money in the kitchen.
Try to choose ingredients that you can turn into multiple easy meal options.
Prioritize fresh ingredients that offer the most value in terms of versatility and nutritional content.
Aim for more fresh veggies and less meat in your weekly meal plans.
Repurpose leftover sauces and gravies by freezing them in ice cube trays for future use in recipes.
Prepare cheap meals that incorporate budget-friendly ingredients.
Explore clever ways to repurpose leftovers. For example, leftover sloppy joe sauce mixed with ground beef or turkey can be turned into spaghetti sauce for tomorrow night's dinner with the addition of some tomato sauce and spices.
Substitute sour cream with plain yogurt in recipes to save money and add a tangy flavor to your dishes.
Freezing fresh herbs in freezer bags can preserve their flavor and you'll have them handy for future use.
Swap out plain yogurt for expensive single-serve options and add fresh fruit or honey for flavor.
Break out the slow cooker to make some tasty (and cheap) crockpot meals.
Or use an Instant Pot to cut down on kitchen cooking time and prep frugal dinners.
Make one night a week leftover night and let everyone in the family choose which leftovers they want to eat.
Plan your meals around cheap pantry staples or what's in your fridge to use up ingredients you already have.
---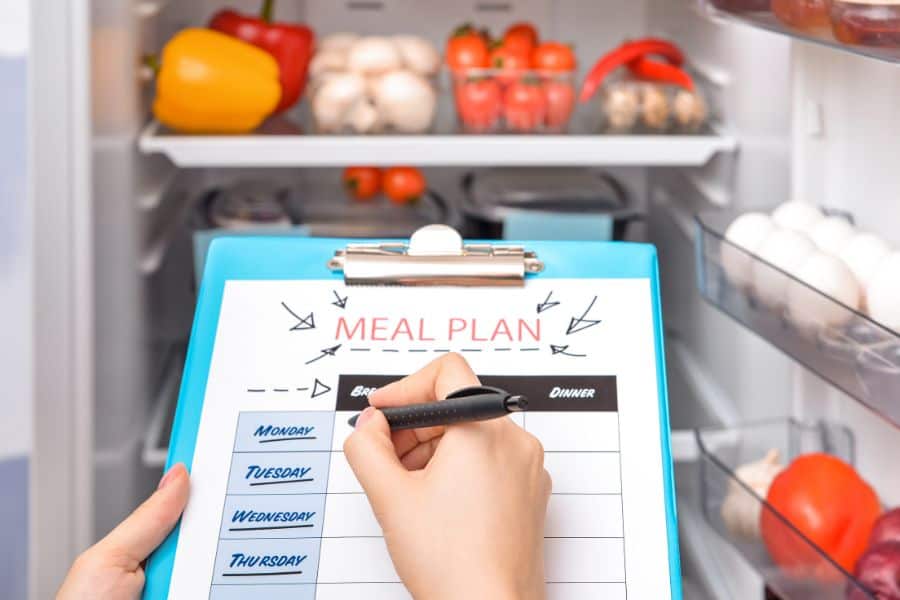 Need help with meal planning?
$5 Meal Plan is a weekly meal planning and prep tool that .can help you save money and time in the kitchen. For just $5 per month, you can get a made-to-order meal plan to feed your family for less than $2 per person, per meal!
---
Grocery shopping hacks
​Grocery shopping is a necessity and if you're trying to be frugal with food, finding ways to save money is a must. Here are some of my favorite tips for saving money on groceries.
Put together a cheapest foods list so you know what to buy–and what pricey foods to avoid.
Shop the outside edges of the grocery store first, as all the expensive, prepackaged items are usually in the middle sections.
Prioritize your grocery budget by allocating a set amount of money for each food category and committing to not overspending.
Join your local grocery store's rewards or loyalty program to take advantage of special sales or coupons.
Explore ways to earn free gift cards that you could use for grocery shopping.
Shop with a full stomach so you're not grabbing impulse buys because you're hungry.
Consider starting a small vegetable garden to grow your own food and reduce your reliance on store-bought produce.
Use the Upside app to earn cash back on grocery shopping.
Clip physical coupons or use a shopping app to find digital grocery coupons.
Keep track of food prices and sales cycles at each store where you shop.
Avoid relying too heavily on credit cards for grocery shopping, unless you can pay the balance in full each month.
If you can pay in full, consider using a cash-back credit card to save on grocery shopping.
Look for hidden deals in-store. The markdown section or clearance bin is a great place to find items on your grocery list at the lowest price.
Save money on kitchen gadgets and tools when you shop with Rakuten.
Remember items you need to buy next time by creating a shopping list to ensure you don't forget anything and make impulse purchases.
Opt for grocery shopping at local discount stores or farmers' markets to save money.
Buy produce in season.
Stock up on your favorite grocery items when they're on sale.
Try shopping at pick-your-own farms or farm stands.
Think carefully about buying groceries at dollar stores, since prices aren't always lower for certain items.
When buying discounted or bulk items, calculate the extra cost per unit to estimate your total savings.
Don't buy in bulk unless you're certain you'll be able to use it all up.
Plan some freezer meals that can stay good in the freezer for a long time to use up bulk purchases or food items that are in danger of going bad.
If you don't want to go all in on a bulk grocery order, ask a friend or family member if they'd like to split it.
Consider joining a farm co-op if you have one locally. Co-ops can offer fresh poultry, pork, produce and dairy products for less, making them well worth the cost of membership.
---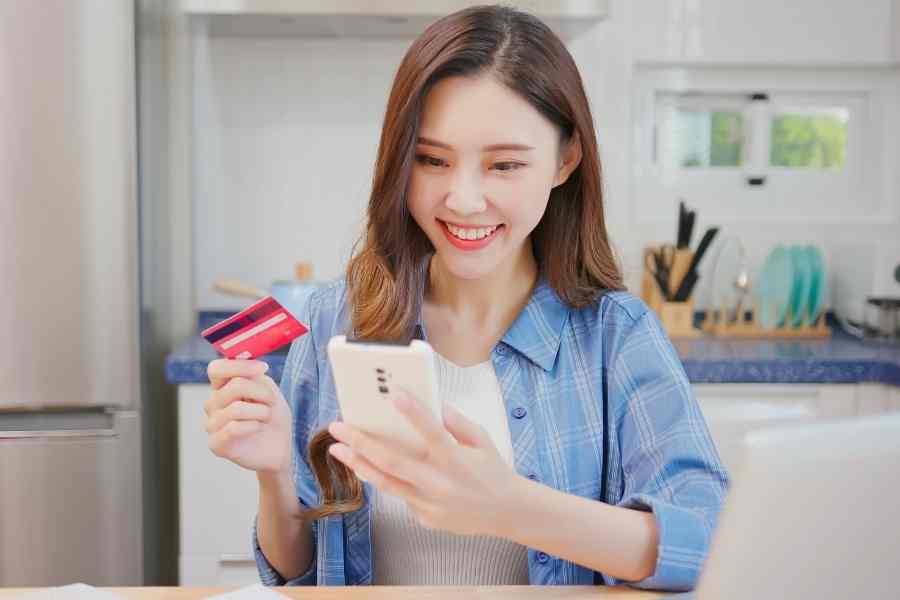 Want to Get Cash Back When You Shop?
Making extra money is easy with Rakuten!
Rakuten is a free app and browser extension that helps you find coupons and discounts when you shop online or in stores. You can earn up to 40% cashback when you shop at hundreds of partner retailers, plus get a $10 sign-up bonus and up to $30 in bonus cash for each person you refer!
---
DIY money-saving hacks
Taking a do-it-yourself approach can be a great way to implement frugal food hacks while ensuring that your family is enjoying lots of healthy food. Here are simple ways to save, including a few tips from the Great Depression era.
Baking your own bread is a cheap way to enjoy freshly baked goods for less and most recipes only require a few simple ingredients.
Growing fresh herbs at home is a frugal and sustainable way to add flavor to dishes.
Become a pro at making your own salad dressings using simple ingredients like olive oil, vinegar, and herbs.
Learning how to make your own chicken stock is a simple way to add flavor to frugal recipes and it can reduce the need for store-bought stock.
Consider starting a victory garden or joining a community garden to grow your own fresh produce and save money.
Prepare your own healthy snacks at home, like homemade granola bars or roasted chickpeas, to save money.
Replant sprouty potatoes to grow new ones instead of tossing them out.
Consider joining a community fruit farm or planting your own fruit trees in the backyard. You'll get some time outdoors and free fruit in the bargain.
Make your own homemade ice cream using basic ingredients like milk, sugar, and flavorings.
Perfect your recipe for homemade cookies or brownies instead of buying expensive pre-packaged snacks.
Try planting a few garlic bulbs at home to grow your own. Do the same with spring onions.
Love to eat out but don't want to spend money? Learn how to make inexpensive copycat versions of your favorite recipes at home.
Make your own brown sugar by combining white sugar and a little bit of molasses.
Learn how to make your own pasta using flour and eggs.
Need buttermilk for a recipe but don't want to buy it? Mix whole milk and lemon juice and let sit for 5 minutes for a quick (and frugal) substitute.
Skip the store-bought dog treats and learn how to make them at home using peanut butter and oats.
If you have room for it, consider learning how to tend chickens at home. You can get a steady supply of fresh eggs and poultry with a small backyard coop.
---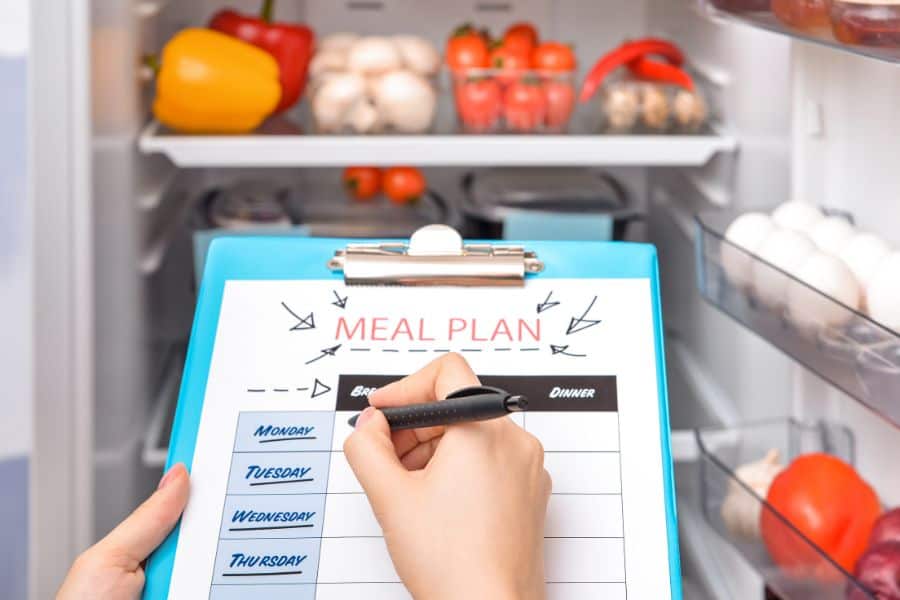 Need help with meal planning?
$5 Meal Plan is a weekly meal planning and prep tool that can help you save money and time in the kitchen. For just $5 per month, you can get a made-to-order meal plan to feed your family for less than $2 per person, per meal!
---
Waste-saving hacks for the kitchen
As mentioned, food waste can add up to a big drain on your budget. If you're tired of throwing food (and cash) away, these money-saving hacks can cut down on waste.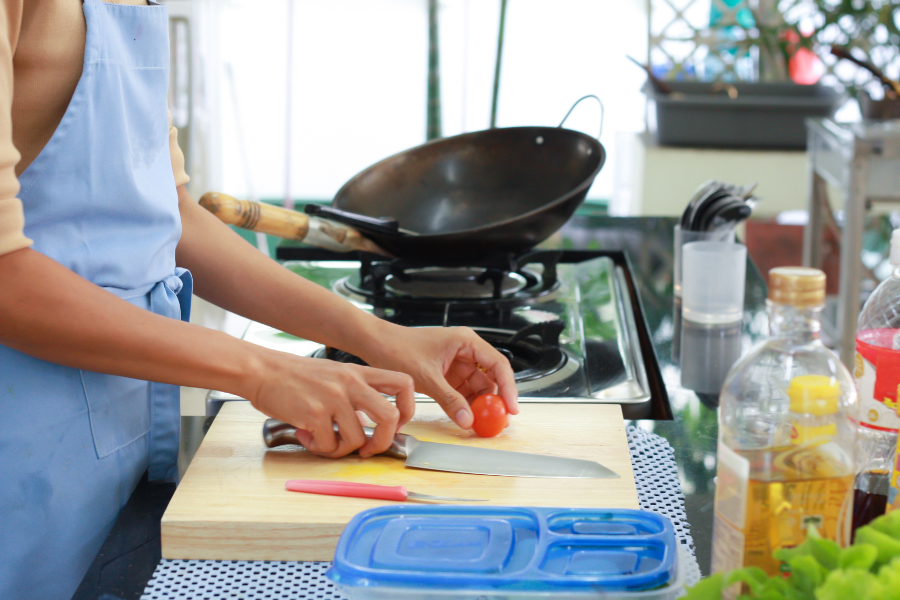 Avoid wasting food items by learning how to store them properly. The USDA offers some great tips on storing food to minimize spoilage.
Try to cut down on throwing away food by using every part of the ingredient whenever possible. For example, instead of tossing out carrot tops try turning them into a healthy salad.
Instead of trashing them, dry bits of leftover herbs and store them in airtight containers for future use in soups, stews, and sauces.
Stick with long-lasting ingredients like rice, beans, and pasta, that can be stored over a long period of time.
Store onions and potatoes separately from one another.
Know which vegetables or fruits belong in the fridge, and which ones don't.
Wrap celery in foil or beeswax to preserve it until you need to use it.
Explore frugal food hacks from the Depression era, like reusing sour cream containers or butter containers for food storage and repurposing brown sugar that has hardened.
Keep bread in the fridge to preserve freshness, or consider freezing it until you need it if you have an extra loaf or rolls you don't need.
Use leftover meat to create new dishes like stir-fries, tacos, or casseroles to maximize ingredients. If you can't think of a use for it right away, freeze it instead.
Consider starting a compost heap using leftover vegetable scraps, egg shells and coffee grounds. You can use it as free fertilizer for a backyard garden.
Repurpose stale bread by toasting and turning it into breadcrumbs, croutons, or bread pudding.
Bananas getting mushy? Turn them into some delicious banana bread.
Use FIFO (First In, First Out) to ensure that older ingredients are used first, minimizing waste and spoilage.
Make use of the entire vegetable, including the peels, stems and leaves, to minimize waste and maximize nutritional intake.
Preserve the freshness of green beans by blanching them briefly and freezing them.
Use overripe fruits to make smoothies or as filling for your own pies.
Freeze fruits and vegetables that are nearing their expiration date to extend their shelf life and prevent food waste.
Instead of tossing citrus peels, store them in vinegar for a simple DIY cleaning solution.
Buy a whole chicken and roast it at home, then incorporate each part of it into different recipes. As an added bonus, you can use the bones to make chicken stock.
If you go out for a meal, make sure to take the leftovers home!
---
Make Quick Cash With Survey Junkie
Take surveys. Earn rewards. Get paid.
Making extra money is that easy when you create an account with Survey Junkie. It's free to sign up and you can earn real cash in your PayPal account or free gift cards, just for answering questions and sharing your opinions.
---
Healthy frugal food hacks
Eating frugally doesn't mean you have to eat junk! Here are a few more frugal food hacks that can save you money without skimping on quality or taste.
Save money by reducing meat consumption and incorporating more plant-based meals into your weekly meal plan.
Stick with simple recipes that satisfy your hunger and your nutritional needs, without a lot of added calories or fat.
Learn how to make your own healthy nut butters instead of buying processed versions.
Become an expert at canning and make your own jams and jellies, or learn how to preserve vegetables.
Use just a little oil or butter when cooking to reduce expenses and unnecessary calories.
Transform leftover vegetables into vegetable crisps by thinly slicing, seasoning, and baking them, creating a healthy and inexpensive snack option.
Make your own healthy own pasta sauce using canned tomatoes, herbs, and spices.
Cut down on snacking between meals. It's healthier and it can save on food costs if you're not buying snack items at the grocery store.
Experiment with different spices, herbs, and seasonings to awaken your taste buds and add variety to your meals without extra cost.
Use lemon juice as a natural and inexpensive ingredient for cleaning fruits, vegetables, and kitchen surfaces.
Skip sodas and sugary drinks and stick with water only.
Stop eating out and commit to making healthy food at home.
Frequently Asked Questions
How can I be super frugal with food?
Some of the best ways to be super frugal with food include shopping for the cheapest groceries, planning frugal meals, comparing prices at different grocery stores and using cash back apps to earn money back when you spend.
How can I spend less than $100 a week on food?
Using up what you already have at home to prepare meals is the best place to start if you're trying to spend less than $100 a week on food. You can also stretch your grocery budget by sticking with a regular meal plan that includes lots of frugal food itmes and repurposing or using up leftovers as much as possible.
How can I save money on food without cooking?
If you don't have time to cook you can still save money without having to eat dinner out. Trying some crock pot or Instant Pot recipes can cut down on the amount of time you have to spend in the kitchen and you can make plenty of healthy food cheaply. You can also try batch cooking some make-ahead meals so that when it's time to eat, all you need to do is pop it in the oven.
Final thoughts on frugal food hacks
Cooking meals can be a headache, especially if you're stressed about how much the whole thing costs. Making small changes in your cooking habits and grocery shopping habits can go a long way when it comes to saving time and money. Remember, these frugal food hacks are meant to inspire you to get creative about saving while enjoying some delicious meals along the way.
Need more money tips? Read these posts next:
What are your favorite frugal food hacks?