Last Updated on June 24, 2023 by Rebecca Lake
Need a cheapest groceries list to feed your family on a budget?
Making your grocery budget stretch is important, especially when you have growing kids. On average, the typical family of four spends anywhere from $177.90 to $319 per week on groceries, according to the USDA.
Having a go-to cheapest groceries list to follow can help you stick to your grocery budget when shopping for your favorite foods.
That's important for families but it also comes in handy if you're a broke college student or a single person living on a tight income.
But what are the cheapest foods to buy? And is it possible to make meals using nutritious foods that are both cheap and healthy?
The best foods to buy on a budget deliver high nutritional value at the cheapest price. And the good news is that it's possible to eat a healthy diet without spending a lot of money.
Today I'll share some ideas for how to create a cheap grocery list, where to find the cheapest groceries and some tips for food shopping on a budget!
Related post: 80+ Dirt Cheap Meals to Make When You're Broke
Table of Contents
Why Shop With a Cheapest Groceries List?
There's one very good reason to follow a cheap grocery list.
It can save your family a ton of money.
Saving money as a family can be challenging enough when you have two incomes. But if you're a one-income family or you live on a tight budget, you have to be careful to keep a running tally of what you spend.
So sticking with a cheap groceries list is an easy way to save more and spend less. It's one of my absolute favorite frugal food hacks!
That's important if you have other financial goals you're working on, like paying off debt or building an emergency fund.
And here's another plus. It can be easier to stockpile cheap foods in case something major happens, like a layoff or job loss.
It's reassuring to have a pantry full of cheap foods that you can use to put together some simple meals without extra cost.
Related post: 15 Tips for Living Well on a Tight Budget
Can You Buy Cheap Foods and Still Eat Healthy?
Feeding your family (and yourself) healthy meals is important. Even if you don't have a lot of time to make dinner, you still want to make sure the meals you're making are healthy and delicious.
And again, if you're single or a college student you may be keeping a close eye on your food budget. So it pays to have a cheap groceries list to follow.
But can you shop for the cheapest groceries and still buy healthy foods?
Yes–if you know which cheap foods to buy. This is where having a cheap groceries list comes in.
Related post: 35 Ways to Save Money on Groceries (Without Clipping Coupons)
Cheapest Groceries List (Best Cheap Foods to Buy on a Budget)
Ready to save money on your grocery bill?
Here are the best cheap foods to buy now!
1. Pasta
Pasta is a great addition to the cheapest groceries list because it doesn't cost a lot of money and you can use it to make lots of frugal meals.
I stock up on pasta at Walmart because I can get four 16-ounces packages in a box for $1, which is an affordable price.
You can make endless budget dinners just by adding different combinations of olive oil, butter, sauce, veggies, meats and cheeses.
2. Eggs
Eggs are another budget grocery list staple and they're an excellent source for essential amino acids.
You can use eggs for breakfast dishes but they're also great for lunch or dinner.
You can find eggs at your local grocery store for cheap. Or you can check out your local farmer's market as well, while picking up some of the other cheap groceries on this list.
3. Rice
Rice is one of the best foods to have on a budget grocery list because of its versatility.
You can use rice to make stir fries, casseroles, soups–it delivers a major bang for your buck if you're food shopping on a budget.
White rice is a cheap food you can buy in bulk but you can also look for bargains on brown rice, jasmine rice or other options.
4. Oatmeal
Oatmeal is a perfect addition to a cheapest groceries list if you'd rather have a healthier option than sugary breakfast cereals.
And besides breakfast, you can also use it for baking and desserts. Here are some oatmeal recipe ideas to get you inspired.
Plus, oatmeal is good for preventing heart disease. And improving your overall health can save you money if you're visiting the doctor less often.
5. Cream of wheat
Cream of wheat is another healthy breakfast staple for a cheap grocery list.
It's made from farina which uses ground wheat. Cream of wheat is a great option for breakfast if you're mixing in fresh berries or other fruits.
And you can also sweeten it with healthy maple syrup, brown sugar or cinnamon.
6. Chicken
Chicken legs, chicken thighs, chicken breasts or even a whole chicken can be a great cheap addition to a healthy grocery list.
You can use chicken to whip up wraps, quesadillas, casseroles, pasta or some healthy oven-baked fried chicken on the cheap.
And chicken is one of the best nutritious food options for loading up on Vitamin B6.
7. Bananas
Bananas are another Vitamin B6-rich food, plus they're loaded with potassium.
And they always belong on the cheapest groceries list if you like keeping a stash of fruit in reach for the kids.
A bunch of bananas costs less than $2 and you can keep them handy for snacking, mixing up smoothies or easy breakfast banana pancakes.
8. Apples
Apples are one of the best foods to buy with little money. Just be sure of what you're buying.
The apples you want to avoid are the ones that are covered in pesticides. They're part of the "dirty dozen", which also includes strawberries and nectarines.
Look for organic or pesticide-free apple options. And be sure to give any apples you buy a good washing.
9. Potatoes
Potatoes are perfect for the cheapest groceries list because they don't cost a lot and you can turn them into just about anything.
Some of the best ways to use potatoes include:
Homemade french fries
Hash browns
Mashed potatoes
Potato pancakes
Potato salad
Frittatas
Whether you're buying white potatoes, yellow potatoes, sweet potatoes or another variety, they're rich in vitamins and nutrients, including Vitamins A and C. So if you're looking for the cheapest foods that offer health benefits, potatoes belong on your grocery list.
10. Beans
If you know anything about Dave Ramsey you know he's a fan of eating "rice and beans, beans and rice" to save money.
Beans are one of the cheapest groceries and they come in lots of varieties.
You can buy pinto beans, black beans, lima beans, northern beans–whatever your family likes best. Dry beans store for a long time so you can use them as needed without worrying about wasting money.
And you can easily make refried beans at home for very little money.
11. Flour
Flour is a pantry staple that's always smart to have on hand.
You can buy flour cheap if you're food shopping on a budget.
It's great for baking or breading chicken and fish. And you can use it as a starting point for homemade pasta if you're feeling adventurous enough to try making it.
12. Sugar
After flour, it's important to have sugar on the list if you're buying cheap groceries.
Whether you buy white sugar, brown sugar, sugar in the raw or something else, there are lots of ways you can use it. And cost-wise, it works out to pennies per pound if you stick with generic brands versus name brands.
13. Canned fish
Fish can be a great source of healthy fatty acids. But buying fresh fish at your local grocery store can get expensive.
Opting for canned fish instead can save money on grocery spending without skimping on healthy foods.
14. Carrots
Carrots are one of my favorite healthy foods to buy on a budget.
They're packed with Vitamin A and beta-carotene. Plus, they're also high in calcium and Vitamin K.
The best thing is you can buy carrots at a good price, leaving you with extra money to spend on other healthy grocery items.
15. Fresh tomatoes
Fresh fruit and fresh produce are always a great addition to the cheapest groceries list if you're buying in-season.
You can buy tomatoes for sandwiches or salads. Or you can use them to make homemade tomato soup on rainy afternoons or as a starting point for homemade pasta sauce.
16. Canned tomatoes
If you want something that will last a long time on the shelf, you can't go wrong with canned tomatoes.
You can still get great flavor without spending extra money. And they're one of the best food items to buy in bulk, especially when they're on sale at a lower price.
17. Onions
Onions are some of my favorite grocery items because you can use them for so many different recipes.
Plus, onions are good for overall health. They're high in Vitamin C, Vitamin B6, potassium and copper.
18. Garlic
Garlic is a great cheapest groceries list option if you're making pasta sauce.
But you can also use it for making stir fries, chili, soups or anything that calls for fresh vegetables to be added in.
And garlic is full of antioxidants that can protect against cell damage and aging.
19. Salsa
Salsa is a great choice for saving money on a tight food budget.
You can use it to top fajitas, tacos, frittatas, omelettes, burrito bowls–it goes well with almost anything!
And the good thing about salsa is that it's easy to find at a great price.
20. Tortillas
Tortillas are a versatile addition to a cheap groceries list.
You can use them for wraps, tacos, fajitas, breakfast or lunch burritos. And you can go healthy with versions made using whole grains.
21. Ground turkey
Ground turkey can be a healthier option than ground beef if you're minding your cholesterol.
You can make ground turkey meatballs and pair it with pasta sauce, add it to soups or make a healthy ground turkey meatloaf for dinner.
22. Peanut butter
Peanut butter is one of my favorite foods and it's one of the cheap foods I practically grew up on.
Kids will love peanut butter in sandwiches, on crackers or slathered on bananas or celery for a fun and healthy snack.
23. Spices
Spices are another must-have addition to the cheapest groceries list.
Some of the best spices you can buy for little money include:
Chili powder
Garlic powder
Onion powder
Cinnamon
Coriander
Paprika
Allspice
Cumin
You could also include herbs like rosemary, thyme or basil on a cheap groceries list.
And of course, there's always good old salt and pepper to add some great flavor to a meal.
24. Lentils
Lentils are one of the best healthy foods for getting your daily dose of whole grains.
They're great for bulking up chili, stews or soups. And they're just as filling and delicious when served up as a side dish.
25. Plain yogurt
Plain yogurt is a healthy cheap food option that's great because it has so many uses.
For example, you can serve up yogurt with fresh berries and granola, drizzle it with honey or add it to a healthy smoothie. You can even add yogurt when baking muffins, breads or cakes at home to make them extra moist.
26. Sour cream
Sour cream is more than just a topping. Just like with yogurt, you can add it to baking recipes to up the moist factor.
Of course, source cream is also a great cheap food for dressing up tacos and fajitas or cooling down the spices in your chili.
27. Cream cheese
Cream cheese is another cheap food to buy if you want to make dips, slather it on a bagel or whip up a homemade cheesecake.
You can buy whipped cream cheese for a smoother consistency but I like the bars because they're cheaper. And that's a plus for sticking to your grocery budget.
28. Cottage cheese
I love cottage cheese by itself. But you can add fresh fruit for a little more flavor.
And cottage cheese is an excellent cheap swap for ricotta cheese if you're making lasagna or baked spaghetti.
29. Kale
Kale is a healthy option if you're hoping to load up on vitamins A, K and B6. It's also rich in calcium, potassium, copper and manganese.
And the best thing is that kale is super cheap, with a bunch costing just a few bucks and it's low in calories.
30. Spinach
Spinach is a cheap food that's high in nutritional value.
When you make spinach a part of cheap and healthy meals, you can get a healthy dose of iron and Vitamin C.
You can buy fresh spinach or frozen for pennies on the dollar. And it's also super low in calories.
31. Oranges
If you need a vitamin C boost, you can't go wrong with oranges.
Oranges are a great cheap snack idea. You can also squeeze them for homemade orange juice, whip up orange dream bars or use them to make delicious orange chicken with white rice.
32. Fresh berries
Fresh berries are always a favorite at my house. And your kids might love them too, which is great if you want to feed them healthy snacks on a budget.
Some of the best options for fresh berries include:
Strawberries
Blueberries
Blackberries
Raspberries
If you can't find fresh berries, you can also try dried versions. Dried cranberries, for example, are a healthy addition to homemade chicken salad.
33. Frozen fruits
Frozen fruits are an awesome cheapest groceries list buy because they can last a long time in the freezer and you can use them in lots of different ways.
For example, you can add them to smoothies, make homemade berry crisp or thaw them to spruce up a plain pancake recipe.
34. Frozen vegetables
Frozen vegetables are also healthy options when you can't buy fresh produce.
They can store well for a long time in the freezer. Some of the vegetables I like to buy frozen include broccoli, corn and carrots.
35. Canned fruit
Canned fruit is another cheap groceries list find that's always a crowd-pleaser.
I like to use canned pineapple to make sweet and sour chicken, for example. And you can always add canned fruit to a dump cake recipe for extra sweetness.
36. Yeast
Yeast is one of the cheapest groceries you might overlook buying.
But yeast is a must-have if you want to make your own bread at home. You can also use it to create the perfect homemade pizza dough, pretzels or if you're really skilled, bagels.
37. Milk
Milk is a staple on our weekly list of grocery items. And it might be on your must-buy list too.
You can serve milk by the glass, in cereal or use it in different recipes. I prefer buying milk in paper cartons since it lasts a long time in the fridge. It's not super expensive either.
Less waste equals more money saved!
38. Corn
Summertime is perfect for buying fresh corn so you can have corn on the cob as a grilled treat.
If you can't get fresh corn, there's always canned corn. And you can add it to soups, casseroles or even salads to make a filling meal.
39. Zucchini
Zucchini is one of my favorite foods to include in stir fry but I also use it to bake.
One of my favorite recipes to make is for zucchini bread because it tastes sooo good and it only costs a little money to make.
Just remember to meal plan if you're using zucchini, as it has a pretty short shelf life in the fridge.
40. Squash
Yellow squash is another one of the best cheapest grocery list items to have on hand.
It's best in summer when squash is in season. You can make a super cheap and tasty squash casserole or slice it and fry it up in cornmeal for homemade squash fritters.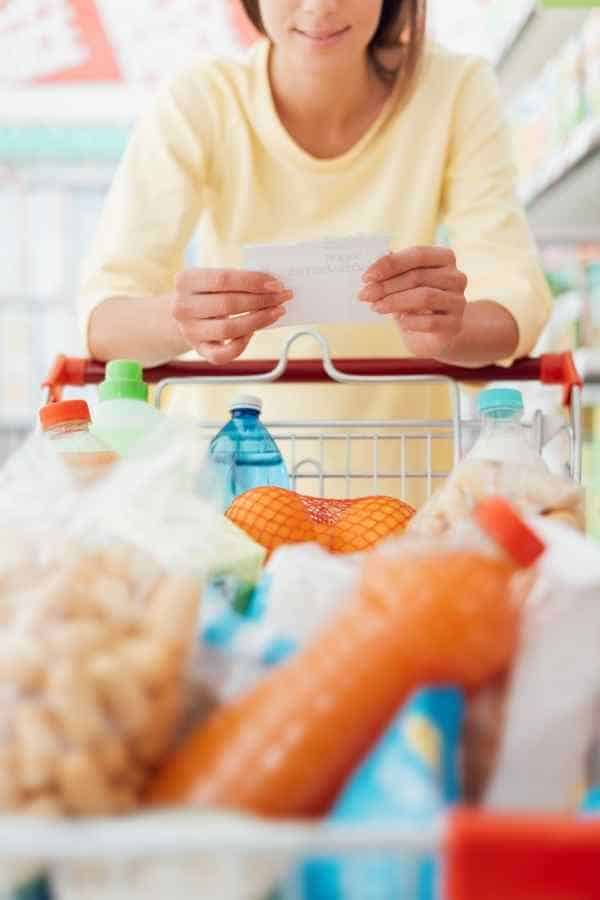 41. Eggplant
Eggplant parmesan is a classic cheap and easy meal idea.
Not only can you buy eggplant without spending much money. But you can use it as a base for healthy meals since it's high in vitamins A and C.
42. Peppers
Green peppers help to add great flavor to almost any dish.
I like green peppers in stir fry and fajitas but they're also great in this Neapolitan spaghetti recipe. And of course, you can't leave them out when making pasta sauce from scratch or baking up some stuffed peppers.
43. Broccoli
Broccoli is one of the best healthy food items you can buy for little money.
When you eat broccoli, you're getting the benefit of calcium, iron, phosphorus, zinc, thiamin, riboflavin and niacin. That can help to improve overall health if you're eating it along with other fresh produce regularly.
44. Spring onions
Spring onions are often used as a garnish. We chop them up and sprinkle them on homemade sweet and sour chicken.
But there are lots of other recipes that include spring onions. And at around 50 cents a bunch, they're a steal!
45. Green beans
Green beans belong on the cheapest groceries list since they're healthy and don't cost much.
You can buy them fresh, canned or frozen, depending on how far ahead you like to menu plan. And if you pick them up cheap at the farmer's market, you could try canning them yourself.
46. Cabbage
Cabbage is another must-have item on your cheapest groceries list.
You can boil it, use it to make cole slaw, add it to a lo mein dinner or my favorite, use it to garnish crunchy fish tacos.
47. Bread
Bread is a staple food that you can make yourself at home to reduce grocery spending. You can buy white flour or whole wheat flour for making bread from scratch.
Or you can buy it cheap if you prefer.
One place you can get bread cheap is the Dollar Tree. Just be sure to check the use-by date.
You can use bread for sandwiches, french toast, and bread crumbs. And eating whole grains can help to lower blood pressure.
48. Popcorn
Popcorn is a cheap and fairly healthy snack you can make for pennies.
And you can upgrade it up with some nutritional yeast, coconut oil and sea salt to give it added flavor for very little money.
49. Turkey sausage
Turkey sausage and turkey kielbasa are great cheap groceries to buy if you want to add meat to a dish but regular pork or ground beef isn't on sale.
We use turkey sausage and kielbasa in casseroles, pasta, meatloaf and chili. It works in so many different ways and comes in under budget.
50. Turkey bacon
Bacon is expensive and it's not great for heart health either.
But turkey bacon is a cheaper substitute that's also healthier.
You can have turkey bacon for breakfast, add it to a BLT, make bacon cheese quesadillas or use it to upgrade nachos.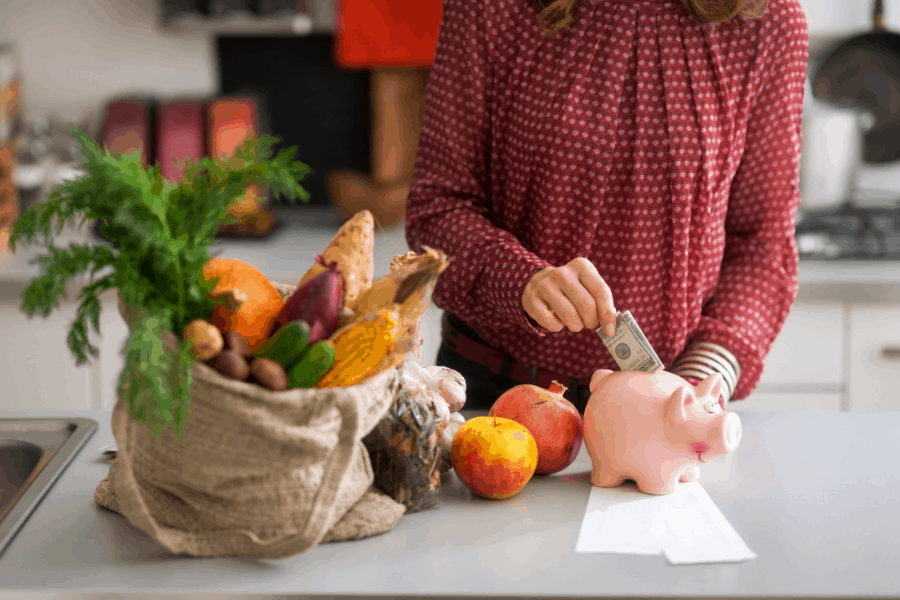 51. Cheese
Cheese is another one of my favorite cheapest foods to buy because what doesn't taste better with cheese?
Grilled cheese, cheese soup, cheese quesadillas, homemade cheese pizza–there are endless possibilities. And string cheese or cheese and crackers is a simple (cheap) snack for kids.
52. Kimchi
Kimchi might seem a little unusual for a cheapest groceries list. But it's one of the most delicious and healthiest foods you can buy to save money on grocery spending.
You can make kimchi pasta, kimchi quesadillas, add it to stir fries–even make kimchi grilled cheese.
Kimchi is a tasty (and cheap) addition to your budget groceries list if you're looking for ways to make meatless meals.
53. Boxed mac and cheese
Boxed macaroni is a good food to add to your cheapest groceries list if you have kids. Why?
Because it's cheap and takes minutes to make. And if you need a healthier option than traditional boxed mac n cheese, you can switch to organic, low-sodium options.
54. Ramen noodles
Ramen is hands-down one of the cheapest groceries to buy.
A packet of ramen noodles costs around 20 cents. So for $1 you can get five packs.
And there are lots of ways to jazz up cheap ramen for a delicious meal. If you need some ideas, here are 30+ ways to upgrade instant ramen noodles.
55. Hot dogs
Hot dogs are a cheap addition to a budget grocery list.
There are so many kinds to choose from, including turkey dogs, organic hot dogs or the traditional Oscar Meyer ones you might have grown up with.
A pack of hot dogs and a pack of buns doesn't cost much money. And you can dress them up with onions, pickles, peppers and condiments for a budget meal.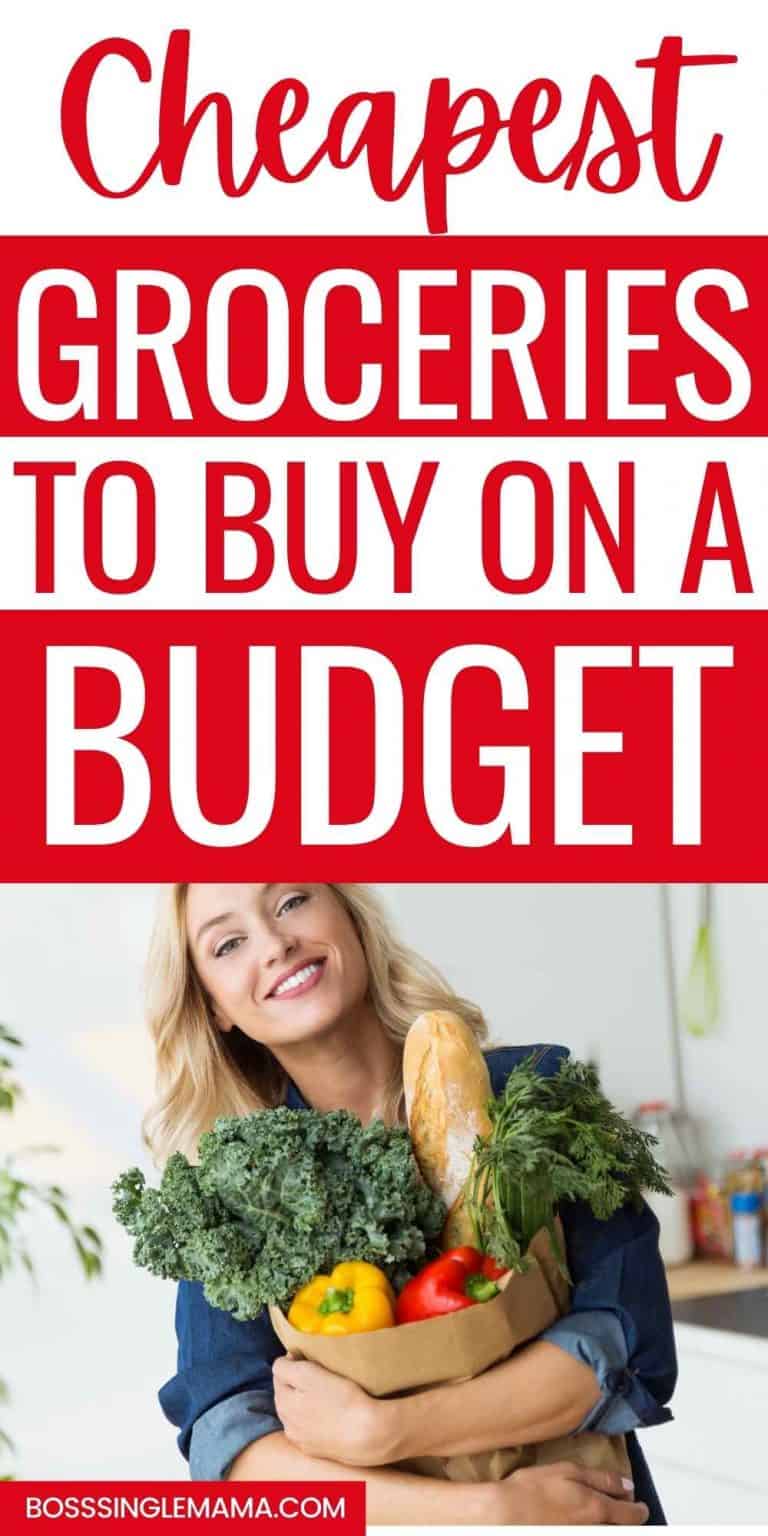 How Do You Buy Groceries on a Tight Budget?
Buying groceries on a tight budget means being creative about where you shop and what you buy.
And it doesn't mean you have to eat junk foods or processed meals. There are lots of cheap foods that can serve as a base for healthy meals (that even the pickiest eaters will love).
So how do you buy groceries on a tight budget? Here are some of the best ways to do it.
1. Meal plan
Meal planning can save you time and money, which is a double win for busy moms.
Planning meals makes it easier to keep track of what you have in the pantry. You can get to know the sales cycles so you know when to buy the cheapest groceries.
And you never have to worry about deciding what to make for dinner on the fly.
If you need help getting started, here's how to meal plan on a budget.
Or, consider using an inexpensive service like $5 Meal Plan to create some cheap and healthy dinners!
---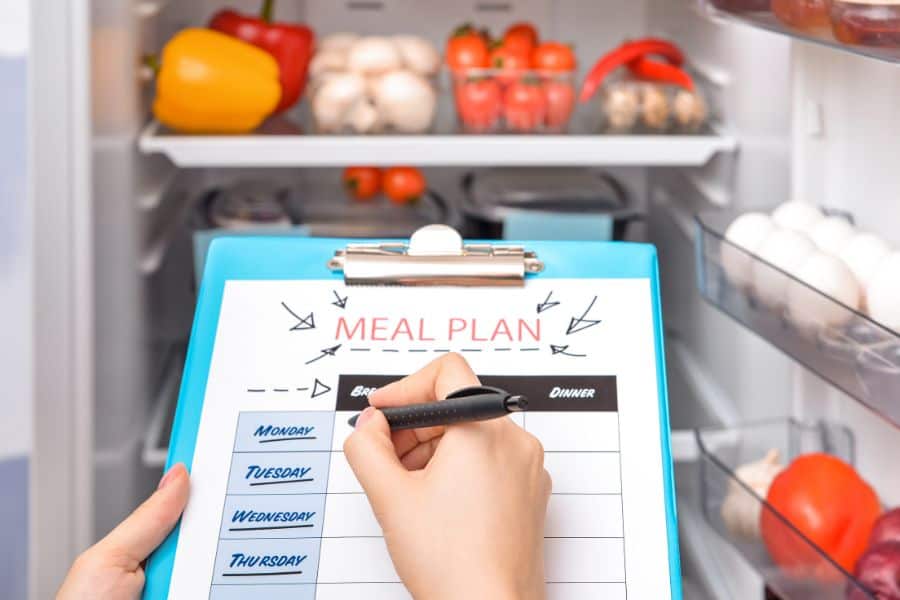 Need help with meal planning?
$5 Meal Plan is a weekly meal planning and prep tool that can help you save money and time in the kitchen. For just $5 per month, you can get a made-to-order meal plan to feed your family for less than $2 per person, per meal!
---
2. Shop with Ibotta
Ibotta is a money-saving app that's great for families who want to buy cheap foods on a budget.
The Ibotta app tracks your purchases, then pays you cashback. You can use Ibotta to shop for groceries and save money instantly.
As an added bonus, Ibotta even works with Walmart Grocery Pickup and Instacart if you prefer to shop for groceries online.
Ibotta also rewards you with extra cash in the form of a welcome bonus. And you can get free money just for referring friends and family members to the app.
3. Swap name brand for generic
Adding generic items to your cheapest groceries list is a smart move for saving money.
A lot of the time (though not all the time) generic brands are just as good as name brands. And unless you or your kids are extremely brand-loyal you may not even notice the difference.
If you're reluctant to go all-in on generic, try swapping out one or two name brands a week from your grocery shopping list.
You can figure out which generic brands you like and which ones are worth the money.
4. Go meatless once a week
If family meals regularly involve meat, consider cutting it out just one day a week.
You might be surprised at how much money you can save by instituting Meatless Mondays. And it's a healthier option than eating meat all the time, since you can cut down on saturated fat intake.
Some meatless meal ideas you can try include:
Cheese or veggie quesadillas
Pasta with marinara sauce
Veggie stir fry
Cheese or veggie omelette with toast (breakfast for dinner!)
Quinoa veggie bowls
Those are just a few ideas for meals you can make meatless. And it's a pro tip for saving as you put together your cheapest groceries list!
5. Buy in bulk (if it saves money)
Buying cheap groceries in bulk can make sense if it saves you money and you're actually using what you buy.
For example, it may be cheaper to buy a 10-pound bag of generic brand rice versus a one-pound bag of the name brand. But is your family likely to eat 10 pounds of rice?
If the answer is no, then buying in bulk probably isn't worth it.
But if you said yes, then bulk buying could be a great way to add to your savings while buying cheap foods.
Here's a tip for deciding what to buy in bulk: Check the unit price.
The unit price is what really counts, as it tells you how much you're paying per unit. Here's a free unit price calculator you can use to root out the best bulk deals on cheap groceries.
Who Really Has the Cheapest Groceries?
If you're trying to save money on groceries as a family, then buying cheap foods is the first step.
But where you choose to buy the cheapest groceries also matters.
Your local grocery store might have the best deals. But you might find the same grocery items elsewhere for the best price.
Which means it pays to shop around to find out who sells the cheapest groceries.
So, out of the different grocery stores, which ones are the best for buying cheap groceries?
Here's a list of the cheapest place to buy groceries on a budget, according to dunnhumby:
Aldi
Market Basket
WinCo Foods
Lidl
Food4Less
Costco
Walmart
Trader Joe
Sam's Club
HEB
Amazon
BJ's
Fareway
Target
ShopRite
Overall, these are great options for buying cheap groceries on a budget.
And if you're buying groceries on Amazon, remember that you can stock up on household items while you're there. Free two-day shipping is included with Amazon Prime.
Final thoughts on the cheapest groceries list
Buying cheap groceries can save you money, freeing up room in your budget for other things. If you're on a tight grocery budget, adding some or all of these cheap foods to your grocery shopping list is a great place to start saving money.
Need more money tips? Read these posts next:
What's on your cheapest groceries list?