Last Updated on June 24, 2023 by Rebecca Lake
Finding the cheapest foods to buy is a big deal when you need to save money on groceries. If you're wondering whether it's possible to add cheap foods to your grocery list and still eat healthy, the answer is yes.
The average cost of food at home for a family of four ranges from $687 to $1,370 per month, according to the USDA. If your grocery bill is higher than you'd like it to be, knowing which cheap foods to buy can be a serious money-saver.
Table of Contents
Benefits of Buying the Cheapest Foods
Cutting back on your grocery spending can be so helpful, especially if you're a one-income family.
When you spend less money on food, it's easier to save for emergencies or other goals. You could use the extra money in your budget to pay down debt or just get caught up if you're behind on bills.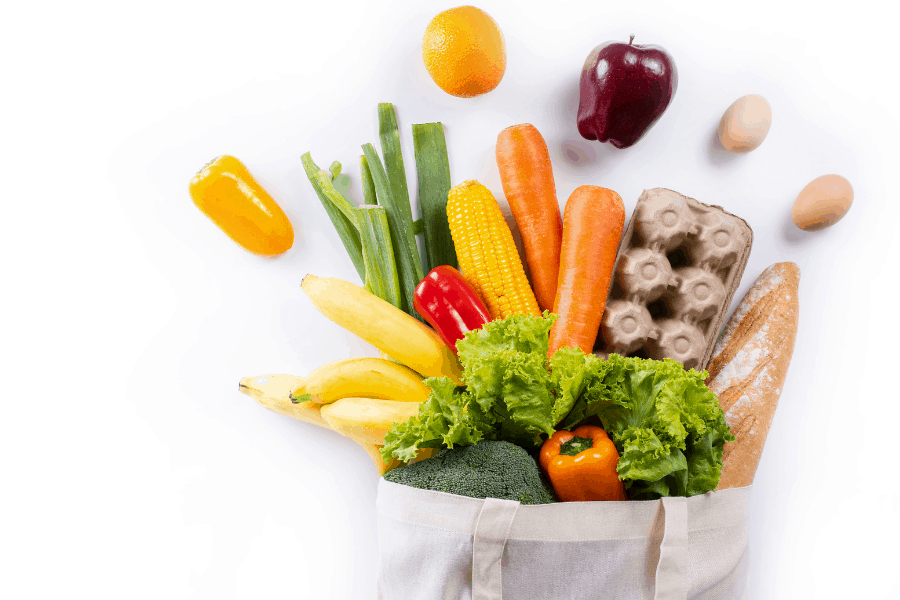 And just because certain foods are cheap doesn't mean you have to feed your family junk either. You can still whip up healthy dirt cheap meals for your family without paying an arm and a leg for them.
Finding cheap groceries can also help you prepare for hard times if you're able to stockpile inexpensive pantry staples.
If you get laid off from work or money just happens to be tighter than usual one month, having some go-to ingredients you can make easy dinners with means less financial stress about how to feed your family.
---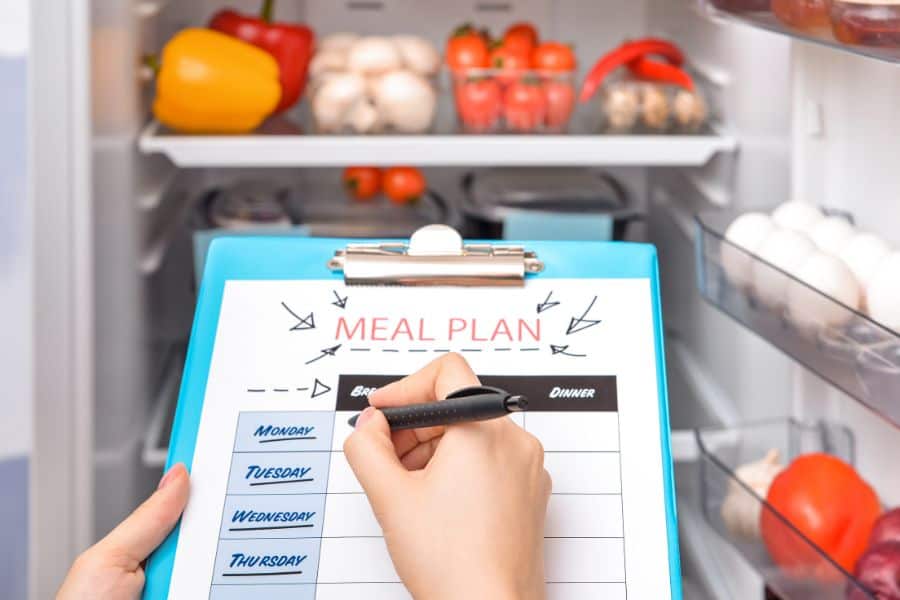 Need help with meal planning?
$5 Meal Plan is a weekly meal planning and prep tool that can help you save money and time in the kitchen. For just $5 per month, you can get a made-to-order meal plan to feed your family for less than $2 per person, per meal!
---
Where Is the Cheapest Place to Buy Groceries?
The cheapest place to buy groceries depends on where you live and which grocery stores or other food centers are available where you live. Searching out the lowest prices on groceries is a smart and frugal food hack.
We live in a rural area where the cheapest place to buy groceries is Walmart, followed by a local family-owned grocery store. In general, some of the cheapest places to buy groceries and food include:
Walmart
HEB
Aldi
Amazon
Target
Market Basket
Lidl
Food for Less
Costco (great for buying cheap foods in bulk)
ShopRite
BJ's
Sam's Club
The most expensive places to buy groceries tend to be the higher-end brands or specialty stores like Whole Foods or Trader Joe's.
A simple way to find the cheapest places to buy food near me is to run a Google search. You can also compare grocery ads to see which stores have the lowest prices each week.
Remember that grocery stores put things on sale in cycles. So you may need to collect a few weeks' worth of sales circulars for comparison. You might want to do that if you're interested in building a price book.
---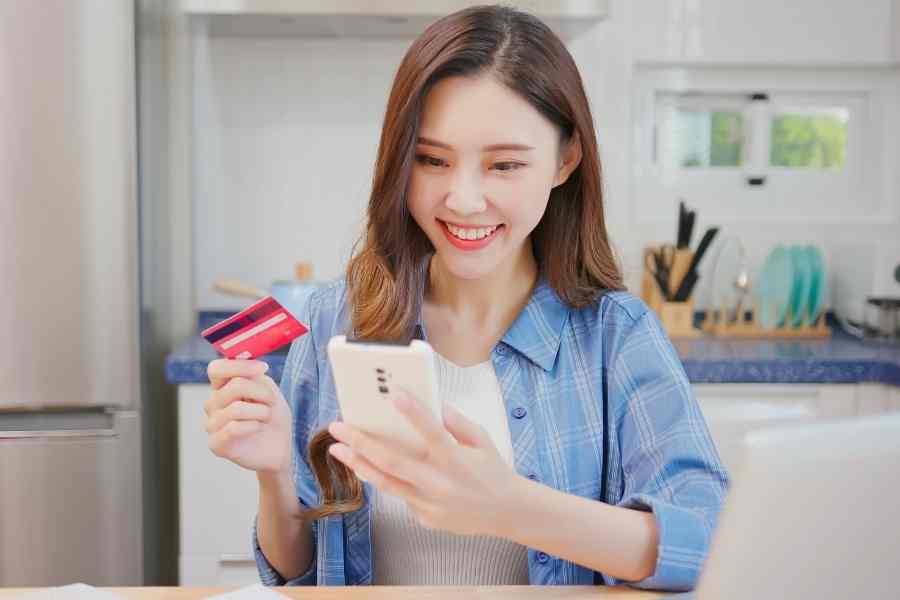 Want to Get Cash Back When You Shop?
Making extra money is easy with Rakuten!
Rakuten is a free app and browser extension that helps you find coupons and discounts when you shop online or in stores. You can earn up to 40% cashback when you shop at hundreds of partner retailers, plus get a $10 sign-up bonus and up to $30 in bonus cash for each person you refer!
---
Cheapest Foods to Buy When Broke
Finding the best cheap foods to buy means going back to basics. Remember, you're looking for staple ingredients that you can build meals for your family around.
Does this mean you can't splurge at all? Nope. But if you want to keep your food budget in check, making these items the core of your grocery shopping list is a smart move.
1. Oatmeal
Oatmeal is a good cheap food to buy because it's filling, good for your heart and it can be used in so many different ways. At my house, we use oatmeal for breakfast, cookies, homemade granola bars — even homemade dog treats.
2. Rice
Rice is one of my favorite cheap foods to buy because again, there are so many ways to use it and it's very inexpensive. You can use rice for casseroles, stir-fries, rice pudding or just as a side dish with a little butter and seasoning.
3. Frozen vegetables
Frozen vegetables are a great grab-and-go cheap food item because they don't cost a lot and they store well. You can serve them as sides, make a stir fry or casserole, whip up veggie omelets for breakfast — the possibilities are endless.
4. Bananas
Bananas are one of the healthiest and cheapest foods to buy for snacking. But you can also mix them into pancakes, bake banana bread or muffins or mix up a smoothie with yogurt, honey and milk.
5. Eggs
Eggs are always on my weekly grocery shopping list because we use them for so many things. Aside from breakfast, you could make hard-boiled eggs, egg salad, quiche and frittatas using veggies you already have on hand.
6. Pasta
If you can find it on sale, pasta is hands-down one of the cheapest foods to buy on a budget. My mom always manages to find great deals on pasta at Kroger's and buys 20 boxes at a time.
You can serve pasta with a little butter and cheese as a side dish or add sauce and meat to make it a full dinner. Either way, you can use it to feed your family for pennies with frugal meal ideas.
7. Canned tomatoes
Tomato sauce, crushed tomatoes, tomato paste and diced tomatoes are all super cheap to buy. And you can use them to make so many different things.
For example, crushed tomatoes and tomato paste can turn into homemade pizza sauce. Tomato sauce with a little heavy cream and some basil becomes tomato basil soup.
You can also make your own pasta sauce instead of buying the jarred stuff. And diced tomatoes are a key ingredient for making chili on the cheap.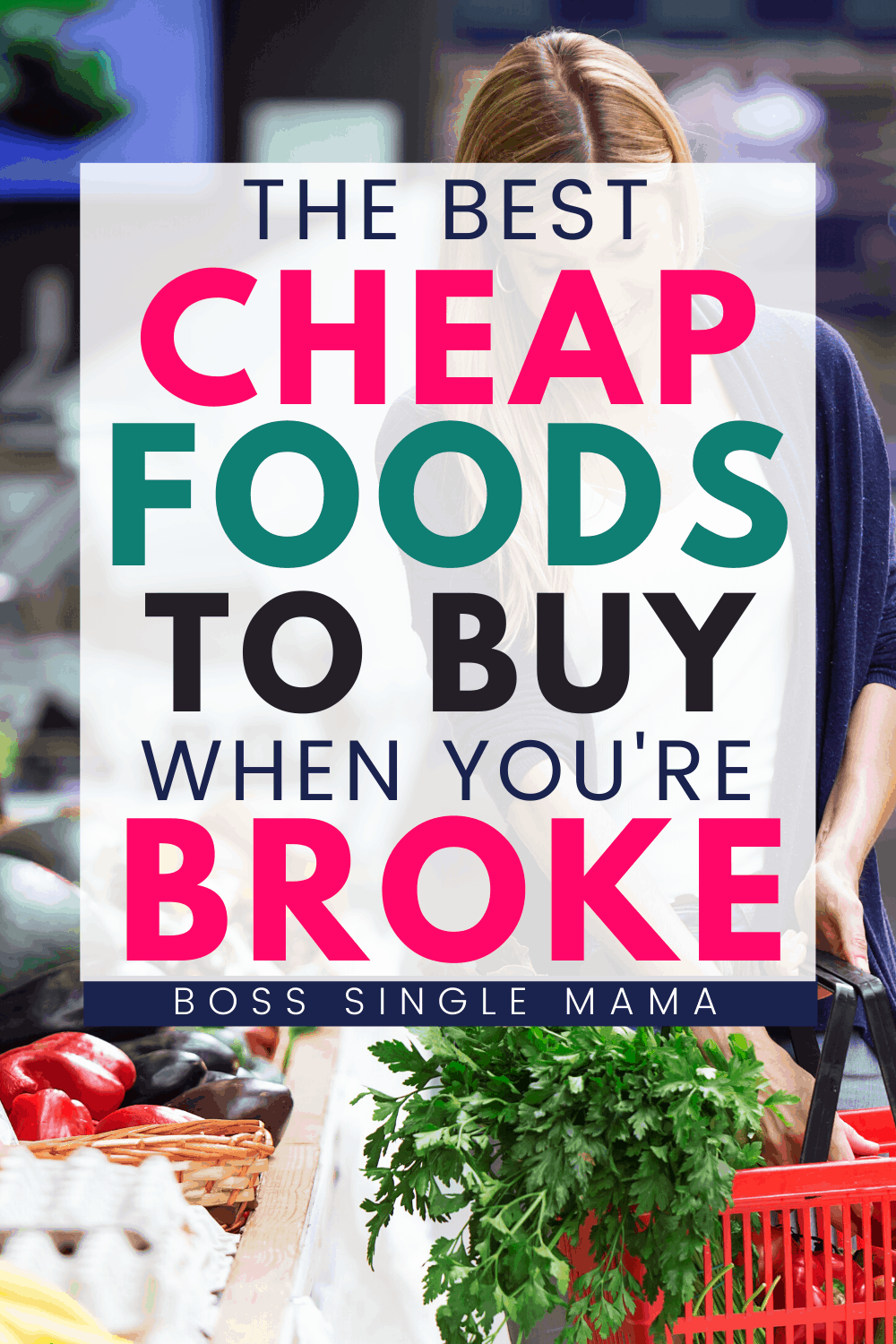 8. Flour and yeast
Flour and yeast are two of the cheapest foods to buy and they're great for everything from baking bread to making your own pizza dough. Add in the next ingredient on the list and you an expand to baking cookies and cakes.
9. Sugar
No pantry is complete without sugar. And if you're trying to save money on groceries, it's a must-have. Baking cookies and other desserts is healthier and so much cheaper than buying processed sugary junk.
10. Beans
Beans are another staple item that's cheap to buy and super versatile. Dried beans store well so you can buy them on sale and use them as needed, without the added extra salt canned beans often have.
If you need some bean recipe ideas, you can add them to chili, soups, stews, casseroles or whip up a simple bean dip.
11. Chicken thighs and drumsticks
I love chicken but chicken breast isn't the cheapest way to go when you're grocery shopping on a budget. Chicken thighs and drumsticks are the better options for cheapest foods to buy when you're broke.
If you can find a whole chicken on sale, even better. You can roast it for dinner on Sunday, then use it to make sandwiches, chicken salad or even barbecue chicken pizza the rest of the week.
12. Canned tuna or salmon
Canned tuna and salmon can be an easy and cheap food to buy for making lunches or dinners.
You can make tuna salad or tuna casserole or use salmon to make salmon patties. Those were a go-to cheap dinner in our house growing up because we were dirt-poor but trust me, they're delish!
13. Lentils
Lentils are also one of the cheapest foods to buy next to beans. They can easily be added to soups but you can also add them into stir fry for some extra protein.
14. Potatoes
No list of cheap groceries to buy is complete without potatoes.
As Samwise Gamgee said, you can mash 'em, fry 'em, stick 'em in a stew — there are just so many things you can do with them. Hash browns, potato soup and shepherd's pie are just a few cheap and easy meals you can make with them.
15. Ramen noodles
Ramen noodles are without a doubt one of the cheapest foods to buy, especially if you're buying them by the case. You can get them for less than a quarter a pack.
They're great for stir fry or as a pasta substitute and you can serve them in a healthier way by skipping the seasoning packet that's packed with MSG and seasoning them with things from your spice cabinet instead.
16. Yogurt
Yogurt can be used in smoothies and it also makes a great snack or breakfast. Just mix in some oatmeal or fresh fruit and you've got a simple and cheap meal.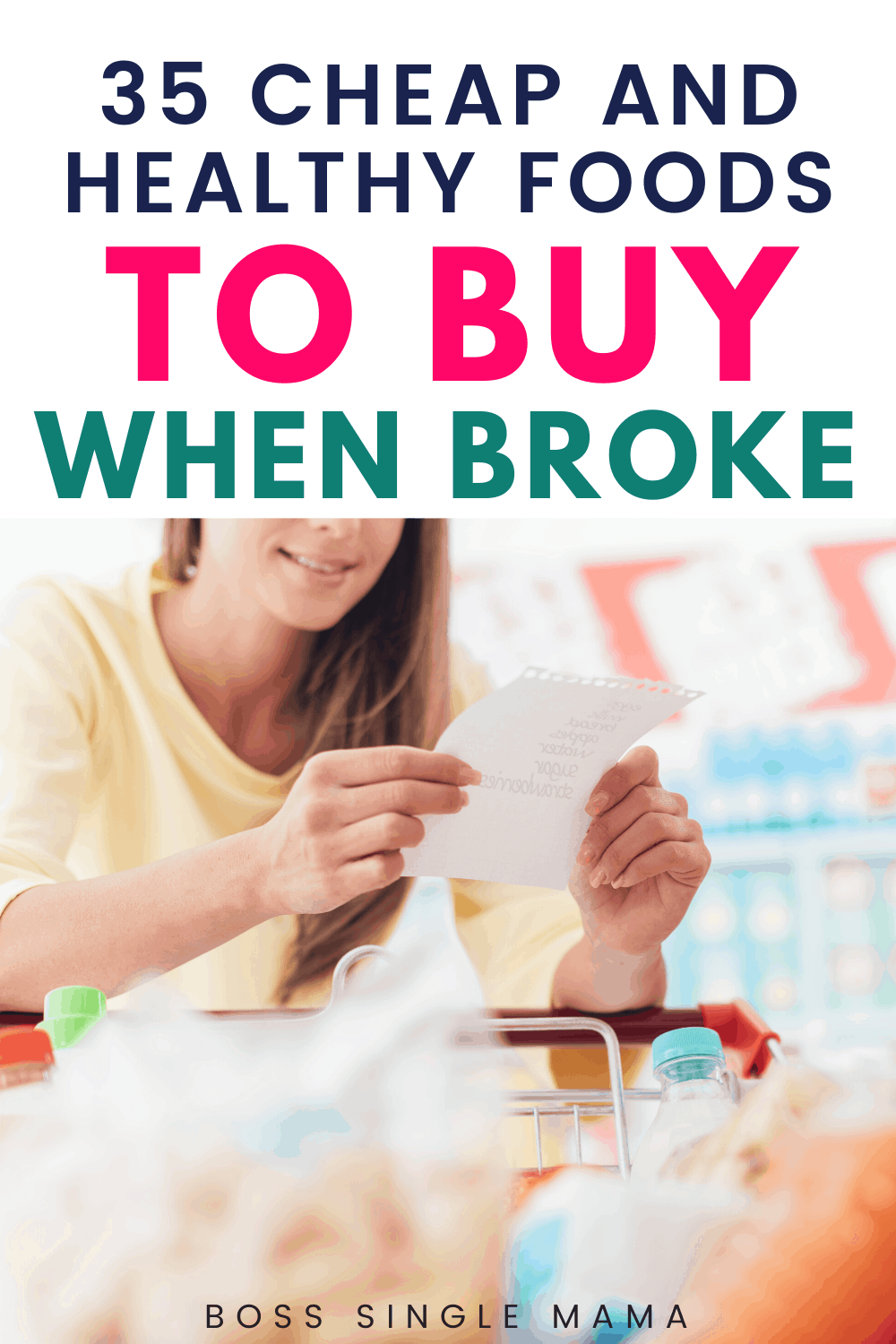 17. Peanut butter
Peanut butter can be a great cheap food to buy if you're comparing unit prices and catching it on sale. You can use it to make a classic PBJ but it's great on crackers or with some sliced apples as a kid-friendly snack.
18. Ground turkey
Ground turkey can be a healthier switch from ground beef and it can cost less, too. You can use it to make meatballs, turkey burgers, as a substitute for beef in homemade chili or in casseroles.
19. Milk
Milk runs around $3 a gallon at our local grocery store and it's an essential item on our cheap foods shopping list. Kids may like it best with cereal but you can also use it for baking, soups and sauces.
20. Cereal
Cereal is another staple ingredient that's always good to have when you've got kids. The best cheap cereals to buy are the ones that you can use for things other than breakfast.
So for example, corn flakes can make a great breading for chicken fingers or a filler for meatloaf. And of course, crisp rice cereal can be used to make all kinds of sweet treats kids will love.
21. Canned fruit
While fresh fruit is always better, canned fruits will do in a pinch if you need cheap alternatives. Canned fruit can be great by itself as a snack or used for desserts, mixed in with yogurt and added to pancakes for a sweet boost.
22. Peppers
Green peppers are super cheap and they can be used for so many things. Stuffed peppers is an obvious cheap dinner pick if you have rice and ground turkey on hand. But peppers also work well in stir fry, omelettes or frittata.
23. Apples
Apples are one of the cheapest foods to buy and they're extremely versatile. You can add oatmeal topping to make apple crumble, bake apple bread or add cinnamon and butter to make fried apples as a side dish for dinner.
24. Onions
Onions are another cheap grocery item that you can do a lot with. You can pair them with peppers in stir fry or fajitas, use them to add flavor to homemade pasta sauce or top hamburgers.
25. Condiments
Ketchup, mustard, mayo and soy sauce are basic condiments and they don't cost a lot to buy.
For example, one of my son's favorite things to cook for himself is omurice, which is essentially white rice mixed with ketchup and soy sauce, topped with an omelette. It's dirt cheap to make and tastes so good!
26. Seasonings
Some seasonings can be way expensive but others you can get on the cheap. Having the basics — salt, pepper, garlic powder, onion powder, etc. — makes it easy to spice up even the most low-budget dish.
27. Carrots
Carrots are good because they're cheap, though the high sugar content means you might want to serve these in moderation. But they can work well as a snack by themselves or make a great side dish with the addition of some butter and brown sugar.
28. Cabbage
My kids are not cabbage fans but I love it and not just because it's one of the cheapest foods to buy. It goes great with brisket (when bought on sale, of course) and it's also a good filler for stir fry and as a side if you have a simple cole slaw recipe.
29. Broccoli
Broccoli is another cheap staple food that's super healthy. It works well in quiches, casseroles, soups or as a side dish steamed with a little butter.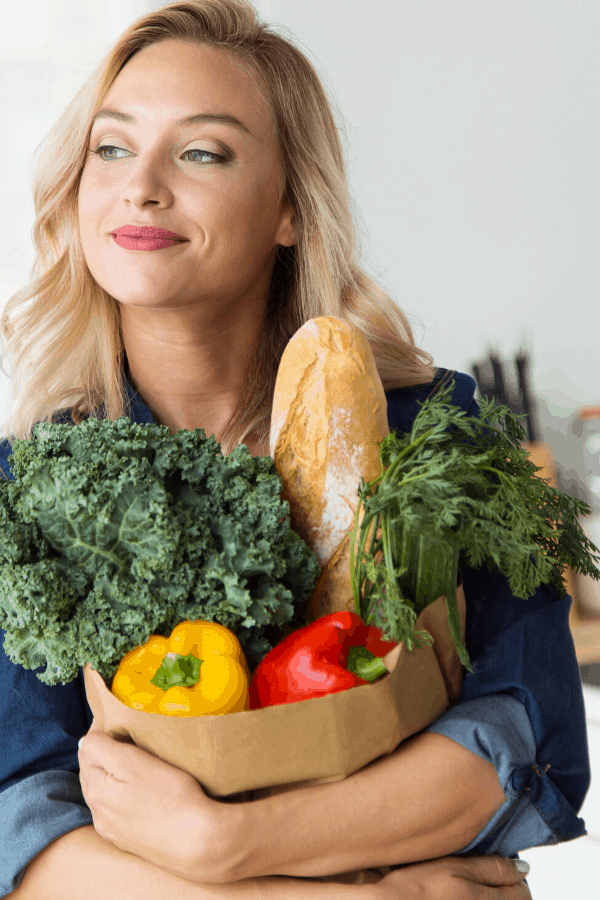 30. Squash
Squash can be super cheap if you're buying it in-season. So in the summer months, think yellow squash or zucchini squash. (Zucchini bread is my fave!) Then in the fall, you can compare prices for butternut or acorn squash.
31. Oranges
Oranges are a good source of Vitamin C and they're great alone or when used in other recipes. One of my favorite things to make is orange chicken because it's so cheap and it tastes heavenly.
32. Pork
Pork can be a great cheap food to buy if you're watching your store's sales carefully. For example, you can snag a pork loin on sale and slice it up into chops. Or a cheap pork roast can turn into an easy crockpot pulled pork barbecue.
33. Cottage cheese
Cottage cheese can make a great snack, either served plain or with canned fruit. And it's also a great swap out for ricotta cheese in pasta recipes.
34. Cornmeal
Instead of buying packaged cornbread mix, you can pick up a bag of cornmeal instead. It's great for breading fish or chicken, making cornbread or corn pudding and even griddle cakes, a la Little House on the Prairie.
35. Bread
If you don't have time to make your own bread, you can always pick up a loaf on the cheap. Bread is great for sandwiches but you can also use it to bulk up meat loaf, make your own bread crumbs or bake homemade croutons.
36. Tofu
Tofu is one of my favorite cheapest foods to buy when you need a protein alternative to meat.
There are lots of ways to prepare tofu, from a simple hot and sour soup recipe to including it in a cold tofu salad. You can get your daily protein requirements without having to spend money on meat.
37. Tortillas
There are so many things you can make with tortillas and they are a super cheap food option when you're broke.
The whole wheat versions are an option if you're looking for a healthier alternative to regular flour tortillas. You can add scrambled eggs and turkey bacon for a simple breakfast wrap or make your own bean burritos at home for pennies per serving.
38. Salsa
Salsa is a go-to choice for buying cheap foods on a budget.
I love salsa on scrambled eggs with some sliced avocado. But it's also great on tacos, burritos and taco salads for a super cheap and easy meal.
39. Watermelon
Watermelon is one of the best seasonal foods tCheo buy on a budget. You can slice it up and eat it as-is, mix up a fruit salad or try your hand at making watermelon slushies.
40. Sour cream
Sour cream can't make a meal in itself. But it is one fo the best cheap foods to buy if you want to use as a condiment, to add to casseroles or cream-based pasta sauces or for making simple and tasty dips.
41. Cheese
Cheeses, whether sliced, shredded or soft cheese spreads, can be an inexpensive addition to your cheapest groceries list.
You can add cheeses to salads, eggs, sandwiches, casseroles, pastas or just sprinkle some on a baked potato for a quick and easy meal.
42. Leafy greens
Leafy greens are a great cheap food to buy when broke because there are so many to choose from.
You could buy:
Lettuce, for salads or wraps
Kale (also good for salads)
Turnip greens
Mustard greens
Collard greens (these are amazing with beans and cornbread!
And besides being cheap, leafy greens are good for you too.
43. Hot dogs
Hot dogs aren't always a healthy choice but they're still one of the cheapest foods available. You can make them a little healthier by choosing turkey dogs instead or nitrate-free versions.
44. Canned meat
Canned meats don't sound all that appealing but they are an expensive alternative if your budget won't stretch enough to buy pricey chicken breasts or beef cuts.
Some of the best canned meat options include chicken, beef and ham. If you're feeling adventurous you can also try this delish kimchi Spam rice recipe that you can make for pennies!
45. Half and half
Heavy cream makes pasta sauces taste delicious but it's soooo expensive. Half and half is a good substitute that's also budget-friendly.
---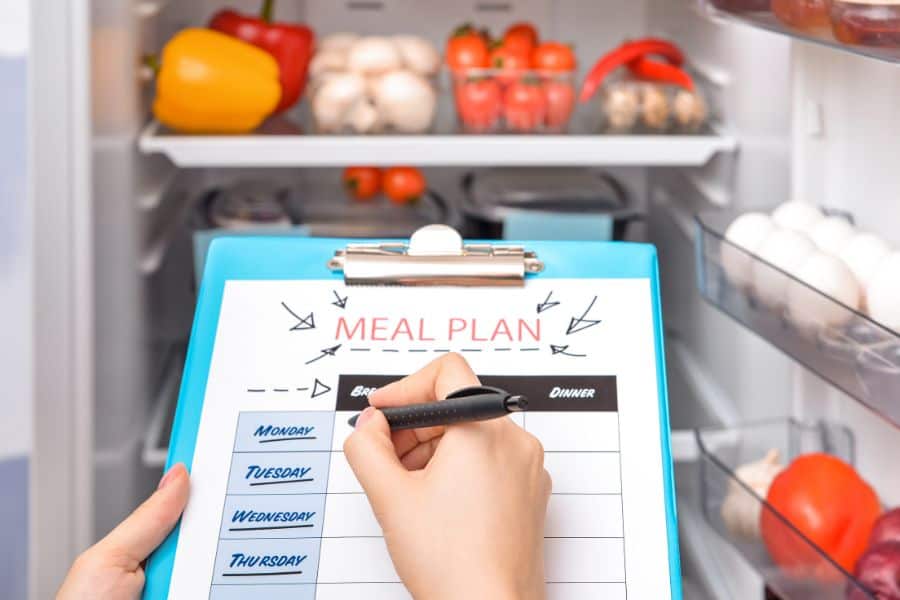 Need help with meal planning?
$5 Meal Plan is a weekly meal planning and prep tool that can help you save money and time in the kitchen. For just $5 per month, you can get a made-to-order meal plan to feed your family for less than $2 per person, per meal!
---
Simple Meal Ideas to Make With Cheap Foods
Wondering what you can make with the cheapest foods to buy? Here are a few cheap and easy meal and snack ideas to get you started:
Breakfast burritos with scrambled eggs, cheese and salsa
Baked breakfast bites
Peanut butter and apple slices
Oatmeal energy bites
Baked potatoes topped with salsa and sour cream
Spaghetti with homemade sauce
Simple rice bowls with black beans, salsa, cheese and sour cream
Veggie stir fry with tofu
Black bean tacos
One pan fried rice with egg
Egg and cheese sandwiches
Spaghetti napolitan
Easy refried bean burritos with cheese
Garlic chicken thighs with roasted potatoes
Meatless broccoli low mein
Veggie quesadillas (one of my personal favorites!)
Homemade pizza
All of these meal ideas are cheap and super simple to make at home!
Tips to Save Money on Groceries
Sticking with the cheapest foods to buy can save you money. If you're looking for more ideas on how to buy groceries when you're broke, these tips can help.
Plan meals around cheap foods
Meal planning is one of the best ways to save money on groceries.
Planning meals means you can be strategic about what you buy, including items on the cheapest groceries list.
If you're not sure where to get started with meal planning, you might give $5 Meal Plan a try.
This meal planning service creates simple and inexpensive meal plans for you so you don't have to stress over it. And it costs pennies on the dollar to get your personalized meal plan.
Find the cheapest foods to buy in bulk
Buying in bulk can help you save money on grocery shopping. The key is comparing unit prices to make sure buying in bulk is the best deal.
Amazon Fresh is great for buying in bulk and you can use it as a Prime member. If you don't have Amazon Prime yet, sign up for a free 30-day trial!
Buy cheap foods at the dollar store
The dollar store might not be the first place you think of when trying to save money on groceries. But it's worth a look for finding bargains on cheap foods.
For example, you can get bread and seasonings for a buck, with some grocery items selling for less than $1. And you can order online and have items shipped directly to your house so you don't even have to go to the store.
Use Instacart to shop
I love Instacart because it's convenient. All I do is open the app, add all my favorite cheap foods to my list and let my shopper do the work. I pick up groceries at the store to save money on delivery fees.
Why is that? For one thing, I don't have to worry about my kids tossing extra stuff in my cart. And for another, you can still your preferred store's sales and coupons through the app.
Sign up to start shopping with Instacart and save $10 on your first order!
Final thoughts on the cheapest foods to buy
Including cheap foods to buy on your grocery list can help you save hundreds, or even thousands of dollars a year. And you can still buy the cheapest groceries without having to resort to eating junk food or processed stuff that's terrible for you. The more you can save on food, the more money you'll have to fund your other financial goals.
Need more money tips? Read these posts next:
What are your favorite cheapest foods to buy?