Living on a tight budget is no joke and it means you have to make every dollar count.
If you have kids, then food costs can easily eat up a big chunk of your budget. Especially when they're home from school — it can end up being an all-day grazing fest.
Finding the cheapest foods to buy (while still feeding your family healthy meals) is a big deal since it can help you save money on groceries.
This is something I paid a lot of attention to when I first became a single parent. Living on a single mom budget meant I had to be extra careful about what I bought at the grocery store.
Back in 2014, my weekly grocery shopping budget was $75 for myself and two kids. And that amount had to include not just food but household items, like toilet paper and cleaning supplies.
So yeah, when it comes to finding the cheapest groceries to buy I know a thing or two about it.
And if you could use a few pointers on how to save money on groceries, this post is exactly what you need.
Related post:
10 Tips for Living (and Thriving) on a Tight Budget
Why It Pays to Find the Cheapest Foods to Buy
Cutting back on your grocery spending can be so helpful, especially if you're a one-income family.
When you spend less money on food, you have more money you can save or use to pay down debt or get caught up if you're behind on bills.
And just because certain foods are cheap doesn't mean you have to feed your family junk either. You can still whip up healthy meals for your family without paying an arm and a leg for them.
Finding cheap groceries can also help you prepare for hard times if you're able to stockpile staple pantry items.
If you get laid off from work, for example, having some go-to ingredients you can make easy dinners with means less financial stress about how to feed your family.
Plus, it means you don't have to try and fight the crowds if people are panic-buying food in a crisis situation.
Related posts:
7 Positive Ways to Manage Financial Stress In Hard Times
5 Life-Saving Tips for Budgeting Your Money in a Crisis
37 Cheapest Foods to Buy When Broke
Finding the least expensive foods to buy means going back to basics. Remember, you're looking for staple ingredients that you can build meals for your family around.
Does this mean you can't splurge at all? Nope. But if you want to keep your food budget in check, making these items the core of your grocery shopping list is a smart move.
1. Oatmeal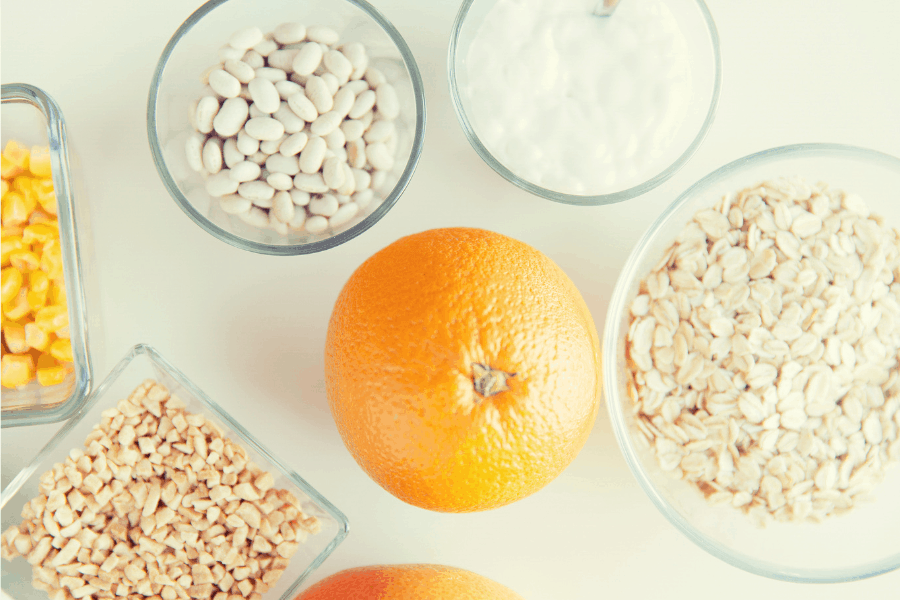 Oatmeal is a good cheap food to buy because it's filling, good for your heart and it can be used in so many different ways. At my house, we use oatmeal for breakfast, cookies, homemade granola bars — even homemade dog treats.
2. Rice
Rice is one of my favorite cheap foods to buy because again, there are so many ways to use it and it's very inexpensive. You can use rice for casseroles, stir fries, rice pudding or just as a side dish with a little butter and seasoning.
3. Frozen vegetables
Frozen vegetables are a great grab-and-go cheap food item because they don't cost a lot and they store well. You can serve them as sides, make a stir fry or casserole, whip up veggie omelets for breakfast — the possibilities are endless.
4. Bananas
Bananas are one of the healthiest and cheapest foods to buy for snacking. But you can also mix them into pancakes, bake banana bread or muffins or mix up a smoothie with yogurt, honey and milk.
5. Eggs
Eggs are always on my weekly grocery shopping list because we use them for so many things. Aside from breakfast, you could make hard-boiled eggs, egg salad, quiche and frittatas using veggies you already have on hand.
6. Pasta
If you can find it on sale, pasta is hands-down one of the cheapest foods to buy on a budget. My mom always manages to find great deals on pasta at Kroger's and buys 20 boxes at a time.
You can serve pasta with a little butter and cheese as a side dish or add sauce and meat to make it a full dinner. Either way, you can use it to feed your family for pennies.
7. Canned tomatoes
Tomato sauce, crushed tomatoes, tomato paste and diced tomatoes are all super cheap to buy. And you can use them to make so many different things.
For example, crushed tomatoes and tomato paste can turn into homemade pizza sauce. Tomato sauce with a little heavy cream and some basil becomes tomato basil soup.
You can also make your own pasta sauce instead of buying the jarred stuff. And diced tomatoes are a key ingredient for making chili on the cheap.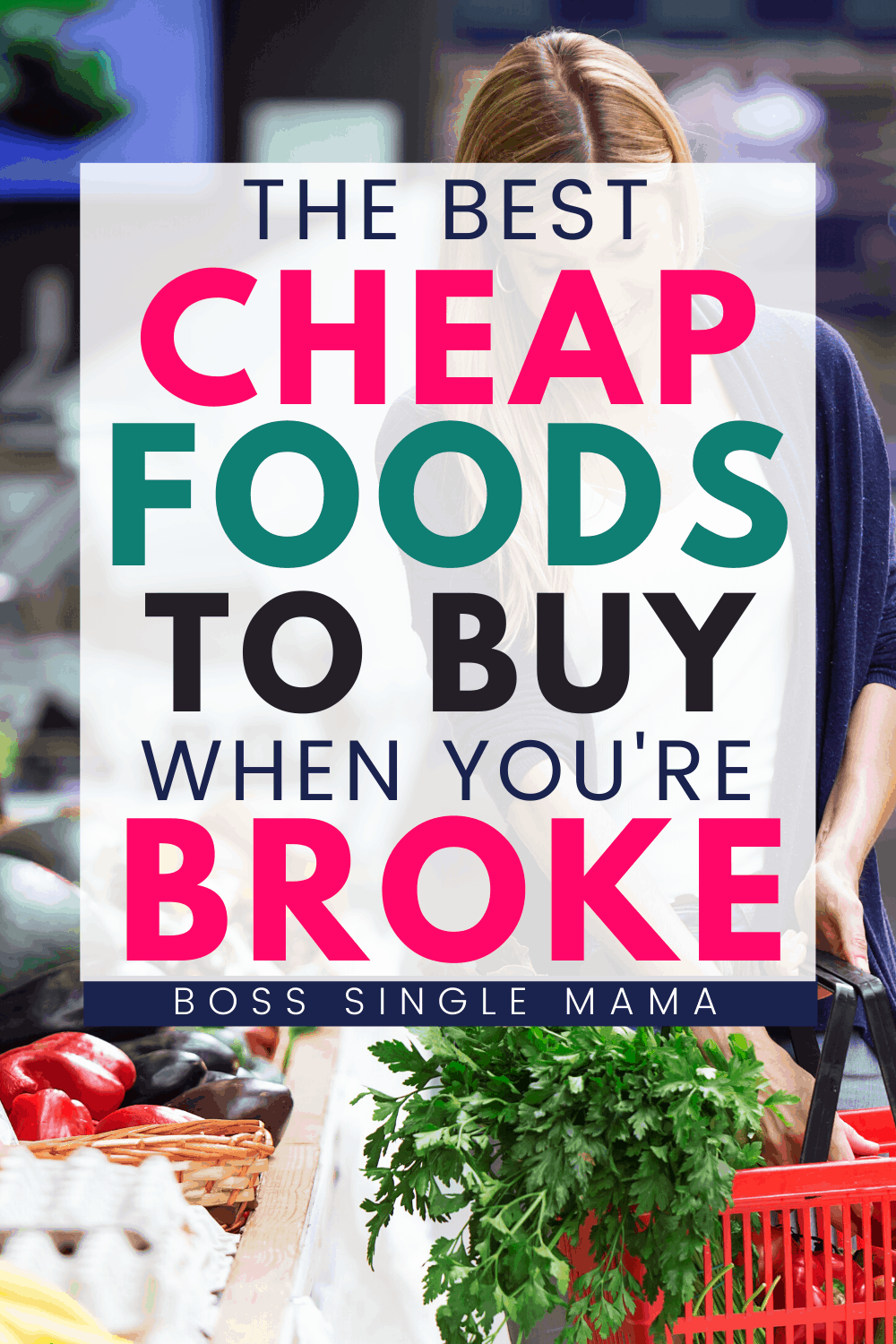 8. Flour and yeast
Flour and yeast are two of the cheapest foods to buy and they're great for everything from baking bread to making your own pizza dough. Add in the next ingredient on the list and you an expand to baking cookies and cakes.
9. Sugar
No pantry is complete without sugar. And if you're trying to save money on groceries, it's a must-have. Baking cookies and other desserts is healthier and so much cheaper than buying processed sugary junk.
10. Beans
Beans are another staple item that's cheap to buy and super versatile. Dried beans store well so you can buy them on sale and use them as needed, without the added extra salt canned beans often have.
If you need some bean recipe ideas, you can add them to chili, soups, stews, casseroles or whip up a simple bean dip.
11. Chicken thighs and drumsticks
I love chicken but chicken breast isn't the cheapest way to go when you're grocery shopping on a budget. Chicken thighs and drumsticks are the better options for cheapest foods to buy when you're broke.
If you can find a whole chicken on sale, even better. You can roast it for dinner on Sunday, then use it to make sandwiches, chicken salad or even barbecue chicken pizza the rest of the week.
12. Canned tuna or salmon
Canned tuna and salmon can be an easy and cheap food to buy for making lunches or dinners.
You can make tuna salad or tuna casserole or use salmon to make salmon patties. Those were a go-to cheap dinner in our house growing up because we were dirt-poor but trust me, they're delish!
13. Lentils
Lentils are also one of the cheapest foods to buy next to beans. They can easily be added to soups but you can also add them into stir fry for some extra protein.
14. Potatoes
No list of cheap groceries to buy is complete without potatoes.
As Samwise Gamgee said, you can mash 'em, fry 'em, stick 'em in a stew — there are just so many things you can do with them. Hash browns, potato soup and shepherd's pie are just a few cheap and easy meals you can make with them.
15. Ramen noodles
I know what you're thinking. Ramen noodles? Yuck. 
But hear me out. Ramen noodles are without a doubt one of the cheapest foods to buy, especially if you're buying them buy the case. You can get them for less than a quarter a pack.
They're great for stir fry or as a pasta substitute and you can serve them in a healthier way by skipping the seasoning packet that's packed with MSG and seasoning them with things from your spice cabinet instead.
16. Yogurt
Yogurt can be used in smoothies and it also makes a great snack or breakfast. Just mix in some oatmeal or fresh fruit and you've got a simple and cheap meal.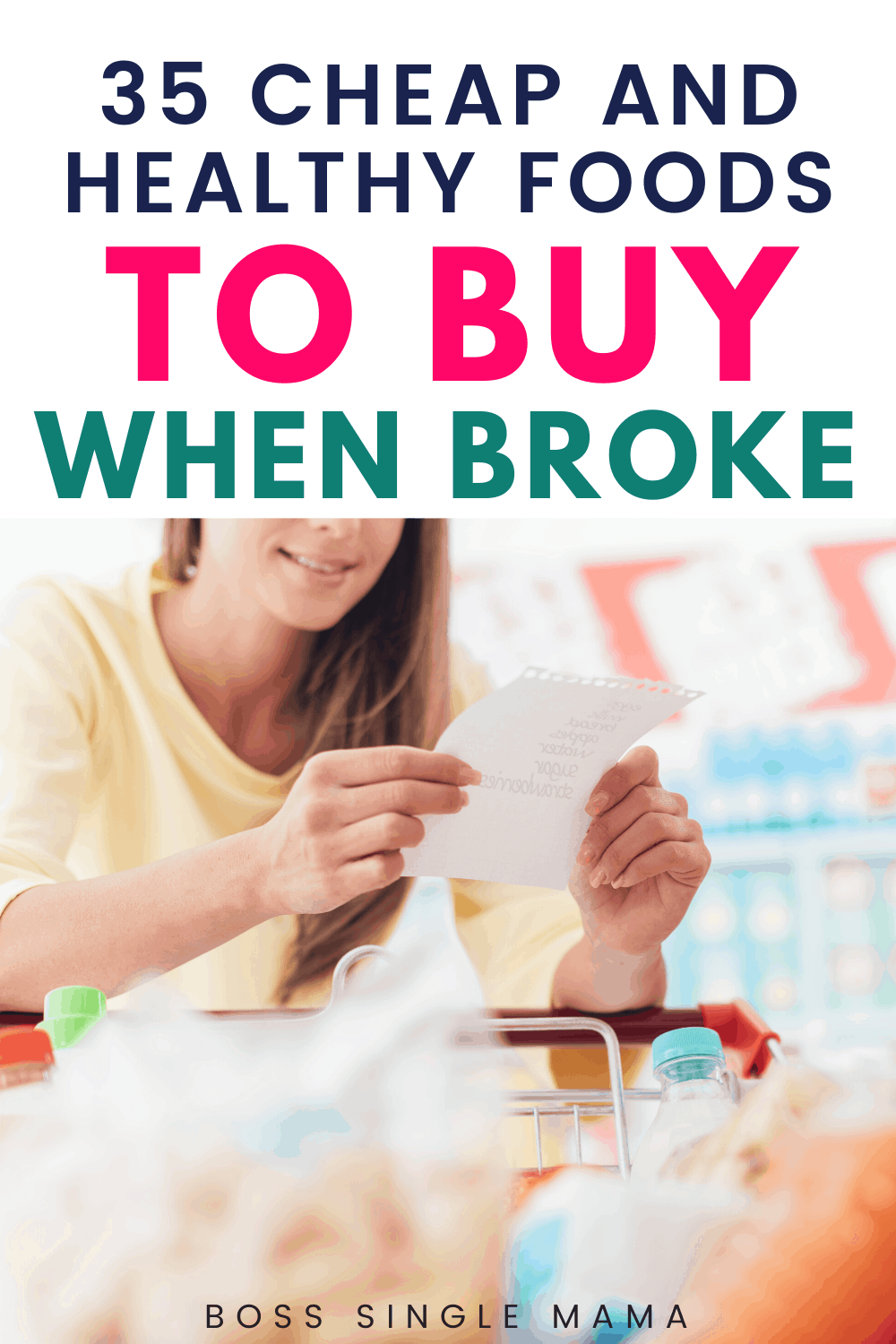 17. Peanut butter
Peanut butter can be a great cheap food to buy if you're comparing unit prices and catching it on sale. You can use it to make a classic PBJ but it's great on crackers or with some sliced apples as a kid-friendly snack.
18. Ground turkey
Ground turkey can be a healthier switch from ground beef and it can cost less, too. You can use it to make meatballs, turkey burgers, as a substitute for beef in homemade chili or in casseroles.
19. Milk
Milk runs around $3 a gallon at our local grocery store and it's an essential item on our cheap foods shopping list. Kids may like it best with cereal but you can also use it for baking, soups and sauces.
20. Cereal
Cereal is another staple ingredient that's always good to have when you've got kids. The best cheap cereals to buy are the ones that you can use for things other than breakfast.
So for example, corn flakes can make a great breading for chicken fingers or a filler for meatloaf. And of course, crisp rice cereal can be used to make all kinds of sweet treats kids will love.
21. Canned fruit
While fresh fruit is always better, canned fruits will do in a pinch if you need cheap alternatives. Canned fruit can be great by itself as a snack or used for desserts, mixed in with yogurt and added to pancakes for a sweet boost.
22. Peppers
Green peppers are super cheap and they can be used for so many things. Stuffed peppers is an obvious cheap dinner pick if you have rice and ground turkey on hand. But peppers also work well in stir fry, omelettes or frittata.
23. Apples
Apples are one of the cheapest foods to buy and they're extremely versatile. You can add oatmeal topping to make apple crumble, bake apple bread or add cinnamon and butter to make fried apples as a side dish for dinner.
24. Onions
Onions are another cheap grocery item that you can do a lot with. You can pair them with peppers in stir fry or fajitas, use them to add flavor to homemade pasta sauce or top hamburgers.
25. Condiments
Ketchup, mustard, mayo and soy sauce are basic condiments and they don't cost a lot to buy.
For example, one of my son's favorite things to cook for himself is omurice, which is essentially white rice mixed with ketchup and soy sauce, topped with an omelette. It's dirt cheap to make and tastes so good!
26. Seasonings
Some seasonings can be way expensive but others you can get on the cheap. Having the basics — salt, pepper, garlic powder, onion powder, etc. — makes it easy to spice up even the most low-budget dish.
27. Carrots
Carrots are good because they're cheap, though the high sugar content means you might want to serve these in moderation. But they can work well as a snack by themselves or make a great side dish with the addition of some butter and brown sugar.
28. Cabbage
My kids are not cabbage fans but I love it and not just because it's one of the cheapest foods to buy. It goes great with brisket (when bought on sale, of course) and it's also a good filler for stir fry and as a side if you have a simple cole slaw recipe.
29. Broccoli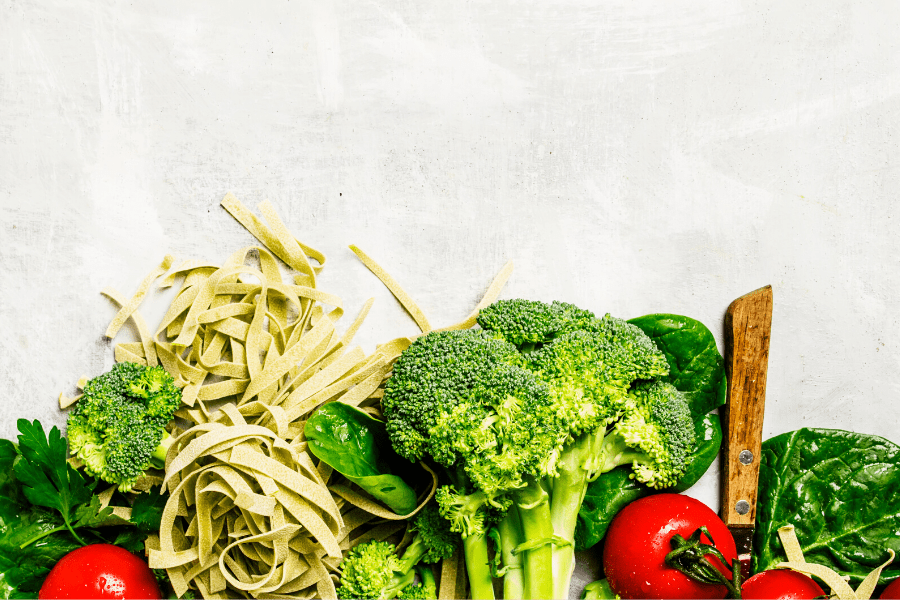 Broccoli is another cheap staple food that's super healthy. It works well in quiches, casseroles, soups or as a side dish steamed with a little butter.
30. Squash
Squash can be super cheap if you're buying it in-season. So in the summer months, think yellow squash or zucchini squash. (Zucchini bread is my fave!) Then in the fall, you can compare prices for butternut or acorn squash.
31. Oranges
Oranges are a good source of Vitamin C and they're great alone or when used in other recipes. One of my favorite things to make is orange chicken because it's so cheap and it tastes heavenly.
32. Pork
Pork can be a great cheap food to buy if you're watching your store's sales carefully. For example, you can snag a pork loin on sale and slice it up into chops. Or a cheap pork roast can turn into an easy crockpot pulled pork barbecue.
33. Cottage cheese
Cottage cheese can make a great snack, either served plain or with canned fruit. And it's also a great swap out for ricotta cheese in pasta recipes.
34. Cornmeal
Instead of buying packaged cornbread mix, you can pick up a bag of cornmeal instead. It's great for breading fish or chicken, making cornbread or corn pudding and even griddle cakes, a la Little House on the Prairie.
35. Bread
If you don't have time to make your own bread, you can always pick up a loaf on the cheap. Bread is great for sandwiches but you can also use it to bulk up meat loaf, make your own bread crumbs or bake homemade croutons.
Other Ways to Save Money Grocery Shopping
Sticking with the cheapest foods to buy can save you money. But if you need to cut your food budget even further, these tips can help:
Buy in bulk
Buying in bulk can help you save money on grocery shopping. The key is comparing unit prices to make sure buying in bulk is the best deal.
Amazon Fresh is great for buying in bulk and you can use it as a Prime member. If you don't have Amazon Prime yet, sign up for a free 30-day trial!
Use Ibotta for grocery shopping
Ibotta makes it easy to save money on groceries. You shop, scan your receipt and reap the savings. And you can save instantly when you link your grocery store's loyalty rewards card to the app.
Download Ibotta and get up to $20 in bonuses!
Check the Dollar Tree
The Dollar Tree might not be the first place you think of when trying to save money on groceries. But it's worth a look for finding bargains.
For example, you can get bread and seasonings for a buck, with some grocery items selling for less than $1. And you can order online and have items shipped directly to your house so you don't even have to go to the store.
Use Instacart to shop
I love Instacart because it's convenient. And while I do pay a fee for delivery, I still save money by shopping with Instacart versus going to the store.
Why is that? For one thing, I don't have to worry about my kids tossing extra stuff in my cart. And for another, you can still your preferred store's sales and coupons through the app.
Sign up to start shopping with Instacart and save $10 on your first order!
Or try Walmart Grocery Pickup instead
If Walmart offers better prices on groceries compared to the stores Instacart works with, you can order your groceries online and pick them up with no fee.
Again, you don't have to worry about kids junking up your cart with extras. And you can pick up groceries at a time that works for your schedule.
Start your first order with Walmart Grocery and save $10 now!
What's on your go-to list of cheapest foods to buy?
Do you have some favorite low cost grocery items that are staples for your food budget?
Head to the comments and tell me about it. Then pin and share this post!
And don't forget to download your free money-saving guide if you haven't yet. It's packed with 100+ ideas for saving money as a family!