Last Updated on December 22, 2021 by Rebecca Lake
Do you dream of being a stay at home mom but struggle with the idea of living on one income?
These days, it isn't always easy to make a single income stretch, especially when you have kids.
I've been a stay at home mom and a work at home mom for over five years now. And since I'm a single parent, I have a lot of experience with living on one income.
The good news is, it's possible to thrive financially as a single-income family. It just takes some creative thinking and planning to get in the groove of budgeting on one income and sticking to your financial plan.
Sound good to you? If so, I've got a list of 37 ways to be more frugal while living on one income, so you can save money and afford to live the stay at home mom life.
(Tip: At 4,000+ words, this post is a long one. Remember to bookmark it for later so you can come back to these tips again and again!)
37 Ways to Save Money While Living on One Income
1. Learn to meal plan
If you're not meal planning as a family you're missing out on a serious opportunity to save money, time and headaches.
Planning out meals gives you an edge when it's time to grocery shop. You can build your meals and shopping list around what's on sale and low-cost staples. Plus, you don't have to agonize over what to make for dinner every night.
If you need some meal planning inspiration, head to $5 Meal Plan for cheap and easy recipe ideas!
2. Take advantage of free family fun
One of my favorite frugal living tips is making the most of free ways to have fun. This is something we did a lot of when we first started living on one income and it's a habit we haven't grown out of.
Your local parks and rec or town hall can be great resources for free fun. For example, our town government sponsors free family events at Easter, Halloween, Christmas and over the summer.
If you need ideas for how to have fun as a family without spending a dime, check out these posts:
50 Frugal Family Holiday Traditions to Start This Year
43 Frugal And Fun Fall Activities to Do With Kids
39 Clever Ways Families Can Save Money This Fall
3. Buy secondhand
Thrift stores are one of the best things ever if you're trying to save money as a family so you can live on one income.
If you're willing to spend some time looking, you can pick up everything from kids' clothes to kitchen goods to furniture at a steep discount. We have several thrift stores locally that are my go-to shopping spots if I need something.
Plus, buying secondhand is environmentally friendly since it means less waste and fewer things ending up in landfills.
If you don't have any great thrift stores in your area, you can buy secondhand online.
Here's $10 you can use to save when you make your first purchase at ThredUp!
4. Go zero waste
Living a zero-waste lifestyle means reducing how much you throw away, recycling and reusing things. It's something we've been slowly moving toward as a family over the last year.
So how does being zero waste help with living on one income?
For one thing, zero waste living means buying less stuff. So for example, when I wanted to start an indoor compost bin a while back I didn't go out and buy a fancy bin. I used an old cookie jar that I already had. Instant savings!
It also helps you be more conscious about what you spend money on (and what you don't), which can help you save. Here are 101 easy ways to ease into zero waste living.
5. Start an indoor herb garden
Cooking with fresh herbs can help jazz up your meals, especially if you find yourself making some of the same recipes over and over again to save money.
You could buy them from the grocery store but you could save money by growing them at home.
There are herb garden starter kits you can buy fairly cheaply. Or you could make your own DIY herb garden with things you already have around the house.
6. Downsize your vehicles
If you have more than one car, ditching one of them is a more extreme way to make living on one income work. But it's worth considering if you don't necessarily need multiple vehicles.
One less car means lower car insurance costs and more money saved on gas and maintenance.
This tip isn't realistic for everyone, I know. While we only have one vehicle, we can't get rid of it because we live in a rural area with no public transportation.
But if you can make it work for your family, you could potentially reap some major savings. Check out the Blinker app to list your car for sale from your mobile phone.
7. Downsize your home
Downsizing your home is another money-saving measure that's on the extreme side. But again, it's worth considering if you live on a single income and feel stretched to your money limits.
Moving into a smaller home could mean paying less for homeowners' insurance, property taxes and utilities. Not to mention having a smaller mortgage.
If you can't make downsizing work, you could consider refinancing to get a better deal on your interest rate. A lower rate means money saved and potentially a lower payment.
Check out Lending Tree to see what kind of refinance rates you might qualify for.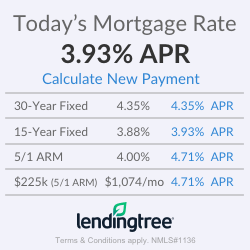 8. Go minimalist with your wardrobe
Clothes might be one of your biggest expenses when you have a growing family. One way to keep your clothing budget in check is by trying out a capsule wardrobe.
This is something I do and again, it saves time and money. You don't have to worry about what to wear and you can build your wardrobe around a few quality pieces.
If you need some help on what to include, take a look at this post on how to start a capsule wardrobe on the cheap.
9. Open the right savings account
Having some savings in the bank is crucial when you're living on one income.
For example, say your spouse gets sick and misses a week of work. Your emergency fund could help cover the bills until they're feeling better.
Where you keep your savings matters when it comes to getting the most bang for your buck. You want to get the best interest rate and pay the least in fees.
I love CIT Bank for saving because they offer both. If you don't mind the idea of saving money online, take a look at the Savings Builder Account.
Right now, you can get up to a $200 bonus when you open an account. And who doesn't like free money?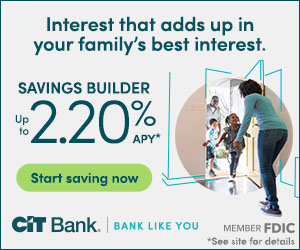 10. Use coupons and promo codes
While I could never claim to be an extreme couponer, I do religiously use coupons and promo codes to save money.
You can find printable coupons or digital ones and promo codes to save money at checkout. Here are some of my favorite coupon and promo code sites:
11. Check out kids eat free nights
Going out to eat was always a luxury for us when we first started living on one income. And if you're trying to be frugal as a family, it may be for you too.
Kids eat free nights are a money-saving solution. Depending on where you eat out, you could save $5 to $10 per child easily.
Here's a list of 100+ restaurants where kids eat free for you to try!
12. Eliminate cable and switch to streaming
Ah, cable. I broke up with you long ago and I don't regret it for a second.
If you've already cut the cable cord then you can skip this tip. But if you haven't, here's why you should:
Cable is a huge money-waster.
At one point, I was paying $140 a month for 200+ channels that we never watched. It was wasteful so a few years ago, I ditched cable for good.
Now we just have streaming services to our favorite channels, including Netflix, Sling TV, Amazon Prime, Hulu and Funimation. (My daughter is a big anime nerd and she's turned me into one as well.)
I pay less than half what I did for cable and I estimate that it saves me around $900 a year.
13. Host a clothing or toy swap with other moms
If you've never done a clothing or toy swap, it's really simple.
You get a bunch of mom friends together and swap clothing, toys, books–anything you don't need that another might be able to use.
This is a good way to declutter your house while getting things your family needs without spending money.
14. Make your cleaning and laundry supplies
Learning how to make your cleaning and laundry supplies is a money-saver and it can be healthier if you're avoiding harsh chemicals.
There are some trade-offs, of course. Every time I mop the floor with homemade vinegar solution my kids tell me the house smells like a pickle jar.
But that's okay because I prefer that to spending money or using chemicals, especially since we have pets. If you need some ideas for DIY cleaners, here are some vinegar-based options (that actually smell good!)
15. Eat less meat (or none at all)
Eating less meat is something else we're working on as a family as we've become more conscious about climate change. But it's also a helpful money-saving tip when you're trying to stretch a single income.
I absolutely love The Meatless Monday Cookbook for kid-friendly, plant-based recipes. But you can also find plenty of great recipe ideas for free at MeatlessMonday.com.
16. Swap out name brands for store brands
This is one of the easiest ways to save money when you're living on one income. I've been doing this for years and for the most part, we don't really notice a difference.
Now, there are some things I still buy brand name.
For example, I just can't make myself buy cheap toilet paper. We are a Scott Comfort Plus family through and through.
But when it comes to things like canned goods, staple ingredients like olive oil and rice, condiments and bread then I'm totally fine with the store brand. And sometimes, the store brand tastes better.
If you struggle with ditching your favorite brands, just pick one thing at a time to switch.
17. Join loyalty rewards programs
Loyalty programs are a stupidly simple way to save money when you're a one-income family.
Depending on how they work, you might be able to get money-saving coupons, earn money back when you spend or both.
For example, I'm a loyalty rewards member at Walgreen's, CVS, Food Lion and Books-A-Million, all of which save me money. At Books-A-Million, for example, I get 10% off every purchase and free shipping.
Bottom line, if you're not joining loyalty rewards programs you're leaving money on the table. Take a look at this list of 53 best loyalty rewards programs for customers to find programs to join.
18. Plan spending-free date nights
These days, my date nights involve watching anime with my daughter or engaging in a lightsaber duel with my son. But your date nights might involve scheduling alone time with a spouse or partner.
The key to making it fun without triggering money stress is doing it on the cheap or better yet, spending no money at all. If you need some ideas, here's a great post on 93 cheap and fun dates you can plan!
19. Install a programmable thermostat
Keeping a lid on heating and cooling costs is huge for me. Especially since my son has a habit of fiddling with the thermostat instead of doing something sensible, like putting on a shirt when it's 30 degrees out.
A programmable thermostat can be one of the best investments you'll make if you're living on one income and trying to save money.
You can set the temperature to be lower when you're not home and adjust when you are. It's a simple way to regulate heating and cooling use to keep your electric bill in check.
20. Be smart about doing laundry
Fun fact, did you know that your electric company can charge you more for service during peak usage hours?
I didn't either for the longest time, but then I found out that there is such a thing as the best time of day to do laundry.
Paying attention to when you're using your washer and dryer could help you save money and make living on one income easier. Other tips for saving money (and energy) include:
Using less laundry soap for each load
Washing with cold water only
Running full loads
Switching from fabric softener sheets to dryer balls
Keeping your lint filter clean
Using a drying rack to dry your clothes and skipping the dryer altogether
Upgrading to an Energy Star-certified washer and dryer
21. Take advantage of price matching
Price matching is a godsend for saving money when you're living on one income.
The idea is that if you buy something and find it for a better deal somewhere else, the original store you purchased it from will pay you back the difference.
Every story has different policies when it comes to price matching and not all of them do it. Luckily, you can still take advantage of price matching when you shop line thanks to Paribus.
Paribus is a free app that helps you get the best deals on online shopping. The app scans your purchases for you to find out if you're owed money, then requests a price match for you. It's an easy way to get money back on shopping.
22. Unplug your electronics when you're not using them
If you're trying to keep your light bill down, there's a simple rule for saving money: unplug it.
You'd be surprised at how much money you can shave off your electric costs just by unplugging appliances and electronics when you're not using them.
If you can't unplug everything, plugging into an energy-efficient power strip is the next best option.
23. Make the most of your local library
I love the library and we spent a ton of time there when my kids were little. For someone living on one income, being able to go to storytime, summer reading programs and LEGO club for free was the bees' knees.
If you haven't been to your library in a while, then it's time to pay a visit.
You can check out print (or digital) books, DVDs and CDs, not to mention taking advantage of freebies for the kids. Our library also offers several freebies for adults, including a book club, movie club and knitting classes.
24. Use your grocery store's pickup service
If your favorite grocery store offers pickup service, I highly recommend using it. Here's why.
You can save a ton of money just by not going into the store.
I know that I always spend more when I shop with my kids. I'm guaranteed to buy things that I hadn't planned on when they tag along.
If your favorite grocery store offers free pickup, give it a try at least once. Just keep in mind the store's policy on substitutions if you have food allergies or specific preferences for some of the items on your list.
And if your store doesn't offer free pickup, then there's always Prime Pantry, which is great for stocking up on staples.
25. Shop at a single grocery store
One time at the library, I overheard another mom talking about how she saved so much money on milk when buying groceries. She was able to get it for cheap at the Kroger that required her to drive almost an hour away.
She did the rest of her shopping at several other stores, driving sometimes all day to find deals. Now, this system might work for you but to me, it seems wasteful.
Not only are you burning up gas but you're also burning up time, which you may not have a lot of as a busy mom.
So my advice is simple: pick one store that carries the things you need at the best price and stick with it. Trying to chase deals all over town will only wear out your patience and the savings may not amount to as much as you think.
26. Always shop with a list
This is the first rule of grocery shopping if you want to save money when living on one income.
I'm always guaranteed to overspend or forget things if I go into the grocery store or anywhere else without a list. So save yourself some trouble and write down what you need, then doublecheck your list before you hit the store.
27. Shop your pantry first
Shopping your pantry means going through what you already have so you don't end up buying duplicates.
I'm guilty of adding things to my shopping list that I already had. And that can be a waste of money if you don't end up using everything you buy.
So once you've got your grocery list ready to go, head to the pantry or the cabinets and cupboards. Check your list against your "inventory" and cross off anything you already have plenty of.
28. Shop the markdown or clearance section
The markdown or clearance bin at the grocery store can be a gold mine for saving money.
For example, our preferred grocery store marks down meats, cold cuts and cheeses, canned foods, dry goods, milk and bread. I regularly buy markdowns and only once did it backfire on me when I got some chicken that was well past its prime. (We didn't eat it, of course.)
So don't overlook the clearance or markdown section the next time you go grocery shopping. It's a simple way to cut food costs if you don't mind buying a slightly dinged box of cereal or bread that needs to be used up quickly.
29. Take advantage of birthday freebies
Celebrating birthdays can get expensive, especially if you have multiple kids. Cue the birthday freebies.
Birthday freebies can be anything from a free dessert to free samples of products or a free movie ticket. You may have to sign up for a birthday rewards or loyalty rewards program to snag the freebies but it's worth it if you want to save big.
If you don't know where to find birthday freebies, here's a monster list of free birthday goodies for 2020.
30. Impose a 30-day rule for big purchases
Spending big can throw your budget into jeopardy when you're living on one income. Having some rules can help curb impulse buys.
For example, you set a 24-hour or 48-hour wait period for purchases over $100. For purchases of $500 or $1,000+, you can stretch that to 30 days.
Giving yourself a waiting period means you have time to think about whether what you want to buy is truly a necessity. And if you end up not making the purchase, you can save that money or use it to pay down debt instead.
31. Try a no-spend challenge
If you've never done a no-spend challenge before, it's definitely something to try.
The idea is simple. You commit to not spending money on "wants" and other unnecessary expenses for a set time period.
You can do a no-spend challenge for a day, a week, a month–even a year. The purpose is to get a handle on your spending and sort out what's truly necessary from what's not.
If you need more tips on how to make a no-spend challenge work, here are a couple of posts that can help:
10 Simple Rules for Crushing a No Spend Challenge
7 Secrets for a Successful No Spend November
32. Shop seasonally
Shopping seasonally can help you save money on groceries, clothing–just about anything your family needs to spend money on.
Here's what I mean by shop seasonally. You buy things at the end of the season when they're most likely to be marked down.
I actually wrote a post about what to buy every month of the year for one of my clients–so give it a read!
33. DIY instead of buying
As part of our efforts to buy less as a family, we've taken to DIYing projects more often.
This is a great strategy to use for saving money when you're living on one income if you have some DIY skills or you're willing to learn them.
YouTube is a great free resource for learning how to build just about anything. And you can save money by repurposing materials you have around the house already versus buying them.
34. Use apps to save money automatically
I love, love, love using apps to save money.
You know why? Because they do all the work for you.
For example, here are some of my favorite money-saving apps:
Acorns is a micro-investing app that takes the hassle out of building a portfolio.
You link your checking account to the app and spend money like you normally would. Acorns rounds up the difference and invests it for you.
It's a painless way to grow your savings and start investing if that's something your family isn't doing yet. Sign up with Acorns now and get $5 to jumpstart your savings!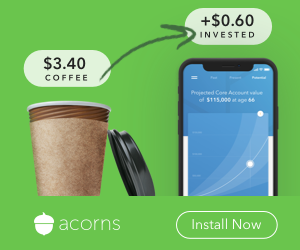 Swagbucks is a one-stop-shop for saving money.
You can earn gift cards and cash back, plus you can cash in on promo codes and discounts when you shop online. It's one of the most popular rewards apps out there for saving money.
If you're not using Swagbucks yet, sign up now and get a $5 bonus!
Ibotta pays you cash back when you shop online and in-stores and it's particularly good for saving money on groceries.
You sign up for the app, shop partner merchants and earn cash back on purchases. Cash back can be delivered to your PayPal account or redeemed for a gift card.
It's super easy to use to save big, so be sure to sign up for Ibotta if you haven't yet.
Trim isn't exactly an app; instead, it's a financial manager.
Here's how Trim saves you money. It reviews your spending to find excess fees, streaming services and other expenses you can cut out of your budget.
Trim doesn't let you earn cash back but it can put cash back into your pocket if it finds you extra savings, which is huge for living on one income.
I always say that MyPoints is the best money-saving app you've never heard of.
With MyPoints, you can earn gift cards for taking surveys, watching videos and doing simple tasks online. It's a sister app to Swagbucks and ShopAtHome, which is another handy way to get free gift cards.
If you like getting gift cards in place of cash back, give MyPoints a try!
Rakuten can save you money in multiple ways, which is huge when you're living on one income.
First, you can earn serious cash back when you shop online or in-store. Second, you can take advantage of coupon codes at checkout when you download the Chrome browser extension.
Rakuten is easy to use and partners with some of the most popular retailers, including Walmart, Old Navy and Target.
Sign up for Rakuten and get $10 when you make your first $25 purchase.
35. Try a reverse penny challenge
I had never heard of this money-saving challenge until recently but it's such a great idea, I had to share it.
The idea is that you save a certain amount of pennies each day, starting on January 1st and going all the way through December. By the end of the year, you should have $667.95 by year's end.
That's a nice chunk of change that could help out when you're trying to afford Christmas. Head to DIYwithmyGuy.com for more on how the reverse penny challenge works!
36. Shop the dollar store
I'm not going to lie, the Dollar Tree was one of my favorite places to shop when I first became a single mom.
I'd go there to buy party supplies and gift bags for my kids' birthdays, cleaning supplies, garbage bags, even bread. And nothing thrilled my kids more than being able to pick out something from the toy aisle.
If you're not shopping your local dollar store, trust me when I say there are deals to be had. And Dollar Tree now offers free shipping to the store to make your mom life even easier!
37. Get comfortable saying no
This last money-saving tip might be the most important one for successfully living on one income.
Just say no.
Say no to pressure to buy your kids the latest toys or electronics. Say no to buying things you don't need and won't find joy in for the long-term. Say no to money decisions that hurt your family finances instead of help.
Learning to say no is one of the most powerful and freeing things you can do when it comes to saving money and living well.
What's your best money tip for living on one income?
Have you figured out a way to make living on one income work for your family?
If so, head to the comments and tell me about it! And please pin and share this post!