Last Updated on November 13, 2022 by Rebecca Lake
In desperate need of a safe and cheap laundromat?
The best local laundromat is one that makes it easy to get clean clothes at the push of a button while allowing you to do so in a safe environment and at a good price.
Not long ago, my dryer conked out. And I found myself Googling 'laundromat near me' to find a place to dry several loads of wet laundry. Needless to say, it added a wrinkle to my laundry day routine.
When searching for a cheap laundry near me, one thing you'll quickly learn is that not all laundromats are the same.
So it pays to check around to find affordable laundromats that offer the best experience. Because the last thing you want to do is waste time or money.
If you're looking for a great place to do laundry safely and cheaply, you're in the right place.
Today, I'm sharing:
Where to find the best laundromat near you
How to choose the best laundry services near you
Tips for saving money at your local laundromat
What to expect if it's your first time using affordable laundromats
(And try these hacks for saving time on laundry!)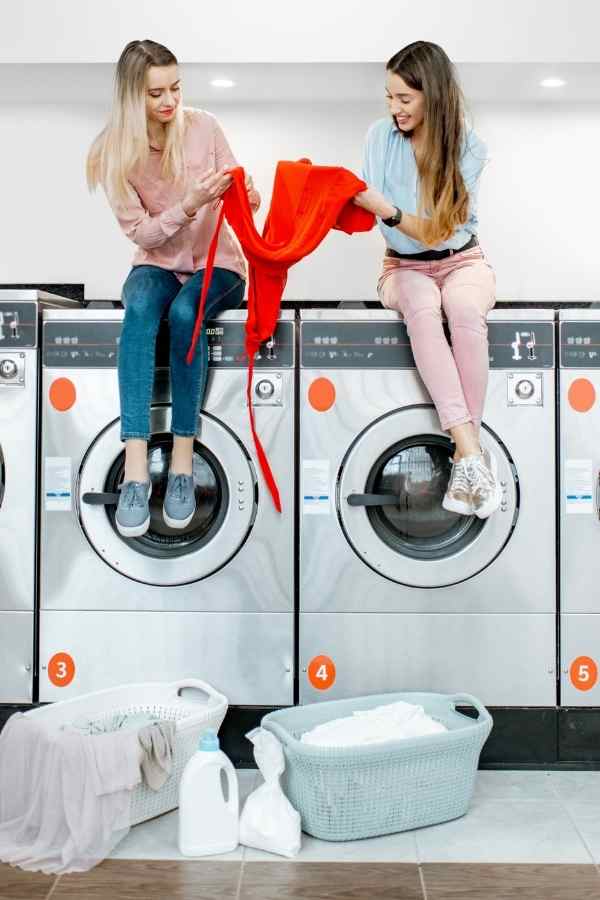 Related post: Check Cashing Near Me (Best Places to Cash Checks)
Cheapest Laundromat Near Me
Depending on where you live, you may have a lot of laundromats to choose from or just a few. When searching for laundromats closest to me, there are a few rules to keep in mind.
Laundromats are more common in busier areas than smaller residential areas. For example, where we live there are only two local laundromats within a 25-minute drive.
But chances are, you've got at least one or two affordable laundromats nearby no matter where you live.
Cheap Laundromats Closest to Me (Current Location)
Need to find a cheap laundromat near me based on your current location? Whether you're traveling or staying close to home, it helps to know where the best, safest and most affordable laundromats are nearby.
Coin Laundry Near Me
Using a coin laundry could be a cheaper way to get clean clothes if you only do a few loads a week.
Coin laundries are great because they have large washers and dryers so you can fit a lot in. Doing large loads can save you money.
24-Hour Laundromat Near Me
Sometimes laundry day turns into laundry night. In that case, looking for a local laundromat that offers 24-hour laundry services is a must for getting clean clothes.
Wash and Fold Near Me
Don't have time to do laundry yourself? A wash and fold service can turn your dirty clothes into clean clothes for you.
Here's how it works.
You drop off your clothes at the wash and fold.
Wash and fold staff washes your clothes in a commercial washing machine.
Staff dries your clothes and completes fold laundry service.
You pick your clean laundry up or have it dropped off if the wash and fold offers delivery service.
Using someone else's laundromat machines is a simple way to save precious time and money.
How to Choose the Best Local Laundromat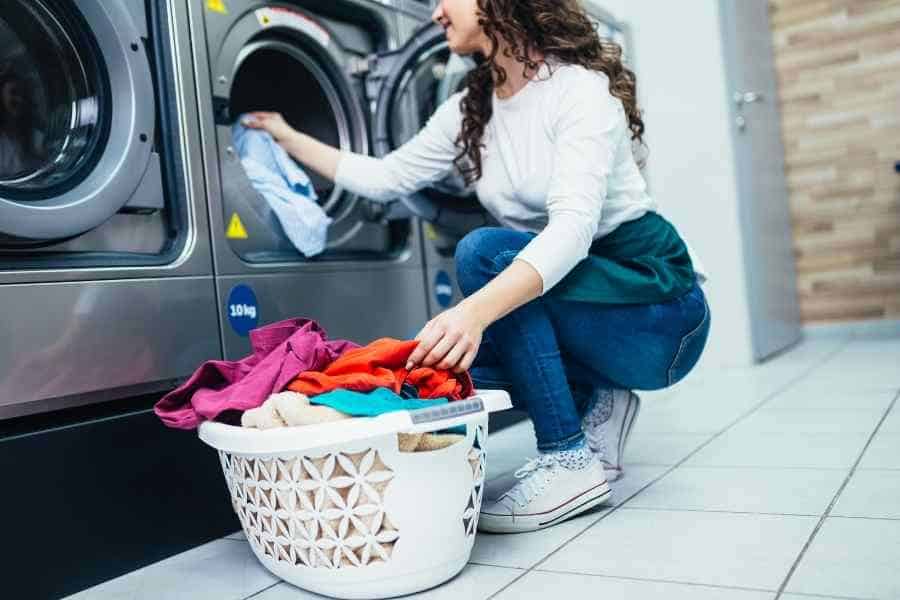 As mentioned, finding a clean laundromat that offers a safe environment can sometimes be easier said than done.
That's because the quality of a local laundromat often depends on the current owner and how much time and money they invest in keeping it up.
So as you're looking for the best laundry location near you, here are some good questions to ask.
What type of laundry services do they offer?
Where you decide to go for a laundry day can depend on what type of laundry services you need.
Your nearest laundromat might offer a wide variety of services, including:
Self-service laundry (i.e. you do your laundry yourself)
Wash and fold
Fluff and fold
Pickup and delivery services
Remember, some local laundromats offer personal laundry services while others offer commercial laundry services. If you're trying to get your family's clothes clean you'll want personal laundry services.
How well is the laundromat maintained?
It's easy to spot the difference between a good laundromat and a bad one.
A good laundromat has a current owner who:
Keeps the place clean
Offers large capacity washers and dryers
Has modern equipment that's in good repair
Invests in new machines when something breaks
Makes it easy to pay with coins, credit card or even a mobile app
Sells laundry detergent, dryer sheets and other laundry supplies on-site at a great price
Includes amenities like free wifi, coffee, drink vending machines and snack machines
Has plenty of laundry baskets in good condition
Offers great customer service
Again, doing your laundry cheap is about getting the best wash at the best place for the best value.
If a laundromat near you looks rundown on the outside, chances are it might be rundown on the inside too. The best laundromat, on the other hand, offers a clean place to get your clothes done safely at a price you can afford.
How much does it cost?
If you're looking for the best place to do laundry cheaply, the cost matters.
So how much does it cost to wash and dry clothes?
The average top load washing machine costs $1.25 to $3.75 per load. The average front loading washing machine is $2 to $3 per load.
With large capacity washers, pricing may be set by the pound. So the larger the load, the more you might pay.
For dryers, you're typically paying 25 cents for a set number of minutes. The average is 25 cents for 6 minutes of dryer time.
So drying a load for 30 minutes would cost you $1.25.
You can use those guidelines to plan your budget. Also, consider what payment methods you can use.
Coin laundromats usually take quarters only.
The coin laundry near you should have a change machine. But if not, local convenience stores might be willing to swap out your bills for quarters.
And some laundromats might let you pay with a credit card, debit card or mobile app.
What do the reviews say?
A simple way to find the best laundromat near you is to ask the laundry experts, a.k.a., the people who use them regularly.
If you're searching for a laundromat near me on Google, you can check the reviews to see what other customers have to say.
Online laundromat reviews can tell you:
If it's a clean place and safe
When the busiest and slowest times are
What kind of shape the machines and laundry carts are in
What kind of laundry services are offered
How good (or bad) the customer service is
You can also get a sneak peek of what the laundromat looks like if the reviews include pictures.
This can help you see at a glance whether the laundromat has new machines or old ones, clean spaces for sorting and folding or extra amenities, like a place to connect to free wi-fi or soda and snack machines.
For example, here are online reviews for the two laundromats near me. You can see right away which one has the better reputation overall.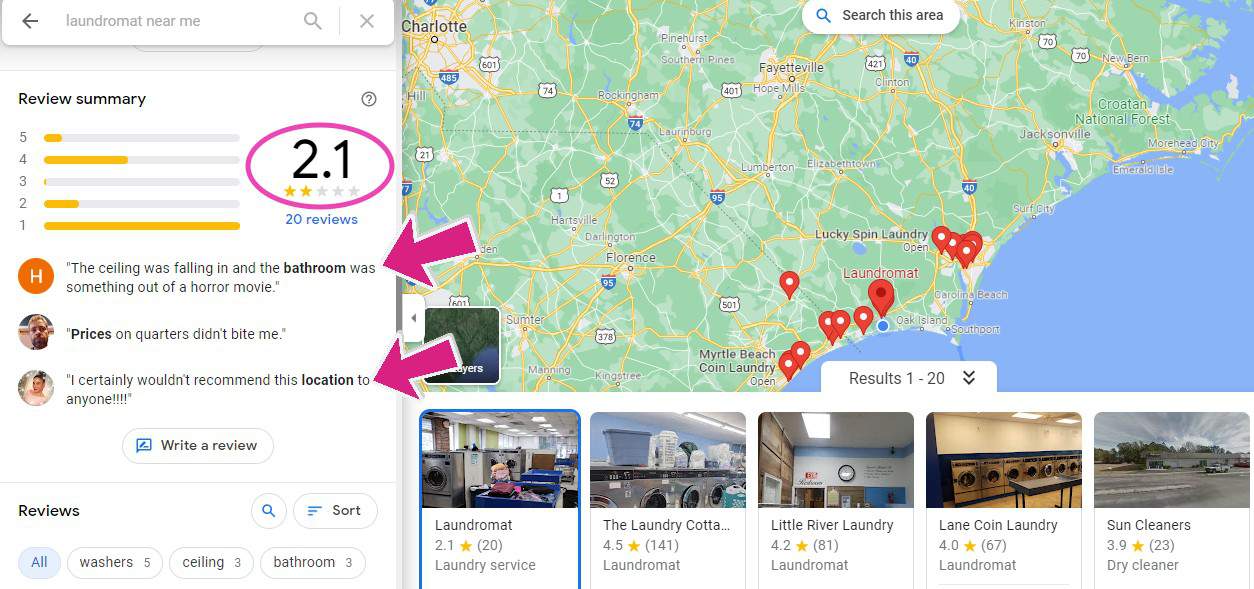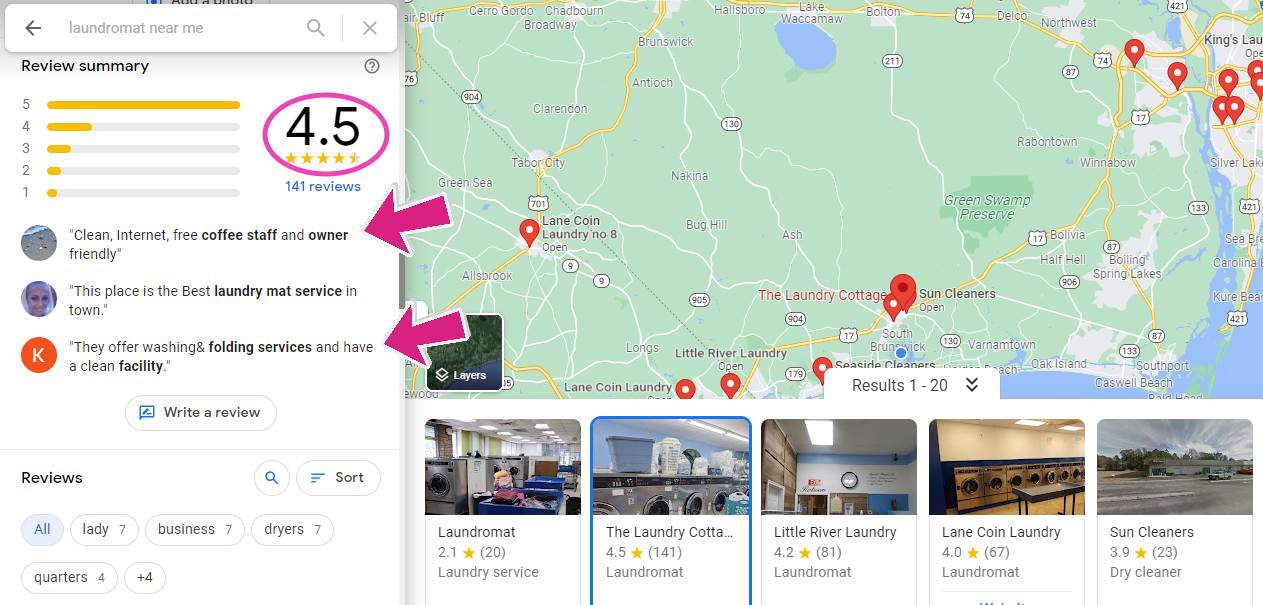 As you can see, the second laundromat has more positive reviews and ratings overall. And having been to both of these laundromats, I can tell you that it is indeed a nicer, cleaner place to do laundry.
When checking laundromat reviews, look for positive words like clean, well-lit, comfortable, friendly, new washers, great experience, exceptional service, nicest laundromat and helpful.
And be wary of laundromat reviews that include words like dingy, dirty, unsafe, broken machines, rude or gross.
Tips for Saving Money at the Laundromat
Not sure what to expect from your first time at a local laundromat?
Here are a few pointers to help you become a laundry expert:
Take your own detergent. A lot of laundromats sell laundry detergent but it's usually cheaper to bring your own from home. The same goes for dryer sheets or fabric softener.
Do what you can at home. A simple way to save money at the laundromat is doing what you can at home. So that might mean hand-washing delicates or using a drying rack so you don't have to feed all your quarters to the laundromat's machines.
Only run full loads. If you're paying to do laundry, it makes sense to ensure you're getting your money's worth. Waiting until you have full loads means you're not wasting money or time on laundry day.
Pay attention to drying times. Commercial dryers tend to dry clothes faster than your dryer does at home. So instead of putting 45 minutes or an hour's worth of quarters into a laundromat dryer, try 25 to 30 minutes' worth to start and see if that's enough to get your clothes dry.
Related post: Pawn Shop Near Me? Find the Best Pawn Shop for Quick Cash
Laundromat Near Me FAQs
When is the best time to go to the laundromat?
The best time to go to the laundromat is typically during the week before noon or between 2 and 5 pm.
According to American Coin-Op, laundromats are busiest on weekends, with Sundays being busier than Saturdays. Peak laundromat hours tend to be 12 to 2 pm and 5 to 8 pm.
Where can I get quarters for the laundromat?
The best place to get quarters for the laundromat is from home if possible.
Coin shortages mean there are fewer quarters in circulation, so getting change for coin laundromats can be challenging. Your local laundromat may have a coin machine you can use, so that's the first place to look for quarters if a search of your couch cushions comes up empty.
Other places you can get quarters for the laundromat include:
Your bank
Convenience stores
Supermarkets
Car washes (that have coin machines)
Arcades (again, that have coin machines)
Another hack for getting quarters for the laundromat is to buy a soda or snack from a vending machine. Put in a buck for a $0.50 soda and voila–get two quarters back.
How long does it take to do laundry at a laundromat?
Commercial washing machines can get a load of laundry done in 30 to 40 minutes. And commercial dryers can get your clothes dry in 20 to 30 minutes, based on the size of the load.
Depending on how much laundry you have to do, it may be a safe bet to block off at least two hours for getting laundry done.
If you don't have time to spare, you could try drop-off laundry services. You'll pay by the pound, so do the math on the cost to see if it's worth the time savings.
Is it cheaper to do laundry at home or at a laundromat?
Generally, it's cheaper to do laundry at home versus going to the laundromat.
The cost you'll pay to do laundry at the laundromat can vary based on:
Which laundromat you choose
The type of commercial machines offered
How much you'll pay per load to wash and dry
The number of loads you have
You also have to factor in the cost of traveling to the laundromat and back and whether any of your laundry has to go to the dry cleaners.
Meanwhile, the cost of doing laundry at home can depend on:
The type of washer and dryer you have
How much you pay for utility service per kilowatt hour where you live
How much water you use
The type of laundry detergent you use and how much of it you use
From experience, I know that a basic washer/dryer set costs around $1,000 to $1,100. That's for a no-frills combo.
If you don't have that much money to spend on a new washer and dryer, you can look around locally for used sets.
Facebook Marketplace and local bargain groups are great places to pick up washers and dryers for a fraction of what you'd pay in a store. If you have a Habitat for Humanity ReStore near you, that's another place you might be able to find gently used machines.
Can I leave my laundry at the laundromat?
Yes, you technically can leave your laundry at the laundromat. But leaving your clothes at the laundromat usually isn't a great idea.
Laundromats typically post rules or terms of service stating that they're not responsible for what happens to your stuff. That includes damages, loss or theft.
If you decide to go for lunch while your clothes are washing or drying and someone steals them while you're gone, the laundromat likely won't reimburse you.
And even if no one takes your stuff, they might move it to free up a washing machine or dryer. So if you have to step outside, set a timer so you know when to come back and move your laundry along.
Related post: Money Order Near Me (Best Places to Get Money Orders Now)
Final thoughts on finding a cheap laundromat near me
Paying a visit to the laundromat may not be an ideal way to spend an afternoon. But it can be necessary if you need clean clothes and don't have any other option for washing or drying them.
Bottom line? Knowing how to search for cheap laundromats nearby can save you time, money and headaches.
Before you go, be sure to check out my favorite Smart Money Tools for making and saving money. And be sure to grab your free money-saving printables in the Resource Library!
Need more ideas on how to cut costs? Check out this list of 220+ ways to save money on almost everything!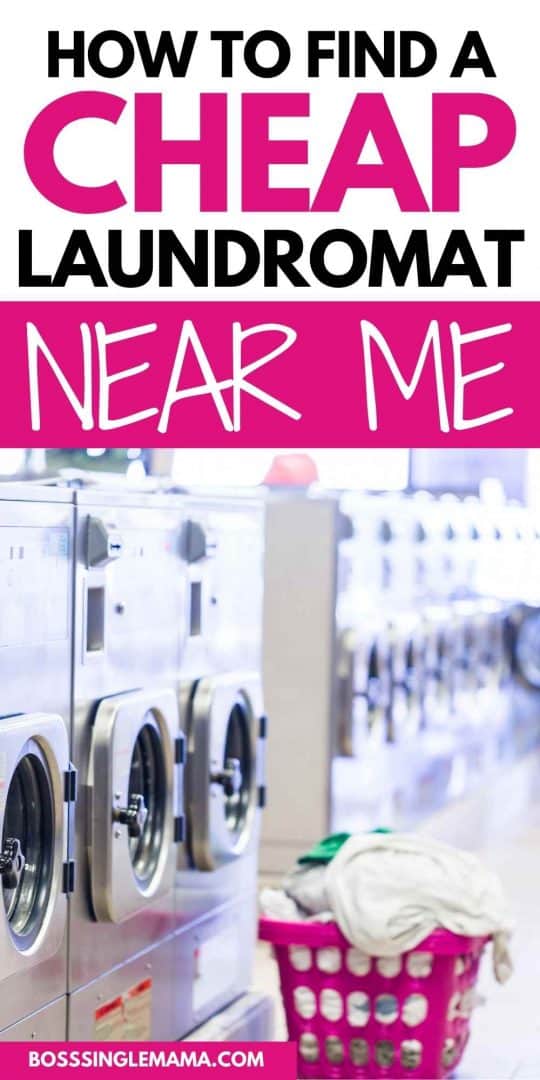 Laundromat Near Me: Find a Cheap, Safe Place to Do Laundry