Last Updated on October 2, 2021 by Rebecca Lake
How to Drastically Cut Expenses When You Need to Save Money
Looking for some simple, yet effective, tips for cutting expenses to the bone?
Wasting money is something a lot of people can't afford these days, myself included.
But here's the reality: 65% of Americans have no idea what they spend month to month.
If you're living on a tight budget, then there are a few ways you can deal with it. For example, you could:
And of course, you can make some tweaks to your budget to drastically cut costs.
Cutting household expenses can be a good thing if you're able to stop wasting money and live below your means. And if you're living paycheck to paycheck or are a one-income family, then making the most of every penny is a must.
If you're ready to start cutting the fat from your budget, keep reading to learn how to drasticaly cut expenses.
Related: 7 Smart Ways to Build Emergency Savings Fast
Struggling with money and saving? Learn how to drastically cut spending and create breathing room in your budget. 



And for a simple way to make extra money, get paid to take surveys with Survey Junkie!
Reasons for Drastically Cutting Expenses
Cutting expenses to the bone can be a necessity if money is tight. For example, 40% of Americans say they have less than $300 in savings, according to a GoBankingRates survey.
In that case, finding ways to drastically cut expenses could mean the difference between having just enough to pay your bills or falling behind.
Deciding to cut household expenses to the bone can also be a matter of personal choice if you're ready to stop overspending and start growing savings instead. Before you take a red pen to your budget, consider what your motivations are for cutting expenses.
1. You're tired of being in debt
The average American has a personal debt load of $92,727. If you have debt–and you're tired of struggling with it–that could be a serious motivator to radically reduce your expenses.
After all, the less you spend, the more money you can have to pay off high-interest debt.
2. You live paycheck to paycheck
Living paycheck to paycheck is something 63% of Americans do. And if you're currently stuck in paycheck to paycheck mode, then cutting expenses to the bone might be the only way you can think of to get ahead.
3. You're trying to work towards a financial goal
Setting financial goals is important for creating a richer life and breaking free from money stress. If you have a big money goal, then deciding to drastically cut expenses (even if it's just) temporarily could help you achieve it.
Every penny you don't spend is a penny you can save toward your money goals.
4. A major lifestyle change requires you to cut spending
Sometimes, you have to learn how to drastically cut expenses because life throws you a curve ball.
For example, several years ago I went from stay at home married mom to single mom pretty much overnight.
I had some savings that helped soften the blow, but I didn't have a real job. Just a little writing side hustle that brought in a few extra bucks.
That situation required me to radically reduce expenses because I couldn't afford to live the same way I had before.
And maybe you've gone through something similar. A divorce, the death of a spouse, the loss of a job–all things that can leave you scrambling to make ends meet.
In which case, finding ways to drastically cut expenses may be essential for your survival, at least in the short-term.
5. You want to simplify your finances
Spending less money can be a good thing if you want to simplify your finances.
When you spend less, you can have:
Fewer purchases to track
Less reliance on credit cards (and less debt)
A house that isn't filled with meaningless stuff (great if you're interested in financial minimalism)
And best of all, finding ways to drastically cut expenses can give you more peace of mind, which is what matters most when you're talking money.
How to Drastically Cut Expenses (and Save Money)
Ready to cut household expenses down to the bone? Try these general money-saving tips to get started.
1. Create a realistic budget
The very first thing you need to know about how to drastically cut expenses is that it won't work without a budget.
So if you don't have a budget in place yet, it's time to make one.
And don't feel overwhelmed at the thought of budgeting. A budget is just a plan for spending the money you make each month.
You can grab a free printable budget template here to get you started!
2. Track your spending
It's difficult to figure out how to drastically cut your expenses if you don't know what you're spending money on.
So here's a simple tip for cutting monthly expenses: Track every dime you spend for at least one month.
Why one month?
This gives you enough time to figure out what your regular spending patterns are and where your money goes.
You can use a spreadsheet to track expenses or a budget planner. Or you can let an app like Personal Capital do the work for you.
The important thing is to get a realistic snapshot of how you spend so you know where to start when it's time to cut expenses.
How to Drastically Cut Expenses on Food
One of the biggest offenders when it comes to wasting money is food. Did you know that the typical American household spends $1,300 a year on food that ends up going in the trash?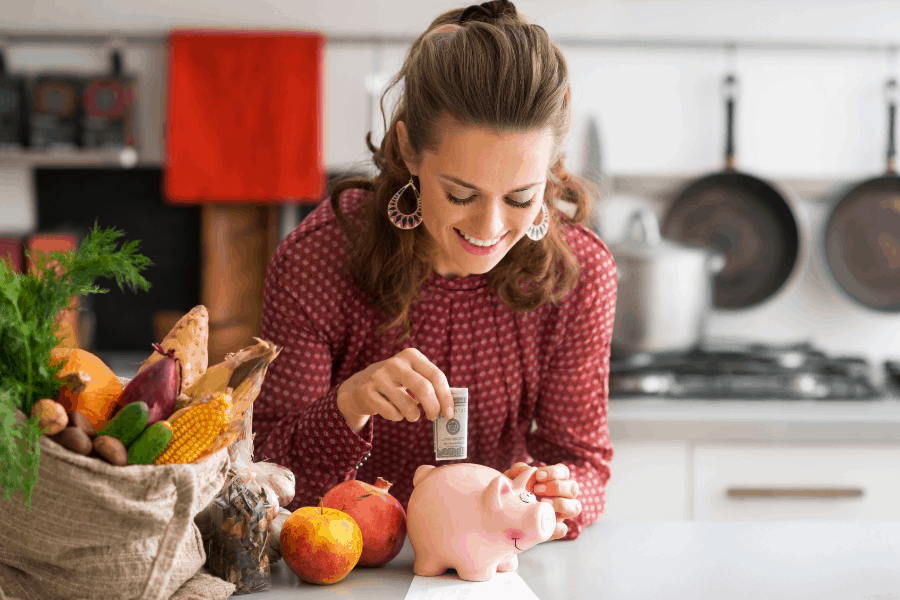 If you're guilty of wasting money in your food budget, these tips can help you save.
3. Make meals at home
Before the COVID-19 pandemic, 56% of Americans ate dinner out two to three times a week. People who spent the most money on meals out spent just over $117 every week.
Over the course of a year, that adds up to $6,136.
Think about that. That's $6,136 you could be saving, not spending.
Being able to stash that amount (or more) in savings each year is a great incentive to skip takeout or dinner at your favorite restaurant with friends and eat at home more instead.
Related post: 53 Dirt Cheap Meals to Try on a Tight Budget
4. Plan your meals
Taking a vow to eat at home more often isn't a guarantee that you'll stop wasting money on food.
If you're really serious about how to drastically cut expenses in your food budget, then it's time to become a pro at meal planning.
Meal planning can help you save money because you only buy the things you truly need. And that's a plus if you're trying to afford groceries on a budget.
If you need help with meal planning, $5 Meal Plan is a greater starter resource.
You pay $5 a week and your meals are planned out for you. If you compare the $260 you'd spend for weekly meal plans over the course of a year to the $6,136 you could save by not eating out, signing up is a no-brainer for saving money!
Get started with $5 Meal Plan now
5. Always shop with a list
If you truly want a simple solution for how to drastically cut expenses it's shopping for groceries with a list.
When you have a list to follow, you're less likely to give in to impulse buys.
This money-saving hack works for more than just groceries, too. Whether you're shopping for clothes, school supplies or gardening gear, having a list can keep you from making unplanned purchases.
6. Ditch convenience foods
Convenience foods can make meal planning and prep easy but they aren't always budget-friendly.
By convenience foods, I mean anything that's already cooked or just needs to be heated up. Things like frozen lasagnas, Lunchables or a rotisserie chicken from the grocery store deli.
They can save you time but they can cost you money in the long run.
But you're paying a price for it because convenience foods can be more expensive than buying ingredients and making it yourself.
Not to mention, these foods typically aren't all that great for you anyway.
So cutting back on them could benefit your bottom line if you're trying to cut household expenses. And you might see an improvement in your waistline too.
7. Use Ibotta to save money on groceries
Sticking with the cheapest foods to buy (that are still healthy) can help with cutting food costs. But there's an even easier way to save money at the grocery store.
With the Ibotta app, you can earn cash back on groceries every time you shop.
You download the Ibotta app, link your store loyalty cards, browse deals and shop to earn cash. You can even earn more cash back when you refer friends and family to the app!
If you're not on the Ibotta bandwagon yet, here's a complete guide to how to use Ibotta to save money.
And if you're ready to start piling up cash, get the Ibotta app now!
8. Stop wasting money on bottled water
I'll go ahead and tell you that I still buy bottled water. But I have a reason for that. The county we live in was recently ranked #1 in a study of places with the highest "forever chemical" concentrations in our water.
So we don't drink the water 'round these parts because we're not sure how safe it is. But if your drinking water supply is okay, then cutting out bottled water and investing in a good reusable water bottle is a no-brainer.
Think of it this way. If you spend $10 per week on two or three cases of bottled water, you could save $520 per year.
That's a nice chunk of money you could set aside for emergencies or use to pay down debt.
9. Grow what you can at home
If you have space in the backyard or on your deck, growing some of your own vegetables is another simple way to drastically cut expenses on food.
Tomatoes, peppers and leafy greens are some of the easiest things to grow, even if you don't have much room.
You'll need to make a little bit of an investment to get started. For example, you might need an indoor herb garden setup or some moveable planters.
But once you get started, you might be surprised at how much you could save on food.
Related post: Cheapest Groceries List (Best Cheap Foods to Buy on a Budget!)
How to Cut Expenses at Home (Save on Household Bills)
There are plenty of ways you could be wasting money at home, without even knowing it.
Here are some of the best options for how to drastically cut expenses around the house to save money on utilities, internet and more.
10. Switch to streaming services
The average person spends $217 a month on cable and they could soon be paying more, as prices are set to rise.
$217 a month is $2,604 a year and the truth is, you're probably paying for a bunch of channels you don't watch anyway. Switching to streaming services and cutting cable means you're more likely to use what you pay for each month.
For example, at our house we have:
Altogether, I pay about $50 for these channels compared to the $125 I used to pay for cable. That's $900 saved per year.
If you haven't made the switch from cable to streaming yet, that's 900 reasons to give it a shot.
11. Ditch your contract phone for prepaid cellphone service
Having the latest and great phone is fun but at the end of the day, it's another way to waste money if you don't need all the fancy features it comes with.
Forgoing an expensive contract phone for a prepaid plan instead is the easiest way to save money on cellphone bills. And it's one of my favorite options for how to drastically cut expenses.
With Tello, for example, you can get a family plan with unlimited data and unlimited minutes for $39 a month.
That's super-cheap and much less than the $250+ we used to pay for a family plan with Verizon. Instead of paying $3,000 a year for cell service, you could pay less than $500.
Try Tello now and get 50% off your first month!
12. Make your own cleaning products
Buying cleaning supplies might seem like a necessity. But this can be one of the best ways to approach cutting expenses to save money.
Why?
Because you could make your cleaning products cheaper than you can buy them.
And as an added benefit, homemade cleaning products that are chemical-free can be healthier for your family.
13. Update your light bulbs
Something as simple as swapping out your old lightbulbs for energy-efficient ones can be a simple way to cut costs and save money on utilities.
According to the Department of Energy, CFLs and LED lights can use anywhere from 25% to 80% less energy and last up to 25 times longer than traditional bulbs.
Switching bulbs could cut your energy costs by up to 75!
Swapping bulbs is more time-consuming than anything since you can pick up a pack of LED bulbs on Amazon for fairly cheap. But it's worth spending an afternoon changing out bulbs to reap the savings on your utility bills.
14. Adjust your thermostat
Did you know adjusting your thermostat by a degree or two could make a huge impact on your energy bills?
Setting your thermostat to 76 in summer and 68 in winter can help keep your HVAC system from being overworked. And that means less you have to pay to the utility company.
If you can't remember to adjust the temperature or want a hassle-free way to do it, considering spending a few bucks on a programmable thermostat.
15. Unplug it
Unplugging things when you're not using them is another simple way to stop wasting money at home and drastically cut expenses.
After all, if your kids aren't playing their gaming console or you're not charging your phone, why keep those things plugged in?
You won't be able to unplug the big things like the stove or refrigerator. But unplugging electronics you don't use regularly and turning off light switches are two easy hacks for saving on electricity.
Related post: 11 Ridiculously Simple Ways to Save on Electric
16. Don't buy things that just get thrown away
There are plenty of convenience items you might buy that just end up in the trash.
For example, Ziploc bags are handy but unless you're diligent about reusing them, they're just a waste of money.
I stopped buying Ziploc bags last year and switched to other ways to store food, including drawstring bags, beeswax food wraps and glass storage containers.
Paper towels are another convenience expense that waste money.
They're handy for cleaning up messes but the cost can add up. If you pay $8 a week for a six-pack of paper towels, that's $416 a year.
On the other hand, you could spend $15 or $20 on some quality dish towels that will last you a year or more. This is an easy way to save money and once you get used to using dish towels, you'll wonder what took you so long to make the switch.
17. Change up your laundry system
Doing laundry is a must, especially if you have kids. But there are plenty of ways you can do it without wasting money.
For example, dryer sheets can make your clothes smell good. But they don't do you any favors in the saving money department. You're better off cutting those costs and using wool dryer balls instead.
They can help your clothes dry faster so you use less energy, they cut down on waste and you can use them over and over. And the best part is they're not very expensive. You could even make them yourself.
Or you could try air drying some or all of your laundry instead. Indoor and outdoor drying racks aren't super costly.
And remember to wash clothes in cold water instead of warm or hot. A cold water wash versus hot cuts your laundry costs from $265 per year to just $16.
18. Service your HVAC system
Your heating and cooling system can be a major drain on your budget if you're paying high utility bills.
Keeping your system running smoothly can save you money and help to drastically cut household expenses.
Doing simple things like changing filters regularly, keeping the outside unit clean and having your HVAC professionally serviced twice a year could help you save hundreds on energy costs.
How to Drastically Cut Expenses While Driving
If you own at least one vehicle, then you already know how expensive cars can be. Between insurance, gas, repairs and maintenance, it can really add up.
Here are some tips to help you drastically cut expenses in the transportation category of your budget.
17. Consider selling or downsizing a vehicle
If you have more than one car, consider whether you could get by with just one when trying to drastically cut expenses.
Eliminating one vehicle means less money you have to pay toward insurance, gas and other expenses.
It's one of the more extreme ways to cut costs but it could be worth if you don't need an extra car. And you could make a nice chunk of cash off the sale that you could add to savings.
18. Carpool if you can
Carpooling isn't really an option where we live because it's such a small town. But if you're in a larger city, you could easily cut vehicle costs by sharing rides with someone else.
If you can't carpool, consider public transportation, biking or walking if those are options.
They could also save you mileage and wear and tear on your vehicle. And they may be cheaper ways to get around versus filling up your car with gas.
19. Switch your car insurance
Car insurance keeps you protected on the road but it's possible you may be paying too much for it.
A lot of what you pay for car insurance has to do with how insurance companies set rates. And sometimes, car insurance companies don't always apply rates equally.
So it's up to you to find the best deal for yourself. You can do that by shopping around for car insurance quotes.
Ad be sure to ask about discounts for things like bundling car insurance with homeowners insurance or maintaining a safe driving record.
It may take you an afternoon but this is one of the simplest options for how to drastically cut expenses.
20. Earn cash back on gas
There are plenty of great cash-back apps you can use to save money when you shop. Ibotta and Rakuten are two of my favorites.
But the typical cashback app doesn't pay you money back at gas stations.
GetUpside is an exception.
This app lets you earn cash back on purchases when you shop partner businesses, including:
BP
Shell
RaceTrac
Speedway
Conoco
Marathon
Circle K
If you buy gas at any of those brands, then using this app to cut gas costs is a no-brainer.
How to Cut Expenses on Shopping
Shopping, whether you're doing it online or off, can be a real money drain. So try these tips to cut costs on your next shopping trip.
21. Skip the name brands
It's easy to buy name brands because they're recognizable. But swapping them out for generic is a simple money-saver.
Spend some time comparing prices for name brands and store brands the next time you go grocery shopping. Add up how much you could save by choosing the store brand or generic.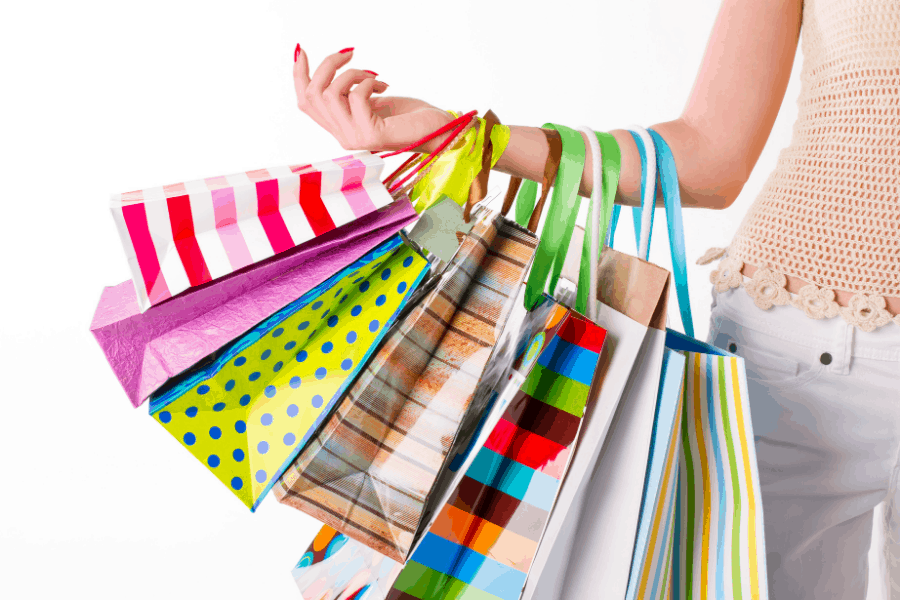 If you can't go cold turkey with avoiding name brands, pick a few things to splurge on.
For example, I always bought Huggies diapers when my kids were babies, even though the Walmart brand was cheaper. But those things just never seemed to hold up as well so I shelled out the extra money.
Your kids might be beyond the diaper stage but you get the idea. Keep those must-have name brands and get rid of the rest. Chances are, you won't even notice the difference for most things.
22. Save money on clothes
Clothes can make up a big part of your budget, especially when you have growing kids. But that doesn't mean you always have to buy new.
There are plenty of ways to get kids' clothes (and clothes for yourself) on the cheap. For example, you could:
Host a clothing swap with other moms
Shop local thrift stores and consignment shops
Look for deals on used clothes on thredUP
Those are all ways to spend less on clothes and save more money every month.
23. Look for deals on secondhand items
While you're adding new clothes to the list of expenses to drastically cut, think about what else you can buy gently used.
Some things aren't negotiable. Like, if you're having a baby then you probably want to get a brand-new car seat.
But other things you might have wiggle room with.
For example, I just bought a house and I don't have a dining table and chairs yet. I've been looking in local bargain groups and thrift stores to try and find one used because I don't want to pay hundreds of dollars for a set.
Meanwhile, our dishes came from a thrift store, we got our rug from the previous owner and I bought a used riding lawnmower for $300 versus paying $1,000+. The house feels like home and I don't care at all that everything isn't new.
So next time you're planning a purchase, whether it's big or small, ask yourself if you need to spend money on new stuff when secondhand might do just fine.
24. Be selective when buying clearance items and markdowns
Buying clearance items and markdowns may seem like a great way to save money. The problem is that you might end up spending money that you didn't plan to.
And that's a no-go when your goal is learning how to drastically cut expenses.
The next time you're lured in by those red clearance stickers at Target or you're drawn to a bargain bin, stop and ask yourself whether there's really anything you need there.
Sometimes the best way to cut costs and save money is to walk away, even from something that seems like a great deal.
25. Cut back on kids' toys and games
How much do you spend on toys and games for your kids each year? Do you even know?
If you're a typical family, it's probably a lot more than you'd like. But if you're serious about saving money then this is one spending category you have to be prepared to cut out or at least cut back.
And not buying toys or games doesn't mean your kids can't or won't have any fun. In fact, less stuff can be a good thing if it encourages them to find creative ways to fill their time.
26. Steer clear of buying trendy items
Trendy items are the worst when you're trying to drastically cut expenses and save money instead.
You know how it is. Something comes out that seems like a must-have and everyone else is buying one, so hey, why don't you?
The problem with buying something that's trending is that you have no idea how long it'll be useful or popular.
So before you buy something that's trending, give it some time to cool off first. You'll find that some things have more staying power than others.
Instant Pot is a great example. Not long ago, everyone and their cat was buying one. I was skeptical but it turns out, it's actually quite useful to have in the kitchen.
The bottom line, by being thoughtful with your purchases and not giving in to trends, you can save money and avoid ending up with a closet full of junk.
27. Say no to impulse buys at the checkout
The checkout lane is a danger zone if you're trying to save money. The aisles are filled with crap that you don't need but is oh-so-tempting.
There are two ways to avoid falling into the impulse buy trap when checking out.
One, commit to developing serious tunnel vision when it's time to pay. Or two, take advantage of your store's pick-up service.
Most of the time pick-up is free when you have a minimum dollar amount on your order. Letting someone else shop for you means you don't have to worry about spending on impulse.
28. Skip extended warranties
Raise your hand if you've ever purchased an extended warranty for something you bought.
Now, raise your hand again if you've ever actually used an extended warranty.
I'm guilty of this myself. I've paid extra for extended warranties, then never used them even when the thing I bought them for needed to be replaced.
It's just money wasted. So this definitely belongs on the list of things to stop buying to save money.
Here's what you're better off doing instead. Focus on buying quality stuff that's designed to last. Or just buy less stuff altogether.
Either one can help you keep more money in your pocket long-term.
29. Use cash back apps to save on shopping
Cash back apps offer a simple way to cut costs and save money on just about everything you buy.
You link cash back apps to your debit or credit card, shop at partner stores and earn a percentage of what you spend back.
It's so simple, there's reallyno reason not to use at least one cash back app to save on shopping.
Try these cash back apps to save now:
Ibotta – Ibotta is one of the best cashback apps for earning money back on groceries and shopping. When you download Ibotta, you can link your store loyalty cards to stack savings and it's easy to earn cash back at all your favorite stores. If you want to know the secret to how to drastically cut expenses on food and shopping, this app is the answer. Get up to $20 in bonuses when you download the Ibotta app now!
Rakuten – If you shop online, then the Rakuten app is a simple way to earn up to 40% back at partner stores. Rakuten is great for earning money back on clothes, electronics, travel and more. It's free to use and you can easily save $1000 or more per year with Rakuten. Get a $10 bonus and earn more bonus cash back each time you refer friends and family!
Dosh – The Dosh app pays you cash back at restaurants, stores and on travel purchases at partner merchants. I love the Dosh app because it's easy to use and earn cashback wherever you go. Download Dosh now to start earning cashback!
Related post: 12 Best Money Saving Apps to Download Now
How to Drastically Cut Expenses When You Have Debt
As mentioned, the average American has just over $92,000 in debt.
Debt can be a roadblock to achieving positive things with your money. But there some ways to make it more affordable.
If you want to drastically cut expenses where your debt is concerned, these tips can help.
30. Refinance your student loans
If you have student loan debt, refinancing could be a simple way to save money on interest costs.
Refinancing means taking out a new loan to pay off your existing loans. If your new loan comes with a lower interest rate than the old ones, you could save money.
If you're interested in student loan refinancing, check out Earnest. They offer competitive rates on student loan refinancing so you can pay off your education debt faster.
31. Lower your credit card's APR
Credit cards can be convenient for spending but they can cost you big if you carry a balance month to month.
Lowering your card's APR can help you save money and cut costs on debt repayment.
There are a few ways you can lower your card's APR, including:
Asking for a rate reduction
Transferring balances to a card with a 0% APR
If you're not familiar with Tally, it's basically a personal finance app that helps you get a lower rate on credit card debt so you can pay it back faster.
You can check out Tally here, or read my in-depth review of how to use Tally to save money on debt.
32. Consider a mortgage refinance
If you own a home, that's probably your biggest debt. And refinancing a mortgage could yield savings if you're able to lock in a lower rate.
First, do the math on refinancing to estimate how much you could save. For some people, refinancing isn't always worth it.
Then take time to compare lenders and loan options. You can get multiple refinance quotes in one place at SuperMoney.
33. Consolidate debts with a low-interest personal loan
Personal loans are great because there are so many things you can use them for, including debt consolidation.
Consolidating debts with a personal loan can help you cut costs if you're able to save money on interest charges.
Again, it's important to estimate your savings first to see whether applying for a loan is worth it. Then you'll want to look at different loan options and rates to see who offers the best deal.
If you're ready to explore personal loan options, take a look at SuperMoney.
34. Improve your credit score
Do you know your credit scores? Or why credit scores are important?
Your credit scores can be a money-saving tool if you're trying to refinance or consolidate debt. The better your scores, the better your odds of qualifying for the lowest interest rates.
That's huge if you're trying to drastically cut expenses by refinancing debt.
If you haven't checked your scores lately, you can see them for free at Credit Karma.
You can also use Credit Karma to monitor your credit and get tips on how to improve your score. It's free to sign up, no credit card required.
How to Drastically Cut Expenses on Everything Else
Looking for more ideas on how to cut household expenses?
Here are a few final tips for saving more money each month.
35. Audit your streaming subscriptions
Your budget can easily get bogged down when you're paying for multiple streaming services or subscriptions every month. And even though each one may only be costing you a few dollars, those few dollars could be standing in the way of saving money.
So if you're primarily streaming, consider which ones you can ditch and won't miss.
For example, I recently canceled Sling TV since we weren't watching it and they just kept hiking up the prices anyway.
Canceling added almost $50 back into the budget that I can add to the savings pot.
If you're not sure which subscriptions to cut, let Trim help. Trim is a financial manager that finds subscriptions and unnecessary fees and cuts them out of your budget.
36. Disable in-app purchases
Here is a really easy and smart hack for saving money: Disconnect your bank and credit cards from your phone's app store.
Do you know what happens when you do that? You can't just spend money at the click of a button anymore.
Because that's so easy to do if you play games or use other apps on your phone. Plus, it can also save you from unauthorized purchases your kids might make if they're using your mobile devices.
This is a smart–and painless–idea for how to drastically cut expenses.
37. Negotiate your bills
When was the last time you tried to get a better deal on any of your household bills?
If you said never, then you could be missing out on a chance to drastically cut costs and save money.
A simple way to negotiate bills and stop wasting money on expenses is to let someone else do the work for you.
This is where apps like Billshark and Truebill come in.
These services evaluate your monthly spending, find bills to negotiate, then get you a better deal. It's an effortless way to save more each month.
Related post: Billshark Review: Can It Really Help You Save Money on Bills?
38. Increase your insurance deductibles
Raising your insurance deductible is another simple fix for how to drastically cut expenses and save money.
A higher deductible can lower your monthly premiums. Assuming you never need to file a claim, you can save money in the long run.
And while you're at it, look at what you're paying for insurance.
It's possible that you could save money on car insurance, homeowners insurance, renters insurance or health insurance by switching providers.
39. Unload magazine subscriptions you don't read
Magazines can be fun to read and some of them are useful but they can be a drain on your finances. This is one of the best things to stop wasting money on, but it's one of the hardest if you have a serious magazine addiction.
But there's an easy fix for that. Instead of wasting money on magazines, you can get them for free by taking surveys with RewardSurvey.
RewardSurvey is one of the best sites for earning rewards and you can redeem them for subscriptions to your favorite magazines. You still get your magazines and you save money–it's a win-win!
Get started with RewardSurvey and claim a $30 instant reward!
40. Work at out home
Gym memberships can be a cash suck, especially if you don't use yours as often as you thought you would.
So you can drastically cut spending by skipping the gym membership and working out at home.
YouTube is always a great resource for finding free workout routines. Or you could invest in a piece of workout equipment that you know you'll use over and over again. (I love my recumbent bike!)
Even taking a walk around the block with the kids is a free way to get active. Plus, you might have more fun chatting with them and checking out nature than you would watching other people sweat at the gym.
41. Cut your own hair or try facials at home
At-home haircuts and beauty treatments aren't as glamorous as going to the spa. But doing these things yourself is an easy way to cut costs.
Spending $30 or $40 on a hair clipper set versus spending that two or three times that a month on haircuts is a great investment. You could easily save a few hundred dollars a year this way.
42. Consider working at home if you can
This last tip for how to drastically cut expenses may not be doable for everyone. But it's still worth considering if you want to trim your budget.
Working at home means you can save money on:
Commuting costs
Lunches out
Clothing (every day is casual Friday!)
Chipping in for office parties/coworker gifts
True, you'll spend more on utilities. And you might need to upgrade your laptop.
But if your employer allows you to work at home a few days a week, it's worth testing out to see what you might be able to save.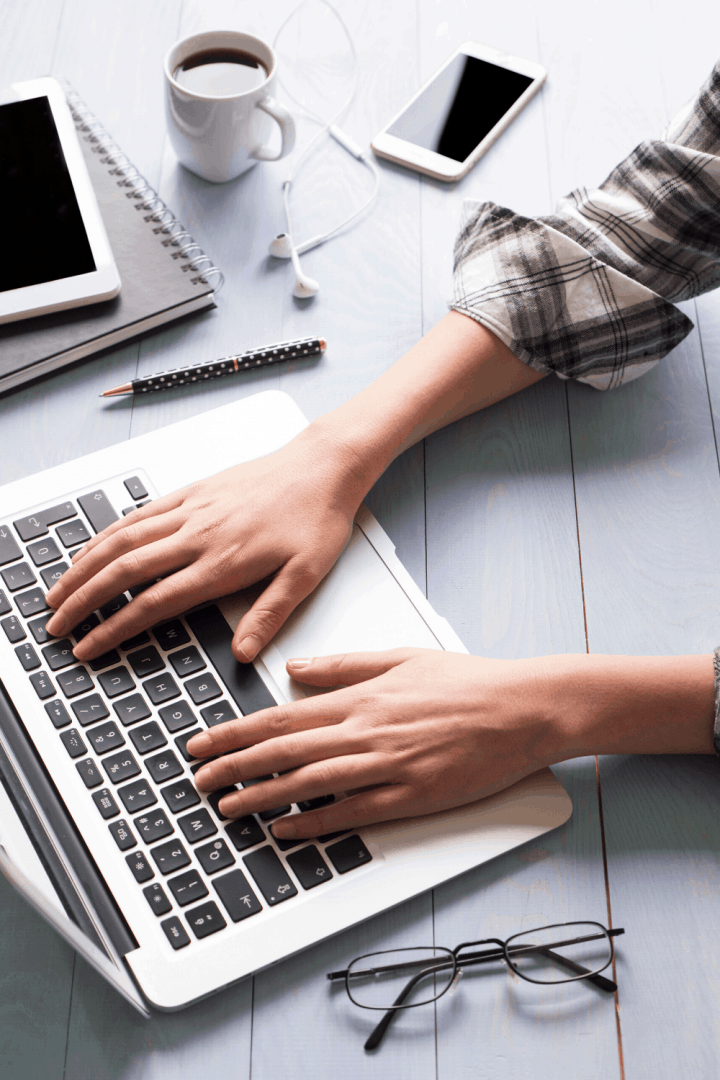 Or you could look for ways to work at home to make more money in your spare time.
Here are some posts that can help you find the perfect online side hustle option:
10 Easy Ways to Make Extra Money at Home (No Scams)
142 Legit Side Hustle Ideas to Make Extra Money
30+ Realistic Ways to Make an Extra $1000 a Month
How to Make $100 a Day: 50 Ways to Make Money
How to Make an Extra $2000 a Month Online
How do I stop wasting money?
If you want to stop wasting money and cut costs for good, then you really need to be intentional about budgeting and spending.
For example, check how much you're spending on things like food, clothing, entertainment and self-care each month. If these expense categories seem bloated, consider how you can slim them down.
Next, look at the smaller expenses that might be eating away at your cash flow.
Keeping a spending diary can help. This is where you write down what you spend and where, as well as what drove your decision to spend.
By keeping an eye on your bigger purchases and smaller ones, you can find the right balance to cut costs and spend more intentionally.
Here are some more tips that can help you avoid wasting money:
Impose a 30-day rule for larger purchases
Try a no spend challenge to stop spending money unnecessarily for a day, week or month
Keep a spending journal that tracks where your money goes
Plan purchases ahead of time
Use debit cards or cash and avoid paying with credit
And if you're still struggling with getting your spending under control, you may want to talk to a credit counselor. A credit counselor can help you come up with a plan for making a budget and sticking to it.
How do I cut my monthly expenses?
This post has given you 40+ ideas for ways to reduce household budget. But if you still need help with cutting expenses down to the bone, try these tips.
1. Make a detailed list of your expenses
You really can't start drastically cutting expenses until you know what you're spending.
So the first step is making a complete list of every expense in your budget. Again, if you're not using a tool like Personal Capital to track spending this can be a huge help.
As you list out your expenses, split them up into two categories: wants vs. needs.
And if you're unsure of the difference, a need is an expense that's required to maintain a basic standard of living. So needs include things like:
Housing
Utilities
Food
Transportation
Insurance
Anything that you don't need to live is a want.
2. Trim down the wants
When you're trying to drastically cut expenses, the easiest place to start is the wants category of your budget.
Why?
Because when it comes down to it, the wants are just extra spending that you could live without. And honestly, you might be surprised at what you don't miss spending money on once you get rid of the bloat in your budget.
So go through the wants or extras one by one and ask yourself:
Does spending money on this add value to my life?
Am I creating debt when I spend money on this?
If I didn't spend money on this, what would I do with that extra cash instead?
How many hours do I have to work to afford this?
That last question can really help put spending in perspective. If you have to work 10 hours to pay for something, for example, then the final purchase should make you feel like those 10 hours were well spent.
3. Reduce your needs
If you're ready to drastically cut expenses for good, then learning how to live on less can help you do it.
So that means downsizing your needs to get them as low as possible. Some of the ways you might do that include:
Getting rid of extra vehicles
Getting rid of your car altogether
Trading your current home for a less expensive one
Changing up your living arrangements (i.e. getting a roommate, sharing a home with another family)
Becoming a minimalist and buying less stuff
These lifestyle changes may be a bit more extreme than some of the other money-saving tips included here.
But if the ultimate goal is to master how to drastically cut expenses, they can have a big impact.
4. Commit to living below your means
Once you're all done cutting expenses down to the bone, make a commitment to staying the course.
When you live below your means, you don't have to worry about money as much. Because you're not spending more than you make.
You never have more month than money; instead, you have extra money you can save or invest to build wealth.
And at the end of the day, having a sense of financial security can be more priceless than anything you could buy in a store.
Final thoughts on how to drastically cut expenses
Finding ways to cut costs and lower expenses can help you create more room in your budget to save more and live better. Knowing how to avoid wasting money can help you feel more in control when it comes to your finances.
These cost-cutting tips can help you find those areas where you may be overspending.
If you need help getting your budget in order, don't forget to snag your free budget template. Or take a peek at my favorite picks for the best budget planners to organize your finances!
And of course, I hope you'll pin and share this post!
How to Drastically Cut Expenses Down to the Bone