Last Updated on February 20, 2022 by Rebecca
Trying to pay down debt can sometimes feel like you're shoveling sand with a fork.
You dig and dig but you don't make any real progress. And when it comes to saving money while trying to get out of debt?
Forget about it. 
I know the debt struggle. As a newly single mom, I had close to $70,000 in debt, between student loans and credit cards.
I was trying to grow my freelance writing business and wasn't making a lot of money yet. Just thinking about the balance kept me up at night.
It sucked. But instead of staying stuck with my debt, I made paying it off one of my big financial goals.
It took a couple of years of hard work but I can say that all that debt is gone now. (I even paid off a $24,000 car loan that I took out along the way!)
And what's even better is that I now have money in the bank and I'm saving regularly.
Does that sound good to you? I hope so because getting out of debt and getting into the savings habit can be a life-changer.
But you're probably wondering, how do you do both?
Don't worry, I've got the answer. Here are seven tips that can help you get your debt situation under control.
RELATED POSTS:
How to Pay Down Debt (And Start Saving Money)
1. Know what you owe
One of the biggest hurdles of paying off debt is not having a clue how much you owe.
Maybe you just stink at keeping track of your credit card balances. Or maybe you're just too scared to add it all up. It could even be a little of both.
Here's the thing, though. If you're serious about wiping out your debt you need to know where you're starting from.
So, here's some homework for you:
Make a list of every debt you owe, including the balance and interest rate. Then add it up. 
Now you should have one big debt number to focus on, along with smaller numbers for each debt.
I get that this part can be scary but it's not one you can skip. So grab your calculator and start plugging in the numbers!
2. Have a plan for paying off your debt
There's more than one way to pay down debt, which is a good thing. It means you can pick the plan that works for you.
To keep things simple, let's compare two options: the debt snowball and the debt avalanche. Here's a simple graphic so you can see how they stack up side by side.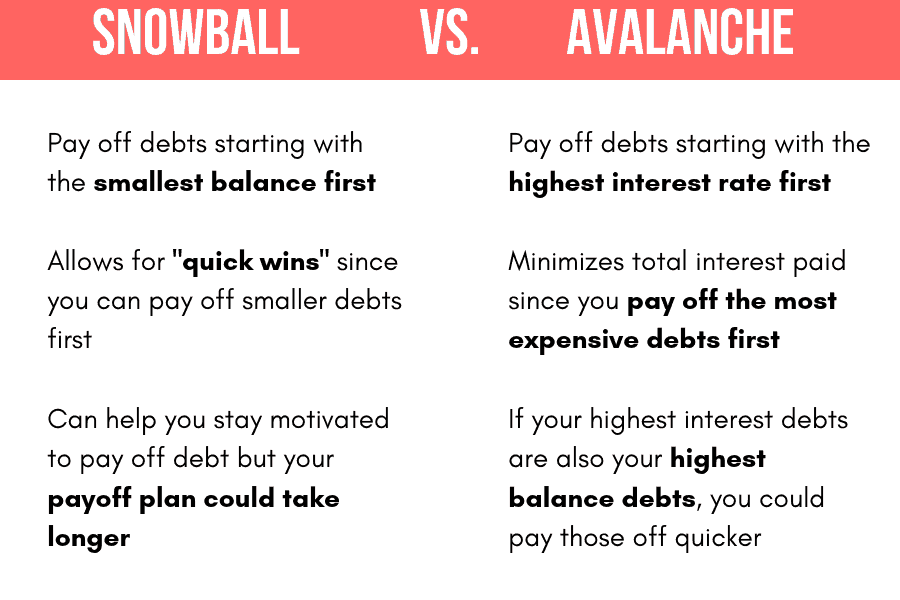 Now, is one better than the other? It really depends.
If you want to clear off a debt or two fast, then the snowball method can do that for you.
On the other hand, if you want to minimize the amount of interest you pay on your debt, then you'll want to choose the avalanche method all the way.
I used the debt snowball to pay off my credit cards. I had several cards with different balances and the snowball method gave me the mental motivation to keep going.
But you should do whatever works for you. The method isn't as important as coming up with a plan you can commit to and stick with.
Persistence, more than anything else, is what's going to help you pay down debt.
3. Make your debt less expensive
One of the main reasons I try to avoid debt these days is that I don't like paying interest. I'd much rather earn it on my investments or in a savings account.
If you have debts that you're paying off and the interest rate is making that a challenge, there's something you can do about it.
Say you have credit card debt, for example. Transferring the balance to a new credit card with a 0% APR can help you sidestep interest and maybe even pay the balance off faster.
If you have student loans, a car loan or a personal loan, refinancing or consolidating them with a company like Credible might be the answer.
When you refinance, you get a brand-new loan to pay off your original loan. Consolidating is a way to combine multiple loans into one.
Either one could make it easier to get out of debt so you can focus on saving if you're paying less in interest. Just remember to check for fees and consider any impact to your credit score.
Applying for a new credit card or loan, for example, means a new inquiry on your credit report. Inquiries usually don't hurt your score that much but they can trim a few points off, so that's something to know.
If you're not sure where to look for loans or credit card offers, I recommend joining Credit Sesame if you haven't yet.
It's free to sign up–no credit card required. You can get personalized loan and credit card offers, not to mention your free credit score and credit report analysis.
Credit Sesame is the tool I use to keep up with my credit every month. All you need to get started is your email address so give it a try!
4. Lower your expenses
Fine-tuning your budget is a must if you want to pay down debt, especially if you're already living paycheck to paycheck.
Don't have a budget? Then it's time to make one.
Making a budget isn't the headache that it sounds like. It just means adding up your expenses, then subtracting them from your income.
Give these posts a read if you haven't mastered budgeting yet:
Once you've got your budget down, it's time to do some cutting. The goal here is to find extra money that you could you throw at your debt to make it disappear faster.
When I was trying to pay off my debt, for example, entertainment was the first thing to go. For a solid year, my kids and I didn't do anything fun unless it was free.
Instead of going to the movie theater, we took advantage of the free movie nights offered by our parks & rec department in the summer. Rather than buying books, we got them from the library. And while we were there, we also did kids' storytime, Lego clubs and summer reading programs, all for free.
It's up to you what you do (or don't) cut from your budget. But if you're serious about knocking out debt, then the more you can eliminate, the better. And if you need a little help, let Trim work its magic for you.
The Trim Financial Manager is your own personal financial assistant.
It cancels old subscriptions for you, helps fight unwanted bank fees and generally makes it easier to save money and pay down debt. And who doesn't like easy when it comes to money?
Head here to sign up and start using Trim for free!
And be sure to check out my FREE budgeting bundle, which includes a budget guide, budget spreadsheets and a money goal-setting workbook!
5. Use cashback apps to save
I've probably said this before but whoever invented cashback apps is a genius.
Apps that pay you money when you spend money? It's pretty sweet if you ask me.
Signing up for cashback apps when you're trying to pay down debt and cut back on spending might seem backward but hear me out.
Unless you plan to live under a rock, you'll have to spend some money every month. Food, clothes, gas–that adds up.
So why not get something back for your efforts? You may not get rich using cashback apps but you'll earn extra cash that you can put toward debt or funnel into savings.
The key is sticking to your budget and not spending extra just to get cashback. That's just working against yourself.
If you're wondering which cashback apps are worth your time, these are my personal favorites:
Ibotta
The Ibotta app pays you cash when you shop at partner stores. You shop, snap a photo of your receipt, upload it to the app. It's an easy way to earn money back on purchases.
Rakuten
Rakuten lets you can earn cashback when you shop in-store or online. Download the Chrome browser extension to get exclusive coupon codes to go along with your cashback to save even more.
TopCashback
TopCashback is a cashback site kind of like Rakuten. You shop deals through the site and earn back a percentage of what you spend. Super simple and an easy way to get extra cash for purchases you were already planning to make.
Dosh
The Dosh app is an easy way to earn cashback. You link a debit or credit card to the app, spend at partner stores and restaurants and get up to 10% back.
Every one of these apps is free to sign up for and use. As a bonus, Rakuten will even give you an extra $10 right now just for signing up and shopping!
6. Pay down debt with found money
Found money can be another useful tool for wiping out your debts at lightning speed.
What is found money? 
Basically, it's any extra money that comes your way that you don't budget for. Examples of found money include:
Tax refunds.
Rebates.
Cash gifts you receive for birthdays or holidays.
Pay raises.
Found money is great for making an extra payment to debt for the month or adding something to savings.
The catch is making sure that when extra money lands in your lap, you have a plan for using it. Otherwise, you could just blow it all and that won't help you pay down debt.
7. Start a side hustle
I couldn't write a post about paying off debt and saving money without encouraging you to start a side hustle.
Here's what's great about side hustles:
You can make money using the skills or knowledge you already have.
A lot of side hustles can be done from home.
There are plenty of flexible and easy side hustles to try.
You can do more than one side hustle at a time.
Many side hustles can be started with little or no money.
So what kind of side hustle should you try?
This depends on how much money you want to make and the kind of time you can put in. For example, you might try:
There are just some of the ways you can make extra money to pay off debt. For more side hustle inspiration, read through these posts:
23 Easy Side Hustles You Can Do to Earn Extra Cash for the Holidays
5 Online Side Hustles Introverted and Shy Moms Will Love
12 Profitable Side Hustles That Are Perfect for Single Moms
Best Tools to Save Money and Pay Down Debt
Before we wrap it up, I want to give you a few more recommendations for tools you can use to boost your savings and kick debt to the curb.
Paribus
It's annoying to buy something, only to see it on sale for cheaper somewhere else a few days later. The Paribus app helps you avoid that.
When you sign up for the app, it automatically checks for lower prices on things you buy and helps you get the difference refunded.
Shopkick
Shopkick is another great app to have for shopping. When you shop at partner merchants, you earn "kicks" that can be turned into gift cards to your favorite stores. And that means more money saved for you.

Honey
Honey is a browser extension you can use for online shopping. You can automatically apply coupons at partner merchants. Honey even helps you find the best price when you shop at Amazon.
What Are You Doing to Get Out of Debt?
There you go–seven ways to pay down debt and improve your finances at the same time.
I can't tell you how much better I feel financially knowing that my debt is dead and gone. And I'm sure you want to feel the same way.
Are you dealing with debt and have a killer tip for paying it off? Or do you have an awesome get-out-of-debt success story?
Share it in the comments, then please pin and share this post if it helped you!