Last Updated on September 7, 2023 by Rebecca Lake
Are you exhausted by the struggle to keep up with debt payments when you're living paycheck to paycheck?
You try to pay what you can towards your debt while still covering basic expenses like housing and food. You spend nothing on "fun" and saving money might feel like an unachievable goal.
I've been there and maybe you're there right now. And let's face it, it's depressing.
But it's possible to turn things around, though it can take some patience and hard work. Keep reading to learn how to pay down debt when living paycheck to paycheck and start getting ahead financially.
Table of Contents
What Does Paycheck to Paycheck Mean?
Living paycheck to paycheck means that you rely on your paychecks to cover expenses from one week or month to the next. Here's another way of looking at it.
Living paycheck to paycheck means that as soon as money comes in, it goes out again and you might have little or nothing in savings.
Nearly 60% of Americans are living paycheck to paycheck, thanks in part to a higher cost of living driven by inflation. So you're not alone if you find yourself struggling to make it from one payday to the next.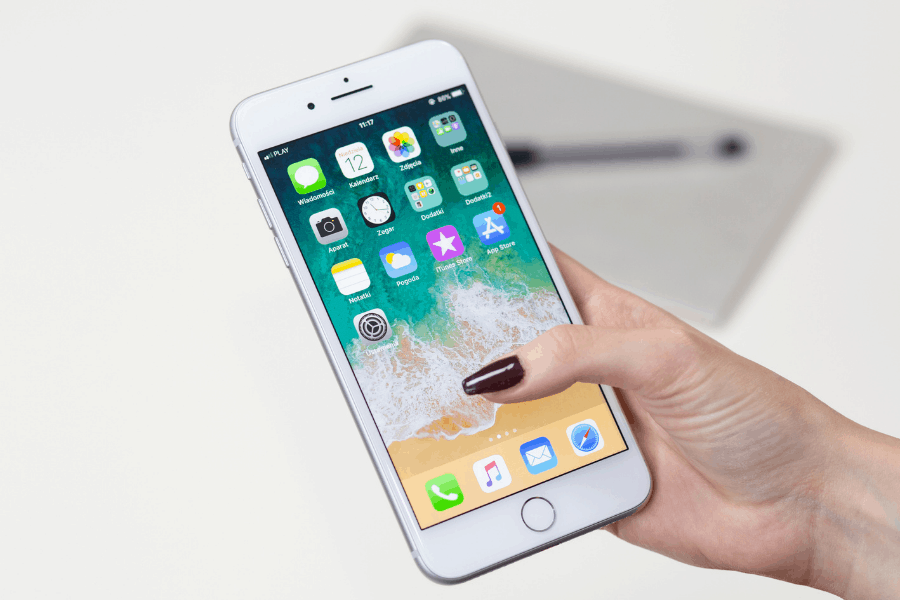 Get $5 Free Cash With CashApp
#1 rated in the App Store!
CashApp makes it easy to send money, get paid, save, and invest all in one convenient mobile app. Sign up and start doing more with your money!

Use code VZXRXZN to sign up for Cash App and earn your $5 bonus.
How to Pay Down Debt When Living Paycheck to Paycheck
When you're trying to pay down debt on a low income, have high expenses, or your situation is a little of both it's important to have a plan. Otherwise, you might waste time on debt repayment strategies that don't work and end up feeling even more frustrated than ever.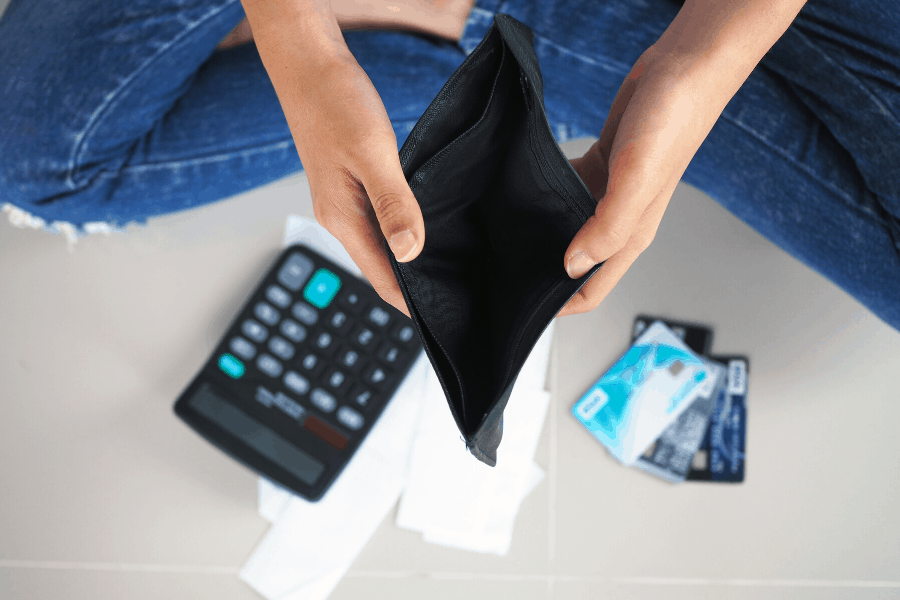 The debt-free blueprint I'm about to give you is the one I used to pay off close to $100,000 in consumer debt, which included student loans, credit cards, and a car loan. At the time I started my debt payoff plan, I was a struggling single mom trying to survive financially.
I can't guarantee that these tips will improve your financial situation overnight since there's no such thing as a magic bullet when it comes to money. But if you're overwhelmed with how to pay down debt when living paycheck to paycheck, these tips can get you on the right track.
1. Prepare yourself mentally
Having a foolproof plan to pay down debt can only take you so far. If you're not mentally committed to paying off debt (and breaking the paycheck-to-paycheck cycle), you may not make much progress.
So first, ask yourself how prepared you are to make whatever financial sacrifices may be necessary to get rid of your debt.
If you're married or have a significant other that's going on this debt-free journey with you, ask them the same question. Getting on the same page can be crucial since 54% of couples say that debt is a reason for divorce.
And if you're having some doubts about your ability to stick with your plan, repeating some financial affirmations can help. Creating a money mantra or meditation can make it easier to stay motivated as you pay down debt.
2. Create a debt inventory
One of the biggest hurdles associated with how to pay down debt when living paycheck to paycheck is not having a clue how much you owe. That's where a debt inventory can help.
A debt inventory is a listing of your debts. To create a debt inventory, you'll make a list of:
Each debt account's name and account number
Balances owed to each debt
Interest rate and APR for each debt
The minimum monthly payment for each debt
The actual amount you pay monthly for each one
After creating your debt inventory, you'll have one big number showing the total amount owed. That number can be overwhelming.
But it's important to know how big of a challenge you're taking on to pay down debt on a paycheck-to-paycheck budget.
Looking for a simple money management tool? Empower makes it easy to track spending, saving, investing, and budgeting in one place so you can tackle your financial goals!
3. Review your budget
A budget is a plan for spending money each month. On one side, you have the money you earn; on the other is what you spend.
Ideally, you should have money left over in your budget each month. If you spend more than you earn, that could be a reason why you have debt if you're using credit cards or loans to cover the gap.
There are different ways to make a budget. Some of the most popular budgeting methods include:
The method isn't as important as sticking to the budget you create.
Planning a budget can help you to do two things:
Find areas where you're overspending
Determine how much you can realistically afford to pay toward debt
Both are crucial for paying down debt when you live paycheck to paycheck. If you need help with getting started, bookmark this budgeting guide for beginners to read next.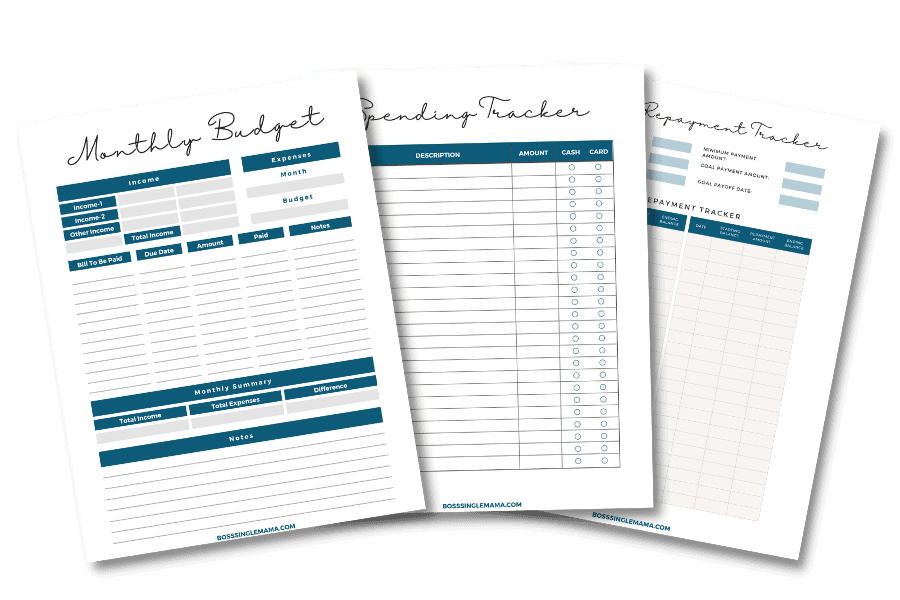 ---
Take Control of Your Budget!
Grab these FREE budgeting printables and get your finances on track when you join the weekly newsletter!
---
4. Separate wants from needs
If you're serious about how to pay down debt when living paycheck to paycheck, you'll need to know the difference between wants vs needs.
A 'need' is something you need to spend money on to maintain a basic standard of living, like housing, utilities, or food.
A 'want' is anything that isn't necessary for you to have in order to live, like a new iPhone or designer clothes.
Being able to separate wants from needs is important if you're trying to pay down debt while living paycheck to paycheck, as you only have so much money to go around. Forgoing some of your 'wants' can free up more money in your budget that you could use to pay down debt.
5. Cut expenses as much as possible
Finding money to pay down debt when living paycheck to paycheck can seem impossible, especially if you have irregular expenses you have to cover from time to time or an emergency that you're financially unprepared for.
Making some cuts to your budget can give you some breathing room as you work on your debt pay-off plan.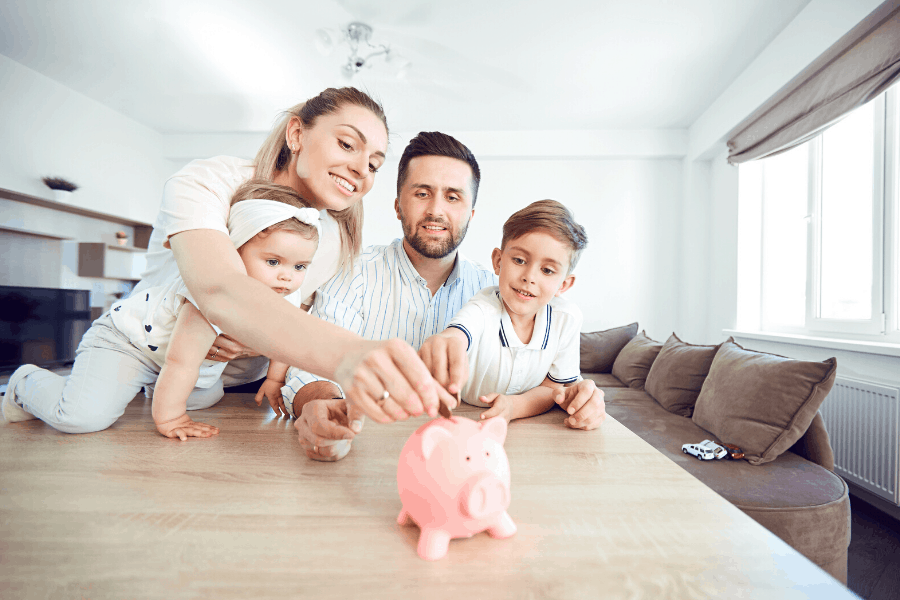 The easiest place to start is with your current expenses.
Some budget categories may be non-negotiable. For example, there may not be much you can do to lower your rent payments or mortgage, short of refinancing your home loan.
But there are other expenses you have control over. There are two ways to create extra money to pay down debt in your budget:
Cut what you can
Reduce what you can't
Again, this is where it helps to know the difference between needs and wants.
When cutting expenses, wants are the first thing to do. That includes things like shopping, dinner out, expensive hobbies and travel.
Now, if you're living paycheck to paycheck you might not be spending much on those kinds of things anyway. So your next option is to look at what you can reduce.
Some of the things you have some wiggle room with here might include electric and utility bills, cell phone bills, gas and groceries. These are usually needs for most people but it's possible to save money on them.
Here are some simple ways to cut your basic expenses:
You can also use a personal finance tool like Rocket Money to find more money to save.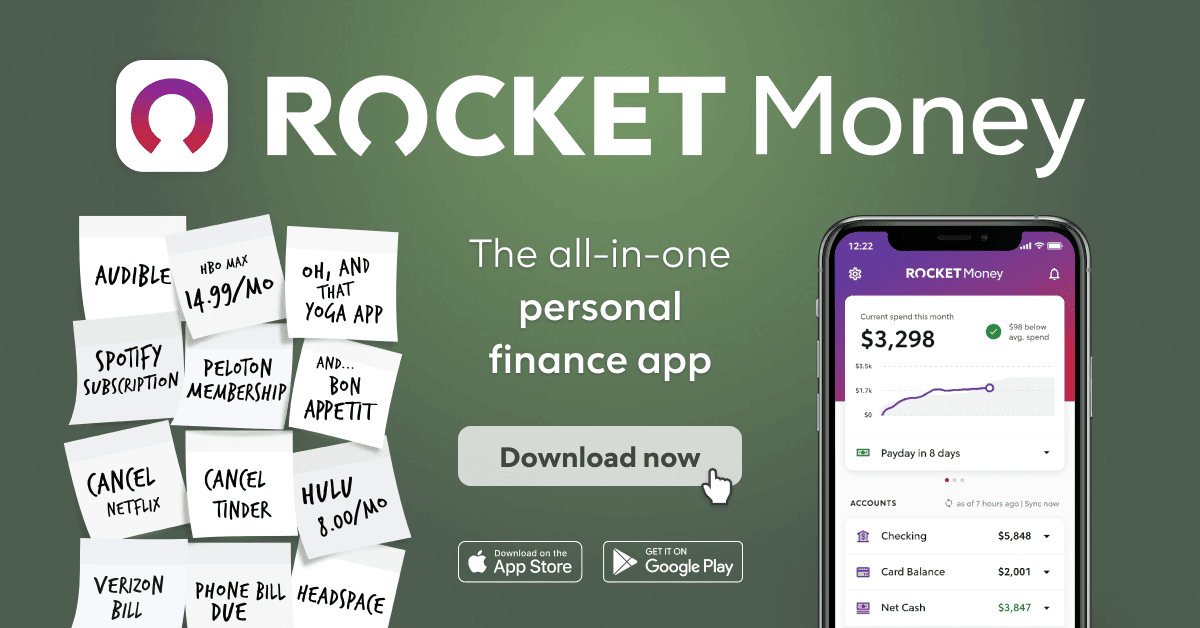 Save More With Rocket Money
Stop overpaying and start saving!
Rocket Money is an all-in-one personal finance app that helps you find savings instantly, lower your bills, and keep more of your hard-earned cash.

It's a simple way to build savings back into your budget every month, without getting nickel and dimed.
6. Change your money habits
If you really want to pay down debt when living paycheck to paycheck, you'll need to think about the money habits that are hurting or helping you.
When money is tight, every choice you make about how to spend it matters. And it's not even big things that can do you in. Sometimes, it's the smaller things that keep you from getting ahead, like:
Shopping online when you're bored
Signing up for subscriptions and then forgetting about them
Paying unnecessary fees to your bank
Giving in to impulse buys that you didn't plan
Failing to plan out meals and paying for takeout instead
Those are simple things but they can add up to a lot of money wasted over time. So thinking about your financial habits and spending patterns can help you pinpoint the things that might be holding you back from getting out of debt.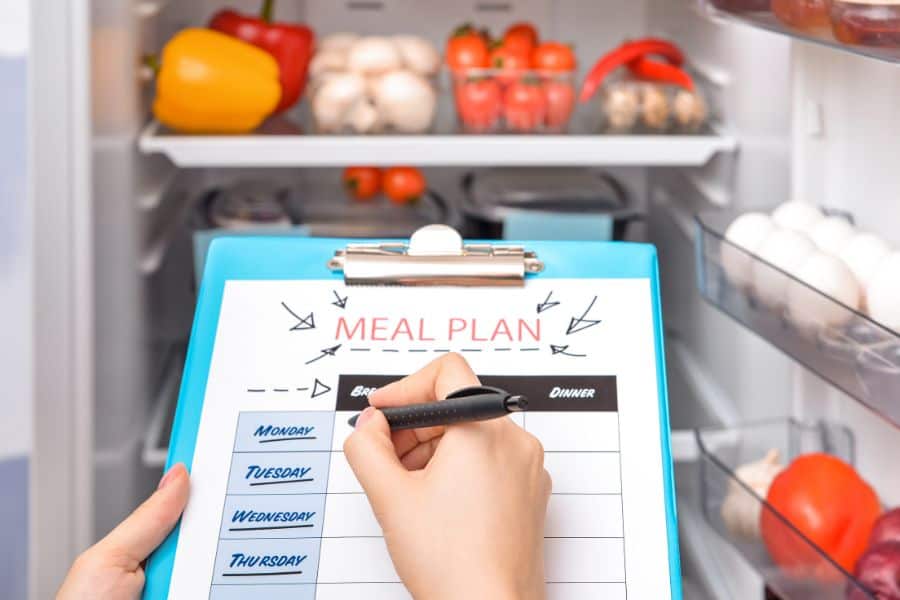 Need help with meal planning?
$5 Meal Plan is a weekly meal planning and prep tool that can help you save money and time in the kitchen. For just $5 per month, you can get a made-to-order meal plan to feed your family for less than $2 per person, per meal!
7. Choose a debt repayment strategy
There's more than one way to pay down debt when living paycheck to paycheck which is a good thing. It means you can pick the plan that works for you.
To keep things simple, let's compare two options: the debt snowball and the debt avalanche.
The debt snowball method, popularized by Dave Ramsey, advocates paying off debts from the smallest balance to highest. The debt avalanche has you paying down debt from the highest interest rate to the lowest.
Here's a simple debt repayment chart so you can see how they stack up side by side.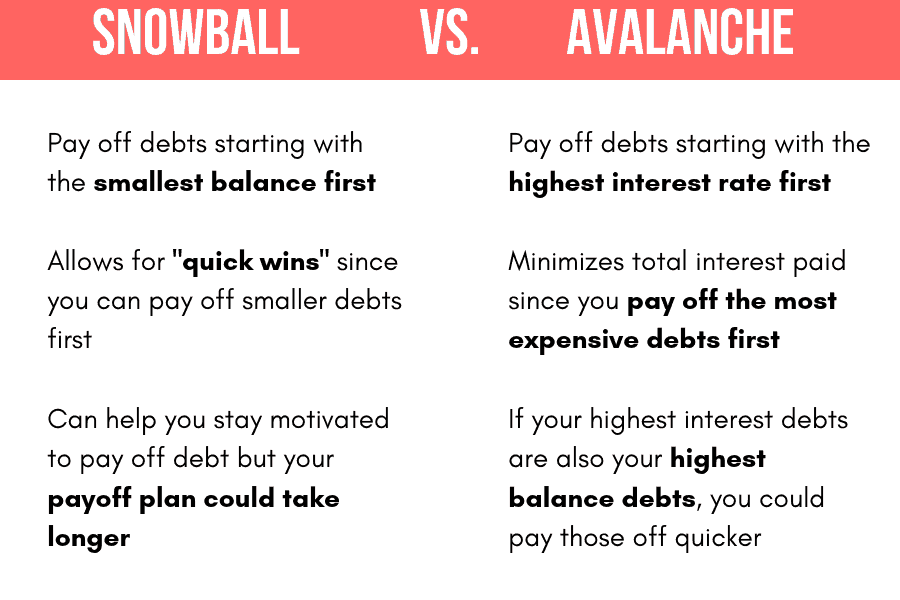 So what's better, the debt snowball method vs. the avalanche? It really depends.
If you want to clear off a debt or two fast, then the snowball method can do that for you.
On the other hand, if you want to minimize the amount of interest you pay on your debt, then you'll want to choose the avalanche method all the way.
I used the debt snowball to pay off my credit cards. I had several cards with different balances and the snowball method gave me the mental motivation to keep going.
But you should do whatever works for you. Just like budgeting, the method isn't as important as coming up with a plan you can commit to and stick with.
Related post: 21 Best Dave Ramsey Tips to Help You Take Control of Your Money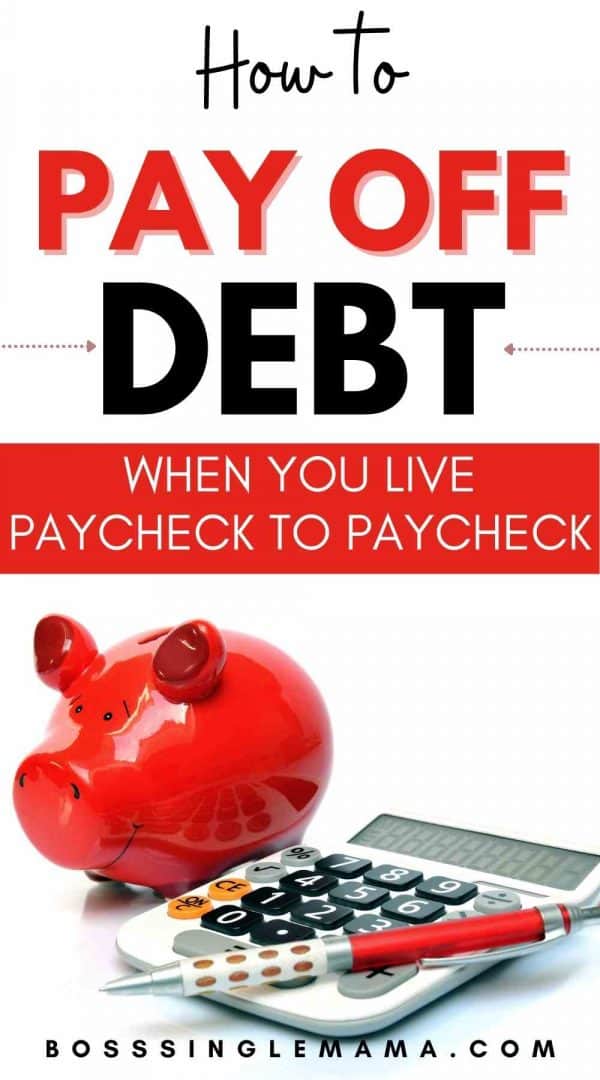 8. Lower the interest rates on your debt
High interest rates can make it harder to pay down debt when living paycheck to paycheck since less of your payment goes to the principal. And you might see very little progress if you're only making the minimum payment due because you're on a tight budget.
Lowering the interest rates on your debts means more of your payment goes to the principal. That can help you make a bigger dent in your debt.
There are different ways to reduce interest rates on debts, including:
Calling the credit card company and asking for a lower rate
Taking out a low interest rate personal loan to consolidate debts
Transferring balances to a new credit card with a 0% APR
Credit card companies may be reluctant to cut you a deal on your rate but it's still worth asking.
If that's a no-go, you can shop around to compare personal loan rates and explore balance transfer credit card options.
Need Loan Funding Fast?
Get a personal loan from Upstart
Upstart offers unsecured personal loans ranging from $1,000 to $50,000. Get cash to consolidate dates, pay off medical bills, or cover emergency expenses. There are no hidden fees and you can get funds as quickly as the next day after you're approved.
9. Use cashback apps to save money
Signing up for cashback apps is one way to create extra money in your budget if you're trying to pay down debt when living paycheck to paycheck.
Unless you plan to live under a rock, you'll have to spend some money every month. Food, clothes, gas–that adds up. Cashback apps can pay you back a percentage of what you spend on those things.
If you're wondering which cashback apps are worth your time, these are my personal favorites.
Ibotta. The Ibotta app pays you cash when you shop at partner stores, including grocery stores and retailers. This app allows you to link your store loyalty cards for more savings.
Rakuten. Rakuten lets you can earn cashback when you shop in-store or online at hundreds of merchants. You can download the Chrome browser extension to get exclusive coupon codes to go along with your cashback to save even more. And Rakuten routinely offers bonuses of $30-$40 when you shop and refer friends!
Dosh. The Dosh app is an easy way to earn cashback on dining, entertainment and even travel. You link a debit or credit card to the app, spend at partner stores and restaurants and get up to 10% back.
Every one of these apps is free to sign up for and use to earn cashback. And getting all three apps can make it easier to earn cashback on everything you buy each month.
Related post: 12 Best Money Saving Apps to Download Now If You're Tired of Being Broke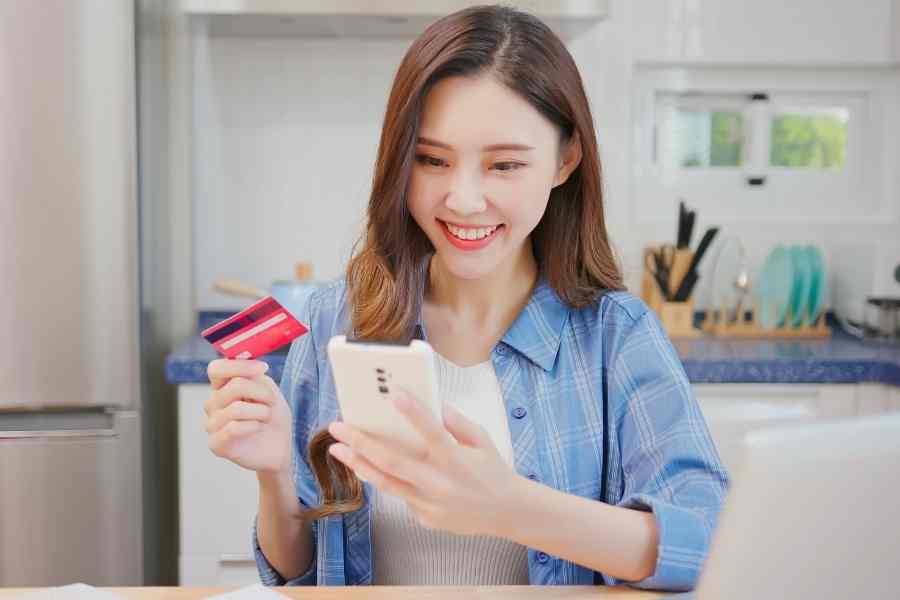 Want to Get Cash Back When You Shop?
Making extra money is easy with Rakuten!
Rakuten is a free app and browser extension that helps you find coupons and discounts when you shop online or in stores. You can earn up to 40% cashback when you shop at hundreds of partner retailers, plus get a $10 sign-up bonus and up to $30 in bonus cash for each person you refer!
10. Start an emergency fund
Having some money in savings tucked away for emergencies can keep you from adding to your debt while you're trying to pay it down.
You can tap into your emergency fund to cover any unexpected expenses that might come your way, without having to turn to a credit card or get an expensive loan.
If you're starting from $0 with your emergency fund, you could aim to save $100, then $500, then $1,000. Having $1,000 in savings might be enough to cover most smaller emergencies until you're able to save more each month.
And once you get into the habit of saving, it becomes a lot easier to keep it up.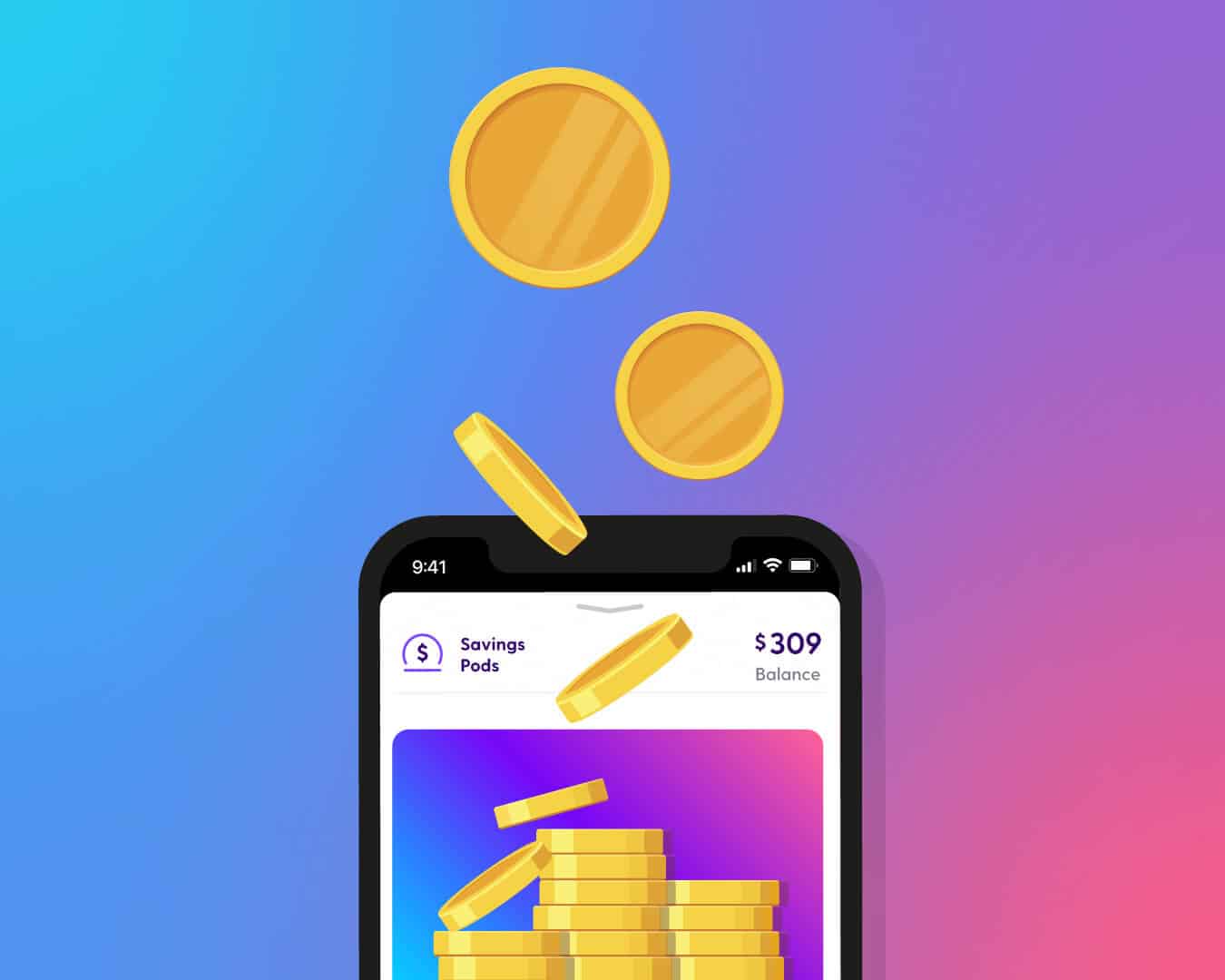 Grow Savings Faster With Current
Current is a digital banking app that makes it easy to grow savings, manage spending and track your goals in one place! You can set up individual savings pods for different goals and earn the same competitive APY for each one.

Aside from making saving a breeze, Current also comes with other great features like fee-free overdraft and access to 40,000+ ATMs!
11. Pay down debt with found money
If you're looking for a free money hack that can help you pay down debt when living paycheck to paycheck, here you go: use found money.
Found money is any extra money that comes your way that you don't budget for. Examples of found money include:
Tax refunds
Rebates
Cash gifts you receive for birthdays or holidays
Pay raises or bonuses
Found money is great for making an extra payment to debt for the month or adding something to savings.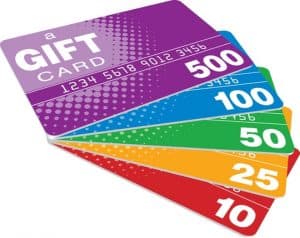 Top Pick for Selling Gift Cards: EJ Gift Cards
EJ Gift Cards makes it easy to sell unwanted gift cards for cash or Bitcoin, without ever leaving home. Just enter your card details to get an instant offer, accept the terms, and get paid fast!
12. Make extra money to pay down debt
Starting a side hustle can make a huge difference when it comes to how to pay down debt when living paycheck to paycheck. Even making an extra $1000 a month from side jobs could help you to shave years off your debt repayment plan.
There are lots of ways to make extra money on the side. Here are some of the best ways to make money with side hustles to pay down debt.
Taking surveys is another easy way to make that you could use to pay down debt. My favorite site for getting paid to take surveys is Survey Junkie. I've made over $3,500 with the site so far!
Make Quick Cash With Survey Junkie
Take surveys. Earn rewards. Get paid.
Making extra money is that easy when you create an account with Survey Junkie. It's free to sign up and you can earn real cash in your PayPal account or free gift cards, just for answering questions and sharing your opinions.
Final Thoughts on How to Pay Down Debt When Living Paycheck to Paycheck
Getting out of debt on a tight budget can feel impossible but it doesn't have to be. These tips can help you to create a game plan for paying off debt for good so that you have more money to save. And if you're truly struggling with paying down debt, consider asking for help. You can visit the National Foundation for Credit Counseling to find a certified nonprofit credit counselor in your area.
Need more tips for managing your money? Read these posts next:
What tips for you have on how to pay down debt when living paycheck to paycheck?