Last Updated on November 12, 2022 by Rebecca Lake
Are you a mom who's looking for a way to make money from home?
Starting a mom blog is a great way to earn a passive income from home while working a flexible schedule. Mom blogs can take different forms and make money in different ways, including affiliate marketing, ads, sponsored posts and digital products.
Head to Pinterest, Facebook or Instagram and you'll see thousands of mom bloggers making money online doing something they love.
Some mommy bloggers write about parenting, others write about crafts or making money online. There are some bloggers making $2,000+ every month from their blogs and others making $100,000 a month or more.
So there are some great reasons to start a mom blog. But you might have questions like:
What should I blog about as a mom?
Are mom blogs profitable?
What can I sell as a mom blog?
How do I monetize my mom blog?
Today, I'm answering those questions and sharing tips on how to start a mom blog step by step.
Related post: 5 Legit Business Ideas for Moms (Earn $5,000/Month)
What Is a Mom Blog?
The word "blog" is short for weblog and it basically means a website that shares content for informational or entertainment purposes. A mom blog is a blog that's written by a mom or is written for moms.
An estimated 7 million blog posts are published every day. And a lot of them are written by mommy bloggers.
There are single mom bloggers like me, stay-at-home-mom bloggers, mommy bloggers who write about blogging–the list goes on and on.
Bottom line, there are different kinds of mom blogs you can start, depending on what you want to write about.
What should I blog about as a mom?
Finding the right niche for your mom blog means choosing something that you enjoy writing about and are knowledgeable about. Some of the things you could cover as a mommy blogger include:
Fashion
Beauty
Health and wellness
Career
Parenting
Pets
Crafts
Kids' activities
Saving money/frugal living
Faith and inspiration
Productivity
Travel
Organization
Decluttering
Minimalism
DIY/Home Improvement
The great thing about starting a mom blog is that there are no limits on what you can choose to blog about.
Related post: How to Afford to Be a Stay at Home Mom (8 Practical Tips for Families)
Are mom blogs profitable?
Mom blogs can be profitable, depending on the niche you're in and how you monetize your site. I make around $3,000 a month from several blogs I own but some mom bloggers make more while others earn less.
For example, here are some income reports from top mommy bloggers:
Sarah Titus makes $1 million+ in revenue selling printables through her blog's Shopify store.
Michelle Schroeder-Gardner earns well over $1 million a year with her personal finance blog. She didn't start out as a mom blogger but she and her husband recently welcomed a baby so I'm adding her to the list.
Rosemarie Groner has earned over $30,000 a month with her mom blog which focuses on organization and finances.
Becoming a six-figure blogger may be your goal. Then again, you might just want to make an extra $1,000 a month with your mom blog.
Either way, the answer to the question of whether mom blogs can be profitable is definitely yes!
Related post: How to Make an Extra $1000 a Month (50 Ways That Really Work!)
How to Start a Mom Blog Step by Step
1. Choose a niche
Your blog niche reflects the audience you're writing to and what you're writing about.
So again, some of the most popular niches for the types of blogs that make money include:
Parenting
Personal Finance
Health and fitness
Organization
Blogging and working online
Relationships
Wedding planning
Beauty and fashion
DIY
Now, these are super broad niches and they can be broken down into hundreds, if not thousands, of smaller niches.
In the parenting niche, for example, you might find blogs about raising free-range kids, homeschooling, kids' crafts, adoption or taking care of kids with special needs.
In the finance niche, there are blogs that focus on getting out of debt, investing and financial minimalism.
If you've got no clue what niche you want to write about, these questions can help you narrow it down:
When choosing a niche, it helps to ask three questions:
What am I passionate about or interested in?
Is this something people actually care about and are searching for online?
Can I monetize this niche and make money?
Answering those questions can help you narrow down your perfect mom blog niche.
2. Choose your blogging platform
The next step in how to start a mom blog is choosing a blogging platform.
A blogging platform is what you use to write your blog posts and publish your blog. Some of the most popular blogging platforms include:
WordPress.org
Wix
WordPress.com
Blogger
Tumblr
Squarespace
Now, you might be wondering whether it makes a difference which one you use. And the answer is yes, it does.
If you just want to start a free blog and you don't have any plans to try and monetize it, then something like Wix or Squarespace can work just fine.
But if you're focused on how to start a mom blog and make money, then you definitely want WordPress.org as your blogging platform.
Why?
With WordPress.org, you can customize your blog site to make it exactly what you want.
You can upload any free or paid plugin and you can put ads on your site to monetize it. If you want to add a store or a paid membership vault to your blog, you can do that with WordPress.org.
And at the end of the day, a WordPress.org site is just easier to use.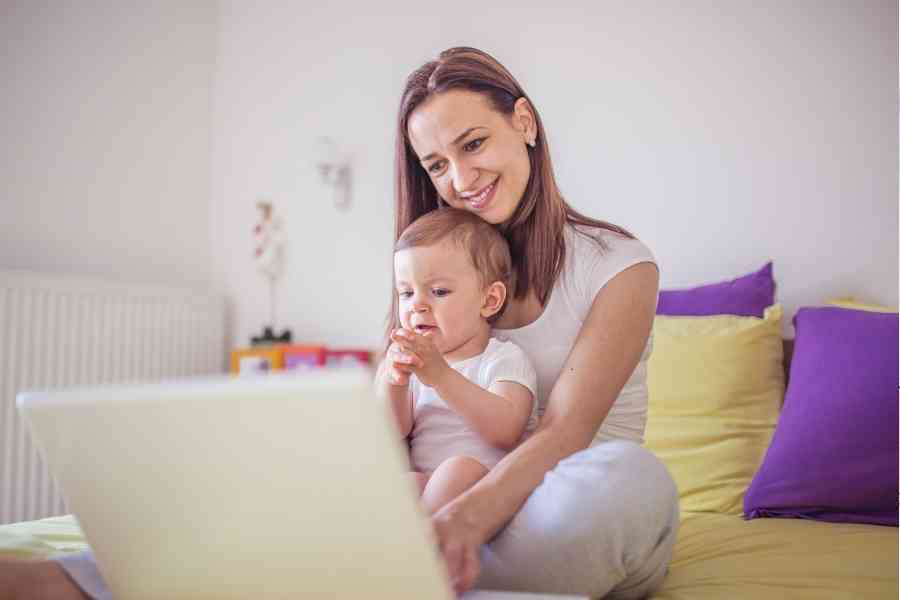 3. Choose a domain name
Your domain name is where your blog lives online; it's essentially your blog address.
So, my domain is bosssinglemama.com, obviously. Your domain name could be the exact name of your mom blog, your business name or anything else you want to call it.
You want to pick a domain name that reflects what your mommy blog is about or that speaks to the kind of readers you want to attract.
Try to keep it short and simple if you can; no hyphens or numbers or weird characters. And pick something that's memorable but still related to your overall blog niche.
In terms of what it costs to purchase a domain name, it depends on where you get it. But generally, it can run anywhere from $5 to $15 to register a domain for your first year of blogging.
The easiest way to buy a domain is through your blog hosting service. (For example, I bought mine when I signed up for hosting with NameHero.)
But you can also get a blog domain from a domain company, then transfer it to your blog hosting service later.
Here are a few sites that sell domain names:
One last tip for buying a domain: always try to get a .com address.
You could get a domain that ends in .net or .co or something else but .com is most common. And there's a case to be made for .com extensions being the best for SEO. (Which is one thing that can help drive traffic to your new mom blog.)
4. Choose a host for your mom blog
Your blog host is the company that stores your blog online. You pay them a fee, usually billed once per year, and the blog hosting service allows your blog to live on its servers.
There are lots of different companies that offer web hosting, including GoDaddy, Namecheap, Wix and Squarespace. Blogger and Tumbler can also host your blog and it won't cost you a dime.
Bluehost and Hostgator are also an option. But the blog host I absolutely swear by and love is NameHero.
So why is NameHero a good choice for hosting? A few reasons.
Reason #1: It's fast and secure
There's nothing more annoying than a slow-loading website. And then you have to worry about your blog getting taken over by hackers.
When you start a mom blog with NameHero, you're getting a fast, secure site every time.
NameHero uses Litespeed Cache, which in simple terms means it's faster than other hosts. When you sign up for hosting with NameHero, you can link your account to QUIC Cloud which helps to reduce connection times which again, makes your site faster.
A free .COM domain is included with their 24+ month plans so you don't have to buy a domain elsewhere either.
Reason #2: Dedicated support team
Starting a new blog and getting all the tech stuff set up can be a little scary at first. NameHero's support team is all about helping smooth out the kinks.
Support is available 24/7/365, so you can get answers to your questions when you need them via secure messaging.
I've had to call on them more than once when I needed help. Their reps responded right away through the secure messaging system and helped me fix my blogging screw-ups without missing a beat.
Reason #3: NameHero minimizes downtime risk
Downtime means any time your site isn't functioning.
That's the last thing you need if you're trying to attract readers and grow your mom blog. People don't want to come back to a blog that never seems to work.
Luckily, NameHero offers 99.99% uptime, which drastically cuts down on the odds of your blog ending up in temporary limbo.
How to Start a Mom Blog With NameHero
We've covered all the initial stuff you need to know to start a mom blog. Now it's time to do it.
Nervous? Don't worry, I'm going to walk you through it.
Bookmark this page in case you need to come back to it for reference later.
And if you're ready to take the plunge and you've got 10 minutes to spare, you can skip ahead and start your blog with NameHero now as you read through.
Step 1: Decide which plan is right for you
NameHero offers multiple hosting plans ranging from a very basic package designed for one website or blog up to a business plan that's designed for unlimited websites.
If you're just figuring out how to start a mom blog, you may want to choose the Starter Cloud package to begin with. You can always upgrade your plan later.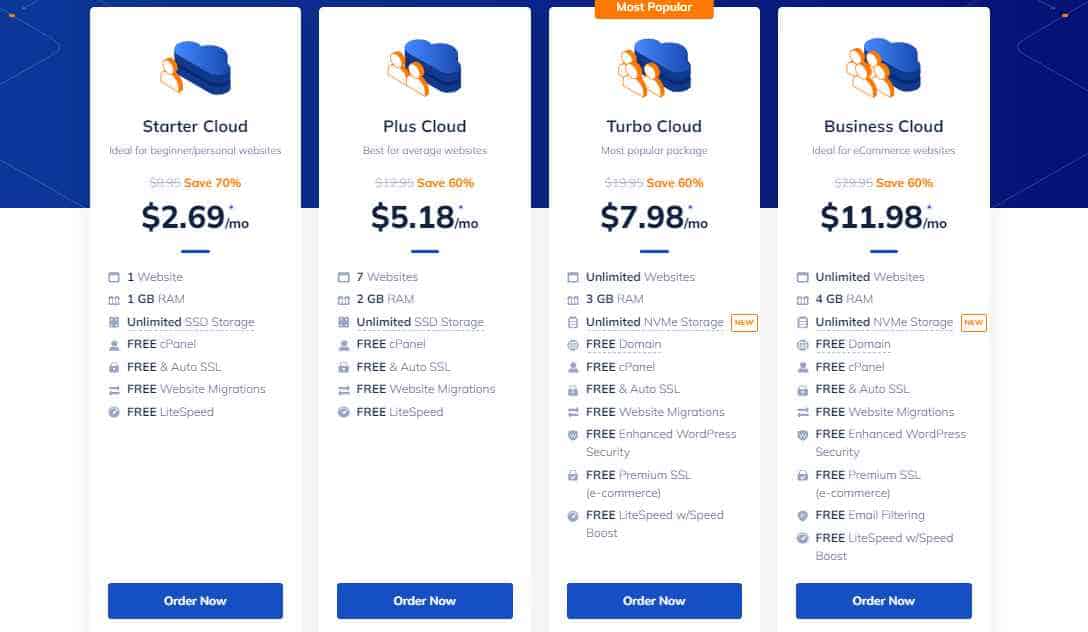 Step 2: Choose your domain
The great thing about starting a blog with NameHero is that you don't have to buy your domain name separately; you can get your domain for free when you set up a hosting plan for 24 months or longer.
You should already have a domain name in mind and all you have to do is click "Register a New Domain" and type it into the box.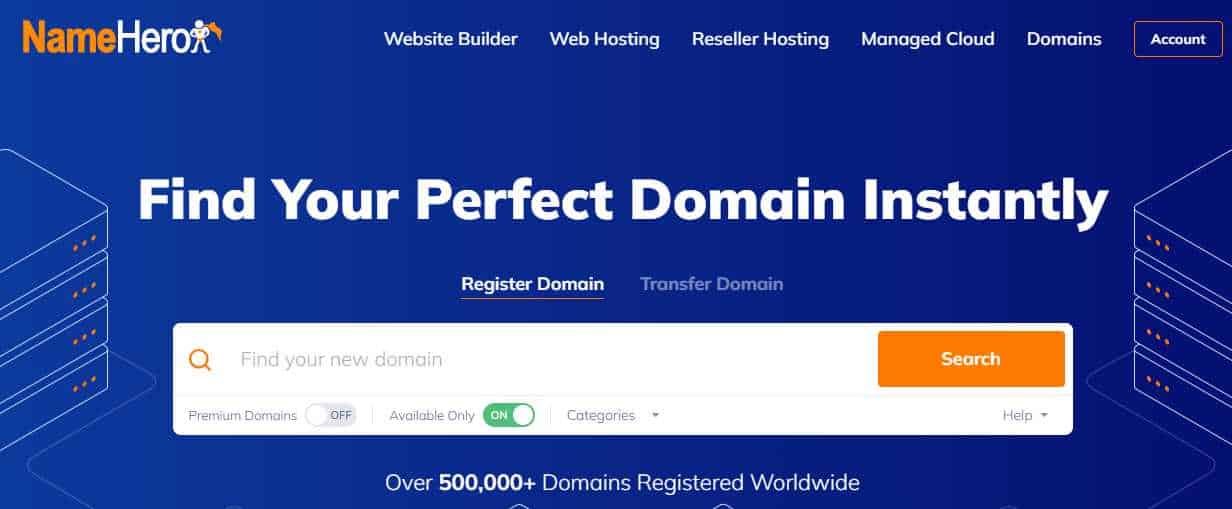 NameHero will then let you know if that domain name is available. If not, you'll need to choose something else.
Of course, you can also start a blog with NameHero if you've already purchased a domain somewhere else. You'll need to transfer your domain to NameHero first.
Step 3: Set up your account
The next step is fairly simple. You just have to fill out your personal information, email and set up a password for your account.
Once you've done that, you can enter your payment information. Remember, you have to pick at least a 24-month hosting plan to get a free .COM domain name; otherwise, you'll have to pay a separate fee for that. Luckily, NameHero offers domain names for under $15.
At the bottom of the checkout page, you'll see a few extra boxes.
One is for a dedicated IP address for email delivery; the other is for automatic Malware scanning with file cleanup. These are optional so it's up to you to decide if you want them or not.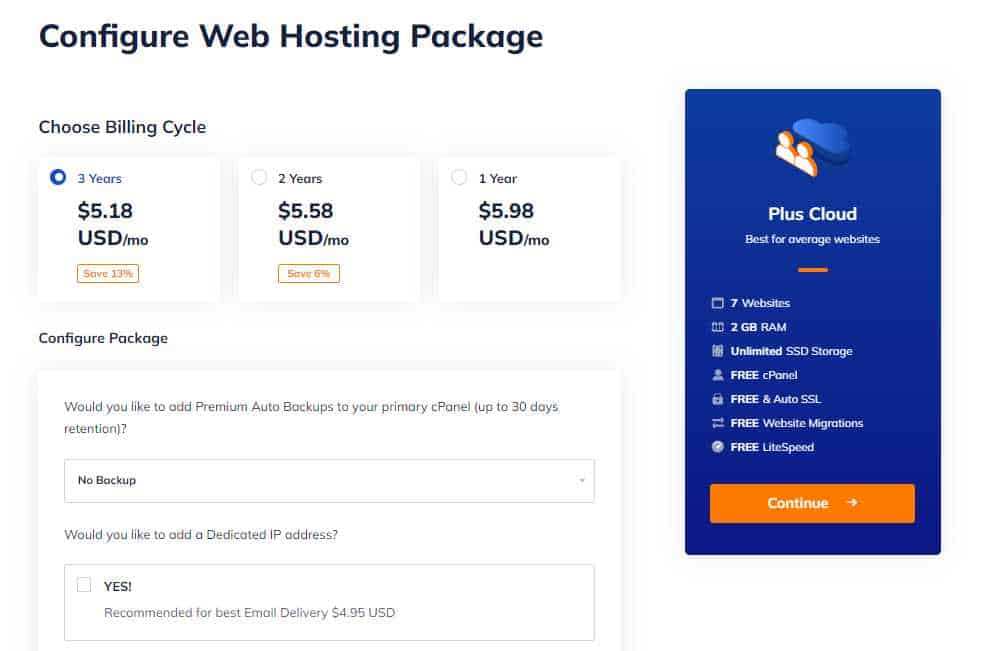 Step 4: Install WordPress on your NameHero blog
Once you've paid for hosting and your account is created, you can install WordPress on your newly-created mom blog. Here's how you do that:
Login in to the NameHero client area
Access cPanel in your account
Scroll down to the section marked "Scripts" and click the WordPress link
Click the blue "Install" button in the top left
Fill out the fields for your website (i.e. site name, site description, admin, username, password, etc.)
After this, you can install one of the pre-loaded themes offered by WordPress. But don't worry, as you can always upload another theme later if you find one you like better.
Once everything is entered and you've double-checked it, click the Install button on the screen. That's it–you're done!
Now you should be able to log in to the back end of WordPress using the user name and password you created earlier.
And if you're not sure how to get into your site, just type in your domain name, followed by /wp-admin. That should take you to your login box.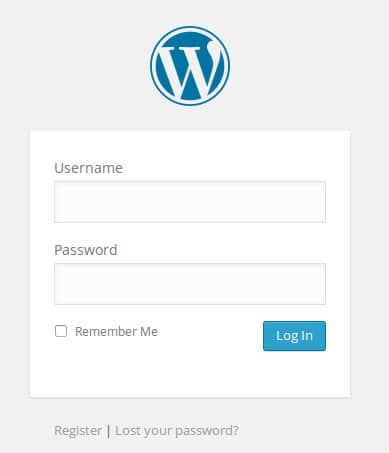 Once you've installed WordPress, you can customize your blog's appearance and settings.
You'll also need to do some housekeeping tasks like setting up Google Analytics and Google Search Console. These are essential for keeping track of who's visiting your mom blog.
From here, you can move on to the best part of being a mommy blogger: publishing great content for your readers!
How to Start a Mom Blog That Actually Makes Money
I've outlined how to start a mom blog with NameHero step by step. Now here are some tips that can help you find success on your money-making mommy blogger journey.
1. Focus on SEO from the beginning
SEO stands for "Search Engine Optimization" and it's essential for getting traffic to your mom blog.
Google doesn't send people to your website automatically; you have to create traffic in the beginning.
Pinterest is a popular option for many mommy bloggers. It's part search engine, part social media platform.
There are some moms using Pinterest to drive hundreds of thousands of views to their blog so learning how it works could be a good investment of your time. But search engine traffic can be even more valuable and consistent.
It can take up to 8 months for Google to start indexing your posts so you want to make sure you're writing for SEO right off the bat.
If you're looking for some free resources on how to learn SEO, I absolutely love the free videos offered by Income School. I've been watching the newer videos and some of the older ones too for a while now and have learned a ton of helpful blogging tips!
2. Create a money-making strategy for your mom blog
If you're researching how to start a mom blog it's probably because you want to make money. The best thing about blogging is that you have multiple opportunities to make money:
Including ads on your site
Writing sponsored posts
Selling digital products
Promoting affiliate products
Selling a service
Affiliates and ads can bring in passive income. Digital products can too, though there is some work that goes into making them upfront.
Offering services tends to be the most time-intensive option but it's also the fastest way to make money as a new blogger.
As you plan how to start a mom blog and make money, give some thought to which of those options appeal to you most. It might be one thing or several things.
Then, devote a good chunk of your blogging education to learning how your chosen money-making strategy works.
3. Work on one thing at a time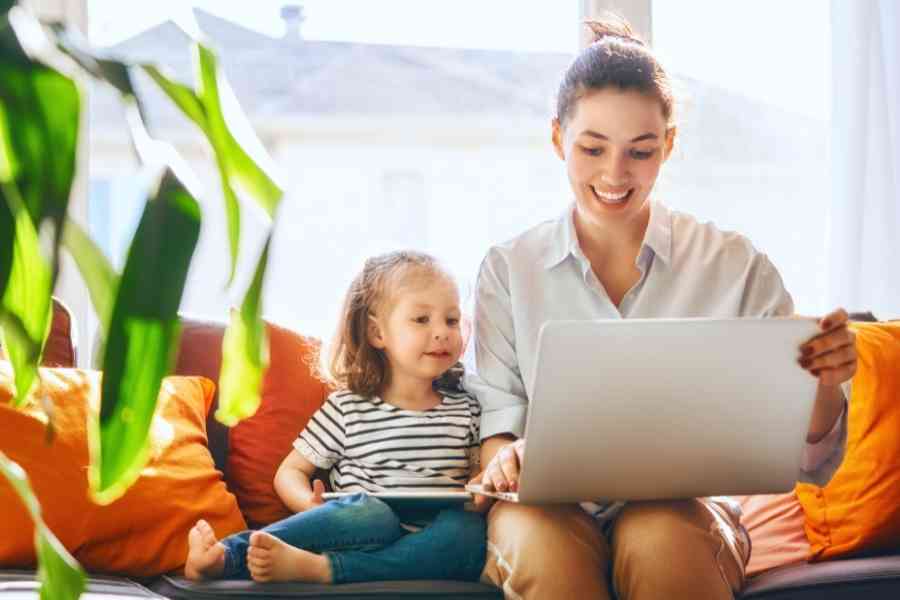 As a new mom blogger, you might want to try to do all the things. But that's an easy way to get overwhelmed very quickly.
The better way to approach learning how to start a mom blog that makes money is to make a plan for things you want to learn about each week, each month, each quarter.
For example, learn how to format a blog post first. Once you've got that down, learn how to make some eye-catching graphics that you can add to your posts.
Then, start learning some more advanced tactics to drive traffic to your new blog. And so on and so on.
Blogging can feel like a race a lot of the time. Especially when you see those five- and six-figure income reports or bloggers bragging on how they got 2 million page views in a month.
But it's okay to be the tortoise and not the hare. Go at a pace that works for you and make the most of the free blogging tools you're using.
4. Be choosy about where you spend money for your blog
One of the biggest mistakes to make as a new mom blogger is thinking you have to take every course, attend every webinar, sign up for every workshop or buy every e-book.
That is just not true and it can be an expensive mistake to make.
There are plenty of free blogging tools and resources that can help you learn about blogging. Once you get comfortable with the basics, you can move on to making some bigger investments like an SEO course or Pinterest training.
5. Get to know other mom bloggers
One thing you'll hear blogging experts repeat again and again is that it's important to be part of a blogging community.
Building connections with other mommy bloggers, whether it's through guest posting, commenting on their blogs or joining their Facebook group can be a gold mine for making money with your own site.
Why? Because the more connections you have, the more opportunities there might be to promote your blog.
Writing a guest post on your blogging friend's mom blog, for example, can help drive traffic back to your site. The same goes for being featured in a podcast.
In mom blogging (or all blogging), more traffic => more potentially interested buyers => more earnings for you.
That doesn't mean you should go into starting a mom blog focused only on money. That will get you nowhere fast.
But if you're here because you want to know how to start a blog that does make money, then building up your blogging community is a step you don't want to skip.
Final thoughts on how to start a mom blog
Starting a mom blog with can be intimidating but it doesn't have to be.
Blogging can be a great way to make extra income or even launch your own full time work from home career. I hope after reading this how to start a mom blog tutorial you're excited to get your mommy blog up and running and making money.
And don't forget that if you sign up for a 24-month hosting plan with NameHero you can get your domain name for free!
Need more ideas for ways moms can make money? Check out these posts next:
60 Profitable Home Business Ideas to Start Now to Make Money
How to Make $2000 a Month From Home With Flexible Side Hustles
25 Creative Ways to Make Money From Home (Without a Job!)
How to Start a Mom Blog (Beginners Guide)