Last Updated on June 5, 2022 by Rebecca Lake
Need extra money? Here are the best ideas for how to make $2000 a month with side gigs!
And for a quick and easy side hustle, get paid to take surveys with Swagbucks and Survey Junkie!
Starting a side hustle can be a great way to make extra money.
What's even better is making money on the side without having to leave home!
Online side hustles are perfect if you want to make money from your laptop.
And that extra cash can go a long way toward paying down debt, growing your savings or just staying on top of the bills.
When I first started side hustling years ago, my goal was to make an extra $2000 a month.
I was able to reach that goal pretty quickly. And you can do the same if you pick the right side hustle to start.
Wondering how to make an extra $2000 a month without getting a job or even getting up off the couch?
Here are the best flexible side hustles for making $2000 a month (or even more!)
Related post: 40 Best Summer Side Hustles (Make $1000+ Per Month!)
1. Freelance writing
Freelance writing always earns a spot on my list of favorite side hustles to do from home.
I've been earning a full-time income as a freelance writer since 2014. What started out as a small side hustle has turned into a six-figure business.
As a freelance writer you can get paid to write:
Blog posts
Email marketing content
White papers
Copywriting content
Grant proposals
Press releases
Resumes
Social media content
Product descriptions
Product reviews
And so much more!
The secret to how to make $2000 a month or more as a freelance writer starts with picking a good niche, then deciding what kind of clients you want to target.
Want to learn more? I have a free email course you can sign up for that goes over the basics of how to start freelance writing.
⇒Sign up for the Freelance Launch Plan to learn how to make money writing!
2. Start a blog
Blogging is another awesome flexible side hustle for making money online.
First, let me say blogging isn't a get rich quick scheme.
If you want to figure out how to make $2000 a month or more from a blog, there's some work involved.
For instance, it took me months to make my first $0.25 with this blog. Mostly because I didn't have a clue what I was doing.
But I'm now able to make $2000+ every month blogging on the side. The different ways to make money blogging include:
Running ads on your site
Writing sponsored posts
Selling digital or physical products
Affiliate marketing
Offering a service through your blog (like freelance writing)
If you want to make money blogging from home, then I've got an easy to follow how to start a blog tutorial you'll want to read.
And if you're ready to jump in with both feet, you can get hosting and a domain name right now with Siteground!
Siteground is hands-down the best option for blog hosting if you want affordable plans with stellar customer service
Read these posts to make more money blogging:
17 Must-Join Facebook Groups for Bloggers to Boost Blog Traffic Instantly!
50+ Blogging and Business Tools to Help You Make Money Online!
3. Virtual assistant
Before I became a freelance writer, I side hustled as a virtual assistant.
Being a virtual assistant or VA means you make money by helping business owners and bloggers run their businesses.
Some of the things you might do as a virtual assistant include:
Decluttering emails and managing your clients' inbox
Copywriting
Managing and maintaining spreadsheets or databases
Event planning
Social media scheduling
Blog post moderation
Pinterest management
The great thing about being a VA is that it's a flexible and creative way to make money.
You'll need to be organized, good at communicating and have a great eye for detail to be successful as a VA. And niching down to offer specialized virtual assistant services can also boost your earning potentia.
If you want to know more about how to make $2000 a month as a virtual assistant, start by reading my guide to launching a VA business.
Or if you're ready to start making money online right away, I have a couple of courses that are worth checking out.
The first one is Fully Booked VA and it's from Gina at Horkey Handbook. She's built a highly successful VA business so she definitely knows her stuff.
If you want to niche down a little more with VA services, I also recommend Gina's course on email management for VAs. It teaches you everything you need to know about getting paid to read emails.
4. Get paid to proofread
Proofreading and writing kind of go hand in hand but they're two very different ways to make money online.
With proofreading jobs, you're getting paid to review written content and check it for grammar, spelling and punctuation errors.
Becoming an online proofreader is a realistic ideas for how to make $2000 a month or more from home. And it's a part-time side hustle that can fit around virtually any schedule.
If you want to make money as a proofreader but you've never done it before, there are online trainings that can help.
One of the best ones is offered by Caitlin Pyle who's cracked the code on making way more than just $2000 a month as an online proofreader.
She offers courses on how to make money as a general proofreader or legal proofreader online. And she also has a free webinar that covers the basics of making money as a proofreader.
I've got a post that explains how to start making money online as a proofreader. And once you're done with that, be sure to check out Caitlin's free mini-course!
⇒Sign up now to learn how to get paid to proofread
5. Online transcription jobs
Transcribing is another easy way to make money online in your spare time.
As an online transcriptionist, you get paid to turn audio content into written content.
So for example, you could get paid to transcribe:
Medical records
Legal recordings
Podcasts
YouTube videos
Transcribing jobs could be a great fit for making $2000 a month or more if you've got excellent typing skills.
Companies like Rev and GoTranscript hire freelance transcriptionists to transcribe audio files for real money.
You don't necessarily need experience to make money transcribing. But doing some online training can help you learn how it works.
First, read this guide on how to make money transcribing.
Then, check out this free mini-course on how to become a transcriptionist from Transcribe Anywere.
It covers all the things you need to know to decide if transcribing is the right side hustle for you!
6. Scoping
Scoping is another way to make money online that's similar to transcription.
Scopists make money editing transcripts of court proceedings. So a court reporter records what happens in shorthand, then a scopist edits.
This could possibly be one of the best flexible side hustles you've never heard of. And according to Salary.com, scopists make around $50,000 a year on average.
If you want to learn how to make $2000 a month or more as a scopist, you'll need some training since this is a more specialized side gig.
For that, I recommend Internet Scoping School.
It's one of the best-known online trainings for people who want to learn how to make money scoping.
7. Start a virtual bookkeeping business
Do you love numbers?
I am by no means a math person but if I were, I'd consider starting a virtual bookkeeping business as a flexible side hustle.
Virtual bookkeepers can make $30,000 to $50,000 a year doing online bookkeeping for businesses.
This is a great side hustle to start because it doesn't require a lot of special equipment.
You'll need a laptop, of course. And it helps to know your way around different types of accounting software programs.
But otherwise, this could be one of the easiest options for how to make $2000 a month or more on the side.
If you want to grow your virtual bookkeeping income even more, there's a course that can help. It's run by Bookkeepers.com and it walks you through the secrets to making more money as an online bookkeeper.
⇒Learn how to make more money with a virtual bookkeeping business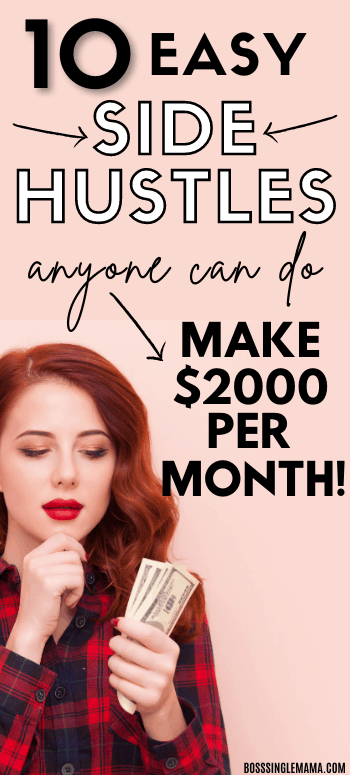 8. Teach online
Teaching online definitely rates as one of the most flexible side hustles.
That's because there are so many ways you can do it to make money!
First, you can create and sell courses.
The beauty of this side job is that you can make money passively on autopilot.
You create the course and list it for sale on a site like Thinkific. People buy it and you make money!
You may have to go back and update the course every so often but otherwise, this is a simple idea for how to make $2000 a month or more in your sleep.
Another option is teaching live classes.
Outschool is great for this if you want to teach kids but you don't want do something like VIPKID.
With Outschool, you can teach just about anything for kids K-12. You decide how many kids to allow in each class, when to meet and how much to charge.
Outschool is a great way to make money teaching for stay at home moms, students or anyone else who wants to earn extra income online.
⇒Sign up to become a teacher with Outschool now!
And one more way to make money teaching online is with Pretzel Kids.
Pretzel Kids is an online kids yoga teacher training. Once you get certified as a kids yoga teacher, you can make money teaching kids yoga classes in-person or virtually!
⇒Read this guide to learn more about making money with Pretzel Kids
9. Freelance
I already mentioned freelance writing as my number one side hustle pick.
But there are lots of other options for how to make $2000 a month or more freelancing.
Some of the services you could offer as a freelancer include:
Graphic design
Website design
Voiceover work
Translation
User testing
Writing book reviews
Consulting or coaching
Illustration
Facebook ads management
Social media management
What's great about freelancing online is that there are just so many ways to make money.
You can hire yourself out on sites like Fiverr or Upwork to land freelance gigs.
If you need more inspiration for ways to make money, read this post on the best freelance services you can offer from home.
10. Become an online stylist
Most of the money-making ideas included here center on offering a service. But you could also make money online selling a product.
That's something you can do as a Stella & Dot Ambassador. Ambassadors make money selling jewelry and accessories online.
What I like about this online side hustle is that Stella & Dot does a lot of the work of starting a side hustle for you.
They set you up with your own online storefront so you don't have to start a blog or anything (unless you want to).
And they also maintain inventory for you so your house doesn't get piled up with boxes.
Besides that, you can make a pretty decent income as a Stella & Dot stylist.
According to Indeed, the average monthly salary for stylists is just over $2,700. So it fits the bill for ideas on how to make $2000 a month.
⇒Become a Stella & Dot Ambassador to start making money online!
What are the best online side hustles?
The best online side hustles are the ones that let you reach your income goals doing something you enjoy on a schedule that works for you.
That being said, all the flexible side hustle options listed here are excellent ways to make extra money.
Having been a virtual assistant, freelance writer and now a blogger, those are probably my top three favorite picks.
But any of these side hustle options could work well if you need ideas on how to make $2000 a month or more.
When choosing a side hustle, think about:
How much money you need to make
How much time you can put into your side hustle
Whether an online or offline side hustle is a better fit
What kind of skills you have that you could make money from
You might need to try out a few different side hustles until you find "the one".
But the more side hustle ideas you test, the better your chances of finding a way to make money on the side that works for you.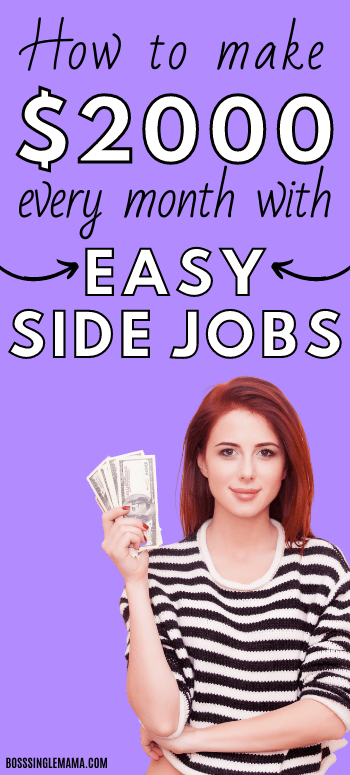 Making extra money online is easier than you might think
For the longest time, making money online seemed like an impossible dream for me.
But now I know that there are a ton of ways to make money from home!
If you're ready to start making extra money, any of these side hustles could be a great fit. And if you've tried one or more of them out, I'd love to hear about it!
Head to the comments and share your best side hustle tips. Then don't forget to pin and share this post!
More ideas for how to make $2000 a month
117 Legitimate Side Hustle Ideas to Make Extra Money
37 Creative Side Hustles That Can Help You Make $100 a Day (or More!)
5 Legit Business Ideas for Moms You Can Start to Earn $5,000+ Monthly