Last Updated on November 12, 2022 by Rebecca Lake
In search of jobs for pregnant women near me?
Working while pregnant is a personal decision but it can also be a financial one. Expecting a baby can turn up the pressure on your budget if you need extra money to pay for new baby expenses.
Fortunately, there are plenty of job options for pregnant workers and new moms on maternity leave.
Some of the best jobs for pregnant women allow you to work from home and earn money online. Good jobs for a pregnant woman can include freelance writing, proofreading, offering virtual assistance services or working as a social media manager.
Easy jobs for pregnant women include earning extra cash by taking surveys or getting free money through cashback apps. And you can also make money while pregnant with offline full-time jobs, part-time positions and side hustles.
Extra money is a great thing if you're having a baby on a budget.
If you're looking for a pregnancy-friendly job as you await the birth of your first child (or your next child), this list of jobs for pregnant women includes some of the best ways to make money when you're expecting.
Related post: 50+ Flexible Side Hustles for Moms That Pay Well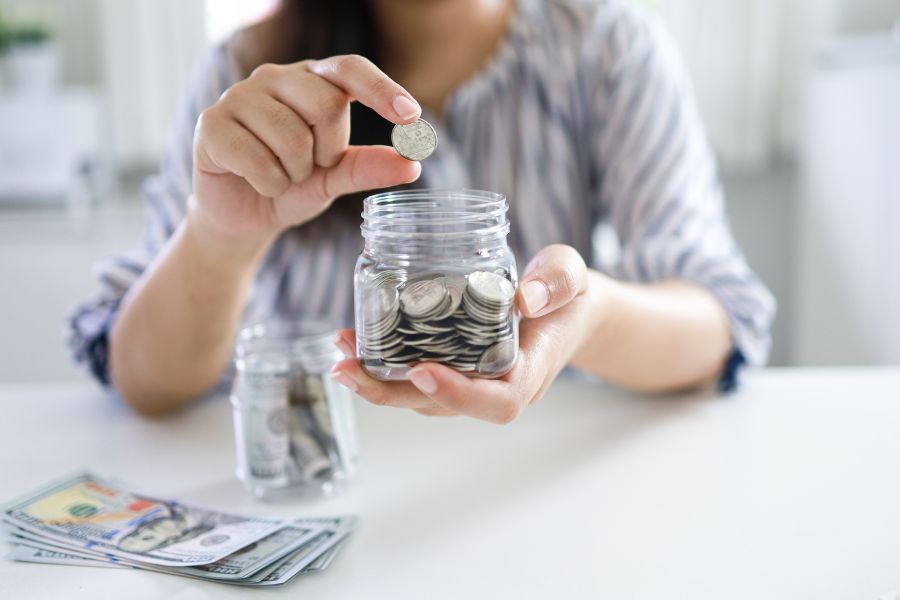 Best Online Jobs for Pregnant Women
Online jobs can be a great fit for pregnant women who are seeking quiet work environments. You can conduct your job search online, without leaving home. And you can set up a home office or potentially even work from your bed if you're experiencing first trimester morning sickness or the assorted aches and pains that come along in the third trimester.
Some of the best online jobs for pregnant women include:
Any of these could be great jobs for pregnant women who potentially want to be able to earn the same amount of money (or more than) their salary from their full-time job. And they're also excellent at home jobs for moms who want to make with low startup costs.
Related post: How to Afford to Be a Stay at Home Mom (8 Practical Tips for Families)
1. Freelancing
A freelancer is someone who's self-employed and works as an independent contractor. Freelancers can work with one or more clients to provide specific services to business owners in exchange for getting paid.
Some of the services you could offer as a freelancer while pregnant include:
Copywriting
Graphic design
Email management
Video editing
Podcast editing
The great thing about freelancing for pregnant people is that you can make money using the skills you already have. You can set your own hours and if you're able to develop good working relationships with your clients you could easily generate a steady income.
If you're just getting started with freelancing, Virtual Vocations and FlexJobs are two great places to start looking for paid gigs.
2. Freelance writing
Freelancing writers offer their writing services to business owners and bloggers who need website content and other written content. This type of job doesn't require a bachelor's degree and there are different jobs for pregnant women that revolve around writing, including:
Freelance blogging
Copywriting
Resume writing
Content writing
Grant writing
Press release writing
As a freelancer, you can decide which types of writing projects you want to work on based on your skills and knowledge. And if you can establish a good reputation as a writer, you'll have no trouble building a solid base of clients.
FlexJobs features plenty of freelance writing job ads for writers of all skill levels. You can also look at sites like Writers Work, ProBlogger and Indeed.com to find job ads for beginning and established freelance writers.
3. Proofreading
Proofreaders are paid to review written documents and check for grammar errors, spelling errors and typos. Online proofreaders can offer general proofreading services or specialize in one area, like legal or medical documents.
Becoming a proofreader is one of the best jobs for pregnant women who may not have a bachelor's degree. You can learn the skills you need to make money as a proofreader online.
There's a great free webinar from Proofread Anywhere you can sign up for that offers an introduction to making money as a proofreader. It's worth a look if you have a keen eye for grammar or spelling errors and you're ready to leave office work behind.
?Want to learn how to get paid to proofread? Sign up for this FREE webinar to learn how to make money proofreading online!
4. Editing
Editing and proofreading sound similar but they're two distinct job options for pregnant women.
As an editor, you can get paid to review blog and website content or other written content for style and tone. An editor's job is to take what a writer has created and polish it before publication.
You can find online editing jobs for pregnant people on FlexJobs and on regular job boards like Indeed.com.
5. Transcription
Online transcriptionists are paid to turn audio or video files into written files. Transcriptionists listen to recordings, then type what they hear into a readable form.
Transcription jobs for pregnant women can revolve around general services or they may be specialized. For example, you might work as a legal transcriptionist or medical transcriptionist.
Transcription is a job pregnant people can do from home while working flexible hours. And you don't need previous experience to get started.
It can help to take a crash course in transcription to learn what it's all about. Janet Shaughnessy has a great free online transcription webinar you can sign up for if you're interested in online transcription jobs.
6. Virtual assistant
Virtual assistants get paid to help business owners run their businesses. As a VA you can be an administrative assistant but skip going into the office each day.
You'll need a reliable computer and internet connection to start a virtual assistant business from home. But otherwise, this is a great option for pregnant job hunters who want to make money online with low startup costs.
Some of the services you might offer as a virtual assistant include:
Email management
Blog management
Schedule/calendar management
Copywriting/editing
Social media management
Proofreading
Data entry
Graphic design
Taking care of basic office tasks
Virtual assistants can make anywhere from $20 to $50 an hour to start. Some of the highest-paid VAs make six figures.
If you'd like to learn more about how to become a successful VA, I'd recommend checking out the Jumpstart Your VA Biz course offered by Gina Horkey.
Gina is a virtual assistant expert who successfully built her own VA biz from scratch and she's helped thousands of other moms do the same.
7. Social media manager
A social media manager helps business owners manage their social media accounts and content. This is a popular option for pregnant moms who are well-versed in social media and know what it takes to create a great post.
If you're interested in social media management as a full-time job you can do from home, you'll want to take a look at Gina Horkey's other course, Fully Booked VA.
This course offers a deeper dive into how to specialize your VA services which can make it easier to pick your own clients and command much higher rates.
8. Freelance graphic designer
Pregnant women who have graphic design skills could use them in a variety of ways to make money.
For example, you could offer your graphic design services for businesses needing original designs for:
Logos
Business cards
Websites
Social media
Brochures
Advertising and marketing materials
If you're interested in selling your graphic design skills to make money while pregnant, creating a profile on Fiverr can be a good way to start.
9. Online bookkeeping
Bookkeepers help business owners to balance their books and keep track of financial accounts.
Online bookkeeping is one of the best jobs for pregnant women who have computer-related skills and familiarity with accounting software programs. It also doesn't hurt to have a love of numbers and math.
There's a free online course you can take to learn how to become a bookkeeper. It's offered by Bookkeepers.com and it's an authoritative, comprehensive course.
If you're ready to dive in and start looking for bookkeeping jobs online, FlexJobs is a great resource for finding legitimate, high-paying work-from-home jobs.
10. Blogging
Starting a mom blog could be a good idea if you enjoy writing and you have an idea for a blog that could be profitable.
For example, you could write blog posts about:
Pregnancy and baby planning
Newborn care
Budgeting
Work from home mom life
Kids' activities
Travel
Fashion
Those are just a few of the most popular topics for mom blogs. As you build traffic and your mailing list, you can monetize your mom blog with ads, affiliate marketing, sponsored posts, digital products and/or services.
If this type of work sounds appealing, here's a step-by-step guide to starting a mom blog with NameHero.
11. Photographer
Freelance photography is a great remote job for pregnant women who are creative and love taking pictures.
Some of the ways you could make money as a freelance photographer include:
Selling stock photography
Working for your local newspaper
Offering portrait services locally
Taking wedding photos
Taking pet photos
Taking pics for other special occasions
You'll need a good DSLR camera to start a photography side hustle or business. Once you have that, you can start advertising your services locally or online through Fiverr or your own website.
12. Start a YouTube channel
More of the content online is shifting to video, which is a great opportunity for pregnant women to make money.
Similar to blogging, you'll need a great idea for a topic to vlog about. And you'll need a good camera, a computer and an internet connection.
Once you get 1,000 subscribers and 4,000 hours of watch time, you'll be able to monetize your YouTube channel. Becoming a YouTuber can be one of the best jobs for pregnant women who are comfortable in front of a camera and want to generate passive income.
13. Make money with low content book publishing
Low content books and no content books have the potential to be hugely profitable. You can create low content books and publish them on Amazon KDP, then collect passive income as they sell.
Amazon handles the printing and shipping and you earn royalties for each book you sell. You can use a tool like Canva to create your low content books.
This is one of the best jobs for pregnant women who may not have much time to sit down and write a full book to sell but want to become published authors online.
14. Tutoring
Online tutors make money by helping students with homework, test prep and studying. Pregnant women can register with tutoring websites to offer their services as a private tutor.
Keep in mind that you may need a bachelor's degree in early childhood education or another field to become a tutor online. And the application process may be rigorous.
If you're having trouble landing a job offer as a tutor, there are some other jobs for pregnant women that allow you to make money teaching, even without a degree.
15. Outschool teacher
Outschool is an online learning platform for kids K-12. Parents can choose which classes kids take and kids attend virtually through Zoom.
One of the best things about Outschool is that anyone can sign up to teach. You don't need a college degree or teaching experience so it could be a perfect job for pregnant women who enjoy working with kids and have a subject they're passionate about.
You'll need to be able to pass a background check to teach at Outschool. In terms of earning potential, there are some moms out there earning $10,000 a month or more through the platform.
This Outschool review explains more about how it works. And if you're ready to teach, you can sign up with Outschool here.
16. Become a course creator
Course creators develop online courses, list them for sale through a platform like Teachable or Skillshare and earn passive income each time the course sells.
This can be one of the best jobs for pregnant women who want to make money from home and have some special knowledge or skills to share.
You don't have to teach classes live; you can make them evergreen and self-guided. And you can create courses that showcase your knowledge while also helping to meet a need that people have.
If you're ready to launch a course or just learn more about how it works, you can try Teachable free for 30 days.
17. Coaching
Coaches work with their clients to help them solve problems or overcome obstacles. Becoming a coach is a great job idea for pregnant women who have expertise in a particular area.
For example, you might offer:
Financial coaching
Pregnancy coaching
Home management coaching
Relationship coaching
Parenting coaching
Wellness coaching
Entrepreneurship coaching
Productivity coaching
You can set up a blog or website to advertise your coaching services. And you could also launch a YouTube channel or podcast to grow your audience.
18. Make and sell digital products
Digital products are in high demand and pregnant people could easily make money selling them online.
Examples of digital products you could create and sell to make money while pregnant include:
Planners
Worksheets
Journals
Notebooks
Habit trackers
You can set up an e-commerce store through Shopify or Etsy to sell your creations. Here's an example of a super simple Etsy store I set up for my teen daughter.
19. Print on demand
You could also make money selling your digital designs on physical products through a print-on-demand store.
Sites like Redbubble and Zazzle allow you to upload your designs and sell them on a variety of products. The website handles the production and shipping and you get paid.
You'll need a good design tool to get started with digital products. I recommend Canva Pro because it's easy enough for anyone to use.
If you need some ideas on things you can make and sell, check out these ways to make money with Canva.
Remote Jobs for Pregnant Women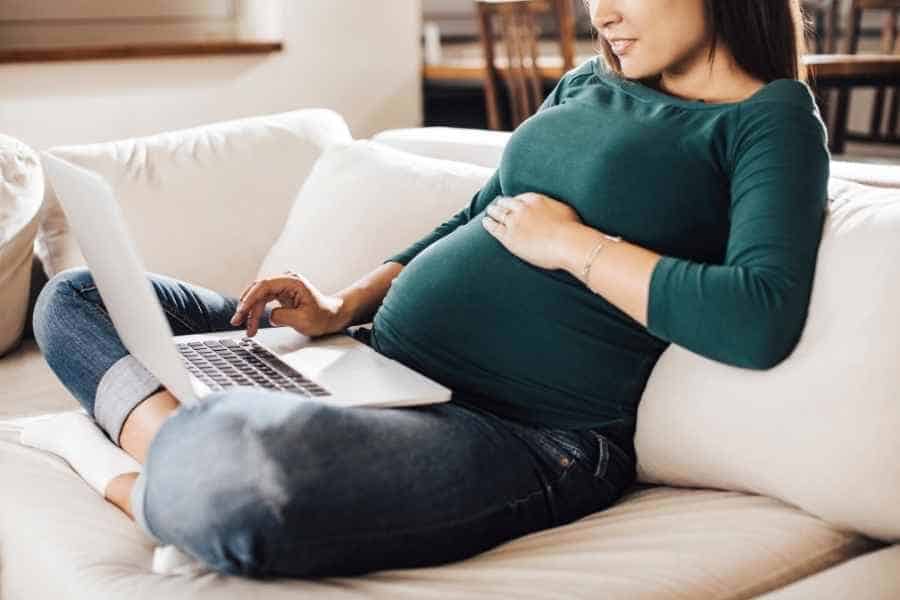 Finding a remote job is a great option for expectant mothers who want to work from home and there are plenty of options.
Some of the best remote jobs for pregnant women include:
Reservation agent
Online community manager
Online sales representative
Customer service representative
User tester
Whether you want to work for a small company or a big one, there are lots of remote job opportunities for a pregnant woman.
20. Reservation agent
Reservation sales agents help people book reservations for travel, including hotels, flights and rental cars. You can find reservation agent remote jobs with major airlines as well as companies like AAA.
Indeed and other job boards are a good place to look for reservation agent positions. You can also try FlexJobs to find companies that are open to hiring pregnant moms.
21. Online community manager
An online community manager develops and manages a company's online community.
Some of the things you might do as an online community manager include:
Establishing the community space
Growing the space
Engaging with customers and fans through social media accounts
Online community manager has the potential to be one of the best-paying jobs for pregnant women who are marketing savvy. At the upper range, there are some online community managers earning close to $300,000 a year.
22. Public relations manager
PR managers help to market and promote their clients online and offline.
For example, a PR professional who works for a publishing company might host online or offline events ahead of a book launch. They may also work on their client's behalf to schedule TV or radio interviews.
If you have a background in marketing or PR, this could be a good remote job option. A quick search of Indeed.com turns up plenty of companies that are hiring people (including pregnant women) for fully remote PR management roles.
23. Online sales representative
Online sales jobs for pregnant women can allow you to earn both salary and commissions from the comfort of your own home.
Some of the industries that hire remote sales reps include:
Travel
Financial services
Real estate
Health care
Hospitality
Browsing job ads online can give you an idea of what kind of companies might be interested in putting your sales skills to work.
24. User testing
User testing is a great low-stress remote job for expecting mothers who want to make extra income. As a user tester, you get paid to visit websites or download apps, test them out and report back on what you find.
UserTesting.com is one of the most popular websites for getting paid to test websites. It's free to sign up to get paid to test and check current positions.
25. Search engine evaluator
Google is a go-to resource for most people when they need to find information online. As a search engine evaluator, you can get paid to review search results and evaluate their quality.
Becoming a search engine evaluator could be a great remote job for pregnant women who want to make money in their spare time. It's possible to make anywhere from $40,000 to $100,000+ evaluating search engine results for companies that hire Google raters.
26. Online jurist
If you're a fan of legal shows or crime shows, you might jump at the chance to make money online as a mock juror.
Mock jurors are paid to evaluate cases and render a verdict. Depending on how complex the case is, you might get paid anywhere from $5 to $400 for your time.
Pregnant moms can find mock juror remote jobs that pay on Indeed or Salary.com.
27. Online test scorer
Online test scores are paid to score and evaluate the results of standardized tests.
Depending on the type of test, you may be required to have some previous experience either as an educator or a test proctor. You can find high-paying test scorer jobs for pregnant women (or anyone else) online at FlexJobs.
28. Online research study participant
Becoming a test subject is a lesser-known way for pregnant women to make money. The good news is, you can get paid to participate in research studies without leaving home.
Sites like Respondent.io pay everyday people to participate in research studies. Depending on the study, you might easily make $100+ per hour.
Get started with Respondent.io and participate in research studies for money.
Offline Jobs for Pregnant Women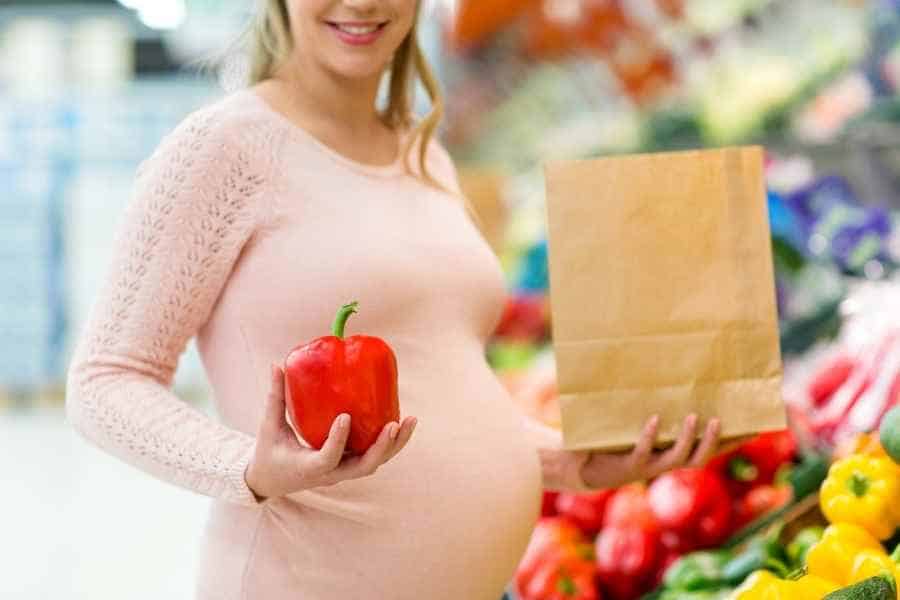 Looking for ways to make money that don't require a computer or internet connection?
Some of the different ways to make money while pregnant offline include:
Delivering groceries
Delivering food
Driving for Uber or Lyft
Pet- or baby-sitting
Running errands
Making money with offline jobs for pregnant women means you can still have some flexibility with your schedule. And you can combine multiple jobs to increase your earnings.
29. Shop for Instacart
Instacart is an online grocery shopping app that pays people to pick up and deliver groceries for users.
If you don't mind spending time in your local grocery stores, you could easily make money while pregnant as an Instacart shopper.
You'll want to consider which shops you take on, especially as you get into your third trimester. If your doctor advises you to avoid heavy lifting, for example, you'll probably need to skip shops that require you to pick up cases of bottled water or 50-pound bags of dog food.
But overall, shopping for Instacart can be an easy way to make money on the side while you're expecting.
30. Deliver for DoorDash
DoorDash is a delivery service app that allows people to order food from local restaurants and have it dropped off at their door.
There are plenty of dashers, including pregnant women, making a legitimate income from DoorDash. This is another side hustle option you can do in your spare time.
Sign up to become a dasher and learn more about how much money you can make.
31. Drive for Uber or Lyft
If you have a reliable vehicle, you could get paid to drive for Uber or Lyft while pregnant.
Drivers are paid a minimum hourly rate and you can also collect tips for each drive you make. If you're considering driving for Uber or Lyft while pregnant, take time to read up on the safety rules first.
32. Get paid to pet sit
Pet sitters earn money by watching other peoples' pets. You might consider this job idea while pregnant if you're comfortable being around dogs, cats or other pets.
Rover is one of the most popular sites for finding pet sitting jobs. It's free to sign up and create a profile to start looking for pet sitting gigs.
33. Become a paid carer
If pet sitting isn't your thing you might consider babysitting or caring for an elderly adult as another option for making money while pregnant.
You might decide to set up an in-home daycare if you have the space, offering babysitting services for other moms you know or help out a senior with running errands or doing basic housework.
Sites like Sittercity.com and Care.com are two great options for finding caregiving or sitting jobs online.
34. Get paid to housesit
Housesitting is one of the best jobs for pregnant women who want to take it relatively easy during their pregnancy.
As a housesitter, you could get paid to do simple things like
Collecting mail
Watering plants
Tidying up
Housesitters may also be paid to do minor yardwork or watch pets who remain in the home while their owner is away. You can find house-sitting jobs in your area through HouseSitter.com.
35. Library assistant
Pregnant women who love books may consider an offline job as a library assistant.
Library assistants work in libraries and do basic tasks like sorting returned books and shelving them, assisting the librarians, answering questions for patrons and handling administrative tasks.
You don't usually need a bachelor's degree to become a library assistant. Most libraries will hire pregnant women who have a high school diploma or GED and you can get all the training you need on the job.
36. Get paid to organize
Professional organizers make money by helping other people get their mess under control. This could be the perfect job for pregnant women who are decluttering pros.
You can reach out to other moms you know to offer your services with tidying up and organizing. And you could also start a home organizing blog and monetize your blog posts with affiliate marketing and ads.
37. Rent out a room
If you're comfortable having other people in your home during your pregnancy, you could rent out a spare room for extra money.
You might also rent out your garage, driveway or parking space for extra cash. Just remember to read up on the rules for doing so if you live in a neighborhood that's governed by an HOA.
Easy Jobs for Pregnant Women
Need some simple ways to make money on the side while juggling doctor's appointments and other baby planning tasks?
Some of the easiest ways pregnant moms can make money include:
Taking surveys
Selling things you no longer need
Using cashback apps
Each of these options could put quick and easy money in your pocket to help boost your new baby budget.
38. Make money taking surveys
Taking surveys won't make you rich or replace your full-time job but you could make extra cash this way while pregnant. And getting paid to take surveys might be ideal if you need a low-impact way to make money while on bedrest or in-between doctor's appointments.
Some of the best survey sites for making money while pregnant include:
Survey Junkie. Survey Junkie is one of the most popular options for getting paid to take surveys online. Some surveys pay up to $50 each and it's easy to cash out your earnings to PayPal.
Swagbucks. Swagbucks pays up to $35 per survey and you can also make money by watching videos and playing games online. You can convert your Swagbucks points to PayPal cash or Amazon gift cards, which is perfect for buying baby gear online. And you'll get a $5 bonus when you sign up.
InboxDollars. InboxDollars also pays you real money for taking surveys, playing games and watching videos. It's free to sign up and you can get a $5 bonus just for joining.
Related post: 15 Best Survey Sites for Making Quick Money
39. Sell things for cash
If you're in full nesting mode, you might already be decluttering your home to clear out things you don't need. You can turn those unwanted items into quick cash by selling them locally or online.
Some of the best things you can sell for fast money include:
Video games and gaming systems
Old cellphones
Home decor items
Small appliances
Books
You can sell items through Facebook Marketplace, Facebook bargain groups, flea markets, consignment shops or even a pawn shop near you.
Here are 40+ things you can sell to make money fast while pregnant.
40. Use cashback apps
Cashback apps reward you with cash for making purchases online and in stores.
You download the app and link it to your bank account and store loyalty cards. You shop special offers and earn cash back, which is credited to you automatically.
It's one of the easiest jobs for pregnant women who want to make money without going to a 9 to 5.
Try these cashback apps to earn extra income while pregnant:
Rakuten. Rakuten allows you to earn up to 15% cashback on purchases at partner stores. Plus, when you sign up you can get a cash bonus of $40 along with additional cash bonuses for each new person you refer.
Ibotta. Ibotta pays you cashback on groceries and retail shopping. It even works when you shop online at Walmart Grocery or through Instacart. When you sign up for Ibotta now (it's free) you can get up to $20 in cash bonuses!
Swagbucks. In addition to making money by taking surveys with Swagbucks, you can also get cashback when you shop at partner stores. Again, you can redeem your rewards as cold hard cash or get Amazon gift cards for baby shopping.
Related post: 12 Best Cashback Apps to Download for Free Money
Legal Rights of Pregnant Employees
Federal laws offer some protections to pregnant employees and expecting moms (including teen moms) who are looking for jobs for pregnant women. If you're pregnant and having trouble finding a job or your employer seems to be giving you a hard time over the pregnancy, it's important to know what rights you have.
First, the Pregnancy Discrimination Act (PDA) prohibits employers from discriminating against expectant mothers because of their pregnancy status.
Business owners are not allowed to discriminate with regard to hiring, firing, wages, training and benefits, such as health care or health insurance, just because you're pregnant. So you can't be denied a new job by potential employers or fired from your current job just for being pregnant.
Under the PDA, employers that allow temporarily disabled employees to take disability leave, either paid or unpaid, must make the same allowance for pregnant people who are temporarily disabled. But you might have to provide a written statement from your doctor attesting that you have a pregnancy-related condition that affects your ability to work.
The Americans with Disabilities Act (ADA) requires employers to treat pregnant employees the same way they would temporarily disabled employees. For example, your hiring manager might have to make reasonable accommodation for you to perform your job duties if you have certain pregnancy-related conditions such as gestational diabetes.
With the Family Medical Leave Act (FMLA) you're allowed to take unpaid leave to care for a family member, including a new baby. New moms can take up to 12 weeks of leave following the birth of a child.
Family leave allows time to make initial doctor's appointments for your newborn and yourself if you develop any related medical conditions following the birth. Keep in mind that if you recently started a job while pregnant with a new employer it must be a covered employer for FMLA rules to apply.
The catch with family leave is that federal law doesn't require employers to pay you. The numbers aren't exact, but roughly half of employers don't offer any kind of paid maternity leave benefits to employees.
Finding suitable online jobs (or offline jobs) can help you close the gap if you need to step away from your full-time job temporarily due to pregnancy. And it's possible to find jobs for pregnant women that offer flexible work hours so you can make money on your own schedule.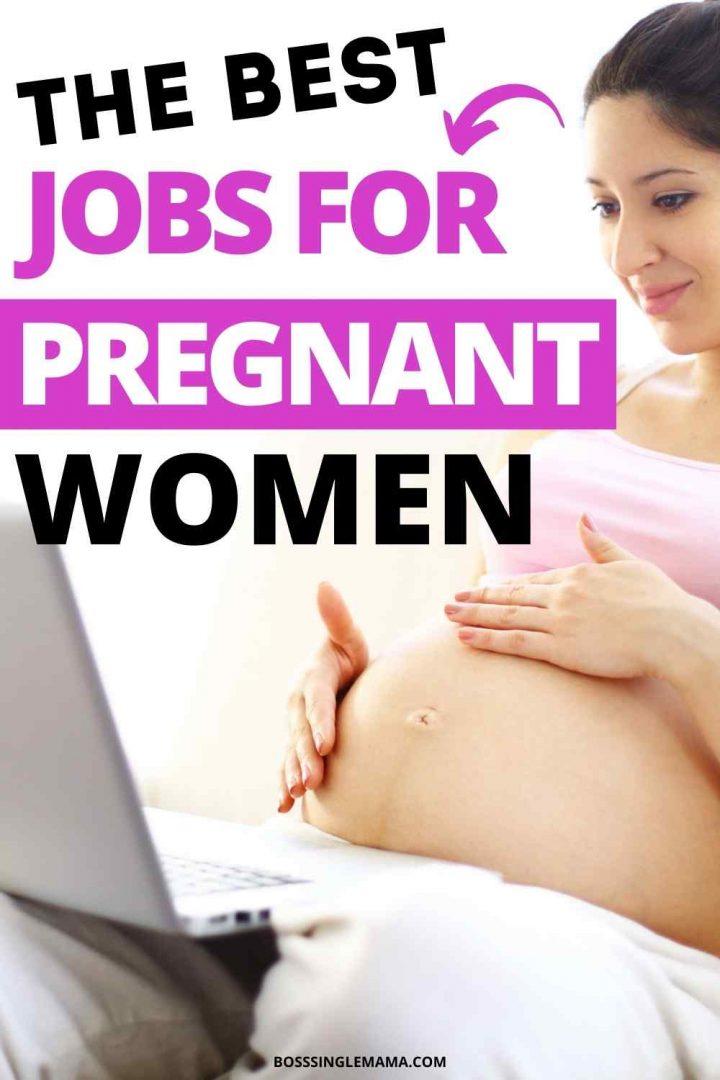 Final thoughts on the best jobs for pregnant women
Planning a baby budget can be stressful but making money while you're expecting a baby doesn't have to be.
There are lots of jobs for pregnant women that pay real money. Whether you just learned you're about to be a mother or your due date is right around the corner, this list of jobs for expecting moms can help you find the right money-making opportunities.
Before you go, be sure to check out these articles for more ideas on ways moms can make money:
Best Jobs for Pregnant Women