Last Updated on September 12, 2021 by Rebecca
Best Budget Categories for Managing Money
Making a budget can help you get control of your money. But one of the biggest challenges is deciding which budget categories to include.
Include too many categories in your budget and you might get overwhelmed. Leave out too many categories and your budget might not work at all.
But what expenses belong in your budget and which ones do you leave out?
To make things easier for you, I've put together a complete list of 100+ categories for budgeting to help you take control of your finances.
Depending on how you spend, you might include all of these categories in your budget or just some of them.
And if you need a simple way to keep track of what's in your budget, you can grab a free budget template and budget categories list in the resource library!
Related post: Why Is Budgeting Important?
What Categories Should I Include in a Budget?
The answer to this question is pretty simple. And it's this: enough categories to cover everything you spend money on.
Having categories in your budget allows you to see where your money is going at a glance.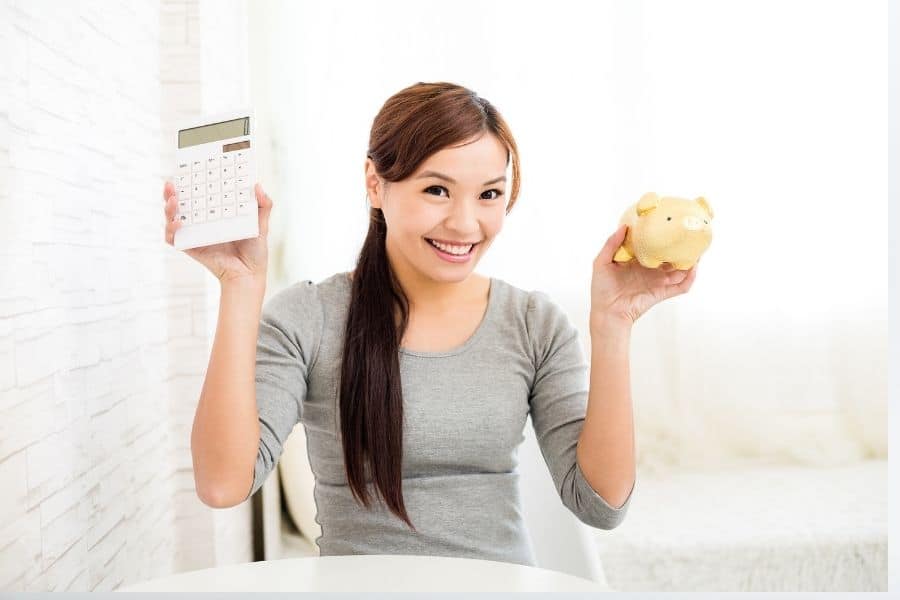 Categorizing expenses can work with different types of budgeting methods, including:
All three types of budgets look at your monthly expenses as a percentage of household income.
For example, the 50/30/20 rule uses three categories for budgeting:
Dave Ramsey's budget method includes 10 different categories. And the 70/20/10 budget rule splits your money between expenses, savings/debt and tithing/investing.
So as you decide which categories to include in your budget, just keep in mind that the goal is finding the number that works for you.
Related post: Budget Percentages Explained: 3 Easy Ways to Create Your Ideal Budget
Budget Categories List: 100+ Categories for Budgeting
To make this list less overwhelming, I've arranged the categories in groups. So you can jump around if you need to or just quickly scan through to get an idea of what to include in your budget.
And remember, you can grab a copy of this list as a free printable in the resource library!
Income
The income budget category includes all the money you have coming in each month. This can include money you receive regularly, as well as income you may only receive occasionally.
Depending on how you make money, your categories for budgeting income might look like this:
Paychecks
Business/self-employment income
Tips
Bonuses
Refunds
Rebates
Employer-reimbursed expenses
Alimony paid to you
Child support
If you're working on your budget and it seems like you have more expenses than income, consider what you can do to start making more money.
Related post: 21 Ways to Make More Money Now
Housing
Housing likely takes up the biggest share of your budget. According to the Bureau of Labor Statistics, the typical household spends $20,679 on housing each year.
Here's how your budget categories might break down for housing:
Mortgage payments
Rent payments if you don't own yet
Homeowners insurance
Property taxes
Home warranties
Renter's insurance
HOA fees if you own a home
Maintenance and repairs
Home improvements
Landscaping/lawn care
Pool service (we have a pool so this is one of our budget categories)
Security monitoring services
Utilities
Spending on utilities means keeping the lights on and the water running. As you plan the utilities section of your budget, consider including these categories:
Electricity
Water/sewer
Internet
Cable TV
Natural gas
Garbage collection
Recycling collection
Pro tip: Consider installing a programmable thermostat to save money on utility bills. It's a simple way to conserve energy (and save your wallet, too!)
Related post: 11 Ridiculously Simple Ways to Save on Electric
Food
According to the BLS, the typical American household spends $8,169 a year on food, including food at home and food away from home.
When you break down the food portion, here are some of the expense categories you might include:
Groceries
Restaurant meals
Takeout
Food subscription services (like Blue Apron)
Alcohol
Coffee (away from home)
Delivery fees (if you use DoorDash)
You can save money on food by meal planning, sticking with dirt cheap meals and using Ibotta to shop. In fact, you can get up to $20 in bonuses when you download the Ibotta app!
Related post: Is Ibotta Legit? How to Use Ibotta to Save Money
Transportation
Unless you bike or walk everywhere, you'll have to allocate some part of your budget to transportation. That can include adding these budget categories:
Gas
Oil and oil changes
Maintenance and repairs
New tires
Car insurance
Vehicle warranty
Annual registration fees
Property taxes
Inspection fees
Car loan payments (though you could include this under debt if you prefer to list them separately)
Ride-sharing/taxi fees
Bus passes
Tolls
Parking fees
Debt Repayment
Debt can be a real drain on your budget. And according to the Federal Reserve Bank of New York, Americans owe a stunning $14.56 trillion collectively.
A mortgage might be your biggest debt. But you might also have these categories to budget for with debt repayment:
Student loans
Auto loans
Personal loans
Credit cards
Mortgage loans
Business loans
Personal debts owed to friends/family
Alimony you pay
Child support you pay
Back taxes
Court judgments
If you'd like to spend less of your budget on debt each month, there are a few things you can do.
For example, refinancing student loans can help you save money on interest. And that can help you pay your debts off faster. Check out Earnest to get a free student loan refinancing quote.
You can also use an app like Tally to pay off credit cards faster.
Tally helps to lower your credit card APR so more of your payment goes to the balance. This review explains how to use Tally to get out of credit card debt.
Saving/Investing
Saving money is something you can do–if you're including it as a line item in your budget.
Emergency fund contributions
IRA contributions
401(k) savings
Health Savings Plan (HSA) contributions
Flexible Spending Account (FSA) contributions
Brokerage account deposits (try M1 Finance for $0 fee stock trades!)
Sinking funds
Holiday savings
College savings (i.e. a 529 college savings plan or Coverdell ESA)
If you're not saving regularly yet, then there are some simple ways to save money and live better you can try.
For example, that includes:
And if you need a good place to keep your savings, try CIT Bank. CIT offers savings accounts with competitive rates and minimal fees.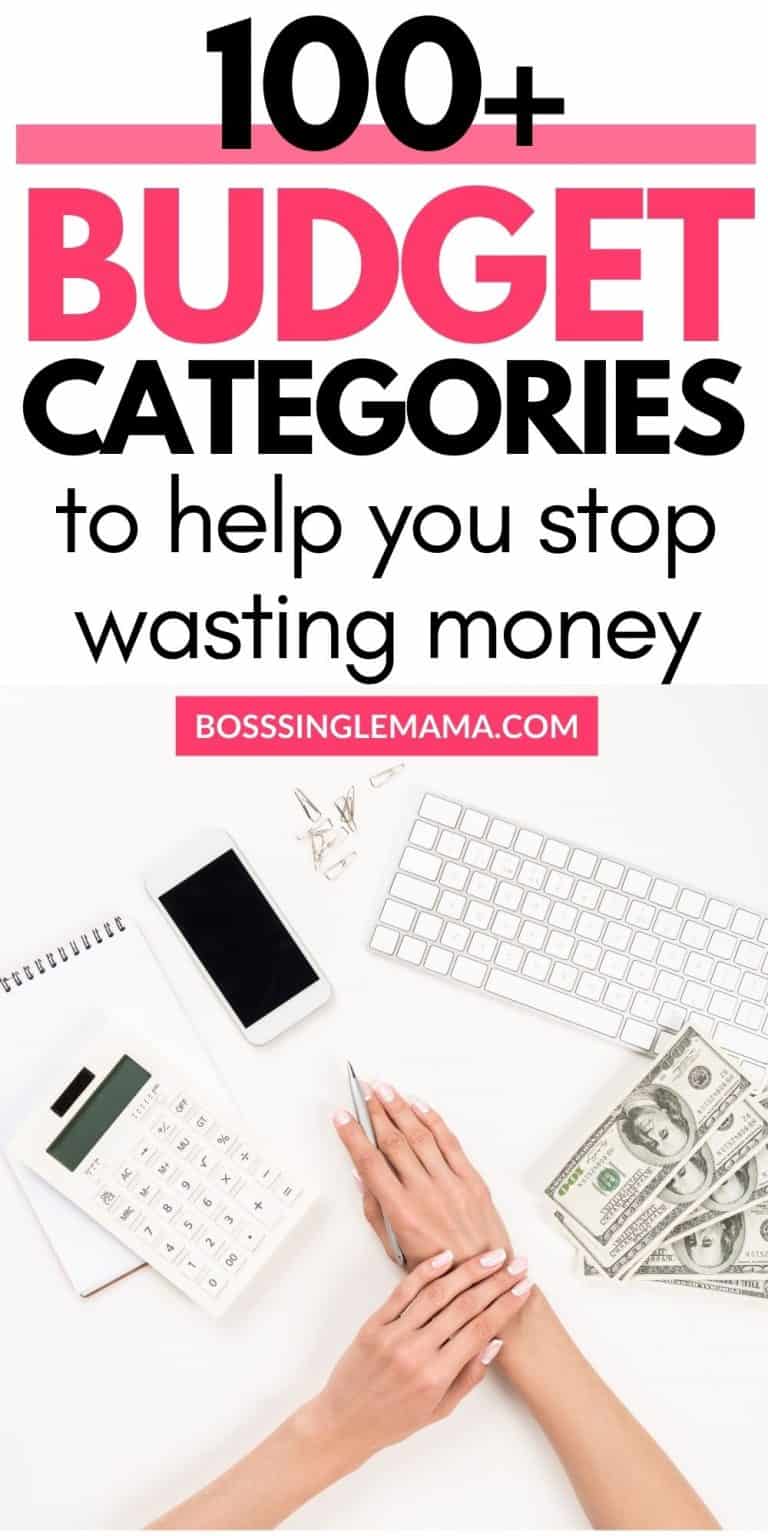 Kids
Raising kids is expensive, let's face it.
In fact, it costs the average family $233,610 to raise a child to age 18. And that doesn't include college, which can add thousands more to the total.
When assign expense categories for kids in your budget, here are some of the top costs you might have:
Daycare
In-home care/babysitting fees
Extracurricular activity fees (i.e. piano lessons, field trips, etc.)
School fees
School supplies
Uniforms, if your child wears them
Sports equipment
Private school tuition
Diapers
Formula/baby food
Baby gear
Child support you pay (if you didn't include it under debt)
Insurance
Insurance is important to have because it can protect you financially when you need it most.
For example, if you get in a car accident then your car insurance can help repair your vehicle or pay hospital bills. And health insurance can keep you from being left with staggering medical debt if you get sick or injured.
Here are some common insurance categories for budgeting:
Life insurance (check out Haven Life for life insurance quotes!)
Health insurance
Dental insurance
Vision insurance
Disability insurance
Homeowners insurance (if you didn't include it in the housing category)
Renter's insurance (if you didn't include it with housing)
Vehicle insurance (if you didn't include it with transportation expenses)
Long-term care insurance
Pets
Got pets? Then you've got extra expenses in your budget.
And as someone who owns two dogs and three cats, it's really easy to forget about these expenses if you're not planning for them.
Pet food
Treats
Bedding
Toys
Grooming
Pet-sitting/boarding fees
Medications (like heartworm or flea treatments)
Veterinary bills
Pet insurance
Personal Care
Personal care is important, especially if you're a stressed-out parent who needs a break. So here are some of the expense categories you might add to your budget if you like to treat yo' self every now and then:
Haircuts (or save money by cutting hair at home)
Salon visits
Manicures/pedicures
Massages
Spa visits
Makeup
Toiletries
Cosmetic treatments
Clothing
Baby clothing
Kids clothing
Adult clothing
Seasonal clothing
Clothing repairs
Dry cleaning
Clothing can eat a big hole in your budget if you're not looking for ways to save money on clothes. For example, using Rakuten when you shop online is an easy way to earn 20% or more back on clothes and other things you buy.
Medical
The medical expense category includes anything you spend toward health care:
Copays
Coinsurance
Prescription drugs
Over the counter medicines
Vitamins/supplements
Alternative health treatments
Household Items
Household items can include small purchases, like cleaning supplies, or bigger items like new furniture.
Cleaning products
Toilet paper
Paper towels
Pool maintenance supplies (if you don't use a pool service)
Indoor furniture
Furniture repairs
Home decor items
Outdoor furniture
Travel
If you travel regularly or just a few times a year, it's helpful to have separate budget categories for those expenses, including:
Airfare
Hotels
Travel agent fees
Rental cars
Travel insurance
Baggage fees
Souvenirs
Cruise fare
Public transportation
Passport fees
Global Entry/TSA PreCheck fees
Pro tip: Save money on Global Entry/TSA PreCheck fees by signing up for a travel rewards credit card that includes a fee credit as a member perk.
Subscription/Recurring Expenses
Recurring expenses may be small but when you add them together, they can count for a sizable part of your budget.
As you map out expense categories, don't forget to include things like:
Netflix
Disney+
Newspaper subscriptions
Magazine subscriptions
Paid credit monitoring services (monitor your credit for free with Credit Karma!)
Professional membership fees
Alumni fees
Software subscriptions
Gym memberships
Food delivery services (like Blue Apron)
Pro tip: Use Billshark to ditch unwanted subscriptions. Billshark can review your spending to find wasted money and they can also help negotiate lower payments for some of your bills.
Related post: Billshark Review: Can It Really Help You Save Money on Bills?
Gifts/Giving
Gifts and giving can be grouped together or created as separate expense categories. For simplicity's sake, I've put all of the following under one budget category heading:
Tithing
Cash donations
Birthday gifts
Holiday gifts
Gifts for other special occasions
Cards
Wrapping paper
Postage/mailing fees
Recreation/Hobbies
Everyone has hobbies they enjoy. Mine is reading, for example.
And if some of those hobbies involve spending money, then it's important to make sure you're budgeting for them.
Books
Craft supplies
Knitting supplies
Sports equipment
Movies/DVDs
Music streaming
Classes
Taxes
Everyone's got to pay taxes, right? (And if you haven't gotten around to filing yours yet, visit Credit Karma to file for free!)
Here are the most common tax-related budget categories:
Federal taxes
State taxes
Local taxes (which can include property taxes)
Quarterly estimated taxes if you're self-employed
Miscellaneous
You can use this final budget category to include anything that doesn't fit into another category.
For example, here are some of the things that might count as miscellaneous expense categories in your budget:
Bank fees
Stamps/postage fees
Professional services (i.e. attorney, accountant, etc.)
One-time purchases (like a new laptop)
How to Use Budget Categories to Manage Your Money
Figuring out how to categorize expenses really just means learning how divvy up your spending and income.
That's the core of budgeting: adding up what goes out and subtracting it from what comes in.
If you're struggling with how to track your spending, then you can use a tool like Personal Capital for that.
Personal Capital syncs up with your bank and credit card accounts to automatically record your transactions. And it's free to use so you don't have to add a separate budget category for fees.
Once you start tracking your expenses regularly, you can get a better idea of where they should go in terms of your budget categories. I recommend tracking expenses for at least a month; this way, you can see where your money really goes.
From there, you can work on dividing up what you spend into the appropriate category.
And I know that 100+ categories is a lot. So start with the big expenses in your budget, like housing, food, utilities and transportation.
Then focus on debt and saving next before adding in smaller expense categories. This way, you can create a budget plan that perfectly fits your spending habits.
Free Printable List of Categories for Budgeting
Need a quick and easy way to refer back to this list of expenses to include in your budget?
Click the image below to gain access to the Resource Library, where you can snag this budget categories list and a monthly budget template for FREE!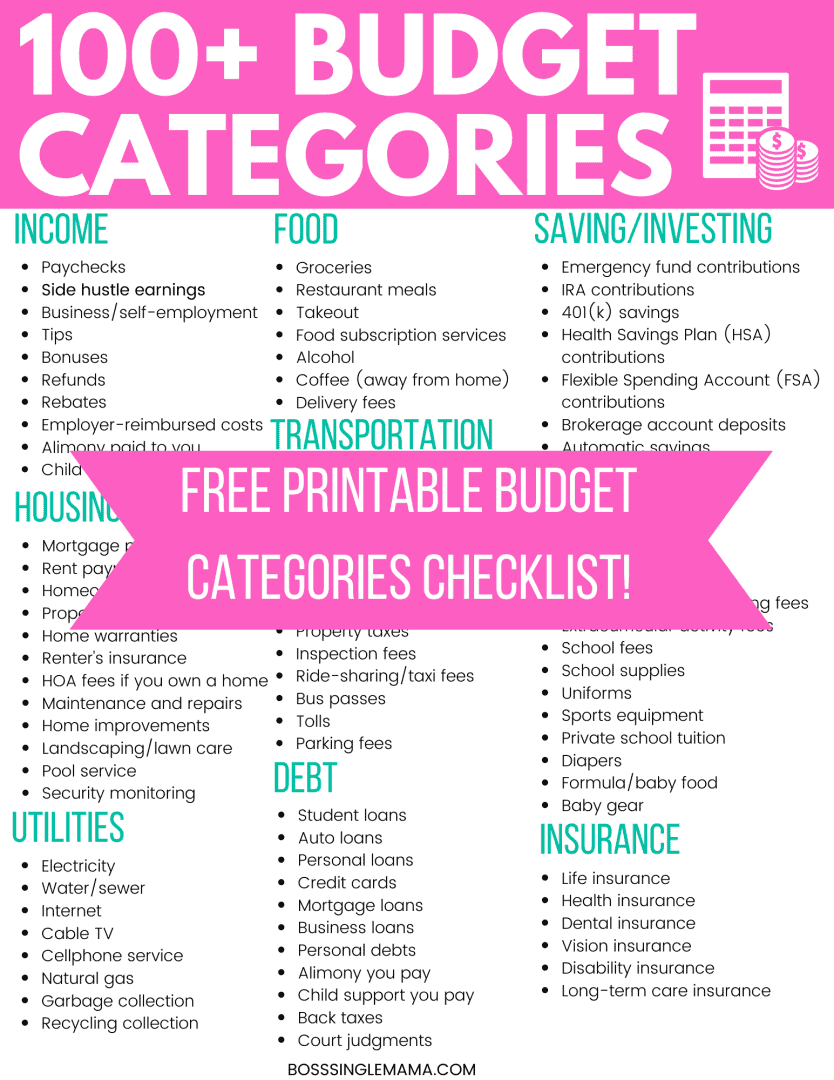 Final thoughts on budget categories
I've give you 100+ expense categories to include in your budget. And honestly, I hope you're not completely overwhelmed by them all.
Because budgeting can help you improve your finances in a big way if you're committed to it. Sticking to a budget helped me pay off nearly $100,000 in consumer debt and sock away almost $1 million over the last few years.
So yes, budgeting does work. And if you're clueless about where to start, these budget categories can help.
Got a budgeting tip to share? Head to the comments and tell me about it.
And don't forget to grab your free budgeting categories checklist!
Read these posts next for more budgeting tips:
100+ Expense Categories for Budgeting