Last Updated on February 20, 2022 by Rebecca Lake
Looking for a way to consolidate credit card debt? This Tally app review explains how it can help you get rid of credit card debt for good.
And if you want a quick and easy way to make extra money to pay off debt, get paid to take surveys with Swagbucks and Survey Junkie!
Trying to dig your way out of credit card debt can feel like being stuck in quicksand–the more you struggle to make progress, the harder it seems to get.
Altogether, Americans owe just shy of $1 trillion in credit card debt in the U.S., according to the Federal Reserve.
And if you're one of the debt-burdened, you're probably looking for the best way to pay off credit card debt for good.
At one time, I had over $30,000 in credit card debt. It was a major source of stress, especially since I was trying to pay it off while living on a single mom budget.
And anything I could do to make it easier helped. If you're feeling trapped by credit card debt, there's an app that could help you pay it off faster and save money.
It's called Tally and this Tally app review can help you decide if it's a financial tool you need to pay off your debt for good.
Read this post for tips on making a budget to pay off debt:
How to Make a Budget When You Hate the Idea of Budgeting
What Is Tally?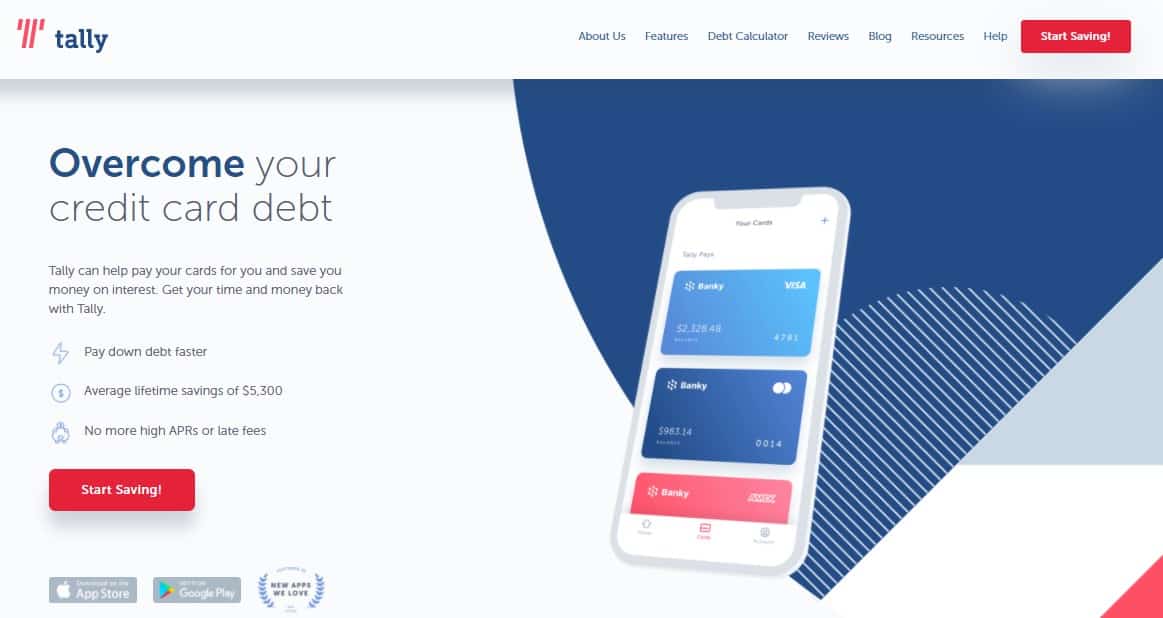 Tally is a mobile app that's designed to help people pay off credit card debt with less stress, while also saving money.
Tally was founded by Jason Brown and Jasper Platz, who previously founded Gen110, Inc., a solar energy company funded by Kleiner Perkins Caufield & Byers.
Brown and Platz launched the Tally app in 2015, based on three principles:
Lending should be fair
Annual percentage rates should be low
Owning credit cards should be empowering
Tally is a fintech startup that takes a unique approach to helping people manage their money.
And it's one option to consider if you're looking for ways to consolidate and pay off high-interest credit cards.
How Does Tally App Work?
Great question! The Tally app is free to download and it works like this:
You create your Tally account
You register the credit cards that you want to link to Tally
Tally monitors your APRs, balances and due dates for you
The app then determines the smartest way to pay your credit card bills to minimize interest charges and maximize payments
You can either schedule payments to your credit cards yourself or use the Tally Pays feature. If you decide to use Tally Pays, the Tally app handles making credit card payments for you.
Tally's algorithm determines which cards to pay first, based on APR, credit utilization and other factors.
But part of making the Tally app work for you means being approved for a low-interest line of credit.
Tally reviews your credit history, credit score and financials to determine whether you're eligible for a credit line.
If you're approved, any cards you've linked to the app are transferred to your line of credit.
The idea is that your line of credit will carry a lower APR than your credit cards. So you can use your Tally line of credit to consolidate credit card debt and save money.
This is a revolving line of credit, meaning as you make payments to it, you can free up available credit. As you do so, the Tally app continues monitoring your accounts to decide the best way to pay your cards each month.
And as long as you keep your Tally account in good standing, the app will ensure that you're paying at least the minimum due to your cards each month even if you've used up your entire Tally credit line.
There are no over-limit fees for this benefit. You just have to pay back any advances on your next regular due date with Tally.
There's also a late fee protection guarantee so you never have to worry about missed or late payments to your cards.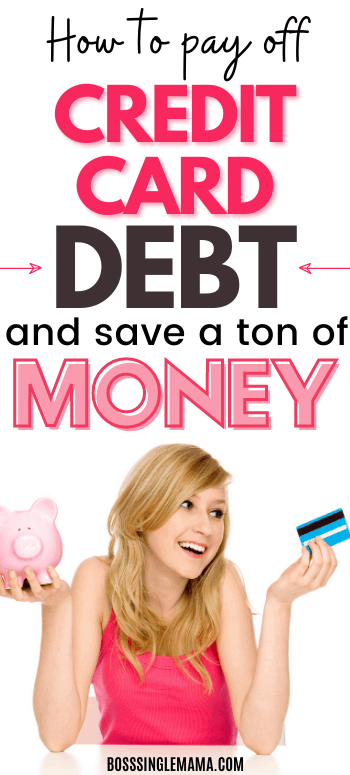 Can Tally App Save You Money?
If you're reading this Tally app review, then whether or not it can save you money might be your biggest question.
The short answer is that Tally claims to offer a lifetime savings benefit of $5,300 for its customers.
And that's a pretty decent chunk of money that you could use to:
Build emergency savings
Pay off other debts you can't consolidate through Tally, such as student loans
Save toward retirement or another long-term financial goal
Pay for home repairs if you own
The actual amount of money you could save with the Tally app depends on the APRs you're currently paying on your credit cards and the APR you qualify for with Tally.
Currently, Tally charges an APR ranging from 7.9% to 25.9%. The APR you end up with is based on your creditworthiness.
There's a minimum payment you have to make to Tally each month, which also influences how much you can save.
First, you repay the minimum payments Tally paid to your credit cards for the month
Then you pay interest based on your APR
Finally, you repay 1% of the total amount you borrowed from Tally
Just like with paying down credit card debt any other way, paying more than the minimums each month can save you more money.
You can pay up to your current Tally balance each month. The more you pay, the more the app can optimize your credit line to pay off your credit card debts.
How Much Does Tally Cost?
Consolidating credit card debt with a loan or line of credit usually means paying some kind of fees as well as interest.
You already know that you'll pay an APR ranging from 7.9% to 25.9% on your Tally line of credit. The better your credit score, the lower your APR is likely to be.
This APR is how Tally makes its money. According to the website, the company only makes money if it can save you money on credit card bills.
In terms of fees, you'll pay:
No annual fee
No origination fee
No prepayment fee
No balance transfer fee
No late payment fee
No over-limit fee
Basically, no hidden fees of any kind. That's another way that the Tally app can save you money while paying off credit card debt.
If you were to transfer balances to a 0% APR credit card, for example, you might pay a balance transfer fee of 3%-5% of the transfer amount.
And with a personal debt consolidation loan, you might pay an origination fee or prepayment penalty.
So one of the key takeaways from this Tally app review is that it could be a money-saving option for consolidating credit cards versus a balance transfer or loan.
Pros and Cons of Using Tally App
Getting out of credit card debt can make such a difference financially.
But is the Tally app the best way to do it?
This Tally app review is meant to make it easier to weigh both sides. So here are some of the main advantages and disadvantages to know about using Tally to tackle credit card debt:
What's good about Tally
It can make managing credit card debt easier since you can track balances in one place
You may qualify for a lower APR with a Tally line of credit than you might with a personal loan
Creating a Tally account won't negatively affect your credit score
Using Tally to manage your credit cards could actually help your credit score if you're paying on time consistently and can lower your credit card balances fairly quickly
It's free to download Tally and there are no hidden fees of any kind
Tally streamlines and automates the credit card debt repayment process for less hassle
You're not required to cancel your credit cards, so you can still take advantage of card benefits like travel insurance or purchase protection
Why you may want to think twice
The Tally app isn't yet available in every state
You'll need a good credit score to be approved for a Tally line of credit
If you get an APR at the higher end, you may not save any money when paying off credit card debt
You could technically still use your credit cards, which could end up increasing your balance instead of reducing it
If you're not sure whether Tally is right for you, there's one simple way to help make your decision easier.
Tally offers a free online debt calculator that can show how much money you could save by consolidating credit card debt through the app.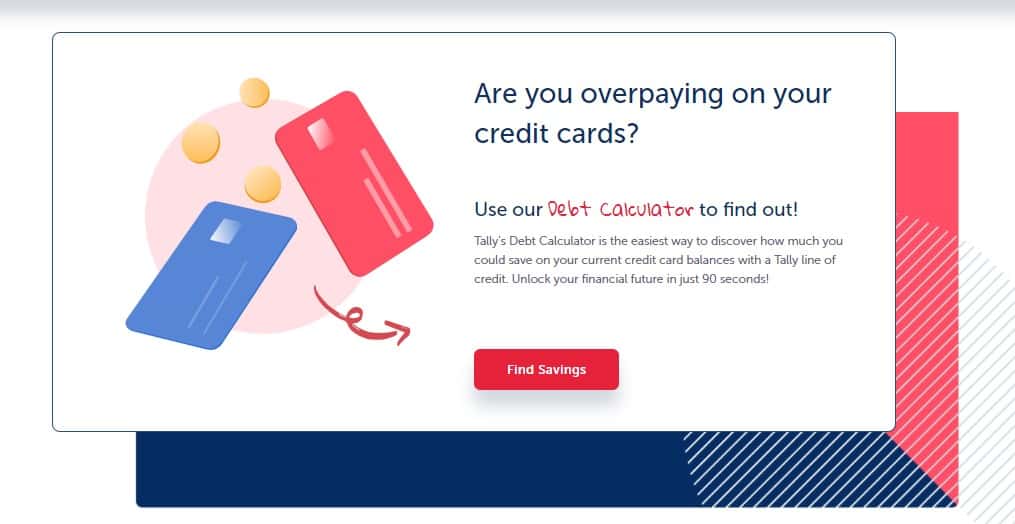 Who Is the Tally App Good For?
Tally could save you money when paying off credit card debt. But it may not be right for everyone.
Whether it makes sense for you to use the Tally app can depend on:
Your credit scores and whether you qualify for a Tally line of credit
The APRs you're currently paying to your credit cards
The APR you could qualify for with a Tally line of credit
Remember, the Tally app isn't the only way to manage and pay off credit card debt.
You could also:
Apply for a 0% APR balance transfer card
Use a personal loan to consolidate credit card debts
Take out a home equity line of credit if you own a home to consolidate debt
All of those options have pros and cons.
With a 0% APR credit card, for example, you might pay a balance transfer fee. And you only get the 0% APR for a set amount of time.
Personal loans don't typically offer a 0% APR. And there are fees you might have to pay for those as well.
Borrowing against your home's equity could come with a low interest rate. But if you don't pay it back, you risk losing your home since it serves as collateral for the loan.
Bottom line, you might consider using the Tally app to consolidate and pay off your credit cards if you want a simple way to do so while saving money on interest.
How to Start Using Tally to Pay Off Credit Card Debt
If you're ready to start using Tally, the first step is creating your account.
You'll need to tell Tally your name and email address and create a password. From there, Tally will ask for your address to determine whether the app is available in your state.
If it is, then you can move on to entering your credit card details for the cards you want the Tally app to manage.
You can download the Tally app through Google Play or the App Store, depending on which device you use.
Once your account is created, you can decide if you want to handle credit card payments yourself or use Tally Pays. You'd then make your one monthly payment to Tally, tracking your balances and debt payoff progress through the app.
Tally App Frequently Asked Questions
To round out this Tally app review, here are answers to some of the other questions you might have.
Is the Tally app legit?
Yes, this is a 100% legit financial app.
Does Tally affect your credit score?
Tally uses a soft credit pull to approve you for a line of credit. So there's no negative credit score impact.
Using Tally could help improve your credit score if you're paying on time and reducing your credit card balances.
What credit score is needed for Tally?
The Tally app looks for a minimum FICO credit score of at least 660 to qualify for a line of credit.
If your credit score is below that, you could still apply. But you may not be approved.
And remember, the better your credit score the better your APR is likely to be.
In which states is Tally available?
Right now, Tally is available in these states:
Arizona
Arkansas
California
Colorado
Connecticut
Washington DC
Florida
Georgia
Idaho
Iowa
Louisiana
Maryland
Massachusetts
Michigan
Minnesota
Missouri
New Mexico
New Jersey
New York
Ohio
Oregon
Oklahoma
Pennsylvania
South Carolina
South Dakota
Tennessee
Texas
Utah
Washington
Wisconsin
If your state isn't on the list, you can still register with Tally to be added to the waiting list. The app is adding new states continually.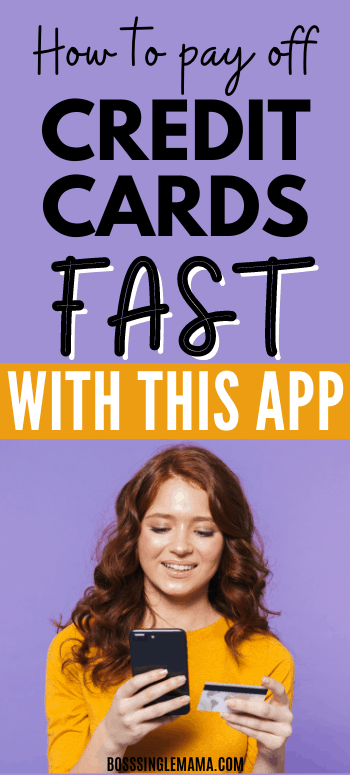 Tally App Review: Final Verdict
The Tally app could be a useful tool for paying down credit card debt while saving some money on interest.
If you have high-interest credit cards and you're ready to ditch your debt for good, Tally can help you do that in one place conveniently and easily.
It's still worth comparing other options, such as a balance transfer credit card or personal loan.
But if you want a way to pay off credit cards without a hard credit check, consider signing up for Tally now!
Have you used the Tally app to pay down credit card debt?
If so, head to the comments and share your experience. And don't forget to pin and share this post!
Read these posts next for more tips on managing debt:
How to Get Out of Debt on a Low Income When It Feels Impossible
7 Ways to Pay Down Debt Fast (So You Can Start Saving Money)
Billshark Review: Can It Really Help You Save Money on Bills?