Last Updated on February 20, 2022 by Rebecca Lake
How to Get Out of Debt on a Low Income
Are you struggling with how to get out of debt on a low income?
Being in debt can make it harder to reach your financial goals. And you may have trouble stretching an already tight budget farther.
But there are solutions for getting out debt on a low income, even if you're asking questions like:
How can I get out of debt when I am poor?
How can I get out of debt if I live paycheck to paycheck?
How to get out of debt when you are broke?
In this step by step guide, I'm sharing some of the best tips for getting out of debt on a low income so you can get ahead financially.
Related post: 7 Strategies for Paying Down Debt Fast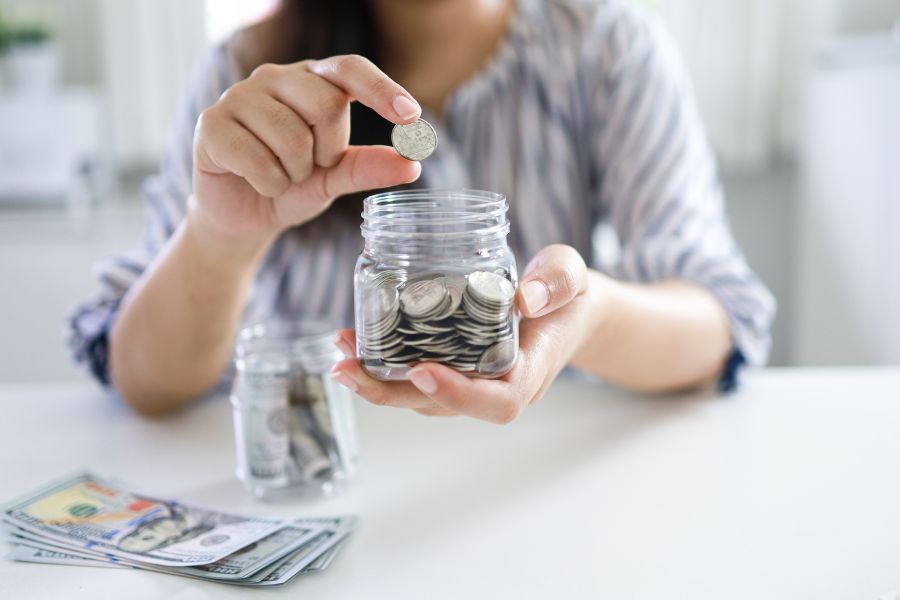 How to Get Out of Debt on a Low Income (Legitimate Ways)
1. Stop adding to your existing debt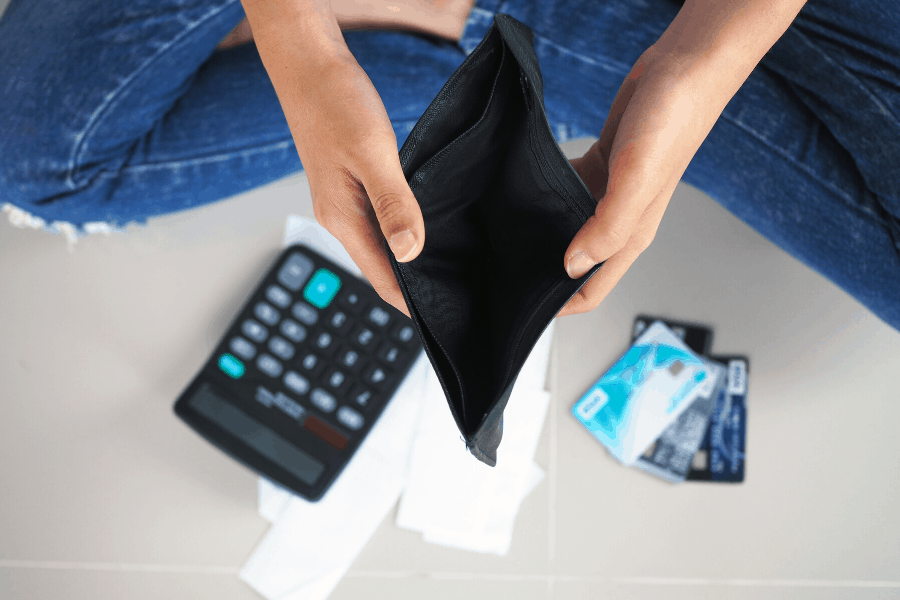 The first secret to how to get out of debt on a low income is to stop adding to your debt problem.
This means no more:
Turning to credit cards to cover expenses
Taking out high-interest loans
Getting advances from your paychecks
Shuffling balances around with 0% balance transfer offers
Borrowing from friends and family
This can be the hardest step in the entire process because it requires you to take a hard look at what you're spending. But it's important to start here; otherwise, you'll have a harder time getting your debt under control.
Related post: How to Track Spending Every Month and Never Blow Your Budget Again
2. Add up your debt balances
Getting out of debt on a low income means knowing what you owe to the penny. So pull out your credit card statements and loan statements, then add up:
How much you owe to each debt
The interest rate on the debt
Your minimum monthly payment
The actual amount you pay monthly for each debt and altogether
Your total debt owed altogether
If you're behind on bills anywhere, you can also make note of any fees or penalty rates that might apply to your accounts.
This is probably the least fun step when learning out how to get out of debt on a low income. But seeing the numbers in black and white can be highly motivating to start tackling those debts.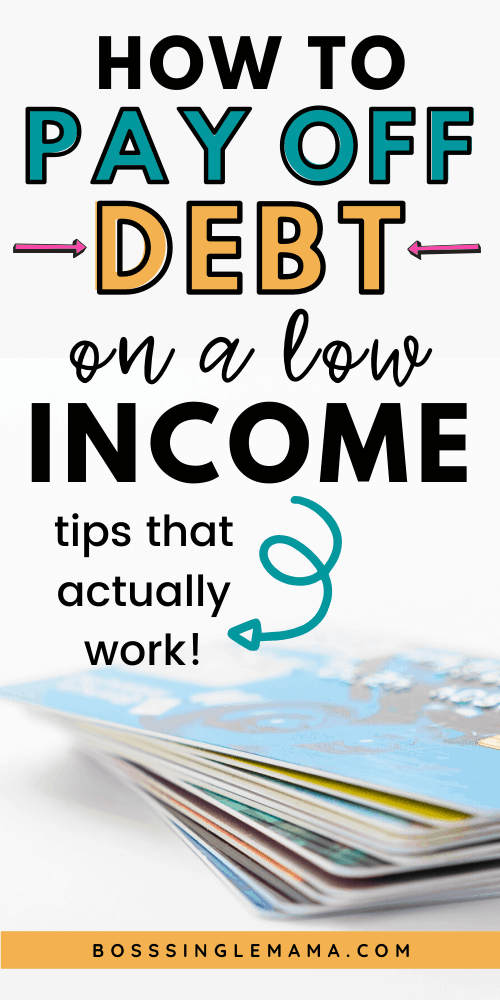 3. Choose the right debt repayment strategy
If you're trying to figure out how to get out of debt on a low income then chances are you're not going to be able to throw thousands of dollars a month at your balances. So you need to have a strategy that allows you to pay money toward your debt consistently.
You can use the debt snowball approach or the debt avalanche.
The debt snowball method (popularized by Dave Ramsey) has you paying off debts by smallest balance to highest. You pay as much money as you can toward the smallest debt, while making minimum payments to the rest.
As you pay off the first debt, you roll that payment over to the next debt and repeat the process. You keep doing this until all of your debts are gone.
The debt avalanche uses the same approach, although instead of paying off debts by balance you focus on interest rates instead. So you start with the debt that has the highest APR, then work your way down.
Debt repayment example
Here's an example of how much you might cost yourself by only making the minimum payments to your debts.
Say you owe $10,000 in credit card debt at an APR of 19.99%. Your monthly minimum payment is $300 or 3% of the balance.
At that rate, it will take you four years and two months to pay it off. And it'll cost you just over $4,700 in interest.
Now, say you come up with another $200 to put toward your debt each month.
Even if your interest rate doesn't change, paying $500 a month toward your cards instead of $300 would cut your payoff time in half. And you'd save about $2,500 in interest.
Related post: 7 Dave Ramsey Baby Steps: Can They Help You Achieve Financial Freedom?
4. Get spending under control with a budget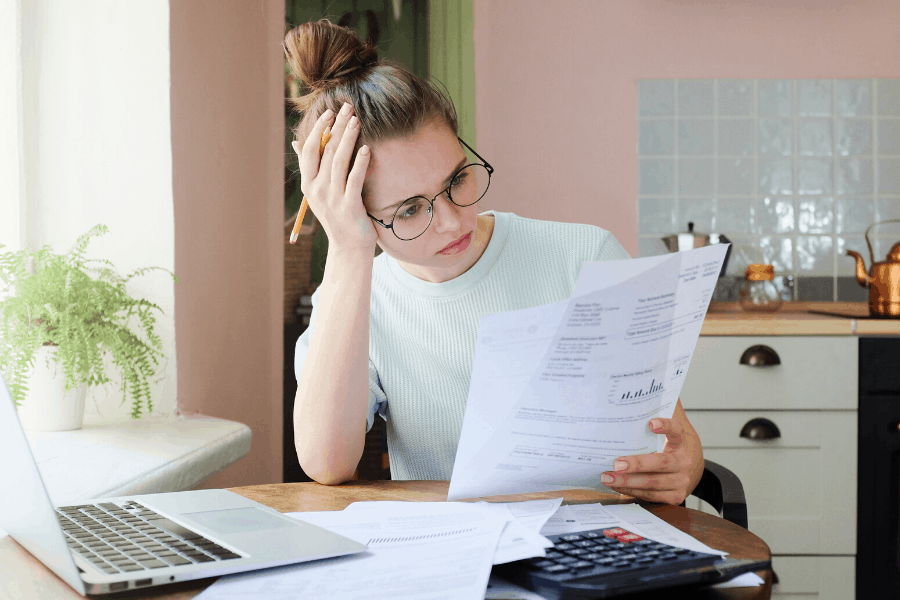 A budget is one of the simplest but most powerful tools you can have when trying to figure out how to get out of debt on a low income.
A lot of people think of budgeting as something that keeps you from doing what you want your money.
But in reality, a budget is the exact opposite. It's a plan for taking control of your money.
If you don't have a budget, go read this budgeting guide for beginners first. And if you do have a budget, it's time to look at where you can cut spending.
Here are some easy ways to be frugal and cut spending without completely changing your life:
Invest in a pair of clippers and give your kids haircuts at home
Cancel cable and watch TV using low-cost streaming services like Hulu
Switch from a contract cell phone plan to a prepaid plan (Tello offers plans starting at $5/month!)
Stop going to the grocery store and use online ordering and pickup instead (saves you money on those impulse buys!)
Use only cold water to do laundry and switch to dryer balls instead of dryer sheets to save money
Turn off lights when leaving the room and unplug appliances you aren't using
Stick to finding ways to have fun as a family that cost little or nothing
These are all frugal habits I adopted as a newly single mom when I had a ton of debt and barely any money. And they're all things I still do to save money so I know they work.
If the thought of going over your expenses is overwhelming, there's an easy solution. You can use the Trim Financial Manager to find areas where you can save money.
Trim reviews your bank account activity and expenses to find wasted money. It's personally saved me over $200 and I recommend trying it out if you're having trouble finding the leaks in your budget.
For more money-saving ideas, read these posts next:
21 Things to Stop Buying to Save Money Every Month
37 Helpful Money-Saving Hacks for Living on One Income
100+ Best Frugal Living Tips for Families to Save Money
5. Make your debt less expensive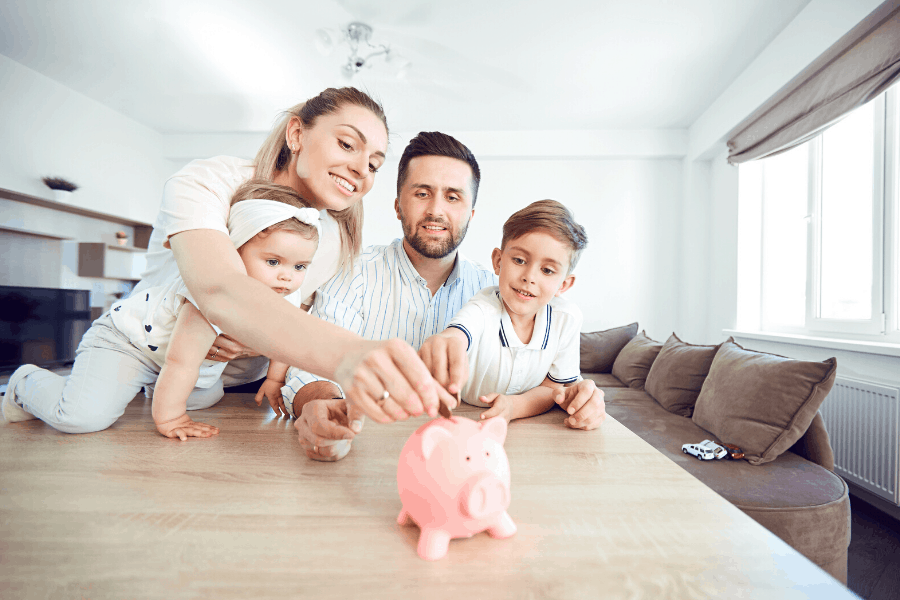 Here's one of the most important things to know if you're focused on how to get out of debt on a low income:
High interest rates can be a huge obstacle to reaching your goal.
Banks and lenders charge interest because that's one way they make money. But that doesn't mean you have to settle for paying steep interest rates on credit cards or loans and forking over all that cash.
Instead, you find ways to bring those interest rates down.
You can call your lenders or creditors and ask for a rate cut. That can work with credit cards if you've always paid on time and are a good customer.
But asking doesn't always mean receiving.
So here's what else you can do:
Transfer high-interest credit card debt to a new card with a 0% APR
Take out a low-interest rate personal loan to consolidate debts
Refinance your private student loans at a lower interest rate
Consider refinancing your mortgage while rates are low
All of these options can save you money if you're able to qualify for a lower rate than what you're paying now.
To get the best rates, you'll need a good credit score. If you're clueless about where you stand credit-wise, then head over to Credit Karma and sign up for a free account.
Credit Karma is a free credit monitoring service that lets you track your credit score and get alerts on changes to your credit file. I've used it to monitor my credit for years and it's been helpful for paying off debt and on a couple of occasions, it's also helped me to prevent identity theft.
Sign up for Credit Karma (no credit card required!)
Once you know what kind of credit situation you have, you can start shopping around for credit card and refinance loan offers.
And if you want to refinance student loans I encourage you to check out Earnest.
Earnest is an online marketplace that offers student loan refinancing at competitive rates. Get a rate quote from Earnest now to start saving money.
6. Use found money to pay off debt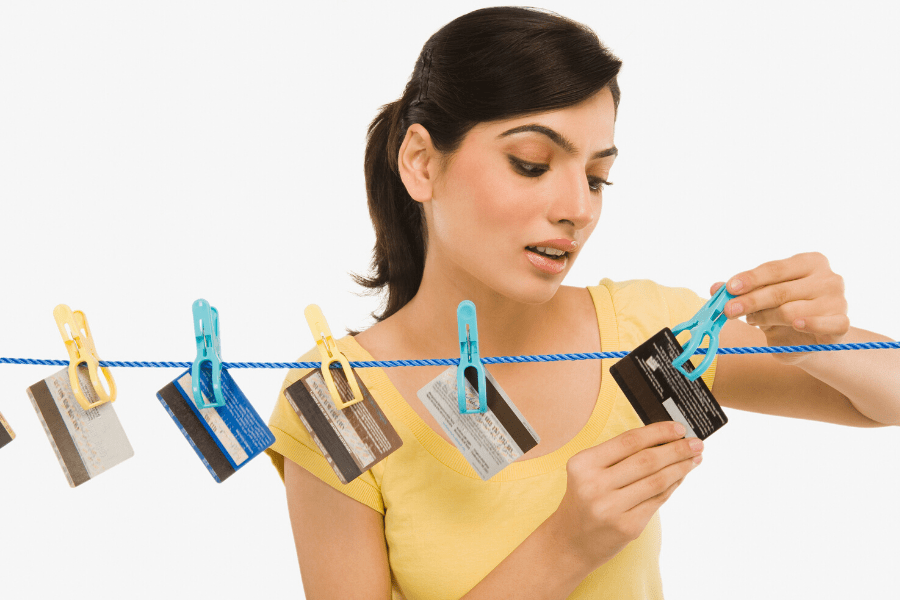 Found money is an overlooked solution for how to get out of debt on a low income. Found money is basically any money you weren't counting on in your budget.
So that includes things like:
Refund checks
Stimulus checks
Rebates
Bonuses you get from work
Returned security deposits
Cash gifts for birthdays or holidays
When you have extra money like this, whether it's a few bucks or a few thousand dollars, consider putting all of it toward debt if you can.
You might be able to wipe out a good chunk of what you owe this way. But even smaller amounts make a difference.
And you can create found money yourself using cashback apps or earning referral bonuses.
Cashback apps pay you money back when you shop at partner merchants. And some, like Ibotta, will pay you a cash bonus just for signing up.
Check out some of these options for earning free money with cashback apps.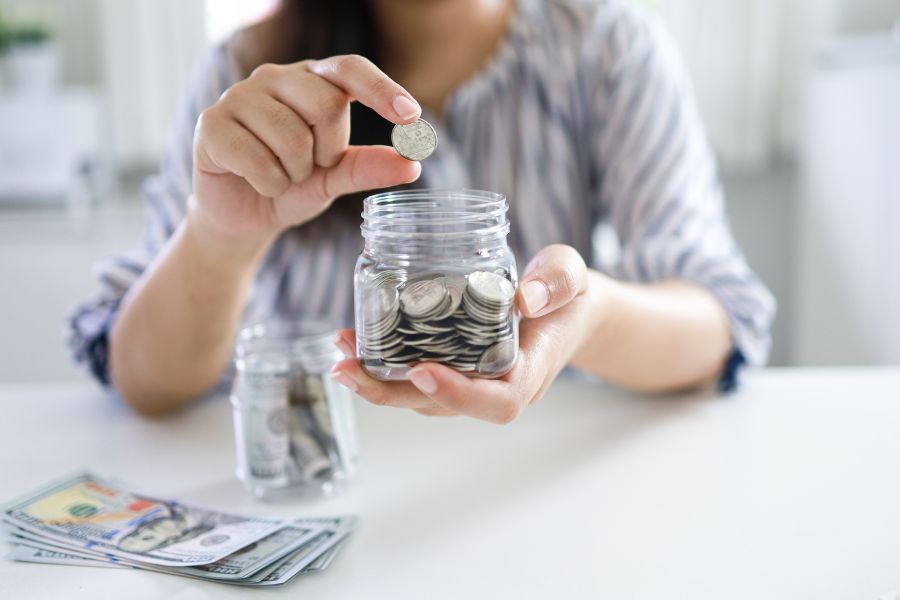 7. Find ways to make more money
If you've tried other tips for how to get out of debt on a low income but feel like you're not getting anywhere, increasing your income may be the answer.
The good news is, there are so many ways to make extra money to pay down debt.
For example, you could:
Ask for more hours at work if you're paid hourly
Get a part-time job on top of your full-time job
Negotiate a raise if you're paid a salary
Start a side hustle or your own business
Side hustles are great you can make money on a flexible schedule. That's perfect if you're a stay-at-home mom who needs to be there for her kids or a busy college student who's juggling work and classes.
If you're looking for some side hustle ideas to make extra money, these are my absolute favorite options:
Those are just some of the ways you can make money to help pay off debt.
For more ideas on making extra money, read these posts next:
5 Legit Business Ideas for Moms You Can Start to Earn $5,000+ Monthly
50 Legitimate Ways to Make an Extra $1,000 a Month From Home
50 Best Side Hustles for Moms to Make an Extra $500 a Month
Get Help With Your Debt If You Need It
Sometimes, debt can just be too overwhelming. And no matter what you do, it's a struggle to pay it off on a low income.
That's when you might need to get help with managing debt.
Reaching out to a nonprofit credit counseling agency can help. Nonprofit credit counselors can help you come up with a workable plan for getting out of debt.
And if your debt is just too big, they may be able to suggest other solutions like debt consolidation, debt settlement or even bankruptcy.
Those options aren't necessarily ideal, since they can hurt your credit score. But they can help you get rid of your debt when you're absolutely buried.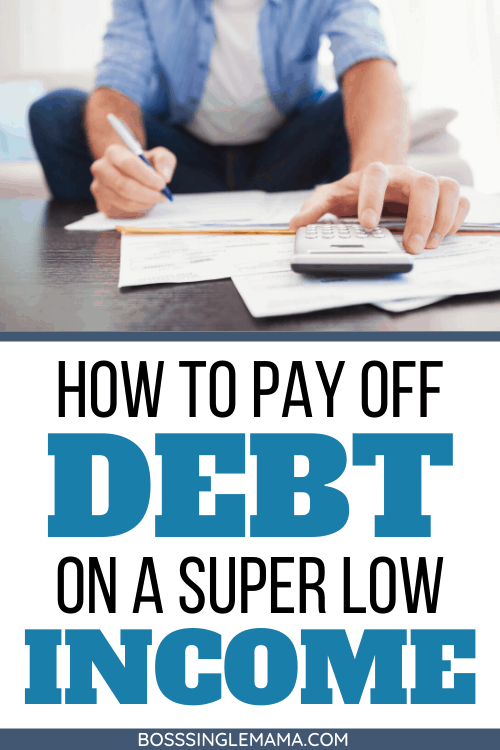 Final thoughts on how to get out of debt on a low income
Getting out of debt isn't always easy, especially when you aren't making a lot of money. But it's possible to pay off debt for good even on a low income if you're committed to making it work.
These tips can help you start your debt payoff plan and potentially make more money along the way.
For more ideas on how to make money, check out this list of 40+ things to sell for quick cash!
And before you go, be sure to stop by my list of Smart Money Tools for more resources on making and saving money.
How to Get Out of Debt on a Low Income