Last Updated on March 10, 2022 by Rebecca
Looking for the best stay at home mom jobs? Learn the best ways to make money from home for moms.

And for a quick and easy way to make money now, get paid to take surveys with Survey Junkie!
Stay at home jobs are some of the best ways to make money from home. And work from home jobs for moms are especially great if you need a flexible schedule.
I've been working from home since 2011 and I've done many different stay at home mom jobs including:
Freelance writing
Being a virtual assistant
Blogging
Designing infographics
At home jobs can help you create financial freedom so you can save more and live a richer life. The best stay at home mom jobs also leave you plenty of time to raise your kids without being chained to a computer all day.
Wondering how to find work at home jobs for moms?
This article offers a closer look at some of the best stay at home mom jobs for moms to earn money on the side.
What Jobs Can Moms Do From Home?
There's no single option that's the best from home job for a mom. And that's because there are so many ways for moms to make money online.
For example, some of my favorite side hustles for moms include:
Freelancing
Becoming an online proofreader
Teaching online
These work from home jobs use the skills you already have to make money.
And there are plenty of easy ways to make money, too. Taking surveys, for instance, can put extra money in your pocket.
Some of my favorite paid survey sites include:
Taking surveys is a low-stress way for moms to make money.
Related post: 40 Best Side Hustles for Moms to Make Extra Money
What Are the Highest Paying Stay at Home Mom Jobs?
Some work from home jobs pay better than others.
If you're curious about which stay at home mom jobs make the most money, here's a quick rundown according to FlexJobs:
Product manager: Salary range $54K to $121K
Mobile developer: Salary range $49K to $112K
Marketing communications director: Salary range $47K to $136K
Software engineer: Salary range $60K to $124K
Those are some high paying jobs you can do from home. But what about the best paying stay at home jobs for moms?
Here are some of the best ways for moms to make money online.
25 Best Stay at Home Jobs for Moms
1. Online teacher
Online teaching is a great side job for moms or anyone else who wants to make money and work with kids. You could make money teaching live classes or tutoring kids in English.
But what if you don't have a teaching degree? That's not a problem if you're interested in teaching with Outschool.
Outschool is an online platform that offers virtual classes for kids K-12 on just about any subject. Anyone can apply to become an Outschool teacher, no teaching degree needed.
You'll need to pass a background check but some outschool teachers are making $100 a day or more.
Learn how to become an Outschool teacher and apply.
2. Virtual tutor
Virtual tutor is another flexible work from home job moms can do in their spare time.
Tutoring is a little different than teaching with Outschool, since you might be working with kids one-on-one versus leading a class. And you might focus on tutoring kids in a single subject, like math or science.
Here are some sites that offer work from home tutoring jobs for moms:
You may need to have a college degree to apply for tutoring jobs with some of these sites.
3. Online English teacher
There's always demand for people who have an excellent grasp of English to share their knowledge with kids or adults.
If you're interested in teaching English online to make money, here are some of the most popular sites that hire moms:
Keep in mind that some sites that pay you to teach English online might require you to have a college degree. At the very least you'll need to be fluent in English.
4. Kids yoga teacher
Like yoga? Then you might be interested in making money as a kids yoga teacher.
As an online yoga teacher you can lead virtual yoga classes for kids (or adults). There are different ways to make money teaching yoga online, including:
Setting up and monetizing a YouTube channel
Creating and monetizing a yoga blog or website
Offering live kids yoga classes through Outschool
If you're not certified to teach yoga to kids, you can get your certification online. Pretzel Kids offers kids yoga training online in half the time it normally takes to become certified.
Learn how you can make $50 an hour or more teaching kids yoga with Pretzel Kids.
5. Virtual assistant
One of the first work from home jobs I ever had as a stay at home mom was being a virtual assistant. I've since moved on to writing as my main business, but I still think being a VA is one of the best stay at home jobs for moms.
It's flexible, creative and has the potential to pay well. According to Indeed, the typical VA makes close to $60,000 a year.
So what do virtual assistants do?
In a nutshell, they help business owners run their businesses. Some of the things you might be tasked with as a VA include:
Answering emails
Writing website copy
Managing social media accounts
Managing Pinterest accounts
Maintaining an editorial calendar
Creating spreadsheets or databases
Those are just some of the virtual assistant services you can offer to make money.
If you'd like to learn more about how to become a virtual assistant, I recommend checking out this online mini-course.
It breaks down the basics of making money as a VA so you can decide if it's right for you.
Sign up for the virtual assistant mini-course or read this guide to how to become a VA.
Related post: 50+ Virtual Assistant Services You Can Offer From Home to Make Money
6. Online proofreader
Proofreading is a highly prized skill that businesses and bloggers are willing to pay for. On average, online proofreaders can make just over $50,000 a year working from home.
As an online proofreader, it's your job to review written content and check it for spelling errors, grammar errors and other typos. These are things you might be familiar with as a mom if you regularly check your child's homework.
General proofreaders can get paid to correct errors on all kinds of documents. Legal proofreaders focus on court and legal documents.
There are plenty of online proofreading jobs for moms and they can offer flexible schedules and great pay.
If you'd like to learn more about how to become a proofreader, there's a free webinar that can help.
It's offered by professional proofreader Caitlin Pyle and it offers a thorough overview of how to get started making money as an online proofreader.
Sign up for the free proofreading webinar to learn how to make money as a VA.
7. Freelance writer
As a freelance writer that earns a six figure income online, I can tell you this is one of the very best stay at home jobs for moms.
I started freelance writing with no investment and no experience. And I've been able to grow what was a small side hustle into a thriving business.
There are lots of ways moms can make money freelance writing, including:
Copywriting
Freelance blogging
Grant writing
Content writing
Press release writing
Here's a list of the best ways to get paid to write online that earn $1000 a month or more.
And if you need a more in-depth walkthrough on how to start freelance writing, this free email course can help you start making money as a freelancer.
8. Blogger
Blogging is a lot like freelance writing, in that it revolves around creating content. If you're a mom who likes to write and you want a creative outlet, then blogging could be an ideal way to work from home.
There are different ways to make money blogging, including:
Ads
Sponsored posts
Affiliate marketing
Offering a service
Selling products
Blogging can be a lucrative stay at home job for moms. Mom bloggers like Elna Cain of Twins Mommy, Carly at Mommy on Purpose and Sarah Titus earn thousands each month from their blogs.
If that sounds good to you, take a look at this beginner's guide to starting a money-making blog.
Then head to Siteground to get set up with a domain and hosting for your new blog.
9. Start an online coaching business
If you're great at sharing your knowledge and motivating others, you might consider becoming an online coach.
Coaches offer encouragement, advice and motivation to people who need it. Some examples of stay at home mom coaching jobs include:
At home fitness coach
Finance coach
Personal development coach
Entrepreneur coach
Health and wellness coach
Spiritual coaching
In terms of how to make money as an online coach, there are lots of options. For example, you could make money by:
Monetizing a website or blog
Setting up a private paid membership site
Monetizing a YouTube channel
Hosting online workshops or summits
Coaching clients 1:1
Selling masterclasses
Writing ebooks
10. Online chat agent
Nonphone jobs for moms are great because you don't have to worry about background noise.
Online chat agents provide customer support through text conversations. This is a great work from home job for moms who want to make money without talking.
You'll need a computer and reliable internet to do this at home job. But otherwise, startup costs are fairly low.
Here are some of the best sites for finding online chat agent jobs:
11. Online stylist
Online stylists make money by indulging their passion for fashion. For example, as an online stylist with Stella & Dot, you can make money selling:
Jewelry
Clothing
Bags
Skincare and beauty products
The average online stylist makes around $45,000 a year, according to ZipRecruiter.
If you're looking for an easy way to make $3,000 a month or more, here's a guide on how to make money as an online stylist.
12. Transcriptionist
Online transcription jobs could be a great fit for moms who can type quickly and accurately.
As an online transcriptionist, you can get paid to type and turn audio files into written ones. For example, you might get paid to transcribe:
Court documents
Medical records
Interviews
Zoom calls
Podcasts
Video scripts
Becoming an online transcriptionist does require a laptop and internet, things you probably already have. You might need some noise-canceling headphones as well.
If being a transcriptionist sounds like a good work from home mom job, then there's a free webinar you can sign up for to learn more.
This free class dives into how to get started with general transcription services from home.
13. Manage Pinterest accounts
Spending time on Pinterest might be second nature if you're always on the lookout for some budget-friendly dinner ideas or tips on decluttering your house.
You could turn your love of Pinterest in a money-making side job as a Pinterest manager.
Pinterest managers help with managing business accounts. As a Pinterest manager, you might be responsible for:
Creating new pins
Improving Pinterest SEO
Scheduling pins with Tailwind
Managing Pinterest ads
Analyzing analytics
This is one of the best stay at home jobs for moms who know a good pin from a bad one.
14. Manage social media
Social media managers help clients with managing Facebook, Instagram, Twitter and other social media accounts.
Some of the things social media managers do include:
Writing posts for various platforms
Scheduling posts
Responding to comments or questions from followers
Tracking social media mentions
Setting up new account profiles
If you're a social media savvy mom, this could be a great low-cost business to start.
15. Website or blog flipping
Don't have time to start a website or blog yourself? You could make money flipping existing sites instead.
Blog flippers buy established blogs, spruce them up and resell them for a profit. It's like house flipping or furniture flipping but online.
If you're interested in blog or website flipping, take a look at sites like Flippa or BlogsforSale.co to get a feel for how it works.
16. Virtual bookkeeper
If you love math or consider yourself to be a numbers nerd, then becoming a virtual bookkeeper could be a no-brainer.
Virtual bookkeepers work with businesses to help them stay on top of their books. For instance, you might do things like managing payroll, tracking receivables, sending out invoices or creating financial reports.
The average virtual bookkeeper makes around $40,000 a year but the more experience you have, the more you could earn.
Here's a guide on how to start a virtual bookkeeping business and make $3,000+ per month.
17. Become an online reseller
Do you have an eye for finding deals at thrift stores, yard sales or online bargain groups?
Reselling online is a trending work at home job for moms or anyone who's skilled at weeding out bargains.
Here's how it works:
You buy items you can resell at low prices (or better yet, get them free)
You list those items for sale online
When they sell, you pocket the profits
That's a really simple explanation of how being an online reseller works. If you'd like to learn more, this free webinar goes into more detail about how to make money as a flea market flipper.
18. Open an Etsy shop
Etsy could be a great work at home opportunity if you have a crafty or creative streak. The possibilities for things you can make and sell are endless, from digital products to handmade crafts.
Some top sellers on Etsy make close to $50,000 a month with their online shops. The Etsy seller handbook breaks down the steps to becoming successful with an Etsy storefront.
19. Sell custom designs
If you have an eye for design you could turn those money-making skills into an online side hustle or business. Some of the ways you could turn your design skills into cash include:
Designing logos
Website design
Creating branding packages
Designing infographics
You'll need a good design software to get started. I use Canva Pro but Photoshop is also a popular choice.
You can start looking for work from home jobs for designers on sites like LinkedIn, Fiverr or FlexJobs.
20. Website and app user tester
User testing is a low-intensity stay at home job for moms to make extra money in their spare time. When brands set up websites or release apps they rely on user testers to tell them what's working or what's not.
You get paid to visit a website and click around or take a mobile app for a test run. You then offer your feedback on your experience.
If you're interested in user testing, these are some of the best paying sites to consider:
21. Research study participant
Joining focus groups or research studies is another work from home job moms might consider. Sites like Respondent.io can pay as much as $500 per hour to participate in research studies online.
You don't need any special certifications or professional credentials to create a Respondent.io account. But a degree or specialized work experience may be necessary to qualify for some research study opportunities.
Learn more about how becoming a Respondent.io participant works.
22. Remote customer service agent
More companies are relying on remote customer service agents to help assist customers. You might consider adding this to your list of potential at home jobs if you're comfortable talking to people and you're able to create a quiet space in your home to field calls.
According to FlexJobs, the typical annual salary for remote customer service jobs is just under $55,000. Head to FlexJobs to check out some of the best work at home customer service jobs.
23. At home laundry service
As a mom you might spend a good part of your week doing laundry for your family. Starting an at-home laundry service could be a natural fit if you're looking from work from home jobs.
One of the moms in our homeschool group has this exact business. She does laundry for clients in her home, then they pick it up or she drops it off.
This isn't necessarily the most glamorous work at home job. But you could easily earn $500 a week or more helping other busy moms get their laundry done.
24. Virtual event planner
Virtual event planners help to organize virtual events for businesses and brands. That can include things like:
Online meet-and-greets
Workshops
Conferences
Product launches
If you're an organized mom with a great attention for detail, then you could make $80,000 a year or more planning virtual events from home. Sites like Indeed, LinkedIn and ZipRecruiter are great places to start looking for work from home event planning jobs.
25. Care for pets or children in your home
Offering child care or pet sitting services is one of the easiest stay at home jobs for moms to start.
You can offer to babysit for other moms or pet sit for neighbors while they're out of town. The more skills or expertise you have (i.e. CPR certification, previous work experience as an early childhood educator daycare worker) the more you can charge.
A simple way to start finding child care or pet sitting jobs is to look online. Sites like Sittercity and Rover let you create a profile and browse postings from people who need child or pet care.
It's free to create a Sittercity profile or get started with Rover.
Other Ways for Stay at Home Moms to Make Money on the Side
Starting a side hustle or online business can help you earn extra income, sometimes even more than what you'd make at a full-time job.
But if you're looking for some easy ways to make money, here are a few bonus side hustle ideas.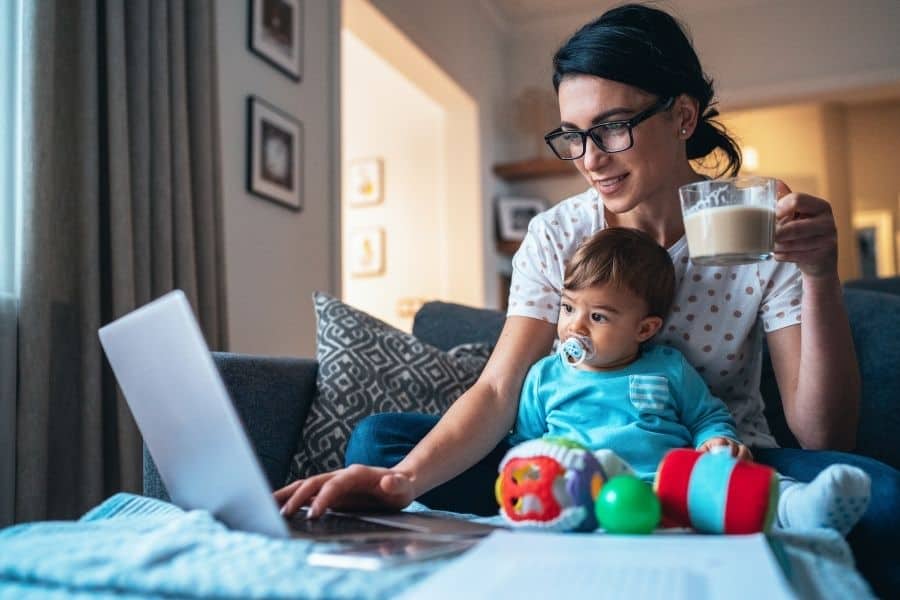 Get paid to take surveys
Taking surveys is something you can do while you're waiting in line to pick up your kids at school, sitting at the doctor's office or just about anywhere else.
You won't get rich taking surveys. But you could earn $100 or more each month by sharing your opinions.
Try these sites to get paid for surveys:
Get cash back when you shop
If you're shopping online for clothes, books, electronics and other items, an easy way to make money is by using cash back apps.
Cash back apps pay you money back when you spend at participating stores. And some even pay you a cash bonus just for signing up and making your first purchase.
If you're interested in getting some easy free money this way, here are some of the best cash back apps to try:
Get paid to lose weight
I could definitely stand to lose a few pounds. And if you feel the same, then you could make money by getting healthy.
HealthyWage pays you real money, up to $10,000, for losing weight. This app lets you place a weight loss bet with yourself and if you reach your goal, you win money.
It's a simple way to improve your finances while also improving your health.
Get started with your first HealthyWager here.
Make and sell printables
Do you love printables? I use them for just about everything, from budgeting to home organization to homeschooling.
I recently launched a printables shop and I'm excited to see how much earning potential it has.
If you like making printables and you've got a good design program, you could make money on the side selling printables on Etsy, through a Shopify store or on a site like Teachers Pay Teachers.
How to Get Started With Stay at Home Mom Jobs
This list includes some of the best stay at home mom jobs ideas. So now it's time to figure out how to make working from home work for you as a mom.
Here are some of the most frequently asked questions about becoming a work from home mom.
Do I need special qualifications or a degree for stay at home mom jobs?
It depends.
Some work from home jobs for moms will require a degree or special training. But others don't.
For example, I started freelance writing with zero writing experience other than what I learned in college. But I've been able to earn a six-figure income consistently, even without a professional writing background.
As you consider different ways to make money from home, keep these things in mind:
What am I good at?
What skills or experience do I have?
How can I use those skills or experience to make money?
Instead of thinking about finding a stay at home mom job you can mold yourself to, think about how you can find (or create) a work from home opportunity that fits where you are already.
Do I need any tools or equipment to start working from home?
Again, it depends.
If you want to make money as an online proofreader or transcriptionist, then you'll need headphones and the appropriate computer software.
But if you want to start making money as a freelance writer or you want to start a blog, then you mainly just need a laptop and internet.
There are a few things that can help make the transition to work at home life easier.
Trello. Trello can help you stay organized and keep track of work at home tasks. You can set up boards, assign tasks to each board and
Google Drive. Google Docs is what I use for writing blog posts and freelance assignments. Google Sheets is where I keep track of income and payments from clients. Both are free and super handy if you're starting a work at home business.
Those things cover the basics. Here's a longer list of the best blogging and business tools that can help you start making money from home.
Where can I find stay at home mom jobs?
The internet makes it so easy to find work from home jobs for moms these days. If you're interested in rooting out the best jobs for moms to do at home, try these strategies:
Look for remote or work from home jobs on free job boards like Indeed.com
Consider paid remote work job boards like FlexJobs or Virtual Vocations since they feature premium positions with higher pay rates
Build up your LinkedIn network and check out LinkedIn jobs
Cold email businesses or brands you're interested in working with
Check Twitter or Facebook groups for work at home opportunities
Setting up a blog or website is also an option if you plan to offer some kind of service, like freelance writing or proofreading.
And if you're doing anything that's at all writing-related, it's also a good way to improve your writing skills.
How to Work From Home as a Busy Mom (Without Neglecting Your Kids)
If you want to find ways to make money from home, it's probably because you want to create financial security for your family.
But working from home can be a time suck and I've dealt with mom guilt more than once about how much time I spend on my laptop.
So to wrap things up, I've got a few tips that can help you find the right balance between being a stay at home mom and working from home.
Create a work at home routine
Routines are so beneficial when trying to juggle taking care of kids with a stay at home mom job.
Having a routine helps you get the things you need to get done and it gives your kids the predictability they need to keep them from climbing the walls.
So look at your typical day and figure out when the best time is for you to work. It may be early mornings or late at night.
Then plan out how you'll spend the rest of your time, whether that includes homeschooling, planning meals or tidying up.
And if your kids are up and awake during your working hours, come up with some creative ways to keep them busy so you can get things done.
Make a dedicated space to work at home
For years, I ran my freelance business from my couch. Then last year we bought a bigger house that included a home office.
Having my own work space has done wonders for my productivity and focus. So it's definitely worth carving out an area just for work in your home if you can.
It could be a spare bedroom, a closet — anywhere you can find a quiet place to work.
If it has a door you can close, that's even better. And be sure that you work out some ground rules with your kids on when it's okay to enter if you plan to keep regular office hours.
Choose the right stay at home mom job opportunities
There are tons of jobs you can do as a stay at home mom but not all of them will fit your needs or lifestyle.
So as you consider different work from home jobs, ask yourself:
How much time can I put into it each week?
What type of hours can I manage so that I'm still available to my kids?
How much money do I hope to make working from home?
Will I have to pay someone for childcare while I work?
How much will I need to invest to get started with a work at home job?
Do I want to find a work at home job with set hours or try a business or side gig that offers flexibility?
Asking these kinds of questions can help you narrow down the list of jobs that might be a good option.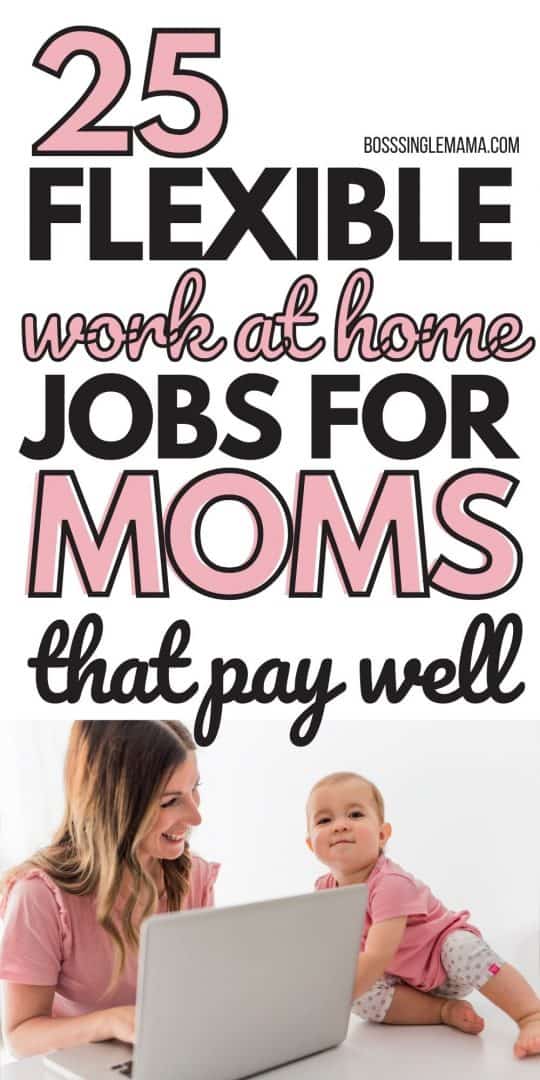 Final thoughts on stay at home jobs for moms
Finding ways to make money from home can be life-changing, especially if your family is struggling with saving or paying off debt.
The stay at home mom job ideas included here are some of the best ways to earn a legitimate income without leaving the house. Many of them you can do without special skills, experience or even a college degree.
Do you have a favorite work from home job for moms that's worth adding to the list?
Head to the comments and tell me about it. And don't leave without grabbing your free Work From Home Toolkit!
25 Best Stay at Home Mom Jobs