Last Updated on September 1, 2020 by Rebecca Lake
Learn how to start a virtual bookkeeping business or side hustle and make $3,000+ a month from home!
And if you need a quick and easy way to make money now, get paid to share your opinions with Swagbucks and Survey Junkie!
Looking for some real ways to make money from home?
I'm all about side hustles and making an income online.
Starting a side hustle, which evolved into an online business, has allowed me to reach financial security and freedom.
And there are plenty of great perks to being your own boss, including:
Having the option to work a flexible schedule that fits your lifestyle
Doing work that you enjoy, are passionate about and lets you use your skills
Virtually unlimited earning potential, which is great if you want to make extra money to save or pay down debt
Freedom to choose who you want to work with (or who you don't)
Having opportunities to try new things
Being able to work from home (or anywhere else) and be there for your kids
So any time I come across a new idea for making money from home, I just have to share it!
And today, I've got a money-making side hustle that might be perfect for you if you're a numbers nerd.
It's called virtual bookkeeping and it's something that's in high demand these days as more companies shift to remote work.
If you've got no clue what online bookkeeping is or how to make money doing it, this post breaks down everything you need to know to get started!
You might also like:
How to Start a Side Hustle and Make $1000 a Month (or More!)
What Is Virtual Bookkeeping?
First, let's cover what it means to be a virtual bookkeeper.
Part of running a business involves keeping up with accounting and managing the books.
For example, with my freelance writing business, I have to keep track of invoices, expenses and quarterly tax payments.
It can be a real pain sometimes. And that's where online bookkeeping services come in.
Virtual bookkeeping is a way to outsource those tasks to someone else.
Businesses do this all the time so they can focus on more important things like growing their customer base, developing new products and managing their marketing campaigns.
Instead of having to meet with an accountant in-person businesses can hand off their financial statements to an online bookkeeper instead.
Their virtual bookkeeper does all the heavy lifting of managing the books from a remote location.
It's a time-saver and it can be a money-saver for businesses if they're working with a reputable bookkeeper who knows their stuff.
What Does an Online Bookkeeper Do?
Online bookkeeping services do pretty much the same things as a regular bookkeeper; they just do them online.
For example, here's a quick rundown of tasks you might tackle as a virtual bookkeeper:
Track, review and categorize monthly business expenses
Track monthly business incomes and revenue
Create financial statements, such as a profit and loss statement or cash flow statement
Reconcile those reports against bank and/or credit card statements
Handle basic banking tasks, like making deposits or scheduling automatic payments and transfers
Process payroll
Maintain business budgets and keeping them up to date
Manage accounts receivable and outgoing payments to vendors
An online bookkeeper can also work alongside a business's accountant or tax preparer to get tax returns ready each year.
And again, all of these things can be done online using financial software programs, email and Zoom chats if it's necessary to chat with clients.
Which means that if you decide to try becoming a virtual bookkeeper, you can make a great income without leaving the house!
You might also like:
100+ Legit Side Hustle Ideas to Help You Make Money in Your Spare Time
Is Virtual Bookkeeping Legit?
Absolutely!
Becoming a virtual bookkeeper is a 100% legit way to make money, whether you want to do it as a side hustle or a full-time business.
Companies want to hire virtual bookkeepers to help with the tasks they'd rather not do themselves.
That's why companies like Bench and inDinero exist. They offer online bookkeeping services to businesses that don't want the hassle of managing the books.
But you don't need to work for a big company to make money with virtual bookkeeping. You can build a solid work at home career solo running a business by yourself.
How Much Can You Make as a Virtual Bookkeeper?
This is what you really want to know, right?
According to ZipRecruiter, the national average salary for virtual bookkeepers was $38,193 as of 2020.
That works out to a little over $3,000 a month you could make online from home.
That's just the average, though. It's entirely possible that you could make even more money offering online bookkeeping services.
How much you can earn as a virtual bookkeeper usually depends on:
The range of online bookkeeping services you offer
What kind of clients you're working with
How many hours a week you're able and willing to work in your business
Your previous bookkeeping experience and skills
One thing to keep in mind is that running an online bookkeeping business or side hustle means you're an independent contractor.
So you'll have to pay taxes on the money you make since there's no employer taking it out of your paychecks.
But the good news is you can deduct certain business expenses to help offset what you owe to the IRS.
Here's a helpful post from my freelance writing blog that explains more about what you need to know about filing taxes as a freelancer.
What Skills Do Online Bookkeepers Need?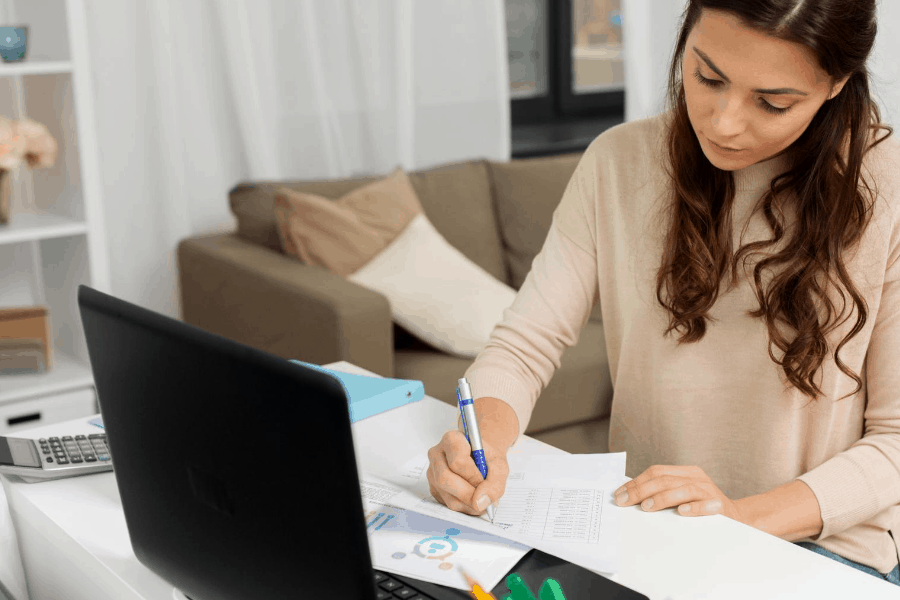 Some side hustles – like taking surveys, for example – don't require any special skills. But others do and virtual bookkeeping is one of them.
If you want to become a virtual bookkeeper, it helps to have the following:
Math skills, obviously, since a lot of what you'll do involves crunching numbers
Attention to detail
Organization and time management skills
Solid computer skills, including typing and data entry skills
Good communication skills
Knowledge of financial software programs like Quickbooks or Freshbooks
Basic knowledge of bookkeeping practices and principles
Many of those skills you might already have.
For example, I'm pretty well-versed in Quickbooks since that's what I use to file my business taxes each year.
But if you don't know much about bookkeeping, don't panic. You can easily learn what you need to know to start a virtual bookkeeping business.
You might also like:
Get Paid to Proofread: Your Ultimate Beginner's Guide to Proofreading for Money
How Do I Become a Virtual Bookkeeper With No Experience?
This is a great question and surprisingly, it's easier than you might think!
If you're interested in making money offering online bookkeeping services, there are three important things you'll need first:
A computer
Reliable internet
PayPal account or bank account for getting paid
Those are the three things I started my freelance writing business with. And they're pretty much a must for starting any online business or side hustle these days.
If you've already got those three things, then the next step is learning the ropes of bookkeeping.
There are a couple of ways you can do this.
For example, you could read up on bookkeeping. There are plenty of books like this one that'll teach you the basics.
But reading books doesn't always give you the full picture on how to do something.
Any time I want to learn a new skill, I look around for a course that can help me do it instead.
For example, as a blogger I've taken courses on:
How to increase blog traffic
How to use Pinterest to grow my blog
How to make money with my blog using affiliate marketing
All of those things have helped me make money from my blog.
And taking an online bookkeeping course can be helpful if you have zero knowledge of what bookkeeping is or you need a refresher on the fundamentals.
But which online bookkeeping courses are worth your time or money?
It's a great question. And I actually came across a free training that walks you through everything you need to know to start a virtual bookkeeping business.
It's offered by the Bookkeeper Launch team and it covers all the basics of how to get your online bookkeeping business up and running.
And if you decide you're ready to dive into the world of online bookkeeping, you can upgrade to the full Bookkeeper Launch course to get pro advice on how to scale and grow your business.
Sound good?  Then sign up for the free online bookkeeping training now!
How Do I Start a Virtual Bookkeeping Service?
If you have those three basics I mentioned earlier (a computer, internet and a way to get paid) and you've completed online bookkeeping training then you're ready to launch your business!
Here are the most important steps to take when getting your virtual bookkeeping hustle going:
Decide what online bookkeeping services you'll offer
As a virtual bookkeeper, it's up to you to decide what services you want to offer based on your skills, experience and interests.
So the first step is brainstorming what kind of services you want to include in your business or side hustle.
The list can be as broad or narrow as you like but just keep in mind that this can influence what type of clientele you end up working with.
Cover the legal parts of starting a business
Every state has different rules for starting a business, whether you're doing it online or off. So depending on where you live, you might need to:
Choose a business name
Pick a business structure
Get a business license or permit
Apply for a business tax identification number
Purchase legal contract templates for working with clients
Researching tax filing and reporting requirements
Running a business as a sole proprietor versus an LLC is usually the easiest way to go. But there are pros and cons to each one so it's helpful to weigh those when deciding how to set up your online bookkeeping business.
Create a marketing plan for your online bookkeeping business
One of the biggest struggles of any online business is finding clients.
Because in the beginning at least, they won't come to you. Which means you'll have to flex your marketing muscles to spread the word.
There are a few ways you can do that, including:
Asking friends and family for referrals
Growing your professional network on LinkedIn
Attending virtual networking events
Starting a blog or website to promote your services
If you want to start a blog to grow your business, I can't recommend Siteground enough for web hosting.
Their plans are affordable and their service is outstanding. Check out the blog hosting options from Siteground here!
Set your rates and start looking for work!
Last but not least, you'll need to decide how much you want to charge for virtual bookkeeping services and what kind of clients you want to work with.
If you're going by the average income reported by ZipRecruiter, then an average hourly wage based on a 40-hour week would be around $18.
But that's just a starting point.
As your experience grows, you can charge even more for your services. According to Bookkeeper Launch, for example, their training can help you earn $60 an hour or more with online bookkeeping.
Once you're ready to start looking for jobs, you can check out online job boards.
One of my favorites is FlexJobs.
It's a premium job board that features online work at home jobs. You can find remote bookkeeping jobs that pay well here, regardless of where you are experience-wise.
Aside from FlexJobs, you can also try regular job boards like Indeed.com to find your first paid virtual bookkeeping gigs.
And remember, finding clients for your new business is a numbers game. The more jobs you apply for, the better your chances of landing a paying gig!
Think a career in virtual bookkeeping could be right for you?
Becoming an online bookkeeper is a legit way to make money from home and it can be highly profitable, too!
If you're looking for a work at home option, be sure to check out the free online bookkeeping training from Bookkeeper Launch.
And if you're already working as a virtual bookkeeper, head to the comments and tell me what you like about it!
Don't forget to pin and share this post!