Last Updated on July 23, 2022 by Rebecca Lake
How to Make Money With Canva
Wondering how to make money with Canva?
Starting a Canva side hustle or business is an easy way to make extra money in your spare time. It's possible to earn passive income with Canva and make money while you sleep by selling digital designs and printable physical products.
If you're interested in making easy money online, try these ideas for how to make money with Canva.
Related post: How to Make Instant Money Online Absolutely Free
What Is Canva?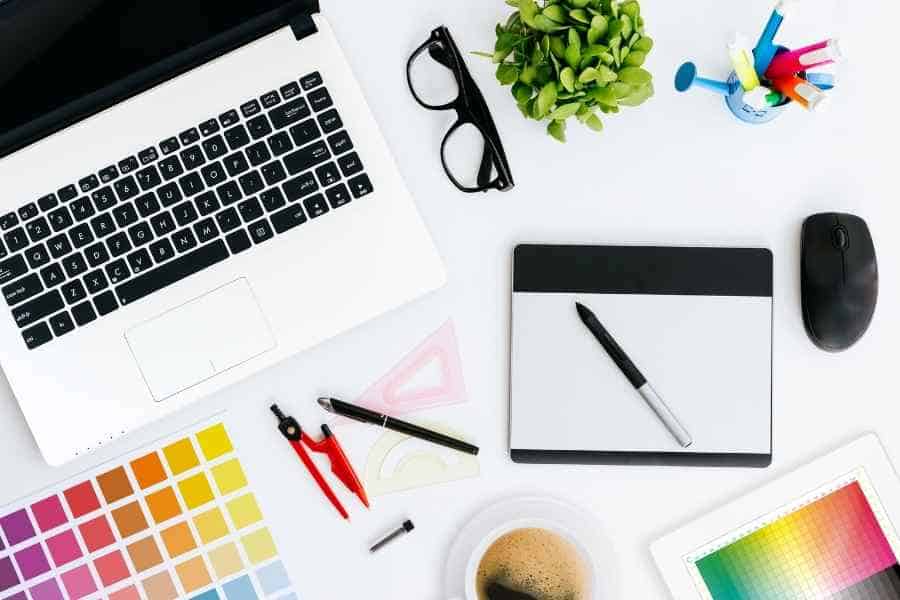 Canva is an online design and publishing tool that was launched in 2013 by co-founders Melanie Perkins, Cliff Obrecht and Cameron Adams. The company has received financial backing from Silicon Valley investor Bill Tai and venture capital firm Felicis Ventures.
The idea for Canva started with Fusion Books, a website created by Perkins and Obrecht which allowed students a way to collaborate on the design of their high school yearbooks. Fusion Books, which is still in operation, became the seed from which Canva and its graphic design services grew.
The Sydney, Australia-based company was estimated to be worth $40 billion in 2021. Canva's user base extends to 190 countries and Canva subscribers have created 7 billion designs to date.
Related post: 22 Easy Things to Make and Sell for Money
Best Ideas for How to Make Money With Canva
1. Make money selling Canva templates
Canva templates may be the best way to make money with your graphic design skills, as there's a huge market for templates. A template is a pre-designed layout that's your original work which can be modified by the purchaser.
Some of the design templates you could create with Canva include:
Pinterest templates
Templates for Instagram posts
Banners and logos
Digital presentations
Ebook templates
Brand kits or brand templates
Journals/planners
Thank you cards
Wedding invitations
Business cards
Resume templates
For example, here's an image of a Canva Pinterest pin template that's available in the Canva Pro library.
Bloggers, small businesses (and larger businesses) are always eager to buy templates because they save time and money.
Rather than having to build a design team or do the work themselves, they can purchase pre-made Canva templates in their chosen design created by you. This can be a great way to make passive income.
2. Create and sell social media designs
Social media platforms are increasingly moving toward image-based or video content. Online business owners and bloggers, for example, often rely on eye-catching images to make their social media posts stand out.
This means there's a huge opportunity for designers to make money by selling social media graphics created with Canva.
You could create a freelancer account on a platform like Fiverr and advertise your Canva design services. This could be a great way to branch into other types of graphic design gigs, such as landing page design, sales page design or video content editing.
3. Make and sell stickers
There's a hot market for selling stickers these days. You could use Canva Pro to make stickers, print them out (Cricut is a great tool for this), then sell them online through an Etsy store.
Canva has lots of sticker templates you can use as a guide for making your own stickers to sell.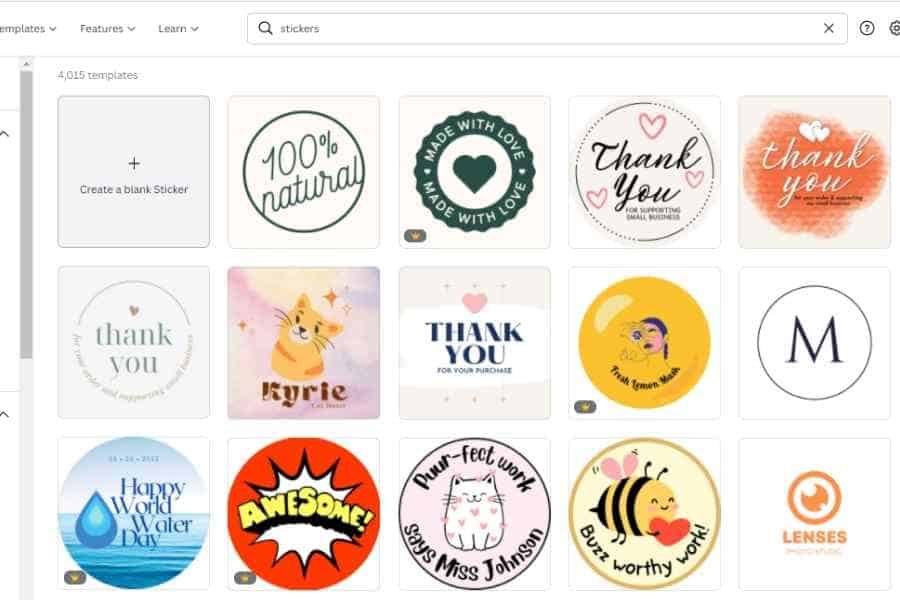 If you don't want to go through the trouble of printing stickers out, you could still sell digital stickers created with Canva.
You can use your own original artwork to create stickers with Canva to sell. Or you can purchase digital designs from Canva, DesignCuts or Creative Fabrica instead.
4. Design digital and printable products to sell
Digital downloads and printable products are another popular way to make money with Canva. Your business model might be built on designing and selling:
Art prints
Illustrations
Digital designs or graphics
SVG/PNG files
Digital planners
Ebooks
Low content books
Printables
Printables are easy to create and people love physical products they can download and print off. And all of these options are ideal for creating passive income since you can create the design once, list it for sale and make money again and again as people purchase it.
Some of the different printables you can create if you're interested in how to make money with Canva include:
Household management printables
Coloring pages
Workbooks
Journals
Planners
Habit trackers
Calendars
5. Create print on demand designs
Print on demand allows you to make money by creating print designs, then selling them on different products.
For example, you could create t-shirt designs and sell them on RedBubble. Or you could sell your designs on coffee mugs, tote bags or posters through a site like Zazzle.
Here's a sample Canva t-shirt template.
Here's how to make money with Canva selling print designs:
Create an account with the print on demand platform of your choice
Upload your designs
Customers purchase the design
The company prints it on the purchased item (i.e. t-shirt, coffee mug, etc) and ships it to the customer
You get paid
This is similar to how the Canva Print feature works. It saves you time and money since you don't have to handle any of the manufacturing or shipping of the items. You just have to come up with a good design that sells.
6. Launch a Canva course
If you're well-versed in how to use Canva, you could make money sharing your knowledge with others.
For example, you could create courses on how to make money with Canva designing:
Canva templates
Digital planners
Print on demand products
T-shirts
Low-content books or printables
You can sell your Canva course on a platform like Teachable, Skillshare or Udemy. If you have a blog or YouTube channel, you could use them to promote and market your courses.
Again, this can be a great way to create passive income using Canva. You may need to update your Canva course from time to time but you can make a consistent, steady income without much effort.
7. Start a Canva-focused YouTube channel
YouTube videos involving Canva tutorials, tips and tricks are becoming more popular. If you've mastered Canva, you could make money by setting up a YouTube channel.
Natalia Kalinska, for example, has garnered hundreds of thousands of views for her Canva tutorials.
There are different ways to make money with a Canva YouTube channel, including:
Revenue from ads
Affiliate marketing
Sponsored posts (where Canva pays you to talk about their product)
YouTube has 1 billion+ unique users each month so there's a huge audience available that you could share your Canva knowledge with.
8. Become Canva creator or contributor
Canva Creators and Canva Contributors are photographers, graphic designers and creatives who earn royalties by licensing their beautiful designs to other Canva users. Here's the difference, according to Canva:
Canva Contributors create assets for the Canva library, including images, video content, graphics, and illustrations.
Creators can design templates for Canva, and can also contribute assets for the Canva library.
In turn, you can get paid royalties equal to 35% of each sale as a Canva designer. Here's how much you could earn as a Canva Contributor.
$1 design license = $0.35 in royalties
$10 multi-use license = $3.50 in royalties
$100 extended license = $35 in royalties
Those royalty rates apply when someone uses your unique designs with a free Canva account. Royalties work differently when designs are used by Canva Pro and Canva Enterprise subscribers.
Canva Creators earn a combination of royalties and subscription sales from templates.
Anyone 18 or older can apply to join the Canva Creator or Canva Contributor program. You'll need to verify your identity and share samples from your portfolio to apply.
9. Join the Canva affiliate program
As a Canva subscriber, you can join the Canva affiliate program. This can be an easy way to make money with Canva just by telling other people about it.
Here's how to make money with Canva as an affiliate:
Sign up for Canva Pro if you haven't already
Register as an affiliate
Promote Canva Pro (through your blog or website or across social media programs)
Earn money for each new Canva Pro member you refer
It's possible to earn up to $36 per referral. This could be a great incentive to sign up for a paid Canva Pro account or join the affiliate program if you're already using (and loving!) Canva Pro.
Where to Sell Your Canva Designs
Figuring out how to make money with Canva is the first step. The second is deciding where to sell your designs.
There are several places you can sell designs made using Canva. Some of the most popular options include:
Your own website or blog
Creative Market
Fiverr
Etsy
Shopify
Sendowl
Payhip
Setting up a website or blog can be a great way to market and sell your Canva designs. For example, top bloggers like Carly Campbell (who runs Pinteresting Strategies) and Elna Cain sell Pinterest graphic templates made with Canva through their blogs.
It's possible to set up a blog or website in a day and you won't pay the transaction fees that an online marketplace like Etsy or Shopify charges each time you make a sale.
You can also use your blog to generate other streams of income. For example, you can make money with:
Display ads
Sponsored posts
Affiliate marketing
You could even set up a YouTube channel and offer video tutorials showing how you use Canva to create your designs. Once you reach YouTube's threshold for monetization, you could run ads on each YouTube video you have to earn even more money.
If you're interested in starting a blog, the right host is a must. I recommend checking out the plans offered by NameHero, which is the host I currently use.
NameHero is affordably priced and site speeds are super fast. Learn more about NameHero's plans and pricing.
Canva Free vs. Canva Pro Account
There are two Canva plans to choose from: a free version or paid (Canva Pro).
The freemium model is a completely free tool for creating designs but it doesn't have as many features or options as the paid version.
If you're hoping to create Canva designs or digital products that you can use to earn money, it's worth investing in Canva Pro. The cost is affordable, compared to subscription plans for similar graphic design platforms and you get some valuable additional features.
Here's how the fees and features compare for Canva's freemium model vs. a premium subscription plan.
| | |
| --- | --- |
| Canva Free | Canva Pro |
| 250,000+ free templates | All features included with Canva Free |
| 100+ design types | 100+ million premium stock photos, videos, audio and graphics |
| Hundreds of thousands of free photos and graphics | 610,000+ premium and free templates |
| 5GB of cloud storage | 100 Brand Kits |
| | Background remover tool |
| | Magic Resize to resize images instantly |
| | 100 GB of cloud storage |
I've used the Canva free version, Canva Pro and PicMonkey. And of the three, Canva Pro is easily worth the money because of the features you get and how easy it is to use.
If you're interested in a Canva Pro account, you can use my affiliate links to sign up for a 30-day free trial. This can give you time to test out Canva's design tools and features to help decide if they're something you can use to make money.
(And if you're planning to scale your graphic design side hustle into your own business with a team of employees, there's also Canva Enterprise. This Canva design tool is designed for collaborative brand management.)
How to Make Money With Canva FAQs
Who can use Canva?
Anyone can use Canva's design tools to create their own templates. You don't have to be a graphic designer, have graphic design skills or design experience or be somehow connected to the design industry to use Canva.
The kinds of people who use Canva include:
Content creators
Social media managers
Small business owners
Online businesses
Educational institutions
Freelancers
YouTubers (who need graphics and thumbnails for YouTube videos)
Students
Influencers who need content for Instagram, a Facebook post other social media platforms
The best part about Canva? It's a versatile tool that almost anyone can use.
Is Canva free?
Canva offers a free plan that allows you to create your own designs without spending a lot of money. The Canva Pro Plan does have a monthly fee but you can unlock a wider range of features, including access to premium stock photos and brand kits.
Is Canva difficult to use?
Using Canva is similar to using other online graphic design tools offered through different platforms, such as PicMonkey or Adobe products like Photoshop. There may be a learning curve if you've never used a design tool before but Canva is meant to be user-friendly for people with limited or no design experience.
How does Canva's copyright work?
Canva has different copyright and licensing rules depending on whether you have a free account or a premium paid subscription. A Canva Pro account has a much more comprehensive licensing agreement.
Generally speaking, all free photos, music and video files on Canva can be used for free for commercial and noncommercial use. It's a good idea to review Canva's terms of services to make sure you understand what is or isn't an appropriate use of Canva graphics or images.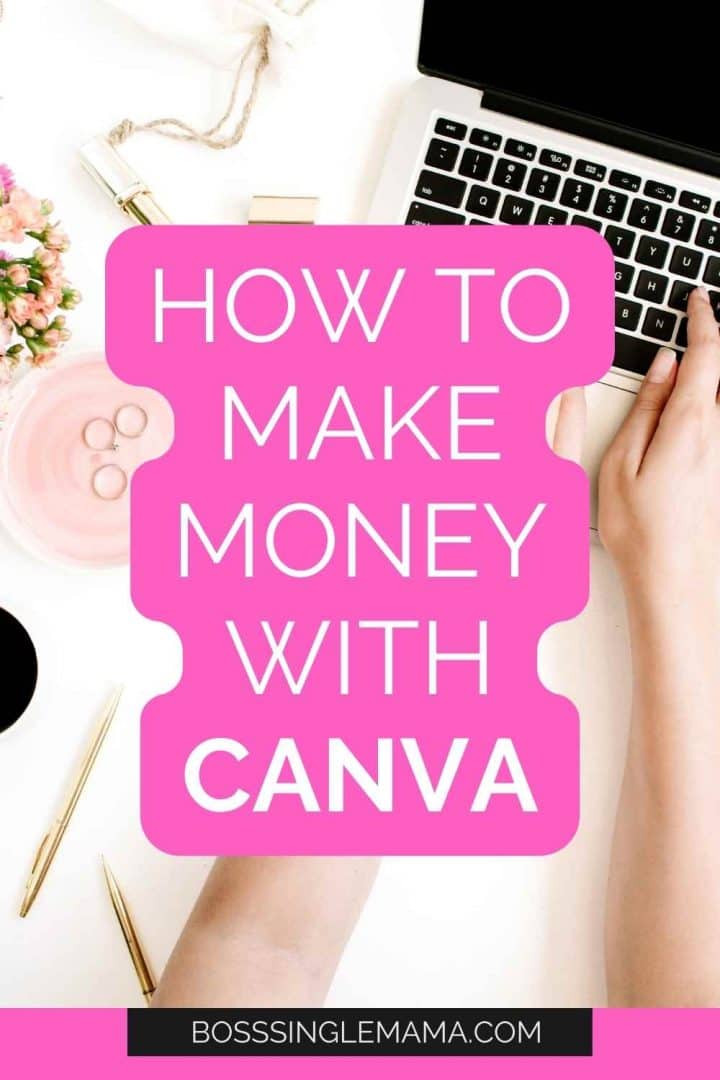 Final thoughts on how to make money with Canva
Creating design projects with Canva can be a lucrative way to make relatively easy money. A lot of people already use Canva to make money selling graphic templates, Pinterest templates, printables and more online.
The key to how to make money with Canva is figuring out who your target audience is and creating the kind of products they need or want most. And really, this is the secret to becoming a successful side hustler or small business owner.
Before you go, be sure to take a peek at my favorite tools for making and saving money!
Need more money making ideas? Read these posts next:
How to Make Money With Canva Online