Last Updated on August 14, 2022 by Rebecca Lake
If you're looking for a side hustle that's flexible, creative and has great earning potential, becoming a Pinterest manager could be a perfect fit.
Pinterest has become one of the best ways for bloggers and businesses to drive traffic to their websites and e-commerce stores. An estimated 433 million people use this visual search engine every month to find ideas and inspiration. And lots of business owners are willing to pay big money for Pinterest management services to snag a share of that traffic.
Pinterest managers are similar to social media managers, with one key difference: they're Pinterest-focused.
But what does a Pinterest manager do exactly? And what are the steps involved for how to become a Pinterest manager?
If you consider yourself to be a Pinterest expert, here's a closer look at what it takes to start a successful Pinterest management business.
What Is a Pinterest Manager?
A Pinterest manager is someone who works with online businesses and small businesses who are interested in marketing on the Pinterest platform. Pinterest managers oversee their client's accounts to help increase their website traffic using a customized Pinterest strategy that adheres to the platform's best practices.
Pinterest is not like other social media platforms and Pinterest marketing requires some skill and know-how to execute well. For many business owners, outsourcing marketing on the platform to a full-time Pinterest manager or Pinterest virtual assistant is a smart investment, as it allows them to focus on other aspects of their online business.
And in case you're confused, a Pinterest manager and a Pinterest virtual assistant are essentially the same things. Pinterest VAs may offer Pinterest management services along with other services as part of their virtual assistant business.
Being a Pinterest manager is a great option for stay at home moms. And it's also perfect if you're an introvert who wants to make money!
What Does a Pinterest Manager Do?
A Pinterest manager's main job is to manage their client's accounts on the Pinterest platform. That can involve setting up a Pinterest business account for new clients, implementing Pinterest SEO keyword techniques to improve the account's visibility and reviewing Pinterest analytics to see what's working and what's not. Pinterest managers can also help with pin design, manual or automated pinning and board creation.
Those tasks can take up a lot of time, something online business owners may not have in unlimited amounts. And they may not be well-versed in the nuances of Pinterest and its ever-evolving algorithm.
Hiring a Pinterest manager can be a great way for business owners to get better results, in terms of traffic and page views, than they might achieve by handling their own Pinterest account. Outsourcing Pinterest services can be a good idea for businesses that want to raise brand awareness and reach their target audience without a lot of hard work.
How to Become a Pinterest Manager
The great thing about becoming a Pinterest manager is that you don't need a lot of professional experience to get started. If you've been using Pinterest with your own account for years, then you most likely already have a good understanding of how the platform works.
That being said, there are some specific things you'll need to do to become a freelance Pinterest manager.
1. Research Pinterest marketing
Managing a client's Pinterest account is very different from managing your own Pinterest account. Before you can land your first client, it's important to understand what goes into becoming a successful Pinterest manager. Doing some research into Pinterest's inner workings is the first step.
For example, you'll need to have a good grasp of:
How Pinterest SEO works
What the algorithm is currently favoring (and what it's not)
How to create a Pinterest business account and enable rich pins
How to connect a Shopify store if you plan to work with potential clients in the e-commerce space
What's involved in scheduling pins via Tailwind or through the Pinterest platform
How to find the right time to pin to boost traffic
How group boards work and how to join them
How to choose the right size for Pinterest pins
What makes for a winning pin design that gets clicks
How to make sense of Pinterest analytics
If you're interested in how to become a Pinterest manager, it's important to know that there is a learning curve. The good news is that you can pick up everything you need to know to start your own business as a Pinterest manager or Pinterest VA through an online course.
Sure, you could learn how to become a Pinterest manager by watching YouTube videos or reading Pinterest management blogs. But investing in a paid Pinterest course could help you to earn a full-time income faster.
If you're looking for a quality paid course that's packed with value and plenty of helpful tips, Become a Pinterest VA is a great choice. This course covers all the most important things you need to know about starting a Pinterest management business and getting your first client.
When you enroll in the course, you'll learn:
What services to offer and how to charge for them
Where the best places are to find potential clients for your Pinterest management business
How to market your Pinterest management services
How to onboard new clients and manage the legal aspects of running a business
Even if you think you already have the basic skills to become a Pinterest manager, this course can be a great place to refine and polish those skills in order to step up your earning potential.
Learn more about the Become a Pinterest VA course.
2. Start building your brand
Big brands know the value and importance of having an established online presence. If you're focused on how to become a Pinterest manager who's always in high demand, branding is something you can't afford to neglect.
There are different ways to establish your brand as a Pinterest manager, including:
Starting your own blog or website
Creating social media accounts to market your Pinterest management services
Setting up your own Pinterest account if you don't have one
Setting up your own website is a great way to show off your qualifications as a Pinterest manager. You can include a page listing the services you offer and add a blog if you'd like to write blog posts about Pinterest- or online marketing-related topics.
As you begin to get Pinterest management clients, you can include links to their profiles or testimonials as proof that you're able to provide the best results for the small businesses you're working with.
You can also build an email list through your own blog or website, which is a good thing from a marketing perspective. You can offer free resources, such as a 15-minute Pinterest profile review, to get potential clients to join your list.
👉Ready to start your own blog? It's easy to get started with your own domain and hosting through NameHero. Learn how to set up your site in minutes, step by step!
3. Establish your Pinterest profile
If you're reading this post on how to become a Pinterest manager, I assume it's because you already have a Pinterest account. But in case you don't, you'll want to set one up ASAP.
If you already have your own website, you can create a Pinterest business account and claim your website. You can then work on creating new pins.
Your Pinterest account can act as your portfolio until you get your first client. By tracking your analytics and focusing on boosting impressions and clicks, you can show to prospective clients that you know how to grow a Pinterest account.
You can also create a case study by offering pro bono Pinterest management services to friends or family members. A case study can be a great way to demonstrate to your ideal client that you have firsthand experience with managing Pinterest accounts successfully.
👉Struggling with pin design or understanding the Pinterest algorithm? I highly recommend enrolling in Pinteresting Strategies, the flagship course developed by Carly of Mommy on Purpose. Carly keeps the course regularly updated so you're always getting the latest insight on what makes Pinterest tick.
4. Decide how to price your services
Pinterest managers can charge a wide variety of prices based on the services they offer and their expertise. When setting prices for your Pinterest management services, it's important to price them competitively without undercutting yourself.
A good way to gauge how much to charge for Pinterest management services is by reviewing the rates of established Pinterest VAs or managers.
For example, Simple Pin Media offers different pricing packages for different levels of service. Their organic Pinterest management packages range from $600 to $2,000 per month, with the level of benefits increasing with the price.
Simple Pin Media operates using an agency approach. If you're starting a small Pinterest management business with no employees, then you might choose to price your services using an hourly rate or daily rate instead.
So how much do Pinterest manager jobs pay?
A typical virtual assistant earns approximately $20 per hour. So it stands to reason that you could make that much as a Pinterest VA. As your experience increases, however, you could raise your rates to $50 an hour or even $100 an hour.
That's a great income for an online job. In general, becoming a Pinterest manager is a solid option for stay-at-home moms, students or anyone else who'd like to work from home.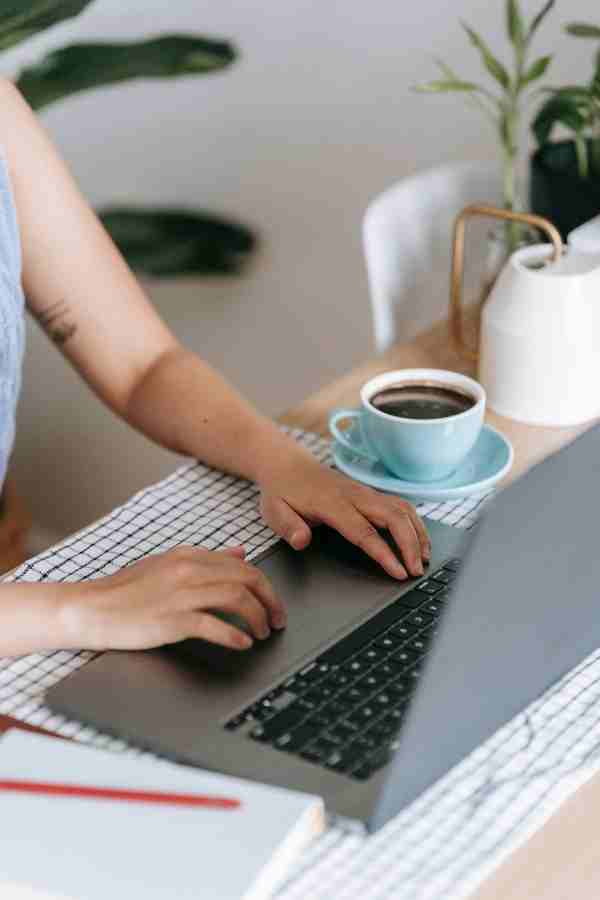 5. Find your first client
Your first Pinterest client is your beta client. This is the client that you're effectively testing out your Pinterest management services on to decide what adjustments you might need to make to your business.
Your beta client may be someone you know–again, you can tap friends or family members to see if they'd be willing to have you help manage their Pinterest accounts. In exchange, you might offer them a free trial or discounted rate for your services.
The beta period of your business is a great time to test out which skills are strongest and where there's room for improvement. In terms of how much time to invest in managing a beta client's account, remember that Pinterest is a long game for the most part. So it may take a few months to begin seeing tangible results with your client's pins.
6. Step up your marketing efforts
Getting that first client under your best can give you the confidence boost you need to expand your marketing efforts. Some of the ways you can market yourself include cold emailing, joining Facebook groups for bloggers and online business owners and promoting your services across your social media accounts.
Cold emailing simply means reaching out to prospective clients to offer your services. That can be a little daunting but this can actually be a great way to land a new customer or two. The key is crafting your email to illustrate how you can help solve a real problem that the client is having.
Joining Facebook groups where bloggers and business owners hang out is another smart way to market your services. Content creators may join these groups specifically looking for someone to help with Pinterest management, which opens the door for you to introduce yourself. And the best part is these groups are free to join so there's no extra cost to market yourself this way.
7. Reinvest for growth
As your Pinterest management business starts to make money, you might consider reinvesting some of your income into Facebook ads. For many business owners and bloggers, Facebook is the first place they look for Pinterest management services so this could be a smart place to advertise.
And again, you might consider investing in a course like Become a Pinterest VA to learn even more techniques and strategies for growing your Pinterest management business. Having a course outline best practices for growing your business can mean less work for you.
How to Become a Pinterest Manager FAQs
How much do Pinterest managers make?
Pinterest managers and Pinterest virtual assistants can make anywhere from $50 to $100 an hour, depending on the services they offer and their level of experience. A beginning Pinterest manager might charge closer to $20 an hour for their services. At the agency level, Pinterest managers can charge $500 or more per client, per month for a single Pinterest management package.
When asking how much Pinterest managers make it's important to consider how much time goes into managing each client's account. While some clients may only require a few pin designs per week, others may expect more intensive account management. So it's wise to factor in the amount of work when deciding how much to charge for Pinterest management.
Is it hard to be a Pinterest manager?
Whether being a Pinterest manager is hard for you can depend on how experienced you are with using Pinterest and how good you are at managing your time. Taking on too many clients or agreeing to perform services that you're not well-versed in, for example, could make running a Pinterest management business more difficult.
Keep in mind that there's a lot of hard work involved in the beginning as you figure out what kind of Pinterest management services to offer and who your ideal client is. As you get more established, it can be easier to create routines and systems for managing your Pinterest business more efficiently and with less stress.
What does it mean to be a Pinterest manager?
Being a Pinterest manager means that you're responsible for overseeing and managing your client's Pinterest account. Pinterest managers work to help their clients achieve the best results possible while increasing brand awareness and engagement.
The actual services you provide as a Pinterest manager can depend on your skills and expertise. Again, you can read through this list of 275+ virtual assistant services to get ideas on which Pinterest services to offer.
Are Pinterest managers in demand?
Pinterest managers are increasingly in high demand among business owners who don't have time to focus on Pinterest marketing. Big brands and smaller businesses are willing to pay for Pinterest management services in order to grow their website traffic and drive sales.
How do I get clients for Pinterest management?
Finding your first client as a new Pinterest manager can be one of the biggest hurdles to clear. Fortunately, there are a number of places you can look for Pinterest management clients, including Facebook groups and virtual job boards like FlexJobs or Virtual Vocations. You can also try cold emailing and asking for referrals from friends and family members to get your initial clients.
Are Pinterest managers and Pinterest VAs the same thing?
Yes and no. A Pinterest VA and a Pinterest manager both help their clients to manage their Pinterest accounts. But a Pinterest manager may have more experience or offer a more comprehensive range of services than a Pinterest VA.
Is a paid Pinterest VA course worth it?
Whether a paid Pinterest course is worth it to you can depend on how much you think you need to learn to launch your Pinterest management business and how quickly you want to be able to scale up to a full-time income. A good Pinterest course can save you wasted time and frustration by helping you to avoid potentially costly mistakes. If you're considering a paid Pinterest course, look for one like Become a Pinterest VA that's both comprehensive and affordable, with the option to pay in installments.
Final thoughts
So there you have it, a detailed guide on how to become a Pinterest manager. Becoming a Pinterest manager could be a great way to generate a consistent income from home, using the high-income skills that you already have.
If you're looking for freedom and flexibility, then offering Pinterest management services is a side hustle that's worth considering. The best part is that aside from a paid course, there's very little upfront investment so it's an easy business you can start on a budget.
Need more money-making ideas? Read these posts next:
How to Become a Pinterest Manager