Last Updated on November 12, 2022 by Rebecca Lake
Looking for ways to make passive income as a busy mom?
The best passive income ideas for moms have the potential to generate big profits without requiring a large investment of time or money. Some of the best ways to make passive income as a mom include selling digital products, affiliate marketing and investing.
Passive income for moms can help to create financial stability. And it's possible to earn money from the comfort of your own home.
Whether you hope to earn a full-time income or just make extra money, there are plenty of legitimate passive income ideas for moms to choose from.
Related post: 100+ Extra Income Ideas for Moms (Best Ways for Moms to Make Money)
What Is Passive Income?
Passive income is money you earn without a significant amount of ongoing effort or participation. This is different from active income, which is money earned from performing a service.
Here's another way to think of it.
When you have passive income, you're making money on autopilot. There might be some initial work you do upfront but once you get your passive income stream in place, you're earning money automatically.
With active income, the money only shows up when you do. In other words, no work = no pay.
Does passive income mean you don't have to do any work at all?
Nope. In fact, some of the most lucrative passive income ideas for moms might require you to work pretty hard in the beginning.
But with the right strategy, you can make that hard work pay off in the form of consistent passive income in your bank account. You could make $100, $1,000 or even $10,000 a week with the right hustle!
Related post: 50+ Flexible Side Hustles for Moms Who Want to Make Extra Money
10 Best Passive Income Ideas for Moms
There are a lot of ways to make passive income. But some passive income ideas are better suited to busy moms than others.
When choosing passive income ideas for moms, ask yourself these questions:
How much time will I need to put in initially?
Will I need to invest any money upfront?
Is this a low-maintenance income stream?
What kind of money could I make?
The goal with passive income for moms is to find ways to make money that still leave you plenty of time to handle regular mom duties.
With that being said, here are 10 of the best passive income ideas for moms now, including free at home jobs for moms. 
1. Sell low-content books
Low-content books and no-content books can be one of the most profitable passive income ideas for moms. It's also an easy passive income idea to start since you can do it without practically zero investment.
What are low content or no content books?
These are books that have very little to no content on the inside. Examples of low content and no content books include:
Composition notebooks
Journals
Simple planners
Sketchbooks
Bullet journal books
Moms can earn a passive income selling low-content books through Amazon KDP.
Short for Kindle Direct Publishing, KDP allows you to upload book manuscripts and list them for sale on Amazon. If someone buys your book, Amazon handles the printing and shipping and you collect a royalty.
All you need to get started is a simple design tool like Canva. Amazon even provides templates for KDP books for free.
Related post: How to Make Money With Canva (9 Easy Ways)
2. Sell printables on Etsy or Shopify
Printables can be a great option for moms who want a passive side hustle.
You can design printables, create an online storefront with Etsy or Shopify and sell your printables over and over again.
Some of the most popular printables to sell on Etsy and Shopify include:
Habit trackers
Planners for busy moms
Weight loss printables
Home management printables
Homeschool and educational printables
Calendars
Again, you can start your digital printables business with a free tool like Canva. You could also try the paid Canva Pro version for even more options when designing printables.
Pro passive income tip: Remember to factor in the fees Etsy and Shopify charge when setting prices for your printables.
3. Create and sell a course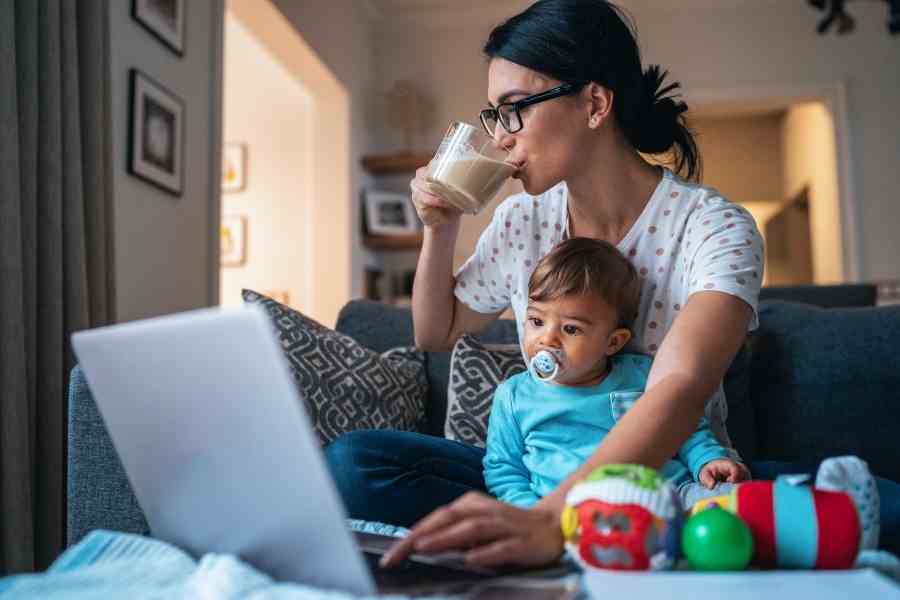 Creating an online course is one of the best passive income ideas for moms who have valuable knowledge and experience to share.
Platforms like Teachable and Skillshare make it easy to upload online courses for sale. You can create evergreen course materials, list the course on your chosen platform, then reap the benefits of passive income each time someone makes a purchase.
The hardest part about creating online courses to sell for passive income is coming up with a great idea.
As you brainstorm ideas for courses, think about:
What you're knowledgeable about
Your skills
Subjects you're most passionate about
If you're a homesteading stay-at-home mom, for example, then you could create courses around things like how to tend chickens or set up a backyard compost heap.
These are evergreen online course ideas that you can sell again and again, without having to make frequent updates. This hands-off approach is key to making a passive income for moms as an online course creator.
Pro passive income tip: When you're ready to publish your course for sale, you can try Teachable free for 30 days.
4. Create a print on demand store
Opening a print-on-demand or POD shop is a great passive income idea for moms who have a creative streak.
Print on demand stores websites allow you to upload your designs and sell them on different products. For example, someone might buy your design on a tote bag or a reusable water bottle.
This is an excellent way to make passive income because you don't have to do any of the actual printing or shipping. The POD website does all of that for you, similar to the way Amazon handles the printing and shipping for KDP low content books.
You can use a tool like Canva to create your designs. And if you're wondering where you can sell them, here are some of the top print on demand websites:
Again, pay attention to the fees each platform charges as that can determine how much profit you make from your print-on-demand sales.
5. Start a mom blog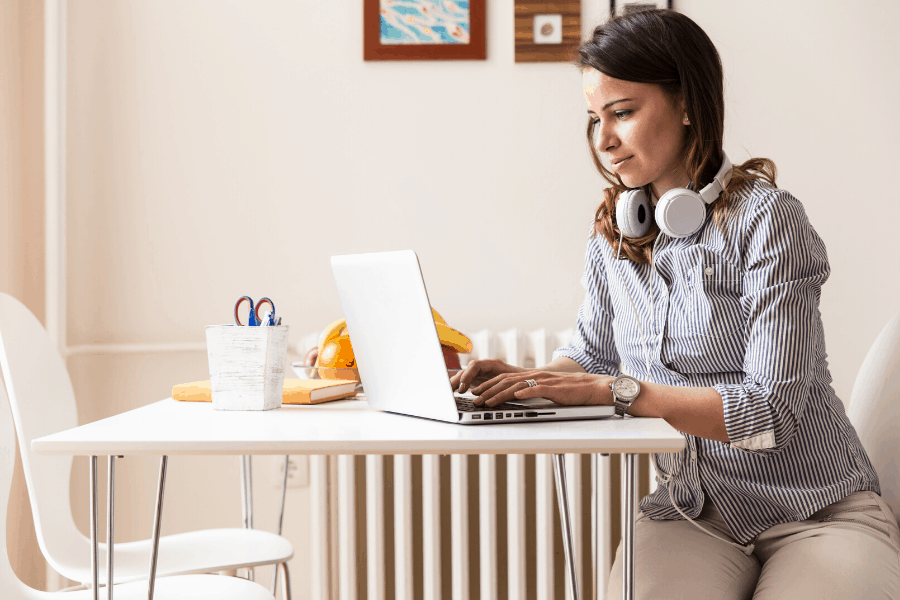 Blogging can be a highly profitable way for moms to earn passive income.
Don't believe me? Here are earnings from some of the top mommy bloggers out there:
Rosemarie Groner at The Busy Budgeter makes $80,000+ per month
The Realistic Mama makes over $20,000/month
What Mommy Does earns $7,000/month
What Moms Love earns $30,000/month
Mommy on Purpose earns $5,000+ per month
All of these mom bloggers earn money in different ways, including ads, sponsored posts, selling products, affiliate marketing and selling services. But having multiple streams of income (especially ones that are passive) is a good thing.
So how do you start a mom blog that makes money?
You'll need to choose a domain name and get hosting. (I prefer NameHero). And you'll need to install a theme and some basic plugins.
Once you've done the technical stuff, you can move on to writing blog posts and promoting them. You can also use Pinterest and social media to build traffic.
Wait, that sounds like work. I thought blogging was supposed to be passive income for moms?
Blogging can help you to earn passive income as a mom. But you will need to do some work upfront to grow your traffic to a point where you can start monetizing and earning.
So if you're looking for a quick way to start generating passive income, blogging probably isn't for you. But if you're willing to put in some time and effort, you could easily generate a part-time or full-time passive income from a blog over time.
Interested in this passive income idea for moms? Here's how to start a mom blog step by step.
6. Create a YouTube channel
Starting a YouTube channel could be a good passive income idea for moms who are video-savvy.
On average, a YouTuber earns $18 per 1,000 views. You'll need 1,000 subscribers and 4,000 hours watched to monetize your channel.
But there are some YouTubers making a full-time income with their channels. The WhatsUpMoms channel, for example, is estimated to be worth $4 million.
YouTube isn't completely passive, as you do have to spend time creating your videos. But if you can build a following, you could make money in your sleep each time someone watches a video from your channel.
You'll also need a few things to get started, including a laptop, a good webcam, an internet connection and a ring light. But if you're able to monetize your channel fairly quickly you could easily earn those costs back in passive income.
7. Sell digital templates
A digital template is an original design file that can be modified by other users. Digital templates can be sold through a blog or through an e-commerce site like Etsy.
So what kind of digital templates can moms create for passive income?
Some of the best-selling digital template ideas include:
Pinterest templates
Instagram post templates
Ebook templates
Low content planner templates
Budgeting templates
Invoice templates
Resume templates
Business card templates
Wedding invitation templates
The great thing about digital templates as a passive income idea for moms is that you can make them once, then sell them repeatedly.
Canva is once again a go-to tool for creating digital templates. You can create the file, enable sharing so it can be copied then upload the templates for sale on Etsy or your own website.
Etsy does charge a small listing fee and they also collect transaction fees each time you sell your products through the platform. But you don't have to ship or mail anything–customers can simply download your templates automatically after purchasing.
8. Write and sell ebooks
Selling ebooks can be one of the best passive income ideas for moms who enjoy writing but don't necessarily want the day-to-day maintenance involved in running a blog.
Ebooks are not difficult to create; you can use a tool like Canva or Bookbolt to format your covers and interiors. The key is picking a profitable topic for an ebook that people are likely to buy.
You can upload your completed ebooks to Amazon KDP for sale. (I like this option because you can sell your ebooks for Kindle and also offer a hardback or paperback version.)
Aside from Amazon KDP, you could also try selling ebooks through these platforms:
Payhip
Sellfy
Lulu
Blurb
NOOK Press
Pro passive income tip: If you're stumped about what to write about, try browsing bestselling ebooks in different niches that you're interested in on Amazon. This can give you an idea of what sells and what people want to read about most.
9. Invest in real estate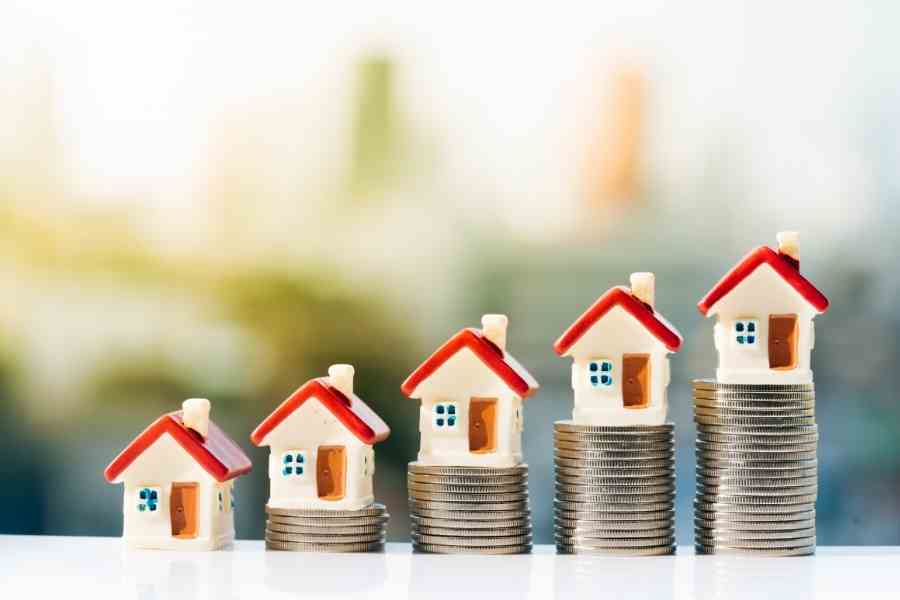 Real estate investing can be one of the best ways for moms (or anyone else) to create passive income.
When you invest in rental property, for example, you can collect rents from that property as long as you keep tenants. And considering that rent prices keep going up in the U.S., rental properties could provide sustainable passive income for the long term.
There's just one catch with owning rental properties: you either have to do landlord duty or pay someone else to do it for you.
But there's an easier way for moms to invest in real estate for passive income. You can invest in crowdfunded real estate instead.
Real estate crowdfunding allows multiple investors to pool money together to invest in commercial and residential rental properties. In return, investors get a share of the income generated from those properties.
The best part about investing in crowdfunded real estate for passive income is that you don't need a lot of money to get started.
With Fundrise, for example, you can open a starter account with as little as $10. If you have a little more money to invest, you can move up to a basic account with a $1,000 minimum investment.
You can invest in real estate for dividend income with Fundrise or even open an IRA for retirement. Anyone can invest, which makes it a great passive income option for moms who want to start building wealth.
Start building a real estate portfolio with Fundrise.
10. Invest in dividend stocks
Dividend stocks are stocks that pay out a percentage of company profits to shareholders.
What that means in simple terms is that you buy stock in a company and that company makes a profit, they'll give a little of it to you. Dividends can be paid out monthly, quarterly, biannually or annually.
Many people rely on dividends for passive income and you don't need to be a stock market expert to buy dividend stocks.
If you've got $100 to spare, you can start buying dividend stocks with M1 Finance.
M1 Finance is an online investment platform for moms and anyone else who wants to build a portfolio of stocks and other securities. You can pick and choose stocks yourself or use automated investing to grow your money.
What's great about M1 Finance is that it's easy enough for even the most beginner investors to use. And M1 Finance routinely offers sign-up bonuses for new investors so you can grab some free cash right off the bat.
Start investing for dividend income with M1 Finance.
Final thoughts on passive income ideas for moms
Earning passive income as a stay-at-home mom, working mom or single mom can help you get closer to financial independence. These passive income ideas for moms all have solid earning potential and don't necessarily require you to have a bachelor's degree or special skills.
Are you earning passive income as a mom? Drop a comment and tell me about it.
And don't forget to check out my favorite Smart Mom Tools for making and saving money!
Need more ideas for how to make money as a mom? Read these posts next:
Passive Income Ideas for Moms