Last Updated on December 17, 2022 by Rebecca Lake
Looking for free at home jobs for moms?
Remote work-from-home jobs can be particularly appealing if you want to make a part-time or full-time income, while still being able to care for your family. The best remote jobs for stay-at-home moms allow you to make extra income working your own schedule, using the skills that you already have.
Flexibility is one of the most important things working moms (and dads) look for to maintain work-life balance, according to a FlexJobs survey. And if you'd like to work from home, you may be looking for ways to do so that don't require a large upfront investment.
The good news is that low-cost and completely free work from home programs do exist. There are plenty of remote jobs, online business opportunities and side hustle ideas for stay-at-home parents that you can start with little to no money.
Ready to start your job search? Today, we're taking a closer look at some of the best free at home jobs for moms you can start with nothing.
Best Free At Home Jobs for Moms (or Dads)
Finding the right stay at home mom job can depend on your schedule, skills, prior experience, education and needs.
For example, some remote jobs for moms might require a bachelor's degree while others don't. And instead of a full-time job, you might be interested in something you can do to make money in your free time that fits with your kids' schedule.
With that in mind, here are 25 flexible remote job and work from home job ideas for stay at home parents who need extra cash.
(Note: Salary info is drawn from ZipRecruiter)
1. Freelance writer
Average pay: $66,935/year
Doing freelance work could be a great option for moms who have strong writing skills. Freelance writers are in high demand and there are a number of ways you can get paid to write, including:
Content writing

Copywriting

Ghostwriting

Grant writing

Freelance blogging
You don't need previous experience to become a freelance writer. At most, you need a laptop with internet and of course, some basic writing skills, to get started. You'll also need a bank account or PayPal account to get paid as a self-employed writer.
Those are things you likely already have, which makes this a great option for free at home jobs for moms. It also has the potential to be one of the highest paying legit work from home jobs.
When you're ready to find freelance gigs, you could try a freelance platform like WritersWork to start. WritersWork is a great site for finding freelance projects and you get unlimited access to remote work opportunities for a low one-time fee.
2. Graphic designer
Average pay: $88,360/year
Graphic design can be one of the most lucrative stay-at-home jobs for moms or dads who are knowledgeable about design and different graphic design tools. Some of the things business owners might be willing to pay you for include:
Business card design

Website design

Logo design

Designs for print ads or digital ads

Digital brochures or marketing pages
You don't necessarily need a college degree in graphic design to make money using this skill either. So it's a great free legit work at home job for anyone who has a creative streak.
For example, you could make money with Canva by designing templates, printables or e-books, then selling them through an online marketplace or your own website. Canva is an easy design tool to learn and you can create a free account or spend a few bucks to upgrade to Canva Pro.
3. Interior designer
Average pay: $54,730/year
Starting a small business as an interior designer could be a great way for moms to make money with a remote job while doing work they enjoy. The best part is that you don't have to leave home to make money doing interior design.
With a virtual interior design business, you can consult with clients online. You can create multiple pricing packages that include different design services. And you can earn money from affiliate marketing by partnering with companies that sell furniture, home accessories and decor.
In terms of the upfront investment, you'll need to spend a little money building out a website. But you can advertise and market your business for free online using social media and locally via word of mouth.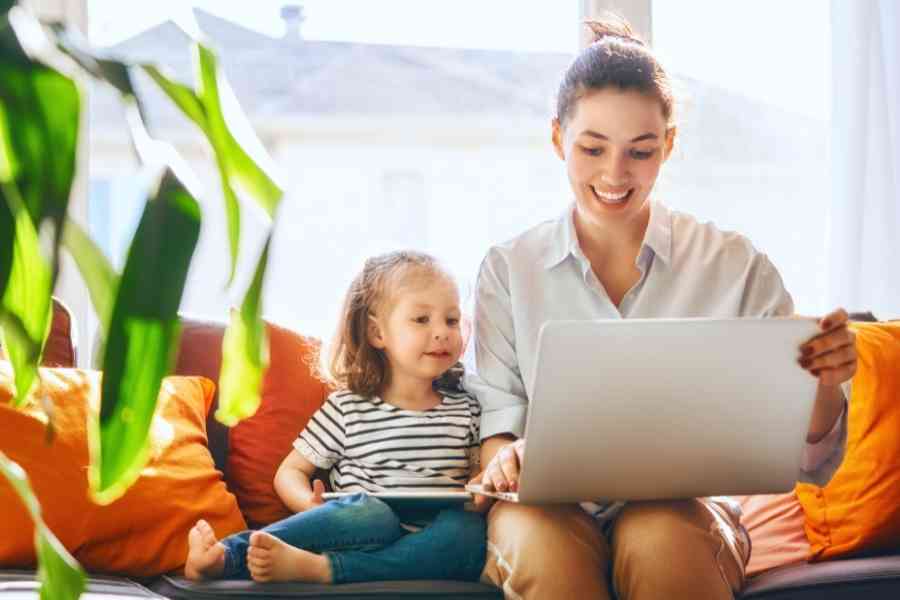 4. Blogger
Average pay: $42,618/year
Blogging is one of the best stay at home mom jobs because you don't need previous experience to make money and it can offer a flexible schedule.
There are lots of ways to make money blogging, including:
Writing sponsored blog posts or becoming a brand ambassador

Earning commissions through affiliate links

Selling digital or physical products

Running ads on your site

Offering a service, like business or career coaching, consulting or freelance

Running a mastermind group

Creating a members-only forum or subscription service
Starting a mom blog could be a good option if you love to write and you like a challenge, as it can take some time to make money blogging. But it's possible to get your blog up and running for under $100, which is great if you need a low-cost online business idea.
5. Social media manager
Average pay: $53,917/year
Social media manager is one of the best online jobs because they're in high demand. Many small businesses (and larger businesses) hire people specifically to manage their social media accounts.
Some of the things you might do as a social media manager include:
Setting up new social media accounts

Creating and scheduling posts to online platforms

Moderating or responding to comments

Tracking mentions across social media platforms

Sourcing images or videos for social media content

Reviewing analytics for opportunities to improve
Social media management is one of the more popular jobs for a stay at home mom who knows her way around different social media platforms. And there may not be much work required on a daily basis if you're able to batch create and schedule social media posts for your clients.
Related post: 55 Amazing Gifts for Working Moms (Best Working Mom Gift Ideas!)
6. Course creator
Average pay: $53,869/year
The market for online courses has exploded in the past few years as more people look to the internet to learn. Becoming an online course creator is one of the best free at home mom jobs because there are virtually zero startup costs involved.
You'll just need a good idea for a course. And you'll need a platform to create and sell it on.
If you don't want to go through the trouble or expense of setting up your own website, there are plenty of online platforms you can use instead to sell your online courses.
Three of the most popular options include Teachable, Skillshare and Udemy. Comparing each one's features and pricing can help you decide which platform is best for your needs.
?Try Teachable for 30 days free now.
7. Online translator
Average pay: $79,012/year
Online translator gigs can be some of the best free at home jobs for moms who know a foreign language or two.
There are numerous companies that hire stay at home parents to act as translators and interpreters. Depending on the type of job involved, you might be asked to translate written documents, audio files or video recordings.
If you're interested in online translation jobs and remote work opportunities, here are some of the best places to look:
Those are all remote companies that hire moms, students and other individuals with foreign language skills.
You can also look for remote translation gigs with FlexJobs or Virtual Vocations. These sites feature high-paying remote job listings in a variety of different fields.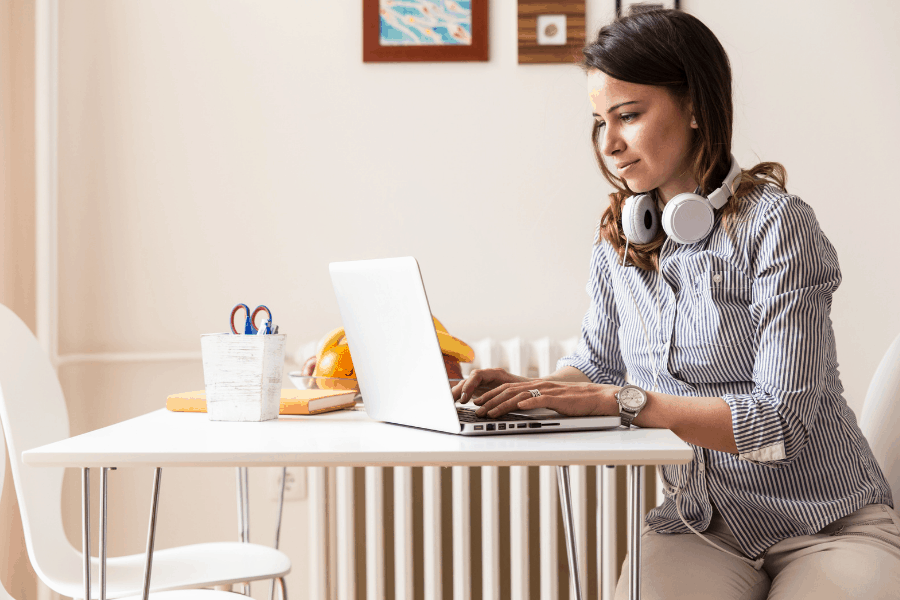 8. English tutor
Average pay: $40,425/year
Teaching English as a second language is another good free at home job for moms. You'll need good communication skills to do this job from home.
There are numerous remote companies that pay moms to teach English to kids in other countries online. VIPKID and QKids Academy are two of the most popular sites for finding these kinds of at home jobs.
You may need a college degree to become an online English teacher. And a background check may also be required, depending on which company you decide to work with.
9. Outschool teacher
Average pay: $50/hour (per Outschool)
Outschool is an online learning platform for kids in K-12. Anyone can sign up to teach classes on Outschool; no teaching experience is required.
It's one of my favorite work from home sites for moms because the earning potential is great. There are some moms making $10,000 or more each month with Outschool.
You'll need to complete the application process online and pass a background check to start teaching. And you'll need to have a computer with a camera so that you can teach classes live via Zoom.
You could also earn passive income with Outschool if you're creating evergreen classes that students navigate themselves, without extra help from you. You'll just need to submit your class topic for approval before it goes live.
Overall, teaching on Outschool is another excellent option for mom job seekers who are interested in making more money with remote work.
10. Online tutor
Average pay: $51,345/year
Online tutoring is another ideal choice if you want to work remotely from home while helping others.
As an online tutor, you can make money teaching secondary school students or college students over the internet. Your background and experience might dictate which tutoring job type is right for you and which tutoring sites you should apply with.
If you're interested in tutoring you can try these sites to find remote jobs:
Note that you might need a college degree to get remote work as an online tutor. If you don't have a degree but you're skilled at helping your kids with their homework, you might try offering tutoring services locally to students in your area.
11. Search engine evaluator
Average pay: $53,095/year
Search engine evaluators get paid to assess search results for accuracy and quality. They type search terms into search engines, then rate the results for usefulness.
Becoming a search engine evaluator is one of the best free at home jobs for moms because you don't need a lot of special equipment to get started. At a minimum, you'll need a good desktop computer or laptop and a reliable internet connection.
And it's a high demand job as well since platforms like Google are always looking for ways to fine-tune and improve.
12. Massage therapist
Average pay: $59,879/year
Massage therapy is something many people turn to manage their physical health and mental health. This could be a good job for a stay at home mom who enjoys connecting with people.
You'll need to be certified and licensed in your state to become a massage therapist. So you may need to spend a little more time and money to get this money-making idea started.
But if you're able to offer massage therapy services to potential clients in your home, that could be a great option for making money without disrupting your daily routine.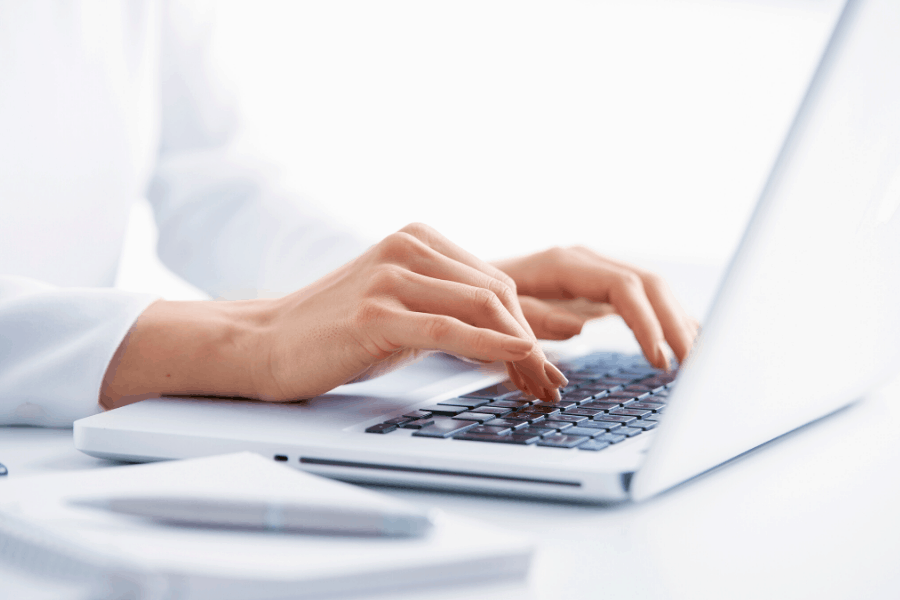 13. Online transcriptionist
Average pay: $45,413/year
Online transcription jobs can pay well and allow you to make money from home without a lot of hard work. As an online transcriptionist, you can get paid to turn digital or audio files into written files.
You don't need a college degree to apply for online transcription jobs and some of them are designed for beginners with no previous experience. This is 100% legitimate work that you can do from home on your own schedule, so it's a perfect flexible job idea for moms.
If you're interested in learning more about online transcription, you can sign up for this free mini-class from Transcribe Anywhere. It's a great introduction to the basics of transcription.
And if you're ready to explore online transcription jobs for beginners, you can create a free account with GoTranscript.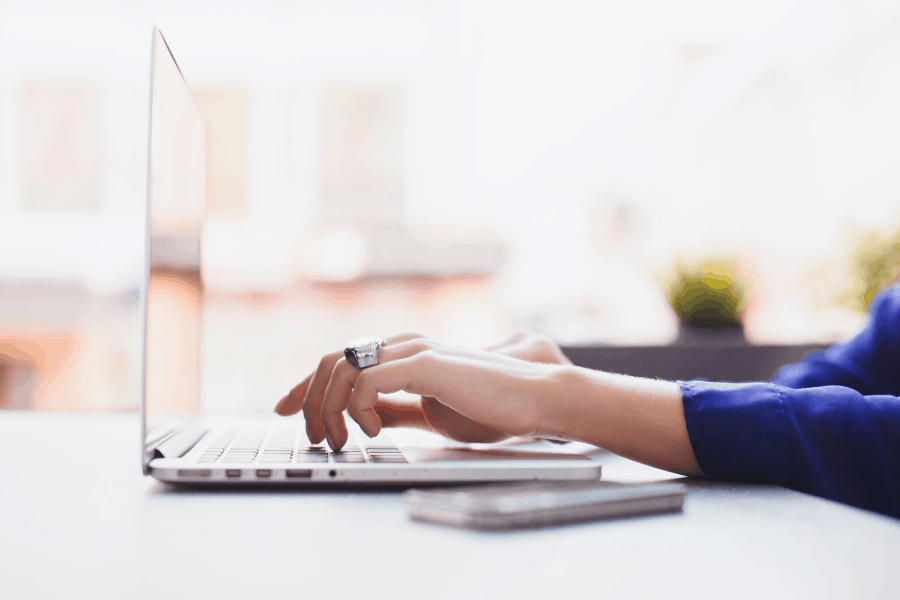 Want to get paid to type?
Learn how to become an online transcriptionist in this free mini-course!
14. Online proofreader
Average pay: $54,232/year
Online proofreaders get paid to review written documents and correct them for grammatical errors, typos and spelling errors. This may be a perfect remote job for moms who are detail-oriented and have basic proofreading skills.
There are two main job categories for online proofreaders: general proofreading and legal proofreading.
General proofreaders get paid to proofread a wide range of documents. They don't necessarily specialize in just one type of document. Legal proofreaders focus on legal documents and work with law firms and attorneys.
?Learn proofreading skills!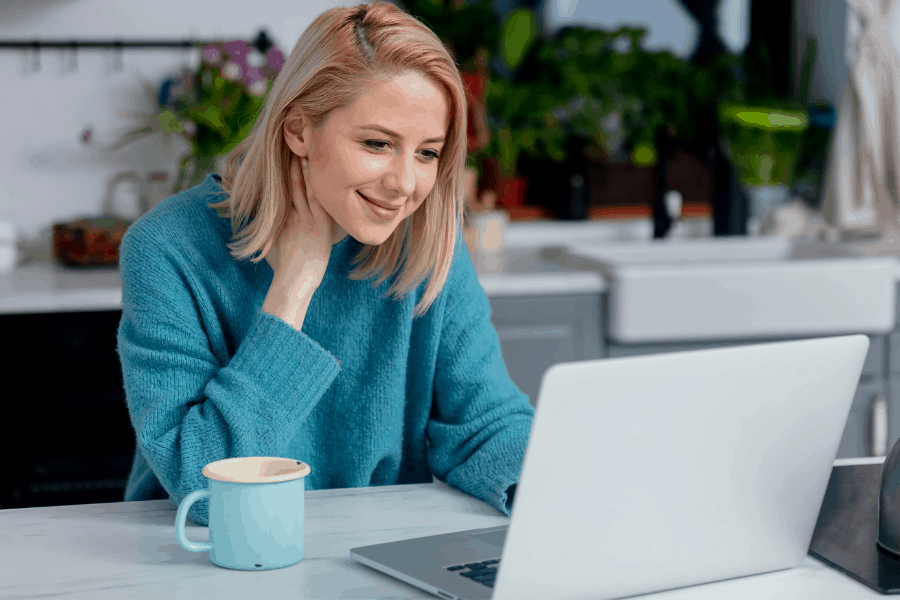 15. Virtual assistant
Average pay: $43,646/year
Virtual assistants (VAs) help small business owners run their businesses. Instead of doing administrative work in a traditional office setting, you can work from the comfort of your own home.
As a VA, you might work with local businesses or big businesses who need someone to handle tasks like:
Managing emails

Scheduling appointments

Making phone calls

Compiling databases

Writing blog posts or other website content

Managing Pinterest accounts or other social media accounts

Arranging travel plans
A high school diploma may be sufficient to land virtual assistant jobs, especially if you have prior experience doing administrative work.
The more experienced you are the better, since you can charge a higher price for your services. For example, you might be able to command much higher rates if you specialize in working with executive management.
You can look for VA jobs through sites like FlexJobs or Virtual Vocations. Facebook groups can also be a great place to scout out potential clients.
For example, joining some Facebook groups for bloggers can be a step in the right direction. These groups are often full of bloggers who are overwhelmed and need help running their small business. Just be sure to read the group rules about sending DMs to members or promoting your services.
16. Data entry specialist
Average pay: $41,397/year
Data entry jobs can be a great work option for stay at home moms who have good computer skills. Depending on what the company needs, data entry positions can involve:
Creating and maintaining databases

Entering financial records or reviewing financial transactions for accuracy

Updating customer information in a CRM

Transcribing audio files
The great thing about data entry jobs is that they don't involve a lot of hard work. You do, however, need to be detail-oriented and focused while you're working. So this could be something you might consider if you're looking for a late-night, non-phone job once the kids are in bed.
17. Online stylist
Average pay: $43,868/year
Online stylists are essentially style consultants. They get paid to advise people on what to wear in order to create the best looks.
There are different ways you could make money as an online stylist. For example, you could start a style blog or become a brand ambassador or influencer on Instagram.
You could also work with a company like Stella & Dot.
Stella & Dot is a boutique-style accessories company that relies on its online stylists to sell its products. You earn money based on what you sell and it's a popular work-from-home job option for moms.
18. YouTuber
Average pay: $60,141/year
YouTube can be a lucrative way to make money online. And it's one of the best free at home jobs for moms because all you need is a computer or phone and an internet connection to launch a YouTube channel.
There are different ways to monetize a YouTube channel, so you can create multiple streams of income.
For example, you could make money with:
YouTube ads

Affiliate links (in the video description)

Selling digital products

Sponsored videos
You could also use a YouTube channel to drive traffic back to your blog, which could put even more extra cash in your pocket if you've monetized it. Starting a YouTube channel might be the best option for stay at home moms who are comfortable in front of a camera and have a topic that speaks to their target audience.
19. Customer service representative
Average pay: $33,009/year
Customer service jobs may not be all that glamorous but they can be a great way to make money from home when you don't have much time to work.
As a remote customer service specialist, you'll need to be able to answer phone calls and talk to people without a lot of background noise. So if your kids are in school during the day, this could be one of the best work from home options.
FlexJobs and Virtual vocations are great places to look for remote customer service jobs. You can also try sites like Indeed.com or People Per Hour for flexible jobs and WAH job postings.
20. Chat operator
Average pay: $43,490/year
If you're friendly and comfortable talking to strangers, you could get paid to chat.
There are different ways to get paid to chat. For example, there are companies that hire remote workers to offer customer service and support via live chat. Amazon is one of the biggest companies that offers virtual chat remote job openings.
And there are also remote job opportunities for moms who want to get paid to flirt or talk to lonely people. RentAFriend and Flirtbucks are two sites that feature job listings for people who want to get paid for talking.
That may be more of an unusual job type for a mom. But it's possible to make good money this way if you're comfortable with what the job involves.
21. Software or web developer
Average pay: $86,500/year
Software development jobs and web development jobs could be great options for stay at home moms who are computer-savvy. These are two similar job categories, though there are some differences in what they involve.
Software development is what it sounds like: developing software applications. Web developers and web designers create and maintain websites, which is great if you're technical-minded. Both can easily help you earn six figures from home.
You don't necessarily need a degree to get hired for software development or web developer jobs. In fact, it's possible to learn the skills you need to find remote jobs for web developers, web designers or software developers online for little to no money. You can search for low-cost coding courses online to get started.
22. Online store owner
Average pay: $45,355/year
If you'd like to own your own business, you could start an online shop to make money from home. My daughter, for example, has an Etsy shop where she sells handmade items, which is growing nicely.
In addition to opening a shop with Etsy, you could start an online shop with Shopify. That's a great option for selling digital or physical items. But Shopify can charge steep fees so you might try a free option like Payhip instead.
It costs nothing to start an online storefront with Payhip and you can link it to your blog or website. You'll pay a small transaction fee when you make a sale but it's a great way to sell digital printables, e-books and other products that don't require you to ship anything.
23. Reseller
Average pay: $85,594/year
Flea market flipping or reselling isn't a remote job, per se. But it could be a great option for moms or even college students who are looking for a side hustle.
Flea market flippers get paid to turn trash into treasure. You buy things at one price (or get them free), then flip them at a higher price to make a profit.
Some of the places you can find items to flip include:
Flea markets

Yard sales

Garage sales

Estate sales

Thrift shops

Craigslist curb alerts
If you want to sell online you can offer flipped items on Craigslist, eBay or Facebook Marketplace. And you can also sell things locally through Facebook bargain groups.
The best thing about flea market flipping is that if you're able to find your first items to flip for free, there's zero investment required.
?Sign up for this free workshop to learn the art of making a full-time income as a flea market flipper!
24. Online survey taker
Average pay: $26/hour
Completing online surveys likely won't make you rich and it's not a traditional remote job. But it's worth adding to the list of free at home jobs for moms because it's such an easy way to make money.
Survey sites pay you to complete surveys and share your opinions. Some of them will also pay you to complete small tasks, like watching videos or playing games online.
Pay ranges can vary but paid online surveys can offer anywhere from $3 up to $50 each, with some going even higher than that. And taking online surveys is one of the best flexible jobs for moms.
You can get extra cash while sitting in the pickup line at school or at night after the kids have gone to bed. And it's one of the easiest remote jobs since you don't need special skills to do it.
Some surveys also allow you to earn free gift cards if you'd rather have that instead of cash. For example, there are PayPal and Amazon gift card survey sites that will reward you with gift cards just for answering questions.
Here are some of the best places to get paid for surveys online:
All the companies listed here are 100% legitimate and scam-free. You can sign up for one of these sites or all of them. And you can easily make a few extra dollars a day taking surveys online.
Start making money with MyPoints! Want an easy way to earn extra cash? Earn MyPoints Rewards that you can redeem for cash or gift cards just for doing simple tasks. Sign up for MyPoints and get a $10 Amazon gift card!
25. Focus group participant
Average pay: $35,356/year
Focus groups get paid to share their opinions about a particular product or service. But it's a little more in-depth than just taking surveys.
Businesses can contract with online companies to set up virtual focus groups to get feedback on new products or services before they launch. Instead of being able to take quick paid online surveys in a few minutes, you might spend a month or more as part of an online focus group.
The good news is that because there may be a little more work involved, the earning potential is higher.
For example, Respondent.io pays $100 an hour on average to its online focus group participants. And UserInterviews pays $50 an hour on average. That kind of pay is a great incentive to work remotely as part of a focus group.
Free at Home Jobs for Moms FAQs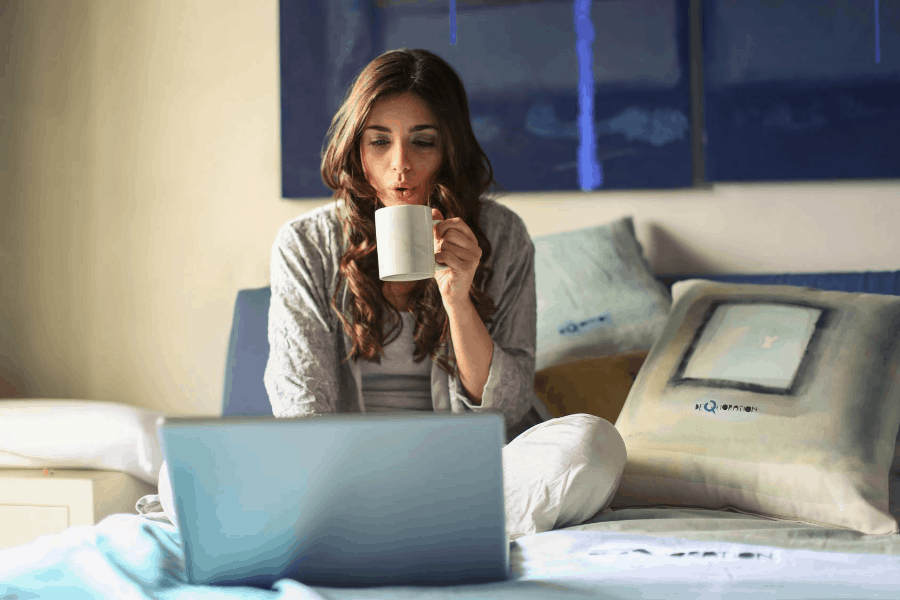 How can I work from home as a mom?
If you'd like to find a stay at home job as a mom, the first step is figuring out how much time you have in your daily routine to try and make money with remote work. That can determine what kind of free at home jobs for moms are a good fit for your schedule. Once you have a routine in place, you can start looking for online jobs from home that fit your skills, prior experience and education. Traditional job boards are a good place to start and you can branch out to find remote jobs with more specialized job boards like FlexJobs.
What jobs can I do from home with a baby?
There are lots of ways to make money while pregnant or on maternity leave from home. Some of the most popular jobs you can do from home with a baby include freelancing, online proofreading, online transcription jobs, social media management and blogging. Those can all be great ways to make a part-time or full-time income in your free time while still caring for a baby or toddler.
What is the easiest online job for beginners?
The easiest jobs you can do online are ones that allow you to use skills that you already have to make money or generate income without a lot of hard work. Some of the easiest online jobs for beginners include freelancing, doing virtual assistant work, taking surveys and participating in focus groups. User testing and virtual chat jobs are also ways to make money online from home without doing much work.
How can I work from home with no money?
There are a number of ways to do remote work from home with no money, starting with researching remote jobs. You can also consider what kind of skills you might be able to leverage into an online business or side hustle with little investment. For example, you could make money online as a freelance writer if you have a laptop and internet.
How do you find a job that you can work from home?
The best place to start your search for easy work at home jobs free of charge is online with job boards for remote workers. You can try a free remote job board like Indeed.com first. Then, you can expand your job search to include a paid remote job board like FlexJobs or Virtual Vocations. Those are two of the best online work-from-home job boards since they specialize in virtual job listings. If you'd like to find work from home jobs offline, you can try word of mouth and ask friends or family if they have any leads on remote positions.
Final thoughts on free at home jobs for moms
Finding a paid position that you can do from home as a mom can make a huge difference to your family's financial life. The money that you're able to generate through remote work and work from home job opportunities could help you to get out of debt, grow your emergency savings and achieve financial stability. And the great thing is that you can do those things while working a flexible schedule. Whether you're interested in full time jobs or part time jobs, it's possible to find the right job type for your needs and schedule so you can reach your money goals.
Need more money tips? Read these posts next:
Free At Home Jobs for Moms to Make Extra Money