Last Updated on November 12, 2022 by Rebecca Lake
Learn how to find legitimate online proofreading jobs to make money from home. And sign up for a FREE workshop to learn the basics of proofreading for money!
Looking for a flexible way to earn a part-time or full-time income from home?
Online proofreading jobs can be a great way to make money on a daily basis. It's possible to launch a part- or full-time career as a proofreader without previous experience.
There are numerous companies that offer remote job opportunities for entry-level proofreaders and experienced proofreaders. Some online proofreading jobs are offered on a part-time basis, while others are full-time.
Today, we're sharing tips on how to become a professional proofreader, along with some of the best legitimate proofreading jobs.
Related post: 28 Low-Stress Side Hustles for Introverts That Pay Well
What Is Proofreading and What Do Proofreaders Do?
Proofreading is the process of reviewing written documents and checking them for spelling mistakes, typos and grammatical errors.
A proofreader's job, in a nutshell, is making sure a piece of writing is error-free. It's a little different from editing, which involves reviewing text for tone, correct sentence structure, flow and overall style.
Online proofreading jobs can involve reviewing a wide range of writing, including:
Blog posts
Articles
Infographics
White papers
Case studies
Academic papers
Ebooks
Social media posts
Technical reports
Legal documents
Medical documents
Proofreaders can work as generalists, proofreading a wide range of online content. Or they may specialize in a single type of writing, like legal or medical documents.
Are proofreaders in demand?
Proofreaders are in high demand across a wide variety of industries, according to the Bureau of Labor Statistics. Some of the industries hiring online proofreaders include:
Newspaper, periodical and book publishers
Business support services
Scientific and technical services
Employment services
Advertising and public relations services
Content creators, including bloggers and influencers
The freelance marketplace for online proofreading jobs has plenty of potential to grow as more businesses harness the power of online marketing. The great thing about starting a proofreading career is that prior experience is not necessarily a prerequisite.
What are the basic requirements to become an online proofreader?
As mentioned, you don't need previous experience to be a good proofreader if you've mastered the right skills.
Those skills include:
Thorough understanding of grammar
Solid spelling skills
Good grasp of proper capitalization and punctuation
Familiarity with different style guides
Some online proofreading jobs may require you to be a native English speaker, but that's not always the case. There are plenty of potential clients who may be willing to work with you if English is your second language but you're fluent.
Proofreading could be a natural fit if you're detail-oriented. In terms of the educational background needed, some online proofreading jobs may require a bachelor's degree or even a master's degree.
However, it's still possible to become a full-time proofreader without a university degree. Many beginner proofreaders learn everything they need to know to get started by taking an online course.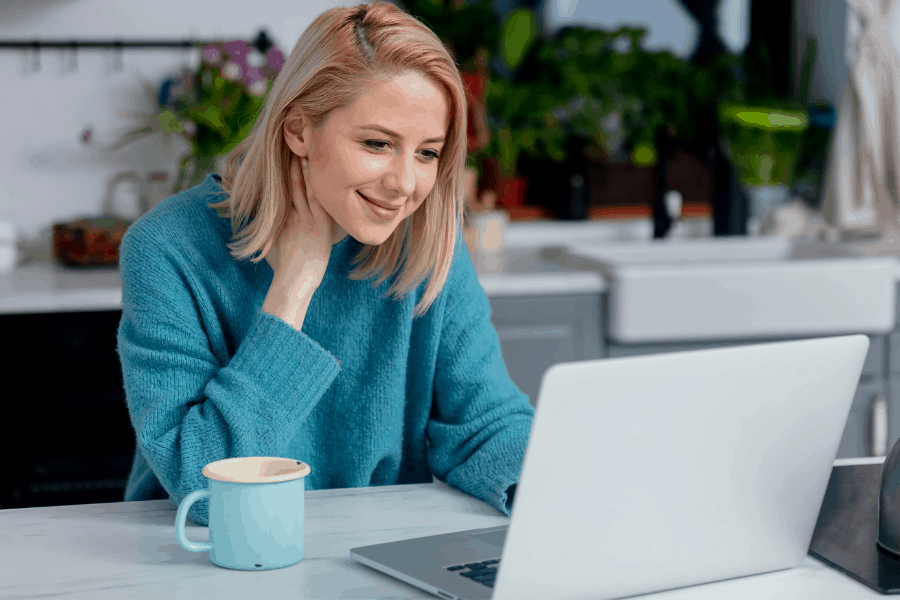 Want to get paid to proofread?
Sign up for a FREE webinar to learn how to make money proofreading online!
How much money do online proofreaders make?
The average online proofreader earns $52,307 annually, according to ZipRecruiter. At the low end, some proofreaders are making around $14,500 per year, while those at the higher end are earning a six-figure income.
Online proofreaders can easily earn a part-time or full-time income from home. A good hourly rate to target for beginner proofreaders is somewhere in the $25 to $50 range.
How do online proofreaders make money? The answer depends on whether a proofreader is hired as an independent contractor or an employee.
Proofreaders who work as independent contractors can set their own rates and charge:
By the word
By the page
By the hour
By the project
If you'd like to run your own business, becoming an online proofreader can be a great way to do it.
Proofreaders who are hired as employees, on the other hand, typically have their salaries set by the company they're working for. There may, however, be room for negotiation and employees may get some nice perks or benefits that independent contractors don't.
Related post: How to Make $10,000 a Month: 25 High Paying Side Hustle Ideas
35 Best Proofreading Jobs for Beginners
When it comes to finding proofreading jobs online, there are a few things to keep in mind.
First, consider what type of proofreading gigs you're interested in. For example, if you're looking for flexible options, then you might want to look for a freelance proofreading job that allows for remote work.
Next, check out what's required of the job itself.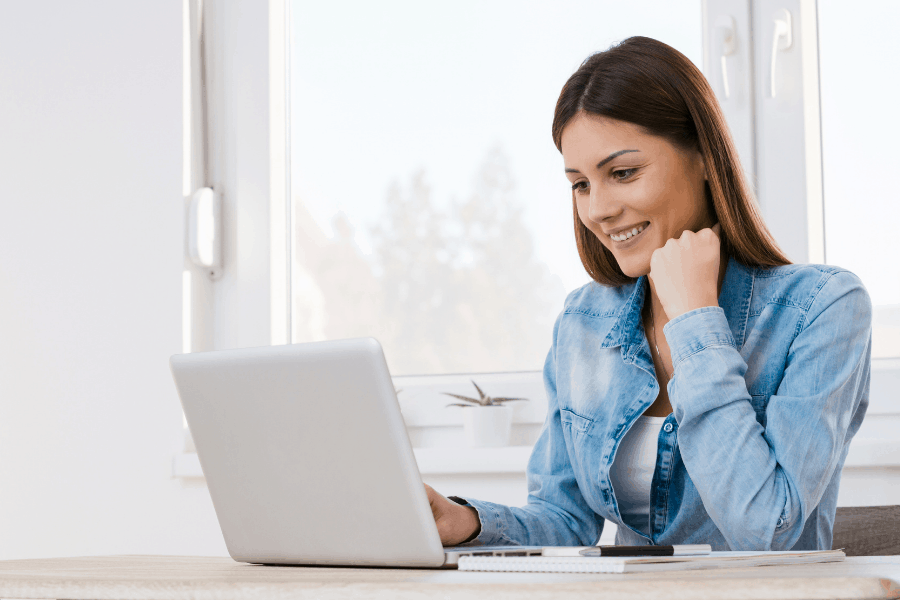 When creating job postings for open positions, companies might include a little detail or a lot. If you're looking for online proofreading jobs for beginners, then it's important to understand what the job involves and how those requirements match up with your skills and experience.
Finally, take a look at the pay. 
When you're just starting as a freelance proofreader, it's tempting to lowball yourself just to get work. But that can be a big mistake.
If you start out accepting low rates of pay, it's easy to get stuck in a cycle of doing that over and over again. So consider what you want your target hourly rate to be, then focus your search on jobs that pay that amount.
Ready to find available proofreading jobs? Here are 35 places to start your search.
1. Upwork
Upwork is an online job marketplace that connects freelancers with companies that want to hire them.
While this online platform does have its critics, Upwork can still be a good place to find your first proofreading job. I used it in the early days of my freelance career to find work.
If you want to use Upwork, you'll need to create an account first. Once your account is approved, you can create a profile and start searching for online proofreading jobs.
You'll need to send proposals for the jobs you want to apply for. And it helps to have a solid profile and portfolio to catch clients' attention.
2. Fiverr
Fiverr is another online platform that you can use to look for online proofreading jobs for beginners.
With Fiverr, you can create a profile and advertise your proofreading skills.
You can decide which proofreading services you want to offer and how you want to price them. It's an easy way to start earning money proofreading when you have little to no experience!
3. Guru
Guru is similar to Upwork and it's another online platform that you can use to find proofreading jobs for beginners.
Just like with Upwork, you'll create an account and set up your profile. Once you've done that, you can browse online proofreading job listings to find ones that fit your criteria.
You can bid on jobs that you want to try and snag. And again, having a strong profile can work in your favor for landing clients.
4. FlexJobs
FlexJobs is a remote work website that lists online jobs, including proofreading gigs.
What's different about FlexJobs compared to other job boards is that you're more likely to find high-paying gigs. It's an excellent place to look for proofreading jobs that pay four figures a month.
FlexJobs is a paid job board, which means you'll have to make a small investment to use it. But a FlexJobs membership could be well worth the money if you're looking for a great platform with a solid reputation.
5. Virtual Vocations
Virtual Vocations is also a remote work job board. 
This one features a ton of online job opportunities, including remote proofreading and editing positions.
Like FlexJobs, this site does charge a membership fee. But it could be well worth it if you're able to sift out the proofreading jobs that pay peanuts and focus on quality opportunities.
6. Clickworker
Clickworker offers online proofreading job opportunities for people who have an excellent command of their native language and enjoy correcting errors.
To make money proofreading through Clickworker, you first have to complete a few text creation tasks. From there, you can take an online proofreading assessment.
This assessment is used to qualify you as a proofreader with Clickworker. Once you've done that, you can start taking on proofreading jobs through the site.
Pay is per-word and based on the quality level of the project. 
7. Proofreading Pal
Proofreading Pal could be a great place to look for online proofreading jobs if you already have experience or a college degree.
Proofreaders who use this site can make $500 to $3,000 a month reviewing documents online.
Right now, Proofreading Pal is looking for new proofreaders who:
Are currently employed by or enrolled as a graduate or postgraduate student in an accredited United States college or university and have a minimum GPA of 3.5 OR
Have a graduate degree with a minimum of five years of professional proofreading and editing experience
This one could be a little tougher to get approved for if you're new to proofreading and there's a lengthy application form. But it's definitely worth bookmarking for later as you gain more experience. 
8. Telus International (formerly Lionbridge)
Telus International offers flexible work at home jobs, including ones that require proofreading.
You register, then complete a skills evaluation. You'll be contacted when work is available that fits your skills.
You then complete the work at your own pace. And once it's finished, you get paid!
9. Get Editing Jobs
GetEditingJobs.com is primarily geared toward people who are looking for editing and freelance writing jobs. But you can also find online proofreading jobs here as well.
It's free to start searching for job opportunities. And to make your job search easier, you can sign up for email alerts to let you know when new proofreading gigs are posted! 
10. ProofreadingServices.com
ProofreadingServices.com offers full and part-time remote proofreading jobs.
The pay is competitive, ranging from $19 to $46 an hour, depending on the project turnaround time.
You can also work on a flexible schedule, which is good if you're a stay at home mom, student or you already have a 9 to 5. 
11. LinkedIn
LinkedIn is a fantastic place to find work as a freelancer or proofreader.
You can use the LinkedIn Jobs board to search for remote proofreading opportunities. And you can use LinkedIn in general as a networking tool.
The more connections you make on LinkedIn, the more likely you are to encounter someone who needs to hire a proofreader or who can refer you for a proofreading job.
12. Freelancer.com
Freelancer.com is an online marketplace where businesses can go to hire freelancers, including proofreaders.
You can create a profile on the site advertising your services. And you can bid on jobs or create an online portfolio to attract clients.
13. Polished Paper
Polished Paper is another option for finding online proofreading jobs as you become more experienced.
This site hires freelance proofreaders to review:
Essays
Dissertations
Business documents
Journal articles
Application essays
Personal statements
Resumes/cover letters
Blog entries
Novels
Screenplay
You'll have to register and take a proofreading test to apply.
But if you have experience proofreading any of those types of content, this could be a great place to find a high-paying gig.
14. Reedsy
Reedsy is an online community that's designed to help authors, writers and freelancers come together.
When you create a profile on Reedsy, you can be matched up with authors or writers to work with. This can take some of the hassle out of deciding which proofreading jobs to apply for.
15. PeoplePerHour
PeoplePerHour is another freelancing community you could use to find at-home proofreading jobs as a beginner.
Over a million businesses use this site to find freelancers of all skill levels.
You can decide which freelance proofreading services you want to offer and what type of clients you want to work with. And you can also set your own rates so it's super flexible.
16. Wordvice
Wordvice could be a good fit if you're looking for editing or proofreading jobs online and are a native English speaker.
And if you're fluent in languages other than English, you could also check out Wordvice's job listings for freelance translators.
This site does require a graduate degree to be considered for proofreading work. But you can work online and the hours are flexible.
17. Mediabistro
Mediabistro offers a mix of both in-house and remote work jobs, including listings for proofreaders.
I used this site to find freelance writing gigs as a beginner.
And a lot of top-shelf companies in the publishing space use it to find and hire freelancers.
18. American Journal Experts
American Journal Experts offers freelance editing positions but it's still worth a look if you're interested in online proofreading jobs that also require editing.
Freelancers can take advantage of flexible work schedules and you can work independently. You're also provided with comprehensive support in case you need help or have questions as you work through your editing tasks.
19. Robert Half
Robert Half is a lesser-known option for finding online proofreading jobs. But it's a site that's worth adding to your job search list if you're interested in remote or contract proofreading work. 
It's really easy to find proofreading jobs through the site. You can plug in your keywords in the search bar or set up an email alert and online proofreading gigs are delivered to your inbox.
20. Gramlee
Gramlee is always hiring for online proofreading jobs and online editing jobs.
Aside from having solid proofreading skills, you'll also need to be good at time management. Gramlee advertises 24-hour turnaround times for editing and proofreading services so it could be a great fit if you're able to work at a faster pace.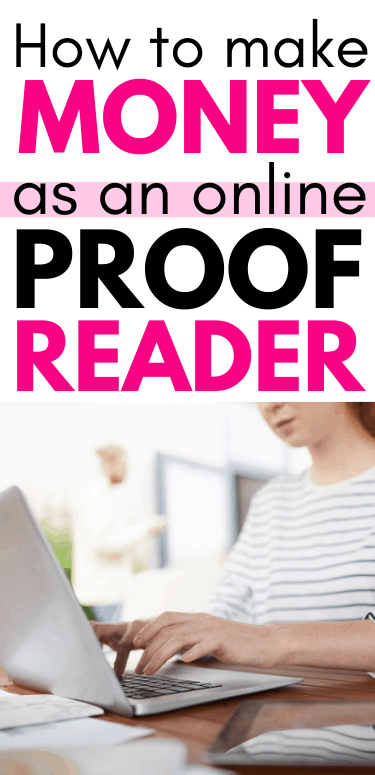 21. Writer's Relief
Writer's Relief is one of the top 100 websites for writers.
And like Gramlee, they're always accepting applications for online proofreaders. You'll need to be located in the United States to submit an application.  
This site offers proofreading services for authors, including reviews of poetry, books, short stories and essays. So it's worth checking out if you're the literary type.
22. OneSpace
OneSpace routinely posts listings for freelancers of all backgrounds, including graphic designers, writers and proofreaders.
Finding online proofreading jobs here can be hit or miss since they sometimes have only a few positions available.
But it's still one of the best options to bookmark since they pay daily and they offer proofreading gigs for people at all experience levels. 
23. CACTUS
CACTUS works with over 200,000 clients so there are plenty of opportunities to find online proofreading jobs for beginners here.
Aside from proofreading jobs, you can also find freelance editing work and freelance translation jobs.
One of the company's best features is its task workflow, which makes it easy to accept and submit proofreading assignments so you can get paid faster!
24. Managed Editing
Managed Editing hires freelancers for proofreading jobs so you can earn money where you are, on your own schedule.
There is an application you have to fill out, which is quite detailed. But the more information you can provide about your proofreading skills and experience, the better your odds of getting matched for a paid proofreading job.
25. Scribendi
Scribendi offers editing and proofreading services for businesses.
This site is unique because it offers specialized proofreading services, including:
English as a Second Language (ESL) proofreading
Academic proofreading
Proofreading for authors
Proofreading for personal documents
Editing and proofreading for students
Business and corporate proofreading services
If you have experience with any of those things, you could unlock a steady stream of online proofreading jobs with Scribendi.
26. Scribie
Scribie is technically an online transcription service. But they do use online proofreaders as part of the service they offer to their transcription clients.
You'll have to have a good comprehension of English to apply. There's also a certification process you have to complete before you can start working through the site.
27. Edit Fast
Edit Fast helps skilled editors, proofreaders and writers find work.
It's really easy to use, too. You create a profile to receive notifications about jobs. If you see a job that interests you, you send the client a proposal.
If the client accepts your proposal, you do the work and get paid!
It's a passive way to find online proofreading jobs without spending hours surfing job boards each day.
28. WritingJobz.com
WritingJobz.com is great for finding proofreading and writing jobs you can do from home.
What I love about this site is that you always get paid for your time. So if you have a nitpicky client that wants endless revisions, WritingJobz.com makes sure you're compensated for that.
That's a huge plus and a great reason to consider applying to become a freelance proofreader here.
29. Domainite
Domainite helps you find paid proofreading jobs online, regardless of skill level.
There is an editing test you have to complete first to apply. And you also need to know your way around Microsoft Word.
But overall, it's one of the easier sites to start finding paid proofreading jobs as a beginner.
30. R3ciprocity
R3ciprocity offers a super simple way to make money proofreading online.
With this site, people submit their work to be reviewed and proofread. As you proofread documents, you earn credits.
Those credits can then be converted to cash and deposited into your bank account via Stripe.
This site may not pay quite as much as some online proofreading jobs. But it's an easy way to get your feet wet and start building up your proofreading experience.
31. Academia-Research
Academia-Research specializes in academic writing. As in, they hire people to write essays, research papers and other academic content.
But they also hire online proofreaders and copy editors as well.
You might want to check out this site for work at home proofreading jobs if you have an academic background or just enjoy reading academic writing.
32. Babbletype
Babbletype offers transcription, editing and translation services to its clients. So if you're skilled at one or all three, you could easily earn great money from home through this site.
One thing they look for is the ability to get along well with others. So solid communication skills could give you an edge.
At the moment, they aren't taking applications for online proofreading jobs. But you could still keep tabs on the site for updates when new jobs open up.
33. EditorLive
EditorLive could be an option if you're looking for a full-time online proofreading job and live in Colorado, Georgia, Massachusetts, Nevada or Texas.
This site looks for online proofreaders who have a college degree and can provide at least two references. There's also a multi-step assessment you'll need to complete as part of the application process.
34. MotherWorks
If you're a stay at home mom who's looking for online proofreading jobs or any other type of freelance work you'll definitely want to check out MotherWorks.
This site features remote and online jobs for stay at home moms or any mom who wants to earn an income online. 
You can find proofreading jobs to do from home, along with editing jobs, writing gigs and virtual assistant jobs, to name a few!
35. Scribe Media
Scribe Media offers book coaching, book publishing, book writing and marketing services for authors.
The company regularly hires remote support staff, including online proofreaders, to help authors get their books published and available for sale.
There aren't as many online proofreading jobs listed here, but it's worth checking out if you're specifically interested in working in the book publishing industry.
Start a Proofreading Business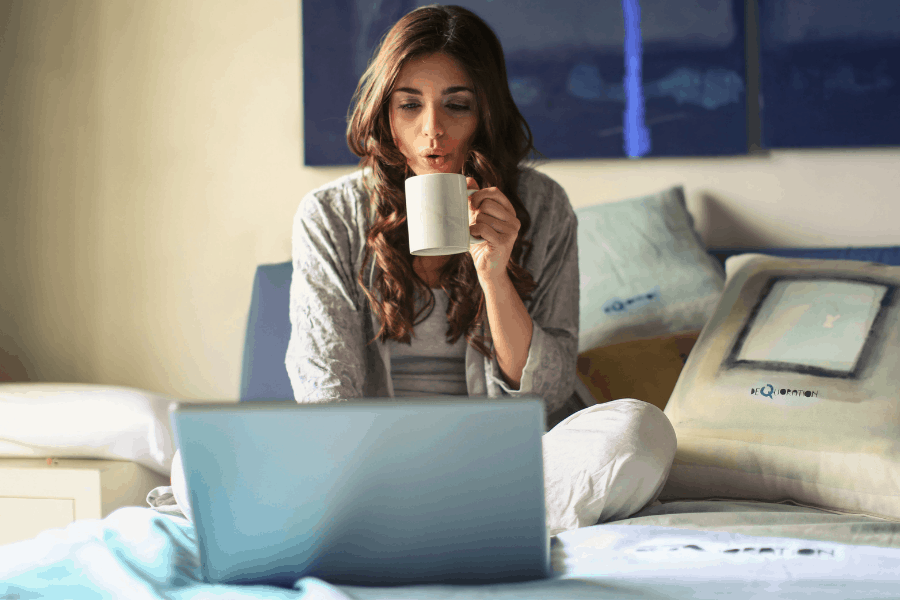 One of the best ways to find online proofreading jobs is to make them for yourself.
So how do you do that?
Simple. You start an online proofreading business and become your own boss.
Here are the pros of starting your own proofreading business:
You have control over which jobs you take (or don't)
You can set your own hours and work when you want
Earning potential is unlimited since you can set your rates and decide how much to work
You can connect with some really great people along the way, including clients, editors and other proofreaders
It can be easier to become an expert in a particular type of proofreading and niche down, which can help you increase your earnings
If you want to start a proofreading business of your own, setting up a website is a good place to start.
For that, you'll need a domain name and web hosting. NameHero is who I use for my sites, though Siteground is also highly recommended.
Once you've got your site set up, you can decide if you want to add a blog element to it. Be sure to read my ultimate guide to starting a blog if that's something you're interested in!
From there, you can work on building out your site and portfolio to start getting clients.
What do you need to start an online proofreading business?
One advantage of starting an online proofreading side hustle is that startup costs are typically low. You don't need much money to get started.
Here's what you'll need to launch your profitable proofreading business:
A laptop
Editing software (Microsoft Word or Google docs work fine)
Proofreading software (Grammarly is great for beginners!)
A PayPal account or bank account so you can get paid
Dropbox if you need cloud storage
It's also a good idea to set up social media accounts so you can start building your brand online.
Do you need to take a proofreading course?
If you do a quick Google search for "how to make money proofreading" or "how to get proofreading jobs online", you'll probably come across at least one website advertising online proofreading courses.
Every course is different but the gist is the same: they equip you with the basic skills and knowledge you need to get started to make money proofreading.
So, are these courses a good use of your time and money?
Online proofreading courses can definitely give you a leg up and help increase your earning potential. 
There are two things to keep in mind, though.
First, not all courses are the same. There are definitely some that are better than others.
And second, you only get out of a course what you put into it. So if you can't commit to spending the time to dive through the modules and absorb all the lessons, an online proofreading course could be a waste of money for you.
With that being said, I can't recommend Caitlin Pyle's Proofread Anywhere course enough. 
She's an undisputed expert in all things proofreading and based on feedback I've gotten from some of her students, this course is well worth the time and money required.
If you want to get a sneak peek at what the course covers, you can sign up for a free workshop that covers the basics of how to make money as a proofreader. 
It costs nothing but your time and it can give you a better idea of whether online proofreading is the right side job for you.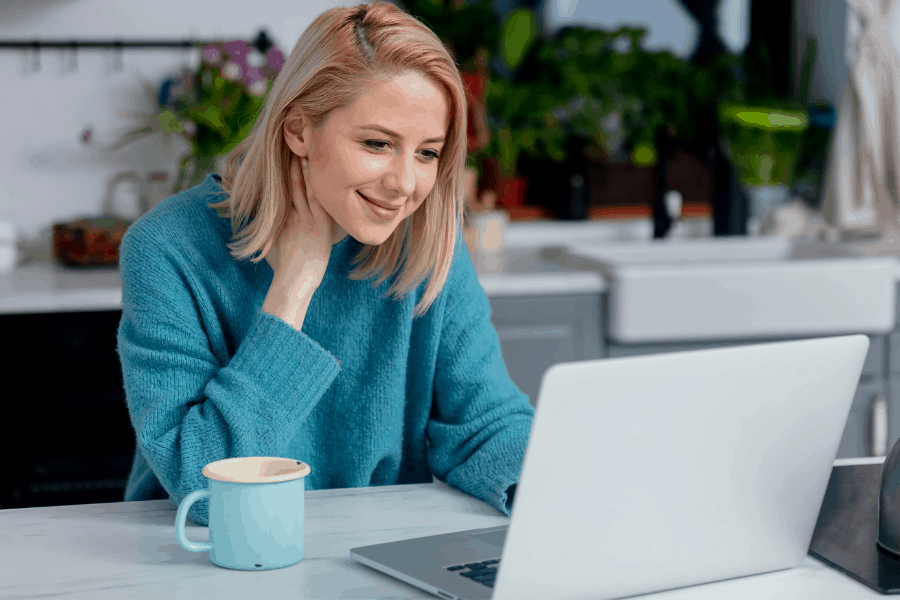 Want to get paid to proofread?
Sign up for a FREE webinar to learn how to make money proofreading online!
How to Find Proofreading Jobs From Home
Not sure where to find paying proofreading gigs? There are a number of different ways to find proofreading jobs from home, including:
Networking on LinkedIn or social media
Asking for referrals
Reaching out to friends and family
Cold pitching your services to potential clients
Responding to ads on freelance and remote work job boards
All of those options can lead to paying gigs.
And in the meantime, I recommend checking out the free proofreading workshop I mentioned earlier to learn more about how to make money as a proofreader.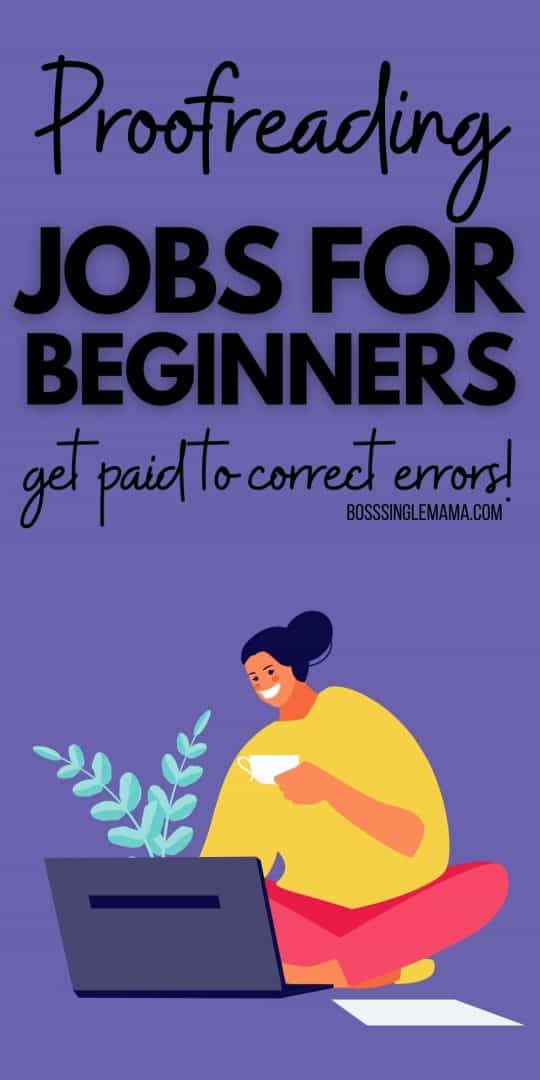 Final thoughts on online proofreading jobs for beginners
Proofreading can be an excellent way to make money online. Depending on what kind of proofreading jobs you're interested in, you could easily make a part-time or full-time income from the comfort of your own home. It's one of the best options for creating an additional income stream, with no prior experience needed.
If you want to learn more about how proofreading works, be sure to check out Caitlin Pyle. She really knows her stuff!
Remember, her proofreading webinar doesn't cost a dime. So you can take the workshop to help decide if online proofreading jobs are right for you. 
Need more money tips? Read these posts next:
Best Online Proofreading Jobs for Beginners