Last Updated on October 22, 2022 by Rebecca Lake
Learn the best ways to get paid to type with transcription jobs online for beginners. And for a quick and easy way to make money, get paid to take surveys with Survey Junkie!
Are you interested in joining the work-at-home trend?
It's estimated that 1 in 4 Americans will do some kind of remote work in 2021. And if you'd like to become one of them, you might be interested in ways to get paid to type.
Online transcription jobs offer a way to earn extra income using skills you may already have. Some of the advantages of doing online transcription work as a side hustle include:
Low startup costs
Flexible hours
High earning potential
It could be the perfect side job for you if you need something you can do while raising kids or going to school.
But you may be wondering how to find online transcription jobs for beginners.
Keep reading to learn more about:
What is transcription and what do transcriptionists do
Where to find online transcription jobs for beginners
How to get paid to type
Frequently asked questions about online transcription jobs
Related post: Get Paid to Proofread: How to Make Money as an Online Proofreader
What Is Transcription and What Does a Transcriptionist Do?
If you Google "what is transcription" you'll get a whole bunch of results from science websites explaining what this term means from a biology standpoint.
But if you're wondering what transcription jobs are and what transcriptionists do, here's a simple explanation:
Transcription involves taking media files (usually video or audio) and creating a text document of what was said, either digitally or on paper.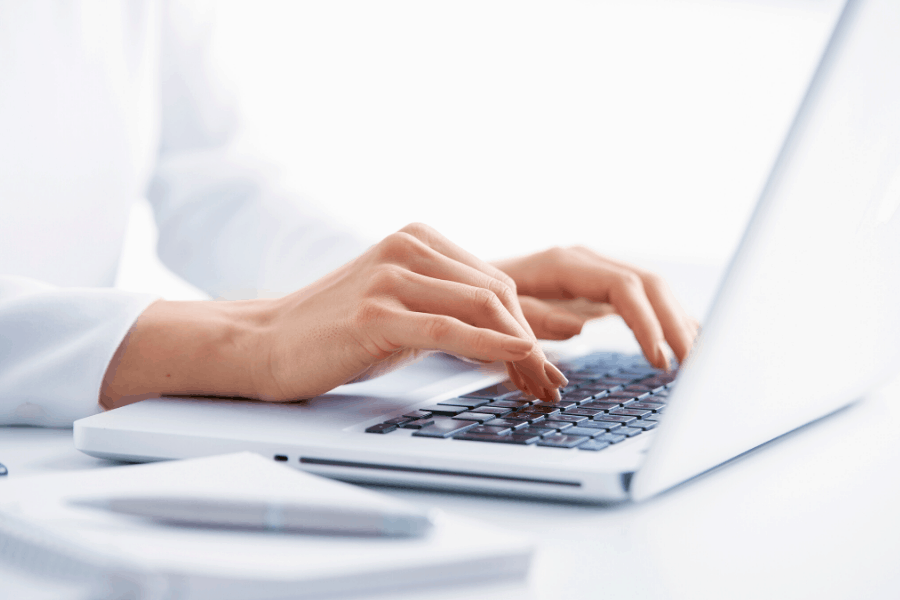 Unlike a virtual assistant or a freelance writer who may be paid to create written content around a specific topic, online transcriptionists specifically get paid to type.
Businesses and individuals that can hire transcriptionists include:
Medical offices
Attorneys and legal practices
Podcasters
Lecturers and professors
Public speakers
Entrepreneurs
Authors
Freelance writers and content specialists
Marketers
Universities
Non-profit organizations
Government organizations
And if it's a skill you have, you could turn it into a profitable work-at-home career. The key is finding the right online transcription jobs, based on your skill level and experience.
Related post: 35 Best Online Proofreading Jobs for Beginners (Make $50+/hr)
Best Online Transcription Jobs for Beginners (Sites That Pay You To Type)
Transcription jobs online can be easy to find–if you know where to look.
If you're just getting started with your goal of getting paid to type, this list can help. It includes some of the best websites that pay you to type online.
1. 3PlayMedia
3PlayMedia offers online transcription jobs for both English and Spanish speakers. Requirements for getting paid to type with 3PlayMedia include:
Excellent written communication skills
Excellent command of English grammar and punctuation
Proficiency with internet research and reference resources
Ability to manage projects and work independently
You can choose when you want to work and what projects you want to work. And you can get paid weekly, which is great if you need regular cash flow.
2. Amazon Mechanical Turk
Amazon Mechanical Turk or MTurk for short is an online marketplace that allows you to complete simple tasks from home, including:
Typing
Data entry
Transcription
You'll need an Amazon account to apply with MTurk. But the signup process is fairly easy and you can start accepting tasks almost right away.
3. Appen
Appen hires independent contractors to work on projects, including those that involve typing and transcription.
There are no startup costs or fees to join Appen and you don't have to complete any type of certification or examination either.
You will need to be at least 18, but that could make it a great side job for older teens. And you'll also need to have a good anti-virus software installed on your computer. Appen pays once a month, via PayPal.
4. Aberdeen
If you're interested in online transcription jobs related to broadcasting, Aberdeen could be a good fit.
This company hires online transcriptionists and typists to type subtitles for closed-caption TV programming. Compared to other online typing jobs, this one does have some stricter requirements. Applicants must:
Have a typing speed of 180-220 WPM
Own real-time closed captioning software
Have two computers; one for backup
Have three phone lines; one may be a cellphone
Have back-up internet
Be on time, follow directions, responsible and open to feedback
That's a lot but the pay per word is above average, so it's worth considering if you have a super-fast typing speed.
5. babbletype
babbletype specializes in market research transcription and they're always looking for new transcriptionists, editors and translators to join the team.
Some of the top skills they're looking for include:
Listening ability
Language fluency
Ability to work well with others
You'll need to go through an interview process to get approved as a babbletype transcriptionist. And a good pair of headphones is also a requirement.
6. Bam! Transcription
Bam! Transcription is an LA-based company that primarily handles transcription work and proofreading for clients in the entertainment industry. They also work with clients in the legal, finance and corporate industries as well.
This transcription company does work with independent contractors. So it's possible that you coudl get hired to type if you're able to pass a skills test.
There's no online application, however. You'll need to reach out to Bam! directly to see if they have openings available.
7. Cambridge Transcriptions
Cambridge Transcriptions hires freelance transcriptionists who have exceptional typing skills and excellent attention to detail. The types of projects they hire online transcriptionists for include:
Court proceedings
Interviews
Depositions
Conference calls
Arbitration proceedings
If you're looking for a reliable part-time transcriptionist position, either working with legal clients or corporate clients, this could be a great opportunity to earn money from home.
8. Casting Words
Casting Words is another option for finding online transcription jobs for beginners if you want a flexible way to make money.
You can work as little or as much as you want, and choose hours that fit your schedule. You have to be at least 18 to happy and live in a supported state.
In terms of pay, you can get paid anywhere from 8.5 cents to just over $1 per audio minute. The pay varies, based on the project and what's involved, but it's fairly competitive.
You'll need a PayPal account to get paid. Once you're in the system and start earning, you can get paid weekly on Fridays.
9. Crowdsurf
Crowdsurf features both online transcription and captioning jobs, which is perfect if you're looking for multiple ways to get paid to type.
It's easy to get started with this platform. You just need to create an online account and take a brief assessment.
Once your account is approved, you can login and get matched with transcription or typing jobs. You're paid per task, so the more work you do thorugh the platform, the more youc an earn.
Everyone who signs up starts off at the basic transcription level. But as you gain more experience, you can qualify for higher paying gigs.
10. Daily Transcription
Daily Transcription works with clients in the entertainment, corporate, elgal and academic industries. Some of the benefits of frelenacing as an online trasncripinist with this platform include:
Flexibility
Weekly pay
Starting rates at $0.75 -$0.85 per audio minute
Receive training, feedback, and coaching
Work isn't guaranteed but in terms of earnings, top transcriptionists make $250 to $950 per week through the platform.
11. GMR Transcription
GMR Transcription is one of the best-paying websites for earning money with online transcription jobs. Transcriptionists typically earn $1,000 to $3,000 per month, depending ont he scope of the project.
Currently, GMR has openings for:
General transcriptionists
Spanish transcription
Translation
Certified transcriptioninsts
There are no fees to get started and no experience is needed. You will need a good laptop and you'll also need to pass a transcription test.
12. GoTranscript
GoTranscript offers transcription jobs around the world and they pay competitive rates.
You can earn up to $0.60 per audio or video minute and the top earners get paid $1,215. On average, the typical GoTranscript transcriptionist makes $150 per month.
You'll need to verify your identity to get started. Once your account is set up, you can start taking transcription jobs.
Pay is weekly and you can work as much or as little as you want. Go Transcript's team provides regular feedback to help you improve your transcription skills so you can work faster and earn more money.
13. Net Transcripts
Net Transcripts offers a number of online transcription jobs for people who want to get paid to type, including:
Business and conference transcription
Dictation transcription
General transcription
Insurance transcription
Spanish language transcription
Law enforcement transcription
Legal transcription
If you're interested in working with Net Transcripts, you'll need to search for a position you're interested in, fill out an application and submit yoru resume.
14.Quicktate
Quicktate works with freelancers and independent contractors who are interested in getting paid to type.
Some of the types of files you might be asked to transcribe include:
To-Do Lists
Legal Notes
Field Notes
General Reports
Medical Reports
Veterinary Reports
Letters and Memos
Insurance Matters
Voicemail Messages
If you'd like to do online transcription work through Quicktate, you'll need to apply and provide references. There's also a background check required.
15. Rev
Rev offers freelancing work from home jobs to people who are interested in getting paid to transcribe or type closed captions.
The pay range for transcription jobs is $0.30 to $1.10 per audio/video minute. The pay rate for captioners is $0.54 to $1.10 per audio/video minute.
Like the other online transcription jobs here, you can choose your own hours and work a flexible schedule. There are hundreds of projects to choose from and you can get paid weekly via PayPal.
You'll need to take a grammar quiz and submit a transcription or captioning sample to get started.
16. Scribie
Scribie offers home-based audio transcription jobs with an hourly pay rate of $5 to $25 USD per audio hour. There are also opportunities to earn bonuses that could bump up your earnings.
Here's what you'll need to apply:
Good comprehension of English
Ability to interpret conversations
Ability to apply context and identify mistakes
A Verified PayPal account (linked to a bank account or credit card)
Laptop/desktop computer and internet connection
Headphone/headset
Latest version of Firefox, Chrome or Safari web browser
You can choose what you want to work and pick your own hours. Most of the transcription jobs offered through Scribie are short, with files clocking in at 10 minutes or less.
17. SpeakWrite
SpeakWrite offers transcription services for a variety of industries, including:
Financial transcription
General business transcription
Insurance
Law enforcement
Legal transcription
Private investigation
Protective services
SpeakWrite transcriptionists transcribe audio files, dictations, Zoom calls, videos, phone calls, interviews and more. On average, legal and general transcriptionists earn $450 per month but top earnings are just shy of $3,500 per month.
18. Tigerfish
Tigerfish isn't always open to new applications for online transcription jobs. But it's worth keeping an eye on if you're interested in picking up some flexible typing jobs.
One thing to know is that Tigerfish values speed in its transcriptionists. All clients are guaranteed to have a fully edited transcript turned around in two hours, max.
But if you can type lightning fast and you're great at managing your time, this could be an ideal transcriptionist gig.
19. TranscribeMe
TranscribeMe is one of the most popular sites that pays people to type.
Some of the main services this platform offers include:
Transcription
Translation
Data annotation
AI datasets
This is also one of the best-paying online transcription jobs for beginners or pros.
Earnings start at $15 – $22 per audio hour and top monthly earnings can reach $2,200. The average monthly earnings are $250. But if you decide to specialize you could take advantage of special opoprtunies that earn higher rates.
20. Ubiqis
Ubiqis is always looking for talented people, including transcriptionists.
This company works with clients in a wide range of industries, including:
In addition to online transcription jobs, you can also find jobs related to translation, interpretation, report and summary writing. So if you're also great at writing as well as typing, you may have multiple opportunities for making money online.
Where else can you look for online transcription jobs for beginners?
If you're looking for ways to get to type online, then job boards can also be a goldmine.
Some of the job boards you might try include:
Indeed
ZipRecruiter
Monster.com
Snagajob
CareerBuilder
These are general job boards, where you might find typing and transcription jobs mixed in with lots of other jobs.
If you're interested in narrowing down your search, you might focus on job boards that are dedicated to remote and online work.
For that, I recommend FlexJobs and Virtual Vocations.
FlexJobs and Virtual Vocations both feature remote work opportunities and work at home jobs, including online transcription jobs. And these aren't bottom-shelf gigs either, even if you're looking for transcription jobs for beginners.
It's possible to find high-paying online typing jobs with reputable companies through both sites. . That includes general transcription services gigs and legal or medical transcription jobs.
Since they feature premium remote work jobs, you do have to pay a fee to access listings. But it could be an investment making if it helps you land a high-paying transcription job right off the bat.
Head here to sign up for FlexJobs
Head here to sign up for Virtual Vocations
How to Become an Online Transcriptionist and Get Paid to Type
Since transcription is a more specialized work at home job, there is some training and education involved.
And the easiest way to learn how to get paid to type and make money transcribing is to take a course.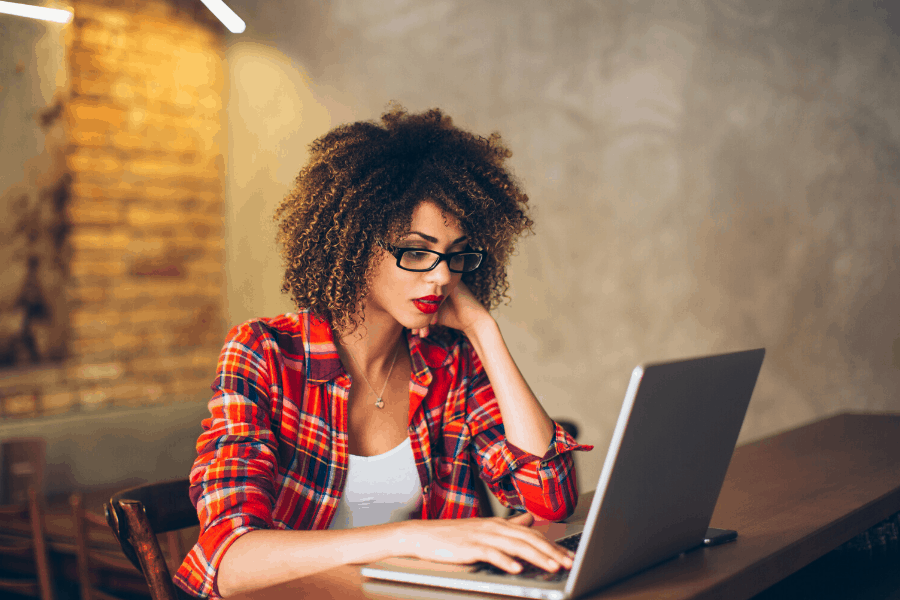 If you look around on Google, there are lots of online transcription courses floating around.
For example, you can find medical transcription courses, legal transcription courses and general transcription courses.
And if you don't know who's who when it comes to the instructors, then it can be overwhelming.
So to keep things simple, I've got a course recommendation for you. And best of all, it's free!
It's a free general transcription mini-course and it's offered by Janet Shaughnessy, founder of Transcribe Anywhere. (And in case you're interested, there's a free legal transcription mini-course too!)
Janet is a professional transcriptionist who's built a successful business teaching others how to transcribe for money.
Her free mini-courses let you dip a toe into what transcription is, how to become a transcriptionist and how to get paid to type online. You can read some of the testimonials from past students to hear what they have to say about it.
And you can also snag a free ebook that dives into the truth about transcription!
All of these awesome resources are free and there's no obligation to buy anything.
The mini-courses and ebook are a great warm-up to help you decide if becoming a transcriptionist is the right work at home job for you. And if it turns out it's not, you can start scouting out other ways to make money online.
Related post: 5 Legit Business Ideas for Moms You Can Start to Earn $5,000+ Monthly
Get Paid to Type Frequently Asked Questions
Before you start looking for online typing jobs, here are answers to some of the most commonly asked questions about transcription side hustles.
Are transcription jobs legit and can you really make money from home?
In general, yes, online transcription jobs are a legitimate way to make money. Janet Shaughnessy is proof.
But are all online typing jobs legit? Or are some online transcription jobs a scam?
The answer is a mix of both.
While there are plenty legit typing jobs online, there are always scammers who may try to fleece a beginning transcriptionist. The Federal Trade Commission has some useful tips on how to spot and avoid work-at-home scams.
What do I need to start making money with online typing jobs?
Like any other work-at-home job, becoming a transcriptionist requires a certain skill set.
The good news is, you might already have a lot of the most important money-making skills under your belt.
In terms of what can help you be successful as an online transcriptionist, these skills can be your biggest money-makers:
Attention to detail
Solid listening skills
Good knowledge of grammar, spelling and punctuation
Critical thinking skills
Excellent typing skills (concerning both speed and accuracy)
Good research skills
Tech proficiency
Time management skills
There are some specialized skills associated with being a transcriptionist. But those usually revolve around how to use transcription software and equipment.
The basic equipment you'll need to get paid to type includes transcription software (bonus points if you get the kind that comes with a USB foot pedal) and a transcription headset. And of course, a reliable laptop.
If you've got those things, you've got everything you need to get paid to type with online transcription jobs.
How much do transcriptionists make?
Online transcription jobs, including transcription jobs for beginners, can pay well depending on your skills and experience.
Here's an idea of how much you could get paid to type on average, according to some of the top salary comparison websites:
As you can see, the numbers vary. But earning close to $60,000 a year is a pretty tempting reason to consider a career as a work-at-home transcriptionist.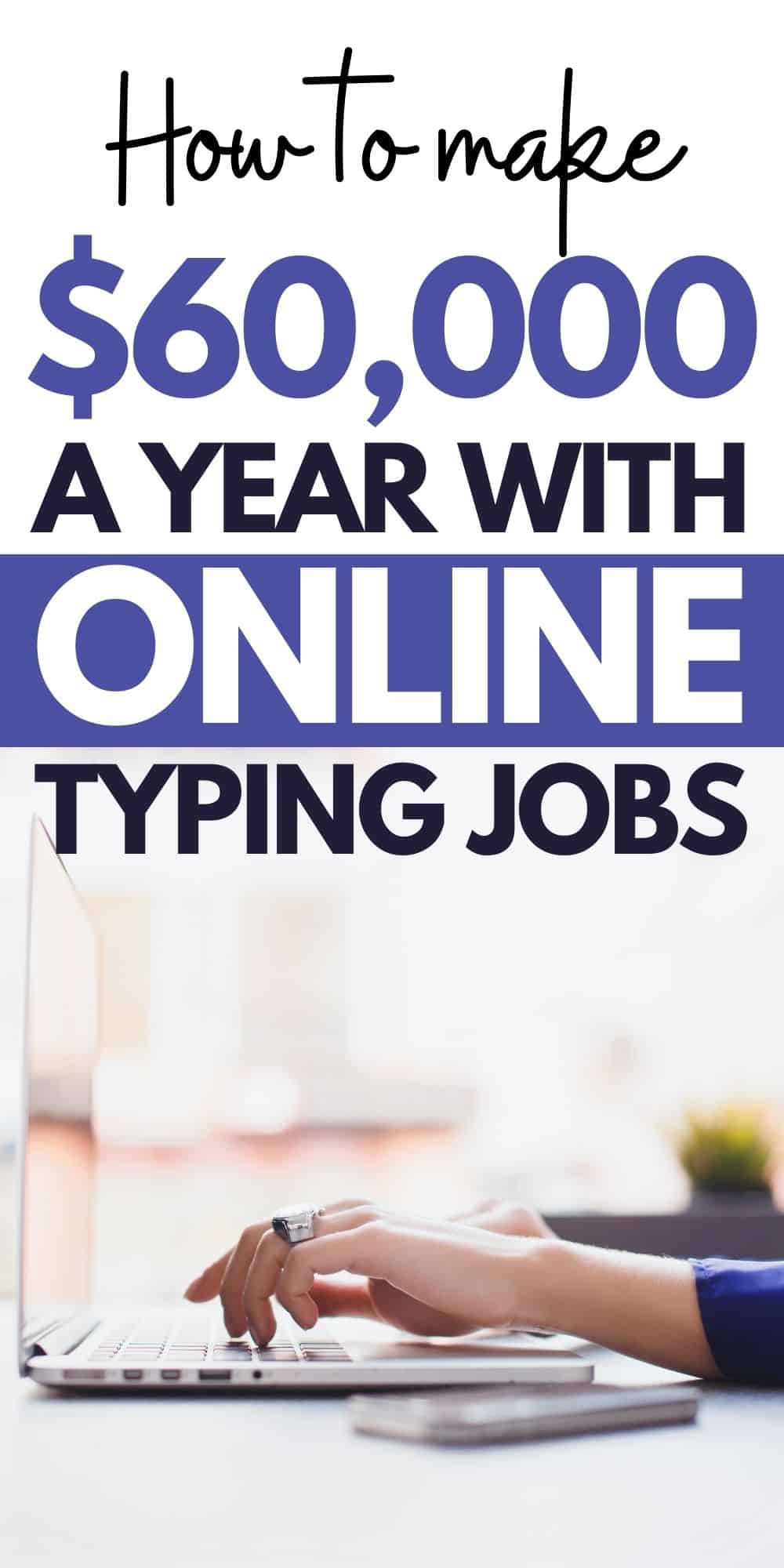 Final thoughts on how to get paid to type
Online transcription jobs can be an awesome side hustle to try if you're looking for a way to make money from home on a flexible schedule.
While there's a little bit of an investment involved upfront to buy the necessary equipment you could easily make that back if you're able to land some high-paying online transcription jobs right out of the gate.
That's what Janet's mini-course can help with.
So if you haven't signed up for this amazing freebie yet to learn how to get paid to type, be sure to check it out!
And of course, I'd love for you to pin and share this post!