Last Updated on April 13, 2022 by Rebecca Lake
Easy Things to Make and Sell for Money Now
Looking for ideas on easy things to make and sell for money now?
Making crafts to sell is a great idea for earning extra money from the comfort of your home. You can sell handmade items locally or online for profit without having to invest much money upfront.
This could be a perfect side hustle for stay-at-home moms, working moms, college students or anyone else who wants to make money in their spare time.
You could even turn it into a full-time craft business if you're selling high-demand items.
But you might have questions, like:
Which crafts are the most profitable to make and sell?
What are the best easy things to make and sell for money that don't take much time?
Where are the best places to sell the crafts I make?
How do I find potential customers to sell homemade crafts?
This detailed guide will answer those questions and share some hot craft ideas that can help you make good money from home!
Related post: 40+ Things to Sell for Quick and Easy Money
Easy Things to Make and Sell for Money: Beauty Products
1. Bath bombs
Bath bombs are a popular item to make and sell because there's always a huge demand for bath products. The bath bomb industry is expected to grow by 6.5% between 2022 and 2028, with companies like LUSH and Da Bomb leading the way.
Making bath bombs doesn't require much effort or much money to get started.
You'll need some bath bomb molds (though muffin pans can work in a pinch) and some basic ingredients like essential oils and Epsom salt. You can make them for pennies on the dollar, then sell them for anywhere from $3 to $12 each.
If you can find a niche market, like bath bombs for sensitive skin, then you could potentially charge even more.
This can be a simple way for even kids to make money. For example, these teen sisters have made $20 million with their bath bomb creations.
Learn more about how to start a bath bomb business.
2. Lip balm
Beauty products are always in high demand and lip balm is another easy business idea for making extra money.
Again, you can make lip balms at home with simple ingredients like coconut oil and beeswax. Natural tints can be added if you want to make lip balm in different colors.
(Here's a great lip balm recipe that uses natural ingredients to get you started.)
This is one of the best cheap crafts to make and sell for money because it's a popular product that doesn't require a lot of hard work to make.
Read more about how to start a lip balm business.
3. Handmade soaps
Handmade soaps are one of the easiest things to make and sell for money. They make great gifts and like other beauty products or bath products, they're in high demand.
For example, the global market share of handmade soap is expected to grow to $55 million by 2027. So there's definitely money to be made.
Similar to making bath bombs to sell, you'll need some basic items to get started making handmade soaps. That includes molds, natural ingredients for the soap and any add-ins you might want to include like dried flowers.
If you're looking for ideas on various colors, different shapes or scents to try, here are 20+ recipes for handmade soaps to try.
4. Body scrubs
Body scrubs are another popular item you can make and sell for extra cash. Even kids are getting in on the action and starting body scrub businesses from home.
You can make body scrubs to sell using natural ingredients like sea salt, sugar and essential oils. Mason jars are a cute way to package them or you could use plastic containers.
This inspirational story offers tips on how to start a body scrub business.
Related post: 70+ Ways to Make Money as a Kid
Easy Things to Make and Sell for Money: Handmade Crafts
5. Jewelry
Jewelry can be one of the best things to make and sell if you're looking for a fun hobby that makes money.
You can try out unique designs or stick with simpler jewelry creations. Some of the most popular things to sell on Etsy include small items like:
Rings
Earrings
Bracelets
Necklaces
Body jewelry
Jewelry charms
Wedding jewelry (including jewelry for men)
Baby and kids' jewelry
Personalized jewelry
One of the best things about making jewelry to sell is that you can develop your own unique style. This can help you to carve out a market niche and connect with your ideal target audience.
6. Enamel pins
Enamel pins are some of the most fun crafts to make and for money and they're hugely popular with millennials and Gen Z. My daughter collects enamel pins and I've probably spent a small fortune buying them for her.
Once you have your enamel pin designs prepared you'll need to find a manufacturer for them.
You can do a Google search to find enamel pin makers, check Instagram or look on Alibaba for help with turning your enamel pin designs into reality.
7. Homemade candles
Homemade candles are always on the list of great craft ideas. They're easy things to make and sell for money and a chance to get really creative in terms of how you package them.
For example, you can make candles in:
Terra cotta vases
Mason jars
Metal tins (an old Altoids tin works great for this)
Coffee mugs
Glass tumblers
You can also buy candle molds if you want to make candles in different shapes. And you can make them in various colors and scents.
If you're looking for homemade candle ideas, Pinterest is a great place to start.
8. Mason jar crafts
Mason jars can be used to make a number of different homemade crafts that you can sell for extra money. Some of the things you can make with Mason jars include:
Snow globes
Terrariums
Candles
Wedding favors
Toothbrush holders
Tissue holders
Windchimes
You can buy Mason jars new or upcycle ones you already have for your craft business. For more ways to use Mason jars, check out these Mason jar craft ideas.
9. Crocheted or knitted items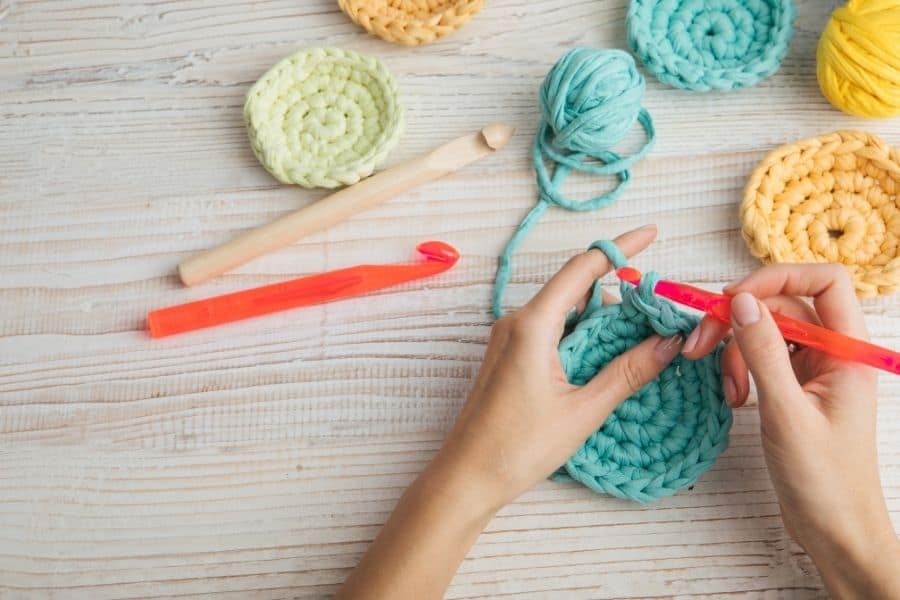 Crocheted or knitted items are more easy things to make and sell for money if you're skilled at either one. For example, you could make:
Crocheted stuffed animals
Knitted scars
Socks
Blankets
Baby clothes
If you can't crochet or knit you could try hand-sewn items instead. Here are some super cute hand-sewn toy ideas for kids to get you started.
10. Resin crafts
Resin crafts are easy enough for even beginning crafters to make and there are lots of DIY projects you can try that involve resin. For example, some of the crafts you can make include:
Resin trays
Resin coasters
Resin lights
Jewelry
Hair ornaments
Decorative art
Kitchen cabinet knobs
Bookends
Resin is a versatile material to work with and it isn't expensive either. If you're not sure how to use it, checking out some Resin tutorial YouTube videos is a good place to start.
11. Keychains
Keychains are another must-have item on the list of easy things to make and sell for money. My daughter recently started an Esty shop selling cute keychains she makes out of pony beads and charms she found on Amazon.
Of course, you might use other materials for your keychains such as leather or nylon cords. You can even make them out of unusual materials like resin or shrinky-dinks.
Etsy is a great place to get ideas for keychains to make and sell. You can also take a peek on Pinterest to see what kind of keychains people are shopping for.
12. Holiday ornaments
Holiday ornaments might seem like something you could only make and sell at certain times of the year. But the good news is there are always people interested in buying handmade ornaments.
You can get the supplies for basic ornaments at your local craft store or Amazon. From there, all you need to do is supply some unique craft ideas.
Again, Pinterest is a great place to find inspiration for holiday ornaments to make and sell. You can also try YouTube videos for more ideas.
13. Cricut crafts
If you have a Cricut machine that's collecting dust, you have a great opportunity to make money selling Cricut crafts. Some of the most popular easy things to make and sell for money with Cricut include:
Custom letter boards
Personalized water bottles
Customized tote bags
Seasonal signs
Wall art
Children's birthday party decor
Wedding favors and wedding decor
Personalized drink coasters or tumblers
Monogrammed items, including pillows and blankets
Bookmarks
The list of Cricut projects you could make and sell is virtually endless! So if you haven't used your Cricut in a while, now's a great time to pull it out.
And if you don't have a Cricut yet, you can shop these money-saving bundles!
Related post: How to Flip Money: 20+ Legitimate Money Flipping Ideas
Other Easy Things to Make and Sell for Money
14. Homemade dog treats
Homemade dog treats are big business because there are plenty of pet owners willing to pay for custom dog treats.
Depending on your target niche, you might be able to charge anywhere from $10 to $25 per package of treats. You can make treats at home using natural ingredients that are dog-friendly and pet owner-approved.
If you're interested in learning more about how to start a dog treat business from home, this course can help.
15. Pet toys and supplies
Handmade pet toys are also a great way to make money selling handmade crafts.
You can hand make pet toys, bedding, pet collars, pet bowls–even doggie clothing or costumes. People spend billions on their pets each year so this could be a great opportunity to monetize your love of pets.
Instagram can be a great place to market your pet business. You can also set up a blog or TikTok to attract potential customers.
16. Baked goods
Baked goods are more easy things to make and sell for money if you're skilled in the kitchen.
Homemade cupcakes, cookies, cakes and other baked goods are always in high demand. There are plenty of people who are willing to pay good money for designer cupcakes and other sweet treats.
You could sell your baked goods from home, at local flea markets or farmer's markets or at food fairs. One thing to note is that baked goods businesses are usually regulated by state law.
So you may want to check out the cottage food laws in your state before getting started.
17. Curated subscription boxes
Starting a subscription box business could be a good idea if you have lots of different crafts you like to make.
For example, you could start a business selling curated self-care subscription boxes. Inside the box, you can add handmade items like:
Candles
Lip balm
Body scrubs
Handmade soaps
Natural cosmetics
A handmade journal
Getting a craft business involving subscription boxes going can be a bit more time-consuming than making simple crafts to sell. But it could be highly profitable if you're able to find the right audience to buy your curated boxes.
18. Stickers
Who doesn't love stickers? Stickers are some of the best crafts that are easy to make and sell for money because you can make them at home without much effort.
You'll need a design program (I love Canva Pro) and a good sticker printer.
Alternatively, you can sell your stickers as digital files that people can download and print themselves.
19. Wall art
Wall art is one of my favorite easy things to make and sell for money if you have some design skills.
You can create your designs using a tool like Canva Pro, then create digital or physical prints of your art to sell.
An Etsy store is a great place to sell wall art but you can also set up an online store through Redbubble or Spreadshirt to showcase your unique wall art designs.
Learn how to use Canva to make money on the side.
20. Print on demand items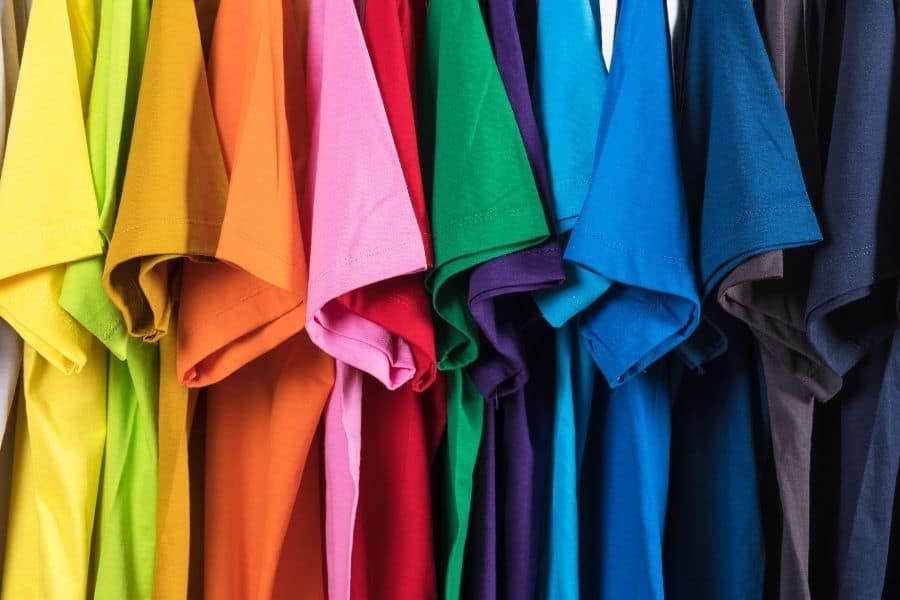 Print on demand is a great way to profit from making and selling digital art without having to run a full-scale online store.
Print-on-demand or POD shops work by allowing you to upload your unique designs to an online platform. Customers browse your designs, then order t-shirts, coffee mugs, tote bags and other merchandise with those designs printed on them.
Redbubble is a great place to get started selling print-on-demand items. But you can also check out:
Shopify
Printful
Zazzle
Teepublic
CafePress
21. Digital printable products
Digital products are one of the best easy things to make and sell for money because they're in such high demand and virtually anyone can make them.
Some of the digital products you can make and sell for money include:
Planners
Household printables and binders
Calendars
Chore charts
Fitness trackers
Educational printables (i.e. worksheets, coloring pages, etc.)
Meal planners
There are so many creative ways to make money selling printables.
In fact, Sarah Titus has made millions selling her printables on Shopify. (She has a step-by-step tutorial on how she built her own business.)
All you need to get started is graphic design software. I recommend Canva Pro because it's easy to use but you could also try Photoshop or PicMonkey.
22. Online courses
An online course technically isn't a craft but it deserves a mention here because it can be one of the best ways to make money online. And once you get it down, it's one of the most profitable easy things to make and sell for money to earn passive income.
Courses are good money-maker because you can create the course, list it for sale on an online platform like Teachable or Skillshare, then make money each time someone purchases it. All you need to start is something to teach.
For example, if you're skilled at coding you might offer a course on designing video games. Or if you're handy with a sewing machine you could offer online sewing classes.
Create your first online class with Skillshare (free 30-day trial).
Related post: Get Paid to Teach: How to Make Money With Outschool
What Are the Best Places for Selling Handmade Crafts and Other Items?
The great thing about making handmade crafts for extra money is that there are so many options for selling them.
For example, if you want to set up an online store you could do that with Shopify or open an Etsy shop. If you're looking for an online marketplace where you can sell items locally, you can try Facebook or even Craigslist.
And if you have your own blog, you could also use that as a marketing tool.
For example, you can use your blog posts to drive traffic to your Etsy store. Or you could share a link to your online shop with your email list.
Depending on how much traffic you're able to get, setting up your own blog can be a great way to advertise your homemade crafts. (Just remember to disclose any affiliate links you might be sharing if you're recommending other products.)
Social media platforms are another great way to promote the items you're selling. Some of the best places to spread the word about your handmade crafts include:
Facebook groups
YouTube videos
Instagram
Twitter
TikTok
Any of these could help you connect with your target audience. But what if you want to sell your handmade crafts outside of an online platform? In that case, you could try selling your crafts at:
Flea markets
Craft fairs
Farmer's markets
Holiday or seasonal fairs and festivals
Any of those could be a great option since they tend to attract a lot of people. And if you're selling jewelry crafts, handmade toys or clothes you might try local boutiques or consignment shops as well.
You could also try offering gift cards for people who might want to buy from you but aren't sure about the perfect gift. This way, the person they're buying for can decide which of your handmade items they'd like the most.
Related post: 5 High Paying Home Business Ideas for Moms
How to Start a Profitable Craft Business Online
1. Decide what type of crafts you want to sell
Having a great product matters if you want to start a craft business that succeeds. So think about what kind of crafts are best to make and sell. This means figuring out:
What kind of crafts are in high demand
Which crafts you can easily learn how to make
The goal is to create crafts that people already want or are sure to fall in love with because they're unique/well-made/interesting, etc.
Of course, it's important to pick a craft that you'll enjoy making. Otherwise, you could get burned out on your craft business.
2. Choose a creative name
Once you've decided what kind of easy things to make and sell for money, you'll need to name your business. Consider picking a name that's:
Catchy
Creative
Easy to remember
Your craft business name should reflect your personality and overall vibe. And if you decide you don't like it later, you can always rebrand.
3. Set up an online store
As mentioned, there are different places you can try selling your crafts online. You can pick one platform to start or set up online storefronts on multiple sites.
But if you're trying to be cost-conscious, then one online platform to start with might be best. Shopify and Etsy are two of the most popular places to sell crafts online.
So which is better, Shopify or Etsy?
Shopify is free to get started but you'll need to pay a monthly fee once you're ready to sell. Etsy is free to set up but you will pay fees to list items in your Etsy shop and for each item you sell.
4. Start selling
The last step is to start selling!
Again, you'll need to market your handmade items to draw attention to them. You can do this on Instagram, TikTok, Facebook or other social media platforms.
And you can ask friends and family to spread the news about your new craft business. This can sometimes be the best way to get started because it's free advertising!
As your craft business or side hustle grows, you reinvest some of what you're making into paid ads to help drive even more traffic to your products.
Related post: 50 Ways to Make an Extra $1000 a Month
Final thoughts on easy things to make and sell for money
Starting an online business (or offline business) making and selling crafts can be a great opportunity to earn a steady income from home.
There's a growing market for handmade items and all you might need to start your own business initially are some creative ideas and a few basic materials.
The best part about finding easy things to make and sell for money is that many of them don't require much time to complete. And if you already love DIY projects, that's a great reason to consider making a profit from your favorite crafts!
Looking for more ideas on easy ways to make money? Read these posts next:
Before you go, be sure to check out my favorite Smart Money Tools for different ways to make and save money!
Easy Things to Make and Sell for Money