How to Start a Profitable Blog Step-by-Step
Want to become a blogger and make money online? Learn how to become a blogger step-by-step!

And if you want the TL;DR version, head here to sign up with Siteground now!
Are you interested in learning how to start a blog and make money online?
You're not alone.
There are over 600 million blogs in the world and new blogs get started every day.
Starting a blog and becoming a blogger can yield some amazing benefits.
In case you're wondering, here are some of the things that are great about blogging:
Blogging is a way to express yourself creatively
You can start a blog to share your expertise and knowledge with others
Starting a blog can help you connect with readers and build a community
And of course…blogging can be a great way to make money online!
I make $3,000+ every month with this blog, working on it less than 10 hours a week.
But there are plenty of bloggers out there making $20,000, $30,000 or even $50,000+ every month from their blogs.
And maybe you want to be one of them. But there's just one problem:
You've got no clue how to start a blog or how to make money blogging.
If that's where you are, then this post can help you get to where you want to be. Which is running a successful money-making blog from home!
Read these posts next for more ways to make money online:
5 Legit Business Ideas for Moms You Can Start to Earn $5,000+ Monthly
30 Legit Ways to Make an Extra $1,000 a Month From Home
What is a Blog and What is a Blog Used For?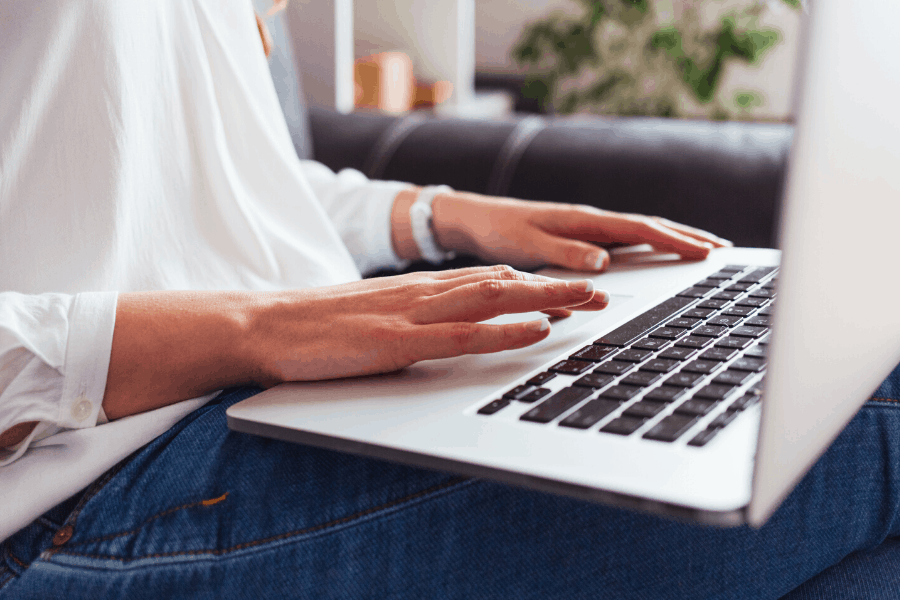 The word "blog" is short for weblog and it basically means a website that shares content for informational or entertainment purposes.
There are different kinds of blogs you can start, depending on what you want to write about.
Some examples of different types of blogs include:
Fashion blogs
Health and fitness blogs
Personal finance blogs (like this one!)
Weather blogs
Parenting blogs
Pet blogs
Business blogs
Entertainment blogs
News blogs
Pretty much any topic you can think of could be used to start a blog. But not all blogs are the same.
Some blogs follow a diary format. Each blog post might offer a snapshot of the blog author's daily life.
A pregnancy blog or a weight loss blog documenting someone's personal journey is a good example of this type of blog.
Other blogs put the focus on their readers and solving their problems.
So for example, this blog teaches people how to make money and save money. I sometimes mention things related to my own experiences with money but my main goal is to help others.
There are probably other types of blogs I'm forgetting about, but diary blogs and informational blogs are two of the most common formats.
But if you're here because you want to start a blog to make money, you may be wondering what type of blogs make the most money.
Types of Blogs That Make Money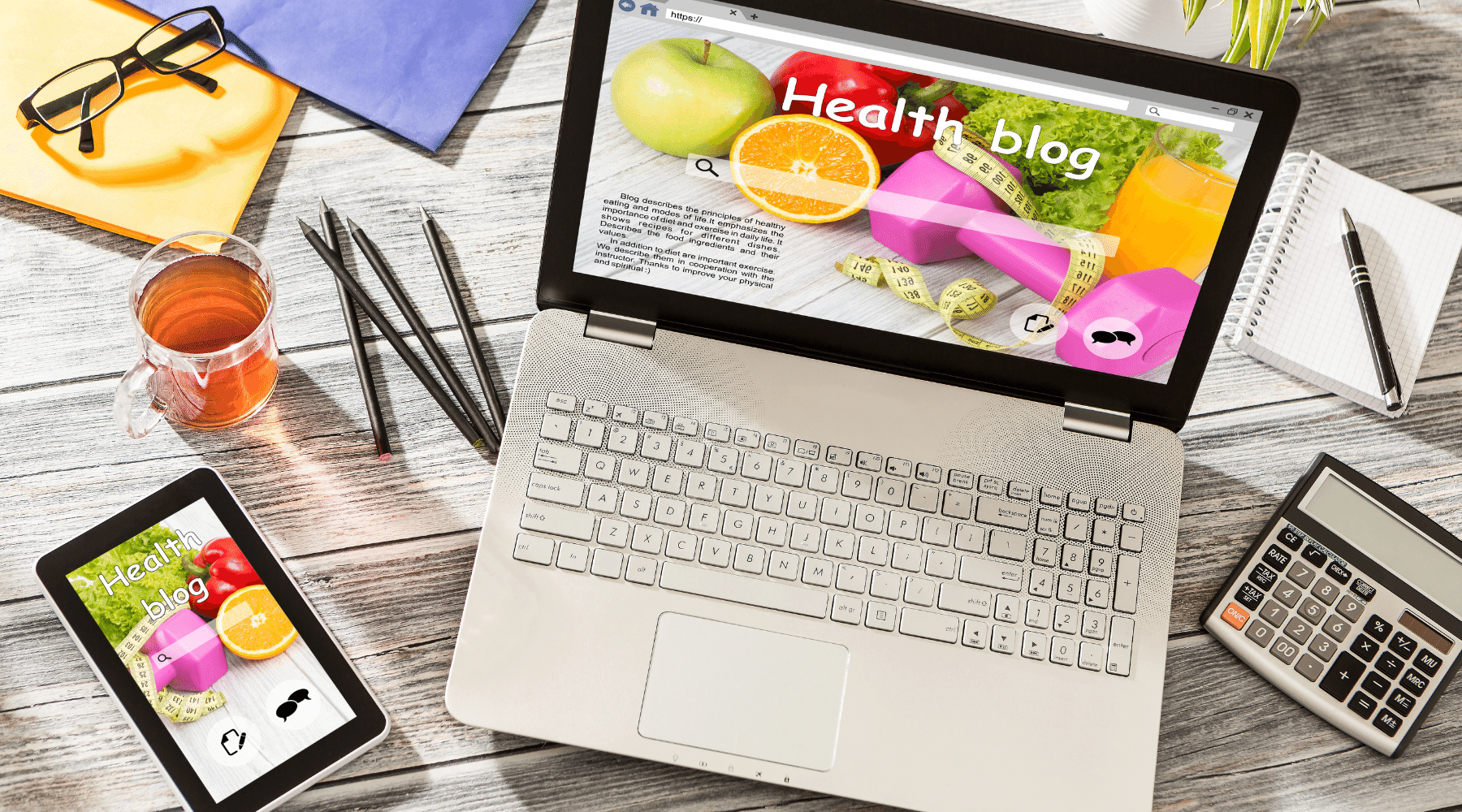 First, let me offer a little disclaimer here.
Whether a blog makes money or not can depend on a lot of things, including:
Your niche and what you write about
What problems you're solving for your readers
How well you optimize your content so readers can find it when searching online
Where you promote your blog content (i.e. Pinterest, Twitter, Facebook, etc.)
Which options you pursue to make money (we'll dig into the different ways to make money blogging a little later)
And sometimes, making money blogging is really just about luck or being in the right place at the right time.
With that in mind, certain blog topics tend to do better than others. If you want to start a blog to make money, here are 10 types of blogs that make the most money:
Finance blogs
Fashion blogs
Marketing blogs
Travel blogs (usually, though 2020 was a fluke)
Mom blogs or parenting blogs
Health and fitness blogs
Food blogs
Pet blogs
DIY blogs
Lifestyle blogs
Lifestyle blog is a really broad category that can cover any number of things.
For example, lifestyle bloggers might write about college living or self-improvement or productivity. All the content revolves around things relevant to a particular kind of lifestyle.
All the types of blogs that make the most money are different but they have one thing in common: lots of people are looking for information on these topics.
More searches ⇒ more traffic ⇒ more people willing to spend money.
Now, does that mean you can't make money with a small blog?
Not at all.
But if you want to become a six-figure blogger or even one of those unicorn bloggers making $1 million or more each year, then you've got to have a decent audience to do it.
How to Start a Blog Step by Step
1. Build your blogging foundation
The foundation of your blog is like the foundation of a house. You can't build anything on it if it's not rock-solid.
Before you start a blog, there's some groundwork you have to do first.
Don't worry, there's no techie stuff to deal with at this stage. That comes later.
Right now, I want you to think about the Five W's.
In journalism and writing in general, the Five W's are the basic questions you ask to shape a story: Who, What, Why, When and Where.
So what does that have to do with starting a blog? The short answer is everything.
From day one, you need to know:
WHO you're writing for
Knowing who your target audience is critical when starting a new blog.
You need to know exactly who your ideal reader is so you can create the kind of content (and later, products and services) they want and need the most.
WHY you want to start a blog
If your answer is "to make money" let me stop you right there. You can absolutely make money blogging but if you're doing it only to make money, you will fail.
Why?
Because blogging has to be something you truly love to do.
If you want to start a blog, do it because there's a topic you're passionate about that you could write about all day long, even if you never make a dime.
WHAT problem you're solving for your readers
When people visit a blog, it's usually because they're looking for solutions to a problem they're having.
Maybe they need help with budgeting or they can't get their baby on a regular sleep schedule. Whatever that problem is, your blog needs to help them solve it.
WHEN you're going to work on your blog
This one is huge.
Before you start a blog, really look at your daily schedule. Figure out how much time you can dedicate to blogging and when you can do it.
WHERE you see your blogging self down the road
You wouldn't go on a cross-country trip without your GPS and you shouldn't start a blog without knowing where you want to end up.
Maybe you want to be an influencer pulling in a seven-figure income from your blog in 5 years.
Or, maybe you just want to be able to make enough money from your blog so you can quit your soul-sucking day job eventually.
And maybe you just want to blog because you love it and want to connect with people you can help.
Whatever your blogging goals are, visualize each detail in your head. When you can see it clearly, you can shape a plan for getting there.
2. Choose a money-making blog niche
If you've covered the Five W's, you might already know what niche you want to start a blog in.
Your niche reflects the audience you're writing to and what you're writing about.
So again, some of the most popular niches for the types of blogs that make money include:
Parenting
Personal Finance
Health and fitness
Organization
Blogging and working online
Relationships
Wedding planning
Beauty and fashion
DIY
Now, these are super broad niches and they can be broken down into hundreds, if not thousands, of smaller niches.
In the parenting niche, for example, you might find blogs about raising free-range kids, homeschooling, kids' crafts, adoption or taking care of kids with special needs.
In the finance niche, there are blogs that focus on getting out of debt, investing and financial minimalism.
But why do you need a niche?
It's simple.
Your niche is what allows you to stand out from all the other blogs that are competing for your ideal reader's attention.
If you've got no clue what niche you want to write about, these questions can help you narrow it down:
1. What do you love?
Your niche should be something that you love to write about and something that you're excited to share with other people. You don't necessarily need to be an expert on the subject (although that doesn't hurt.)
Enthusiasm can outweigh expertise in the beginning and if you research and write about something often enough, you eventually become an expert.
So, think about what you really love and write about that.
2. How is your niche unique?
One of the most frustrating things about starting a blog is feeling like everyone else is already doing what you want to do.
You get a great idea for a finance blog or a productivity blog and then you start looking on Google and find a dozen people who are already blogging about that topic.
The key is to figure out what sets you apart from everybody else.
Do you have a unique back story that makes you an expert on this particular topic?
Or have you gone against the grain and taken a different approach on a common topic?
You need to figure out what makes your niche special.
3. Is it something people want to learn about?
All blogs need an audience but not every niche gets the same amount of attention.
Those popular niches I listed earlier can pretty much count on getting a steady flow of traffic. Once you start niching down, you have to think about how many people are going to be interested in your blog topic.
Go too broad with your niche and you might get traffic but you may have a harder time connecting with your ideal reader.
Go too narrow and your traffic may end up looking anemic.
The goal is to find that sweet spot in the middle.
4. Can you monetize your niche?
I know I said earlier that if you're going to start a blog just to make money, then you shouldn't but of course you want to make money.
So your niche has to be one that's got real potential to be profitable.
Think about your niche and ways you could make money with it.
Could you put sponsored posts or ads on your site?
Are there are affiliate programs in your niche?
Or could you develop products or services for your niche?
If you can't think of at least one way to monetize, you may need to do some fine-tuning with your niche.
3. Fine-tune your blogging brand
Branding is something you'll hear bloggers and marketers talk a ton about.
If you're going to start a blog, you need to have some sense of what your brand is all about.
Your brand includes:
Your domain name
Tagline
Logo
Blog theme
Fonts
Color scheme
Blog images
Voice and tone
Thinking about all of that can be overwhelming if you're at square one with starting a blog.
For now, let's focus on the simplest thing: your domain name.
When you're picking a domain name, choose one that says what your brand is all about.
Some bloggers just use their names. My name was already taken, as were about a half-dozen other names I came up with.
Boss Single Mama doesn't completely describe what this blog is about but I chose it because I'd been thinking about names for two months and I was ready to just do the damn thing.
Don't make picking a blog name harder than it has to be. You'll just waste time that way.
And remember to check Twitter, Pinterest and Instagram to make sure your domain name or a variation of it is available since that's part of building your brand.
4. Choose your blogging platform and host
The first thing to know about how to start a mom blog and make money when you're on a budget is what you need to have and what "extras" you can do without.
So, here's a short list of what I think are the most essential things to have when starting a blog:
A domain name
A blogging platform
Blog hosting
Right now you might be thinking, is that it?
And really, it is. If you can afford to spend some money on those three things, they can help you build the basic framework for your blog.
What's a domain name?
Your domain name is where your blog lives online; it's essentially your blog address.
So, my domain is bosssinglemama.com, obviously. Your domain name could be the exact name of your blog, your business name or anything else you want to call it.
You want to pick a domain name that reflects what your blog is about or that speaks to the kind of readers you want to attract.
Try to keep it short and simple if you can; no hyphens or numbers or weird characters. And pick something that's memorable but still related to your overall blog niche.
In terms of what it costs to purchase a domain name, it depends on where you get it. But generally, it can run anywhere from $5 to $15 to register a domain for your first year of blogging.
The easiest way to buy a domain is through your blog hosting service. (For example, I bought mine when I signed up for hosting with Siteground.)
But you can also get a blog domain from a domain company, then transfer it to your blog hosting service later.
Here are a few sites that sell domain names:
One last tip for buying a domain: always try to get a .com address.
You could get a domain that ends in .net or .co or something else but .com is most common. And there's a case to be made for .com extensions being the best for SEO. (Which is one thing that can help drive traffic to your new blog.)
What is a blogging platform?
A blogging platform is what you use to write your blog posts and publish your blog. Some of the most popular blogging platforms include:
Now, you might be wondering whether it makes a difference which one you use. And the answer is YES!
If you just want to start a free blog and you don't have any plans to try and monetize it, then Wix or Squarespace or any of the other options besides WordPress.org can work just fine.
But if you're focused on how to start a blog and make money, then you definitely want WordPress.org as your blogging platform.
Why?
With WordPress.org, you can customize your blog site to make it exactly what you want.
You can upload any free or paid plugin (I'll cover what those are in a minute) and you can put ads on your site to monetize it.
If you want to add a store or a paid membership vault to your blog, you can do that with WordPress.org.
And at the end of the day, a WordPress.org site is just easier to use.
It's free to download and install WordPress.org if you're using a paid hosting service. Which brings us to the third thing you need to start a profitable blog.
What's a blog host and why do you need one?
Your blog host is the company that stores your blog online.
You pay them a fee, usually billed once per year, and the blog hosting service allows your blog to live on its servers.
There are lots of different companies that offer web hosting, including GoDaddy, Namecheap, Wix and Squarespace. Blogger and Tumbler can also host your blog and it won't cost you a dime.
Bluehost and Hostgator are also an option. But the blog host I absolutely swear by and love is Siteground.
Why Siteground is the best host for starting a blog
There are lots of things to like about using Siteground as my blog host but to keep it short, I'll stick with the top four benefits.
1. It's fast and secure
There's nothing more annoying than a slow-loading website. And then you have to worry about your blog getting taken over by hackers.
When you start a blog with Siteground, you're getting a fast, secure site every time.
Siteground's SuperCacher is built to handle high-volume traffic. Even if you're only getting a few hits on your blog a day to start, Siteground is designed to keep up once your traffic starts to pick up the pace.
Siteground comes with HTTP/2 network protocol, to speed up how quickly your site loads. You'll need to encrypt your blog to use this feature but Siteground makes it easy by offering Let's Encrypt free SSL Certificates.
Bottom line and tech talk aside when you start a blog with Siteground you know that you're getting a site that's going to run efficiently.
2. Their support team is super-responsive
Starting a new blog and getting all the tech stuff set up can be a little scary at first. Siteground's support team is all about helping smooth out the kinks.
Support is available 24/7, so you can get answers to your questions when you need them.
You can give them a call or start an online chat any time and Siteground's expert team is always available to help.
I've had to call on them more than once when I had a Cloudfare issue and got locked out of my site. Their reps responded right away through the live chat and helped me fix my blogging screw-ups without missing a beat.
3. Siteground minimizes your downtime risk
What is downtime, you say? In the blogging world, it's a disaster.
Downtime means any time your site isn't functioning. That's the last thing you need if you're trying to attract readers and grow your blog.
Luckily, Siteground offers 99.99% uptime, which drastically cuts down on the odds of your blog ending up in temporary limbo.
4. The hosting plans are a steal
If you're going to start a blog, you have to be ready to spend a little money upfront on hosting and a domain.
For new bloggers that have a limited amount to invest, Siteground's hosting plans are much more budget-friendly compared to other hosts.
(Remember, you can get started with hosting for just $6.99 a month!)
How to Start a Blog With Siteground
We've covered all the initial stuff you need to know to start a mom blog. Now it's time to do it.
Nervous? Don't worry, I'm going to walk you through it.
Bookmark this page in case you need to come back to it for reference later.
And if you're ready to take the plunge and you've got 10 minutes to spare, you can skip ahead and start your blog with Siteground now as you read through.
Step 1: Decide which plan is right for you
There are three hosting plans you can choose from with Siteground: StartUp, GrowBig and GoGeek.
I'm not a tech nerd but the StartUp plan seemed a little too basic for what I needed, so I chose the GrowBig plan.
>>>Click here to get 60% off a GrowBig hosting plan<<<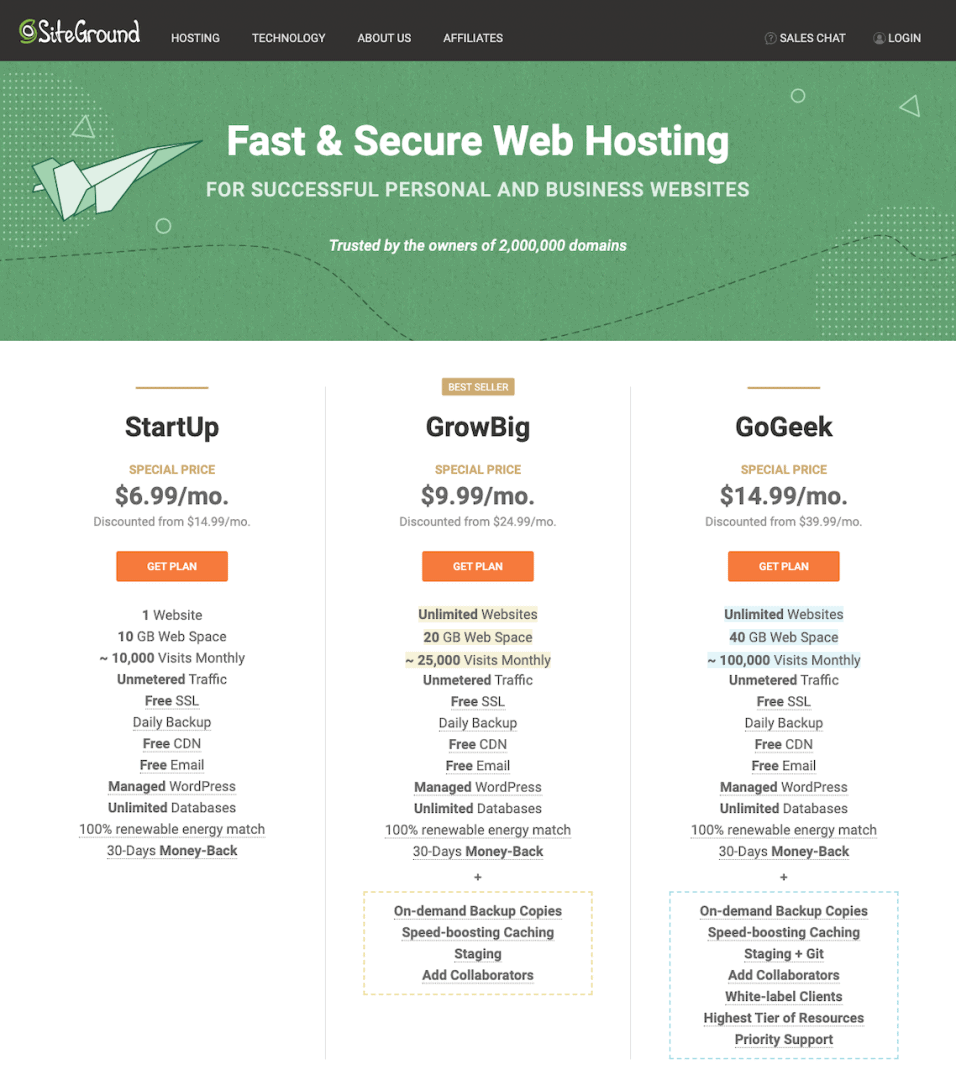 You can use the GrowBig plan for multiple websites and it's geared towards bloggers who are still in growth mode.
Plus, you can get a discount if you pay for two or three years of hosting upfront.
Step 2: Plug in your domain
The great thing about starting a blog with Siteground is that you don't have to buy your domain name separately; you can get your domain when you set up your hosting plan.
You should already have a domain name in mind and all you have to do is click "Register a New Domain" and type it into the box.
Of course, you can also start a blog with Siteground if you've already purchased a domain somewhere else.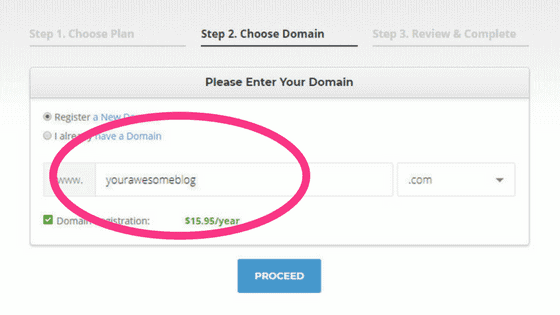 Step 3: Set up your account
The next step is fairly simple. You just have to fill out your personal information, email and set up a password for your account.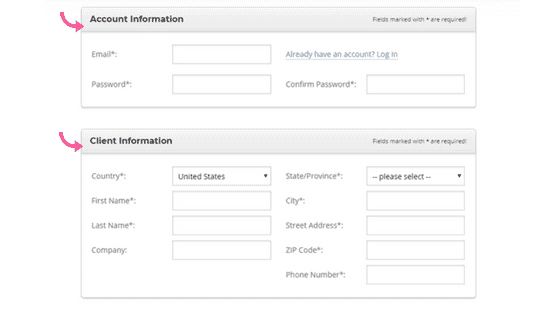 Once you've done that, you can plug in your payment information and choose your hosting plan.
Remember, you have to pick at least a 12-month hosting plan to get the 60% discount on hosting services.
You can do a one-month trial but if you're serious about blogging, plan to lock in hosting for at least a year.
At the very bottom, you'll see some extra services you can add-on to your hosting package.
Domain registration is automatically included if you're getting your domain through Siteground but the other two are optional. I purchased all three but it's up to you if you want to get the extras.

Once you've filled everything out, you can scroll to the bottom to get your total. Check off the terms of service box and hit "Pay Now".
And that's it, you've just set up hosting for your blog. Pretty easy, right? Now it's time to get your blogging platform set up.
If you're using WordPress, installing it with Siteground is a snap.
It takes just a few minutes, but if you don't have time, you can get a Siteground rep to set up WordPress for you.
Just click on Live Chat at the top of the page and a Siteground representative will handle all that tricky tech stuff for you and get you up and running in just a few minutes.
But, it's also really easy to set up WordPress yourself. Here's how.
Installing WordPress on your SiteGround blog
First, log in to your Siteground control panel and go the 'My Accounts' tab. Then, click on the red button that says Go to CPanel.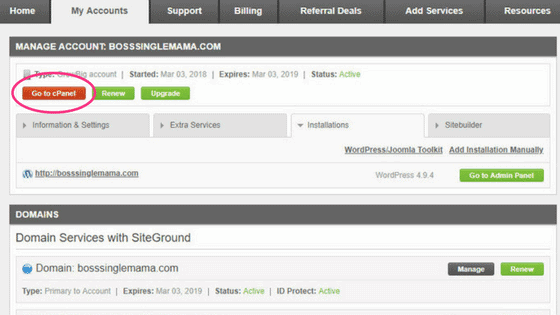 Now look for the Autoinstallers section about halfway down and click on the WordPress button.
That takes you to this page and all you need to do here is click on the Install button.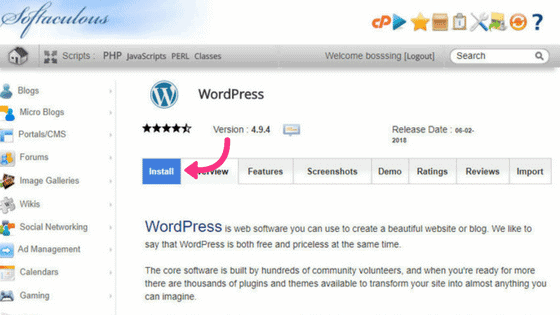 That'll take you here. Unless you're super-techie, there's nothing you need to do. Just make sure your domain name is showing up and is spelled correctly.
At the bottom, you'll enter in your blog name and a brief description of what your site is about. You can also come back and add or update this later.
Next, you need to enter your admin user name, password and email.
You can set this up any way you want but remember to pick a strong password. This is what you'll use to log in to your WordPress dashboard and it needs to be unique so hackers can't steal it and use it to wreak havoc on your blog.
WordPress gives you the option to install your theme here.
It's easy to do, but I recommend waiting until after you've installed WordPress to pick a theme, especially if you're considering using a paid theme versus the free ones WordPress offers. (I got my theme from Bluchic and couldn't be happier with it.)
Just hit Install and you're done!
Now you should be able to log in to the back end of WordPress using the user name and password you created earlier.
And if you're not sure how to get into your site, just type in your domain name, followed by /wp-admin. That should take you to your login box.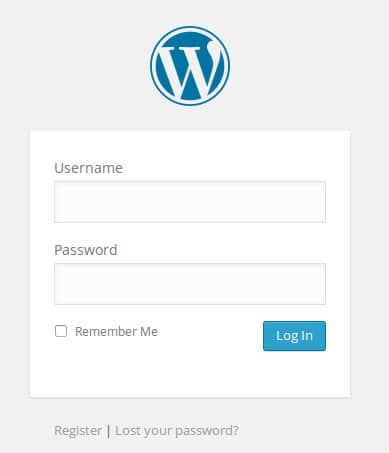 From here, you can move on to the best part of blogging: publishing great content for your readers!
How to Start a Blog for Free (or Almost Free)
It takes a little money to start a blog. But you don't have to go broke to do it.
Here are some specific things you can do to keep your costs in check when you're starting a new blog.
1. Set your blogging budget
So first, ask yourself what you can really afford to spend on starting a blog.
Ideally, you've got at least $100 you can spend to start your blog. That can cover your domain name and first year of hosting with Siteground and leave you with a few bucks to spare.
It helps to prioritize what you need to spend money on and what you want to spend money on if you've got a tiny budget.
A domain name, a blogging platform and hosting are definitely on the must-have list. Quality hosting is everything if you want to start a blog that could potentially make money.
But do you need to spend hundreds of dollars on ebooks or blogging courses or lots of extra bells and whistles?
Nope.
Can those things help you to grow your blog so you can make money from it? Possibly.
But you don't absolutely need them to get started.
So stick with the basics and get your blogging foundation in place.
2. Decide whether you want a free or premium theme
Your blog theme is what determines the look of your blog.
My theme now is from Restored 316. But I've also used HelloYou themes and Bluchic themes and those are great too.
If you're setting up a WordPress.org blog through a hosting service, you'll have a ton of free themes to choose from. That can save you money as a new blogger if you've got a small budget.
Should you splurge on a premium theme?
This is really up to you.
There are some decent free ones in WordPress.org you can get started with. But if you have the money, then definitely consider a paid premium theme.
The reason?
There's only so much you can do to customize a free theme. Premium themes can give you a lot more options for branding your blog and making it look and feel the way you want it to.
Some of the companies that sell premium themes can also install your theme for you. HelloYou does that and they also offer logo design services.
So, if there's a specific way you want your blog to look then it might be worth it to invest a few bucks in a paid theme.
Here are some of my favorite places for finding premium WordPress themes:
Just make sure to do your homework before you buy.
When I bought my current theme, I didn't realize you needed the Genesis framework to run it. So I had to buy that on top of my theme, which cost me a little more.
3. Pick your plugins
A plugin is an add-on to your blog. You can download and install them directly through WordPress.org.
There are a ton of plugins out there you can use as a new blogger. Some are paid, others are free.
And really, it can be overwhelming deciding which ones to use and which ones to skip.
So, if you're trying to start a blog that'll make money but you don't have a lot of money to spend, be selective. And stick to high-quality, free plugins as much as possible.
Here are some of the best free plugins I'm using on my blog that I think are great for other new bloggers:
RankMath (for SEO)
If you've been learning how to start a blog and make money for any amount of time, you've come across the term "SEO".
SEO stands for search engine optimization and in a nutshell, it involves optimizing your blog content for specific keywords to drive search engine traffic to your page.
The RankMath plugin won't tell you which keywords to use. There are other tools you can use for that.
But it will tell you if you've optimized a blog post or page effectively, based on the focus keyphrase you choose.
WP Super Cache
Site speed is super important for your blogging success. If your site loads too slowly, visitors may bounce away and never come back.
WP Super Cache is a plugin that helps to speed up your site, encouraging readers to stick around.
ShortPixel
If you have a lot of images in your blog posts or on your blog pages, that can slow down your site speed. If you have Siteground as your blog host, you can use the SG Optimizer feature to compress images.
You can also use ShortPixel for image compression. I love ShortPixel–it's the best money I've ever spent as a mom blogger. My site has been so much faster since I started using it.
For $10, you can compress thousands of images on your blog, so go check it out!
iThemes Security
You'll need to keep your new blog secure. 'Cause ain't nobody got time for hackers, right?
iThemes Security is a free plugin you can use to lock down your site. And if your blogging budget increases, you can upgrade to iThemes Security Pro, which comes with even more great security features.
4. Take advantage of free blogging tools and resources
I say this with all honesty, being a blogger is probably one of the hardest things I've ever tried to do.
But what's helped a lot, and what can help you too, is learning as much as you can about how to do it and do it well.
That's where free blogging tools and resources come in. So what do I mean by blogging tools?
Basically, I'm talking about anything free that you can use to learn about blogging. So means:
Reading blogs about blogging
Taking free courses and webinars
Downloading free ebooks
Scooping up freebies from your favorite blogging experts (think planners, workbooks, checklists, etc.)
Watching blogging how-to videos on YouTube
Listening to free blogging podcasts
Connecting with other bloggers and asking questions in Facebook groups
Downloading a free tool like Grammarly to proofread your writing
Those are just some of the ways you can learn about blogging without spending anything other than your time.
But here's what I suggest. Don't try to learn all the things at once.
That's a good way to get overwhelmed and totally freeze up. And in the meantime, you're not doing anything to help your blog.
The better way to approach blog learning is to make a plan for things you want to learn about each week, each month, each quarter.
Start with the basics and work your way down the list.
For example, learn how to format a blog post. Once you've got that down, learn how to make some eye-catching graphics that you can add to your posts.
Then, start learning some tactics to drive traffic to your new blog. And so on and so on.
Blogging can feel like a race a lot of the time. Especially when you see those five- and six-figure income reports or bloggers bragging on how they got 2 million page views in a month.
But it's okay to be the tortoise and not the hare. Go at a pace that works for you and make the most of the free blogging tools you're using.
5. Create a money-making strategy for your blog
The great thing about starting a blog to make money is that there's no one set way you have to do it.
You could make money blogging by:
Including ads on your site
Writing sponsored posts
Selling digital products
Promoting affiliate products
Selling a service
As you plan how to start a blog and make money, give some thought to which of those options appeal to you most.
Right now, my focus is on affiliate income and Monumetric ads but eventually, I'd like to offer some courses and digital products on my blog. I've also done some sponsored posts which have piqued my interest in pursuing that as an income stream.
And you might take the same path or try something completely different.
There's no right or wrong option here.
So take some time as you start your blog to consider how you want to make it profitable. It could be one thing or a combination of things.
Then, devote a good chunk of your blogging education to learning how your chosen money-making strategy works.
Look for some good (free) courses that cover what you're learning about. Then create an action plan that includes everything you need to do to start your monetization strategy.
Give yourself a time frame for completing each of those steps. And once you cross something off on your plan, hit pause and review your progress to see if you need to make any changes.
6. Remember to track your blogging expenses every month
Just like you track your everyday spending, make sure you're tracking your blog spending too.
Keep a running list each month of anything you spend that's blog-related, even if it's a few dollars. At the end of the month, add up what you spend.
Go line by line over each expense. Cut out any repeat expenses that aren't adding anything to your blog.
And I can't stress this enough but be strategic about how you invest in growing your blog.
For the most part, I'm happy with the money I've put into my blog so far.
For example, I absolutely love Convertkit for managing my email list. I had a terrible experience with MailerLite early on that I never want to repeat.
But I did spend several hundred dollars on a pricey blogging course a couple of years ago that I have yet to complete. And I purchased some less expensive blogging tools that turned out not to be worth what I spent.
So, if you're trying to blog so you can make money and you need to keep it budget-friendly, think every purchase through carefully.
Consider what it could (or couldn't) do to help you grow your blog. And ask if it's what you really need for where you are in your blogging journey.
Check out reviews of the product online if there are any. Head to your favorite blogging Facebook groups and ask other bloggers who have purchased and used the product to share their thoughts.
If the blogger or brand offering the product has testimonials on their website, read them. Email them to ask questions about the product so you know what you're getting.
Bottom line, get as much information as you can before you commit your money to something.
Are You Ready to Start a Blog That Makes Money?
Starting a blog can be intimidating but it doesn't have to be.
I hope after reading this tutorial you're excited to get your blog up and running.
If you used this guide to start a blog, drop a link in the comments so I can check it out.
And remember to pin and share this post if it helped you!
Read these posts for more money-making ideas:
60 Profitable Home Business Ideas to Start Now to Make Money
Ultimate How to Start a Side Hustle Guide: Make $1000 a Month (or More!)
25 Creative Ways to Make Money From Home (Without a Job!)
How to Start a Blog and Make Money Blogging for Beginners