Last Updated on December 7, 2020 by Rebecca Lake
Dive into this guide to learn how to make make money with Pretzel Kids yoga teacher training!
And if you need a quick and easy way to make money, get paid to take surveys with Swagbucks and Survey Junkie!
Need some fresh side hustle ideas to make extra money?
If you've been here before, you know that I love side hustles. Especially for busy moms who want to add to their family's income without getting a 9 to 5 job.
So I'm always on the lookout for new and creative ways to make money.
And if you're a mom or you just like kids, then I've got one that might be perfect for you: teaching kids yoga.
Becoming a kids yoga teacher can be a great way to make $50 to $100 an hour in your spare time.
Yep, that's $100 an hour, not $100 a day.
Sounds good, right?
And there's an awesome company that can help you become a kids yoga instructor without leaving home. It's called Pretzel Kids and it's an ultimate resource for all things related to teaching yoga to children.
But…
How do you become a kids' yoga teacher?
Do you need special kids' yoga teacher training?
And most importantly, can you really make money teaching kids yoga?
Keep reading because this Pretzel Kids review answers all those questions and more!
What Is Pretzel Kids?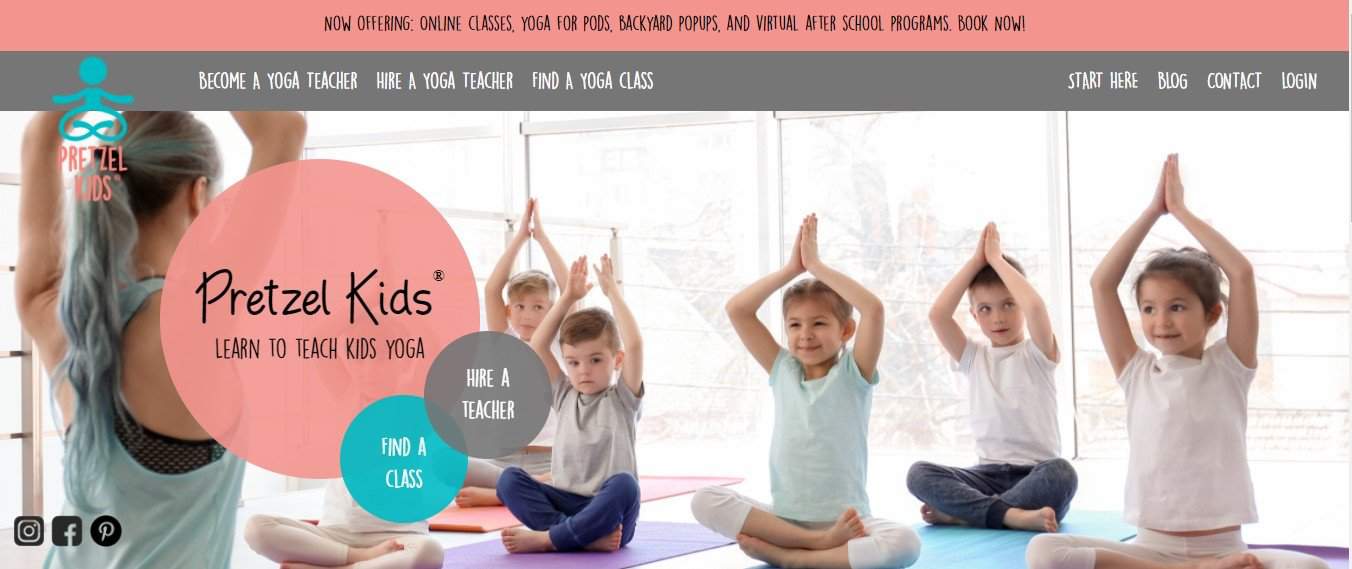 Pretzel Kids is a company founded by Robyn Parets, a mom who also happens to be a journalist, yoga instructor and entrepreneur.
Robyn founded the company after realizing that there was a need for a structured approach to how to teach kids yoga. She teamed up with a couple of teachers to create a curriculum for kids' yoga instruction, which turned into live training classes, which eventually lead to the creation of Pretzel Kids.
Today, the company has become a leading brand for kids' yoga and mindfulness curriculum.
Pretzel Kids offers kids yoga teacher training for moms, yogis, students, retirees and anyone else who wants to become a kids yoga instructor online!
You might also like:
31 Best Side Hustles for Moms to Make an Extra $500 a Month
How Does Pretzel Kids Yoga Teacher Training Work?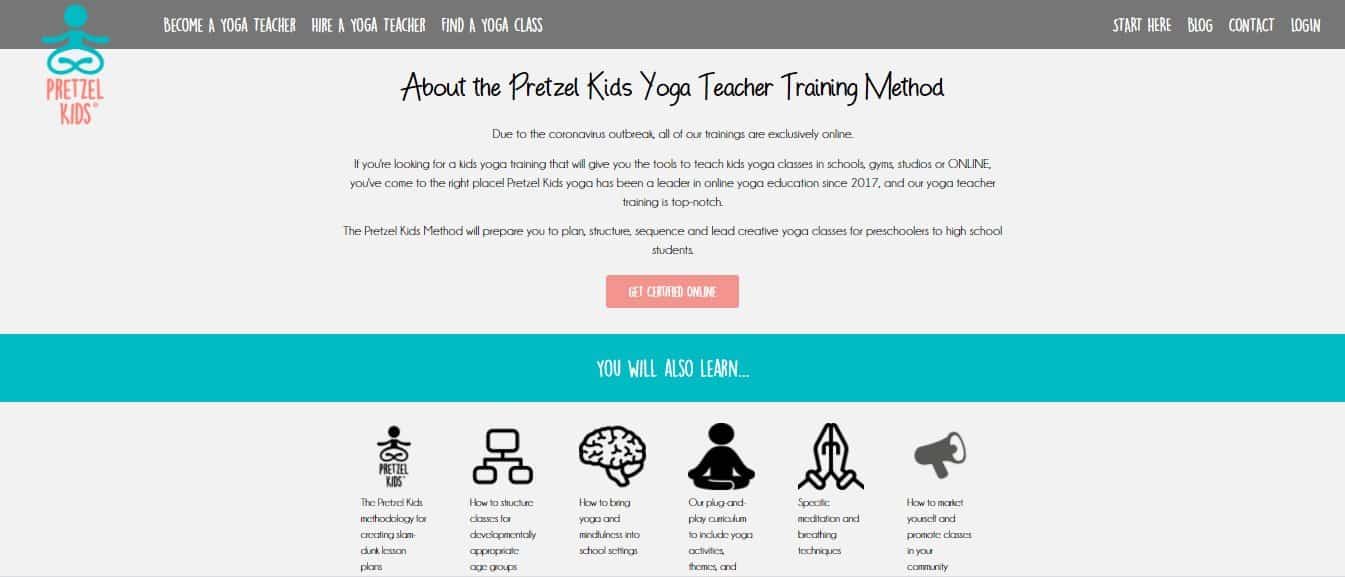 My favorite kind of side hustles are the ones you can do online. I mean, what's better than making money from home, right?
The great thing about Pretzel Kids is that it makes it easy to become a kids yoga teacher in your spare time.
The Pretzel Kids yoga teacher training is an online course that's self-paced. The course is designed to teach you the Pretzel Kids method of teaching yoga to kids and includes eight modules that cover:
How to set up kids yoga classes
Pretzel Kids breathing techniques
Pretzel Kids warm-up techniques
Sun salutation games and activities
Pretzel Kids yoga games
Cool-down techniques
Strategies for centering your kids' yoga class
How to facilitate savasanas to end your classes
What's different about this children's yoga teacher training is that it focuses exclusively on teaching the Pretzel Kids method.
With other yoga teacher training, on the other hand, you might be learning techniques that are more appropriate for teaching adults.
There's also a huge difference in time commitment.
With Pretzel Kids, you can become a kids yoga instructor with less than 12 hours of instruction. By comparison, other yoga certification training might require 200+ hours of your time.
Bottom line, the way the course is structured makes it super easy to launch a side hustle teaching kids yoga in no time!
You might also like:
100+ Legit Side Hustle Ideas to Help You Make Money in Your Spare Time
Who Can Become a Kids Yoga Teacher With Pretzel Kids?
Anyone!
Really, anyone can sign up with Pretzel Kids and complete the training to learn how to make money teaching kids yoga.
This could be a great online business or side hustle idea for:
Moms
Caregivers
Yogis
Fitness enthusiasts
School teachers who want to make extra money
Fitness instructors
College students
Retirees
You don't need any experience with teaching to sign up for Pretzel Kids yoga teacher training. Though it does help to have some basic knowledge of yoga.
You might also like:
How to Start a Side Hustle: An Ultimate Guide for Moms
How Can You Make Money Teaching Kids Yoga?

The Pretzel Kids course is great because it teaches you how to make money as a kids yoga teacher online or off.
For example, a popular option for some of Robyn's students is teaching kids' yoga classes via Pretzel Kids' partnership with Outschool.
Outschool is an online teaching platform that offers classes for kids K-12. And anyone can sign up to teach, not just certified teachers. In the case of Pretzel Kids/Outschool, licensed Pretzel Kids teachers sign up to teach on Outschool via Pretzel Kids – making the whole onboarding process seamless.
(For more on how to make money teaching with Outschool, check out this review!)
It's an awesome flexible side hustle option if you want to make money online!
But aside from that, you have plenty of other ways to make money teaching kids yoga. For example, Pretzel Kids instructors also make money teaching yoga:
In schools
At camps
Through the YMCA
At birthday parties
In yoga studios
With social distancing being what it is, teaching kids yoga online might be the more attractive option.
But either way, there's serious earning potential for kids yoga instructors!
How Much Money Can You Make Teaching Kids Yoga?
This is what you really want to know, right?
The good news is, teaching yoga to kids can be very profitable.
Here's a snapshot of how much you could earn as a kids yoga teacher after completing the Pretzel Kids training: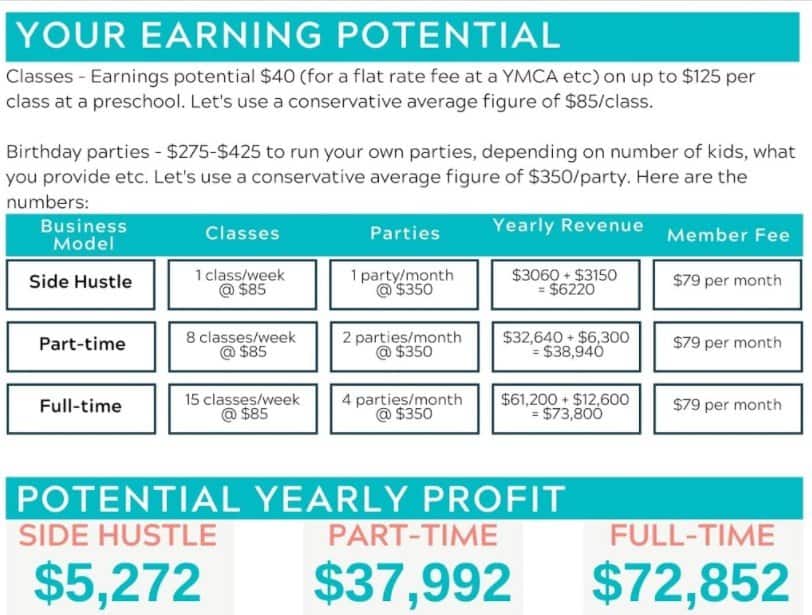 Pretty sweet, right?
According to Robyn, most Pretzel Kids teachers are earning $25 to $100 per class.
Rates vary based on whether the class is taught online or in-person and the length of the class. For example, you can charge more for a 60-minute class than you could for a 30-minute class.
Pretzel Kids offers a membership program that gives you even more opportunities to earn money teaching yoga to kids.
As a member, you can sell run your own branded Pretzel Kids classes or be hired by Pretzel Kids to teach classes virtually or in-person. For example, if you get hired to teach a class at a school, you can earn $40 to $50 per class.
When you compare becoming a kids yoga teacher to other side hustles, the profit potential is definitely there.
It's more time-intensive than something like taking surveys but it can be a real money-maker if you're looking to earn a steady part-time or full-time income.
And since it's a flexible side hustle option, you can make it work around your schedule.
How I Do Become a Kids Yoga Teacher?
If making money teaching kids yoga online sounds good to you, then the first step is completing the Pretzel Kids yoga teacher training.
Here are some of the key things to know about this course:
It's taught on Teachable so if you don't have a Teachable account, you'll need to sign up for one.
The course is entirely self-paced so you can complete it at your own speed.
You can become a kids yoga instructor in less than 12 hours, versus the 200+ hours other yoga certification courses require.
Signing up for the membership is optional but if you want to brand yourself as a Pretzel Kids yoga teacher, you should enroll in the "Grow" or "Accelerate" programs as either of these offer you a package deal with a year of membership (see below for more details).
There's a 30-day money-back guarantee if you're not happy with the Pretzel Kids yoga teacher training for any reason.
And perhaps most importantly, you need to enjoy being around kids for this side hustle and training to be a good fit.
If all of that sounds good, then you can head here to sign up for the Pretzel Kids yoga teacher training course!
Now, you're probably wondering, what is all this going to cost? 
That's a great question since there is a fee involved to become a Pretzel Kids yoga instructor.
The answer is that it depends on which of these three training tiers you choose:
Learn
This is the basic Pretzel Kids yoga teacher certification course that covers everything you need to know to start teaching kids yoga.
Grow
Grow is the most popular Pretzel Kids tier. It includes:
Pretzel Kids yoga teacher certification training
Annual membership in the "Start, Build, Grow a Business" program
Licensing rights to use the Pretzel Kids name in your marketing materials
A profile page on the Pretzel Kids platform
Access to a private business accelerator where you can get tips and strategies on how to grow your kids' yoga teacher business
Biweekly webinars and online trainings
Social media support
A bonus course on how to teach yoga to kids with special needs
Accelerate
Accelerate includes everything you get with the Grow package. But you also get:
A second bonus course on how to teach yoga to tweens and teens
A third bonus course on teaching mindfulness to kids
A two-hour customized coaching call with Pretzel Kids founder Robyn Parets
The Learn plan is a flat fee; with Grow and Accelerate, you can pay upfront or enroll in a payment plan. Remember, you have 30 days to try it out and get a refund if you're not happy.
You can learn more about Pretzel Kids courses here.
Once you've purchased the training, you can work your way through the modules one by one.
Lessons are video-based but you also get the Pretzel Kids manual, which is a guidebook to becoming a kids yoga teacher.
And if you sign up for the membership, you join the Pretzel Kids community of teachers along with lots of other valuable resources to help you grow your kids yoga business!
Should You Try Becoming a Kids Yoga Instructor With Pretzel Kids?
So, first let me say that this side hustle is probably not a great fit for you if you don't like kids.
If you're interested in becoming a yoga teacher but kids aren't your jam, then you might look into other yoga teacher training instead.
But other than that, Pretzel Kids is definitely worth checking out if you're looking for a way to make money online, without a 9 to 5 job or any fancy degrees.
If you're on the fence about becoming a kids yoga teacher, it helps to weigh the pros and cons.
Pretzel Kids pros:
You get a complete kids yoga teacher training package that has everything you need to start making money.
No special experience is required to get started, though it helps to know the basics of yoga.
You can set your own hours and the earning potential is more or less unlimited.
It's a side hustle you can do entirely online if you want but you also have the option for in-person teaching.
Teaching yoga with Pretzel Kids can be a great side hustle but you could also turn it into a full-time business if you're motivated.
Pretzel Kids cons:
Since the course is self-paced, you really have to be committed to completing all the modules.
This is a side hustle that does have some initial startup costs but you could easily earn your money back in your first month of teaching kids yoga!
With some side hustles, the drawbacks often make it not worth your time. But in this case, the pros of becoming a kids yoga teacher with Pretzel Kids far outweigh the cons.
The Verdict: Being a Kids Yoga Teacher Can Be a Profitable Side Hustle
With so many people feeling the financial pressure these days, there's never been a better time to start a side hustle or online business.
Teaching yoga to kids is a solid option if you like kids, you're into fitness and you're interested in being your own boss!
You'll need a little money out of pocket to get started but it's a small investment compared to what it takes to start a brick-and-mortar business.
If you're ready to give being a kids yoga teacher a try, head here to sign up with Pretzel Kids now!
And don't forget to pin and share this post!