Last Updated on July 6, 2023 by Rebecca Lake
Making–and sticking to–a budget is one of the keys to good financial health. Including sinking funds categories in your budget can make it easier to save for future expenses.
A sinking fund holds money that you save toward a specific purpose. For example, you might save money toward a vacation, a new baby, or home improvements.
Making a budget that includes sinking funds categories can be an efficient way to plan future spending. Today, we'll take a look at the top sinking fund categories you can include in your budget, along with a few sinking funds examples to help you better understand how they work.
Related post: How to Make a Budget (When You Hate the Idea of Budgeting)
Table of Contents
What Are Sinking Funds?
A sinking fund is money that's set aside for future expenses. In personal finance, sinking funds can be used to save for one-time expenses or recurring expenses that need to be paid periodically.
In simpler terms, sinking funds are a form of planned saving for planned spending.
Here's a simple sinking funds example. Say that you want to save $1,000 for Christmas gifts. You set up a sinking fund for Christmas savings and add $100 each month, starting in February. By November, you'll have $1,000 in savings that you can now spend on holiday shopping.
In accounting, the sinking funds definition is a little different. A sinking fund is used to hold cash in reserve to pay off debt, replace wasting assets or cover future expenses.
Whether you use the personal finance definition of sinking funds or apply the accounting definition, the idea is the same. You're saving money intentionally to fund a clear goal at some future date.
Why is it called a sinking fund?
Sinking funds are called that because the balance of the fund goes down or "sinks" as you spend down the money that you've saved.
So, going back to the previous sinking fund example, you'd withdraw your savings once it's time to start your holiday shopping.
You might start the year with $0 in your Christmas sinking fund. As you start making your $100 monthly contributions, the balance goes up. Then it sinks back down again when you withdraw the money to pay for the next holiday season.
Think of sinking funds as ocean waves–your balance may be up at some points when you don't need to spend your savings, then sink down once you have to pay an expense.
Benefits of Using Sinking Funds Categories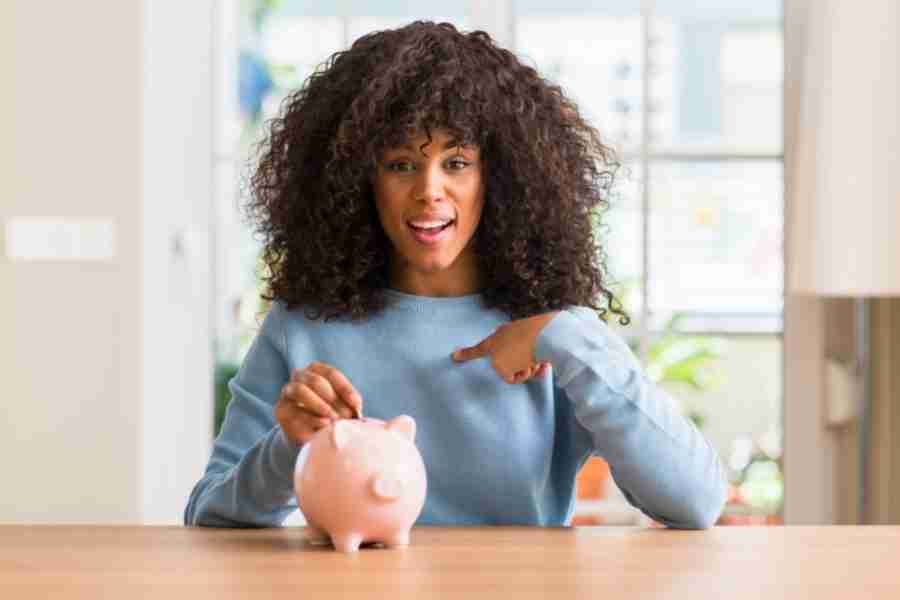 Sinking funds can save you from coming up short when there's something you need to pay for that isn't part of your regular budget.
Including different sinking funds categories in your budget can give you more control over your money and what you do with it.
And you don't have to just use them for boring expenses, like bills. You can also use sinking funds to plan for fun things, like a family vacation.
Once you get in the habit of using sinking funds in your budget, it becomes a lot easier to:
Manage your budget every month and avoid overspending.
Get consistent with building a money-saving habit.
Plan ahead for small and large expenses that aren't part of your regular budget.
Set and achieve specific financial goals.
Make large purchases without triggering financial guilt or buyer's remorse.
Include "fun" purchases or spending without racking up debt.
You can set up your sinking fund categories, then add money to each one monthly. As you fund one goal, you can set a new one and start saving for it.
It's a hassle-free way to save for financial needs and wants.
Related post: 17 Dave Ramsey Tips That Can Help You Stop Being Broke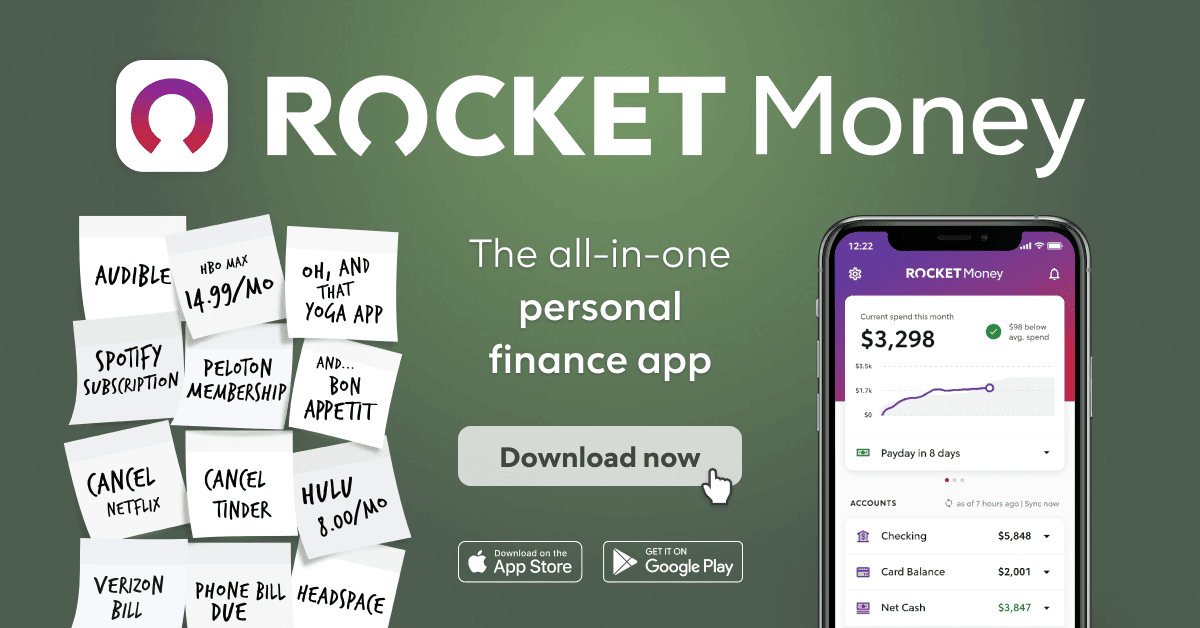 Save More With Rocket Money
Stop overpaying and start saving!
Rocket Money is an all-in-one personal finance app that helps you find savings instantly, lower your bills, and keep more of your hard-earned cash.

It's a simple way to build savings back into your budget every month, without getting nickel and dimed.
100+ Sinking Funds Categories to Include In Your Budget
Ready to put sinking funds categories to work in your budget?
Here are some of the most popular sinking fund examples and categories you might want to include.
Home expenses sinking fund categories
If you own a home, housing is likely your biggest expense. So having a sinking fund for home expenses is a must.
And within that sinking fund, you can include mini sinking funds for:
Regular home maintenance (like getting your HVAC serviced twice a year or having the gutters cleaned)
Home repairs
Home improvement projects
Property taxes
Homeowners insurance premiums
Homeowners insurance deductibles, if you need to file a claim
HOA fees
Appliance maintenance, repair and replacement
Landscaping and lawn care
Gardening supplies
Pressure washing
Gutter cleaning
Sidewalk or driveway resurfacing
Roof cleaning and maintenance
Pool maintenance (I have this in my budget)
Gas/propane refills (I also have this one)
Pest control
Emergency repairs, like a plumbing leak or a broken window
Vehicle sinking fund categories
You may take public transportation or ride a bike everywhere. Or you might have a car or two that you use to get around.
Regardless of what transportation method you prefer, it's important to have a sinking fund just for those costs. Here are some of the sinking funds categories to include for transportation:
Car insurance premiums
Car insurance deductibles if you get in an accident and need to file a claim
Car repairs
Scheduled maintenance
Property taxes
Registration fees
Parking passes
Bus and train passes
Zip bike rentals
Scooter rentals
Uber or Lyft if you rely on ride-sharing services
New tires
Replacement batteries
Detailing and washing (if you don't do this yourself)
Down payment savings fund for when you're ready to upgrade or replace your vehicle
Family expenses sinking fund categories
If you're a parent you know that having kids can be insanely expensive. And you may have specific goals that you want to save for as a family.
Here are some of the sinking funds categories you might include in your family & kids fund:
Summer camp fees
Daycare or childcare expenses during the summer if you work outside the home
Sports activity fees
Lessons or other extracurricular activity fees
Musical instrument maintenance and replacement if your kids play
Homeschool-related fees if you homeschool (for example, we have to pay an annual fee to our co-op along with field trip fees)
Back-to-school expenses
School uniforms
New clothes and shoes
Private school or college tuition and fees
Hair cuts
Entertainment and family nights out
Hobbies
Birthday parties
Museum, zoo or trampoline park memberships
Outdoor play equipment for the yard (i.e., swingset, sandboxes, etc.)
Graduation or prom expenses if you have teens
Teen's first car
Orthodonture (believe me, this can get really expensive, especially if you have multiple kids who need braces)
New baby expenses if you're growing your family
Related post: How to Make Money as a Teenager: 73 Ways for Teens to Make Money
Medical expense sinking fund categories
Health care can knock your budget for a loop, especially if your insurance isn't that great or you're uninsured.
Setting up a medical expenses sinking fund is a smart move if you need to save for:
Co-pays or deductibles
Self-pay visits if you're uninsured
Prescription drugs
Over-the-counter medicines
Medical equipment
Dental visits
Physical therapy
In-home nursing care of any kind
Rehabilitative car
Specialty dental care
Eyecare, including glasses or contact lenses
Lasik eye surgery
Weight loss surgery or treatment
Telehealth visits
Anything health insurance doesn't cover
Pet care sinking fund categories
Pets can bring lots of love and joy to your life but they aren't always cheap to care for. Between regular check-ups and the odd emergency vet visit, it's a good idea to have some money set aside to cover their needs.
If you have pets or you're thinking of getting one, you could set up a pet sinking funds categories for:
Routine vet check-ups
Emergency vet care
Specialty care if your animals have chronic health issues
Prescription medications
Flea and tick medications
Behavioral training if needed
Spaying and neutering
Pet-sitting or boarding services (I spend several hundred dollars a year to board our dogs when we go on vacation)
Food and treats
Collars and leashes
Kennels
Pet toys
Bedding
Puppy pads if you're potty training a new fur baby addition to the family
Holiday, birthday and special occasion sinking fund categories
Holidays, birthdays and special occasions may require you to spend money on gifts, wrapping paper or gift bags, cards, postage and other expenses.
Setting up a sinking fund for holidays and birthdays means you don't have to worry about not having the money you need to cover those costs. You can ad sinking funds categories for:
Holiday and birthday cards
Special occasion cards and gifts
Holiday and birthday gifts
Seasonal and holiday decorations
Holiday or birthday-related travel (sometimes we take trips to celebrate my kids' birthdays instead of having a party)
Gift bags and gift wrap
Holiday and birthday food spending
Charitable donations you make during the holiday season
Holiday travel
Party decorations for birthdays or other special occasions
Anniversary gifts
Condolence gifts
Wedding gifts
Baby shower gifts
Shipping and postage fees for mailing cards or gifts
Related post: How to Afford Christmas When You're Totally Broke
Travel and vacation sinking fund categories
Whether you like to see the world as a family or just plan staycations, you may want to add a travel sinking fund category to your budget. You can use it to save for things like:
Passport fees if you travel internationally
Car rentals
Gas
Ride-sharing services
Train or bus fares and shuttle fees
Subway fares
Airfare and hotels (or Airbnb)
Cruise tickets
Souvenir spending
Travel insurance
TSA PreCheck or Global Entry fees
Dinners out
Travel snacks
Resort fees
Parking fees
Attractions (i.e. amusement park fees, camping fees, etc.)
Travel packages or tours
Unexpected expenses, like parking tickets
Self-employment sinking funds
If you work from home or your spouse/partner is self-employed, there are certain expenses you may need to plan for outside of your regular budget.
For example, your self-employment sinking funds categories may include:
Estimated quarterly taxes
Annual state and federal income taxes
Laptop replacement
Healthcare sharing expenses or health insurance premiums
Out of pocket healthcare
Home office furniture
Office supplies
Subscription services, like Microsft Office or Dropbox
Business insurance if you run a business
Courses, seminars or other necessary training
Subscriptions to professional periodicals
Advertising fees if you pay to advertise your business
Blog or website hosting fees
Related post: 5 Legit Business Ideas for Moms You Can Start to Earn $5,000+ Monthly
Personal care and self-care sinking funds categories
Personal care is important for managing your physical and emotional health, especially if you're a busy mom. So you may want to set up personal care sinking funds categories for:
Haircuts
Salon visits
Spa visits
Pedicures or manicures
Massages
Annual gym membership fees
Workout equipment if you'd rather exercise at home
Weight loss programs (or get paid to lose weight with HealthyWage instead!)
Beauty or grooming products
Mental health counseling or therapy
Splurge items, like new clothes or electronics
Date nights by yourself
Make Quick Cash With Survey Junkie
Take surveys. Earn rewards. Get paid.
Making extra money is that easy when you create an account with Survey Junkie. It's free to sign up and you can earn real cash in your PayPal account or free gift cards, just for answering questions and sharing your opinions.
What Are the Most Important Sinking Funds Categories?
Sinking funds are optional and you don't have to include them in your budget. But if you do decide to use sinking funds categories, there are a few that are usually essential to have.
Home maintenance/repair – If you own a home you know that something always needs fixing, even in a newer property. A home maintenance and repair sinking fund can help you protect your investment.
Vehicle maintenance/repair – Cars break down from time to time and of course, they need regular maintenance and new tires every few years. A car maintenance sinking fund ensures that you have cash on hand to keep your wheels on the road and in good working order.
Medical expenses – Health insurance can cover a lot of things but not always everything. A medical expense sinking fund can help with coverage gaps in your policy.
Holidays and birthdays – Holidays and birthdays can quickly get expensive, especially when you have kids. Saving for birthdays, holidays and other special occasions throughout the year means you don't have to be a Grinch when it's time to exchange gifts.
Vacations and travel – Everyone likes to get away now and then and even if you can't, you can still enjoy a nice staycation at home if you have a special sinking fund to pay for it.
How Much Should You Have in a Sinking Fund?
The answer to this question can depend largely on two things: how many sinking funds categories you set up and how much you can commit to saving from your budget each month.
Here's what a sinking funds example might look like if you have $500 a month to add to your savings:
$100/month for home improvement projects
$100/month for a family vacation
$100/month for holiday shopping
$100/month for biannual car insurance premiums
$50/month for kids' activity fees
$50/month for car repairs
At the end of the year, you'd have saved $6,000 altogether. You'd have
$1,200 for home improvement projects
$1,200 to spend on a family vacation
$1,200 to spend on holiday gifts and other expenses
$1,200 to cover your car insurance premiums
$600 to put toward kids' activity fees
$600 in a car repair fund
Having those amounts saved in each of your sinking fund categories means that you have the money to pay for those expenses when the time comes.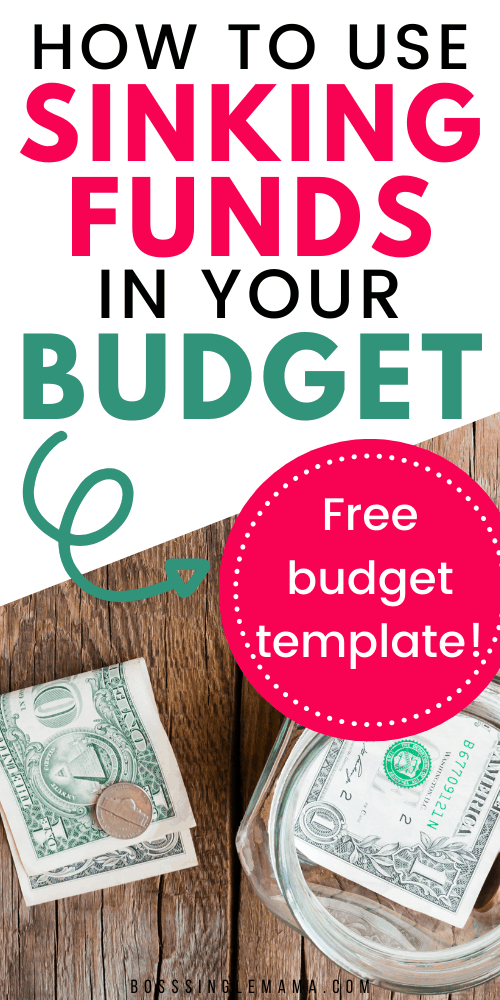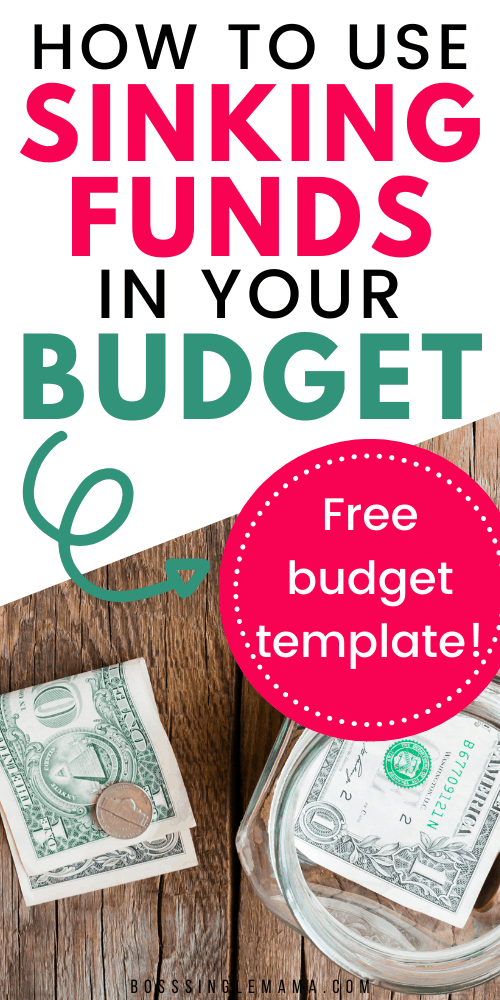 Sinking Funds vs. Emergency Fund
You might be wondering what the difference is between a sinking fund vs. emergency fund, or if there even is one. And the short answer is that they're not the same.
Your emergency fund represents money that you save for true emergencies and any unplanned expenses you never saw coming. For example, if you get laid off from your job or can't work because of an illness, then an emergency fund can help cover your day-to-day bills.
Sinking funds are not meant for emergencies. Instead, sinking funds are designed to be used for preplanned expenses that you know you have to pay, including bill payments or large purchases.
Of course, a sinking fund might double as an emergency fund if you don't have any rainy-day savings. You might have to dip into sinking funds while you work on building up your just-in-case savings reserves.
Sinking Funds vs. Savings Accounts
Sinking funds and money you save for short- or long-term goals in a savings account can sometimes be the same. But other times, they're not.
For example, saving money for a down payment on a home could technically fit into either category. But saving money for retirement is most definitely a long-term savings goal.
A wedding is another example of what could either be considered a sinking fund since it's a one-time expense or a short-term savings goal. But saving money so you can stay home with your kids once you start a family, on the other hand, is more of a long-term financial goal.
Understanding the differences between sinking funds vs. emergency funds and sinking funds vs. savings accounts can help you plan out your savings strategy so that no money goals fall through the cracks.
Related post: 10 Smart Money Habits That Can Make You Rich
Where to Keep Sinking Funds
If you use the cash envelope system to budget, you might keep your sinking funds in different cash envelopes. You can then store all of your envelopes in a cash envelope wallet for convenience.
Cash savings might be a good fit if you actually plan to pay cash for your sinking funds expenses. Otherwise, you might be better off keeping your sinking fund money in a bank account at a trusted financial institution.
If you're looking for some cash envelopes to get started, be sure to check out the cute options in the Boss Single Mama shop!
Option# 1: High-yield savings account
A high yield savings account is a great option if you'd like to earn competitive interest rates on savings while paying minimal fees. Online banks can offer some of the best rates for savings accounts.
You can set up one savings account to hold all of your sinking funds money or have separate savings accounts for each sinking funds category.
This is a good choice if you'd rather keep all of your sinking funds separate. And some banks and credit unions allow you to open one main savings account, then set up smaller subaccounts inside of it.
Say one of your sinking funds categories is house expenses. You could set up a house savings account, then set up subaccounts for things like home repairs, home improvements, property taxes, insurance, etc.
There's no right or wrong way to do it, it all comes down to what works for you.
Just pay attention to the fees your bank charges for savings accounts and the APY you could earn. If you've got multiple savings accounts, it pays to get the best rate for the lowest fees.
Looking for the best high yield savings option? Compare savings account rates online at top banks and credit unions now!
Option #2: Money market account
Money market accounts earn interest like a savings account, but they also offer debit cards or checks like a checking account.
A money market account could be a great choice for sinking fund savings if you want to be able to spend directly from your account. With a savings account, you might have to transfer funds over to checking first.
When comparing money market accounts, check out the APY you could earn and the fees you might pay. Also note whether a debit card or paper checks are included.
Option #3: Free checking account
A free checking account is another possibility for stashing your sinking funds.
Most checking accounts include a debit card and checks, so you'll have easy access to your money. And a free checking account usually won't have a monthly fee.
Some free checking accounts also earn interest or rewards, but they're usually the exception rather than the rule. Shopping around for the best checking account options can help you find the right one for your needs.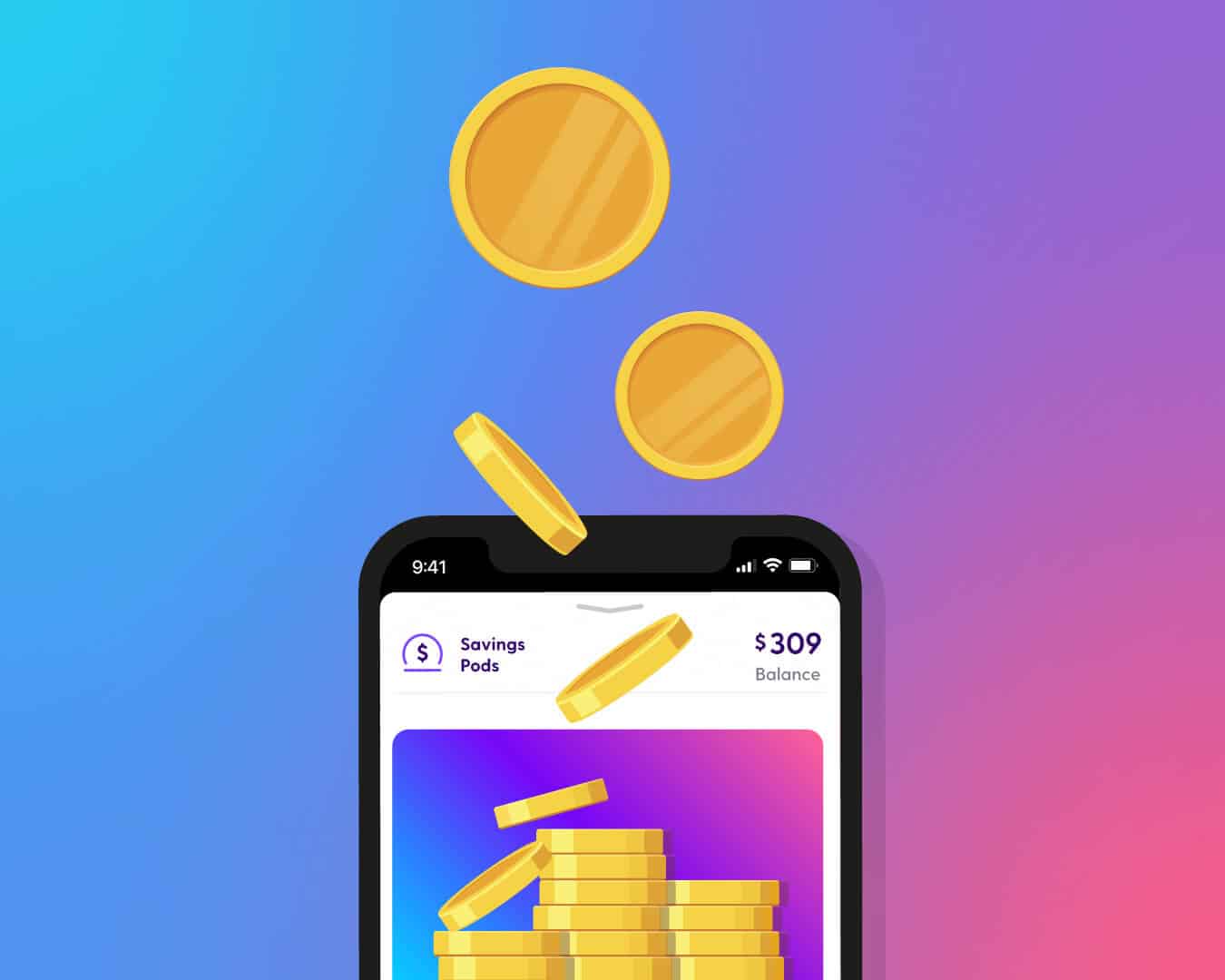 Grow Savings Faster With Current
Current is a digital banking app that makes it easy to grow savings, manage spending and track your goals in one place! You can set up individual savings pods for different goals and earn the same competitive APY for each one.

Aside from making saving a breeze, Current also comes with other great features like fee-free overdraft and access to 40,000+ ATMs!
Sinking Funds Examples
To understand how sinking funds work, it helps to have an example.
So, say you pay your car insurance annually instead of monthly. Your annual premium comes to $1200.
Instead of waiting until the last minute to try and come up with the $1200 to pay the bill, you could set up a sinking fund instead. Then, you could put $100 a month into this sinking fund until you reach your $1200 goal.
Once you hit your savings target, you can take the money out to pay your car insurance. Then you can start saving $100 a month again toward the next premium.
Or here's another sinking funds example of how you can use them for a one-time expense.
Say you want to renovate your kitchen and you'll need $10,000 to complete the project.
You set up a sinking fund and save $500 a month toward your $10K goal. Once you reach your goal, you use the money to pay for the reno.
At that point, you can keep your sinking fund for home renovations in case you think you'll do another project down the line. Or you can shift the money you were adding to it over to another sinking fund category.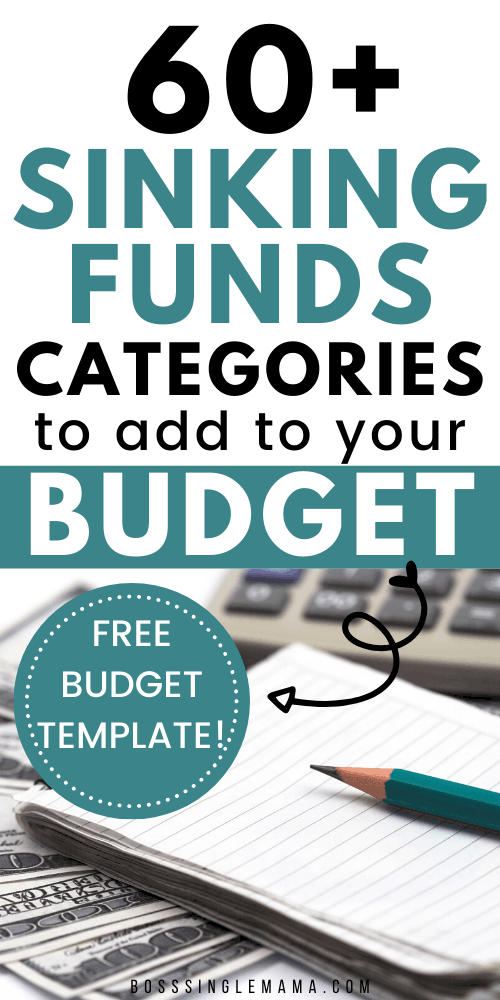 What Is the Sinking Funds Formula?
The formula for sinking funds is actually pretty simple.
Here's how to use the sinking fund formula:
Target savings amount / Number of months until your deadline = the amount you need to save each month
So if you're trying to save $1,500 in 10 months your sinking fund formula would look like this:
$1,500 / 10 months = $150 a month
If you want an even simpler way to apply the sinking funds formula, here are few calculators you can use:
Omni Calculator Sinking Fund Calculator
Good Calculators Sinking Fund Calculator
How to Start a Sinking Fund
If you'd like to start using sinking funds categories in your budget, it's not that difficult to get started. Here's how to get your sinking fund going, step by step.
Step 1: Choose your sinking funds categories
The first thing you'll need to decide is which categories you want to assign in your budget. Your sinking funds may be for short-term goals, long-term goals, one-time expenses or repeat expenses.
There's no right or wrong number to have. Keep in mind that the more sinking funds you have, the more you'll have to keep track of and save each month.
Step 2: Calculate your sinking funds amount
Once you have your sinking fund categories set, you can decide how much to save in each one.
Again you can apply the sinking fund formula mentioned above. You'd just divide the total amount you need to save by the number of months you have until the expense is due.
Step 3: Decide where to keep your sinking funds
As mentioned you can keep your sinking funds in cash envelopes. Or you can set up a savings account to hold your sinking fund money.
You could also keep sinking funds in your checking account but that could be risky if you're not keeping careful track of what money is going where.
Step 4: Set up automatic transfers to savings
If you've decided to use savings accounts for sinking funds, you can simplify the process by automating deposits to them each month. You can link your checking account or schedule part of your paycheck to be added to your sinking funds if your employer offers direct deposit.
Final Thoughts on Sinking Funds Categories
Adding sinking funds categories to your budget can help you master saving money. You can set up as many (or as few) sinking funds as you like to set aside money for different expenses and goals.
If you're not using sinking funds yet, consider giving them a try! You might be surprised at how organized they can help you become when managing money.
Need more money tips? Read these posts next:
What sinking funds categories are included in your budget?