Last Updated on November 6, 2022 by Rebecca Lake
Starting a family–or growing one–can be expensive. And if you're living on a small income, you might be wondering how to have a baby on a budget.
The good news is that having a baby doesn't have to cost a ton of money. There are things expectant parents can do to create a realistic baby budget that allows them enough money to pay for all the things they might need. (And potentially afford a few splurge baby items as well.)
Whether you're expecting your first baby or a second child, these tips can help you to have a baby on a budget without going broke.
How Much Does It Cost to Have a Baby?
The cost to welcome a new baby can depend largely on where you live and what kind of labor and delivery experience you have.
Consider what you might spend to welcome a new baby in the United States.
Depending on where you live, the average cost to give birth can range from $8,000 to $20,000. How your hospital bills add up can depend on several things, including:
Whether you have a vaginal birth or c-section
The length of your hospital stay
Whether you choose a private room or a semi-private room
If there are any complications that result in added medical expenses
Which state you live in
Your health insurance plan might pay for some of the cost of delivery. But there may be out-of-pocket costs you still have to pay if your insurance company doesn't cover everything.
Once you actually have the baby (or welcome a new baby via adoption or surrogacy), there's an entirely different set of expenses to deal with.
For example, during your baby's first year alone, you might spend another $12,000 on baby clothes, disposable diapers and other baby essentials. That's assuming you're a stay-at-home parent and you're not paying for childcare costs.
Child care is often the biggest expense new parents face if both parents work (or if you're a single parent who's the sole provider for your family). Nationwide, the cost of infant care can average $1,300 per month.
So what does all that add up to?
Altogether, the U.S. Department of Agriculture estimates that raising a child to age 18 can cost $285,000 when adjusted for inflation. That doesn't include the added cost of paying for a college education.
When you look at all of the numbers, it's certainly a lot of money. But planning out your baby cost budget in advance can help you to find ways to save so that welcoming a first child (or second, or third) is a joyful experience and not a stressful one because of money.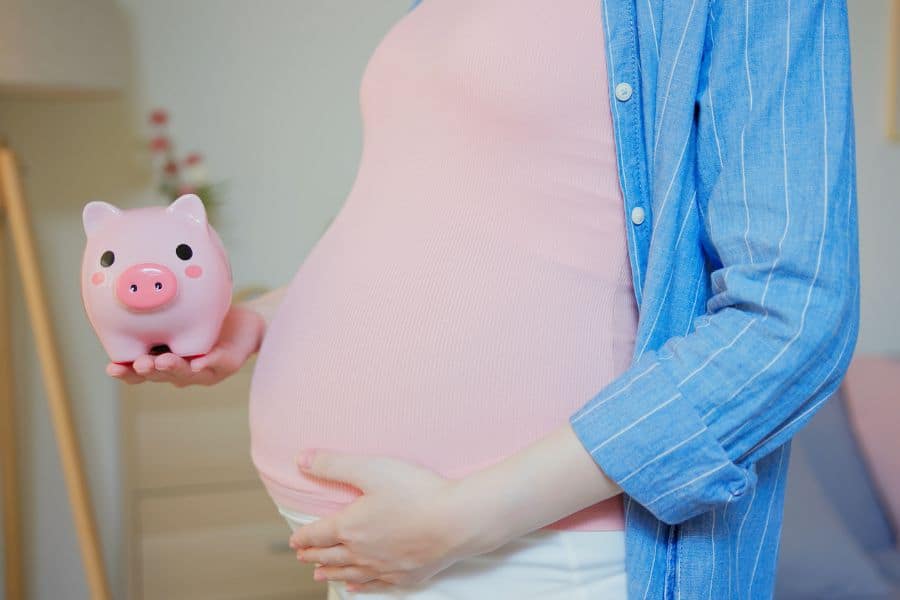 How to Have a Baby on a Budget
If you're already on a tight budget, having a baby could put more pressure on your cash flow. Creating a family plan for spending and saving can help relieve some of the stress of having a baby on a budget.
Nine months is a relatively short time in which to plan so the sooner you get started, the better. Having a baby on a budget checklist to follow can help you prepare financially to bring your new baby home.
1. Review your household income
For many new moms and dads, having a baby means taking parental leave. The average maternity leave in the U.S. is 10 weeks and 70% of pregnant women take maternity leave at some point.
The only trouble is that for many expectant parents, parental leave is unpaid. While the Family Medical Leave Act (FMLA) mandates up to 12 weeks of parental leave for the birth of a child, the Act doesn't require your employer to pay you for it.
If you're not entitled to any paid maternity leave (or paternity leave), the first thing you'll have to decide is if the income you'll have will be enough to cover your basic living expenses and any unexpected expenses that might pop up once the baby comes.
If it's not, then there are two things you can do:
Reduce your expenses as much as possible
Look for ways to make extra money
Cutting expenses is a good place to start since it might be easier to control what you spend versus finding ways to make money.
When looking for expenses to cut, start with the easier stuff first.
For example, if you're paying for a half dozen streaming services but you only use one or two, you can cancel the ones you don't need. Once you cut out the smaller expenses, you can look at the bigger things you spend money on, like utility bills, groceries and debt repayment.
For example…
Refinancing high-interest credit card debt into a low-rate loan or 0% APR balance transfer offer could help you to get out of debt faster.
Pro tip: If you're interested in consolidating credit card debt, compare 0% balance transfer offers for free with Credit Karma.
2. Open a new baby bank account
Setting up a savings account for new baby expenses can be a great way to plan and save for them before the baby arrives.
A high-yield savings account is a great place to keep your baby bank account. You can earn a competitive interest rate and many online banks charge no monthly fees.
Once your account is open, you can make regular deposits to it each payday. You can also add any windfalls, like tax refunds, rebates or cash gifts you receive into the account.
If you're looking for the best place to keep your baby bank account, CIT Savings Connect is a great option. CIT pays one of the highest rates of any online bank and you can open your account with just $100.
Ready to get a great rate and grow your savings? Open a CIT Bank Savings Connect Account today to start earning a competitive rate on deposits, with no monthly fee!
3. Set your baby budget
Aside from reviewing your everyday living expenses, it's important to create a budget for spending on baby items. If you're a first-time parent, you may not know what to include.
Here are some of the things that might be on a typical baby essentials shopping list:
Baby clothes, caps, socks and shoes
Baby gear, such as a sturdy car seat and stroller
A breast pump if you plan to breastfeed
Baby bottles and nipples for formula feeding
Burp cloths
Swaddling blankets
A quality diaper bag
Cloth diapers or disposable diapers
Baby wipes
Baby shampoo, powder, lotion, rash cream and other hygiene items
Baby bath
Crib and mattress or bassinet
Pack 'n' play
Miscellaneous baby items like pacifiers if you plan to use them, nail clippers
High chair
If you're trying to have a baby on a budget, it may be helpful to make two lists instead: one for needs and one for wants.
That can help you to prioritize spending so you have all the basic items that are necessary to welcome your new baby.
Pro tip: A lot of the items in your baby budget you might be able to get for free if your best friend or someone else is throwing you a baby shower (or you're throwing one for yourself). You can set up a baby registry to ask for essentials.
4. Consider childcare arrangements
Child care can make planning for a baby on a budget more challenging if you'll be returning to work once parental leave ends. Again, this might be one of the biggest costs you have as a new parent.
The good news is that there are some things you might be able to do to save on child care. For example, you could:
Ask a family member to help with childcare (grandparents can be a great resource if they're able and willing to help)
Exchange child care duties with another mom you know
Check to see if your employer offers onsite childcare (a great option if your employer is generous with benefits)
Apply for childcare or daycare vouchers through state-sponsored programs
You could also ask your employer about the possibility of working remotely once parental leave ends. Being able to stay home a few days a week could help you save on childcare.
Related post: 25 Best Stay at Home Mom Jobs (Make $2000+/Month)
5. Check your health insurance coverage
There are lots of medical costs that go along with having a baby, including prenatal care and the expenses associated with giving birth. So it's a good idea to know what your insurance policy will (or won't) cover when you're expecting.
Under the Affordable Care Act (ACA), maternity care and newborn care are essential health care services. That means if you have a qualified health insurance plan you're covered for prenatal care and maternity care.
As far as how much money your insurance policy pays, that can depend on the insurer. So be sure to review your coverage to see what you might pay for:
Copays
Coinsurance
Prescription medications
Hospital stay
Labor and delivery
And here's one more tip for having a baby on a budget: be sure to review your hospital bills once they start coming in.
The last thing you might want to do after giving birth is sift through bills. But it's important to go over them with a fine-toothed comb to make sure you're being billed correctly and that you're not being charged for any unexpected costs.
And if you do see charges for medical costs you don't recognize or that seem inflated, don't hesitate to get in touch with your insurance company to ask for clarification.
6. Shop for baby items and baby gear second hand
Some new baby items you're always going to want to purchase new for safety reasons. Unfortunately, they're often the big-ticket items on a baby budget shopping list, like the car seat, crib, mattress and stroller.
The good news is that other baby gear you can buy second-hand in good condition. That's an easy way to save money when having a baby on a budget.
Some of the things you can buy gently used include:
Baby clothes, socks, shoes and caps
Cloth diapers and diaper pins
Baby baths
High chairs
Burp cloths and bibs
Nursing pillows
As your baby grows, you can also get things like toys, books and toddler beds second-hand to save money.
Some of the best places to look for gently used baby items include Facebook Marketplace, your local Facebook bargains group, consignment stores (Once Upon a Child has a wide selection of second-hand baby items) and yard sales. And of course, don't forget to scout out your local thrift store for inexpensive baby gear finds.
7. Look for free baby products
If you're a first-time parent you might not know that you can get free stuff for your little bundle of joy. The more freebies you can find, the easier it is to plan for a baby on a budget.
Here are some of the best places to look for free baby items:
These are just some of the companies that offer free samples of baby diapers, formula and other baby gear.
You can sign up and get free baby stuff delivered to your door. That's a great way to test out baby products before you buy and build a mini stockpile of essentials you might need for the baby's first year.
8. Earn cash back on baby purchases
If you're going to be shopping for baby items anyway, earning cash back is an easy way to save money.
Cash back apps pay you back a percentage of what you spend when you shop at partner merchants. You can earn cash back on one-time purchases for a new baby or things you need to buy on a regular basis, like diapers or baby clothes.
One of the best things about cash-back apps is that they're easy to use. You download the app, link your debit card or credit card and store loyalty cards, then earn cash back when you shop.
Here are some of the best apps that pay you cash when you purchase baby gear:
Rakuten – Rakuten lets you earn 1% to 40% cash back when you shop partner retailers online or in-stores. You can also earn up to a $10 cash bonus when you open a new account and up to $30 in cash bonuses each time you refer a friend.
Ibotta – Ibotta lets you earn cash back when you shop at retailers and grocery stores. When you sign up for a new Ibotta account you can get up to $20 in cash bonuses and you can earn more cash bonuses for referring new users to Ibotta.
9. Use credit card rewards to save
When you're trying to have a baby on a budget, racking up credit card debt probably isn't the best idea unless you're able to pay the balance off in full each month.
If you're able to pay off the balance to avoid interest charges, then using your credit card to shop for baby items is another way to save money. You can stack cash back rewards earned with a credit card with rewards from a cashback app to double your savings.
For example, say you have a credit card that pays you cash back at grocery stores. You could use your card to buy diapers and wipes on sale and earn 3% cash back on those purchases. You could also apply an Ibotta deal to earn $3 in cash back.
10. Use price matching to get deals on baby gear
If you're shopping online for baby items or in-stores, finding the best price is essential for saving money.
One simple trick you can use to plan for a baby on a budget is to check price-matching policies at different stores.
Some of the stores that offer price matching for baby items include:
Target
buy buy Baby
MacroBaby
The Baby Cubby
Luna Baby Store
Price matching might take a little effort since you'll need to spend time comparing ads to find the best prices. But this could be a good way to get deals on some of the things on your new baby shopping list.
11. Consider cloth diapers
One thing they don't tell you about being a new parent is that you're going to spend a lot of time doing diaper changes. If you're using disposable diapers, the cost can easily add up.
According to the National Diaper Bank Network, the average new parent spends just shy of $1,000 on diapers in a baby's first year. That's a lot of money for something that ends up in a landfill.
Using cloth diapers instead can be a good option for having a baby on a budget and it's better environmentally as well.
Pro tip: If you're planning to go with cloth diapers instead of disposable ones, be sure to read up on the best ways to clean and sanitize them.
12. Breastfeed if possible
Breastfeeding has proven health benefits for both mom and baby. Babies who are fed breast milk are less likely to develop certain health conditions and the act of breastfeeding can be a great way to bond.
Choosing to breastfeed if you're able to do so can also save you money since you're not spending on pricey formula.
It's possible that you may need to make an initial investment in a breast pump, storage bags and bottles if you're unable to breastfeed full-time because you're returning to work. But overall, breastfeeding could save you $1,200 to $1,500 per year.
13. Learn to make your own baby food
Baby food can be expensive and store-bought foods may not be ideal if your baby has allergies or you're worried about preservatives. So a simple way to save money (and feed baby healthy stuff) is to learn to make your own healthy food at home.
For example, you can make some really simple baby food purees using coconut oil, some fresh veggies and a little water or breast milk.
Making your own baby food can help kids develop healthy eating habits once they're ready for solid foods. And there are plenty of cheap foods you can buy that are also good for your little one.
14. Buy in bulk for savings
Buying in bulk can be a great way to afford a baby on a budget. You can stock on diapers, wipes, rash cream and other baby essentials so you don't have to worry about running short.
When buying in bulk, be sure to compare the unit price so you know what you're paying per item. And avoid buying anything in bulk for a new baby that you aren't certain you'll use since that could mean money going to waste.
Pro tip: You can sell items you bulk buy but don't use in your local Facebook bargains group for quick cash.
15. Shop sales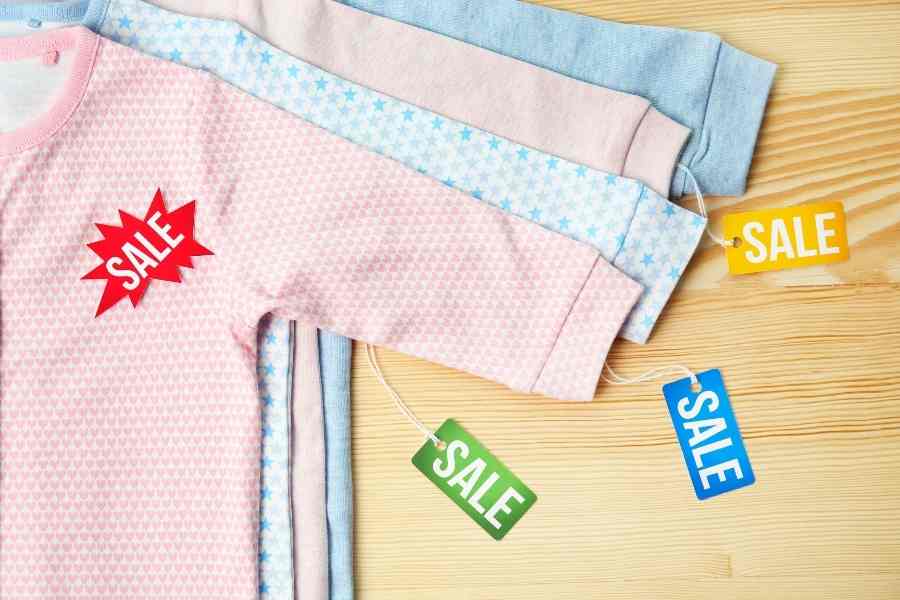 Depending on when your baby is due, you might be able to score deals on clothes or other baby items by waiting for end-of-season sales.
If you're shopping online, check for promo codes or coupons you can apply at checkout. Many stores will even send you coupons in your email when you join their mailing list.
If you don't have an Amazon Prime membership, consider signing up for one. That way, you can take advantage of some of the amazing deals that drop on Prime Day.
16. Repurpose items around the house
Before you spend a lot of money on baby furniture or decor, take a look around your house to see what you might have on hand.
For example, when my first child was born space came at a premium. So instead of buying a changing table, I attached a changing pad to the top of an old dresser that I'd repainted.
You might have furniture, rugs or other storage items that you could use to dress up the nursery on a budget.
17. Consider convertible baby gear
One sneaky way to save money when having a baby on a budget is to buy baby gear that's multifunction.
For example, the Graco 6-in-1 high chair is designed to grow with your baby. You can use it as a high chair, then a booster, then a regular chair.
A convertible stroller could be another good buy if you want to make a one-time investment.
18. Test drive baby gear if possible
Before you spend a lot of money on a particular baby item, see if it's possible to try it before you buy.
For example, say you're considering buying the same stroller your best friend has. You could ask if you can test it out to see how easy it is to maneuver.
You can also ask other mom friends you know which baby products they recommend and which ones they suggest steering clear of.
19. Stick with a minimalist maternity wardrobe
It can be hard to feel glamorous when you're carrying around a baby belly. And you might be tempted to splurge on some designer maternity wear so you can look your best.
If you're trying to afford a baby on a budget, however, that might not be realistic. But you can still look and feel great by putting together a minimalist maternity capsule wardrobe.
Investing in a few quality pieces in basic colors can save you money. And if you're creative about accessorizing, you can create lots of different looks.
20. Get freebies from the hospital or pediatrician
Before you head home with your new baby, be sure to ask about any freebies or welcome gifts the hospital offers.
Depending on where you plan to give birth, your hospital might offer samples of diapers, lotions, rash creams or even a complete diaper bag kit.
You can also ask your pediatrician for free samples of formula and other new baby essentials. Even if they don't have samples on hand, you might be able to get coupons for baby items.
21. Return or sell baby gifts you don't need
If you're having a baby shower or people are gifting you baby items, it might feel a little tacky to return or sell the ones you don't need. But when you're having a baby on a budget, you might have to be a little ruthless about saving.
Just be sure to check return policies. If you don't have a receipt, for example, you might be limited to getting store credit in place of cash.
And remember to return gifts promptly, as some stores may give you more time than others to make returns.
22. Get free gift cards to pay for baby stuff
Gift cards can make a great baby shower gift if there are people who don't know what to buy you. And you can also score gift cards for free yourself that you can use to purchase baby supplies.
There are lots of sites that allow you to earn free gift cards by doing simple tasks online, like playing games or answering surveys. It's an easy way to get free Amazon gift cards, PayPal cash or even Walmart and Target gift cards with minimal effort.
If you're looking for some of the best apps that offer free gift cards, here are the ones I recommend:
Related post: How to Get Free Gift Cards With Minimal Effort (25 Hassle-Free Ways!)
23. Borrow instead of buying
If you have a lot of moms in your friend circle, they can be a great resource for getting baby items. You can ask to borrow anything they might not need temporarily.
Just be sure if you're borrowing items to take good care of them and return them in the same condition they were when you got them. And be prepared to replace anything that you break.
Baby on a Budget FAQs
Can I have a baby on a budget?
It's possible to have a baby on a budget but it does require some careful planning. Reducing expenses, separating needs from wants when shopping for baby items and purchasing baby gear secondhand are some of the best ways to save money when having a baby. You may also need to research ways to make extra money while pregnant or on maternity leave if you don't have any paid parental leave benefits.
How much should I budget for a baby?
A good baby budget includes your everyday living expenses as well as any new baby expenses you might be taking on. It's important to budget enough to cover all the baby essentials you might need in your baby's first few months and account for any income gaps you might have while on parental leave. You may also want to add in a cushion to cover any unexpected expenses that might pop up.
How much should you have saved before baby arrives?
The amount you'll need to have saved before your baby arrives will depend on how much income you might need to make up while out on maternity leave and how much you expect your expenses to be. So you may need to save anywhere from $5,000 to $20,000 to cover your regular bills once the baby comes along, as well as hospital bills and any new baby expenses you might have.
How Can I Make Money While Pregnant?
There are a lot of ways to make money while pregnant, including options you can do from home.
Some of the best ways to make extra money to financially prepare for a new baby include:
Starting an Etsy shop
Selling low-content books on Amazon
Selling digital products
These are also great ways to make money on maternity leave when you're caring for a new baby at home.
Final thoughts on having a baby on a budget
Having a baby is life-changing and worries over money shouldn't cloud your excitement. Planning out a new baby budget can help you to prepare financially to welcome a first child (or second child, or third).
While you're planning out your budget for a baby, take time to review your life insurance policy if you have one. Life insurance can protect your family if something should happen to you so it's important to make sure you have the right amount of coverage.
And if you don't have life insurance yet, you can get a free quote online from Fabric.
Fabric offers affordable life insurance for families with young children, with coverage of up to $5 million. You can apply online in minutes and get covered for pennies a day.
Need more money tips? Read these posts next:
How to Have a Baby on a Budget