Last Updated on March 16, 2022 by Rebecca Lake
How to Save for Christmas in 2021
No one wants to spend the holiday season stressed out over money. Over half of Americans–54% to be exact–say they feel financially stressed as the holidays approach.
So the sooner you start to save for Christmas, the better.
Saving for Christmas early means you're not scrambling to come up with the money to pay for gifts or other holiday expenses at the last minute.
And having a plan for saving can make it easier to stick to your Christmas budget when it's time to spend.
Ready to save for Christmas? Keep reading for the best tips on how to save money for the holidays now.
Related post: How to Afford Christmas When You're Totally Broke
When should you start saving for Christmas?
The holiday shopping season doesn't officially kick off until November but if you want to build up Christmas savings, you'll need to get started before then.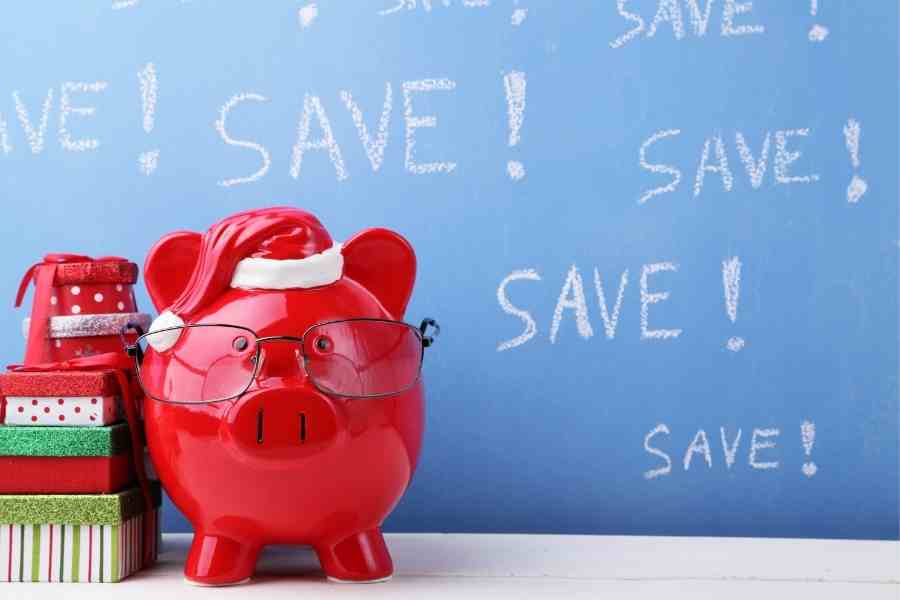 When you should start saving for Christmas depends on:
How much you want or need to save
How much you're able to save per month
When you plan to start shopping for the holidays
For example, say you want to save $1000 for Christmas. That's just a few bucks shy of the $998 Americans spent on the holidays on average in 2020.
You can afford to save $200 per paycheck and you get paid twice a month. And you plan to get all your holiday shopping done in the first week of December.
In that case, you'd need to start your savings for Christmas around the first of September. This would give you enough pay periods to set aside the $1000 you need, plus a little extra just in case you go over budget.
But really, there's no perfect time to start to save for Christmas.
I personally like to start saving for the holidays in January. This gives me all year long to plan.
The most important thing is to start saving. And that's where these tips can help.
How to save for Christmas 2021 in 5 easy steps
As promised, these money saving tips are easy to apply as you get financially prepared for the holidays.
In fact, you might be surprised at how simple saving for Christmas really is once you get started.
Ready to grow your Christmas savings? Let's dive in!
1. Set your Christmas savings goal
Before you save a dime for Christmas, ask yourself how much you actually want to spend this year and what you can afford to spend.
Setting a Christmas budget can keep you from overspending. And it can give you a realistic number to work toward for Christmas savings.
If you haven't made your holiday budget yet, make a list of everything you plan to spend money on, including:
Gifts
Decorations
Gift wrap
Cards
Travel
Food
Decorations
Then decide how much you want to spend for each holiday budget category.
For example, if you need to save $1000 for Christmas and you have five months to do it, then your monthly savings goal is $200.
Essentially, you're working backward to setting your holiday savings goal. And breaking it down into smaller bites can keep you from getting overwhelmed.
Want a simple way to plan your holiday budget? Snag this FREE Holiday Budget Planner in the resource library!
2. Open a Christmas savings account
Once you know how much you want to save for Christmas, it's time to open a Christmas savings account.
But you might be thinking, do I really need a separate savings account for Christmas?
And the answer is yes. Here's why.
Keeping your holiday savings in a separate account makes it easier to keep track of what you're saving. And it can also keep you from spending your Christmas savings by accident.
So where do you keep the money you're saving for Christmas?
You could open a Christmas Club account. Banks and credit unions offer these special Christmas savings accounts.
You put money in throughout the year and earn interest. Then in November or December, you're able to draw the money out to spend for Christmas.
That's convenient but you may not earn a great rate on a Christmas Club account. So I recommend a high yield savings account instead.
High yield savings accounts let you earn a competitive rate. And if you're opening one at an online bank, there may be no monthly fees to worry about which is a plus.
CIT Bank is always my bank of choice for high yield savings accounts. They offer some of the best rates with minimal fees.
Learn more about saving with CIT Bank
PRO TIP: AUTOMATE YOUR SAVINGS DEPOSITS
Automating deposits to your Christmas savings fund means you don't have to worry about making sure that money gets where it needs to go.
You can set up an automatic transfer from checking to savings every payday. It's an easy way to save for Christmas with little effort required.
And if you prefer to keep your Christmas savings in cash, you could use some cute cash envelopes instead.
I actually have some fun holiday-themed cash envelopes in my printables shop, so be sure to give them a look! You can use them along with the free Holiday Budget Planner in the resource library to plan a frugal Christmas!
Related post: How to Plan a Fun and Frugal Christmas on a Budget
3. Find the money in your budget to save for Christmas
Okay, you know how much to save for Christmas and you've got a Christmas savings account ready to go.
Now all you need is the money to save.
That's where cutting expenses becomes important. The more you can trim from your budget, the more cash you can free up to save toward your Christmas goal.
If you haven't looked at your budget lately, pull it out and take a look at everything you spend money on. Then ask:
Where am I wasting money?
What could I cut back on?
Which expenses could I get rid of completely?
You might surprise yourself at how much money you could save just by doing a simple budget audit.
And if you're still struggling to find expenses to cut, there are financial tools that can help.
For example, the Trim Financial Manager can help you weed out unnecessary subscriptions and other grey charges that are costing you money.
And you can use Billshark's bill negotiation services to get a better deal on things like cable, internet and cellphone bills.
Those are two simple fixes for saving more money for the holidays. So if you're not using Trim or Billshark, be sure to check them out now.
4. Try a no spend challenge
A no spend challenge can help you jumpstart your savings for Christmas in a big way.
Not sure how a no spend challenge works?
It's actually simple. You commit to not spending money on anything other than essentials for a set time period.
For example, you could try a no spend weekend and skip unnecessary spending for a couple of days.
Or if you're more ambitious you could try a no spend week or no spend month. (That's what no spend November is all about!)
Instead of spending money on unnecessary things, you save it instead.
Trying a no spend challenge can help you get your wants vs. needs in perspective. And it could help you to fatten up your holiday savings account effortlessly.
Related post: 10 Effortless Ways to Crush a No Spend Challenge
5. Get free money to pay for Christmas
Who doesn't like free money?
I personally love earning money when I don't have to do any actual work to get it.
So how do you get free money for Christmas?
Simple. You get apps to pay you back when you shop.
Not only can you use cash back apps to earn money back on purchases, you can also use apps to earn free gift cards.
You can give those free gift cards away as gifts or you can use them to pay for holiday shopping. Either way, it's a win-win if you're trying to save money for Christmas!
So which apps are the best for getting free money for Christmas? Here are a few of my favorite picks.
Rakuten – Rakuten is one of THE BEST cash back apps for shopping online or in-store. When you shop with Rakuten partner merchants you can earn up to 40% cash back! So that's an easy $40 you could make for Christmas if you spend $100 with an eligible promotion. Plus, you can get $10 when you spend $25 just for signing up and you can earn even more cash when you refer friends and family!
Ibotta – Ibotta pays you cash back at supermarkets and participating retailers, so it's a great way to earn money for Christmas with zero effort. When you download Ibotta, you can get up to $20 in bonuses. And you can also earn more free money for the holidays by referring friends and family. It's the gift that keeps on giving a steady stream of free cashback!
MyPoints – MyPoints lets you earn free gift cards when you shop online. When you sign up for MyPoints, you can earn points at partner retailers online. You can then turn those points into free gift cards for Amazon and other top retailers. If you're stressing over how to pay for Christmas this year, sign up now to start earning free gift cards with MyPoints!
Tada – Tada is actually a sister site to MyPoints and Swagbucks, which pays you cash for shopping, taking surveys and watching videos. Similar to MyPoints, you can earn points when you shop at partner stores with Tada. As you rack up points you can redeem them for gift cards to top stores. 
Related post: 25 Legitimate Ways to Get Free Gift Cards (With Almost Zero Effort)
3 things to avoid as you save for Christmas
If you're ready to start saving for Christmas, you're already ahead of the game. But watch out for these mistakes that could cost you money instead of saving it.
Don't let your inbox tempt you to spend
Signing up for your favorite retailers' email lists can help you stay on top of the latest sales. But it can also sidetrack your savings for Christmas.
If you find that as you get closer to the holidays your inbox is filling up with deals, hit the pause button.
Go back to your original holiday shopping list. Does the email mention items on the list? And are they on sale?
If you can say yes to both, then you can checkout without feeling like you're wasting money. Otherwise, there's no reason to make an unplanned purchase over the holidays just because it seems like a deal.
Don't forget to leave room in your budget for extras
No matter how carefully you plan your holiday budget, you may overlook something or forget about an expense.
But you don't have to let those added costs wreck your savings plan.
A simple way to work around forgotten holiday expenses is to build an extra cushion into your savings.
For example, if you originally planned to save $1000 you might add an extra 10% to that for extras. So your savings goal shifts to $1100 instead.
Building in some wiggle room means you don't have to use a credit card to cover added spending. And if you end up not spending the extra, you could always use it to start saving for Christmas for the next year.
Don't confuse holiday savings with everyday savings
Your Christmas savings fund is meant to be used for Christmas, nothing else.
So that means you wouldn't use it to put new tires on your car or pay for an emergency vet bill. That's what an emergency fund is for after all.
If you don't have an emergency fund yet, then you can start building one alongside your Christmas savings account.
Once you meet your holiday savings goal you can use the money you were saving for that to grow your emergency fund.
Related post: 7 Simple Ways to Build Emergency Savings From Scratch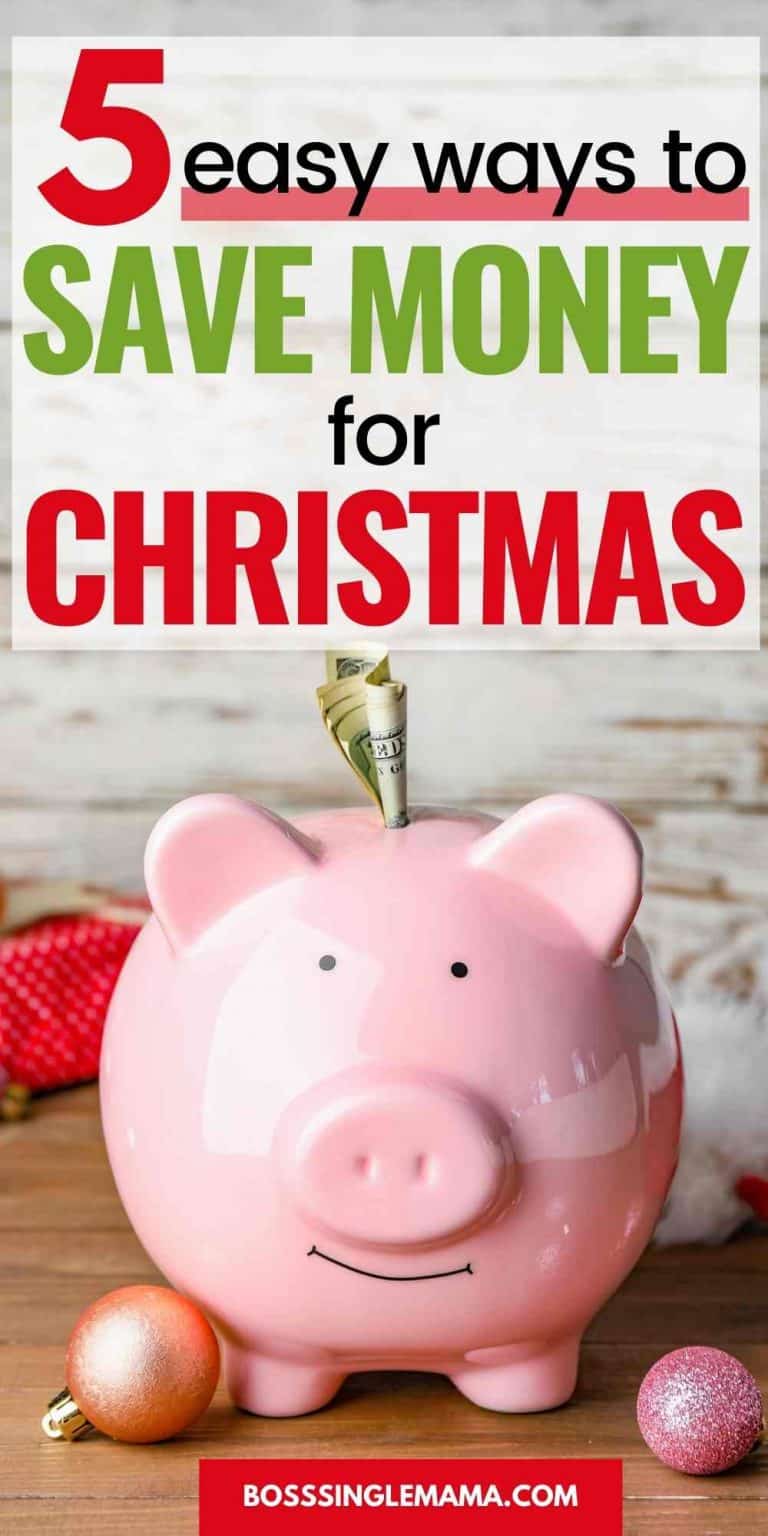 Final thoughts on how to save for Christmas
Ready to put these money-saving tips into action so you can have the best Christmas ever?
Saving for Christmas shouldn't be a headache and neither should the holidays. So if you haven't gotten your holiday game plan together yet, now's the time to start!
Do you have a smart tip to share on how to save money for Christmas?
Head to the comments and tell me about it. And don't forget to pin and share this post!
5 Simple Ways to Save for Christmas 2021