Learn the best money-saving tips to plan a frugal Christmas on a budget!
And if you need a fast way to make money for the holidays, get paid to take surveys with Survey Junkie!
How's your holiday budget looking this year?
Are you even thinking about the holidays yet or putting it off because you have no idea how you'll afford it?
I hear ya!
I've done the broke-at-Christmas thing before and it was no fun. It's hard to have a magical Christmas when you're constantly stressing about money.
I get it. There's a lot of pressure to spend, spend, spend over the holidays. And it's easy to wind up starting the new year in debt if you give into it.
So this post is all about helping you plan an amazing (and frugal) Christmas on a budget!
How Do People Afford Christmas on a Tight Budget?
Y'all, listen. I have lived the tight budget, low-income life.
So I know that the money struggle can be real when it comes to trying to plan an epic Christmas.
And here's what I've learned: people who can afford Christmas on a tight budget are the ones who are willing to get creative.
They're willing to look for new ways to save money for the holidays. Or they're down with making extra money to pay for the holidays.
I'm telling you this because I don't want you to get discouraged if your Christmas budget isn't as big as you'd like to be this year.
Because let's face it, 2020 has been a hell of a year financially for a lot of people. And it might be making you feel a little Grinch-y.
But the good news is, we can change that. 🙂
How Can I Have a Good Christmas on a Budget?
Great question!
You might even be wondering if such a thing is possible and the answer is most definitely yes!
It's completely doable to have a great and memorable Christmas even when you don't have a lot of money to spend on it.
In fact, you might even find that spending less money makes for a happier holiday season.
Because here's what happens when you overspend at the holidays.
You end up buying a lot of crap you probably don't need
Your kids don't appreciate the gifts they get because there are so many of them that it's overwhelming
You potentially miss out on the chance to make memories because you're too busy shopping or worrying about money
Your new year starts with you staring down a pile of bills or feeling buyer's remorse about what you spent
That does not sound like my ideal Christmas and it's probably not your vision for the holidays either.
So if you're wondering, how can I survive Christmas with no money? I've got you covered!
In this post, I'll answer your most burning Christmas budgeting questions, including:
What is a normal Christmas budget?
How can I buy Christmas presents with little money?
How can I save money on Christmas shopping?
What can I do instead of Christmas gifts?
Ready to find out how to plan an AWESOME Christmas without breaking the bank? Then let's dig in!
How to Plan a Fun and Frugal Christmas on a Budget
Before we dive into the tips for planning Christmas on a budget, let me just say that these are all tips I've used over the years to save money.
As a married mom and now a single mom, keeping holiday spending in check has always been a priority for me.
So if you're wondering whether these money-saving tips for the holidays work, I can tell you absolutely yes. I've tried them all!
You can pick a few things off this list to try for planning a frugal Christmas or all of them. It's up to you.
But I guarantee there's at least one thing here that can help you save money at the holidays.
1. Set your priorities
Before we start talking about Christmas budgets or shopping lists, we've got to talk about priorities.
And what I mean by that is, what's really important to you at Christmas?
If you want to have a frugal holiday season, then spending money is not at the top of your priority list. Or it shouldn't be anyway.
Instead, your priorities might look more like this:
Spend quality time with my kids
Reach out to friends and family we haven't seen in a while
Make sure the people we care about know we're thinking of them
Create some lasting memories as a family
Those are all things that don't require you to spend money at all.
So as you're thinking about your plans for Christmas on a budget, make a mental note of what's most important to you.
2. Start planning early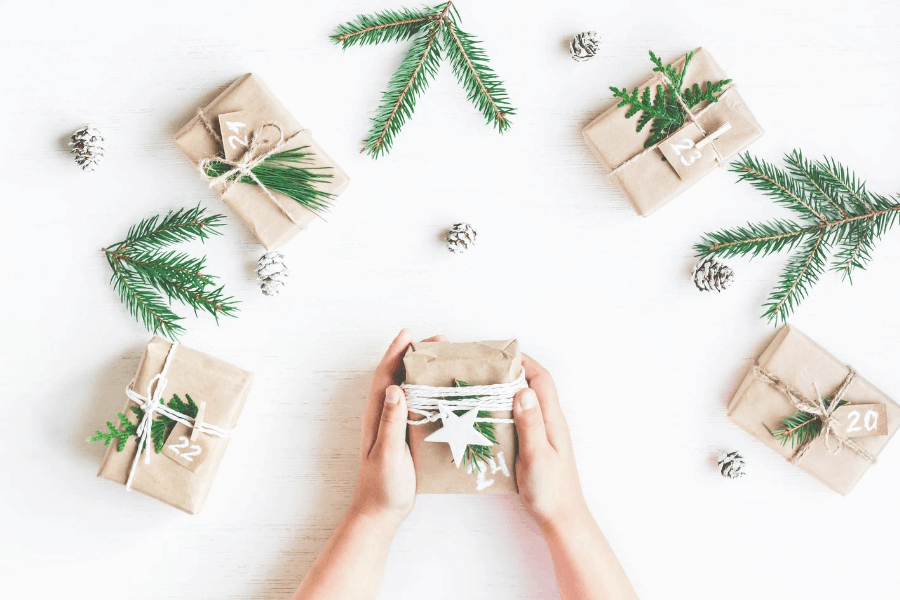 The early bird gets the worm, right?
And the best way to ensure that you'll blow your Christmas budget is to wait until the last minute to get started with planning.
I know, because I've done it. More than once.
But not anymore.
Now, I start planning for the holidays immediately after the holidays are over.
I keep a separate savings account just for holiday spending. (CIT Bank is amazing for this!)
At the end of December or the beginning of January, I decide how much money I want to save up for the next holiday season.
Then I start adding money to it little by little each month. By the time October rolls around, I've got all the money I need to tackle holiday spending.
I realize you may be reading this in the middle of summer but if you can do one favor for yourself this holiday season, start planning for it now!
How much money should you save for Christmas?
Great question!
The answer is different for everyone. According to the National Retail Federation, the average person dropped over $1,000 on holiday spending in 2019.
So if you have four people in your family, you might spend $250 per person. But that $1,000 may not go far if you have to buy for kids, parents, siblings, friends, coworkers, teachers, etc.
Figuring out how much you personally should save all ties into the next step in planning a frugal Christmas: making a holiday budget.
You might also like:
Why Now Is the Perfect Time to Plan Your Holiday Spending Budget
3. Set your budget and be realistic about what you can afford
We can't talk about planning Christmas on a budget without actually making a holiday budget, right?
Here's the TL;DR version of how to do it:
Decide what expenses are must-haves for your budget
Choose one or two nice-to-haves that you could add in if you have money left over
Assign a dollar amount to each expense category in your budget
Break that down and assign a dollar amount to each expense
One thing to know about making a Christmas budget when you're broke is that it has to be realistic.
Otherwise, you'll just get frustrated if you end up overspending.
So take a good look at your savings and regular budget to figure out how much you can earmark for the holidays. Then use that number to plan out your Christmas spending.
And don't forget to download my free holiday budget planner and start mapping out your budget. It's a great way to make sure you end up on the financial nice list. 🙂
4. Avoid going overboard on gifts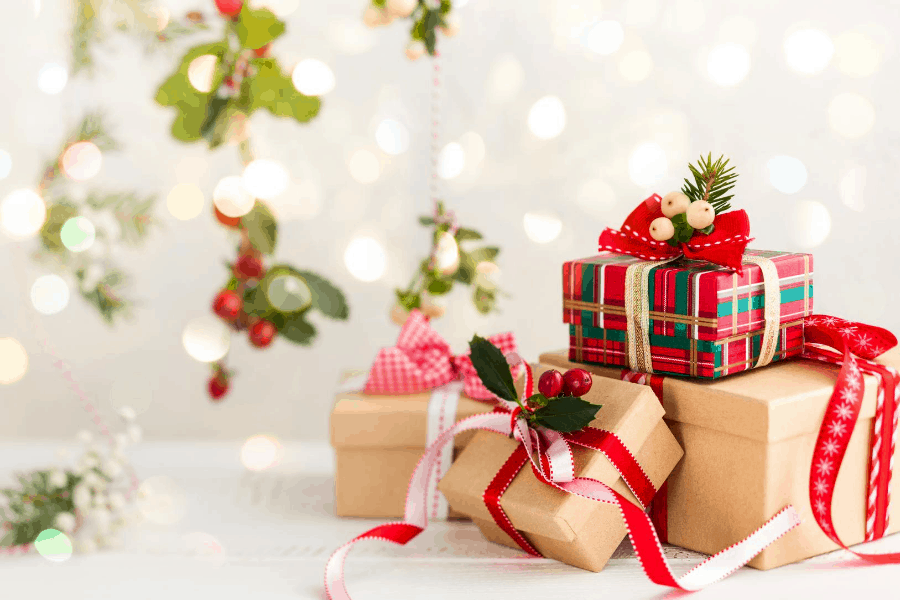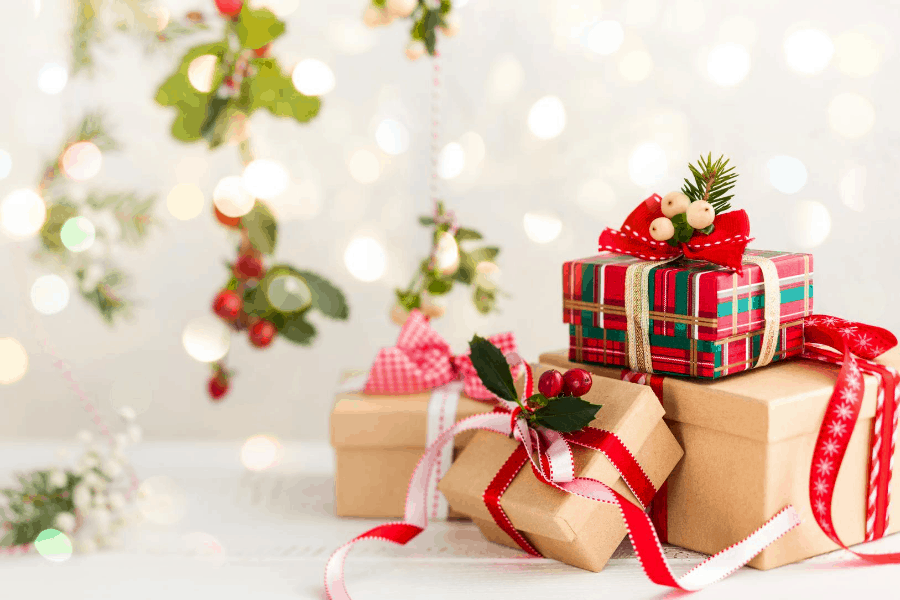 Who doesn't like getting gifts?
I actually really like giving them. It's fun to see someone enjoy something that I took time to pick out for them.
But when you're doing Christmas on a budget, you may not have a lot to shell out for gifts.
How much do you spend on each person at Christmas?
Again, the answer is different for everyone. And this is why it helps to have your Christmas budget planned out before you shop.
Because you're probably not going to spend the exact same amount on every person.
It wouldn't make sense to spend the same on a gift for your next-door neighbor or your kids' teacher as you would for your kids.
So go back to your budget and look at the total amount you can spend on Christmas gifts. Then compare that to the number of people you plan to buy for.
Use that as a guide to come up with a number you can and want to spend on each person.
5. Shop secondhand for gifts
Regifting can make you seem like a cheapskate, I know. But hey, you're planning Christmas on a budget, right?
So you've got to find ways to save money on gifts where you can.
If you don't have anything to regift, consider buying things secondhand instead.
Consignment stores, thrift shops, flea markets and yard sales can all turn up things that you could purchase as Christmas gifts.
You can also use Facebook and apps to shop for secondhand bargains. Decluttr, for example, is a great place to find deals on used DVDs, video games and consoles.
And you can also sell your stuff on Decluttr if you need an easy way to make money for the holidays!
6. Make gifts instead of buying them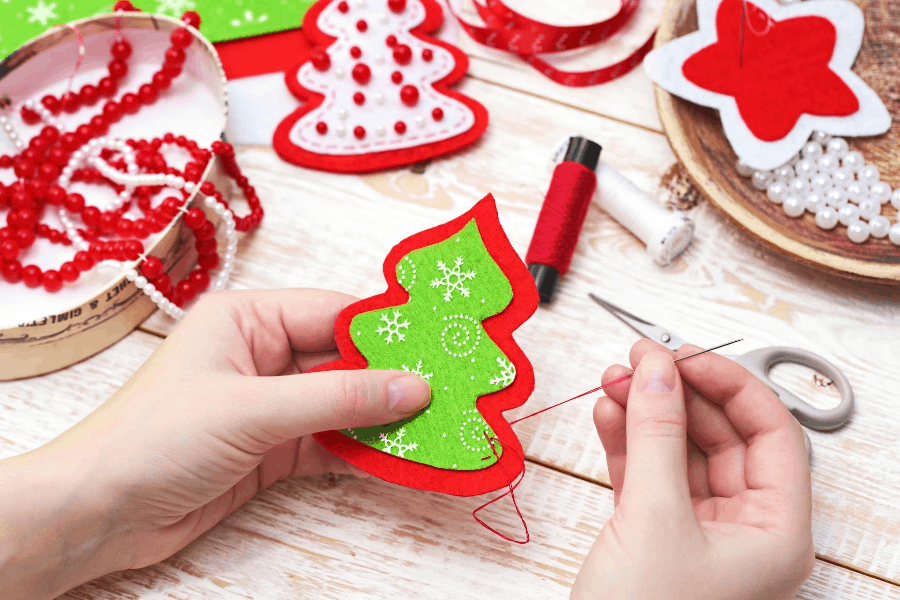 Homemade holiday gifts can be a money-saver if you're planning a frugal Christmas. Plus, it's a way to create one of a kind gifts for the people you care about.
If you've got a Cricut machine, for example, you could make signs, decals, cards and other cute papercrafts.
Making gifts instead of buying them can also be a fun family project.
Here's a list of 40+ fun holiday gifts kids can create with their own two hands!
7. Consider a gift exchange to cut down on spending
Gift exchanges like White Elephant or Secret Santa can inject a little fun into the holiday season.
And they can save you money since you're only buying one gift instead of a bunch of them.
If you want to organize a holiday gift exchange with friends or family this year, here are 29 different ideas you can try!
8. Get cash back when you shop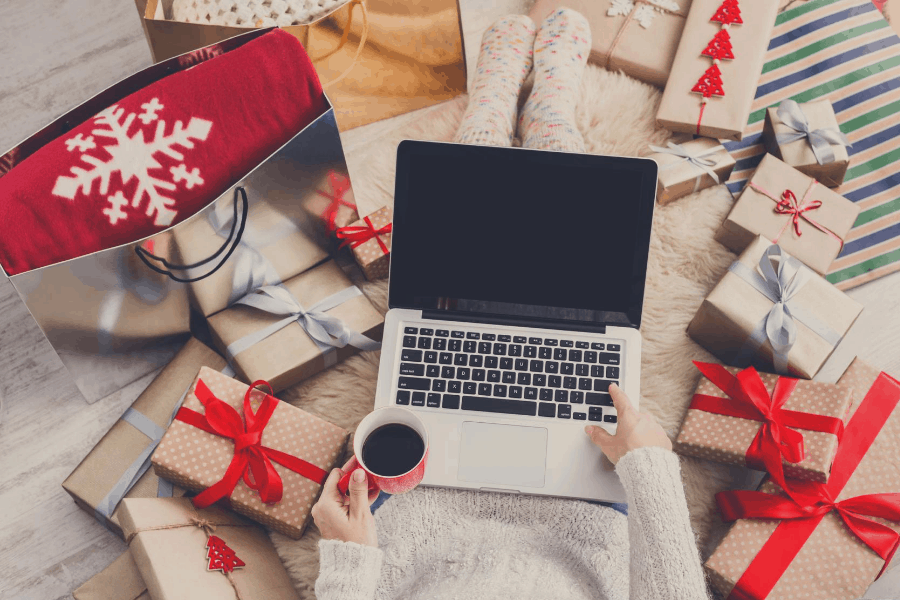 If you're shopping for the holidays and you're working with a tight Christmas budget it only makes sense to find ways to save money
And there's a super simple way to do it: using cashback apps to shop!
Cashback apps pay you a percentage back of what you spend. It's almost like you're being paid to shop, how great is that?
If you need some ideas for cashback apps to try, here are my favorite picks:
Rakuten
Rakuten pays you cash back when you shop top retailers, either online or in-person.
With Rakuten deals, you could earn as much as 12% back when you shop. So for every $100 you spend, you get $12 back!
And when you sign up for a new Rakuten account, you can get a $10 bonus after making your first purchase.
It's free money to shop so if you're not using Rakuten yet, head here to snag your bonus!
Ibotta
Ibotta is a must-have cashback app if you're buying food or gifts for the holidays.
With Ibotta, you can earn cashback instantly when you link your store's loyalty card to the app. Or you can earn cash back after you shop by uploading your receipts.
And just like Rakuten, you can get a bonus for being a new Ibotta user!
Head here to claim $20 in sign up bonuses now!
Dosh
Dosh is another cash back app that I just love.
When you sign up for Dosh, you link your debit or credit card to the app. Then when you shop or spend money at partner restaurants, Dosh pays you cash back automatically!
Dosh doesn't offer an introductory bonus. But it's still worth signing up for as an easy way to earn cash for the holidays.
Swagbucks
Swagbucks pays you cashback and other rewards when you shop online, take surveys and watch videos.
I love this app because it's so easy to use and you could easily earn a few hundred bucks in cash back each year.
If you don't have Swagbucks yet, be sure to sign up for it.
Right now, you can get a $10 cashback bonus for creating a new account!
Paribus
Paribus isn't a cashback app but it's still worth mentioning if you're looking for ways to plan a frugal Christmas on a budget.
What Paribus does is help you get the best price on things you buy. It's a price matching app that scans your purchases and tries to find whatever you bought for less somewhere else.
If Paribus finds the item at a lower price, it requests a price matching refund on your behalf. It's a super easy way to save money at the holidays.
Sign up for Paribus to get the best deals on holiday shopping!
You might also like:
7 Essential Holiday Shopping Tips for Black Friday and Beyond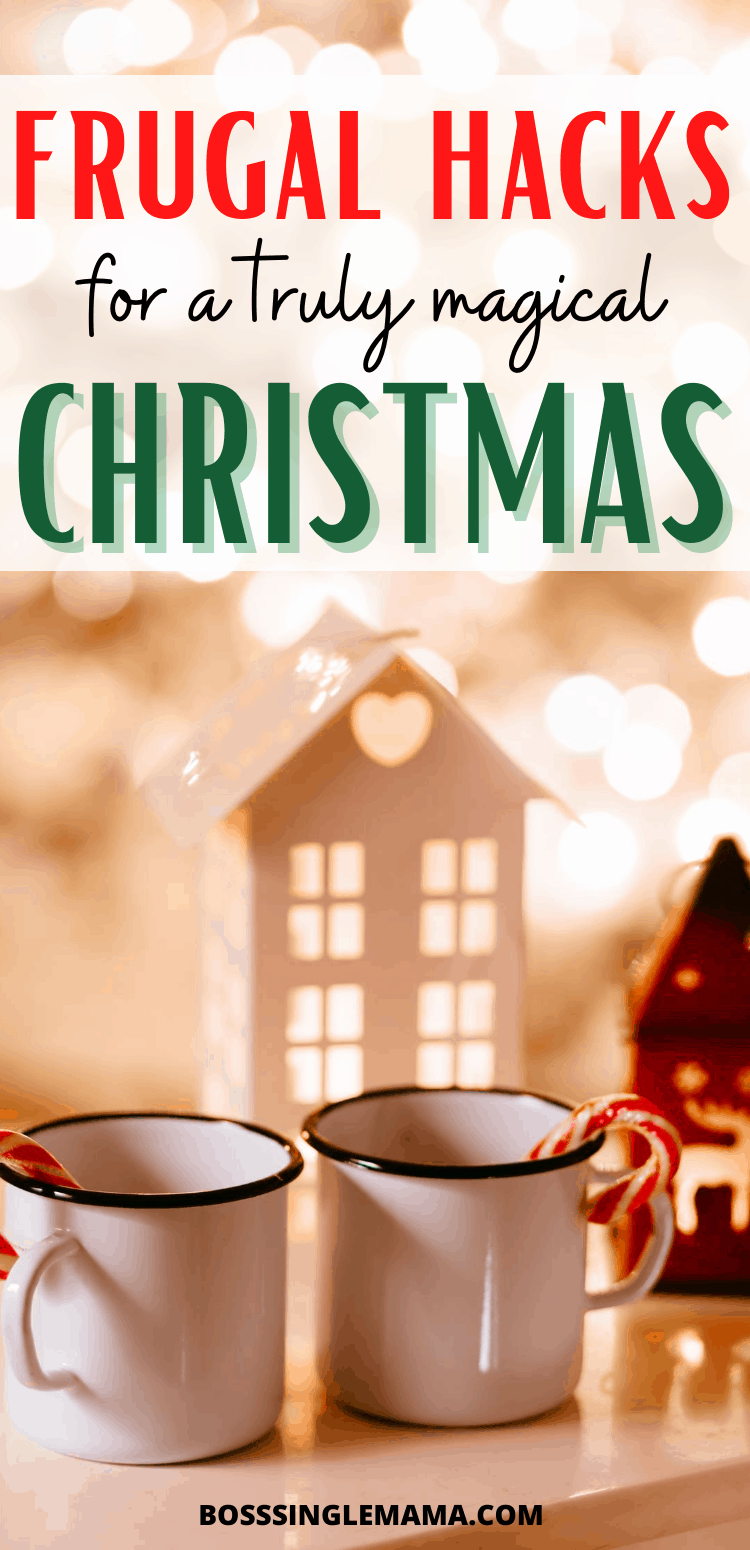 9. Take advantage of dollar store finds
I love the dollar store for picking up certain items on the cheap.
If you have a Dollar Tree or another dollar store nearby, it's your best friend for frugal Christmas shopping.
Some of the best things to buy at the Dollar Tree for the holidays include:
Wrapping paper
Boxes and bags
Ribbons and bows
Tape and scissors
Holiday cards and stickers
Stocking stuffer items
Holiday placemats
Holiday decor
Do you know what's even better?
You don't even have to go to a Dollar Tree to get those things. Instead, you can buy them online and have them shipped!
It saves you time and money at the holidays, which is a win-win.
10. Avoid credit cards if you can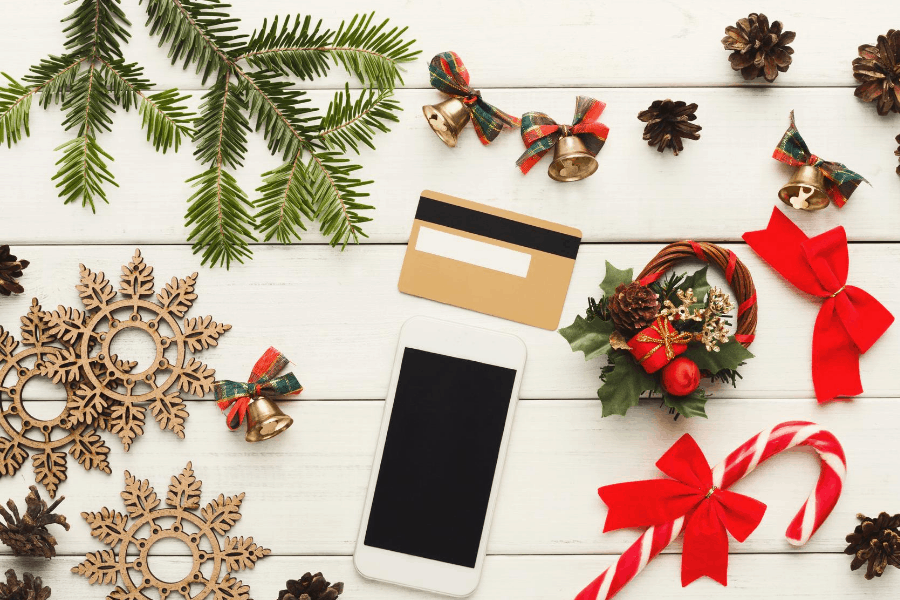 Credit cards are convenient for holiday shopping. But if you're not keeping track of them or you don't have a plan to pay them off at the end of the month you could wind up with a pile of holiday debt.
So here's a simple rule: don't use credit cards at the holidays if you can avoid it.
Especially watch out for those retail store cards. They may offer a fat discount to get you to sign up but the interest rates on those things can be crazy.
If you're planning to use credit cards for Christmas, only spend what you can pay off once the statement comes in.
Otherwise, the interest charges could make all your holiday shopping more expensive.
11. Don't pay for shipping
Shipping charges can increase your holiday spending budget and they're a headache you don't need when planning a frugal Christmas.
If you're shopping online, stick with stores that offer free shipping for the holidays. And watch out for the ones that require a minimum order to ship for free.
That's an easy way to end up spending more than you planned just to get shipping free.
And here's my best tip: sign up for Amazon Prime to get free two-day shipping on most items.
I love Amazon Prime and the annual fee is well worth it to get the things I need shipped free. Plus, with Amazon Prime streaming, you'll have an excuse to ditch cable and save money every month.
If you don't have Amazon Prime yet, click here to sign up for a free 30-day trial!
12. Plan a potluck holiday dinner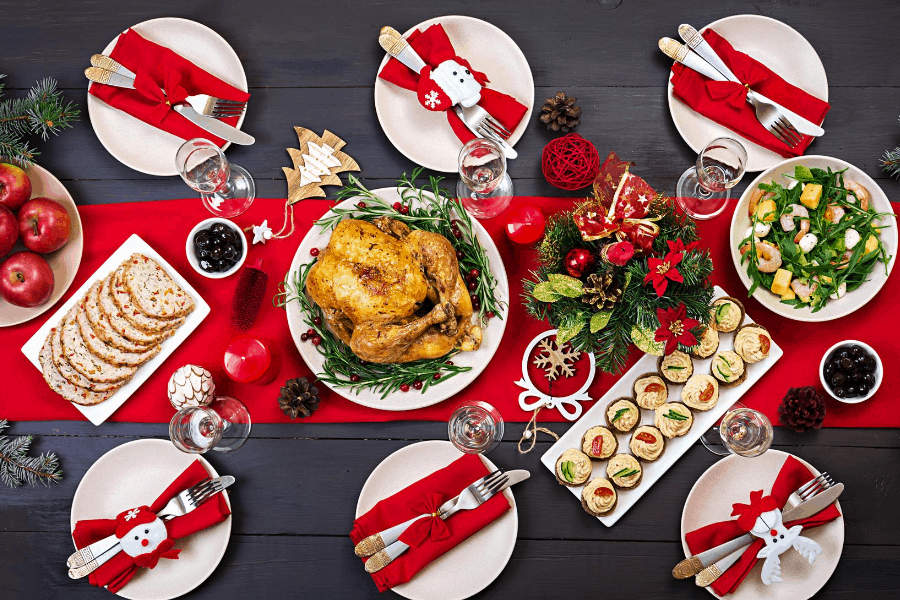 Holiday dinners are a great way to get together with the people you care about. But buying all that food can get expensive.
So instead of planning to host the holiday dinner this year, suggest a potluck instead.
This way, you're only responsible for bringing one dish instead of spending tons of money on groceries to make everything.
Here are 121 holiday recipes to try that can save you time and money!
13. Look for cheap or free holiday fun
You want to do fun stuff at the holidays, right? I mean, making memories with your kids is a big part of what Christmas is all about.
But does that mean you need to go broke trying to do Disney at Christmas? Or go to every single holiday event?
Heck, no!
There are plenty of ways to have fun as a family at Christmas without spending a lot of (or any) money.
For example, you could:
Drive around looking at Christmas lights
Roast marshmallows in the backyard
Pick a different Christmas movie to watch together each night
Read holiday-themed books together (my kids and I do this every year!)
Do some random acts of kindness for people who could use a pick me up at the holidays
I could go on and on but you get the idea. If you need some other ways to have fun as a family at Christmas, check out this post!
50 Frugal Family Holiday Traditions to Start This Year
14. Skip the extras
In my experience, it's not the big expenses that will blow your holiday budget. It's always the little things that get you.
Things like holiday cards, for example.
I know some people spend hundreds of bucks on these things. But that's just not me so we don't send them out.
And if you want to save money on the holidays this year, you might skip them too and send a holiday email instead.
Aside from holiday cards, there are other small things you might be able to skip to have a frugal Christmas.
For example, you might be able to say no to spending money on:
New holiday outfits (I mean really, do you need another ugly Christmas sweater?)
Attending holiday parties
Fancy wrapping paper (if you have kids, they won't know the difference between the good stuff and the Dollar Tree kind)
Expensive decorations
Stocking stuffers your kids will just forget about in five minutes anyway
If you don't want to do away with all the extras this year, try getting rid of just one or two.
Even small things you can cut out can make a huge difference when it comes to sticking to your frugal Christmas budget.
15. Make extra money for the holidays
It wouldn't be a normal post if I didn't put in a word for making extra money.
Side hustles, and especially holiday side hustles, are some of my favorite things. Because making more money can make a tight Christmas budget easier to manage.
The great thing about starting a side hustle for the holidays is that you can make the money you need to pay for Christmas and do it fairly quickly.
And if your side hustle is a success, you could keep it going to generate extra income long after the holidays end!
If you need some inspiration for holiday side hustles to start, here are some of my favorite ways to make extra money:
For even more ideas on how to make extra money for the holidays, be sure to dig into these posts:
27 Easy Side Hustles You Can Do to Earn Extra Cash for the Holidays
37 Creative Side Hustles That Can Help You Make $100 a Day (or More!)
10 Legit Ways to Make an Extra $1,000 a Month From Home
31 Best Side Hustles for Moms to Make an Extra $500 a Month
What's your best tip for planning a frugal Christmas on a budget?
Having a fun family Christmas without spending a lot of money is totally doable if you've got the right plan.
I've given you my best tips for planning a frugal Christmas here but I want to hear your ideas!
If you have a tip for making Christmas on a budget work, head to the comments and tell me about it.
And don't forget to pin and share this post!