Last Updated on September 30, 2023 by Rebecca Lake
The holiday season can put you into a financial frenzy if you're going into it unprepared. Mapping out a plan to save money for Christmas early means you don't have to scramble at the last minute to figure out how you're going to pay for it all.
The sooner you start prepping your Christmas budget, the better. But it's possible to save money for holiday spending even if you're getting a late start.
Today, we're sharing some simple (and practical) tips to help you save extra money for Christmas shopping.
Table of Contents
Why It's Important to Save Money for Christmas
The festive season should be a time for joy but for just over half of Americans, it's a season of stress instead. Much of that stress centers on worries over just how much money will need to be spent on Christmas gifts and other holiday expenses.
Making a dedicated effort to save for the holidays can make the Christmas season more enjoyable if you're not weighed down by money worries. And being able to start the new year off without holiday debt is another good reason to save money for Christmas.
Years ago, I learned firsthand just how painful planning for the Christmas period can be when there's no money in savings to pay for it. Having to face the credit card bills in January only added to the stress I'd felt while trying to juggle Christmas expenses.
I vowed that from that point on, I would have a plan for holiday shopping that included setting up a separate bank account just for Christmas savings. Since I made a commitment to save money for Christmas each year, I thankfully haven't had to repeat the financial mistakes of previous years.
If any of this sounds familiar to you, I'm here to tell you that can have a great Christmas on a budget. And having a plan to save for it is the first step.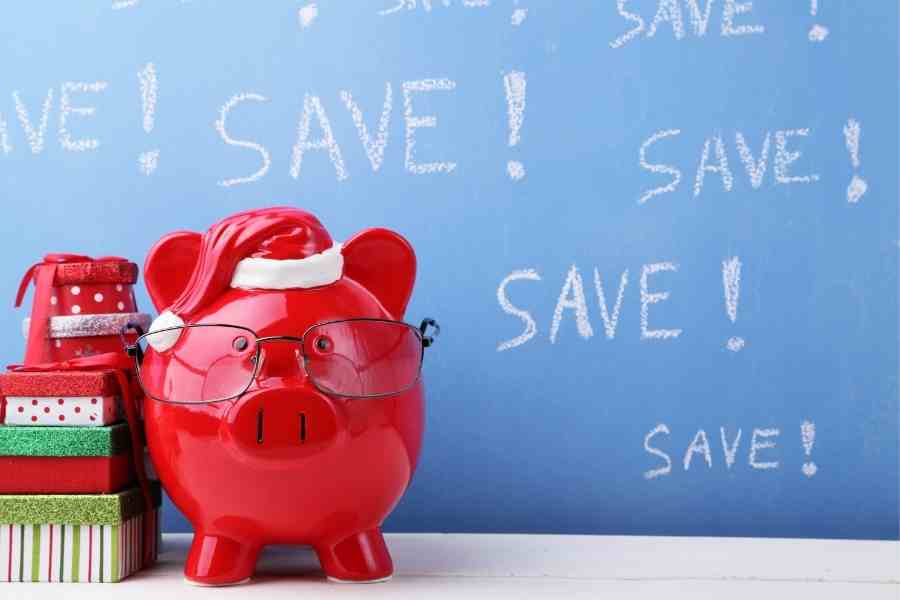 5 Tips for How to Save Money for Christmas
The early bird gets the worm when it comes to planning for the holidays. But regardless of what time of year you're reading this, you can use these tips to plan for the festive period with less money stress.
1. Set your Christmas savings goal
If you're ready to save money for Christmas, the first thing you'll want to do is decide how much to save. This is where it helps to plan out a Christmas budget if you haven't done so already.
If you haven't made your holiday budget yet, you can start by making a list of everything you plan to spend money on. That can include:
Gifts
Decorations
Gift wrap
Christmas cards
Travel expenses
Christmas food shopping
Decorations
A Christmas tree, if you need to replace your artificial one or you prefer to buy a live tree each year
Once you know what budget categories you have, you estimate how much money you'll spend overall and for each expense. You can then use that number to work backward and figure out how much to save weekly or monthly, based on how much time you have until Christmas.
For example, say that you need to save $1000 for Christmas, based on your budget. If you're starting your savings plan on October 1st and plan to have all your shopping done by December 15th, you'd have 11 weeks to save. That works out to $91 you'd need to set aside each week.
2. Open a Christmas savings account
Once you know how much money to save for Christmas, the next step is opening a Christmas savings account. Keeping your holiday savings in a separate account makes it easier to keep track of what you're saving. And it can also keep you from spending your Christmas savings by accident.
If you're not sure where to keep your Christmas savings, you've got a few options.
Traditional savings account. A traditional savings account at a bank or credit union might be preferable if you'd like to keep all of your money in the same place. You can check savings account rates at the bank where you keep your current account for checking to see if it's worth it.
High-yield savings accounts. High-yield savings accounts could offer a better deal on interest and they can charge fewer fees as well. If you're looking for a high-yield savings option, you might want to shop around and compare savings account offers from online banks.
Christmas Club account. Christmas Club savings accounts let you save money on a regular basis for Christmas, a little bit at a time. You can then draw down your savings in October or November ahead of the holiday shopping season.
Cash envelopes. If you prefer to keep your Christmas savings in cash, you could use some cute cash envelopes instead. You can set up individual envelopes for each expense in your holiday budget. I actually have some fun holiday-themed cash envelopes in my printables shop, so be sure to give them a look!
3. Trim unnecessary expenses from your budget
Finding ways to reduce spending can help you free up cash that you could use to save for Christmas.
If you haven't looked at your budget lately, pull it out and take a look at everything you spend money on. Then ask yourself these questions.
Where am I wasting money?
What could I cut back on?
Which expenses could I get rid of completely?
You might surprise yourself at how much money you could save just by doing a simple budget audit. And if you're still struggling to find expenses to cut, there are financial tools that can help.
For example, Rocket Money can help you put the brakes on overspending and add money back to your budget. Rocket Money analyzes your spending to help you find areas where you can cut back so that you have more money to save each month.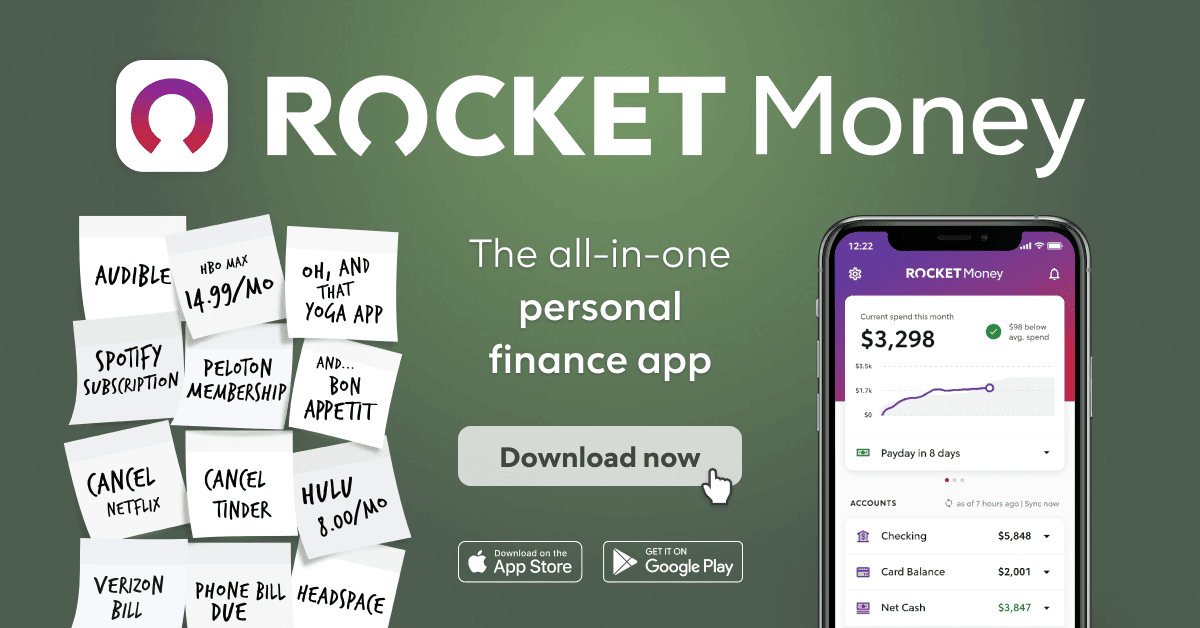 Save More With Rocket Money
Stop overpaying and start saving!
Rocket Money is an all-in-one personal finance app that helps you find savings instantly, lower your bills, and keep more of your hard-earned cash.

It's a simple way to build savings back into your budget every month, without getting nickel and dimed.
4. Try a no-spend challenge
A no spend challenge can help you jumpstart your savings for Christmas in a big way. When you take a no-spend challenge, you commit to not spending money unnecessarily for a certain time period.
For example, you might try a no spend November for a last-minute savings push. Or if that's too long, you could try a no spend week or weekend instead.
Any money that you don't spend during the challenge can go into your Christmas savings fund.
Here are some tips for mastering a no-spend challenge to save money for Christmas.
Pick a time frame that you're comfortable with
Set your rules for spending (and clue your family in so there are no surprises)
Look for free ways to have fun during your no spend challenge (watching holiday movies together as a family or roasting marshmallows in the backyard are some great ideas)
Consider cheaper alternatives for the things that you do need to spend money on (for example, you might cut your food bill by adding cheap foods to your shopping list)
You can also ask a friend or family member to be an accountability partner throughout the challenge if you're worried about slipping off track.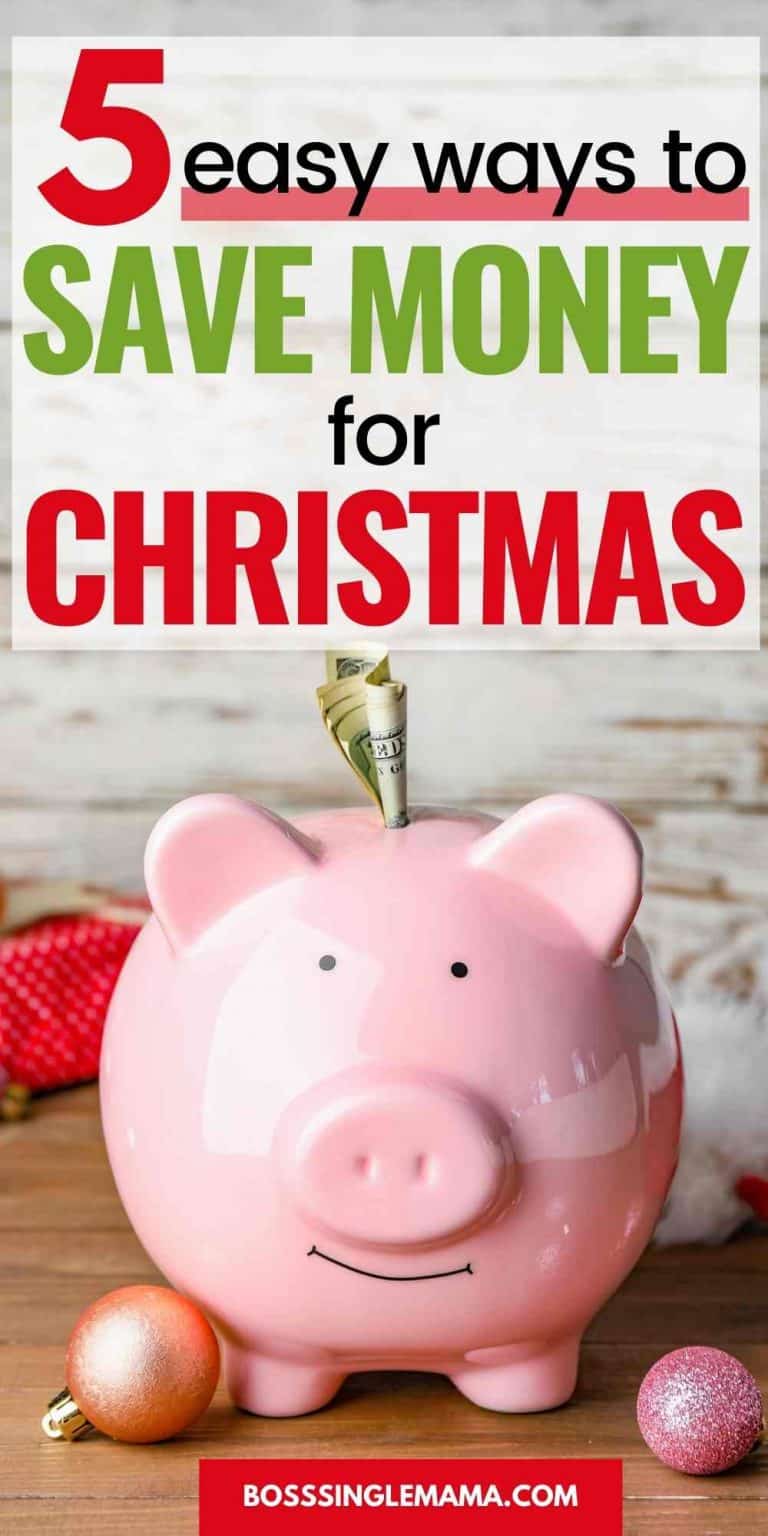 5. Get free money to pay for Christmas
Getting free money for Christmas can ease some of the strain on your budget if you have to spend less out of pocket. Two of the best ways to get free money for Christmas are using cashback apps to shop and earning gift cards for doing simple tasks.
Cashback apps pay you back a percentage of what you spend each time you shop. Some cashback apps also offer coupon codes and special promotions to help you get the best deals on things that you plan to buy.
My favorite cashback app is Rakuten, which I've personally used to earn almost $1,500 in cash back. Here's a quick rundown of how Rakuten works.
Create a Rakuten account and install the free browser extension
Shop online at partner stores to activate cashback deals
Make qualifying purchases and earn cash back
You can also earn cash back at specific shops with the Rakuten mobile app. And there are some great deals to be had, since it's possible to earn up to 40% back!
Rakuten also gives you other ways to get free money, including:
Earning a $10 cash bonus when you spend $25 on your first qualifying purchase
Earning up to $30 for each friend or family member you refer to the app
You can read through this guide to learn how to make money with Rakuten. And if you're curious, you can also check out how Rakuten makes money.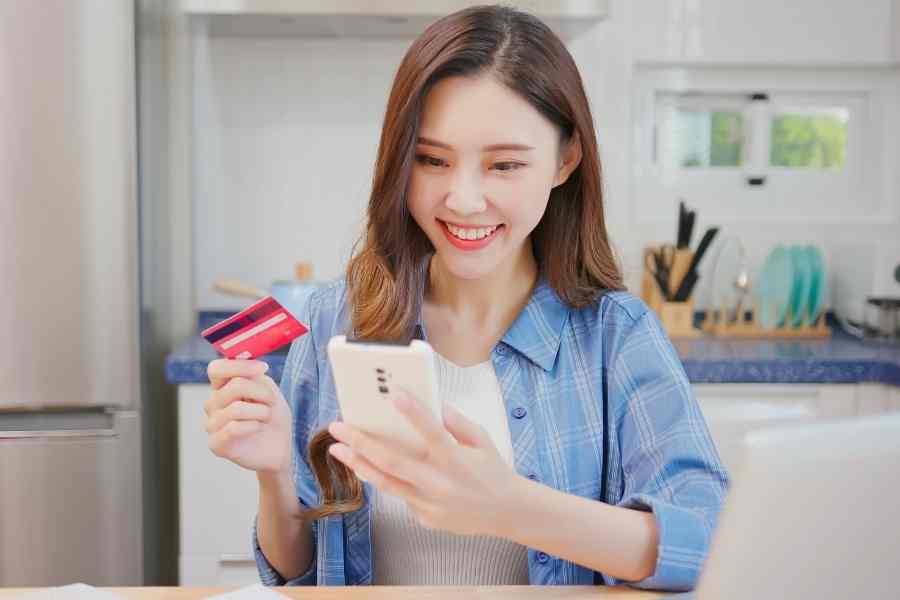 Want to Get Cash Back When You Shop?
Making extra money is easy with Rakuten!
Rakuten is a free app and browser extension that helps you find coupons and discounts when you shop online or in stores. You can earn up to 40% cashback when you shop at hundreds of partner retailers, plus get a $10 sign-up bonus and up to $30 in bonus cash for each person you refer!
If you're already using Rakuten to earn cash back, here are a few other apps I recommend for getting back a percentage of what you spend.
MyPoints – MyPoints lets you earn free gift cards when you shop online. When you sign up for MyPoints, you can earn points at partner retailers online. You can then turn those points into free gift cards for Amazon and other top retailers. Sign up now to start earning free gift cards with MyPoints!
Tada – Tada is actually a sister site to MyPoints and Swagbucks, which pays you cash for shopping, taking surveys and watching videos. Similar to MyPoints, you can earn points when you shop at partner stores with Tada. As you rack up points you can redeem them for gift cards to top stores.
If you'd like to get free gift cards instead, taking surveys is a great way to earn them. You share your opinions and earn points or cash, which you can redeem for gift cards to top retailers.
You can then use those gift cards to shop for Christmas gifts. And they can make great gifts too if you'd rather give them away!
Here are some of the best survey sites that reward you with gift cards for your time. Many of these sites offer introductory cash bonuses, so it's worth checking out each one!
If you have gift cards that you don't plan to use and can't give away, you've got one more way to get extra cash for Christmas. You could sell them for cash through a gift card exchange kiosk.
It's a simple way to turn unused gift cards into cash!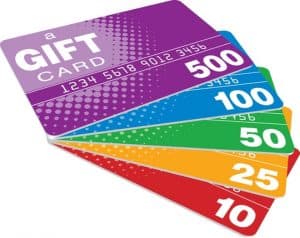 Top Pick for Selling Gift Cards: EJ Gift Cards
EJ Gift Cards makes it easy to sell unwanted gift cards for cash or Bitcoin, without ever leaving home. Just enter your card details to get an instant offer, accept the terms, and get paid fast!
Save Money for Christmas: Mistakes to Avoid
Once you've got a plan for how to save money for Christmas, it helps to know how to stick to it. Here are some of my top tips for keeping Christmas spending in check.
Tip #1: Don't let your inbox tempt you to spend
Signing up for your favorite retailers' email lists can help you stay on top of the latest sales. But it can also sidetrack your plans to save money for Christmas if you're being bombarded with messages about sales. (Black Friday and Cyber Monday can be particularly dangerous as you'll get tons of messages touting the best deals.)
Here's a great way to avoid unplanned spending. Go back to your original holiday shopping list and ask yourself two questions:
Does the email mention items any items on your list?
And are they on sale?
If you can say yes to both, then you can head to the checkout without feeling like you're wasting money. Otherwise, there's no reason to make an unplanned purchase over the holidays just because it seems like a deal.
Tip #2: Don't forget to budget for extras
No matter how carefully you plan your holiday budget, you may overlook something or forget about an expense. For example, I used to always forget that I needed to buy wrapping paper and gift tags until the last minute.
An easy way to avoid that scenario is to build an extra cushion into your holiday savings plan.
For example, if you originally planned to save $1,000 as your spending limit, you might add an extra 10% to that for those "forgotten" expenses. That would change your savings goal to $1,100 instead.
Building in some wiggle room means you don't have to use a credit card to cover added spending. And if you end up not spending the extra, you could always use it to start saving for Christmas for the next year.
Tip #3: Don't confuse holiday savings with everyday savings
Your Christmas savings fund is meant to be used for Christmas, nothing else.
So that means you wouldn't use it to pay for an unexpected car repair or vet bill. That's what an emergency fund is for, and if you don't have an emergency fund yet, then you can make that your first financial goal to work toward in the new year.
The best way to separate the money you save for Christmas from other savings is to put it in its own bank account. An online savings account could be a great place to park your Christmas fund if you want to earn a competitive rate with minimal fees.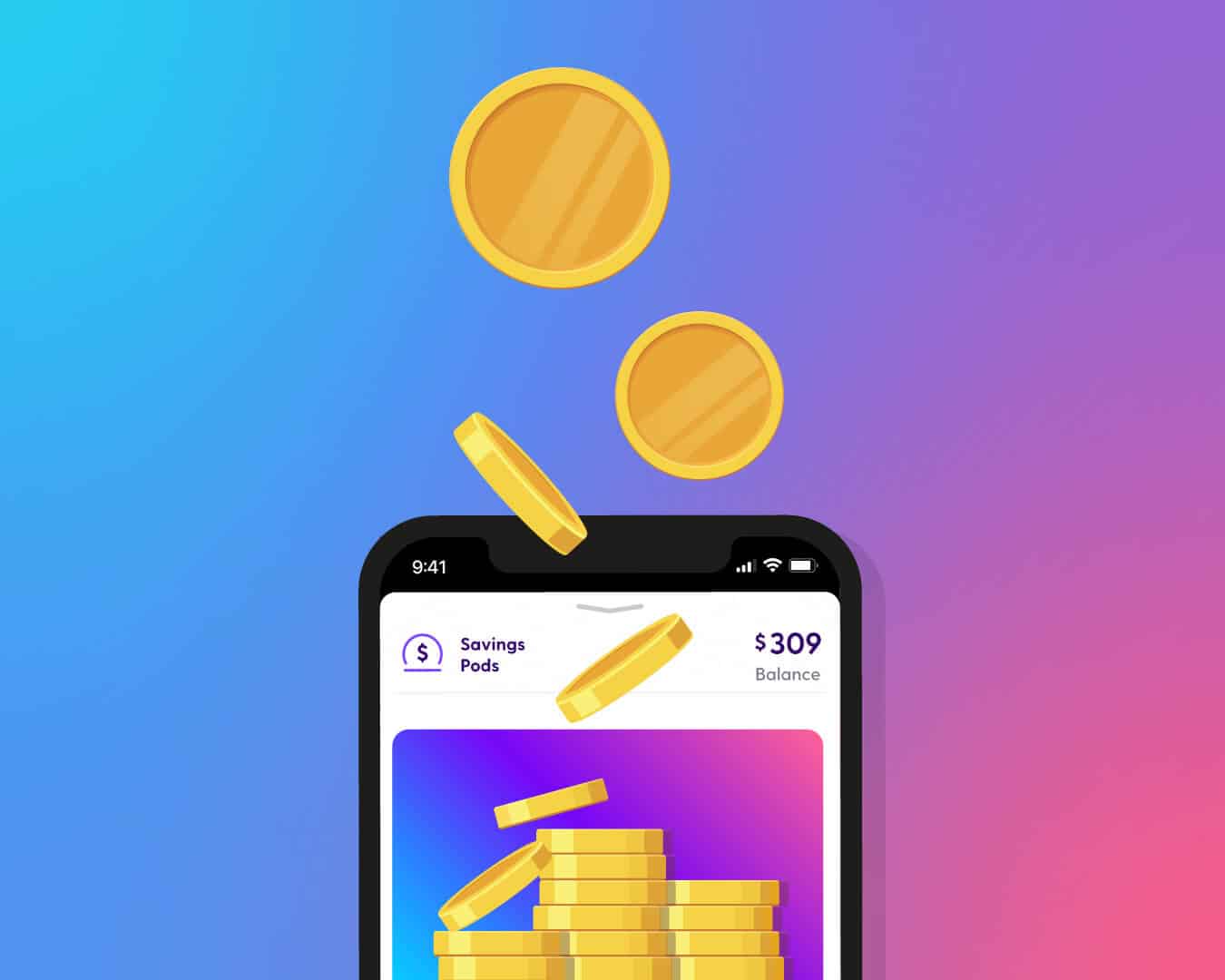 Grow Savings Faster With Current
Current is a digital banking app that makes it easy to grow savings, manage spending and track your goals in one place! You can set up individual savings pods for different goals and earn the same competitive APY for each one.

Aside from making saving a breeze, Current also comes with other great features like fee-free overdraft and access to 40,000+ ATMs!
Tip #4: Don't let other people influence how you spend
It's easy to get caught up in the fervor of Christmas shopping, especially when social media is feeding you the idea that you should spend, spend, spend. You might get so hung up on finding the perfect present for everyone on your list that you allow your budget to go out the window.
What you have to remember is that a meaningful gift can be so much more valuable than one that costs a lot of money. If you have little money to spend that's no reason to feel bad about offering homemade gifts or even second-hand gifts that are in good condition.
Remember, it's the thought that counts. And having an enjoyable Christmas Eve and Christmas Day with people you love has no price tag.
Frequently Asked Questions
When is the best time to start saving for Christmas?
When you start to save money for Christmas can depend on several things, including:
– How much you want or need to save
– How much you're able to save per month
– When you plan to start shopping for the holidays
If you need to save a larger amount or you want to be able to break your holiday savings goal into smaller monthly contributions, then January could be a perfect time to start saving. On the other hand, if you only plan to save a small amount you might wait until midsummer or early fall to get started.
How much money should I save for Christmas?
The exact dollar amount you should save for Christmas can depend on how many people you plan to buy gifts for, the amount you budget for each gift, and what you plan to spend on other holiday expenses, such as Christmas dinner or travel.
A typical Christmas budget is around $1,000, according to the National Retail Federation (NRF). If you know what you spent on Christmas presents and other expenses last year, you could use that as a guide for estimating how much money to save for Christmas this year.
Where should I keep the money I save for Christmas?
There are different places you might keep your Christmas savings and it's a good idea to choose an option that offers convenient access to your money, with the chance to earn a competitive interest rate. For example, a high-yield savings account at an online bank could be a great option if you want to earn a solid APY with minimal fees.
If you prefer to open an account at a brick-and-mortar bank, you might consider a traditional Christmas Club savings account instead. Keep in mind, however, that these accounts limit when you can withdraw money and they may not pay the highest interest rates.
How can I make extra money for Christmas?
If you don't have a lot of time to save money for Christmas, you might make up the difference by finding ways to earn extra cash. Some of the best ways to make money for Christmas include holding a garage sale or yard sale to sell things you don't need, taking expensive items to a pawn shop near you to exchange them for cash, and starting a money-making side hustle like walking dogs or doing yard work.
How to do Christmas on a low budget?
If you don't have a lot of money to spend on expensive gifts or other holiday purchases, you can still enjoy the most wonderful time of the year for less.
For example, you might consider offering homemade gifts instead of store-bought ones, hosting a gift exchange so you have fewer gifts to buy, or suggesting Secret Santa gifts to friends and family members. If you're buying gifts online, you can look for stores that offer free shipping to save money and you can also use a cashback app like Rakuten to earn back a percentage of what you spend.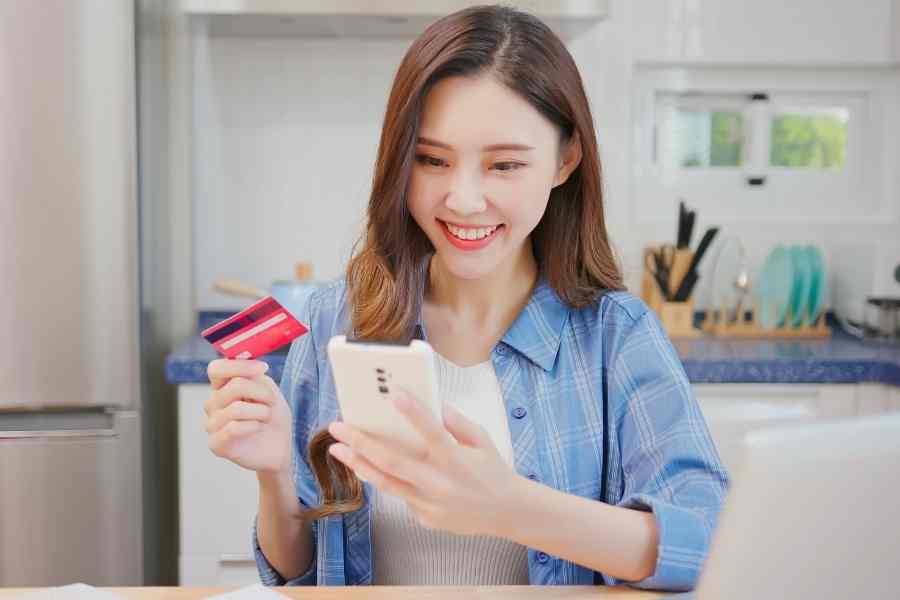 Want to Get Cash Back When You Shop?
Making extra money is easy with Rakuten!
Rakuten is a free app and browser extension that helps you find coupons and discounts when you shop online or in stores. You can earn up to 40% cashback when you shop at hundreds of partner retailers, plus get a $10 sign-up bonus and up to $30 in bonus cash for each person you refer!
.
Final Thoughts
Creating a Christmas savings plan can help you look forward to the holidays, instead of dreading them. When money isn't a source of stress or worry, you can focus on enjoying quality time with the people you care about most. And if you're reading this too late to put these money-saving tips into action for this Christmas season, you can always bookmark them to use as a guide for saving next year.
Do you have any tips on how to save money for Christmas?