Last Updated on August 7, 2022 by Rebecca Lake
How to Afford Christmas on a Budget
Are you panicking about how to afford Christmas for your family this year?
I've so been there.
I remember my daughter's first Christmas. My then-husband and I were flat broke. The only reason we had a Christmas that year is that my dad lent us his credit card to buy a small tree and a few gifts.
It was a Christmas, but not exactly a joyful one.
I felt terrible about not having money for anything. And even worse that my dad had to step in and pay for it.
I swore that was the last Christmas we'd ever be in that situation. And it was because I learned my lesson about saving and making a budget for the holidays well in advance.
So if your financial situation has you fretting over the upcoming holidays, I totally feel you.
After all, you want to make good memories for your kids. And while money isn't everything, having a little doesn't hurt.
I get it.
That's why I decided to share some of my best tips on affording the Christmas season, even when money is scarce. Here are the best ways to make the most of every dollar to have an amazing family holiday!
Related post: Frugal Christmas on a Budget
How to Afford Christmas on a Tiny Budget
These tips are ones that I've used myself back when I was a broke married mom, then a broke single mom.
So I know they work. You don't have to follow all of them but I'm guaranteed that there are a few ideas here for making the holiday season more affordable. And you can even check out ways to get free money for Christmas.
Let's dive in!
1. Set realistic expectations for the holidays
When I first wrote this post, I didn't include this point. Boo on me, because I totally should have.
Because here's the thing, it is so easy to get carried away when planning for Christmas. Especially when you have kids.
I'm guilty of buying way too many things and having more "stuff" doesn't guarantee a happier holiday season. In fact, it can be quite the opposite.
So think about what your perfect Christmas and holiday season looks like. What matters to you most?
Chances are, it's not a big pile of gifts or fancy decorations or any of the stuff you get from the store. Instead, it's all about making memories and spending time together as a family.
If you haven't talked about your expectations for the holidays yet, do that now!
Seriously, talk with your spouse and your kids about what this year's Christmas is going to look like.
You don't have to go into gory details about your budget. But let your kids know that you're aiming for simple and fun for the holidays, not piles and piles of stuff.
And don't leave kids out in the cold with planning either.
For example, sit down and brainstorm some fun (and cheap) ways to enjoy the holidays together. Or think up some tasty and low-cost holiday recipes you can make.
Making holiday planning a team effort can help you make the most of the season, even if you're spending less.
You might also like:
50 Frugal Family Holiday Traditions to Start This Year
2. Figure out how much you can spend on the holidays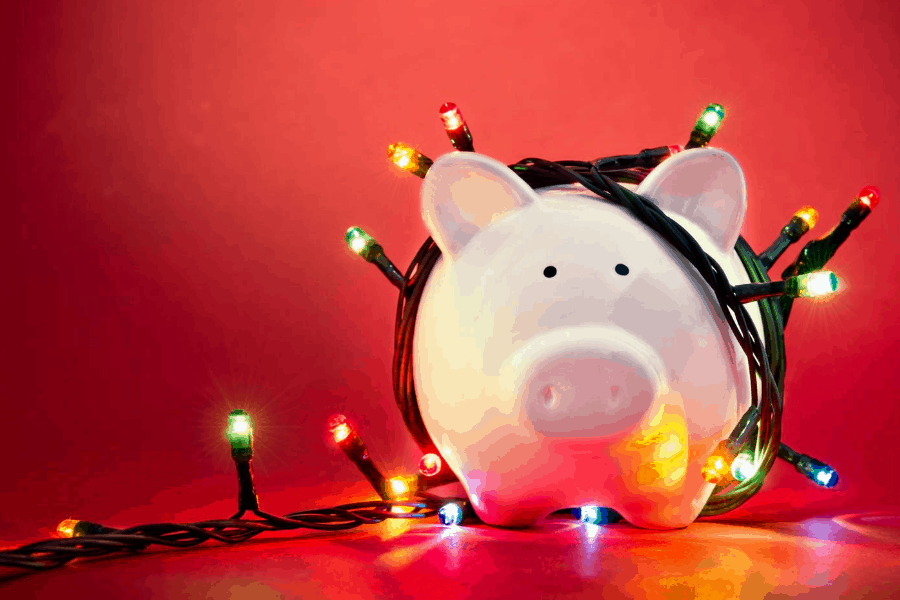 If you haven't worked out a Christmas budget yet, it's time to get on it.
Seriously. Making a budget for the holidays will save your life if you're trying to make this work without a lot of money.
So where do you start with creating a holiday spending budget?
First, make a list of all the expenses you typically spend money on during the holidays. That might include:
Gifts
Wrapping paper, tags, bows and tape
Shipping fees if you're mailing gifts
Custom Christmas cards and postage
Professional family photographs
Holiday meals
Holiday entertainment and family activities
Crafts
Holiday decor
Travel
Now, here's what you need to next if you're trying to work out how to afford Christmas: take that list and toss it out.
Seriously. If you're working with a super tiny budget, then trying to include everything in your holiday spending plan might not be realistic.
So, make a second list but this time, only include those expenses that are non-negotiable for your family to enjoy the holidays. For example, you might narrow it down to gifts, food and one or two activities.
Will you feel like a cheapskate if you don't splurge on fancy Christmas cards like everyone else is sending out?
Maybe.
Will seeing everyone's holiday travel photos on Instagram or Facebook make you wish you could afford Disney in December?
Possibly. (Totally been there myself.)
And will you get Pinterest envy when you see all the amazing Christmas decor ideas popping up in your feed?
You might.
But will you feel better about planning a Christmas budget you can afford, without having to run up debt?
Absolutely!
3. Work on saving the money you need for the holidays
If you've gone over your list of what you want or need to spend money on for Christmas, the next step is finding the cash to pay for it.
I'm going to assume that you don't have a savings account to draw on for this and that's okay.
Here are some ideas for how to afford Christmas and build savings:
Try a no-spend November
A no-spend November is a quick and easy way to save money for Christmas. The goal is to not spend money on anything besides necessities for the month.
Then you take the money you don't spend on extras and park it in savings for the holidays. It can be a quick and easy way to get the money together to cover your Christmas budget.
For tips on how to make a no spend month work, give this post a read:
7 Secrets for a Successful No Spend November
Use found money to save
Found money is money you don't necessarily earn from working. It means things like refunds, rebates or cash back you earn on shopping.
In fact, that's a great way to get extra money if you're struggling with how to afford Christmas. You sign up for apps, link your debit card, then earn cash back when you shop.
It's easy money if you were already planning to spend. These apps are my faves for earning cash back online:
Rakuten
Rakuten used to be Ebates but it's still an awesome way to earn cash back just for shopping.
You can earn cash rewards when you shop online or in-stores at partner merchants, plus download Rakuten will find and apply coupons automatically when you download the Chrome browser extension.
Sound good?
Sign up with Rakuten now and get $10 when you make your first purchase!
MyPoints
MyPoints is another money-making app that's a must. With this one, you earn points when you shop, take surveys and watch videos (no credit card required).
You can then turn those points into gift cards for holiday shopping. If you sign up now, you can get a $10 Amazon gift card when you make your first purchase to get a jump on Christmas savings!
Dosh
Dosh is another awesome cash back app for earning money back on dining and shopping.
It's free to download the Dosh app and earn cash rewards. You just link up your debit card, spend like you normally would and Dosh automatically applies cash back offers.
It's that simple! Grab the Dosh app to grow your cash back savings for Christmas!
Ibotta
If you spend a lot on groceries then you need Ibotta in your life.
Ibotta pays you cash back on groceries and shopping at partner retailers. You can earn cash back automatically when you link your store loyalty rewards card or scoop up cash back by scanning your receipt after you shop.
Right now, Ibotta is offering a $20 cash back bonus so if you're not using this app head here to sign up!
Ditch money-wasters
If you can't go the whole month of November without spending, there's another way to save money easily for Christmas.
Go over your regular monthly budget and get rid of all those small little expenses that add up. Think bank fees and recurring subscriptions.
If you don't have time to check all your expenses, the Trim Financial Manager can help.
This money tool reviews your spending for you to find costs you can cut out. Sign up now to try Trim free!
And if you're already using Trim, you may also want to check out Billshark.
Billshark actually negotiates your bills for you to help you save money. So if you're tired of paying too much for cable or cell phone bills, get a free savings quote from Billshark now!
Open an online savings account
As you work on finding the money for Christmas, you'll need a place to keep it.
I prefer online savings accounts because they can offer better interest rates than regular banks without all the icky fees.
If you need a suggestion for an online bank, take a look at my review of CIT Bank. The CIT Savings Builder Account offers one of the best savings account rates around!
You might also like:
21 Things to Stop Buying to Save Money Every Month
4. Get on the nice list with a holiday side hustle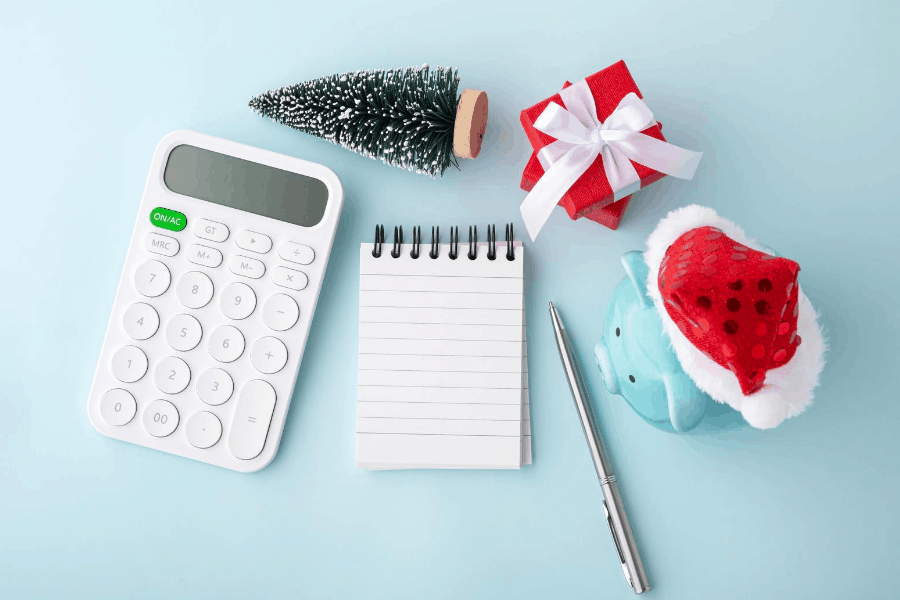 Side hustles are one of my favorite things, especially for moms.
I started a side hustle once upon a time and it turned into a six-figure business so side gigs are awesome-sauce in my book!
A side hustle can come to the rescue when you're trying to decide how to afford Christmas or if you even can. I've got a great list of 27 easy side hustles you can do to earn money for holiday spending!
And if you need a quick money win, try these options:
Taking surveys
Taking surveys is a good way to make a little cash from your phone or laptop. You might not get rich but you could make money to pay for Christmas.
These survey sites let you sign up for free and start earning right away:
Every single one of these sites can put money in your pocket fast, without taking up all your time!
Pet sitting
I love pets of all kinds so getting paid to hang out with them seems pretty sweet to me.
If you're interested in holiday pet sitting, you have to try Rover.
This site connects pet owners and sitters, and you could make $1,000 or more each month!
Selling stuff
If your family is like mine, you've probably got more than a few things you don't need lying around.
Selling them on Facebook or through an app like Decluttr is an easy way to scoop up extra cash!
You might also like:
10 Ways to Declutter Your House and Make Extra Money
27 Things You Can Sell to Make Money Without Leaving Home
5. Save on your holiday food budget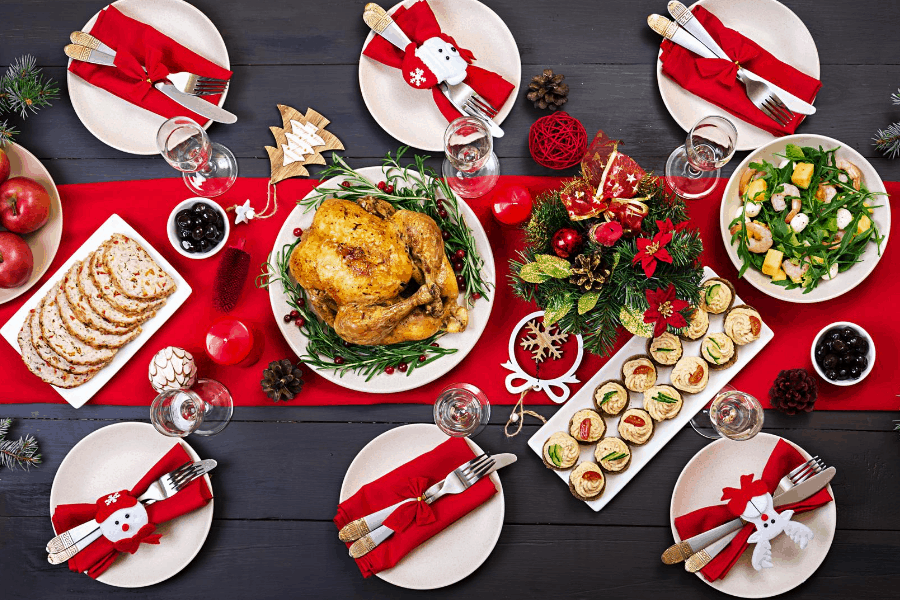 My favorite thing about the holiday season isn't the gifts or being with family or pretty lights. It's all about the food!
In years past, I've spent $300 of my holiday budget on food alone. Pretty crazy, right?
If you're planning holiday dinners or attending get-togethers, there are lots of ways to keep your grocery bill low. Try these tips to save on your holiday food budget:
Use Ibotta
Ibotta can add up to huge grocery savings around the holidays and all year round. You can also earn cash back at Amazon, eBay and other partner online retailers.
With Ibotta, you download the app and browse offers. You shop, then snap a photo of your receipt, upload it to the app and get cash back. Sign up now to start saving money!
Join store loyalty programs
If your favorite grocery store has a loyalty rewards program, sign up for it! You could earn rewards toward grocery purchases or at the very least, get coupons to shop with.
We shop at Food Lion and I get discounts and coupon codes loaded to my card. They also run a promotion during the holidays where you can earn money back for shopping a certain number of weeks.
Clip coupons
I have a cousin who is totally that mom in the grocery store with a huge coupon binder.
That is not me.
I just don't have the time. But if you do, then spend time scouting out coupons for holiday groceries. Or look for digital coupons online.
Bonus tip: Check to see if your store honors competitor coupons. That way, you don't have to run all over town trying to use them.
Buy in bulk
Buying in bulk can be a good way to save if you end up paying less per unit than you would to buy smaller amounts. If you're going to buy in bulk for the holidays, make sure you have a plan for putting any extras to use.
For example, if you're buying vegetables or meats in bulk, you could use them to whip up inexpensive freezer meals for after the holidays.
Go potluck
Planning family dinners can get crazy if you're expecting a crowd. Not to mention it can cost you big-time money.
Making the whole thing potluck can be a money-saver (and it might just save your sanity, too 🙂 ).
If you're going to be in charge of running the potluck show and keeping it organized, then a free tool like Perfect Potluck is essential for tracking who's bringing what.
6. Make your holiday shopping list and check it twice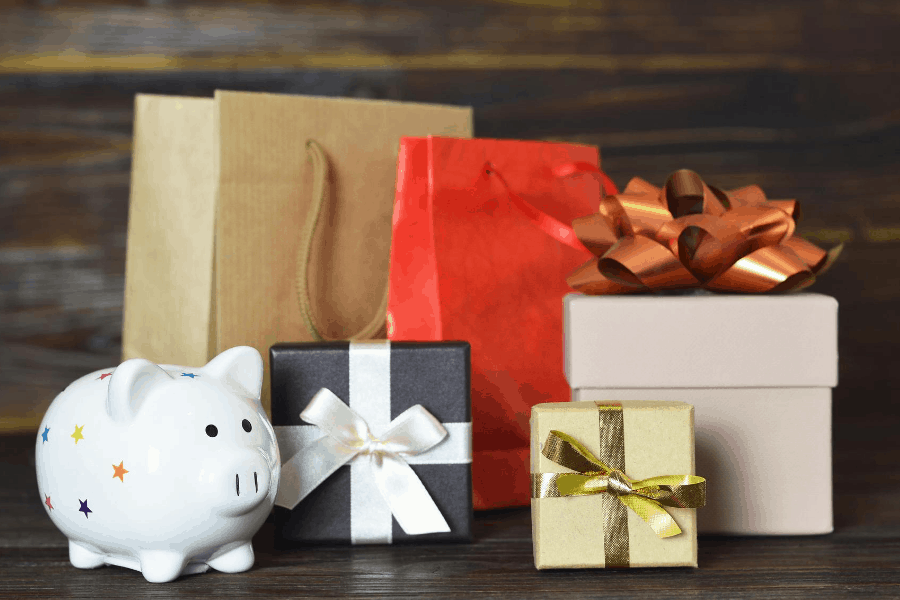 Ah, holiday shopping.
The Black Friday sales are always a temptation but if you're trying to navigate how to afford Christmas, you have to be choosy about spending.
Try these ideas to save money on shopping so you don't end up with a holiday money hangover:
Consider DIY gifts
I like making gifts. It appeals to my creative side and it can be cheaper than buying a gift that the recipient may or may not like.
Plus, the grandparents will eat up kid-made gifts. If you need a few cheap DIY gift ideas for the holidays, start with these posts:
200 Cheap and Easy DIY Christmas Gifts
101+ Inexpensive Handmade Christmas Gifts
Skip the cards
I'll confess, I never send out Christmas cards. For one thing, I'm just too busy to remember something like that and for another, I'm cheap frugal.
If you just don't have it in the budget to pay for Christmas cards this year, then don't buy them. Period.
You can always send an emailed Christmas greeting or better yet, create an email letter chain that gets passed around to everyone in the family. Won't cost you anything and it's a more interactive way to spread holiday cheer.
Shop the Dollar Store
There ain't no shame in my dollar store game and there shouldn't be in yours either if you're feeling broke at Christmas. It's a great money-saver for buying things like decorations, gift bags and wrapping paper at the holidays.
The best part? You don't even have to go to the store to shop anymore.
Dollar Tree will ship it free to your local store and you can just go pick it up for less holiday hassle!
Try the Rule of Four for kids
Kids are little budget-drainers, aren't they? Well, mine are anyway, especially around the holidays.
So here's what I do to save money at Christmas (and not end up adding to their collection of unnecessary "stuff"). I use the rule of four and buy them:
Something to wear
Something to read
Something they want
Something they need
The "need" is usually a more expensive item but because I'm buying fewer things altogether, I can afford to spend more on it.
7. Take advantage of free or cheap holiday experiences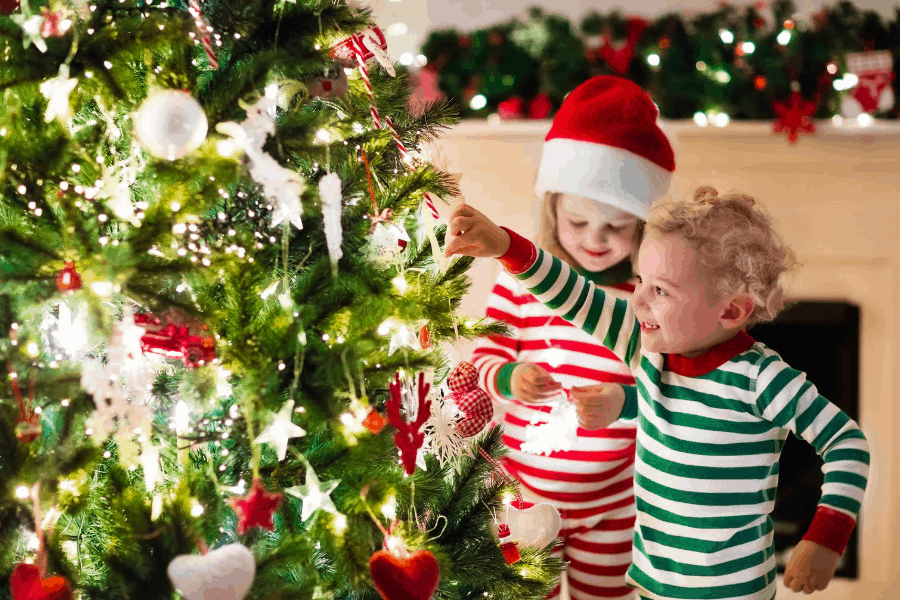 Okay, so besides the holiday food I love doing all the fun holiday things. And one way I save money at Christmas is trying to do as much of the "fun" stuff as possible.
If you need ideas for fun holiday activities, here are a few you can steal:
Attend a free tree lighting (Our town hall makes this a big event each year and it's free!)
Try a Christmas parade (Again, this is something our town does for free.)
Check out local churches for free events, like a living nativity or holiday festivals
Pile in the car and drive around to look at lights
Go to a holiday craft fair (But vow not to spend any money.)
Have a backyard campfire and sing carols
Make simple holiday crafts with stuff you have around the house
Have a snow day (if it snows where you live)
Volunteer as a family to help others in need
Remember, the real fun of the Christmas season is being together as a family, not spending money!
8. Ask for holiday help if you need it
So, I've given you some useful tips on how to afford Christmas up until now. (At least, I hope so!)
But what if you've done all of them and you're still struggling to make the holidays work financially? That's when you ask for help.
You could reach out to family like we did that first Christmas. But if that's not an option or you just don't feel comfortable, other places can offer financial assistance for families during the holidays.
Here's a shortlist of places to try when you need help with how to afford Christmas:
Your local Department of Social Services
Local Churches
Local Charities
These kinds of organizations can help with things like toys and clothes for kids, gifts for adults, food and assistance with utility bills. All of that can make the holidays less stressful.
And if you feel weird about getting that kind of help, I get it. I know what it's like to have to go to a food pantry or apply for Medicaid for your kids because you are broker than broke.
But sometimes, you gotta do what you gotta do to take care of your family. So if you're reluctant to ask, try to keep an open mind.
You might also like:
Financial Assistance for Single Moms Who Need Help
You can afford Christmas, even on a tight budget!
Hopefully, I've given you some ideas for how to afford Christmas for the family when money is scarce.
Do you have a tip for affording the holiday season on the tiniest of budgets? Head to the comments and tell me about it!
Then please show this post some love and share it if it helped you!