Last Updated on December 30, 2022 by Rebecca Lake
No Spend November Tips
Need to save money for the holidays? Planning a no spend November could be the answer.
A no spend November is a money-saving challenge that involves only spending money on essentials for the entire month. Essentially, it means doing a no spend month specifically in November.
Never heard of a no spend November or not sure how it works? Here's a closer look at how no spend November works and why it's worth planning one if you're trying to save money for the holidays.
Related post: How to Afford Christmas When You're Broke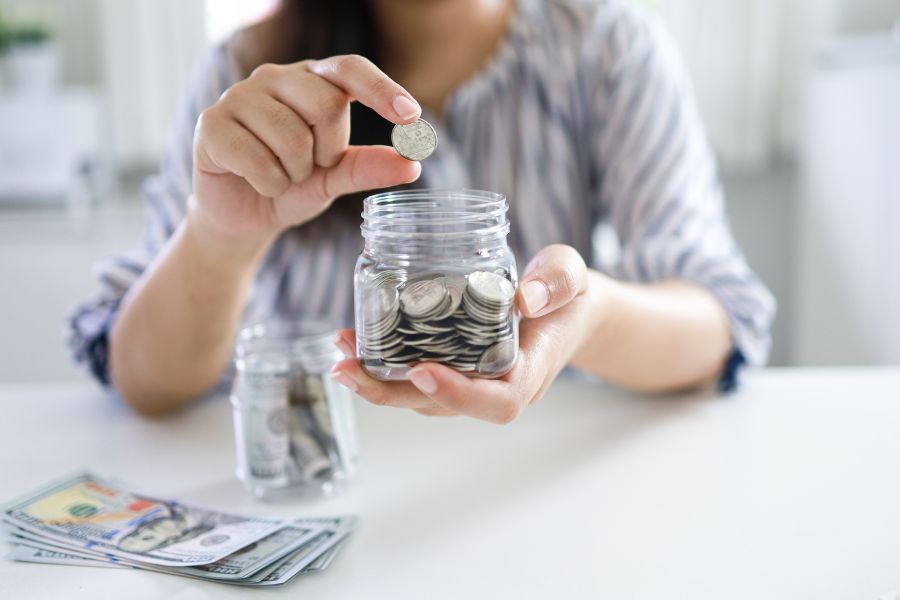 What Is No Spend November Anyway?
No Spend November is you challenging yourself to not spend money on anything that's nonessential for the entire month of November. It's another way of describing a spending diet or spending freeze. 
A no spend November is all about being frugal and saving money during a season when advertisers are telling you to spend, spend, spend!
You can go on a spending diet any time of year but November makes it an extra interesting challenge. It's a way to test your money willpower and get super clear on the difference between wants and needs.
Here are some more ideas for money-saving challenges:
But do I really have to commit to not spending any money for the whole month?
Well, ideally yes.
This is the best way to squeeze the most savings possible out of a no spend month.
But it's totally up to you to decide how long your no spend November is going to last.
For example, you could do it for just the first two weeks of November or the last two weeks of the month. Or you could commit to no spending over the Black Friday weekend and steering clear of the stores.
That's the beauty of it! You can figure out exactly what works for you and your family, then go for it.
Related post: 15 Tips for Planning a Fun and Frugal Christmas on a Budget
7 Tips for Making a No Spend November Work
If you're serious about locking down your spending for November, then high five!
You're already one step closer to saving money.
The next step is coming up with a foolproof plan for making it work. That's where these tips can help.
1. Set your spending ground rules
A no spend November is all about being intentional with how you spend. So the first thing you have to do is separate your spending needs and wants.
For example, the things you have to spend money on might include:
Mortgage or rent payments
Electric, water and other utilities
Gas and necessary transportation costs
Groceries
Internet and cell phone service
Insurance premiums and out of pocket health care expenses
Pet food and supplies
Childcare if you and your spouse both work outside the home
Debt payments
You might also include tithing here if that's a regular part of your budget.
The way to put this list in perspective is to think about all the expenses you need to pay to maintain a basic standard of living.
Now, there's a whole other list of things that you might be tempted to spend money on. But the point of a no spend November is to avoid doing that.
The list of expenses you might cut out for the month includes things like:
Dinner out
Trips to the movies or other paid entertainment
New clothes
Non-essential personal care (like getting your hair or nails done)
Travel
Hobbies and recreation
Non-essential extracurricular activities for kids (This one's tough–my son's a soccer player so it's hard to not spend money on something he loves.)
Remember, this is your list and no one else's.
As you're going through your expenses keep in mind that what you do or don't include as essential spending is entirely up to you. So there may be some things on your must-have list that might be a "want" for someone else.
And that's totally fine. But the more you can cut out, the more money you could potentially save.
Related post: Fall Money Tips: Simple Hacks to Save Money in Fall
2. Set a target for saving
If you're not spending as much as usual, that should add up to some savings, right?
So here's what you need to do next: decide how much money you want to save and what you plan to do with it.
For example, say your regular monthly budget is $4,000. Could you cut out $500 of that using a no spend challenge? $1,000? More?
This is where it's really helpful to go over your expenses carefully before you get started with a no spend month. That way, you can have a savings goal to work toward.
Once you have a dollar amount you want to save, decide what it's going to be used for.
For example, will you use it to pay for holiday purchases? Pay down debt? Add it to your emergency fund?
Giving those dollars a purpose helps you to make sure that once your spending ban is lifted, you don't fritter that extra cash away.
Bonus tip: Keep your no spend savings in the right place
For me, it doesn't make sense to save money if you're not earning a great interest rate on it. That's why I stick with online banks for savings accounts since they can offer much higher rates than brick-and-mortar banks.
If you're looking for an online savings option, try CIT Bank. The Savings Builder account earns an amazing rate and you just need $100 to start saving!
Read this post to learn more about CIT Bank's savings accounts:
CIT Bank Review: Is It the Best Online Savings Account for Your Money?
3. Make it a team effort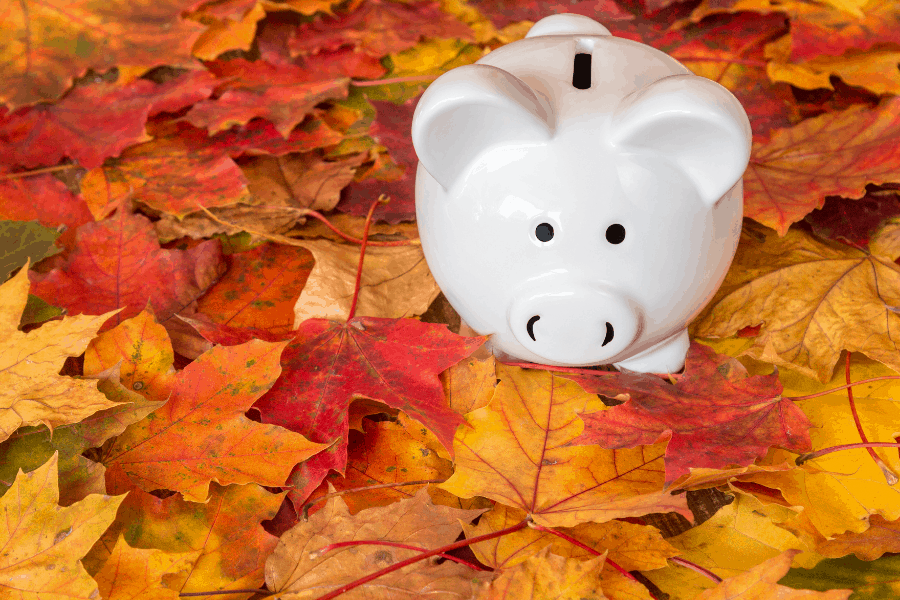 Okay, so any time I tell my kids we're not spending money for a while, I'm instantly met with moaning and groaning.
(From my son, at least. My daughter is a dyed in the wool saver–making mama proud!)
If you're planning to tackle a no spend month to get your family finances under control, then it has to be a family effort. Otherwise, it just won't work.
So schedule a money meeting and lay down the ground rules for everyone about what you will and won't spend money on. Talk to your kids about why you're doing a spending fast and what the goal is.
You want this to be a positive thing for everybody so don't let your kids assume that no spending equals no fun.
It just takes a little more creativity when you can't spend money.
And if you need a little inspo, here are 50 fun fall activities you can do that cost little to no cash!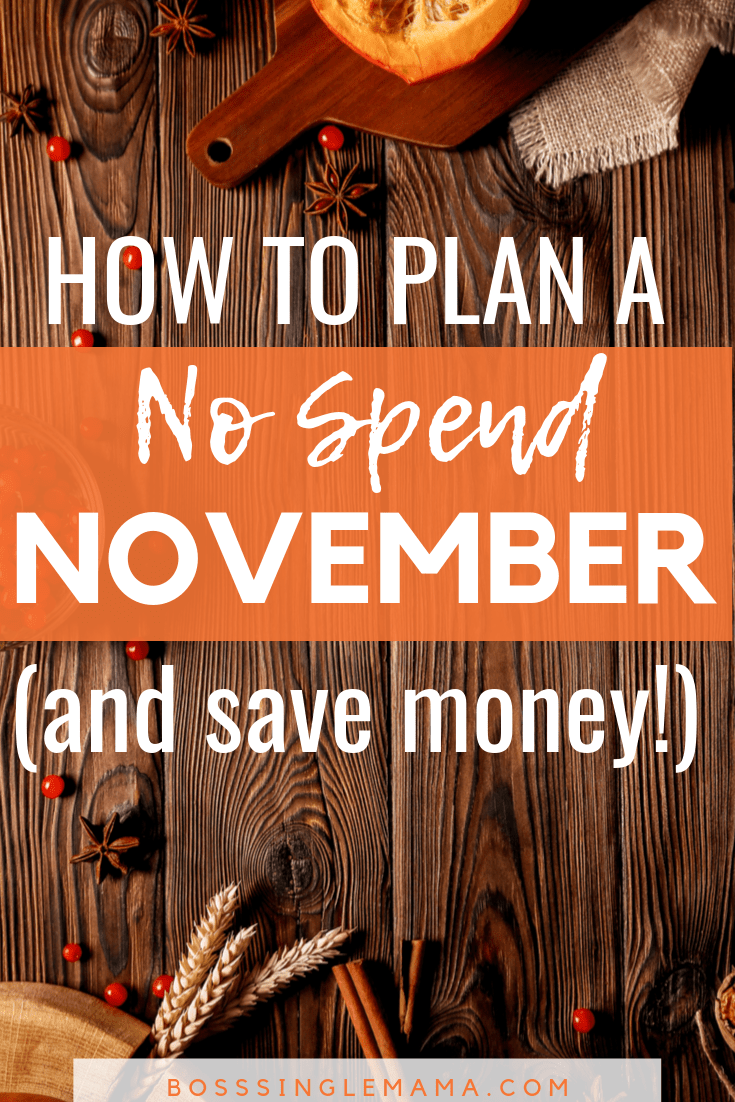 4. Plan ahead as much as possible.
Hopefully, you're reading this post in October or even September, and not waiting until the last minute to try and plan a no spend November.
But regardless of how much (or how little) time you have to plan, make the most of it!
You can minimize your chances of having to spend money during by checking these items off your list:
Plan your meals for the month and stock up the pantry ahead of time. (Try $5 Meal Plan for some super frugal meal planning ideas.)
Purchase any necessary cleaning supplies you might need for the month.
Pay up some or all of your bills in advance if you're able to.
Take your credit cards out of your wallet and consider switching to cash-only if you can.
Plan out some ways to spend your time as a family that don't cost money.
Take care of any necessary clothing or personal hygiene purchases before the month starts.
The more you can plan ahead, the better.
But even if you're reading this on November 1st (or later), just do what you can with the time you have.
Even small steps can make a big difference in cutting down what you spend!
Read this post for an EPIC list of ways to save money:
220+ Realistic Ways to Save Money on a Tight Budget (on Almost Everything!)
5. Track your spending
Sticking with a no spend challenge is tough and you need a way to stay accountable as a family. An easy way to do that is to track your spending.
There's no right or wrong way to do it.
You can use a budgeting app that links to your debit card to record purchases, record it in an expense tracking spreadsheet or just write it down in a notebook.
The point is to keep a running tab on what you spend to make sure you're staying within those boundaries you set for yourself way back in step one.
Review your spending weekly to see how you're doing. (And if you're doing a no spend November for less than the full month, you might do this daily.)
The upside is that if you're sticking with your plan, you'll get a nice motivational boost from seeing how well you're doing!
And if you're not, then reviewing your spending can help you figure out what you need to change to get back on track.
6. Resist temptation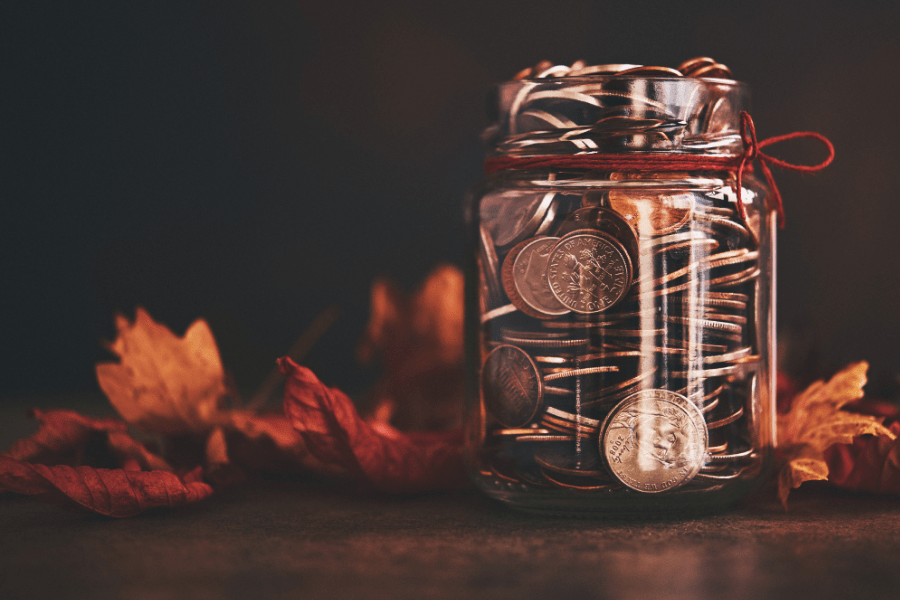 I won't lie to you–a no spend month, whether it's in November or any other time, isn't always easy.
And when there are sales everywhere, it's so hard to just say no to spending!
This is especially true if you've got family in town for the holidays. I've fought the Black Friday crowds more than once to appease my mother who just can't pass up a sale.
But here's something I want you to remember. You don't have to spend.
Really. I mean it. Just because your favorite store is running a super-awesome-amazing-can't-pass-this-up deal doesn't mean you have to buy something.
So, here are some of my best tips for resisting temptation:
Unsubscribe from your favorite stores' email lists so you're not bombarded with sale ads.
Take a break from watching TV. No TV = no commercials trying to lure you into breaking your no spend vow.
Tell people you're doing a no spend November and say "no, thanks" to friendly invitations that could lead to spending.
Toss the sale papers that come in the mail in the trash. (Or better yet, find a way to repurpose them.)
Turn off notifications from shopping apps or websites.
If you need some help staying on track, give yourself some motivation.
Create a money mantra as a reminder of how much you want to save. Promise yourself that once the no spend month is up, you'll enjoy a small, frugal treat.
Bottom line, give yourself something to look forward to so that you have a reason to keep going.
7. Leave room for the unexpected
Sometimes, life happens. And when it does, that might require you to spend money.
November and the holiday season, in general, can get hectic. A few Novembers ago, I had to spend $5,500 to replace my HVAC system two days before Thanksgiving. Super fun.
So yeah, I get that things might not always work out the way you planned. But you can make any bumps you might run into smoother by being prepared.
The best way to do that is by having some cash savings you can draw on just in case. But how much do you need?
At a minimum, I'd say $500 to $1,000. That should be enough to cover any minor blips that pop up.
Bonus tip: Start a fall side hustle
Starting a fall side hustle can help you make extra money to save during your no spend month.
You could use that money to pay for holiday shopping, get ahead on bills or pay off some debts before the new year gets underway.
Not sure what you can do to make extra money in the fall? Check out these posts to help you get started with a money-making side hustle!
20+ Extra Income Ideas to Help You Make Money This Fall (or Any Time!)
How to Make $2000 a Month From Home With Flexible Side Hustles
50+ High-Paying Side Hustles for Moms Who Want to Make Extra Money
142 Legitimate Side Hustle Ideas to Make Extra Money
How to Make 100 Dollars a Day Fast
Final thoughts on No Spend November
By now, you should be well on your way to planning a successful spending freeze for November.
And once you get that first no spend month under your belt, you'll be ready for the next one!
Before you go, be sure to check out my favorite Smart Money Tools for making and saving money.
And don't forget to grab your free money printables in the Resource Library, including a no spend month tracker!
Ready to plan your Christmas budget? Learn how to make a Christmas budget step by step!