Last Updated on November 4, 2021 by Rebecca Lake
Fall Money Tips for Saving Extra Cash
Need some fall money tips to save cash fast?
Fall is hands-down my favorite season, for so many reasons.
The weather cools down, pumpkin spice everything is everywhere and there are so many fun fall events to check out. We get back into our homeschool routine and there are lots of birthdays and of course, the holidays to start planning for.
Fall is lots of fun but it's also a great time to save some money.
Not sure where to get started with fall money tips?
To help you make the most of the autumn season, check out this awesome list of money-saving ideas for fall!
Related post: No Spend November: 7 Tips to Help You Plan a Successful No Spend Month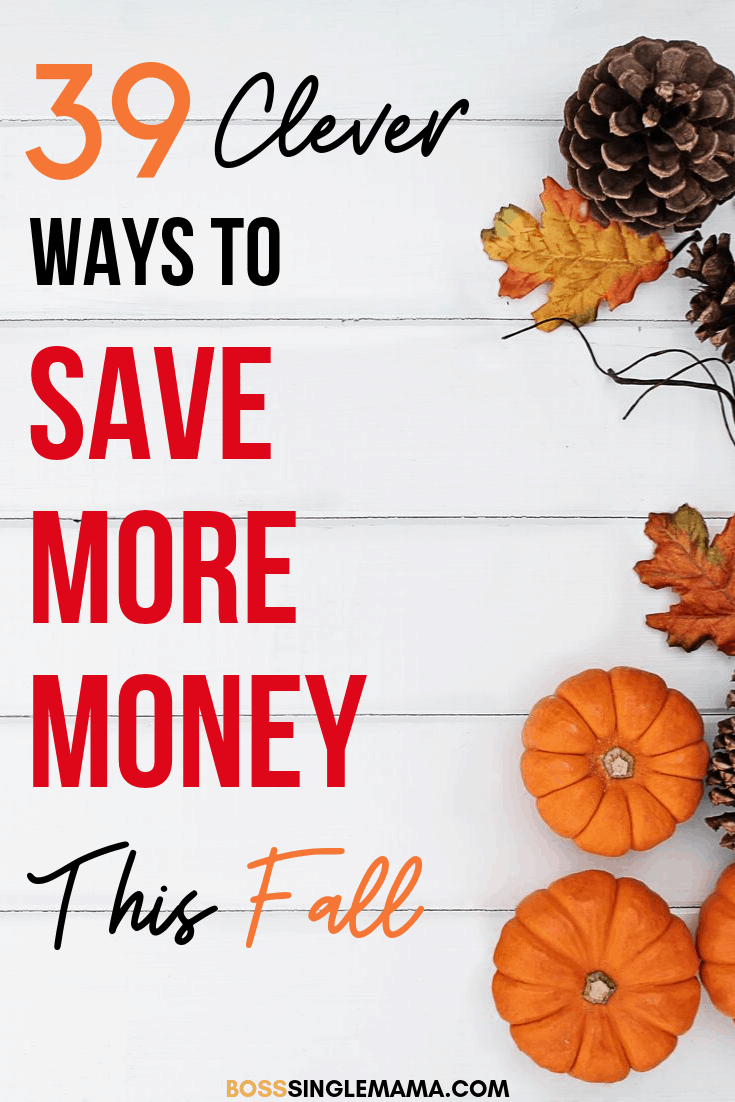 39 Ways to Save Money This Fall as a Family
This list is a little long so to help you, I've broken the fall money-saving tips into categories. You can read straight through or skip around using the table of contents. Happy saving!
Save Money at Home
1. Open the windows
For a lot of people, fall is that in-between time when you're not running the A/C or the heat 24/7.
Opening the windows to let in a breeze in is a simple fall money tip that can cut your electric bill. And you can air out your house while you're at it.
It's win-win!
2. Seal leaks around windows and doors
Air leaks around windows and doors can make your heat pump work harder in winter.
Invest a few bucks in caulking or weather stripping to close up the cracks. This is another simple way to save on utilities in the fall and winter months.
3. Get your HVAC serviced
If you're not running the heat yet, consider investing a few bucks in a professional servicing of your HVAC system.
You might pay $100 to $200 to have your HVAC cleaned in the fall. But that's worth it in winter because the system doesn't have to work overtime (which drives up your heating bill.)
If you can't afford to pay to get your HVAC cleaned, you can still invest in some quality air filters.
Buying filters in bulk can save you money. And if you stock up in the fall, you'll have them on hand to change them out through the winter.
4. DIY fall decor
I love decorating for fall but I don't love spending a lot of money to do it. When my kids were small, our fall decor mostly consisted of art projects they made using leaves, acorns and construction paper.
A simple fall money hack you can try to save is making your own fall decorations.
Look around the house (or the yard) to see what you have on hand that you can use to decorate. And if you have to spend money on craft supplies, check out Dollar Tree.
It's a go-to spot for frugal shopping and they now offer free shipping to your local store!
5. Practice the 5 R's
Adopting the 5 R's can save you money in fall (or any time of year). And you'll feel better about lessenig your environmental impact.
So what are the 5 R's?
Reduce
Reuse
Repurpose
Recycle
Rot (which means composting)
This helps you to save money because you're not buying things we don't need anymore. And it helps cut down on waste because you throw way less stuff away.
6. Review your household budget
Fall is a great time to go over your budget and look for ways you can save.
One thing you might try to save money this fall is negotiating a better deal from your service providers.
For example, you might be able to ask your car insurance or homeowner's insurance company for a lower rate. Another fall money-saving tip is to get rid of certain expenses altogether.
For example, I used to spend $120 a month on cable but I was able to cut that down by getting a Roku and streaming everything. What we pay now for Netflix, Amazon Prime and Hulu is a fraction of what we used to pay for cable.
Not sure what to cut save fall money? Try Trim Financial Manager to find savings on household expenses.
Trim reviews your spending and helps you fight bank fees, eliminate unused subscriptions and negotiate better rates on your bills.
7. Check open enrollment
If you or your spouse have insurance benefits at work, the fall open enrollment period could be an opportunity to save some money.
Go over your coverage and look at what you're paying as a family for the premiums and co-pays. Then compare your options for changing your plan to see if you can make it any more affordable.
Shopping around for health insurance through an online marketplace can help you find the best rates. You can also shop around for deals on life insurance if you're looking for coverage in the fall.
8. Declutter and sell your stuff for cash
As you're putting out your fall decor and getting the house ready for winter, it's worth taking some time to declutter.
Why?
Because you can clear out your house and get ready for the holidays. And you might just have some things lying around that you could sell for cash!
Go room by room and see what you have on hand that you can reuse or repurpose for the season so you don't have to buy anything new. Then, sell off your extra stuff that's still in good shape.
Bonus tip: Donate what can't be sold to charity and make sure you get a receipt. You can claim the donation as a deduction when you file your taxes to save money in the spring.
Related post: 40+ Things You Can Sell to Make Money Now
9. Make yard work a family affair
When there are leaves everywhere, it's tempting to hire someone else to rake them up. But if you want to save money this fall, you're better off tackling it yourself.
If your request is greeted with groans from the kids, try making it a family fun day.
Block off one Saturday when everyone goes out to rake up leaves and bag them up. (And of course, spend a little time jumping in the piles. )
10. Make your own cleaning products
Cleaning supplies can get pricey, not to mention a lot of them are packed with chemicals. You can save money this fall by making your own cleaning supplies at home.
The best part is, you probably already have the ingredients you need. Vinegar, baking soda and some essential oils can get you started.
If you're looking for DIY cleaning supply recipes, check out these posts: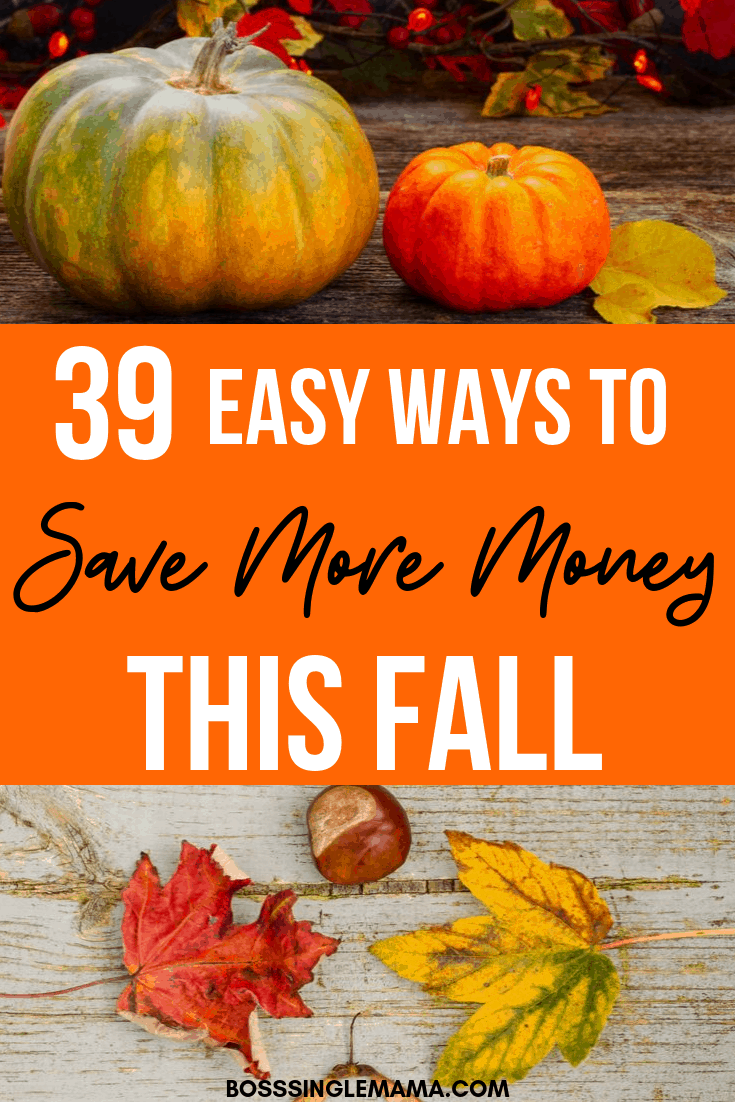 Save Money on Food
11. Meal plan and prep
Fall is one of my favorite times for eating seasonally. Squash, sweet potatoes, apples and duh, pumpkin, abound at this time of year.
And you can make some delicious dirt cheap dinners for fall, too!
An easy way to save money this fall is to base meal plans around in-season foods that are on sale. It's a super simple trick to save on groceries.
If you need fall meal planning ideas on the cheap, check out eMeals or $5 Meal Plan.
12. Shop the farmer's market
Farmer's markets typically close in mid- to late fall so you'll want to visit yours sooner, rather than later.
Here's a great fall money saving trick: Look for specials on in-season foods or discounts on "ugly" fruits and veggies.
Though they might not be much to look at, they likely taste just as good as their "prettier" counterparts. And they don't cost as much so you can save money!
13. Break out the crockpot
Fall and winter are when our crockpot sees the most action. A tasty way to save money this fall is to take all those seasonal foods you've bought and whip up some crockpot meals.
This is a huge-time saver and a money-saver since you can batch cook and make enough to last for the whole week. Check out these post for some amazing fall crockpot recipes that are cheap, easy and tasty!
14. Buy in bulk and start canning
Another way to make use of seasonal foods in fall is to can them. Now, I've done canning before and here is my best tip: read the directions.
My first attempt at making jelly resulted in some super sugary berry syrup instead because I didn't read the directions carefully. ?‍♀️
You might have to spend a few bucks upfront for jars and lids. But you can save money all fall and winter by eating your own fresh canned foods instead of buying them from the store.
15. Eat less meat
Eating less meat is a simple way to save money this fall and with so many great veggie and fruit-based recipes to try, why not?
You don't have to go totally vegetarian. Having meatless Mondays once a week is enough to start saving some money. (And it's good for the environment, too!)
16. Start an indoor herb garden
If you like cooking with fresh herbs, a great trick for saving money is to grow your own. You don't need a lot of space to start a kitchen herb garden or a lot of money to get started either.
Check out this guide for starting an indoor herb garden from Kitchen Confidante. Or browse these inexpensive herb garden kits from Amazon.
17. Make fall get-togethers potluck
Fall is great for spending more time with friends and family, assuming everyone's healthy and able to travel.
If you're planning any family get-togethers, for the fall months here's an savings tip: Ask guests to contribute something to the menu.
You get two benefits: a variety of dishes and you don't have to blow your budget paying for all the food.
18. Shop for groceries online
When our local Walmart first introduced online ordering with in-store pick-up, I was skeptical. But once I tried it, I was hooked!
Here's why ordering groceries online is so great: it's much easier to avoid those impulse buys that add to your total bill.
If you've ever been grocery shopping with kids you know exactly what I mean. It's definitely worth a try to save money this fall, plus you save time since you're not wandering up and down the aisles.
You can check out the online ordering options from Walmart. Or you can use an app like Instacart to get your groceries delivered to your door!
(Use this link and you'll get $10 off your first Instacart order 🙂 )
19. Take advantage of kids eat free nights
Sometimes you can't always cook at home. There's a birthday or you're late getting back from soccer or something else comes up and it's just easier to go out to eat.
You can still save money though, by taking advantage of kids eat free nights. Here's a great list of 100+ restaurants that offer kids eat free promotions to help you save!
20. Make fall drinks at home
If you just have to have your spiced pumpkin latte or white hot chocolate fix, why not learn to make it at home?
There are tons of recipes for warm fall drinks you can try and they won't cost you $6+ each time you take a sip.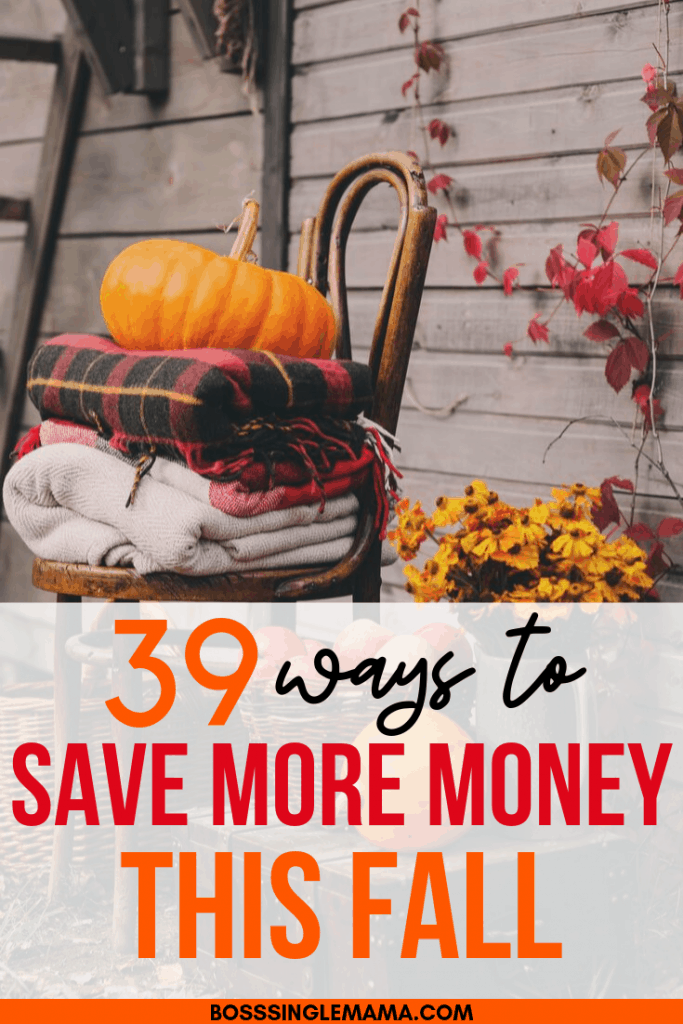 Save Money on Shopping
21. Stock up on end of season clearance
Early fall is a good time to grab summer items at a steep discount. You can also score deals on school supplies, since those end up getting marked down by late September.
November is when you can look for fall savings on decor and Halloween items. In years past, I've saved a ton on everything from Halloween costumes for my son (who likes to cosplay) to fall decor to candles.
And the more money you save in the fall, the more cash you'll have for holiday shopping when the time comes!
22. Use cash back apps to save money
Cashback apps are a life-saver any time of year but they're especially great in the fall.
You can use these apps to save on everything from shopping to groceries to travel and earn money back on what you spend. If you need some cash back app recommendations, here are my favorites:
Ibotta
The Ibotta app pays you cash when you shop at their lengthy list of partner stores. You shop, snap a photo of your receipt, then upload it to the app to get cashback.
Ibotta is great for saving money in fall on school supplies, groceries, snacks for the kids' lunches and clothes.
Download Ibotta now and get up to $20 in bonus cash free
Rakuten
Rakuten lets you can earn cashback when you shop in-store or online and I just love it!
If you download the Rakuten Chrome browser extension you can pile up even more savings using exclusive coupon codes. Some of the deals I've come across have been as much as 40% cash back!
That's a ton of money you could save doing your fall shopping and all you have to do is click, shop and checkout.
Download Rakuten now for a $25 cash bonus
TopCashback
TopCashback is another cash-back site similar to Rakuten.
You shop deals through the site and earn back a percentage of what you spend. It's a hassle-free way to get extra cash for purchases you were already planning to make.
Create your free TopCashback account and start earning
Dosh
The Dosh app is an easy way to earn cashback when you shop online.
You link a debit or credit card to the app, spend at partner stores and restaurants and get up to 10% back every time.
Get a cash bonus when you download the Dosh app
Honey
Honey is a browser extension that finds deals and savings for you, then applies them automatically.
This one is great for getting the best deals on everything you buy online, including Amazon. You can create watchlist and if something on your list drops in price, Honey will let you know!
Install the Honey browser extension
23. Check out consignment and thrift stores for fall clothes
Consignment stores and thrift stores were a life-saver for me when I first became a single mom. I had a very tight budget and I couldn't afford to hit the mall or shop online for new clothes every time my kids outgrew theirs.
If you don't normally frequent the consignment or thrift store circuit, consider giving it a try. You might be surprised at how you can save money this fall by buying gently used clothes.
You can also check out sites like ThredUp to find kids' clothes for less. Or you can host a clothing swap with other families you know.
This is a great way to get new-to-you kids' clothes for free and clean out the closets!
24. DIY Halloween costumes
While you're browsing the thrift stores, look for finds you can use to make Halloween costumes.
This is one of my favorite frugal fall money tips!
We stopped buying Halloween costumes a few years ago and started making them instead. It saved us money and it's fun working together to make a completely unique costume!
25. Shop yard and estate sales
Spring and summer are usually peak yard sale seasons but you usually find sales in fall as long as the weather holds out.
If you're going to try yard or estate sales to save money, make sure you know what you're looking for first. If you go just to look for deals, you might end up spending money on things you don't really need.
And that's not what you want if you're aiming for a frugal fall!
26. Try a no-spend weekend
A no-spend challenge can be helpful for getting your budget back on track. If the fall season has got you spending more than usual, try a short-term spending diet.
Put the brakes on spending for a weekend. If you can go for a week or longer, that's even better for saving.
And check out other savings challenges as well. For example, you might like:
And you can download some free printable money-saving charts to keep track of your progress!
27. Plan your holiday budget early
If you don't have your holiday budget together yet, it's time to get one!
Making your holiday spending budget as early as possible gives you plenty of time to plan and save. So if you haven't added this to your fall money to-do list yet, it's time to get on it!
Look at what you spent last year, then list out what you think you'll spend money on for the holidays this year.
Then, set up a separate savings account to hold that money until you need it.
I like CIT Bank because they pay a stellar interest rate on savings. Check out my CIT Bank review to learn more!
28. Check your email settings
If you've signed up for all your favorite stores' email lists, then fall is when your inbox starts getting bombarded with special flash sale announcements, promo codes and discounts.
That could be a good thing if you want to save money this fall. But it could be a bad thing if you're spending money just to snag those deals.
So check your email settings and decide whether you want to get those emails or not. And if you don't want to be tempted, go ahead and unsubscribe from them now.
29. Use a price protection app to shop
You know what stinks? Buying something, then seeing it advertised for a lower price somewhere else.
Luckily, there's an app for that to save you money in fall (or any time). Paribus helps you get refunds for things you buy online if you find them cheaper elsewhere.
Paribus is totally free–you don't have to link a credit card or anything to use it. It's a no-brainer way to save money on shopping in the fall or any time!
30. Be choosy about using credit cards to spend
Credit cards can help you save money if you're earning cashback on purchases. But they can land you in debt if you don't have a plan for paying it off.
If you need a recommendation for a credit card, check out Credit Karma.
This is the site I use to monitor my credit for free and they also offer personalized suggestions for credit cards based on your credit profile.
It's free to sign up–no credit card needed, so give Credit Karma a try!
31. Get free shipping for holiday purchases
If you're already starting your holiday shopping in the fall, you can easily save money by taking advantage of free shipping promotions.
Just don't get lured into the minimum spending requirement trap. This is where you have to spend a set amount to qualify for free shipping.
One workaround is to have the item shipped to the store, then pick it up instead. This is free and you can stick to spending only what you budgeted.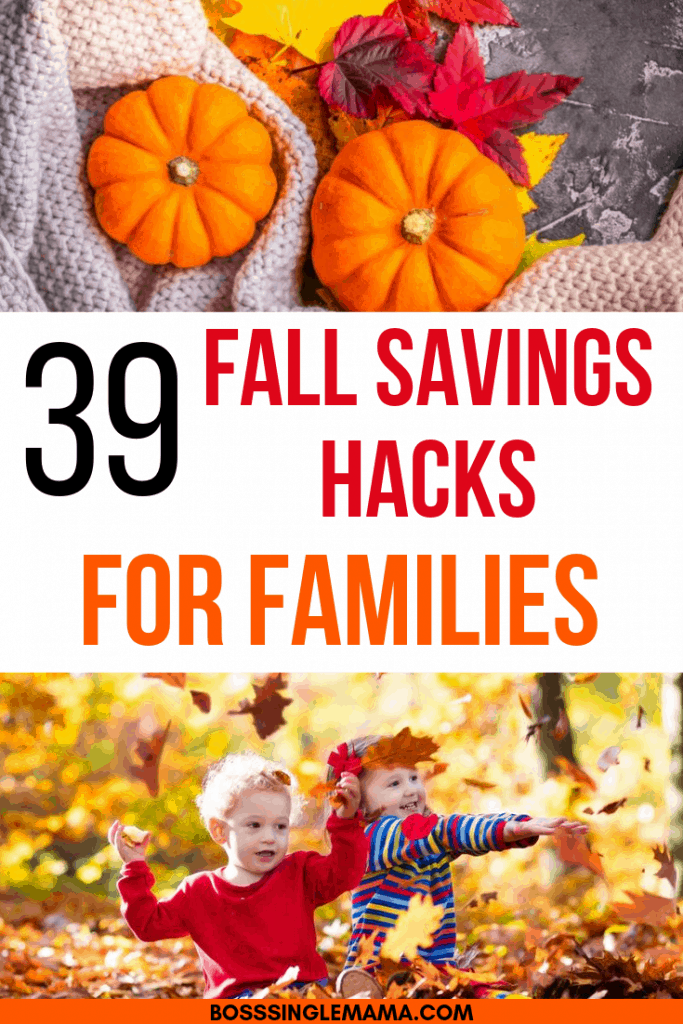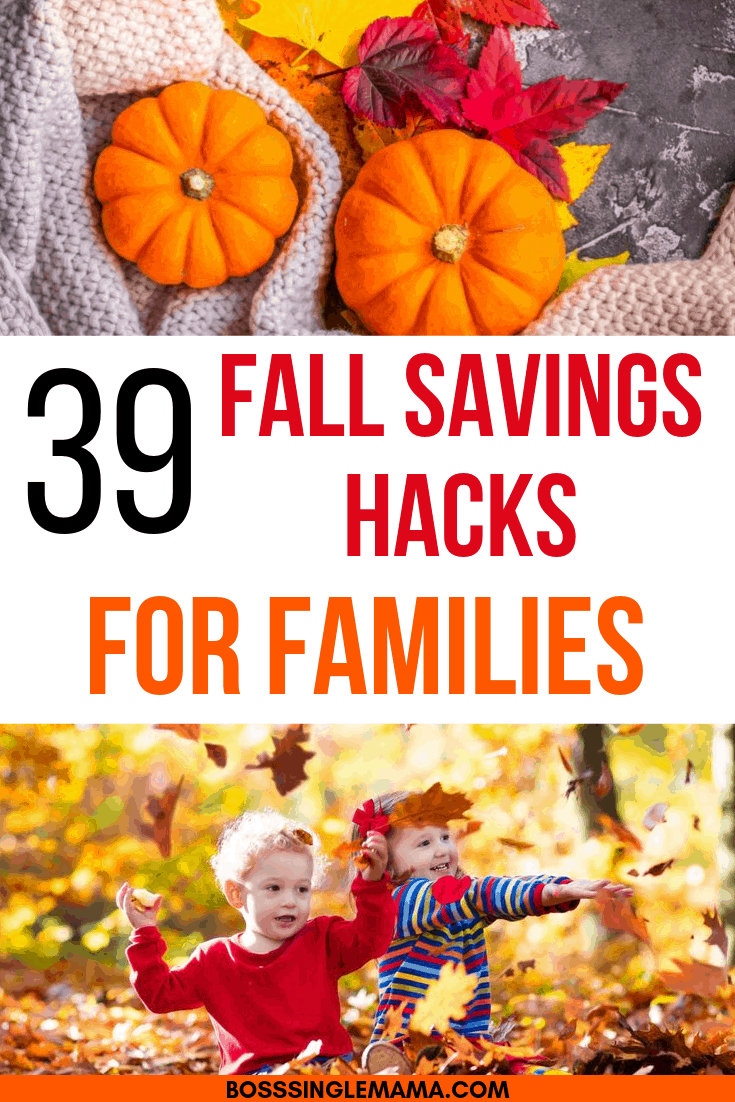 Save Money With Kids
32. DIY fall crafts and cards
I'm all about doing crafts with my kids and making cards from things we have around the house. It's a fun way to spend an afternoon while spending little to no money. (Dollar Tree, remember?)
Some of my favorite things to do with my kids when they were younger included apple stamping and leaf rubbings. These posts have even more great ideas for free (or cheap) fall crafts for kids:
33. Attend free fall events
I love doing fun things with my kids for free. Where we live, that includes fall harvest festivals, free Halloween events, holiday craft markets and movies in the park at night.
Check out what's happening in your area to see what kind of frugal fun you can have as a family.
34. Go apple or pumpkin picking
Sadly, we don't live anywhere near an apple orchard.
But if you do, taking the kids out for the day to pick apples is cheap fun (plus, you can stock up on apples for all that canning you plan to do!)
35. Volunteer
Fall and the build-up to the holidays is the perfect time for volunteering as a family. And it doesn't cost you anything but your time.
One thing my family does every year with our homeschool group is make fall-themed cards. Then, we go as a group to a local nursing home to hand them out.
It brightens up the residents' spirits and giving back makes for a fun day for us, too.
So round up the kids and brainstorm some inexpensive ways you can volunteer as a family in the fall.
Some of the things you could to have fun (and save money in fall) while helping others include:
Raking an elderly neighbor's leaves
Baking some pumpkin muffins and dropping them off at your local police station
Going through your kids' books and donating ones you don't read to your local library's children's room
Dropping off toys that are still in good condition at a daycare
36. Take a nature walk
There's so much happening in nature during the fall season.
Leaves are turning, the squirrels and birds are getting ready for colder weather. Taking a hike or nature walk together is perfect for making fall memories with kids without spending money.
Bonus points if you put together a nature journal together. Kids can use crayons, colored pencils and markers to draw the things they see on your walks.
37. Look for deals on fall family travel
In fall seasons past, we celebrated my daughter's birthday by taking a family trip. Usually to someplace expensive, like a theme park or water park.
One way I saved money in fall on travel was booking passes at a discount whenever possible and shopping for deals on hotel rooms.
If a fall getaway with kids is in the works, check out deal sites like Hotels.com or Expedia to find savings. And if you can't afford to go somewhere (or travel is a no-go because of health concerns) try a fall staycation at home instead!
38. Go backyard camping
Okay, so I am not the camping type. But if your kids are into sleeping under the stars, a backyard campout is a fun, money-saving fall activity you can plan.
You can roast marshmallows, tell spooky stories, count the stars–all without having to spend money.
39. Streamline your schedule
Kids' activities are a budget-killer in the fall.
Your kids might be doing things with their church, working on school projects or signing up for the new sports season.
It can get overwhelming time-wise and money-wise. So if you're trying to save money this fall with kids, take a second look at your schedule.
If doing all the things is leaving you exhausted and broke, think about cutting one or two things out. Your wallet (and your sanity) will thank you.
(Check out this list of 50 fun fall activities for more fall bucket list ideas!)
Bonus Fall Money Tip: Start a Fall Side Hustle!
So, I've given you lots of ideas for how to save money this fall but how about a few to help you make some money?
I am all about side hustles and fall is a great time to start a side gig, especially if you need to make extra money for the holidays.
So, what can you do as a side hustle? Here are a few of my favorite ways to earn some cash in your spare time:
The great thing about any of these side hustles is you can start them in fall and keep them going all year round to make extra money. If you need more side hustle ideas, check out my FREE Start a Side Hustle Checklist in the Resource Library!
How will you save money this fall?
Fall is the perfect time to slow down and enjoy the season before the holiday shopping frenzy sets in.
And it's also a great time of year to reap some extra savings ahead of the holidays.
For more easy ways to save money in fall or any time, be sure to check out my favorite Smart Money Tools.
Do you have an awesome tip for saving money during the fall? Drop a comment and tell me about it!
Then please pin and share this post with someone else who could use some fall money-saving tips!
Fall Money Tips for Frugal Families