Last Updated on May 6, 2022 by Rebecca Lake
Take the Penny Savings Challenge
Are you looking for an easy way to grow your savings with spare change?
The penny savings challenge can help you save $667.95 in one year with minimal effort!
Money saving challenges can be a great motivator to get into savings mode. And they can help you to develop a savings habit if it's something you've struggled with.
More than half of Americans have less than three months' worth of expenses saved. But if 2020 taught us anything, it's that a bigger emergency fund can be a good thing.
The penny challenge is a simple way to start saving money with just pennies a day. (Literally!)
Not sure how it works?
Today, I'll walk you through:
What the penny challenge is
How a penny savings challenge works
Tips for sticking with your savings challenge (and piling up those pennies!)
Related post: 20+ FREE Money Saving Charts to Help You Crush Your Savings Goals
What is the Penny Savings Challenge?
The penny savings challenge is a money saving challenge that requires you to save a certain amount of pennies each day.
(And no, it has nothing to do with the TikTok penny challenge that had people burning their houses down.)
You start off by saving one penny the first day. Then you add a penny to the amount you save for each day afterward.
So here's what the challenge looks like in action:
Day 1: Save $0.01
Day 2: Save $0.02
Day 3: Save $0.03
You'd continue that way, adding one more penny to your savings total each day.
If you stick with it for one year, you end up saving $3.65 on the 365th day. And your savings grand total would come to $667.95.
The penny challenge doesn't require you to save large amounts. The most you'll ever save on a weekly basis is $25.27.
That's a lot less daunting than some money saving challenges that might require you to save $50, $100 or more each week to reach your goal.
Related post: How to Save $10,000 in a Year: 12 Practical Savings Tips That Actually Work
Is the Penny Challenge Real?
Yes, the penny savings challenge is a 100% legitimate way to save money!
The beauty of this challenge is its simplicity.
You can grow your savings with pennies a day, which can be doable even if you're on a tight budget.
The challenge can be started at any time, so it's a flexible way to save. And it's easy to keep track of, too.
All you need to know is which day of your penny challenge you're on.
So if it's day 55, for example, you know you need to save 55 pennies that day. If it's day 138 then you know you need to save 138 pennies or $1.38.
(And I've got a free penny challenge chart printable down below to help you keep track of your savings!)
If you want to do the challenge for just one year, you can commit to a 365 day penny challenge. Or you could keep it going longer and add even more to your savings!
And if you think saving pennies won't add up to much, consider this.
If you were to take one penny and double its value every day for 30 days, you'd have more than $5 million.
Now, can you get to $5 million with the penny a day challenge?
Probably not, at least not if you're saving one extra penny each day for 365 days.
But this example illustrates how powerful compounding interest can be for growing your money, even if you're only saving pennies at a time.
Related post: 10 Easy Ways to Simplify Finances (and Save Money!)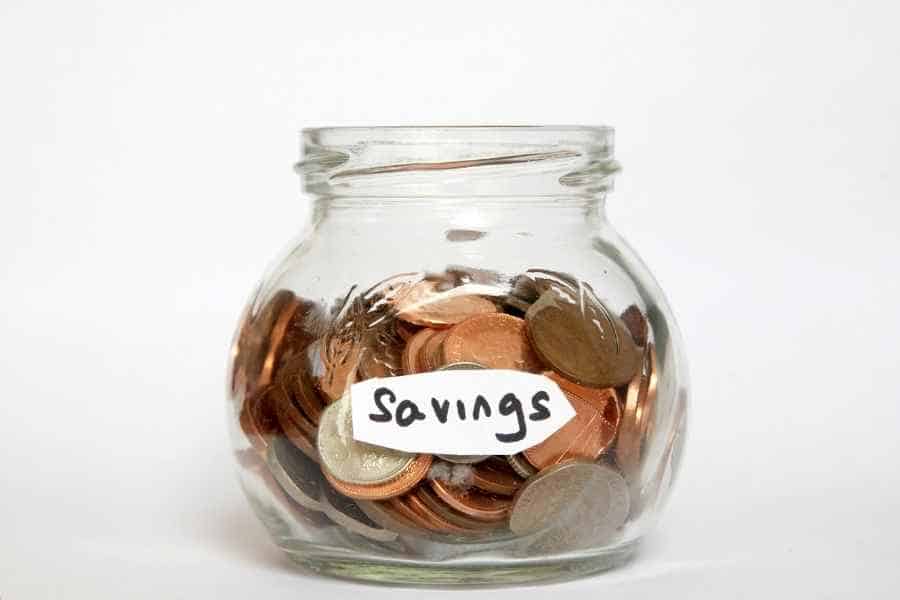 Variations on the penny savings challenge
This post is all about the original penny daily savings challenge.
But there are some ways you can tweak this challenge to save your pennies, including:
Reverse penny challenge
26 week penny challenge
52 week penny challenge
Double penny challenge
These savings challenges each have their own rules to follow. But they're all based on the idea of saving your pennies over the course of a year.
Related post: 52 Week Money Challenge (How to Easily Grow Your Savings in 2022)
How Can I Save Pennies in a Year?
Taking this money saving challenge is a great way to save pennies in a year.
And it's so easy to get started!
You just have to do three things:
Decide what day to start your savings challenge
Find the pennies to save each day
Keep track of your penny savings progress
Again, I've got a free printable penny challenge chart you can grab to help you keep track.
As far as picking a day to start, you can start a penny challenge at any time.
So if it's January 1st and you want to save your pennies for the next year, you can start then.
Or if you want to start in the middle of summer that's fine too.
The hardest part is finding the pennies to save each day. But this may not be that hard if you're already committed to budgeting each month.
And if you can't find a single penny to save so you can get started on day one of the challenge, be sure to check out these posts:
How to Stop Spending Money on Unnecessary Things
20+ Things to Stop Buying Now to Save Money
220+ Easy Ways to Save Money on Almost Everything!
Does the penny challenge work?
Yes, the penny savings challenge does work.
But only if you stick with it!
And that's no different from any other type of money savings challenge. You have to be committed.
But this savings challenge is designed to make setting money aside as easy as possible. It shouldn't be hard or stressful at all.
I recommend trying this savings challenge if:
You've struggled with getting into a savings habit
You're on a tight budget but still want to save money regularly
You want to make the most of your spare change
The penny challenge is even great for kids!
If you pay your kids an allowance or reward them with money for good grades then they can start a penny a day savings challenge of their own.
The benefits are twofold: kids learn the importance of saving and the value of setting goals.
This is a fun and simple way to start teaching kids the ins and outs of how money works. And that can benefit them once they're managing money as adults.
Related post: 100 Envelope Challenge Explained (Free Printable Chart!)
Where to keep your daily penny savings
You might be wondering if you need to save actual pennies to do the penny challenge or if you can save money from your bank account.
And the answer is that any way you want to save is fine!
So, for example, you could keep the money from your penny challenge in a:
Piggy bank
Mason jar
5-gallon water bottle
So what's the best place to keep the pennies you save?
If you're saving actual pennies, then a piggy bank, Mason jar or 5-gallon water bottle is just fine. The fun part of saving this way is that you can see your pennies piling up as each day of the challenge goes by.
If you typically use a debit card to pay instead of cash, then you might not have any physical pennies to spare. But you can still take the 365 day savings challenge!
Here's how:
Open a high yield savings account if you don't have one already
Link your savings account to your checking account
Login in to your checking account daily and transfer the appropriate number of pennies
That's it! It's really that simple.
And the benefit of doing the penny challenge this way is that you can earn interest on your savings. So that means you could end up the year with even more than $667.95 stashed away!
Related post: 200 Envelope Challenge (Save $5,100 in 200 Days!)
Bonus tips: Use apps to save even more more
The penny savings challenge is a great tool for building a savings habit.
And you can keep it going by finding other creative ways to save automatically.
That's where apps like Acorns and Digit come in.
Acorns is a spare change investing app. You link the app to your bank account and spend money like you normally would.
Acorns rounds up the difference and invests it for you.
This is a super simple way to build wealth with pennies. (Remember the $5 million example from earlier?)
Digit is a money saving app that looks for spare change you can afford to save.
If the app finds it, then Digit transfers money from checking to savings for you automatically.
Again, this is a stupid simple way to save more money!
Download Acorns now and get a $5 bonus
Penny Challenge Chart Printable
Need a simple way to keep track of your penny savings challenge?
You can download this free 365 day penny challenge PDF!
All you need to do is check off one box each day as you deposit your pennies into savings. It's an easy way to keep track!
Final thoughts on the penny savings challenge
The penny savings challenge is one of the easiest ways to start saving money.
Even if you've never saved a dime before, it's possible to save money with the penny challenge.
Have you tried this super simple savings challenge yet? If so, how did it go?
Head to the comments and tell me about it!
Don't forget to grab your free 365 day penny challenge printable, along with lots of useful money printables in the Resource Library.
And be sure to take a peek at my favorite Smart Money Tools for making and saving money!
Penny Savings Challenge Explained