Last Updated on May 17, 2022 by Rebecca Lake
Want to save more money?
The 100 envelope challenge is a money-saving challenge that's designed to help you save $5,050. To complete the challenge, you add money daily to an envelope numbered from 1 to 100.
If you're plugged into social media, you might have seen this viral money challenge on Tiktok. Read through the comments and you'll see quite a few Tiktok users saying that the 100-day money challenge helped them to save a lot of money in a short amount of time.
If you'd like to grow your savings, the 100 envelope challenge could help you do it without much effort. But this money saving challenge may not be right for everyone.
Related post: Penny Savings Challenge Explained (Save $600+ This Year!)
What is the 100 Envelope Challenge?
The 100 envelope money challenge is a savings challenge that helps you to save money over a period of 100 days. You start with a stack of empty envelopes, numbered 1 to 100. You then draw one envelope each day, depositing an amount of money equal to the number on the envelope. At the end of the challenge, you'll have $5,050 in cash.
The 100 day savings challenge blew up as a viral Tiktok trend. And you can find lots of TikTok videos showing the challenge at work using the hashtag #100envelopechallenge.
A quick Google search will tell you that the idea for this savings challenge comes from a mathematician named Carl Friedrich Gauss.
The story goes that as a young student, Gauss was able to add the numbers 1 to 100 in no time.
Gauss realized that by grouping numbers 1 to 100 in pairs (1 + 100, 2 + 99, and so on) each pair would always equal 101. Since there are 50 pairs of numbers, you can multiply 101 x 50 to get 5050.
That same idea was applied to create the 100 envelope savings challenge.
Related post: How to Do the 50 Envelope Challenge (Printable Envelope Savings Challenge Tracker!)
How Does the 100 Envelope Challenge Work?
1. Gather 100 envelopes
The first thing you'll need to do to start the envelope challenge is to get 100 envelopes.
These can be plain white envelopes in standard letter size. Or you could look for some cute envelopes to stash your savings. (These mini envelopes are designed to hold gift cards but they're also perfect for doing the 100 envelope challenge!)
2. Number your envelopes
Once you have your envelopes, number them 1 to 100. It doesn't matter if you keep them in order or not. You're going to mix them up in the next step anyway.
3. Find a place to keep your envelopes
After you've numbered your 100 envelopes for the challenge, you'll need a place to keep them.
You could use a basket, a photo box, a plastic storage bin or even a small, fireproof safe. Whichever option you choose, make sure you pick something functional and practical, as you're going to be dipping into your envelopes every day for the next 100 days.
Now, shuffle your envelopes and add them to your container. The shuffling is important because that's how you add the "challenge" aspect to this. Otherwise, saving with 100 envelopes could get boring and you might lose interest.
4. Choose one envelope every day
For the next 100 days, you'll pull one envelope from the pile.
Remember, you want to choose your envelopes randomly. This way, you never know what you'll be expected to save on a given day.
5. Add money to the envelope
Once you pull an envelope, look at the number, then add that amount to it in cash.
So if you pull envelope #23, you'd add $23. Or if you pull envelope #5, you'd add $5.
Rinse and repeat for the full 100 days. When you've filled every envelope, you'll have exactly $5,050 in cash savings.
6. Separate your filled envelopes
Once you add money to that day's envelope, separate it from the remaining empty envelopes.
For example, if you're using a photo box or similar storage container to hold your envelopes you might pulled filled ones on one side and unfilled ones on the other. This can help you to stay organized as you complete the challenge.
You could also deposit the money from your filled envelopes into a high yield savings account weekly. That way, you can keep your money safe and earn a great interest rate while you're at it!
7. Track your savings progress
Completing a money saving challenge isn't always easy, especially if you're not in the habit of saving money consistently.
Tracking your progress daily can help you see how well you're doing and give you the motivation to keep going.
There are different ways to track your savings with the 100 envelope challenge. You could write it on a calendar, jot it down in a habit tracker or use a free savings challenge printable.
In fact, I've got a 100 envelope savings tracker printable you can download for free at the end of this post. Just keep scrolling to snag your free savings challenge tracker!
Related post: 25 Best Cash Envelope Wallets (Stylish and Affordable!)
How Much Do You Save With the 100 Envelope Challenge?
The 100 envelope challenge lets you save $5,050 in 100 days. Here's a breakdown of how the 100 envelope challenge math works:
Envelopes 1 to 10 completed = $55 saved
Envelopes 1 to 25 completed = $325 saved
Envelopes 1 to 50 completed = $1,275 saved
Envelopes 1 to 75 completed = $2,850 saved
Envelopes 1 to 100 completed = $5,050 saved
These are all numbers in exact cash saved.
If you pull one random envelope per day, the highest number you'd save in a single week is $679. The lowest amount of money you'd save in a week is $28.
Related post: Cash Envelope System for Beginners (Get Started in 3 Easy Steps)
Does the 100 Envelope Challenge Work?
The 100 day envelope savings challenge does work if you're committed to saving your extra dollars and filling up every single envelope.
You might consider this savings method if you:
Would prefer saving cash to putting money in a separate savings account
Have spare cash in your budget to save each day
Don't mind having to keep up with a bunch of envelopes
The 100 envelope savings challenge can be an effective way to save money if you follow the plan. The upside is that it's not hard to do.
You simply pick a random envelope each day, then fill it with the dollar amount that's written on the front.
Who should do the 100 envelope challenge?
Taking a 100 day savings challenge can be a great way to reach your savings goals. It might be a good fit if you:
Have extra money in your monthly budget to save
Are comfortable saving cash
Want a fun way to challenge yourself to save money
Don't have any debt to pay down
Know how to stay organized
Are committed to saving money on a daily basis
Related post: How to Save $10,000 In a Year
Who should NOT do the 100 envelope challenge?
The 100 envelope savings challenge doesn't necessarily fit every financial situation. You may want to skip this challenge if you:
Are living paycheck to paycheck and don't have extra cash to spare
Don't like the idea of choosing a random amount to save each day
Struggle with organization or sticking with daily habits
Would rather not keep cash at home
Think you could get a better return by investing your money or parking it in a high yield savings account
Looking at your total financial picture can help you decide if taking this challenge makes sense.
100 Envelope Challenge Variations
If you don't have much money to save or you want a savings method that's easier on your bank balance, there are some envelope challenge variations you could try.
For example, instead of drawing one random envelope per day, you could draw two per week.
You'd still save $5,050 in exact cash that you could add to your bank account. But you're saving over the course of a year instead of packing it all into a 100-day window.
Another 100 day money challenge variation involves pulling one or two envelopes each payday, using two sets of envelopes numbered 1 to 50 or scaling back and doing a 50 envelope challenge instead.
With this challenge, you only use 50 envelopes numbered 1 to 50. At the end of the 50 envelope challenge, you'd have $1,275 saved.
There's also the 200 envelope challenge. With this challenge, you start with 200 numbered envelopes instead of 100.
You break those envelopes up into four groups, with envelopes numbered 1 to 50 in each group. You then draw one envelope each day for 200 days, adding cash as you go. At the end of the 200 days, you'd have $5,100 in savings.
The 200 envelope challenge could be a bit easier to tackle than the 100-day savings challenge since you'll never have to add more than $50 to an envelope at any time. And while it takes a little longer to complete, you'll still end up with just over $5,000 in savings.
Or you may decide to try a completely different savings method altogether. The 52-week challenge, for example, has you saving money over the entire year, starting with just $1. You then save an increasing amount of money each week.
This could be the best way for you to save if you're new to the saving habit.
Related post: 52-Week Challenge: How to Save $1,378 This Year
100 Envelope Challenge Free Printable Chart
Want a simple way to keep track of your savings? I've got a free printable 100 envelope challenge tracker you can download!
Simply color in or cross off one envelope per day that corresponds to the number on the random envelope you draw until your chart is completely filled in!
Scroll to the bottom to get the savings tracker!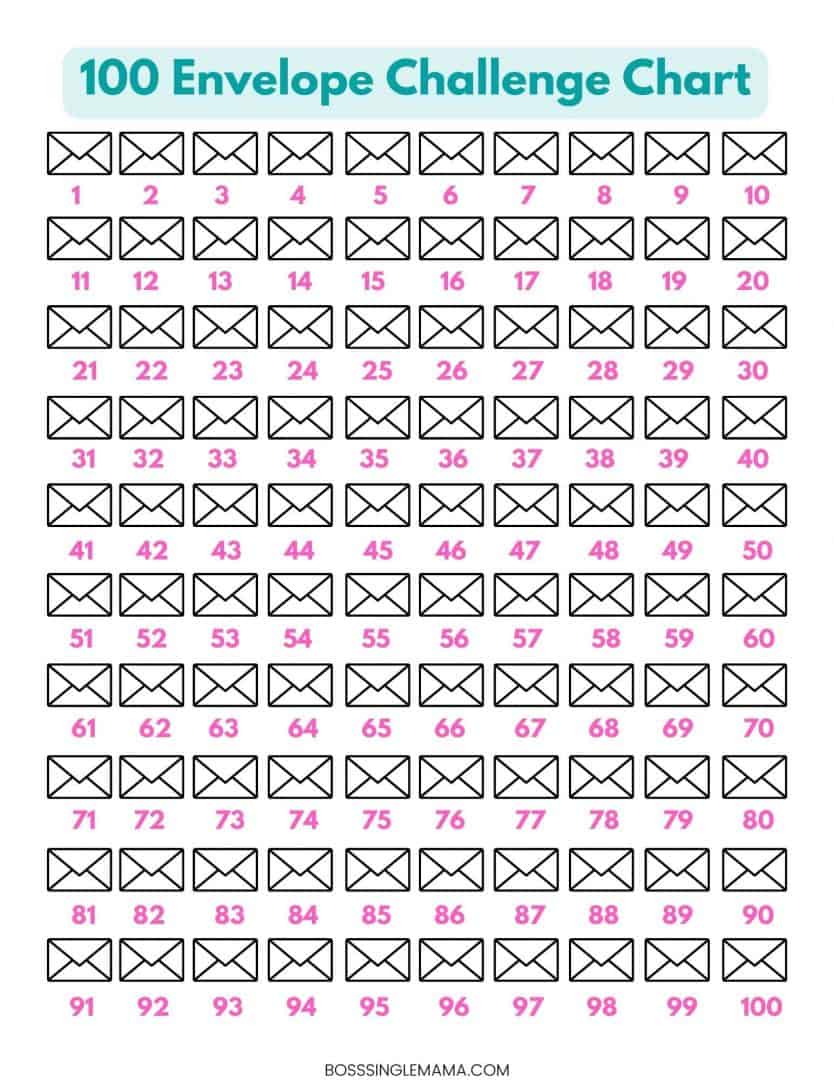 Is the 100 Envelope Challenge Worth It?
You might consider the 100 envelope savings challenge if you're looking for a fun way to save money (and maybe even grow your net worth a little).
This is a simple savings challenge that family members can participate in together, which is great for teaching kids the value of saving. Even if they don't contribute anything to the savings pot, they'll still learn the basics of saving by helping you fill the envelopes and mark them off on your envelope challenge tracker.
Keep in mind, however, that there are other easy ways to save.
You could use phone apps like Digit and Acorns, for example, to save your spare change.
These apps allow you to set up a digital savings jar and grow your balance a little bit at a time.
And you might try a no-spend challenge as well if you're looking for a simple way to put the brakes on impulse purchases.
Related post: 10 Hacks for Crushing a No Spend Challenge
Final thoughts on the 100 envelope challenge
Trying the 100 day envelope challenge could be a good way to find your savings groove and the good news is, it doesn't take a lot of effort.
If you're struggling to find the extra cash to save, putting some simple frugal trips to work can help.
For example, meal planning can help you save money on groceries. And you can use phone apps like GetUpside to save on gas.
And you can also look for ways to make extra money to add to your 100-day savings challenge pile.
For example, using Ibotta when you shop is an easy way to earn cashback when you spend. Or you could earn up to $50 per survey answering questions with Survey Junkie in your spare time.
The point is that saving a few extra dollars shouldn't have to be hard. Whether you're working on a three-year plan, five-year plan or are just trying to make your budget stretch to the end of the month, taking a savings challenge can help you get on track.
Be sure to check out my favorite Smart Money Tools for more ways to make and save money.
Need more ideas for saving money? Read these posts next:
100 Envelope Savings Challenge