Last Updated on December 22, 2021 by Rebecca Lake
Best Money Saving Apps to Grow Your Bank Account
Get the best apps to save you money so you can stop feeling broke!
Need a quick and easy way to make money? Get paid to take surveys with Swagbucks and Survey Junkie!
Do you struggle with saving money?
If you said yes, you're not alone. Nearly one in four Americans don't have money stashed away for emergencies.
Saving money is a habit and if you're not a saver by nature, it can be hard to make it part of your routine.
That's where financial apps can make your life so much easier.
There are so many apps that can save you money these days and you barely have to lift a finger. If you're trying to grow your emergency fund or save for another financial goal, that's HUGE!
When you're working with a tight holiday budget, every penny you can stash away counts. And having an app handy that can put money back in your pocket is great if you're struggling with how to afford Christmas or kids' birthdays.
But what are the best savings apps to try?
I'm so glad you asked! I've put together a roundup of my favorite personal finance apps you can use to boost your savings.
Each of these apps can help you save (or in some cases, earn) money when you shop or perform simple tasks online. And the best part is, all of them are free to use!
I'll also share any tips or hacks I know for making the most of these apps. Sound good?
Then if you're tired of living paycheck to paycheck and feeling broke and you're ready to start saving, let's dig in!
12 Must-Have Apps to Help Save Money
1. Rakuten (formerly Ebates)
Rakuten is one of the best apps for saving money if you shop online.
When you sign up for Rakuten (remember, it's free!) you can browse and activate cashback offers at partner retailers online. Once you find an offer you like, you click through to that store and shop like you normally would.
If you make a qualifying purchase, you can earn up to 40% cashback. Getting $40 back on every $100 you spend? Sounds great to me!
You can also download and install the Rakuten Cash Back button, which lets you take advantage of cashback offers even if you're not shopping through the Rakuten site.
Rakuten even has its own Visa cashback credit card if you really want to get serious about saving when you shop.
Lastly, Rakuten now lets you earn cashback when you shop in-store. You just have to link your credit or debit card to your Rakuten account first. Then you can activate offers and shop to save!
⇒Sign up for Rakuten now and get $10 in bonus cash!
2. Ibotta
Next on the list of best money saving apps is Ibotta. It's a must-have for saving money on groceries and shopping!
Ibotta makes saving money and earning cashback when you spend easy. There are three ways to earn cashback. You can:
Link your loyalty program cards from your favorite stores to the app
Get rewarded when you make purchases through the Ibotta app
Take a photo of your receipt and upload it to Ibotta
Ibotta supports receipt sharing from 270+ stores, including brands like Walmart, Kroger and Sam's Club. This app is especially good for families who want to save money on their grocery bills.
Plus, you can even use Ibotta to earn cashback when you shop with Instacart. That's a major plus if you like to grocery shop online to save time!
You can streamline how you use the app by creating a Favorites list. When you add stores to the list, you'll automatically see special money-saving offers for those retailers first.
It's an easy-peasy way to save money on everything you buy!
⇒Download the Ibotta app and get $20 in cash bonuses!
3. MyPoints
MyPoints might be one of the best money saving apps you've never heard of. Here's how MyPoints works in a nutshell.
When you sign up for MyPoints (like Rakuten, it's totally free!), you can earn points for shopping or doing simple tasks online. That includes things like taking surveys and watching videos.
As your points pile up, you can redeem them for free gift cards to retailers like Amazon and Target. (My personal fave!)
MyPoints is great because you don't necessarily have to shop through the app to earn money-saving rewards. And most of the tasks you can do to earn points outside of shopping aren't too time-consuming, which is great for busy moms.
There are two other reasons to like MyPoints if you're trying to save money.
First, you can download manufacturer coupons that you can use to shop online. Second, you can earn points back on gift cards you buy through MyGiftCardsPlus, which is run by MyPoints.
⇒Sign up for MyPoints now and get a free $10 Amazon gift card!
4. Tada
Tada is similar to MyPoints. (In fact, they're part of a network of sites that also includes Swagbucks–we'll get to that one in a minute!)
Here's how Tada is different. When you sign up and shop through the site, you earn cash back instead of points.
Once you hit $20 in cashback, Tada pays the money out to you. You can earn cashback online or in-store and some of the offers I've seen there recently are good for as much as $60.
Think about how quickly your savings could add up if you're shopping through the site regularly! Even if you're just shopping for the holidays, you could pocket a pretty decent amount of change using Tada.
5. Swagbucks
Swagbucks is one of the best money saving apps that blends the best of both worlds, letting you earn points toward cash back and gift cards.
You can earn rewards called SB points by doing things you might already be doing online, like taking surveys, playing games or just surfing the web.
Swagbucks also offers coupon codes to popular stores, which is great for saving even more money when you shop.
Once you've accumulated some SB points you have two ways to redeem them: as a cash deposit to your PayPal account or as free gift cards to stores like Amazon and Walmart.
That's it! It's a pretty sweet (and easy) way to save money.
⇒Sign up for Swagbucks now and get a $5 bonus!
6. Honey
I can't say enough about how great Honey is if you want to save money. But what is it?
Good question.
Honey is a free browser extension that helps you save money automatically when you shop online. When you shop participating stores, Honey searches for promo and coupon codes for your purchase. If it finds valid codes, you save money instantly.
Another cool feature: Honey always looks for the lowest price when you shop at Amazon.
As someone who spends a couple of thousand dollars per year on Amazon, getting the best price helps me save big. (And if you're not using Amazon Prime to get free 2-day shipping, sign up for try it free for 30 days!)
⇒Get Honey and start saving money!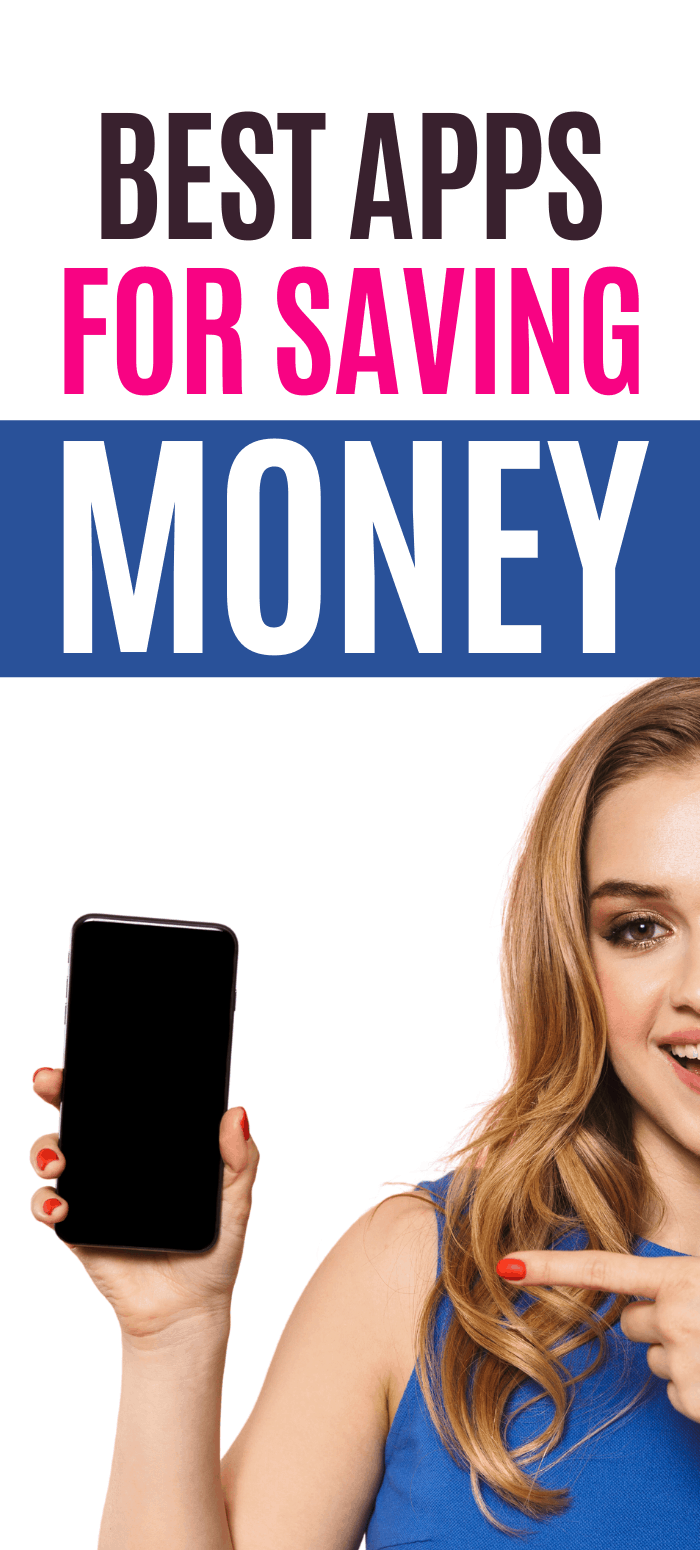 7. Acorns
Acorns is one of the best money saving apps to have if you can't seem to find even a penny to spare.
The Acorns app makes saving super simple.
You download the app and link it to your bank account.
When you spend with your debit card, Acorns rounds up those transactions and uses the money to invest.
You can build a low-cost portfolio over time using your spare change, without having to change your budget or spending habits!
If you haven't tried investing yet, Acorns is a great way to get started.
⇒Sign up for Acorns and get a $5 bonus!
8. Dosh
Dosh is a mobile app you can download and link to your debit or credit cards.
Once your free account is set up, you shop and dine at partner merchants through the app. Or you can earn cashback on travel.
Every time you make a qualifying purchase, you automatically get up to 10% cash back. You can transfer your cash to your savings account or to PayPal, or even donate it to charity if you want.
I like Dosh because you can save money and get cash back without even thinking about it.
It's hands-down one of the best money saving apps if you like your savings to be hassle-free!
⇒Download the Dosh app and start saving!
9. Paribus
So far, the best money saving apps I've mentioned all help you save money by earning cash back on what you spend or getting free gift cards. Paribus is a little different.
Paribus is a free app that tracks your online purchases to find the lowest price on the things you buy. If it finds something you bought for less money elsewhere online, Paribus requests a price adjustment automatically.
If the request is approved, you get the difference between what you paid and the lower price credited back to you. It's one of the easiest ways to save money on online shopping.
Now, you could get price protection with your credit card. Some of them do still offer that perk. But if yours doesn't, or you'd rather spend with your debit card to avoid debt, then Paribus may be just what you're looking for.
10. Tally App
Being stuck in credit card debt can be a real buzzkill.
But luckily, there's an app that can help you pay it off faster!
It's called Tally and it helps you save money by streamlining the way you pay off credit card debt.
Specifically, Tally helps you save money on credit card interest so you can get out of debt faster.
If you've tried the debt snowball or the debt avalanche but still can't seem to get anywhere with paying off credit cards, Tally can be a time-saver and a money-saver.
⇒Read my full Tally app review to learn more.
⇒Or, download the Tally app now to ditch high interest debt!
11. Billshark
Does it always feel like you have too many bills and not enough money to go around?
If you're stuck trying to balance paying bills with saving, then Billshark can help.
Billshark rates as one of the best money saving apps for cutting your expenses.
This app reviews your spending to look for wasteful expenses you can get rid of. And it goes to bat for you to negotiate lower bills for streaming services, cellphone plans and more.
I love Billshark because it can easily save you hundreds or even thousands of dollars a year!
⇒To learn more, check out my detailed Billshark review.
⇒Or head here to download Billshark and start cutting your bills!
12. Drop
Drop is one of the best money saving apps for earning cashback that you can turn into gift cards for retailers like Amazon, Netflix and Starbucks.
When you download the Drop app you can earn rewards when you shop at partner merchants.
You can then turn those rewards into shopping and purchases at some of the top retailers.
Drop is easy to use and it's totally free. And it's great for earning cashback rewards when you shop online or in-stores.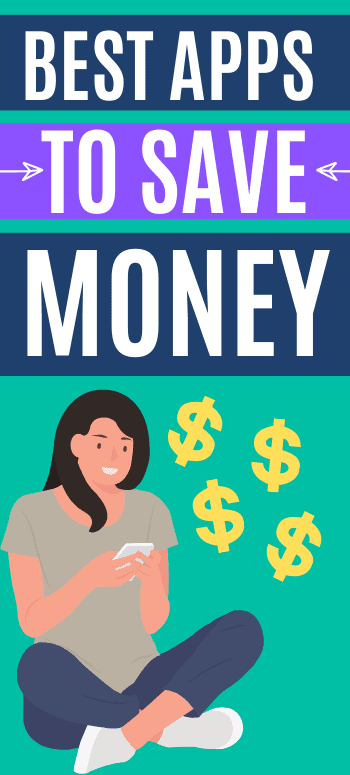 Other Ways to Save Money Online
Aside from using one (or all) of the best money saving apps, you can also take advantage of coupon sites to save money when you shop online.
There are lots of different sites to choose from but they all work more or less the same way. You browse the site for promo or coupon codes, then drop them in at checkout when you're shopping.
You can even double on savings if you're stacking coupons with some of the cash back apps listed here. For example, Ibotta lets you stack manufacturer coupons. So you can save money twice — once with the coupon and again with Ibotta.
If you're looking for the best coupon and deal sites to save money, here are the ones I recommend:
When you're browsing coupon and promo code sites, make sure you read the fine print if you're trying to stack them with one of the financial apps included here. The goal should be to stack as much as possible, so you get savings and cash back at the same time.
Another tip: compare money-saving offers from different sites before you pull the trigger on a purchase.
For example, if Rakuten is offering 4% cash back at Amazon but Tada is offering 5%, which one you should use might be a no-brainer.
Aaand if you're worried about having to monitor a bunch of different financial apps, don't worry. I've got something you're going to love.
It's a website called CashBackMonitor. This is an aggregator site that rounds up the best cash back promotions across the web from Rakuten, MyPoints, Swagbucks, plus lots of other money-saving apps.
You just search for the store you're interested in shopping at, then click to see what money-saving deals are on tap. You can then decide which one to shop to save the most.
Make the Most of the Best Money Saving Apps
If you're saving all this money from using financial apps, then it pays to have a plan for using it. Otherwise, you could just spend all your savings and you'll still be broke!
So think about what you can do with your savings to make it have some staying power for your finances.
For example, you could:
All of these things could help you improve your financial situation. And having a plan for the money you're saving can make it less likely that it slips through the cracks!
Which of these best money saving apps are your favorites?
If you're not using any of these apps yet, I strongly encourage you to give all of them a try.
Since they're all free to use, all you need to invest is a little of your time to start saving!
Do you have a money saving app that you just can't live without?
Head to the comments and tell me about it! And please pin and share this post if it helped you!
Read these posts next for more money-saving inspiration:
52-Week Money Challenge: How to Save $1,378 Effortlessly
Groceries on a Budget: 35 Ways to Save Money on Food (Without Coupons)
220+ Realistic Ways to Save Money on a Tight Budget (on Almost Everything!)
Best Money Saving Apps to Try Now