Last Updated on May 6, 2022 by Rebecca
52 Week Money Challenge Explained
The 52-week money challenge (or 52 week savings challenge) is designed to help you work toward a savings goal over the course of a whole year.
Saving money can be a daunting task if you're not a saver by nature or you live paycheck to paycheck.
You may feel like you never have enough money to save. After all, more than half of Americans have less than three months' worth of expenses tucked away in an emergency fund.
The 52 week money challenge can be a great way to build up your bank account through incremental savings. Rather than trying to save a lot of money at once, you're saving extra cash consistently in a dedicated account throughout the entire year.
The beginning of the year is a great time to commit to the 52 week savings challenge, especially if one of your new year's resolutions is saving more money. But if you're ready to reach your financial goals, you can start the challenge at any time.
These tips can help you figure out how to do the 52-week challenge and become an accomplished saver.
Related post: Penny Savings Challenge Explained (Save $667.95 This Year the Easy Way!)
What is Is the 52 Week Money Challenge?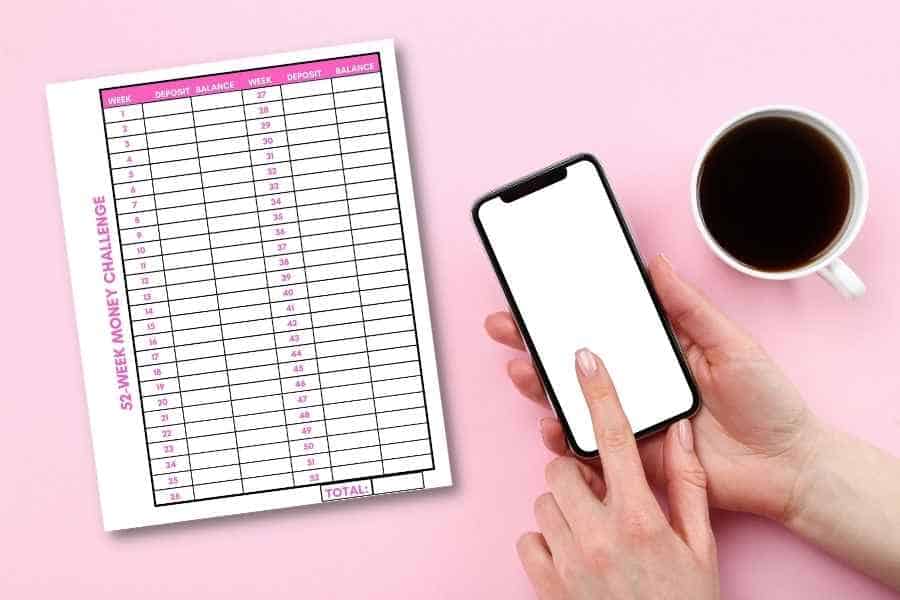 The 52 week money challenge is a savings challenge that helps you to save small amounts of money by making a regular weekly deposit.
You start the challenge at the beginning of the year with the first week's deposit into your bank account. Then each week you save an increasing amount of money.
By the time you reach the last week, you have 52 weeks' worth of savings at the end of the year.
The 52-week challenge is an effective way to save money. In fact, it may be the best method to save if you don't have a lot of extra dollars to spare.
And by setting aside money in smaller amounts, you can build a regular savings habit over time.
Related post: No Spend Challenge: 10 Simple Tips to Help You Save More Money Now
How Does the 52 Week Savings Challenge Work?
The 52 week money challenge works by depositing a weekly amount into a dedicated account.
For example, here's what your weekly savings amounts might look like if you start with just $1:
In the first week of the challenge, you save $1
In the second week, you save $2
In the third week, you save $3
The next week, you save $4
You keep on going this way, increasing your savings amount by an extra dollar each week. The number of the week corresponds to that week's savings amount.
So by the time you reach the end of the 52 week money challenge, you're saving $52 a week.
This type of 52-week savings challenge follows the low to high method, in that you're saving the smallest amount of money the first week and a larger amount by the final week. But there are countless versions of the challenge you can try.
For example, you might try the reverse 52 week money challenge instead.
Related post: 100 Envelope Challenge Explained (Free Printable Chart!)
Reverse 52 week savings challenge
The reverse 52 week money challenge works backward, with you saving $52 in the first week at the start of the year, then saving gradually smaller amounts each week through the end of the year.
You'd still save on a regular basis over the full 52-week period. But you'd be saving more in the beginning of the year and less each week around the holiday season.
This is one of the best ways to approach the 52 week money challenge if you'd rather save a lot in the first month and less as time goes by.
Related post: 200 Envelope Challenge (Save $5,100 in 200 Days!)
How much money do you save in the 52 week challenge?
The 52 week money challenge is designed to help you save a total amount of $1,378 in a year.
That's how much you should have at the end of week 52 if you start with $1 (or $52 if you're doing a reverse savings challenge). If you start your savings challenge in the first week of the year, then you could have a decent chunk of change to help pay for Christmas.
Of course, you can always tweak the challenge to fit your budget.
So if you can't start with $1 the first week, you could try for $0.50 instead. I know that doesn't seem like much but it's better than saving nothing at all, especially if you can add to it over time.
Or you could supersize your savings efforts to sock away even more money.
For example, say you start off saving $5 a week instead. You add $5 to your savings total each week for the first 26 weeks.
By the halfway point of the year, you'd be saving $125 a week. If you kept that up for the rest of the year, you'd have $5,000 in savings at the end of the challenge!
The 52-week money challenge isn't so much about how much you save. It's more about getting into the savings habit.
How to Save With the 52 Week Money Challenge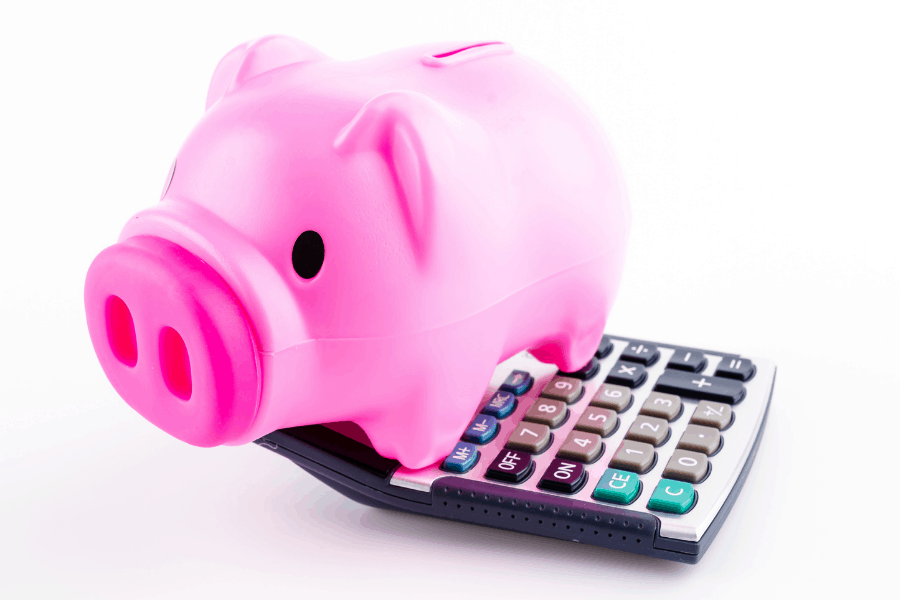 Here are some of my best tips for crushing a year-long money-saving challenge!
1. Decide when to start the challenge
If you're ready to save, the first thing to do is decide when to start your weekly savings challenge.
The first week of the year or the first month are popular times to begin a yearly savings challenge.
This is when a lot of people are coming off a holiday spending rush and they're ready to hit the reset button on their finances. So your new year's resolution might be saving money and putting the brakes on wasteful spending.
But technically, you could start a 52-week money challenge at any time.
Regardless of when you decide to start your money-saving challenge, the most important thing is committing to it.
2. Build savings into your budget
A budget is one of the simplest and most important financial tools you can have.
When you have a budget in place, it's so much easier to save money because you can plan for it.
If you don't have a budget yet, read through this guide to making a budget first. Then, look at your expenses to figure out where you can fit the 52-week savings challenge in.
If you need an easy way to cut back on spending, Truebill can help.
Truebill is a financial app that reviews your expenses to find money that's going to waste.
For example, you might be paying for streaming services you're not using or overpaying bank fees. If you need help finding the money to save for the 52-week challenge, give Truebill a try.
3. Automate your weekly savings deposits
Automating is one of the easiest ways to simplify your financial life.
Going the automated route with the 52 week money challenge means you don't have to worry about missing a week of savings.
You can simply link your checking account to your designated savings account, then schedule a recurring weekly deposit.
But if you can't or don't want to set up automatic transfers, here's something else you can do: Set up weekly notifications in your calendar instead.
Getting a weekly text message or email can help you stay accountable to the 52 week challenge. When you set reminders, it's harder to forget to make a deposit or transfer money to savings.
Setting reminders or alerts is something you should be able to do through online banking if your financial institution offers it. And creating bill payment alerts can also help you stay on top of bills so you don't risk late payments and credit score damage.
Related post: Behind on Bills? 10 Things You Can Do Now to Get Caught Up
Free printable 52 week savings challenge chart
Having a chart to keep track of your savings progress can be a good idea if you need a little visual motivation.
I've got a free printable 52 week savings challenge chart you can download. Just click the image and you'll be taken to the Resource Library where you can sign up to access lots of free money printables!
How to Find Extra Money to Save
The 52-week savings challenge can be a great motivator to increase your savings.
As you go through the challenge, look for ways you can add more money to savings on top of what you're setting aside each week.
For example, you could:
Use your tax refund to grow your savings
Apply holiday bonuses to savings
Save a cash gift you receive instead of spending it
Grow your savings with rebates
Sell things you don't need and save the extra money
Stop buying frivolous items that are just draining your budget and save the money instead
You could also make extra money to save with side hustles or cashback apps.
Make extra money with side hustles
Starting a side hustle was how I eventually ended up running a six-figure business from home.
What's great about side hustles is that there are so many ways to make money!
Some of my favorite ideas include:
And if you need more ideas here are 35 ways to make an extra $1000 a month!
Use cashback apps to make extra money
The 52-week money challenge isn't the same as a no-spend challenge, which is designed to help you curb impulse spending. It assumes that you will spend money along the way as you're saving.
But you can get back some of what you spend with cashback apps. These apps pay you back a percentage of what you spend.
There are lots of different cash-back apps out there but some are better than others. Here are some of my go-to picks for earning cashback.
Rakuten
Rakuten lets you shop and earn cash back at more than 2,500 partner retailers.
All you do is create your Rakuten account, shop partner stores and earn cashback. You get paid via check or PayPal–it's really that simple!
Aside from cashback, Rakuten also offers special promotions and discount codes. It's an easy way to double up on savings.
⇒ Join Rakuten now and get a $30 bonus!
Ibotta
The Ibotta app is a must-have for saving money on groceries and shopping.
With Ibotta, you can link your store loyalty cards to the app. When you shop, you can earn cashback instantly at partner stores. Or, you can scan your receipts after you shop to earn cash rewards.
Either way, you can rack up more cash to put toward savings.
As a bonus, Ibotta also works with Instacart. So if you'd rather let someone else do your grocery shopping for you, you can still score cash rewards!
⇒Download the Ibotta app and get up to $20 in bonuses!
Dosh
The Dosh app is another must-have app for earning cash back and saving money.
This app pays you cashback on shopping, but you can also earn cash rewards at restaurants and on travel.
If you're already using Ibotta and Rakuten to save at grocery stores and retail stores, the Dosh app can round out a perfect trifecta for earning cash rewards.
⇒Get the Dosh app and start earning cashback now!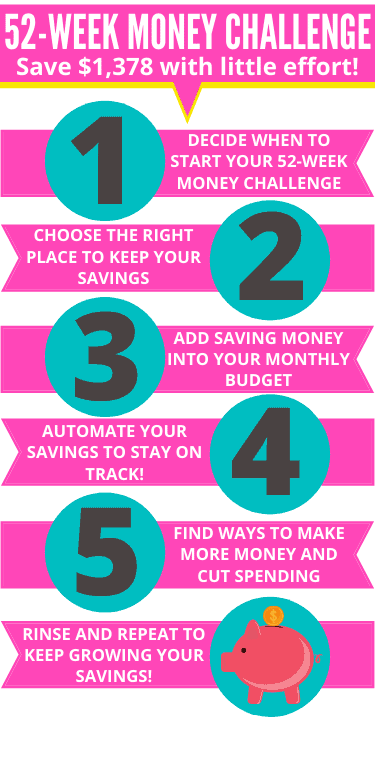 Where to Keep the Money You Save With a 52-Week Challenge
Consider the best place to keep the money you're saving each week for the challenge.
You could stash it in a simple piggy bank but keeping it in a separate savings account is a smarter choice.
For one thing, your money is safer in an FDIC-insured savings account. And for another, you can earn interest on what you're saving to help grow your money faster.
A high yield online savings account or money market account can your best bet for getting a great interest rate on savings. Online banks almost always pay higher rates than big banks or a credit union and they tend to charge fewer fees, too.
If you're looking for a high-yield savings account recommendation, check out CIT Bank and Axos Bank.
They both offer competitive APYs on savings and money market accounts, without high fees.
⇒Open a new savings account or money market account with CIT Bank
⇒Open a high-yield savings account with Axos Bank
Final thoughts on the 52-week money challenge
Taking a savings challenge for a whole year can be a great way to get into the habit of saving. You could use it to save for a short-term goal like emergency savings or a long-term goal like building a down payment on a home or paying cash for a new car.
The 52-week savings challenge is simple enough that even the most beginning savers won't feel overwhelmed when trying to reach their end goal.
The most difficult part is getting started. But once you do, you might find that it's easy to save on a weekly basis when you're doing it in small amounts. So if you're ready to save more next year, now could be a perfect time to get a head start on this $1000 dollar challenge.
Before you go, be sure to check out my favorite Smart Money Tools for making and saving money. And good luck with your savings efforts!
Want to track your savings progress? Download these free printable money-saving charts!
How to Save $1,378 With the 52 Week Money Challenge