Last Updated on October 8, 2022 by Rebecca Lake
Tired of being broke? 
Money saving charts can give you the motivation you need to reach your savings goals. And they can also help you stop spending money unnecessarily.
An estimated 125 million Americans live paycheck to paycheck, including 70% of millennials and more than half of people making $50,000 to $100,000 a year.
Living below your means isn't easy, especially if you're a one-income family
But I've saved over $800,000 as a single mom and paid off all my debt (except my mortgage).
So if you're thinking How can I save money? I want to show you that it's possible. And that's where money saving charts come in!!
If you're ready to see your bank account balance grow, you're in the right place.
Today, I'm sharing:
What money savings charts are and how to use them to reach your goals
Free money saving chart printables that you can download to track your savings
My best tips on saving money!!
Related post: Penny Savings Challenge Explained (How to Save $667.95 the Easy Way)!
What Are Money Saving Charts?
A money savings chart is a visual representation of your savings goals.
Setting up a money saving chart can help you:
Keep track of your savings progress
Stay motivated and inspired to reach your goals
SAVE, SAVE, SAVE!!!
So why do money savings charts work?
It's simple. They help to reinforce your savings habits.
When you can actually see yourself making progress with saving, it's much easier to stay motivated to stick with it!
Related post: 10 Easy Ways to Simplify Finances and Save Money
What Can You Track With Money Savings Charts?
The great thing about using a money goal chart or a savings goal chart is that they can work for just about anything.
So, for example, you could use money charts to:
Save a baby emergency fund
Put away money for a vacation
Save toward a wedding or a down payment on a home
Start a new car fund
Save money for college if you have kids
Put money aside for your retirement goals
You can also use them to complete money challenges, like a no spend challenge. In short, money saving charts can help you save big and live a richer life!!
Related post: 100 Envelope Challenge Explained (Free Printable Chart!)
23 Incredible Money Saving Charts to Help You Save More Money
Ready to save more money?
I've rounded up 20+ of the best free money saving charts you can download now!
1. 52 Week Savings Challenge Printable
The 52-week savings challenge is one of the easiest money challenges you can take to save.
You save money weekly for 52 weeks, starting with $1 the first week.
That doubles to $2 in week 2, which doubles to $4 in week three and so on. By the end of the 52 weeks, you have $1,378 saved!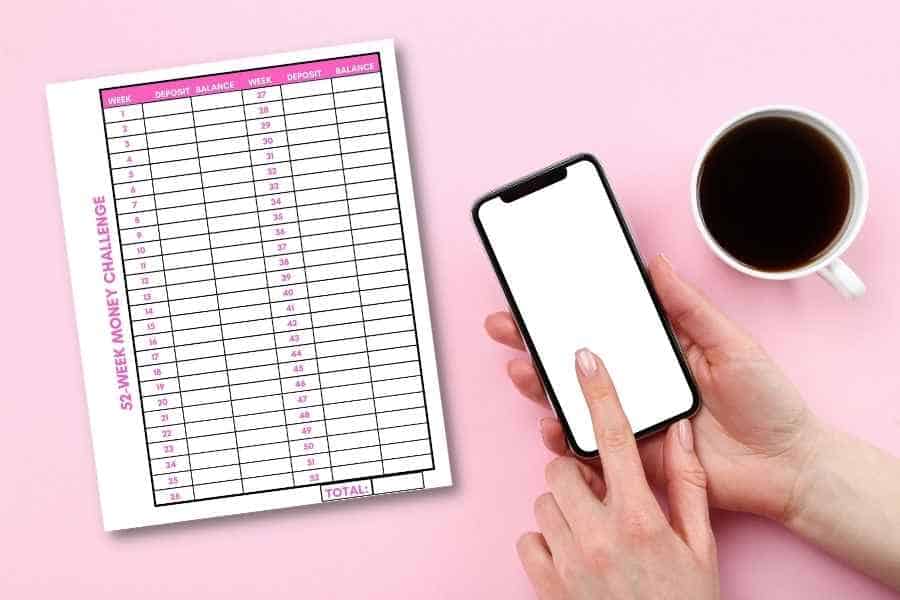 You can download the 52 week savings challenge money saving chart in the Free Resource Library.
And here's a complete guide to how the 52-week money challenge works!
2. Save $10,000 in a Year Printable
Want to save $10,000 in a year?
That's a big savings goal but it's definitely doable. You can use this free printable savings tracker chart to hit your $10K goal!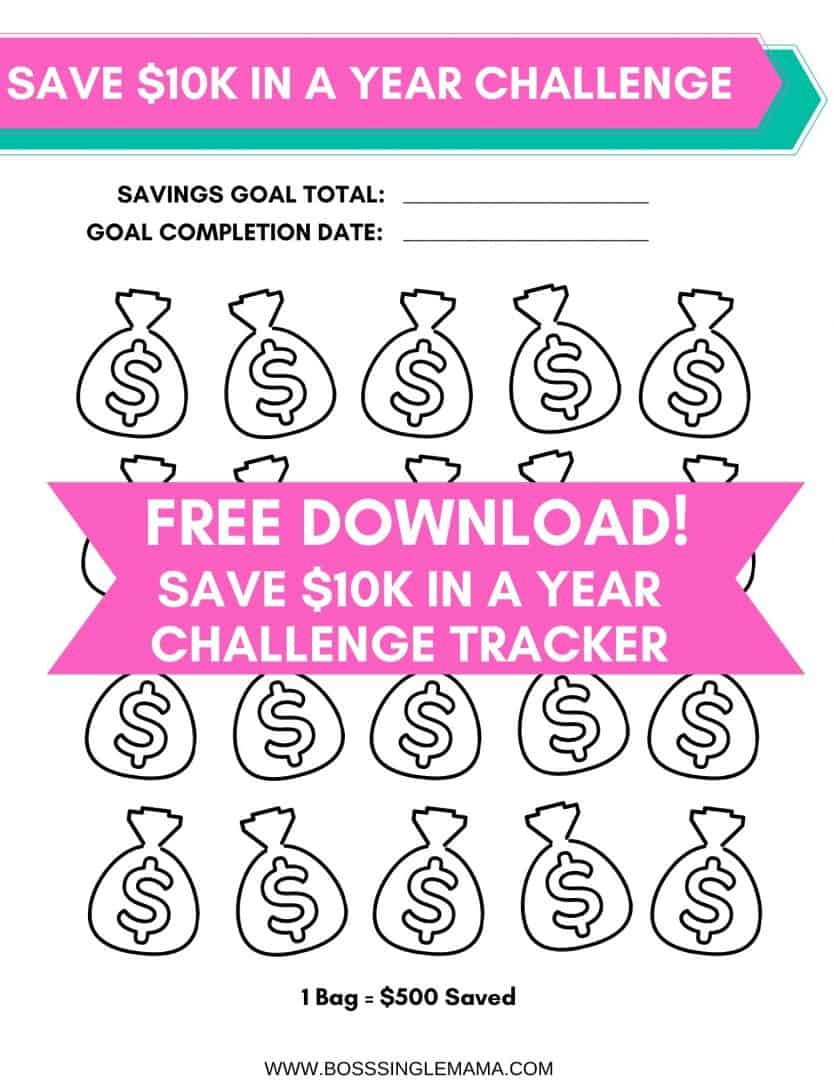 It's also available in the Free Resource Library.
And check out this post for some practical tips to save $10000 in a year!
3. No Spend Challenge Money Saving Chart
A no spend challenge can help you put wants and needs in perspective so you can save more money.
When you take a no spend challenge, you're committing to not spending money unnecessarily for a set period of time.
For example, you might try a no spend weekend, no spend week or no spend month.
This can be a simple way to figure out where the leaks are in your budget.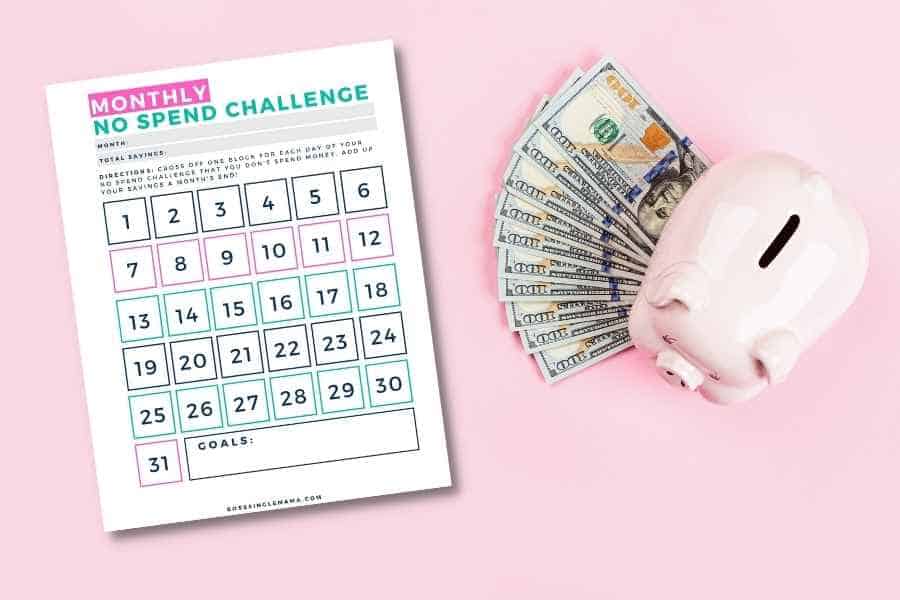 Snag your free no spend challenge money saving charts in the Resource Library.
Then learn 10 secrets for crushing a no spend challenge!
4. 26 Week Savings Challenge Printable
The 26-week savings challenge is a variation on the 52 week savings challenge.
This challenge can help you save $1000 or $5000 in 26 weeks. You can either save weekly or biweekly, depending on how often you get paid.
Want to give it a try?
Get your 26 week challenge money saving chart now!
5. Penny Savings Challenge Tracker
What is the penny savings challenge?
This savings goal challenge works like the 52 week savings challenge. But instead of dollars, you save pennies and instead of weekly, you save daily.
So, for example, you'd save:
1 penny on day one
2 pennies on day two
3 pennies on day three
…and so on for 365 days. At the end of the year, you end up with $667.95.
This is a super simple savings challenge for adults (or kids) who like collecting spare pennies!
Get your penny savings chart here!
6. Reverse Penny Challenge Savings Printable
The reverse penny challenge works just like the penny savings challenge but backward.
So on the first day of the challenge, you'd save $3.65. Then on day two, you'd save $3.64.
You keep going, subtracting one penny each day.
You can use this money saving chart to track your progress!
Related post: 50 15 5 Rule: How to Save More and Spend Less
7. Save $1000 in 3 Months Printable Chart
Want to save $1000 fast?
You can use this free printable savings goal chart to do it!
To reach your savings goal using this chart, you'll need to save $84 each week. Or if you get paid biweekly, you can double that to $168.
8. Save $5000 in a Year Savings Chart
If saving $10K in a year is too big of a goal, you could try saving $5000 in a year instead.
This biweekly money savings chart can help you save $5K in a year for a vacation, holiday shopping or any other goal!
9. $5 Challenge Money Savings Chart
If you pay cash instead of using debit or credit, you'll love the $5 bill savings challenge!
All you need to do is save your $5 bills. That's it!
Every time a fiver comes your way, you can stick it in an envelope. At the end of the month, you can deposit all your $5 bills into a high-yield savings account.
Save two $5 bills a week and you'll end up with $520 in savings each year!
Download a free printable $5 challenge savings chart here!
10. 30 Day Savings Challenge Printable
The 30 day money challenge is a super simple challenge for savings beginners.
All you do is challenge yourself to save $500 in 30 days!
If you're a savings beginner, this is the perfect money challenge to try to get in the savings habit!
Get your free 30 day savings challenge printable chart!
11. Sinking Funds Savings Tracker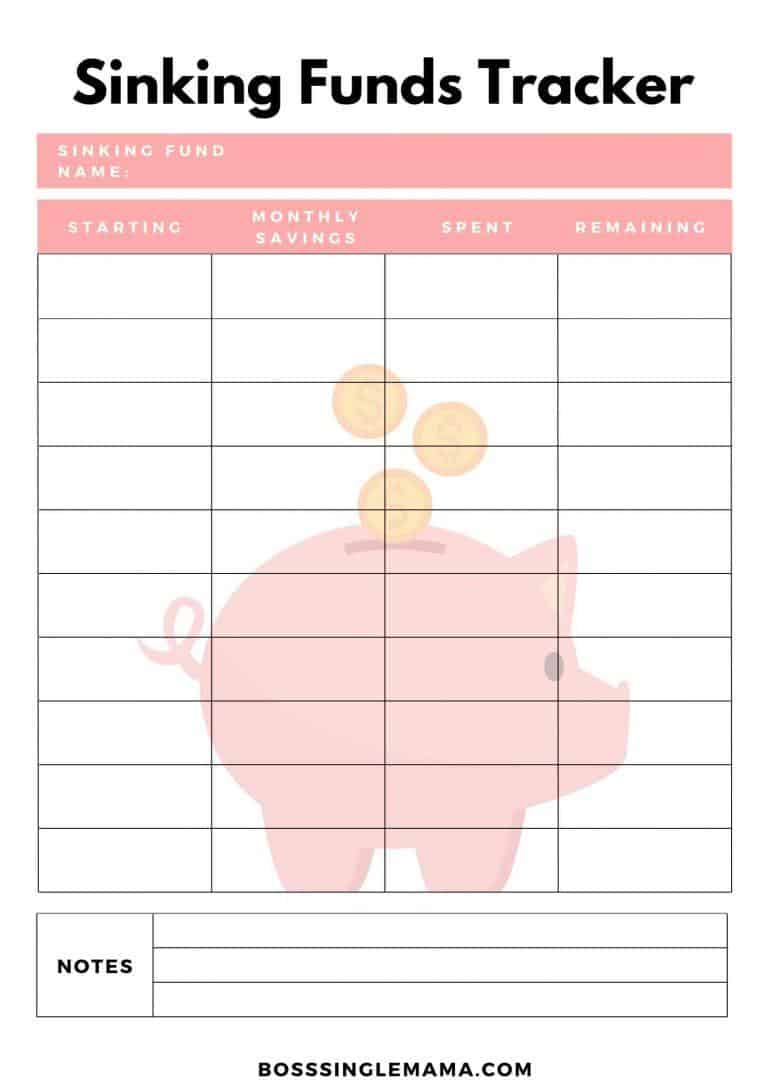 Sinking funds are designed to help you save money for planned expenses.
For example, you might use sinking funds to pay for:
Home repairs
Biannual insurance premiums
Quarterly taxes (if you're self employed)
This sinking funds savings tracker makes it easy to keep up with multiple savings goals.
Plus, learn more about how sinking funds work and how to use them!!
12. Kids Savings Goal Tracker
If you have kids, it's never too soon to teach them the value of saving!
This free printable money saving chart from the Resource Library can help kids set savings goals.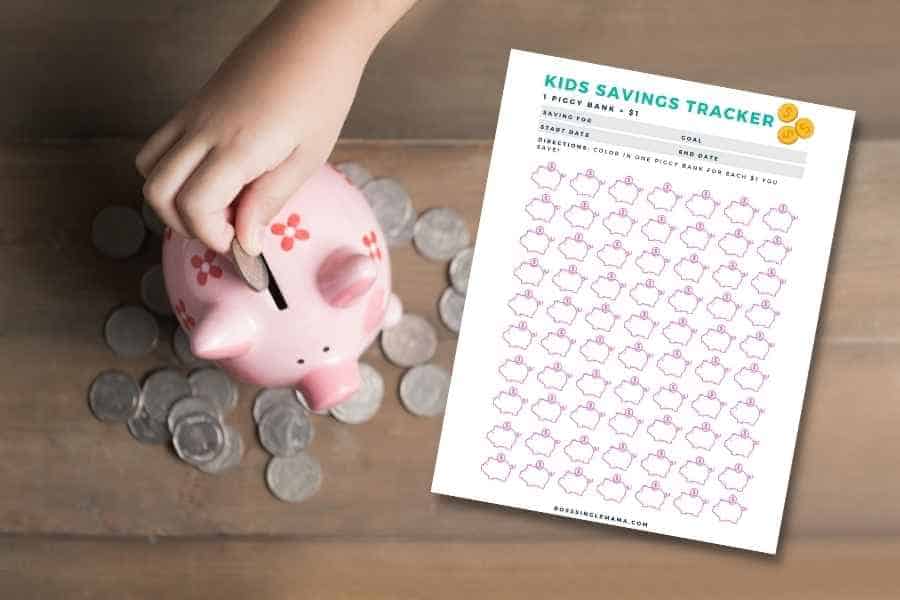 And they're great for teaching kids the importance of saving regularly!
13. Vacation Savings Tracker
Want to plan a getaway but don't want to blow your budget?
Use this free (and fun!) vacation savings chart to keep tabs on your savings!
14. Christmas + Holiday Savings Tracker
Do you struggle with how to afford Christmas each year?
Are you ready to save money for Christmas so you don't spend the holidays broke?
Try using this free holiday savings chart to set aside money for Christmas!
15. House Savings Chart
Owning a home is a major investment. And you need to be sure you can afford it first.
But you can get one step closer with this down payment savings tracker.
This down payment savings chart from the Resource Library makes it easy to see how close you are to your home buying goals!
16. Car Savings Printable
Ready to buy a new car or a new-to-you used car?
This cute and simple car savings tracker is a must-have for hitting your goal!
17. Pet Savings Fund
Taking care of pets can get expensive.
Between food, veterinary care and grooming, you could easily spend hundreds or even thousands a year on your pets.
Creating a pet savings fund can help you manage regular and unexpected pet care costs.
This printable pet savings chart from the Resource Library is a fun way to keep track of your savings efforts.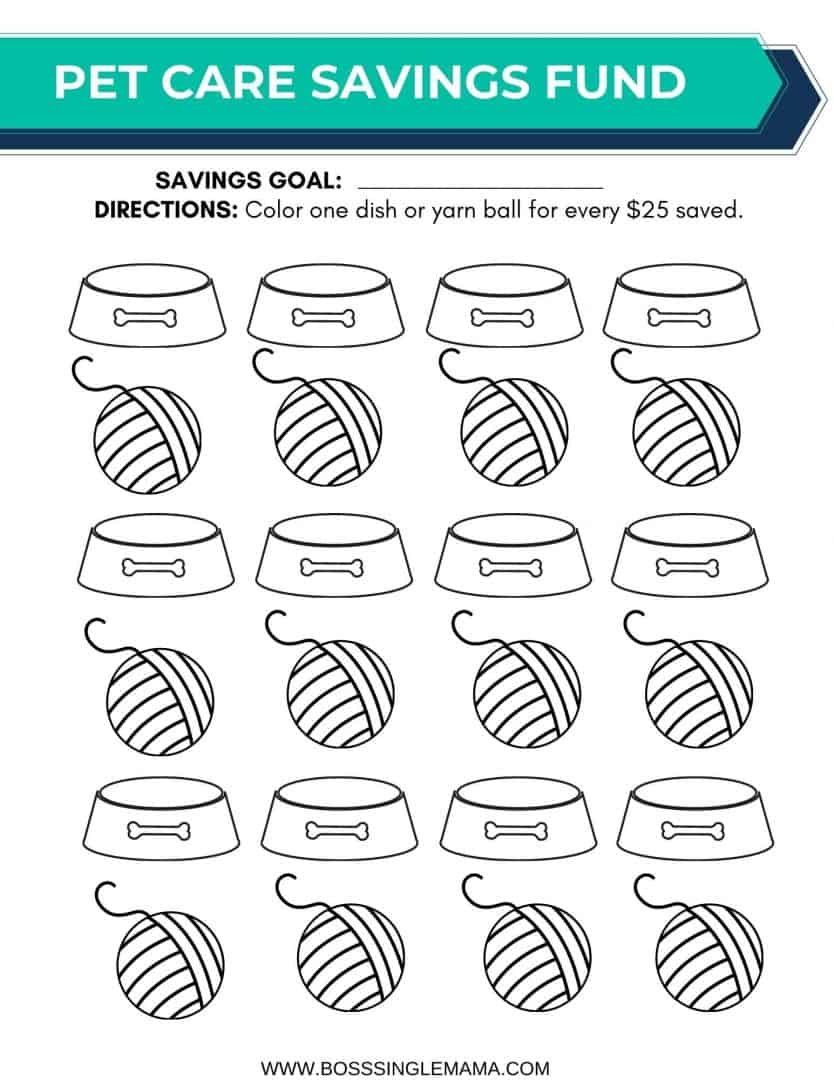 18. Printable Wedding Savings Chart
Tying the knot can come with a high price tag.
The average wedding costs just under $34,000, which is the same as buying a car or earning a college degree for some people.
And if you don't want to get married with debt, then saving ahead is the answer.
This free printable wedding savings chart can help you enjoy your wedding bliss without taking a pile of credit card bills along on the honeymoon.
19. Baby Savings Printable
Having a baby can cost anywhere from $5,000 to $11,000 on average.
What you'll pay can depend on where you live and the care and delivery options you choose.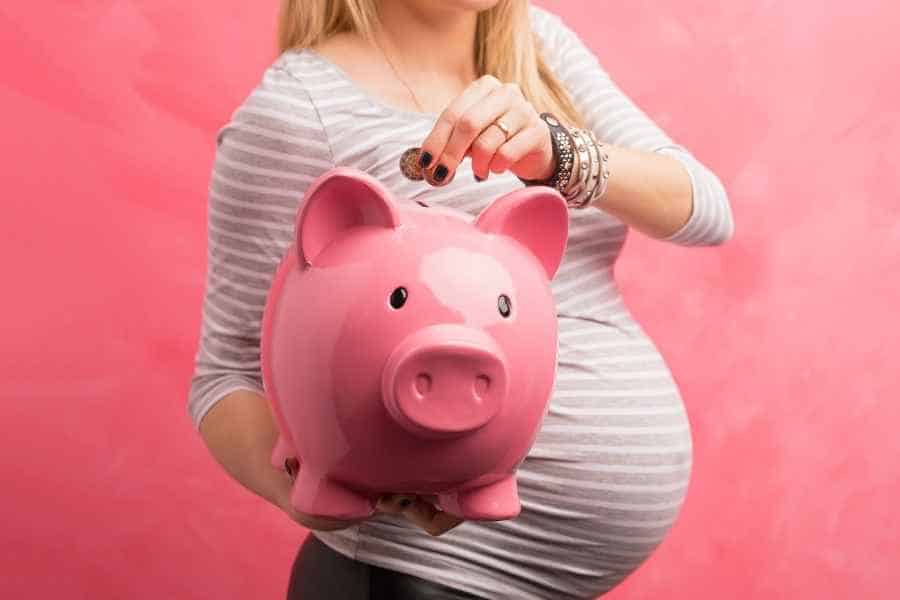 If you're planning to start a family or add to one, then this adorable baby savings chart can help you get financially prepared!
20. College Savings Chart
Sending kids to college doesn't come cheap.
Depending on where your child decides to go you might pay anywhere from $10,000 a year to $40,000 a year in tuition and fees.
Student loans can help but you might not want your kids to end up with college debt. And scholarships and grants can sometimes be hard to come by.
I use 529 college savings accounts to set aside money for my kids' education. But you can also save with a regular savings account, too.
You can download and print out these free college money saving charts to track savings for each of your kids.
21. Retirement Savings Printable
There's a lot of debate among financial experts about how much money you need to retire.
Some say $1 million while others say $2 million. And it's even possible to retire on far less with major budget cuts.
However much you decide you need to save for retirement, you can use this money savings chart to monitor your progress.
22. Quit Your Job Money Savings Chart
Do you hate your 9 to 5?
Would you like to quit your job and start a business or full-time side hustle?
I did that years ago and have never regretted it. But I wouldn't have been able to do it without having a savings cushion in place.
Savings is essential if you want to quit your job because you need to have cash to pay your bills until you start earning from a side hustle or business.
If you're ready to become your own boss, be sure to grab this free money savings chart for side hustlers in the Resource Library!
23. Miscellaneous Money Saving Charts
Got a savings goal I haven't mentioned yet?
You can use these customizable money saving charts in the Resource Library to track your goal!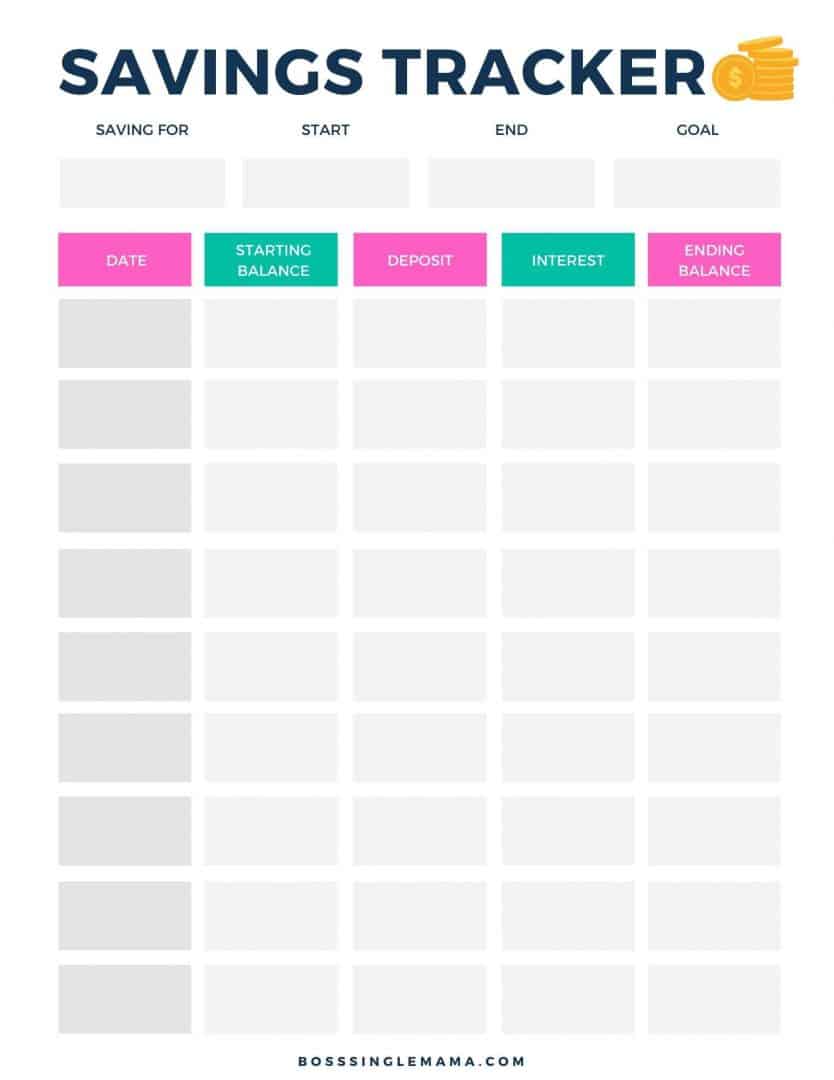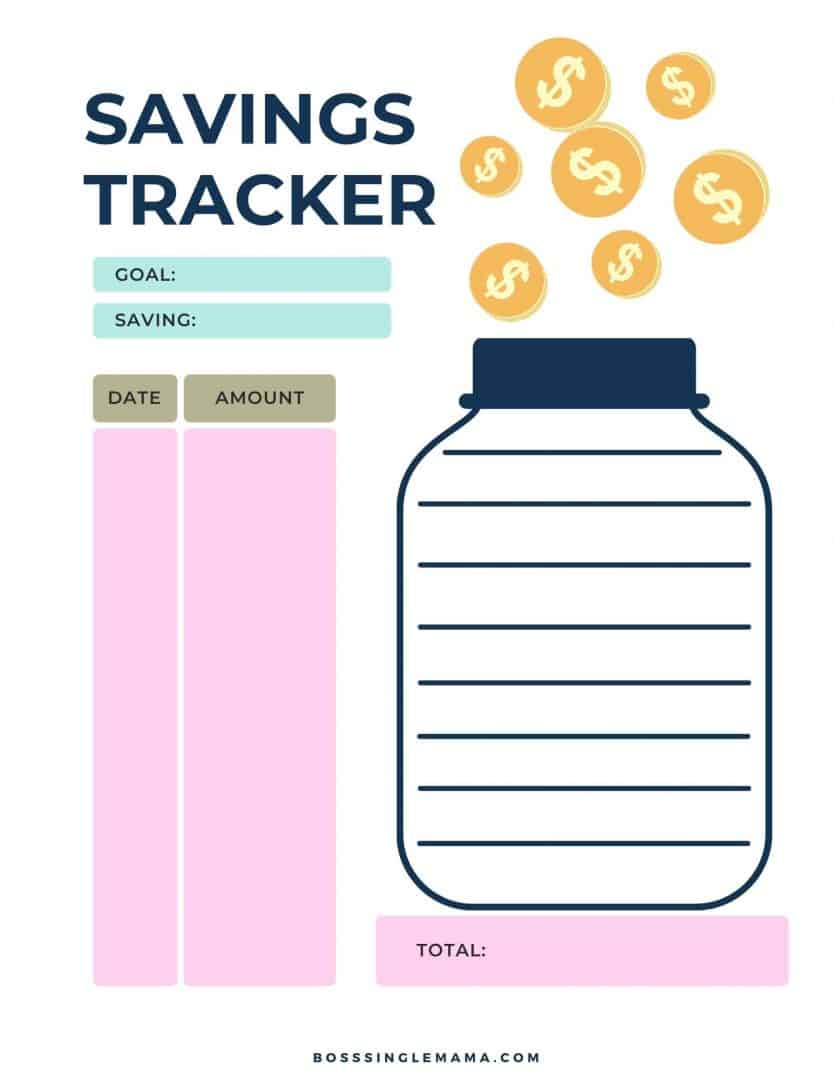 How to Save More Money Each Month
Need some ideas on how to save more money? Try these simple savings tips!
What are some easy ways to save money fast?
If you need to save money quickly, here are a few of the fastest ways to do it:
Switch from contract cellphone service to prepaid phone service
Install a programmable thermostat to save on energy bills
Review your streaming services and get rid of ones you don't use (Trim is great for this)
If you get paid biweekly, save your extra paycheck in 3-check months
Put any rebates, refunds or stimulus checks you get into savings
Plan meals and eat at home
Related posts:
220+ Ways to Save Money on Almost Everything
160+ Best Frugal Living Tips With a Big Impact
How much of your income should you save every month?
As a general rule, financial experts usually recommend saving at least 20% of your income each month.
So if you make $5,000 a month then $1,000 of that should go to savings. If you make $10,000 a month then $2,000 would go to savings.
Saving 20% of your income could be doable if you budget by percentages.
When you budget by percentages, you divide your budget into different buckets. Then you assign a percentage of your income to each one.
Some of the best budgeting percentages methods include:
If you can't save at least 20% of your income each month, then look at your budget to figure out what you can save.
Then, commit to saving that amount each month while you work on finding ways to cut your expenses or grow your income so you can save more.
How can I save money on a small paycheck?
If you're living on a tight budget then saving money regularly could be a little trickier.
So here are some actionable tips you can use to save money on a small paycheck:
Related posts:
30+ Proven Ways to Make an Extra $1000 a Month
150+ Side Hustle Ideas You Can Start Now to Make Money
10 Easy Ways to Make Money From Home
How to Make 200 Dollars Fast When You Need Money
What is the 30 day rule?
The 30 day rule for saving money is really simple.
The next time you're tempted to spend money on something big, say over $100, impose a 30 day waiting period.
This gives you time to think about whether the purchase is really necessary.
If it is, you can use the 30 days to save up money for it. And if it isn't, then you don't have to worry about wasting money!
How do I make a saving chart?
You can easily make a saving chart using a tool like Canva or Photoshop.
You can also make money saving charts with Google slides or spreadsheets. All you need to do is decide what type of chart you want to make, based on your savings goals.
But if that seems like too much trouble, you can always download any of the free printable money saving charts listed here!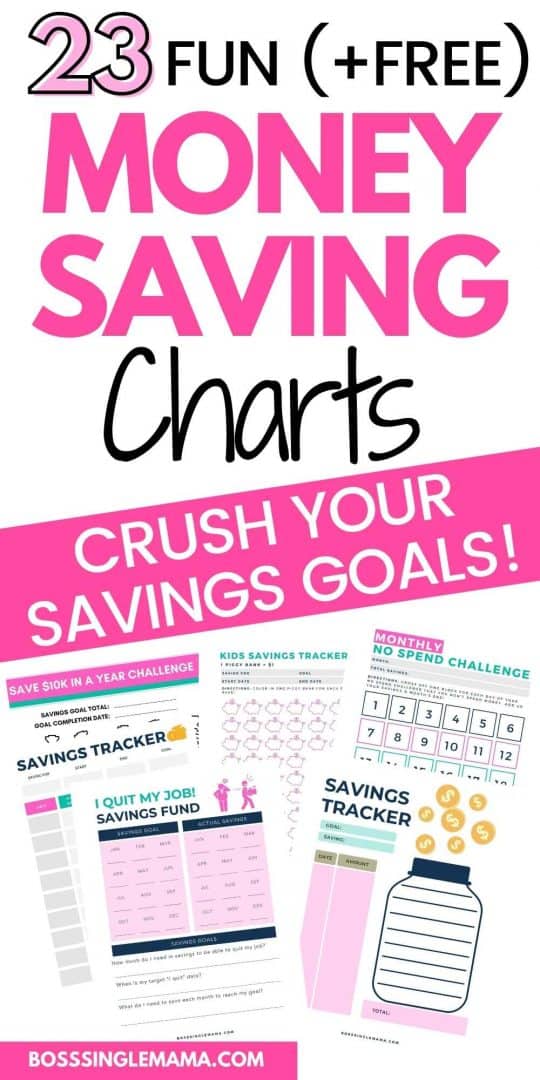 Final thoughts on money saving charts
Having money saved can help you feel more financially secure. And it can also help you live the life you want when you're saving toward important goals.
The money saving charts included here can help you get on track to saving, even if you've struggled with it in the past.
Don't leave without grabbing all of the amazing freebies in the Resource Library!
And be sure to check out my favorite Smart Money Tools for making and saving money!
Best Free Money Saving Charts