Last Updated on September 3, 2023 by Rebecca Lake
Looking for a creative way to feed your passion for fashion and get paid for it? Becoming an online stylist with Stella and Dot could be your ideal side hustle!
Launched and owned by women, the Stella & Dot brand has helped more than 30,000 women (called "ambassadors") to launch businesses of their own. The company also prioritizes giving back to charities that support women and children.
Stella and Dot ambassadors have earned more than $550 million in commissions to date. It's a legitimate way for women to earn extra income while working full-time, going to school or raising kids.
Approximately 40% of Americans have at least one side hustle these days. Making money as a Stella and Dot stylist might be a good fit if you:
Want to make money from home
Need a side hustle with flexible hours
Are looking for a high paying side gig
Have great fashion sense and enjoy sharing it with others
If you're interested in starting a side hustle as an online stylist, this article is for you.
Keep reading to learn:
What is Stella & Dot?
What is a Stella and Dot ambassador?
How much do Stella and Dot consultants make?
How do you become a Stella & Dot stylist?
Related post: 50+ Flexible Side Hustles for Women That Pay Well
What is Stella & Dot?
Stella & Dot is the creation of Jessica Herrin and Blythe Harris, who both found themselves looking for a way to balance career and family life. They launched their company–named after their grandmothers–to help women take control of their earning potential.
The Stella & Dot brand is all about helping women become independent business owners and create flexible income on their own terms. That includes women in the U.S. and all around the world.
The business of Stella & Dot revolves around fashion, specifically, handcrafted jewelry. The company relies on an award-winning design team to create unique, eye-catching pieces.
Is Stella & Dot a pyramid scheme?
No and here's why.
Pyramid schemes make money by requiring people at lower levels to recruit new members, who funnel money into the pyramid through fees.
Stella & Dot is a 100% legitimate business opportunity for women who want to earn a full- or part-time income from home in their spare time.
What is a Stella & Dot Ambassador?
Stella & Dot stylists are called ambassadors.
As a Stella and Dot stylist, you earn money by selling products that fall under the S&D brand umbrella. In terms of what you can sell, the main focus is the company's custom jewelry pieces.
But you can also make money selling Stella & Dot:
Apparel
Bags
Gift sets
Skincare and beauty products
S&D recently combined its multiple brands into one to make it easier for ambassadors to promote products and increase sales.
When you become a Stella & Dot stylist, you can host in-person or virtual to showcase your favorite products. You can also do one-on-one styling virtually or in person.  
The company emphasizes community, so parties and stylings are meant to be a way to build connections. Unlike some online or in-person sales platforms that cater to women, there are no monthly quotas to meet.
That takes the pressure off so you can make money from home at your own pace, according to a schedule that works for you.
How much does a Stella and Dot stylist make?
Stella & Dot stylists earn commissions from the products they sell. This commission can be anywhere from 25% to 35%, depending on the products sold.
You won't earn money for recruiting or referring new ambassadors to the company. But you could still easily earn plenty of extra cash just from product sales.
In terms of how much do Stella & Dot consultants make, it depends on several things, including:
Which products you sell
How much volume you sell
How active you are on the platform
Here's a better idea of how much you can make, according to Stella & Dot.
For 2019, starting stylists earned an average of $1,100 per month. That's not too shabby for what is essentially a part-time job you can do at home.
Earnings increase the higher you go, with Star stylists making $11,300 per month on average. At that level, you could easily make a full-time income and then some as a Stella and Dot stylist.
On top of the generous commissions, there are other perks to being a Stella & Dot stylist. They include:
Monthly credits toward free products
Cash bonuses
Opportunities for leadership training
Those added incentives can make this an even more attractive work-at-home option for women and moms!
Related post: 40 High-Paying Side Hustles for Moms to Make Extra Money
Is Becoming a Stella & Dot stylist a Good Way to Make Money?
Stella & Dot is a legitimate company with a great reputation for caring about the needs and success of women.
That being said, here are some of the benefits of working from home as a Stella & Dot stylist:
Flexibility. As a Stella and Dot stylist, it's up to you to decide when to work or when not to. That's great if you're a busy mom with kids at home, a college student attending classes or even a retiree who's looking for ways to make extra money.
Financial security. Stella & Dot stylists can potentially earn thousands of dollars per month, all from home. That makes it an attractive option for making extra money, especially if you're ready to grow your savings or pay off debt. 
Easy to maintain. Some online businesses or side hustles can take up a lot of your time and attention. But a Stella and Dot stylist hustle is easy to set up and maintain because Stella & Dot does a lot of the work for you.
Sound good? Keep reading to learn how to become an online stylist with Stella & Dot.
How to Become a Stella & Dot Stylist
One thing that makes Stella & Dot a great company is the amount of care they put into helping ambassadors succeed.
That starts with a simple sign-up process.
If you'd like to become a Stella & Dot stylist, you'll need to submit an application online. Stella & Dot's team will review it to see if you're a good fit and if so, walk you through the next steps to get started.
That includes purchasing your initial display kit, which you'll need to start hosting styling events. The good news is that you can get the kit deeply discounted, so that your initial investment is relatively small.
If approved, you'll be able to get your kit and join the Stella & Dot Community Stylist Facebook community. That's a plus, as you can get help from more experienced stylists, including tips on how to maximize your sales.
Now, here's what's really great about Stella & Dot. Two things, actually.
First, they make selling their products and earning money as easy as possible.
They do that by:
Managing inventory for you
Shipping out orders
Helping your customers with refunds and returns
Since Stella & Dot does all of that behind the scenes, that frees you up to focus on showcasing the products and making sales. More sales = more money earned!
Second, Stella & Dot equips you with everything you need to be successful.
So if you're thinking, how can I make money with Stella & Dot if I've never sold anything before? don't panic.
Between your own personal website, online training and coaching, even a total beginner can make money as a Stella & Dot stylist.
Should I Sign Up to Become an Online Stylist With Stella & Dot?
This is really up to you and what your goals are financially.
If you want to earn money from home, Stella & Dot offers a great opportunity to do so.
On the pro side, Stella & Dot offers:
Great money-making potential
Flexible hours
Low startup costs
Easy process to sign up and get started
On the con side, this at-home side hustle does require you to talk to people and be salesy. So if you hate talking, then you may be better off exploring side hustles for introverts.
But overall, becoming a Stella & Dot ambassador is worth considering if you want a convenient way to earn money from home.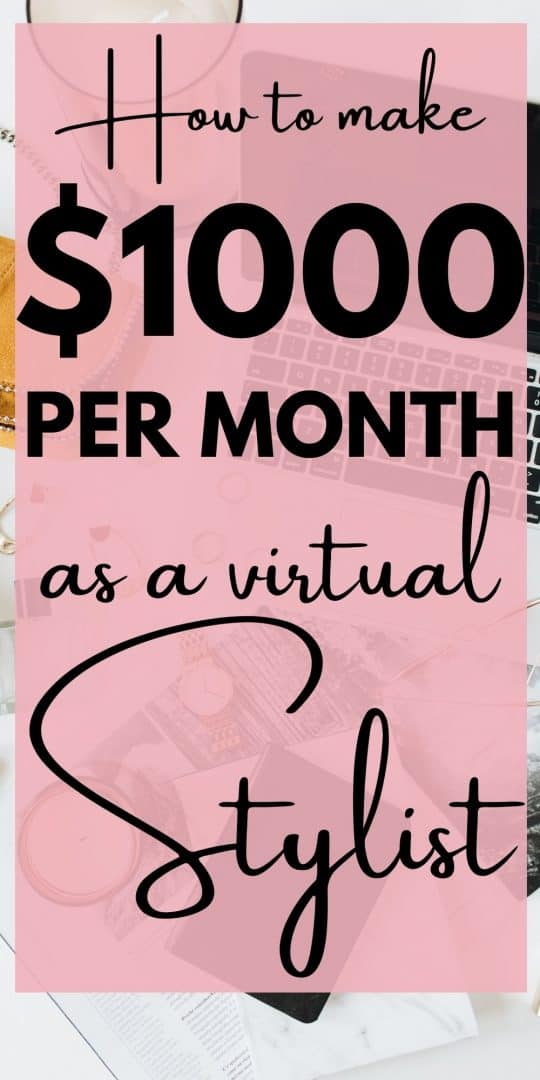 Where to Sign Up With Stella & Dot
If you're ready to start your career as a Stella and Dot stylist, you can submit your application online.
Once approved, you'll need to create an account, select your starter kit and pay the fee. But once you've done that you can get your personal website set up and start earning!
To recap, here are the benefits of becoming a Stella & Dot ambassador one more time:
25% to 35% commissions on sales
Personal website free for the first year
25% off personal Stella & Dot product purchases all year-round
Online tools, including digital marketing materials and sales training