Last Updated on March 10, 2022 by Rebecca Lake
Learn the best strategies for how to make more money and grow your income!
And for a quick and easy way to pick up extra cash, get paid to take surveys with Survey Voices and Survey Junkie!
Want to make more money?
Who doesn't, right?
Having more money coming in can make managing your finances less stressful if you're able to:
Pay all your bills on time each month
Put aside a little money for emergency savings
Pay down that expensive debt you're tired of having
Make progress on some of your financial goals
When I became a single mom in 2014, my number one goal was to grow my income.
I had a huge pile of debt and two small kids to take care of. So I knew that making more money was what I needed to do to create financial security for us.
If one of your big financial goals is to increase your income, here are some of the best ways to do it!
How to Make More Money at Your Job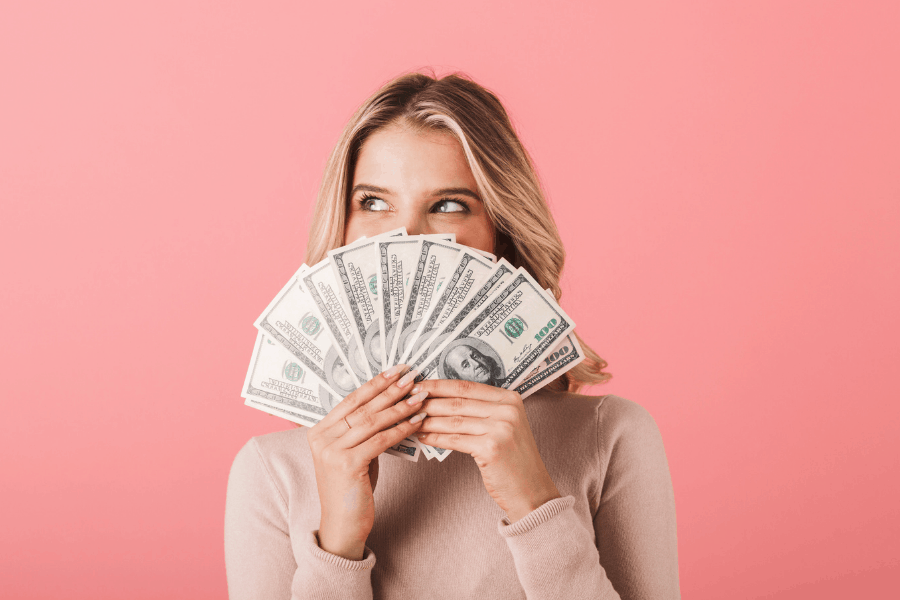 If you're working, then your current job is the first place to start looking for ideas on how to make more money.
Interested in getting a bigger paycheck? Here are four ways to do it.
1. Ask for a raise
One of the easiest ways to make more money at your job is to simply ask for it.
Getting a pay raise can instantly increase the size of your paychecks. So there's no reason not to give it a shot.
And looking ahead to 2021, a lot of employers are interested in rewarding their employees with more money. According to Willis Towers Watson, employees stand to gain a 2.8% pay raise on average at most companies.
If you're ready to ask your employer for a raise, here are a few tips to increase your odds of success:
Research competitor salaries and what other people in your field with your skills and experience are making
Decide on a specific raise amount you want to ask for
List out arguments for why you're deserving of a raise
Support those arguments with evidence (i.e. your most recent performance review, numbers showing how much revenue you've generated for the company, etc.)
Direct your request for a raise to the right person and be polite
Check out Glassdoor for more tips on successfully negotiating a raise.
2. Increase your hours if you're paid hourly
If you're paid by the hour versus getting a salary, working more could be an obvious choice for how to make more money.
Say you normally work 35 hours a week, making $15 an hour. You'd gross $525 a week before taxes.
Now say you bump that up to 40 hours a week. Now you're grossing $600 a week before taxes.
Working more hours may not be ideal. But it is a realistic way to grow your income when you need to be making more money.
You'll need to ask your employer if they have extra hours to spare first. But if they do, you can let them know that you're available and willing to fill in more spots on the schedule.
3. Save money in your employer's retirement plan
If you have a retirement plan at work, you might have a way to get free money with zero effort.
Yep, you heard me! Around 75% of employers that offer a 401(k) program also offer matching contributions for employees.
So if you put money into your 401(k), your employer can match some or all of your contributions.
That is 100% FREE money that you can get just for saving in your employer's retirement plan!
If you're not enrolled yet, then it's time to sign up. And if you're already saving in your 401(k), check your contribution rate to make sure you're saving enough to get the full company match.
4. Get a part-time job
Part-time jobs can offer a flexible way to make more money if you're already working a 9 to 5 or you can't commit to a full-time gig.
Some part-time job ideas you might consider include:
Working at your local grocery store (or becoming an Instacart shopper)
Becoming a dental/medical/legal office assistant
Driving for Uber or Lyft
Looking for seasonal retail jobs
Working at a restaurant (or delivering food with DoorDash)
Working a part-time job might not make you rich. But it's a solid option for how to make more money in your spare time when you need it.
Easy Hacks for How to Make More Money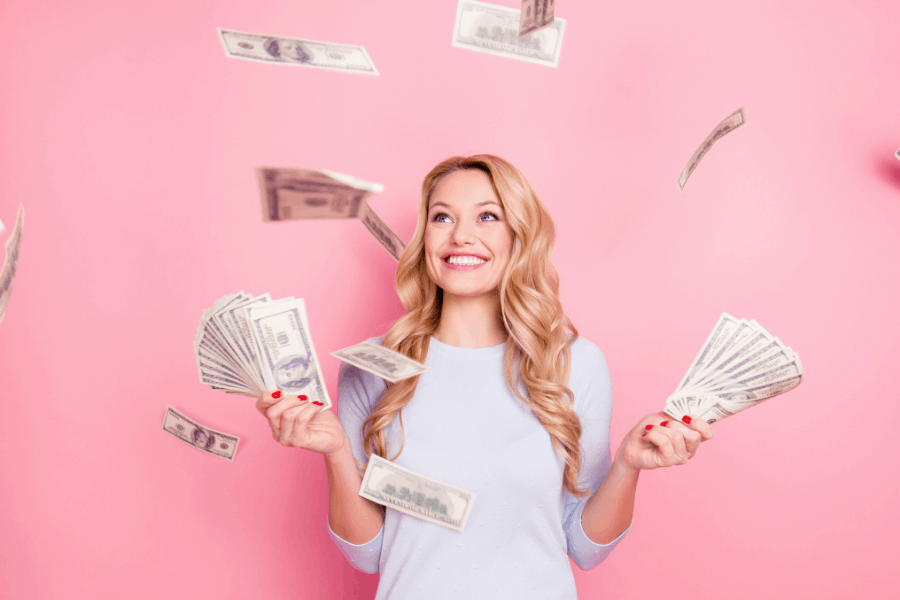 When it comes to how to make more money, some ways are harder than others.
For example, going back to college to get a degree so you can land a higher-paying job = a hard way.
Selling things you don't need, finding creative ways to save and taking surveys = easy ways to make extra cash.
If you're interested in taking the easy path to make extra money, here are some of my favorite ways to do it!
5. Switch to a better savings account
I love saving money. And I also love getting a great interest rate from my bank on the money I'm stashing away.
If you want an easy way to make more money every month, then changing up your savings account is a no-brainer way to do it.
With interest rates so low right now, online savings accounts are the way to go to get a better APY.
Online savings accounts have lower overhead costs, so they can pay more interest to savers. And what's even better is that they usually charge fewer fees than traditional banks.
If you're interested in the best places to save online, check out Axos Bank and CIT Bank.
Both of them offer high-yield savings accounts and money market accounts with zero service fees!
⇒Open a new money market account with CIT
6. Refinance your student loans
Student loan debt can be a real drain on your budget, especially if you're paying a higher interest rate.
Refinancing your loans is one way to get some of that money back.
When you refinance student loans, you take out new loans to pay off your existing ones. If you're able to lock in a lower interest rate, you can save money and potentially lower your monthly payment.
If you're interested in refinancing student loans, it's super important to shop around and compare rates with different lenders.
Student Loan Hero offers an easy way to do that in one place. You can also check out Super Money to compare refinancing offers.
7. Consolidate your credit cards at a lower interest rate
Credit cards can be just as big of a burden on your finances as student loans.
If you have credit card debt, consolidating it could free up money in your budget.
There are a few options for consolidating credit card debt:
0% APR balance transfer
Home equity loan
Low-interest rate personal loan
A personal loan could be the best fit if you need a longer time frame to pay off credit card debt.
0% APR balance transfers mean you don't have to pay interest. But you don't get that deal forever; typically you might have 6 to 18 months to pay off the debt at 0%.
If you're interested in a personal loan to pay down debt and save money, visit Super Money to compare terms and rates for loans up to $100,000.
8. Negotiate your monthly bills
Cutting your bills is another super simple way to add money back to your budget every month.
And thanks to apps like Billshark, it's easier than ever to save money on bills without having to overhaul your lifestyle.
Billshark and similar apps save you money by:
Negotiating your bills for you so you pay less for things like cable TV or cell phone service
Finding unnecessary expenses you can cut from your budget entirely
Weeding bank fees and other hidden fees that cost you cash each month
And you can always negotiate your bills yourself if you don't want to use a service like Billshark.
But letting someone else do the hard work of haggling with the phone company or your internet service provider is great if you want to save time as well as money.
Read this post next to learn how to easily cut your bills:
Billshark Review: Can It Really Help You Save Money on Bills?
9. Invest your spare change
Investing can help you build wealth for the long-term. But you don't need tons of money to do it.
You can easily invest small amounts. And if you're investing consistently, it's a painless way to generate passive income.
There are different ways to invest.
For example, you could open a brokerage account with an online platform like M1 Finance.
This investing app lets you invest money with $0 fees. And you only need $100 to get started.
If you don't have an extra $100 to spare, then you can still invest to make money with Acorns.
The Acorns app links to your bank account, rounds up transactions and invests your spare change in low-fee exchange-traded funds.
⇒Starting investing with $0 fees at M1 Finance
⇒Build a portfolio using your spare change with Acorns
10. Sell or rent out things you aren't using
Figuring out how to make more money can be as easy as looking around your house for things you don't need.
You can declutter the junk and sell it for quick cash!
Or better yet, you can rent out things like your car, parking space or even a spare bedroom to grow your income.
Here's a list of 27 things you can sell to make money. And if you're interested in renting out your car or home, check out Turo or Airbnb.
11. Get paid to lose weight
Getting paid to lose weight might sound like a scam. But it's totally legit!
This is actually one of the best ways to make more money without getting a job or starting a side hustle.
With HealthyWage, you can create a weight loss wager based on your goals.
If you win your wager, you win money. It's that simple. 🙂
And if you have friends or family that want to lose weight and make money as well, you could start a team challenge and win up to $10,000!
⇒Start your weight loss wager with HealthyWage now!
12. Earn cashback when you shop
If you have to spend money, then getting some of it back in cash rewards is pretty sweet.
That's what cashback apps like Rakuten, Ibotta and Dosh do.
Here's how it works:
Download cashback apps
Link your debit and credit cards to the app
Shop and spend at partner merchants
Earn cash back on purchases
Cashback apps put money in your pocket for things you were already planning to buy, so there's no reason not to use them.
My favorite apps for earning money and getting cash back are:
Rakuten (perfect for online and in-store shopping!)
Ibotta (great for earning cashback on groceries)
I've used all three to earn hundreds of dollars in cash back this year alone, which is great since I'm doing so much of my shopping online.
If you're planning to shop online for the holidays or you just want to earn some cash on groceries or dinner out, be sure to download all three!
13. Make money from your phone
Want to make money from your cellphone?
You could cut your cellphone bill in half to save money each month. (I did this years ago and never looked back!)
But you can also earn money from your phone by taking surveys, watching videos, reading emails, playing games and surfing the web.
There are a ton of survey sites out there that will pay you real money just for using your phone. Some of my go-to sites for making money on the go include:
Those are just a few of the sites you can use to earn quick and easy cash. For more ideas on how to make money with your phone, be sure to read this post next:
15 Best Survey Sites for Making Quick and Easy Money
How to Make More Money With Side Hustles
Side hustles are super popular these days. In fact, 45% of Americans have at least one way they're making money on the side!
What's great about side hustles is that there are so many options for how to make more money using the skills you already have.
So here are some of my favorite ways to make more money with side gigs!
14. Become a freelancer
I'm a blogger but I'm also a freelancer.
Specifically, I'm a freelance writer. I started freelancing as a side hustle when I first became a stay at home mom many years ago.
Now I make a full-time income and then some working part-time hours from home.
Freelancing is great for stay at home moms, students or anyone who wants to make extra cash because there are so many ways to do it.
For example, you could be a freelance:
Writer
Blogger
Photographer
Graphic designer
Web designer
Social media manager
If you need more inspiration and ideas on how to make money freelancing, be sure to bookmark these posts for later:
How to Start Freelance Writing and Make Your First $100
23 Best Freelance Services You Can Offer From Home to Make Money
15. Start a virtual assistant business
Before I became a freelance writer I was a virtual assistant.
So, what is a virtual assistant and how do they make money?
In a nutshell, a virtual assistant helps business owners run their businesses. But instead of working in an office, they do it online.
For example, as a virtual assistant I did things like:
Copywriting
Email management
Database management
Creating documents and slideshows using Microsoft Office tools
Social media content scheduling
Starting a virtual assistant business is a flexible way to make extra money and it doesn't require a lot of startup costs.
You need a laptop, some marketable skills and enthusiasm for networking. But you don't necessarily need experience.
If you want to take a deeper dive into how to become a virtual assistant to make money, then I highly recommend Gina Horkey's course, Fully Booked VA.
We both started our businesses around the same time and I've watched her evolve from being a successful VA to teaching others how to do it. Gina and her course are definitely the real deal if you want to learn how to make money as a VA.
⇒Check out Fully Booked VA here!
16. Get paid to teach kids online
For me, one of the keys to how to make more money is doing something you actually enjoy.
And if you love kids and helping them learn, then teaching online could be a perfect way to grow your income!
There are so many different ways to get paid to teach.
For example, you could:
Teach English with a site like VIPKID
Offer online tutoring services
Starting an educational YouTube channel or podcast geared at kids
Two of my favorite ideas for making money teaching online are ones I've written about here before:
If you don't know what Outschool is, it's an online learning platform for kids K-12. It's like Teachable or Thinkific, but for kids only.
As an Outschool teacher, you can create and teach virtual classes on almost any subject.
Classes can cover the basics, like reading or science, but they can also span more eclectic topics like anime musicals and learning math through Fortnite. (Both real classes currently offered on the platform.)
Outschool teachers can make $35/hour on average or more and you can teach classes when it works for your schedule.
⇒Learn more about teaching with Outschool and sign up to teach your first class!
The other option for making money online is teaching kids yoga.
Pretzel Kids is an online company that teaches moms, students or anyone else who's interested in how to teach kids yoga classes.
Once you get certified as a kids yoga teacher, you can teach classes virtually. (You also have the option to make money teaching kids yoga classes in person.)
The certification process is much faster compared to traditional yoga certification. So if you want to learn how to make more money while sharing your love of yoga with kids, it's definitely worth checking out.
⇒Learn more about Pretzel Kids and making money as a kids yoga teacher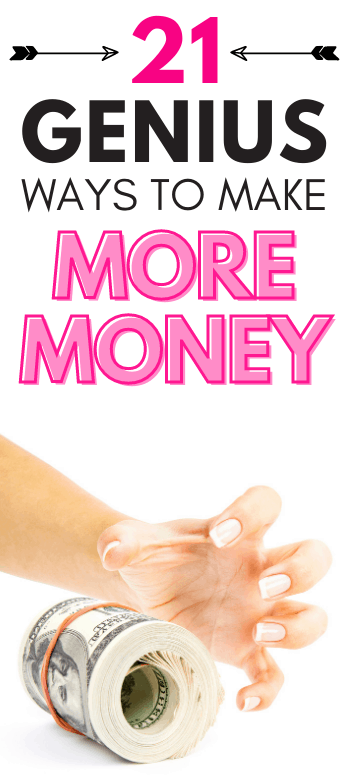 17. Make money as a proofreader
As a freelance writer, I definitely need a proofreader to catch spelling mistakes, grammar errors and typos.
I use Grammarly to check my writing online but other bloggers, writers and businesses hire professional proofreaders to do the job.
Proofreading could be the answer to how to make more money if you've got an eye for detail and a solid grasp of grammar and spelling rules.
If you're interested in proofreading, you'll want to read through my guide to making money as an online proofreader.
There's also an excellent FREE course you can sign up for to learn more about the basics of proofreading.
It's hosted by Caitlin Pyle who's a proofreading expert. She teaches you everything you need to know to get paid to proofread!
⇒Sign up for the FREE how to proofread webinar here
Then, learn where to find the best online proofreading jobs!
18. Earn money with online transcription jobs
Transcription is another idea for how to make more money if you're good at typing.
Transcriptionists take audio files and turn them into written documents.
You can do general transcription work or specialize in medical or legal transcription. And you could also make money as a scopist, which is a transcriptionist who specializes in court reporting.
If that sounds like an attractive side hustle idea, here's a complete guide to how to get paid to transcribe.
And there's also a FREE webinar you can take to learn more about what a transcriptionist actually does.
It's offered by Transcribe Anywhere and it covers all the most important parts about how to make money transcribing.
⇒Sign up for the FREE Transcribe Anywhere webinar!
19. Get paid to deliver things
So far, I've given you plenty of ideas about how to make more money online.
But in case you're looking for a side hustle you can do offline, you might be interested in getting paid to deliver things.
With so many people shopping online these days, a delivery side hustle might be a no-brainer if you want to get paid to drive.
Some of the ways you can make money delivering things include:
All of these are flexible ways to increase your income in your spare time!
20. Create and sell an online course
Most of the ideas for how to make more money mentioned here are active income ideas versus passive ones.
The great thing about passive income is that you can essentially earn money on autopilot.
That's something you can definitely do with online courses.
You create a self-guided course, list it for sale on an online platform like Teachable or Thinkific and make money as it sells.
Other than updating or refreshing the course to keep it relevant, you don't have to do any hands-on teaching.
You can essentially make money in your sleep!
If you're interested in creating an online course, be sure to check out the resources offered by Teachable and Thinkific. They can help you decide what your course should be about and how to launch it so you can make money!
21. Start a blog
You didn't think you'd see a list of ideas for how to make money without mentioning blogging did you?
Some people say that blogging is dead these days.
But I certainly don't agree with them. Blogging isn't dead at all; it's just changing and evolving like everything else.
So can you make money blogging?
For me, the answer is yes.
I make around $3,000 a month from this blog putting in minimal hours each week. And there are plenty of bloggers making way more with their sites.
If you want to make money blogging, there are a few things you need:
A profitable niche
Great content
An audience to sell to
A strategy for growing your blog
Lots of patience
Beyond that, you also need a few important tools to run a blog.
The first is a domain name; the second is web hosting.
There are lots of web hosts to choose from but Siteground is my hands-down favorite. I run three blogs using Siteground and I've never had the slightest hiccup with my hosting.
Plus, their hosting plans are super affordable and their support team is amazing.
If you're ready to start a blog, here's a complete tutorial to starting a blog with Siteground.
⇒Or head to Siteground now to purchase web hosting!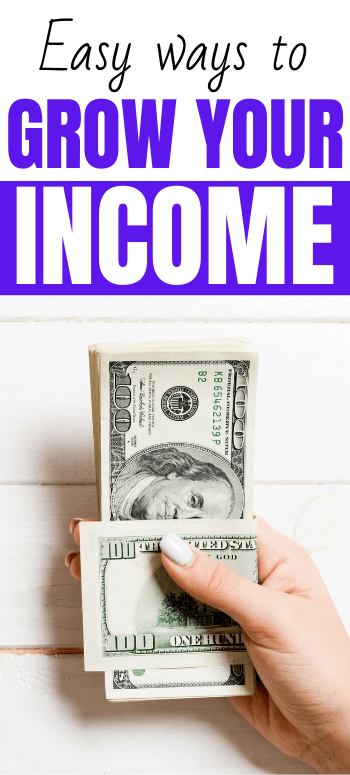 Do you have a great idea for how to make more money?
By now, you should have plenty of ideas for ways to increase your income. And the great thing is, you can try more than one to see what fits best!
Do you have a tip to share on how to earn more money?
Head to the comments and tell me about it! Then don't forget to pin and share this post!
Read these posts for more ideas on how to make more money:
35 Legitimate Online Proofreading Jobs to Make Money From Home
40 High-Paying Side Hustles for Moms Who Want to Make Extra Money
How to Make $2000 a Month From Home With Flexible Side Hustles
25 Legitimate Ways to Make an Extra $1000 a Month Online (and Offline)