Last Updated on July 10, 2021 by Rebecca Lake
Learn the best money-saving tips for Christmas shopping online this holiday season!
And if you need some quick and easy ways to make extra money for the holidays, get paid to take surveys with Survey Junkie and Swagbucks!
Planning to do most or all of your Christmas shopping online this year?
If you said yes, you're not alone.
According to a CreditCards.com survey, 71% of Americans said they plan to do most of their holiday shopping online, up from 51% last year.
And why not?
After all, doing your Christmas shopping online is convenient.
It can save you time and energy since you're not having to trek around to different stores. And it's also shopper-friendly if you're concerned about health and safety.
Not to mention, you could save some serious money by doing your Christmas shopping online!
And with so many people struggling with how to afford Christmas this year, that's a huge plus.
So, if you're looking for some ideas on ways to save money for the holidays, you're in the right place.
This post breaks down the best tips for saving time and saving money Christmas shopping online.
Read this post for more frugal Christmas tips:
15 Effortless Ways to Plan a Fun and Frugal Christmas on a Budget
Christmas Shopping Online: 12 Tips for Saving Money (and Time!)
If you're trying to get your holiday shopping list done on a tight Christmas budget, these tips can definitely help with that.
You can try one of these tips or all of them. But the more you try, the more time and money you could save!
1. Make a detailed holiday spending budget
If you haven't planned out your holiday spending budget yet there's no time to waste.
First, make a list of everything you plan to spend money on during the holidays, including:
Gifts
Gift wrap and tape
Cards and postage
Decorations
Food
Then, assign a dollar amount to each item on the list.
This step is one you can't skip if you want to save money on holiday shopping. And it's also super helpful for tackling the next step.
2. Decide where to do your Christmas shopping online
Gifts might make up the biggest chunk of your holiday spending budget. So if you want to save money on Christmas, then you need to be strategic about where you shop.
Once you've got your list of everything you need or want to buy for the holidays, make a second list of the stores where you plan to shop online.
For example, your list might include:
Amazon
Target
Walmart
Kohl's
Old Navy
Macy's
Lowe's
Best Buy
You get the idea. The goal is to know exactly which stores you want to hit for online Christmas shopping.
This can help you save time so you're not clicking around looking for deals.
And since you're targeting your list of stores, you can more easily compare prices to find the best deals at the retailers you want to shop.
3. Check out each store's online holiday sales flyers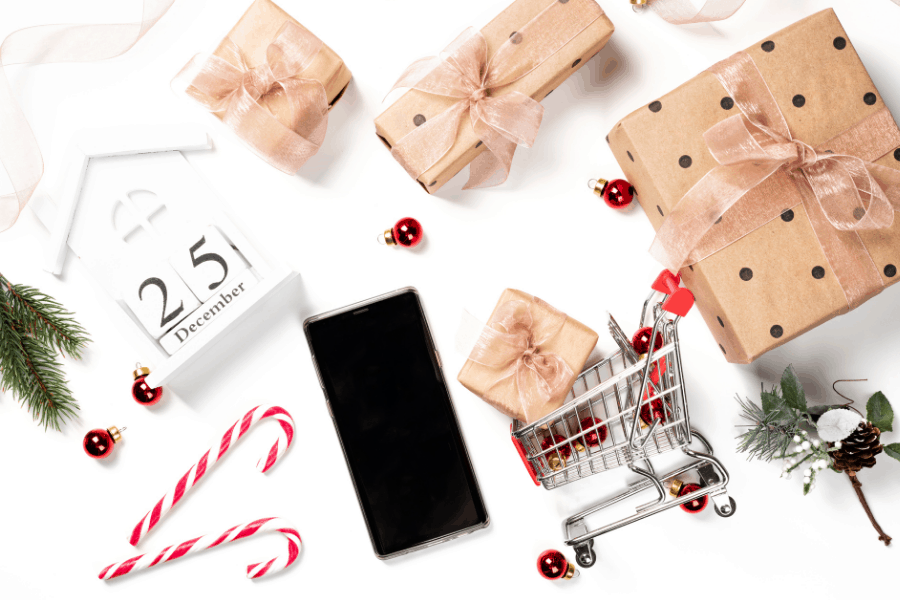 Black Friday is officially the kickoff to the holiday shopping season.
With Walmart and other stores taking Black Friday events online and offering curbside pickup, it pays to get a sneak peek at what's going to be on sale.
If you've got your list of sites you want to shop bookmarked, the next step is tracking down their Black Friday ads.
You can do this by visiting each site but that can take time.
Using a site like BlackFriday.com to track deals is so much easier and you can see Black Friday promotions in one place.
Also, keep in in mind that some stores might not wait until Black Friday to launch sales. Walmart, for example, is getting a head start on Black Friday this year with sales beginning the first week of November.
4. Sign up for a free trial of Amazon Prime if you're not a Prime member
Amazon Prime Day is a great way to score extra savings if you're trying to get a jump on Christmas shopping online.
But if you missed this year's Prime Day promotions, don't sweat it. There are still plenty of Amazon deals to be had.
I probably do 75% of my Christmas shopping online at Amazon because the prices are great and free two-day shipping is a money-saver.
For this year, I recommend getting a head start with online Christmas shopping at Amazon, since some things are taking longer to ship.
And if you're not a Prime member, it's definitely worth signing up for a free trial membership even if it's just for the holidays.
⇒Sign up for a free 30-day trial of Amazon Prime now!
⇒Or, give the gift of an Amazon Prime membership!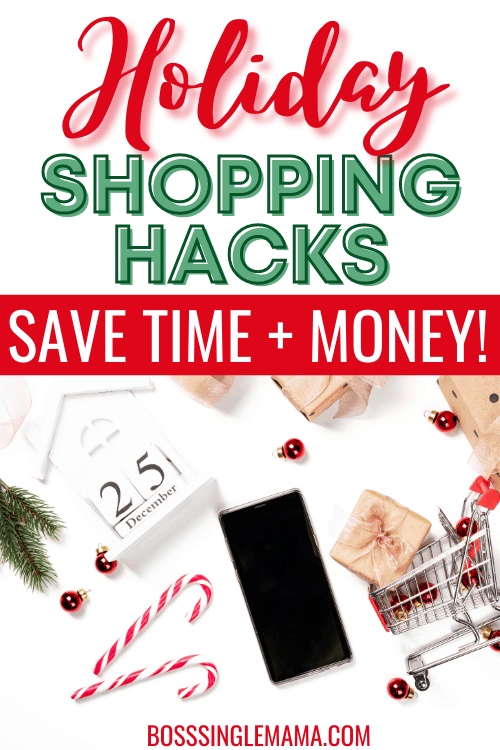 5. Install the Honey browser extension
Downloading the Honey browser extension is a super simple way to save money when Christmas shopping online.
Here's how it works.
You download the Honey browser extension
Create your free Honey account
Shop online like you normally would
At checkout, Honey will scan the web for coupons, promo codes and discounts you can apply to your purchase
Apply eligible discounts and save money
It's really that easy!
You don't have to do anything, other than downloading the extension and create your free account. Honey works to find promo codes at over 40,000 stores so you're almost guaranteed to find deals on shopping.
Here's something else that's great about Honey: when you shop Amazon, Honey automatically looks for the lowest price on whatever it is you're searching for.
So if you're looking for the best gifts for busy moms, for example, Honey helps you find the best deals on Amazon.
And there's one more thing that makes Honey awesome.
When you shop at 5,000+ partner stores, you earn Honey Gold. You can turn every 1,000 in Honey Gold you earn into a $10 gift card to your favorite stores.
If you don't have Honey installed yet, head here to download the browser extension so you're ready for the Black Friday sales!
6. Create an online Christmas shopping game plan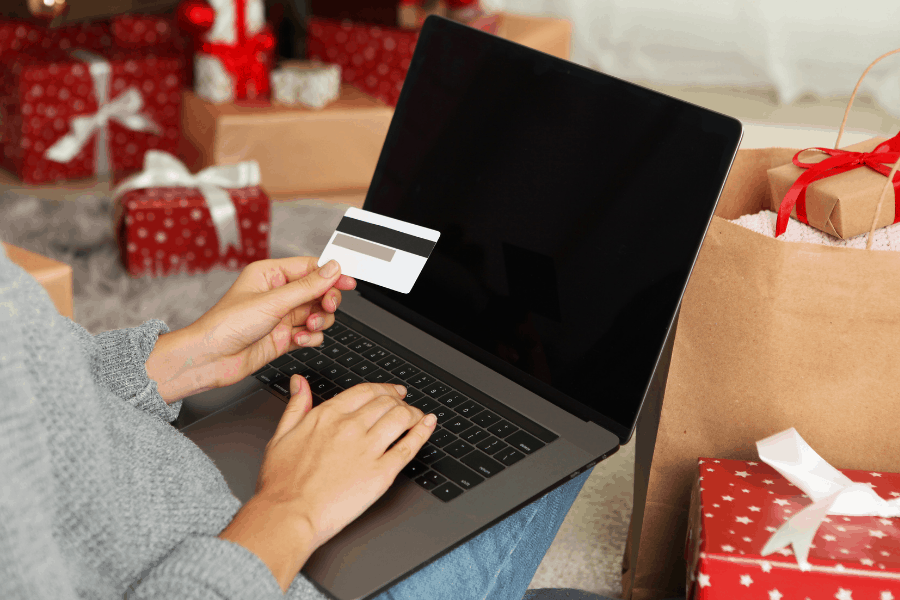 Successfully saving money on Christmas means having a foolproof plan for shopping online.
Whether you're shopping Black Friday sales, Cyber Monday deals or any other times during the holiday season, these tips can help you score savings:
Start scoping out deal sites like Slickdeals or BlackFriday.com early, since they usually have the advance notice on when Black Friday sales flyers are released
Check sales flyers online to compare prices for popular items
Match the sales flyers for individual stores to your holiday shopping list you made earlier
Make a note of what time deals go on sale and whether they're online-only or in-store
Break down the cost of bundled items, like video game consoles and games, to make sure it's a better deal than buying them separately
Pay close attention to model numbers for bigger ticket items, like TVs
You can also join your favorite stores' email lists to get advance notice for upcoming holiday deals. Even better, you could also snag exclusive coupons to save money on purchases.
Just keep in mind that you should compare prices first to make sure a deal is actually a deal.
7. Consider whether you want to use a credit card to shop
Using credit cards to shop Black Friday sales or any other time during the holidays can be tricky. You don't want to overspend or end up with debt you have to pay down after the holidays.
I do use credit cards to shop during the holidays but I always pay the balance in full in January. My favorite card for holiday shopping is the Target Redcard.
Here's why this card is so great if you're planning to hit up the Target Black Friday deals:
You get 5% back automatically when you make a purchase online or in-store.
Cardmembers get free standard shipping on most items and free two-day shipping on eligible items.
There's no annual membership fee.
Members get access to exclusive shopping offers.
I also love those special deals where you purchase an item with your REDcard and get a free $5 or $10 Target gift card. That's money you can use for your next purchase or treat yourself to a little something for the holidays.
And even if you don't have a Target REDcard, you can still score free shipping on orders of $35 or more!
8. Use cashback apps to save money Christmas shopping online
Cashback apps are a must-have if you're doing all your Christmas shopping online this year.
These apps let you create a free account and link your debit or credit cards.
You shop online and when you make a purchase at a partner merchant, you earn cash for your purchases. Total win-win!
What's even better is that you can match up cashback rewards apps with a rewards credit card to double up on benefits.
So if you're using the Target REDcard, for example, you could get the 5% back you earn with your card. Then, you could get more cash back or points for gift cards using a rewards app.
If you need some suggestions, here are my favorite money-saving apps for shopping:
Rakuten
With Rakuten, you can earn up to 40% cashback with selected merchants.
Right now, the site is offering Black Friday sneak peeks for selected retailers so you can get an advance look at what's on sale.
Rakuten is free to sign up for and use. All the big-name retailers are featured here, including Target, Walmart, Macy's, Kohl's, Amazon and Best Buy.
⇒Join Rakuten now and get $10 back when you make your first $25 purchase!
Ibotta
Ibotta is another great cashback app for the holidays if you plan to shop online.
This one's good for saving money on gift shopping but you can also use it to scoop up savings on groceries and travel all year-long.
Some of the retailers you'll find on Ibotta include J. Crew, The Home Depot, Target, Walmart and Kohls. You can earn cash online or in-store and withdraw it to a PayPal or Venmo account, or redeem it for gift cards.
⇒Snag the Ibotta app now and get up to $20 in bonuses!
Dosh
I love, love, love the Dosh app for earning cash back on shopping and dining.
This app is great for saving money on the holidays if you're shopping online or in-stores. And you can also use the Dosh app to earn cash back on dining.
Dosh is free to download and super easy to use.
All you have to do is link up your debit and credit cards. You make purchases and Dosh applies cashback to your account automatically.
⇒Download the Dosh app to start earning cashback now!
9. Take advantage of free shipping promotions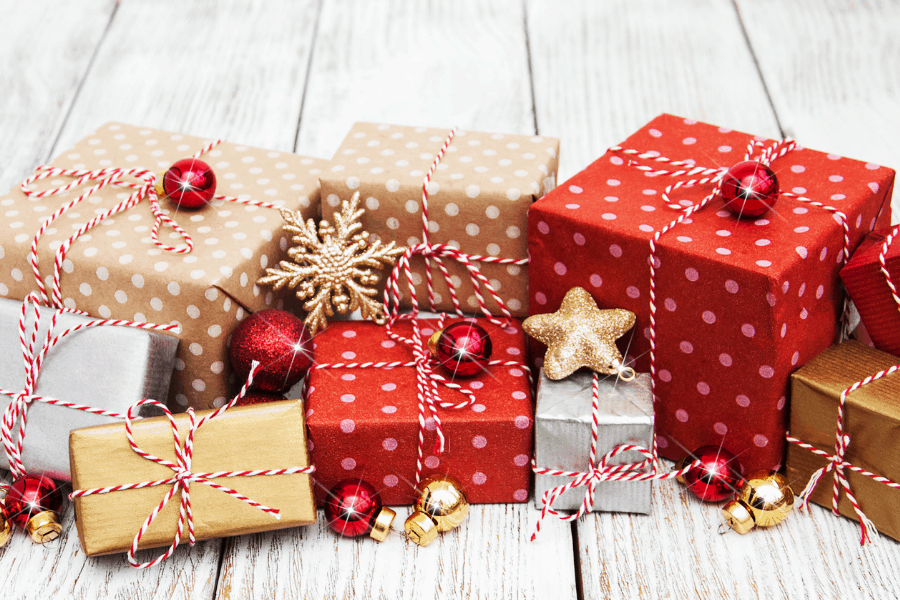 This tip is really a no-brainer for saving money if you're doing most or all of your Christmas shopping online.
Paying extra money just to have your items ship isn't holiday budget-friendly. So it only makes sense to shop retailers that offer free shipping.
Amazon Prime is great for this. But if you're shopping other retailers, read the fine print.
For example, some stores impose a minimum purchase amount you have to spend before free shipping kicks in.
That's fine if you were already planning to spend that amount. But if you'd need to go over your holiday budget to get free shipping, it's not so great a deal.
Here's another tip: mark free shipping day on your calendar.
Free Shipping Day is December 14 this year and it's the best day for doing holiday shopping online if you want free shipping deals.
You can find a list of participating retailers here.
10. Or save money by choosing curbside pickup
If you can't find a free shipping promotion, you could still save money by doing your Christmas shopping online and picking up your items at the store.
Walmart, for example, charges you nothing to ship your items to the store. And with curbside pickup, you don't even have to go inside.
This is an easy way to get what you need for the holidays and save money, without having to fight shopping crowds.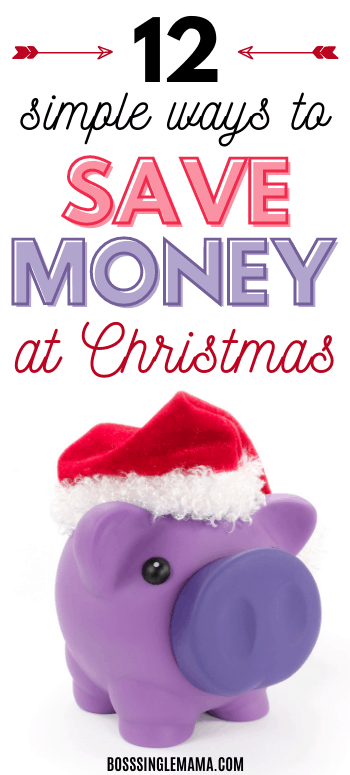 11. Get free gift cards to pay for holiday shopping
Do you know what's better than saving money on holiday shopping?
Not having to spend your money at all!
That's where earning free gift cards comes in handy. But how do you do that?
It's really simple, actually. There are a ton of sites that let you earn gift cards for doing things like:
Taking surveys
Watching videos
Sharing your opinions
Playing games
Shopping online
Need some ideas for the best survey sites and apps to earn gift cards for the holidays? Here are my top picks.
MyPoints
MyPoints seems to be the rewards site that almost no one has heard of but they've been around for quite a while.
When you sign up with MyPoints (it's free) you can earn points for shopping online or doing simple tasks, like taking surveys or watching videos.
You can then turn those points into free gift cards to your favorite retailers.
And if you need to buy gift cards to Old Navy, Macy's, Chili's or another MyPoints partner, you can earn cashback on those purchases when you buy them through MyGiftCards Plus.
You can get up to 30% cashback on gift cards from partner brands.
⇒Sign up for MyPoints now and get a free $10 Amazon gift card when you make your first purchase!
Drop
The Drop app is another great way to earn gift cards to top retailers with little effort.
With the Drop app, you link up your debit card and credit cards.
As you shop, dine out or book travel, you earn points. You can then turn those points into gift cards to major brands like Amazon, Netflix or Starbucks.
The Drop app lets you earn gift cards to the places you spend money the most and it's totally free!
⇒Download the Drop app to start earning points!
Swagbucks
Swagbucks is another of my favorite apps for earning gift cards.
With Swagbucks, you can earn points for gift cards by taking surveys, watching videos, shopping online or just surfing the web.
You can turn your points into gift cards for Amazon, Walmart or even cash through PayPal.
⇒Sign up for Swagbucks now to grab a $5 bonus!
12. Don't assume you're always getting the best price
I can't stress enough that when it comes to saving money at Christmas, it pays to do your homework.
Take time to compare prices for all the stores on your shopping list. Then compare prices for online and in-store deals to see if there's any difference.
If you think something you plan to buy over the holidays might drop in price after the first wave of sales is over, there are a few things you can do.
First, you can just wait it out to see whether your hunch about the price ends up being right. If the price goes down, you can scoop it up for some savings.
(One useful thing you can do with Honey is to add Amazon items to a droplist. Honey will monitor those items and send you an alert if the price drops to a range you specify.)
The catch with that option is that you're taking a chance that the item won't end up being out of stock. In that case, you could buy the item anyway, then return it later and repurchase it at the lower price.
This can be tricky, however, since a lot of stores change up their return policy during the holidays.
For example, instead of being able to return an item for cash, you might only get store credit back. So check the store's return policy first before you go that route.
A third option is to download a price matching app or use your credit card's price protection feature if you're shopping with a card.
A lot of cards have done away with this feature so an app like Paribus might be your best bet for saving extra money on holiday shopping.
Do you have any money-saving tips for Christmas shopping online?
This year's holiday season might be a frugal one for you and your family if you're living on a tight budget right now.
So that makes it more important than ever to make every penny count!
These tips can make doing your Christmas shopping online less stressful so you can save time and money, too.
Do you have an awesome tip for saving money on Black Friday or other holiday sales? Head to the comments and tell me about it!
And please show this post some love by sharing it!
Read these posts next for more money-saving ideas:
50 Fun and Frugal Family Holiday Traditions to Start This Year
121 Cheap and Easy Holiday Recipes for a Tight Budget
27 Easy Side Hustles You Can Do to Earn Extra Cash for the Holidays