Last Updated on March 10, 2022 by Rebecca Lake
How to Make a Christmas Budget
Creating a Christmas budget can help you avoid overspending so you don't end the holiday season in debt. Making a budget for Christmas isn't complicated either; it just means being intentional about how you spend your money.
If you've already started to save for Christmas, you're ahead of the game. But if not, don't panic.
Keep reading to learn how to make a holiday budget, step-by-step. And I've got a free Christmas budget planner you can download as well to keep track of your spending!
Related post: Fall Money Tips: 39 Easy Ways to Save for the Holidays Now
What Is a Christmas Budget?
A Christmas budget is simply a plan for how you're going to spend money for the holiday season.
Christmas budgeting isn't that different from creating a monthly household budget.
There are two basic parts to it:
How much money you plan to spend for Christmas
What you plan to spend that money on
Budgeting for Christmas can help you avoid spending more money than you planned or buying things you didn't intend to.
In short, it can help you save money and avoid debt. Which are both pretty important if you're trying to figure out how to afford Christmas this year.
What is the average Christmas budget?
Wondering how much other people spend on Christmas?
According to the National Retail Federation, Americans spend $997.79 on the holidays in 2020. So going by that, the average Christmas budget is $1,000, give or take a few bucks.
You might budget more for Christmas or less, depending what you can afford and what's on your holiday shopping list. I typically spend more than that at Christmas each year.
But knowing the average Christmas budgeting amount can give you an idea how much to earmark for your own holiday shopping.
How to Make a Christmas Budget
Again, Christmas budgeting isn't that different from making a regular household budget. But instead of spending money on housing or utilities your budget categories are all holiday-related.
Some experts recommend budgeting for Christmas using just two categories: gifts and everything else.
But if you're trying to plan a frugal Christmas on a budget and you're watching every penny, then it might make sense to break your budget up a little more.
For example, if you download my free holiday budget template, you'll see that I've included multiple categories.
Here's how to budget for Christmas step by step.
1. Decide how much to spend
The first step in budgeting for Christmas is knowing what you want to spend (or what you can afford to spend).
Some things to consider for coming up with a target number:
How many people you plan to buy gifts for
How much to spend on Christmas gifts per person
Whether your holiday plans include travel
What you have saved for Christmas already
How much you can afford to add to Christmas savings per month
The more things you add to your holiday budget, the more you might spend. But the key is to find a number that you can afford so you don't have to use credit cards to pay for the holidays.
Pro tip: Add 10% to your final total as a "cushion" for any unexpected holiday expenses that might come up.
2. Figure out what you need to save
Once you know what your target for Christmas budgeting is, the next step is finding the money to pay for it.
Here's a simple way to do it.
Look at what you have set aside for Christmas savings now.
Figure out how much you can afford to save each month for Christmas.
Multiply that by the number of months you have until you need your Christmas savings.
For example, if you're reading this on July 1st and plan to start holiday shopping on December 1st, you have five months to save.
If you have $300 in Christmas savings now and you can save $100 a month, you'll have $800 to spend for the holidays.
Pro tip: Keep your Christmas savings in a high yield savings account so you can earn the most interest possible.
3. Set your holiday budget categories
Budgeting for Christmas means divvying up the money you plan to save into spending categories.
Again, you could go the simple route and have one category for gifts and one for everything else.
But if you're using the free Christmas budget worksheet, you'll see that it includes these categories:
Gifts
Decorations
Wrapping paper
Postage
Food/beverages
Holiday travel
Cards
Holiday giving
Miscellaneous expenses
Your holiday budget might have more categories or less, depending on what you normally spend money on at the holidays.
I like a more detailed approach when budgeting for Christmas because this way, I'm less likely to forget anything. But the great thing about using a holiday budget template is that you can customize it to fit your needs.
Related post: 12 Best Budgeting Planners to Organize Your Finances
4. Decide how much to spend in each category
If you've made it this far, congratulations–your Christmas budget is almost done!
This can be the trickiest part, however, since you have to decide how much money to allocate to each budget category.
The bulk of your holiday budget might center on gift spending.
Once you decide how much to spend on gifts, you can divide up the rest of your budget.
But it's important to make sure you're keeping gift spending at a reasonable amount so you don't run short in your other budget categories.
How much to spend on Christmas gifts per person?
Deciding how much to spend on Christmas gifts per person starts with knowing how much you want to spend on gifts total.
So let's say you're using the average holiday budget of $1000 as a guide. You want to use $500 of that for gifts.
If you have 10 people to buy for, you spend $50 on each one. Easy peasy.
But what if you want to spend more on your spouse or kids? That can change the math a bit.
So, say you want to spend $100 on your spouse. You have two kids and you want to spend $100 on each of them.
Now, you have $200 to spend on the 7 other people on your list. Now your gift budget per person drops to around $28.50.
This is a rough example, but it can help you figure out how you want to split up your gift budget based on who you're buying for.
What is a good Christmas budget per child?
I'll admit I'm totally guilty of spending too much on my kids at Christmas.
And as they get older and their interests change, the kind of gifts they're interested in seem to get more and more expensive.
So in terms of what to budget for Christmas per child, it can depend on their age and what you have to spend.
If you have three kids, for example, then $100-$150 per child might be the max. But if you have just one child, you might spend $200 or $250 instead.
One way to keep Christmas spending for kids in check is to use the rule of 4 for holiday gifts.
The 4 gift rule says you should buy kids:
Something they want
Something they need
Something to wear
Something to read
Sticking with the 4 present rule can save you money at Christmas. And it can keep you from cluttering up your kids' rooms or your house with extra stuff they don't really need.
5. Audit your holiday budget
Once you've got your budget for Christmas set, go over it one more time to make sure it's realistic.
Specifically, look for:
Holiday expenses you might be able to reduce or eliminate
Christmas expenses you forgot to budget for
This doesn't take much time to do and it can ensure that your finalized holiday budget is doable.
If you're budgeting for Christmas earlier in the year, you might want to do this again as it gets closer to the holidays. This way, you can plan ahead for any changes you might need to make.
For example, if you've added one or two people to your gift list you might need to adjust your gift spending. Or if you've saved more than you planned to for Christmas, you might want to add those extra funds into your holiday budget.
Christmas Budgeting Tips
When you're living on a tight budget, it pays to make every penny count at the holidays.
So here are a few more tips that can help you save money at Christmas and stretch your budget.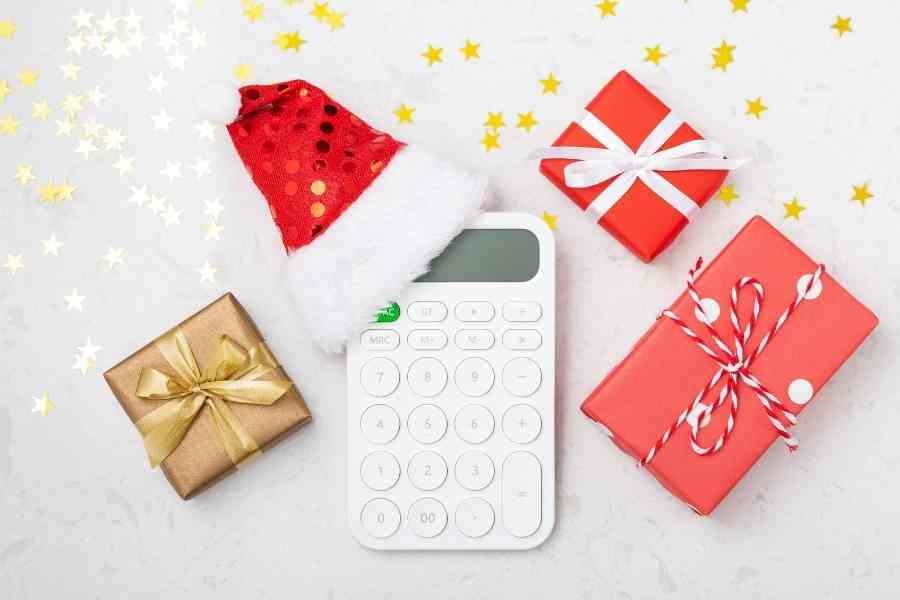 Set up a Christmas savings fund
If you're planning to save money for Christmas each payday, consider setting up a separate savings account for it.
Keeping Christmas savings apart from the money you use to pay bills or cover day to day expenses means you won't be tempted to spend it.
And with the right savings account you could earn some decent interest while you're at it.
If you're looking for a savings account that pays a great rate, check out Axos Bank.
Automate Christmas savings
Once you've got your Christmas savings fund set up, schedule automatic deposits to grow your money.
This is as simple as setting up a recurring transfer from checking to savings each payday.
Or you could use an app like Digit to save money automatically instead. Digit links to your checking account, scans it for money you can afford to save and rolls it over to a linked savings account.
Your money grows on autopilot and you don't have to worry about not having the cash you need when the holidays roll around.
Use a budget planner to keep track of spending
I'm a visual person so I need to write things down. Trying to keep track in my head just doesn't work.
If you're the same way then using a holiday budget template or worksheet is a no-brainer.
Using a budget planner for Christmas makes it easy to see where your money is going. And you can also keep track of holiday to-do lists for organizing your home or mailing out holiday cards.
Remember, you can snag a free holiday budget planner in the resource library!
Earn cash back to save for Christmas
If you need extra money to save for Christmas, there's a simple solution: use cash back apps to shop.
Apps like Rakuten, Ibotta and Drop pay you cash back when you shop at partner stores.
With Rakuten, for example, you can earn up to 40% cash back. And you can get a $10 bonus just for signing up.
Ibotta pays you cash back on groceries and retail shopping. They currently have a promotion going that offers up to $20 in cash back bonuses when you download the app.
Drop pays you cash back when you shop and you can also earn cash when you dine out or book travel. So it's definitely worth getting the Drop app if you plan to book holiday travel.
Related post: 12 Best Cash Back Apps to Download Now
Get free gift cards for Christmas
Getting free gift cards for Christmas is great because you can use them to shop and save money. Or you can give them out as gifts to other people.
But how do you get free gift cards?
Simple. You sign up for Swagbucks and MyPoints.
Swagbucks offers free gift cards for doing things you're probably doing online already. For example, you can get free gift cards for watching videos or searching the web.
MyPoints pays you in free gift cards for taking short surveys.
They're both free to use and Swagbucks is even offering a $5 bonus right now just for signing up.
So if you're not using either one, get signed up now to start earning your free gift cards!
Use frugal hacks to save on Christmas
Frugal living tips can help you rack up even more holiday savings.
For example, instead of buying gifts you might try making them instead if it's cheaper.
Pinterest offers tons of great ideas on simple gifts you can make with items from the dollar store. Or you might be able to make gifts with things you already have around the house.
You can also try out some frugal holiday traditions to save money at Christmas.
Simple things like making holiday-themed slime or reading Christmas books out loud can create fun holiday memories. And they don't have to cost a lot of money.
Related post: 50 Fun and Frugal Holiday Traditions to Save Money at Christmas
Start a holiday side hustle to make extra money
Making extra money for Christmas can help you avoid being broke at the holidays.
And there are plenty of side hustles you can do to make money for Christmas, including side jobs from home!
If you need a few ideas, you might try:
Here are even more ideas for making money to pay for Christmas!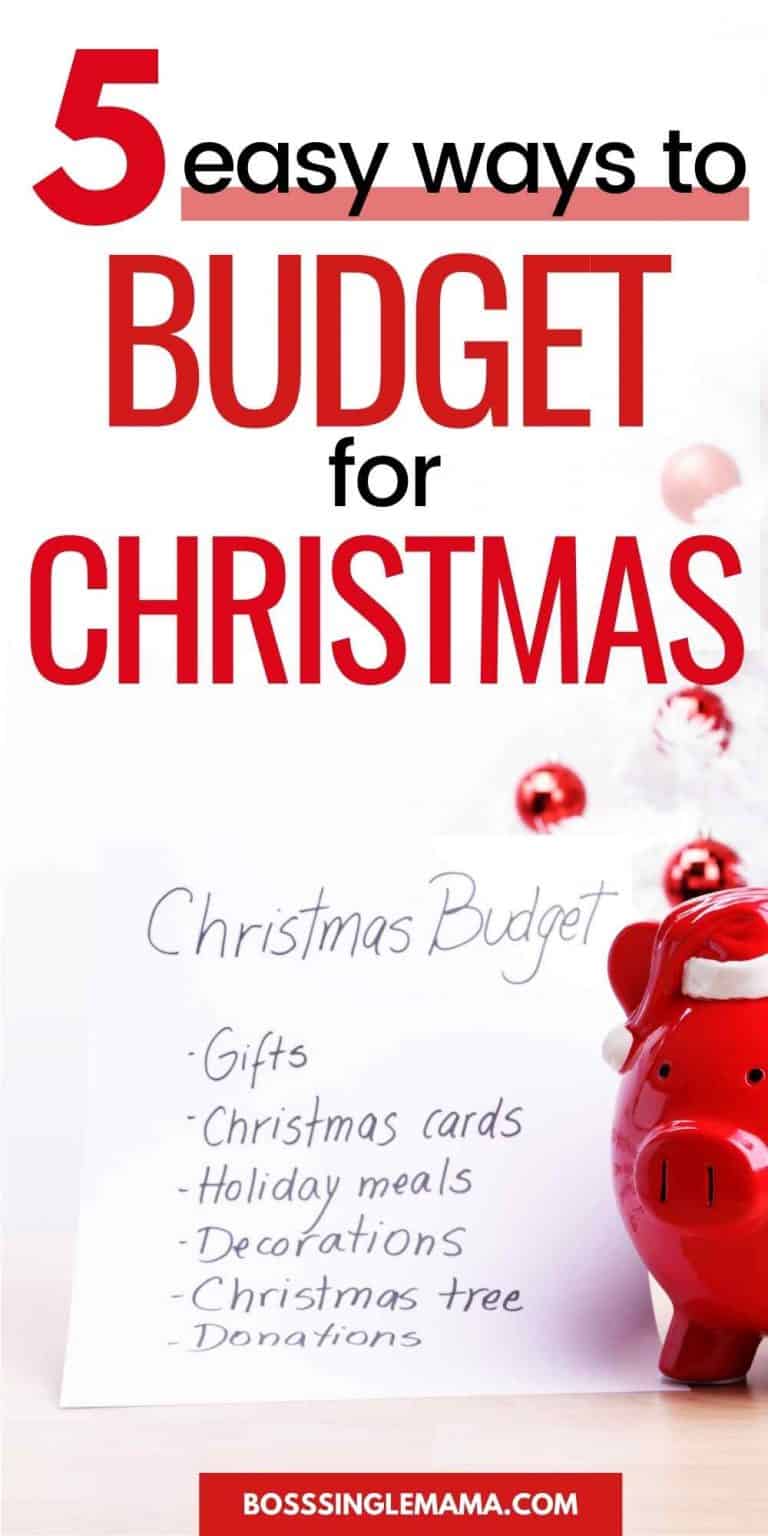 Final thoughts on budgeting for Christmas
The holidays should be a time for family, friends and fun–not stressing about money.
Getting a head start on Christmas budgeting can help you get through the holiday season without financial headaches. And the best gift of all may be starting the New Year without holiday debt.
Do you have a tip for making a budget for Christmas? Head to the comments and tell me about it.
And before you go, remember to grab your free Christmas budget template!
Christmas Budgeting in 5 Simple Steps