Learn the best easy side hustles to make money for the holidays!
And if you need a simple way to make money fast, sign up now to get paid for taking surveys with Survey Junkie!
Need some easy side hustles to make some quick cash for the holidays?
I feel ya.
Every year, I say I'm not going to overspend. And every year, without fail, I end up shelling out way more than I planned to on gifts, decorations, food, wrapping paper–you get the picture.
It's a fast way to end up on the naughty list with your holiday budget. And if you find yourself doing it year after year, it's time to start a new holiday tradition.
That's where having a side job comes in.
Starting a side hustle is a great way to make extra money for holiday spending. You could make enough to cover your budget and maybe even have some left over to stash in a savings account for the new year.
Don't have a lot of time to spend on a side gig between now and December? No sweat.
I've rounded up some of the best easy side jobs you can do now to start getting ahead!
20+ Easy Side Hustles to Make Money for Christmas
1. Be a pet sitter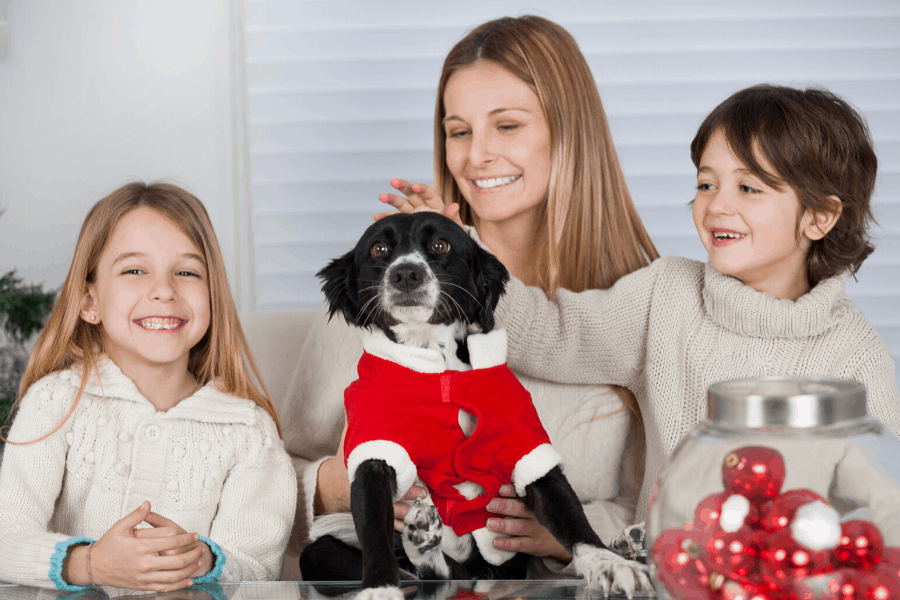 If I didn't already have two crazy dogs and a very snooty cat to manage, I'd seriously consider becoming a pet-sitter.
Why? Because this is one of those easy side hustles that also falls under the heading of being fun.
Getting to play fetch with a friendly doggo or two all day? Heck yeah, sign me up!
If that sounds good to you too, you can become a pet sitter with Rover. It takes just a few minutes to create your sitter account.
As side job ideas go, this one is a winner for money-making potential. According to Rover, you can make up to $1,000 a month as a dog sitter through the site.
2. Be a people sitter
So, maybe you're allergic to dogs. Or you're just not a pet person. You can still get paid to sit–just for people instead of animals.
I don't mean just kids either. There are lots of seniors out there who could use a companion or someone to help with running errands.
Sittercity can help you find sitting gigs to make extra money for the holidays. You can choose the gigs you want and work on your own schedule.
Head here to join and start offering your sitting services!
3. Deliver food
If you need a flexible side hustle to make money for your holiday spending, becoming a Dasher with DoorDash could be worth your time.
DoorDash pays $1 per delivery, plus 100% of customer tips. Every delivery has a guaranteed minimum you'll earn, depending on the details of the order.
This is a side job you could clean up on if you're fast, since the more deliveries you make the more you can earn.
If you're cool with a side gig that requires some driving, head over to DoorDash and sign up!
4. Deliver…almost anything else!
Besides delivering food, you can also try easy side hustles delivering other things.
Postmates is a great option for delivering takeout, groceries, personal care items–you name it!
It's super easy to sign up and join the Postmates fleet. And after talking with some Postmates fleet members I can tell you that it's easy to make $100 a day or more delivering the goods!
Sign up now to join the fleet and start getting paid for deliveries!
5. Get paid to lose weight
I'm not gonna lie, my favorite part about the holiday season is the food. I am that give-me-pumpkin-spice-everything kind of person.
But maybe you've got more willpower than I do and can stick to your diet. If so, here's a great side hustle for you: get paid to lose weight with HealthyWage.
Here's how it works. You set a weight loss goal for yourself. Then you join a team challenge or set up an individual challenge to lose weight.
You work on losing weight. If you drop the pounds needed to reach your goal, you win cash!
For easy side hustles, getting healthy and getting paid sounds like a great trade to me.
Start shedding pounds and earning holiday cash with HealthyWage today!
6. Take surveys online
Taking surveys can be a pretty quick way to earn a few bucks toward your holiday spending budget.
It may not get you rich but it's an easy side hustle you can do from almost anywhere.
There a ton of survey sites out there that will pay you cold hard cash for a few minutes of your time. The trick is to find survey sites that pay the most.
If you're looking for some places to get started, here's a shortlist of survey sites to try:
You can sign up for one of them or all of them. Just remember to check out the payout structure so you know how much you can earn and when you'll be able to collect your cash.
You might also like:
MyPoints Review: A Legit Way to Get Free Gift Cards?
13 Best Survey Sites for Making Quick and Easy Money
7. Get paid for odd jobs
If you're at all handy you could make money doing easy side hustles as a Tasker for TaskRabbit.
This site helps people who need help with simple tasks around the house. For example, you might get paid to help someone with a move or put together furniture.
It's super simple to make money through the app.
TaskRabbit notifies of you of jobs that are available nearby.
You choose the ones you want to complete, based on the pay rate and time involved.
Once you and the person offering the task agree on a rate, you do the work and get paid through the app.
The best part about doing side jobs through the app is that you can make it fit your schedule. And when you're trying to navigate the hectic holiday season, flexibility is everything.
8. Hire yourself out on Fiverr
Fiverr is an online marketplace where freelancers of all kinds can connect with people who need their services.
So, depending on your skills you could find gigs for:
Voiceover work
Freelance writing or blogging
Translation
Video editing
Graphic design
Illustration
If you're looking for some creative side hustles to make money, definitely look into Fiverr. It's free to create an account.
Bonus tip: Check out Fiverr Learn. They've got tons of different online courses you can use to boost your creative freelancing skillset!
9. Start freelance writing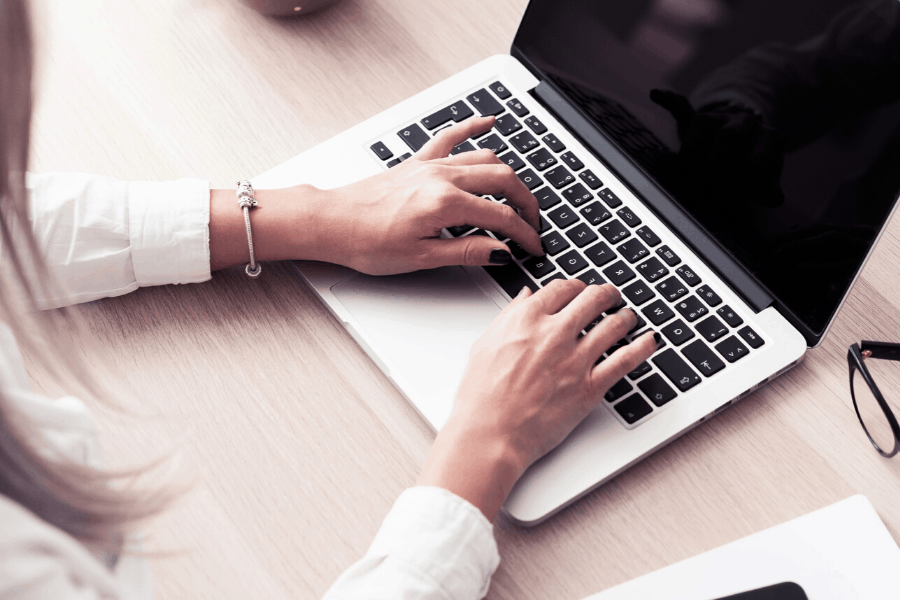 I'm a freelance writer so duh, of course, this is on the list of favorite easy side hustles for the holidays or any time.
I got started freelancing as a new mom side hustle and have spent the last five years growing it into a full-time business.
Take a look at this post on the best ways to get paid to write. Then, head over to my other blog and sign up for my FREE 6-day email course to learn how to start freelance writing!
You might also like:
How to Start Freelance Writing and Make Your First $100
7 Ways to Get Paid to Write Online That Can Earn You Thousands Each Month
10. Learn to proofread
Proofreading is one of those easy side hustles that pretty much anyone can learn.
Being a proofreader means reviewing written content and checking it for things like spelling errors, grammatical mistakes and other typos.
I use Grammarly as a writer to help with all of that but some companies pay big bucks for proofreaders.
The best part? You don't need any previous experience proofreading to make money at it.
If you want to learn more, I highly recommend this free intro to general proofreading webinar from Caitlin Pyle.
She's the real deal and her webinar walks you through everything you need to know to decide if proofreading is right for you. So go check it out!
11. Do some user testing
Have you ever visited a website or tried an app and thought, wow, this could be so much better.
If so, you could make money by testing out websites and apps, then offering your opinion on what's good (or bad) about them.
There are a LOT of sites that pay people to be user testers but to keep it simple, here's a list of some of the most popular ones:
Just like with the survey sites I mentioned earlier, make sure you check out the payout structure so you know what you're making and when you'll get paid.
12. Try transcription
Transcriptionists take audio and video recordings and convert them into a written document. This could be a great side hustle for you if you have good typing skills.
Similar to becoming a proofreader, you don't necessarily need a background in transcription to get started.
If you're looking for more insight on what transcriptionists do and how they make money, here's something that can help.
Janet Shaughnessy, founder of Transcribe Anywhere and pro transcriptionist, offers a free general transcription mini-course. This 7-lesson course covers everything you need to know to decide if transcribing for money is the right side gig for you.
And if that isn't enough, you can also download her free transcription ebook here!
13. Become a virtual assistant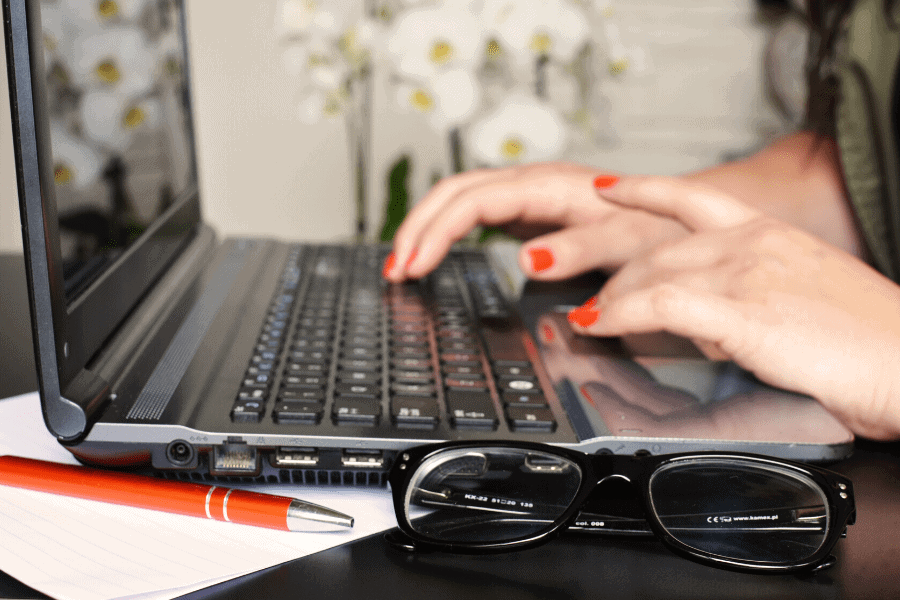 So, before I started freelance writing as a side hustle, I worked as a virtual assistant for a bit.
It was fun, flexible and the pay was decent but since writing was my real talent that's what I decided to focus on.
Being a VA means helping other people run their business. Gina Horkey, who's a go-to expert on all things VA-related is an amazing resource on how to make money as a VA.
You can check out her course, Fully Booked VA to learn all the ins and outs of becoming a highly-paid virtual assistant!
You might also like:
How to Start a Virtual Assistant Business When You Have Zero Experience
14. Start baking
Fall gets me in the mood to bake, even though my skills mostly rival those of Nailed It contestants.
But if you know your way around the kitchen, then baking pies, cakes, cookies or other goodies are all easy side hustles you can do from home.
Holiday craft fairs and fall farmer's markets are great places to sell your baked goods. Just check out the laws in your state to make sure it's legal to do so first.
If you want to learn more about baking as a side hustle, check out this awesome guide from The Penny Hoarder.
15. Sell your stuff
I once had a friend who had a pretty steady side hustle flipping things in Facebook bargain groups, Craigslist and eBay. If you need extra cash, you could try your hand at reselling.
Depending on what you want to flip, you could sell through:
Local Facebook bargain groups
My best tip for using these sites and apps to make money for the holidays? Read the rules.
Make sure you're not selling anything that goes against the site or app's terms of service. And if you're meeting someone in person to make a sale, choose a public and safe place.
You might also like:
10 Ways to Declutter Your House and Make Extra Money
27 Things You Can Sell to Make Money Without Leaving Home
16. Sell handmade crafts
If you're the crafty type, why not make money from your DIY creations?
This is one of those easy side hustles that has endless possibilities because there are just so many things you can make.
When it comes to selling them, Etsy may be your go-to choice. But don't overlook holiday craft fairs or bazaars, flea markets and farmer's markets. You can also approach local boutiques in your town to see if they'd be interested in selling your stuff.
Need ideas on what to make? I got you. Head to this list of crafts you can make and sell as a stay at home mom by TwinsMommy.
17. Sell stock photos
If I knew how to work a camera I would start a stock photography side hustle for sure.
I love looking at stock photos and picking just the right one is one of my favorite parts of making Pinterest graphics.
If you've got an eye for taking great photos, there are lots of sites you can sell your pictures on. Here a few to check out:
18. Deliver groceries
If you can drive and you don't mind hanging out in the grocery store, you could try side hustling as an Instacart shopper.
You sign up to shop, receive orders through the app, pick up the items and deliver them to customers. That's it–makes other easy side hustles look hard, right?
It's up to you to set your schedule and shoppers get paid weekly. And once you get into the system as a shopper, you can start earning money right away.
And if Instacart doesn't operate in your area, you could also check out Shipt. It's another easy side hustle you can try to get paid for delivering groceries!
19. Be a mystery shopper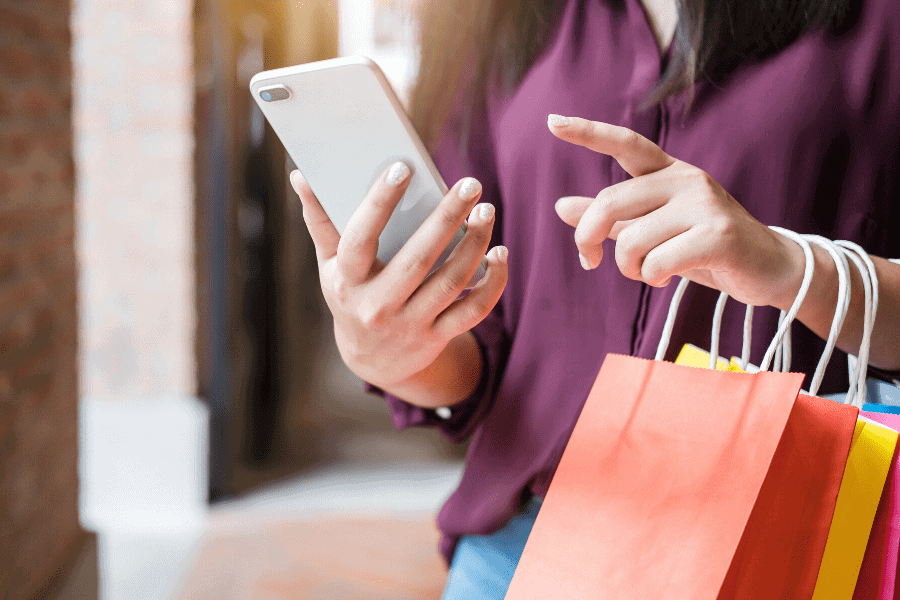 Back when I waited tables, we were always on the lookout for mystery shoppers.
Mystery shoppers go to restaurants or stores, eat a meal or buy something, then get paid to share their experience. (Plus, your dinner or whatever you bought is usually reimbursed–even better!)
If you're planning to be out and about during the holiday shopping season anyway, becoming a mystery shopper makes total sense. The key is finding reputable sites you can get paid to shop with.
Here are some of the better ones to try:
Take time to thoroughly research any company you plan to shop for and watch out for mystery shopping scams.
20. Clean houses
The last quarter of the year is busy for a lot of people and they may not always have time to clean up around the house. You can fill a need–and make some cash–by hiring yourself out as a cleaning person in your spare time.
This is one of the more profitable easy side hustles to consider. According to Thumbtack, the average house cleaner makes $25 to $50 per hour.
If you don't know how to find housekeeping jobs, I've got you covered.
At last check, Housekeeper.com had over 73,000 cleaning gigs listed. You can filter to find jobs in your local area.
21. Earn cashback on your holiday shopping
Here's a low-key side hustle you may not have thought of: using apps to put cash in your pocket when you shop.
Cashback apps and websites pay you money (or gift cards) when you shop online and in-store. The best apps also help you find added savings through coupons or promo codes.
If you need some cashback sites to try, these are my absolute favorites for getting money back when you spend:
You can sign up for one of them or all of them.
Honey is particularly great if you shop Amazon since this browser extension can help you get the best prices possible when you shop. And if you sign up for Rakuten right now, they'll spot you $10 to shop with for free!
You might also like:
9 Best Money Saving Apps for Frugal Families
22. Sell printables
On the list of easy side hustles that can make a ton of money, selling printables is right at the top.
Consider Sarah Titus. She makes millions selling printables in her Shopify store.
So what kind of printables can you sell? The short answer is just about anything. But here are a few ideas for inspiration:
Budget printables
Home management/organization printables
Motivational/inspirational printables
Printables to help organize a blog or business
Educational printables for homeschoolers
Daily planners
Moving checklists
Recipe printables
Holiday-themed printables
I mean, I could go on and on here. But instead of listening to me, go to Hey, Let's Make Stuff to learn how to start designing printables.
23. Sell t-shirts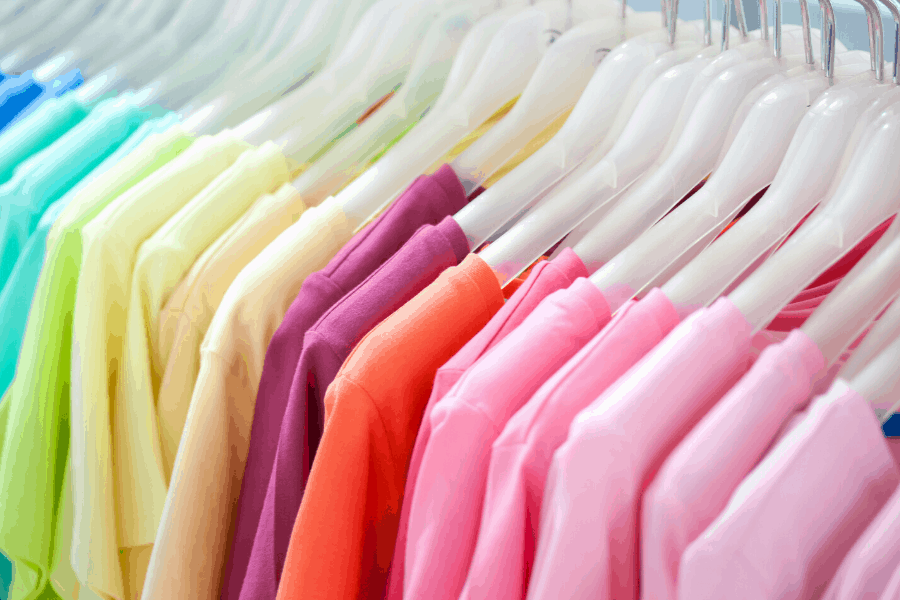 These days, you can design just about anything then put it on a t-shirt and sell it.
Or a mug. Or a phone case. And lots of other things.
If you've got a talent for coming up with great designs or meme-worthy sayings, you could give designing your own goods a try. You can sell your custom designs through Teespring and they do all the work.
Once you nail the design, Teespring handles creating the end product and shipping it out. You pay the base cost and the rest is profit in your pocket.
24. Start a blog
Of course, I couldn't create a list of easy side hustles and not include blogging.
Because everybody has a blog these days and if you don't, then you're missing out.
Blogging is hard but it's also a lot of fun. And you can make money doing it in so many different ways, including:
Hosting ads
Writing sponsored posts
Selling a product
Selling a service (like freelance writing!)
Affiliate marketing
If you want to start a blog as a side hustle, the first thing you need is a domain name and a great hosting service. You can get both of those through Siteground, which is the company I use. (And they are awesome!)
From there, you can start customizing your site using WordPress and a free or paid theme. (And that's WordPress.org, not .com.)
If you want to start a blog as a holiday side hustle or an anytime side hustle, I have a step-by-step tutorial you can bookmark. It walks you through everything you need to know to start a blog with Siteground!
25. Get paid to teach
Online courses are everywhere these days and they're a great way to make real money from home!
And if you don't have any teaching experience, don't sweat it. You can still make $500 a month or more teaching online with the right platform.
That's where Outschool comes in.
Outschool is an online teaching platform designed for students K-12. Anyone can teach on Outschool, no teaching degree required.
You just need an internet connection and a subject you're passionate about to make money!
There is a background check you have to pass but this is one of my favorite easy side hustles for the holidays or any time when you need to make money.
Check out my complete guide to teaching with Outschool here!
26. Become a stylist with Stella & Dot
If you're the fashionable type, you could make some easy Christmas cash by selling your services as a Stella & Dot stylist.
When you join the stylist program you get your own e-boutique where you can sell Stella & Dot products.
It's a painless way to make money and it's also pretty fun if you're into jewelry. Plus, you can do it from home so there's no need to host in-person sales parties to try to drum up business.
Sign up to become a stylist now!
27. Grow holiday savings by investing your spare change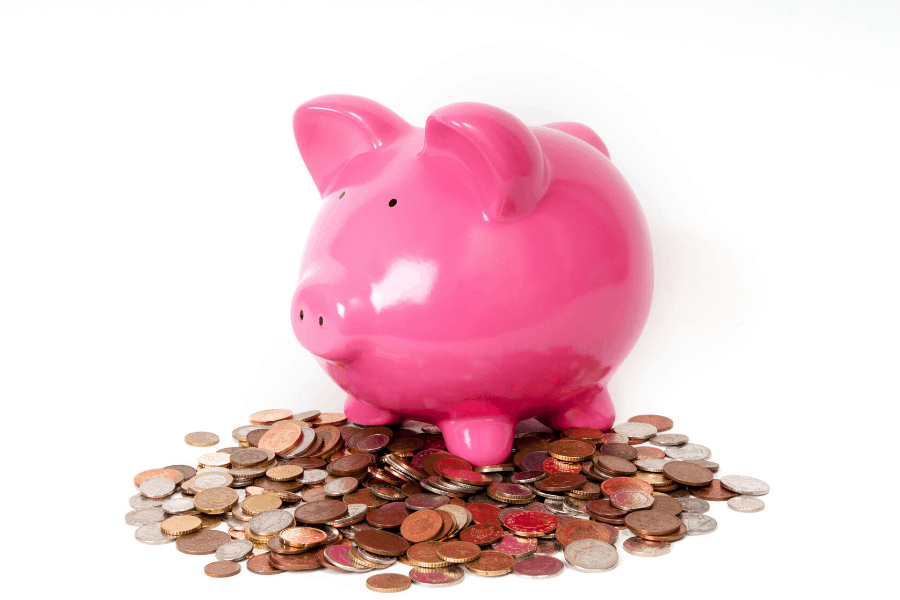 The final addition to the list of easy side hustles for the holidays may well be the very easiest.
It literally involves doing nothing other than spending money like you normally would.
Wait, how is that possible?
It's simple. You download the Acorns app and link it to your bank account. The app automatically rounds up your purchases and invests your spare change.
Investing for the holidays can be even better than saving because if your investments do well, your money grows faster than it would sitting at a bank.
Sounds good, right?
And to make it even better, you can get $5 to start investing with when you sign up for Acorns now!
Which of these easy side hustles will you try for the holidays?
I hope that at least one or two of these ideas sparked some inspiration for you. Now it's time to start stacking up cash for the holidays!
Head to the comments and tell me which side hustle idea listed here is your favorite. Then please pin and share this post if you liked it!